by DAVID McCORD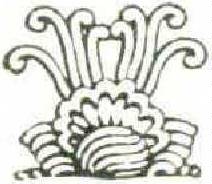 I TOOK the pail for water when the sun was high
And left it in the shadow of the barn nearby.
When evening slippered over like the moth's brown wing,
I went to fetch the water from the cool wellspring.
The night was clear and warm and wide, and I alone
Was walking by the light of stars as thickly sown
As wheat across the prairie, or the first fall flakes,
Or spray upon the lawn — the kind the sprinkler makes.
But every star was far away as far can be,
With all the starry silence sliding over me.
And every time I stopped I set the pail down slow,
For when I stooped to pick the handle up to go,
Of all the stars in heaven there was one to spare.
And he silvered in the water and I left him there.