Pooled Effort
JESSE GRANTHAM, JR., lives in a suburb of Philadelphia, where he works for the Curtis Circulation Company.
by JESSE GRANTHAM, JR.
UNTIL recently, about the only thing our community produced was children. It's an area of young couples where play pens are about as noticeable as television aerials. Also noticeable was the community's lack of a swimming pool for youngsters.
Bob Avery said that very thing several years ago to his next-door neighbor, Ernestine Wright. Both of them told their friends. Before long there was talk of a few of us gelling together to build a wading pool. As word of the project rolled around, it picked up interested families. Soon there was substantial talk of a monstrous pool to be open to three or four hundred families. It would cost $100,000 — maybe more.
Imagination is an energetic engineer. Maybe that's what happened to Cheops. He started to build a modest, comfortable pyramid and ended up with the biggest yet. But Cheops had power. So does a community, though we underestimated it at first. All we had in the beginning was enthusiasm, which withers. But about the time enthusiasm died and rigor mortis set in, we got a boot forward by Bob Avery.
Bob is an engineer, and he and a couple of friends ran the idea through their slide rules and devised a plan to finance the pool by yearly dues and a sale of stock. Four hundred families were the most a pool could accommodate; $100 per family was all even the most enthusiastic, would pay. That came to $40,000, which would buy land and almost pay for materials and some labor.
It was then that dormant talent began to sprout. One citizen knew how to weld, another knew a friend with a bulldozer, someone else laid pipe once. Almost everyone figured he could do something. Even my wife Mary, who is no good on a garden spade, thought she could help bytalking neighbors into the idea and out of $100. She and Mary Swoyer headed up the membership committee and soon had crews organized to canvass the neighborhood.
Earl MeGillicuddy, the architect grandson of Connie Mack, drew up plans for a pool that later caused engineers to wonder why every pool wasn't built the same way. It was Tshaped. At the base of the T were 1and 3-meter diving boards. So that divers would not be crashing down upon swimmers, the main swimming area was the top of the T, 25 meters long to meet AAU requirements.
Things got going again. Roy Weston, a sanitation engineer, was put in charge of construction; Don Senges, a chemical engineer, volunteered to worry about the necessaryfilter plant; and Ed Clute, treasurer of a bank, agreed to handle finances. A couple of lawyers were willing to lead us down the legal path to a nonprofit organization — for tax purposos, they explained.
For the next eighteen months nothing happened materially, but plans were made on a D-day scale. Solicitors covered Marple and Newtown Townships, and memberships came in, but slowly, By early 1950 we had about $15,000, which we felt was enough to purchase land. A plot of 12½ wooded acres was bought in Marple Township. That brought a flurry of slock buying. There was no bull market, just a comfortable eagerness. But it didn't last, and the membership committee again was ringing doorbells.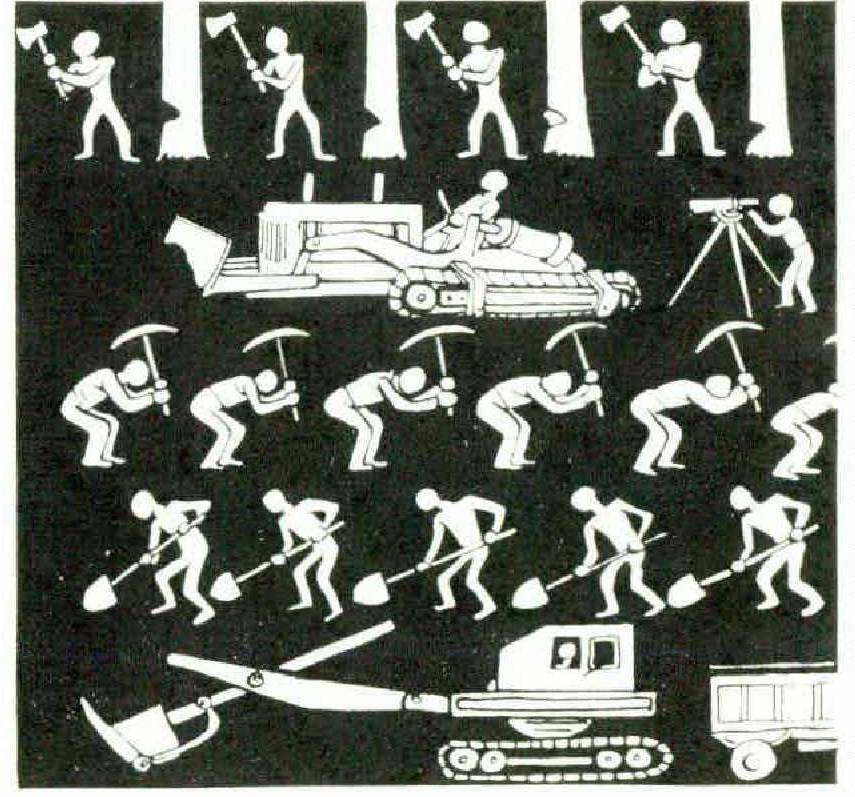 During the summer the actual location of the pool on the site was determined. Preliminary tests indicated there was rock below the surface, which meant trouble when the excavation started. Then the U.S. Army came to the rescue! A company of combat engineers belonging to the 28th National Guard was looking for a place to practice some of the lessons on demolition they had been studying in the classrooms. For several successive Saturdays residents of the community thought bombs were, falling as the engineers blasted stone — and even some of the larger tree slumps which could not be moved by a bulldozer.
In the fall of 1950, club members gathered on the grounds and cleared the land. Women prepared coffee and hot dogs while men cut down 50and 60-foot oaks and beeches. Then the engineers brought out their transits and with mysterious professional signs laid out the pool. The hulldozer came in the next weekend, and before we knew it there was a hole in the ground.
During the winter, materials were bought and stored. We needed pipe with paint to preserve it and a member knew where to buy these things cheaply. Reinforcing steel was hard to get, but some was found and stored. We also got hold of two filters at manufacturer's cost. Whenever a purchase was considered, everyone asked whore we could get a discount. What are high prices for but to bring out the hidden genius most people have for gelling things wholesale?
This activity caused another buying spate in pool stock. With this subsequent sign of prosperity, a bank agreed to lend the club a few thousand dollars to speed up the purchase of materials. And the more we bought, the easier it was to talk people into risking $100. The idea was making more sense.
In the early spring of 1951 we got another real break. A contractor was willing to pour the concrete at little profit to himself. He was getting started in the swimming pool business and needed just this sort of prestige job to make him known. While concrete was oozing into shape, members were clearing ground for a parking area.
No one knew exactly what the year's expenses would be, so it was decided to skip a bathhouse for the time being — children wouldn't mind dressing at home. Our theory that, somewhere in the community, knowledge at rest could be jolted into solving a problem had worked so many times it became automatic. My wife and I heard that an old prefabricated building left over from World W ar II had been zoned off some property not far away. Within a week the club had made a deal to have the building moved to the pool.
Then the old pattern began again. One member was in the trucking business — so we had a truck. Others had the strength and time to knock the house down and load it. Someone knew where we could gel seconds in shingles at half price. The building looked so shabby and the price seemed so right, we shingled the whole thing from the ground up. Over one weekend, the house was shingled, a partition was built down the center, linoleum was laid, and plumbing was fitted in. One member built window boxes, another contributed geranium and petunia plants, and a third contributed about 500 square feel of sod.
When the concrete was poured and the bathhouse up and the filter plants purchased, the more conservative investors were ready to sign. MarplcNewtown Swim Club stock jumped to $125. Memberships still came in.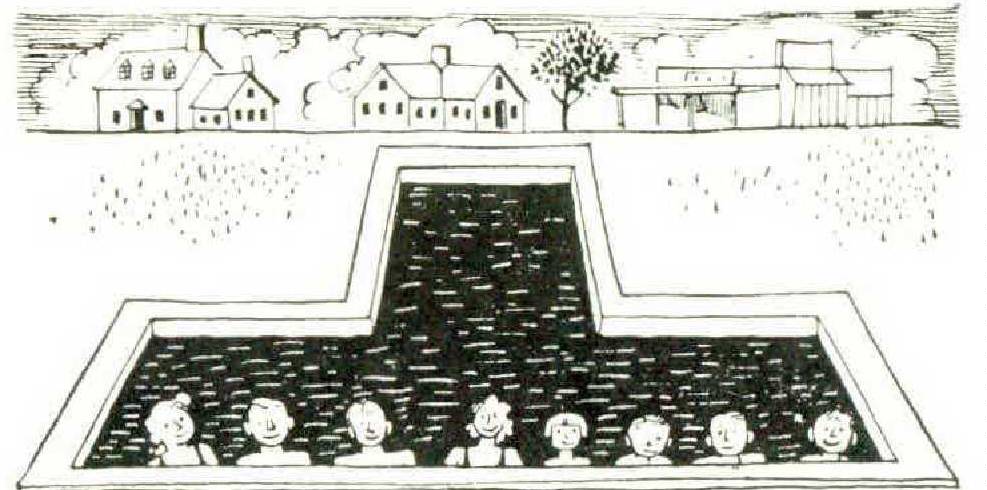 Don Senges and a group who knew about fitting pipes installed the filter plants and, by spring, water was flowing into our pool. The grand opening was to he on July 8. On July 7, someone noticed that water was seeping through the walkway around the pool near where the feeder pipes had been laid. Shortly the plumbing and engineering details were digging like moles to find the break. They worked practically all night and fixed the leak. The next day, more than 500 members splashed around in their own pool.
Even financially, the pool is a success. The pool that would have cost the township over $100,000 was built for about $55,000. One reason for the success of the pool has been that from the very first it has been a family affair. In signing up members, not only were the parents listed but also every child in a family. Most count ry clubs are basically men's clubs in that the main feature is a golf course. This "average man's" country club puts the emphasis on the family.
When winter came, activities did not stop. Every Saturday found a group of enthusiastic men and women still working on the project. A smaller pool has been built lor the little lots. A full-scale job of landscaping is being supervised by two landscape architects and a horticulturist.
Enough has been collected from yearly dues to cover all operating expenses for the first year and make a healthy payment on the bank note. The whole project, except yearly expenses, is about paid for. These yearly expenses will be met by the yearly dues. Dues are per person in each family up to four, with a charge of 50 cents for each additional person. There have been some complaints because of this charge, but none from Max Gi'bert, who has all of his twelve sons and daughters signed up as club members.