New Books for Children
MARGARET FORD KIERAN was Children's Page Editor of the Boston Herald for tirenfythrce years She is the author of a juvenile entitled David and the Magic Powder.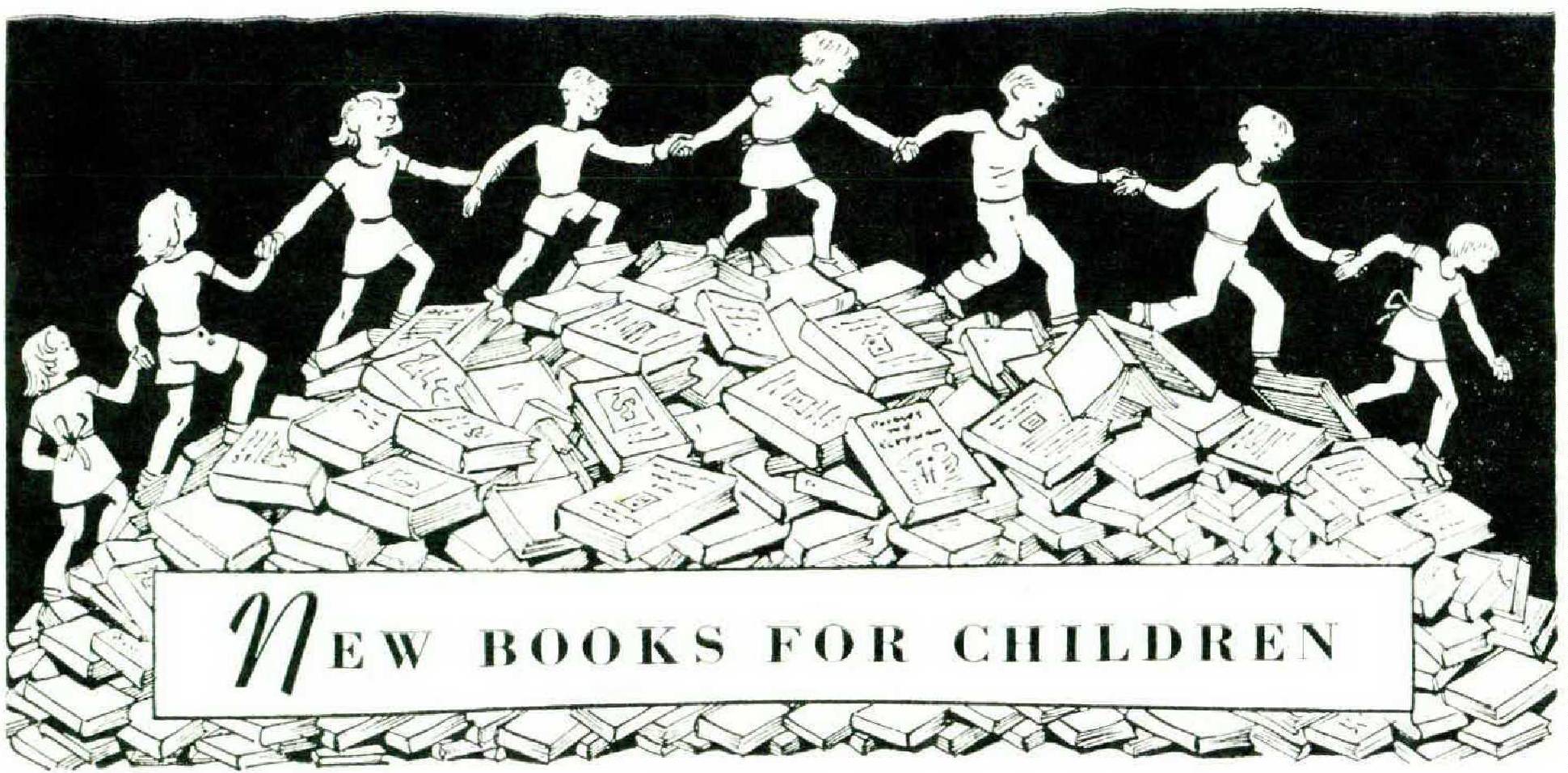 by MARGARET FORD KIERAN
THINGS have reached a line state of affairs when ones house guests have to fight their way through piles of children's books in order to retire for the night. But that's t he way it was at our place. Books to the left of you, books to the right of you, and we were just plain lucky in having such an understanding visitor as North with the Spring Edwin Way Tcale, who strode manfully through the guest room in search of a decent night s sleep. I think, though, that he may have taken a peak at George Heinhold'sBurglar in the Treetops (Holt, $3.00) en route. It has such nature lore as he especially would enjoy, and this is the time of year when anyone's thoughts are turning towards shore and woods.
Birds, beasts, and fish must have been foremost in the mind of many a children's author this past winter. The spring crop of books fairly sings with the pound of waves and the hush of forest. Even a casual trip through a bookstore would show you this. It would show you, too, that all those diatribes sounded by people who say there are too many books published, anyway, don't apply to juveniles. In this department things are improving. More books, yes, and better ones.
My stint of report ing on such books this spring seemed more arduous than last fall's for some reason. Possibly because my thirteen-year-old assistant, Ronnie, was not available — he being currently engaged in collecting sea shells on the West Coast. I missed his firm, authoritative phrases: "This is nutsey,"for a favorite, and "That you can have," for one that did not measure up to his high standards.
Nevertheless the job had to be done, and now, unhappy as a man confronted with the lask of making selections for an ant hology —some fine things are inevitably left out —I give you first a few choices for boys and girls in the lower age brackets. Four to eight years would be this grouping, roughly, I hough all parents should realize that their own children are above the average in intelligence and some adjustments will therefore be necessary.
You would have to read Tiny Toosey's Birthday (Houghton Mifflin, $2.00) by Mabel G. LaRue to understand how the ridiculously simple tale of a family's trip downtown had me in such a state of suspense I couldn't bear it when I thought all the Tooseys were finally on the train, only to realize that Tiny himself had jumped off to retrieve his mother's blown-away hat. Such excitement! Such slopping of the train! And that was only one of the climaxes attending the day's excursion. I don't know what made this story more hair-raising than many a television thriller, unless it was that the family was so pleasant I liked them and cared what happened. The book is one of the publisher's Easy Reading Scries, and very small boys and girls will want to reread it, I'm sure.
Teaching a youngster how to handle money becomes a very painless operation through David's Hundred Dollars by Catherine Woolley (Morrow. $2.50). It starts with David's receiving an award of that amount for preventing a train wreck. Picture a box going on nine with one hundred dollars in his pocket. Well, not really in his pocket, because his mother was official custodian. And not really one hundred dollars, because he had spent, a liltle of it on candy, toy airplanes, and things like that. But there was enough left for him to dream and drool over. As the days go by he transforms his yearnings into purchases that leave him with practically nothing to show for the once huge sum. A sure lesson in economy with brisk text and good line drawings.
If you happen to be living in a household that is complicated by the addition of a cat, dog, pony, hamster, and other assorted beasts, do not despair until you have read Too Many Pets by Mary M. Aldrich (Macmillan, $4.00). Everybody but Daddy contributed something to this entourage. His stern voice of authority rings throughout the book until the last few pages, when, weary and won, he donates two guinea pigs to the collection. "Nothing like a few animals around the house to keep things from getting dull,"he murmurs in a reluctant and dignified admission of defeat.
Elizabeth Coatsworth has done another appealing tale, which she ealls The Wishing Pear (Macmillan, $2.00). Children who show a distaste for history in school will no longer have to be prodded and pressed to read about our country in the seventeenth century. Not when the story of Peter Stuyvesant is made contemporary through the fanciful tale of little Lydia Ten Eyck, who lived in a brick house just, outside New Amsterdam. The book is slight but it has charm.
Squirrel Hotel by William Pene du Bois (Viking, $2.00) is something else again. Maybe you will think it is a story only for young people, but I found myself moving along credulously with the account of an old gentleman who, when not conducting an orchestra of bees, was working on a splendid miniature hotel for squirrels, complete with electricity and running water. This should not be classified with the Alice in Wonderland- sort of nonsense, It is cool, logical, and completely convincing once you accept the fact that a bee orchestra is technically possible. I don't think I am able to convey the serious, the believable, quality that this fantasy projects. Perhaps you'd better take a look at it yourself. I feel sure, even if you should be skeptical, that your children will dote on it.
The illustrations in Binky's Fire (Hareourt, Brace, $1.75) are wonderful. Beth Krush did them, and Sally Scott wrote the book. Binky is a beagle pup whose relation to family living is extremely tenuous until there comes his big moment, when unwit-
tingly he is the hero of the neighborhood. His expression of glee as the newspaper photographers turn up for a candid camera shot resembles that of a successful political candidate just after the final count is announced. Sally Seott makes Binky think the way I think a dog thinks. A cute story.
Now to a little higher age group. There has been a decided trend, this past year, toward books about young people who, for one reason or another, are thrown on their own resources while their parents are out of the family picture.
The Rowleys of Robin Road by Joan Beckman (Whittlesey House, $2..50), Ronnie by Lester Rountree (Viking, $2..50), and Strong Wings by Mabel Louise Robinson (Random House, $2,75) are cases in point. Judging by the way the children acquit themselves, it does not seem too revolutionary to submit that parents, or at least those of them who don't seem to be able to run their own lives, would do better to let the younger generation take a fling at self-discipline. These three books are full of the sort of adventures that build character. They are wholesome and happy and they sparkle with a love of the out-of-doors.
The last thing I would want to suggest is that the books I mention as "wholesome" have anything saccharine about them. Not at all. Timmy and the Tiger by Marjorie Paradis (Harper, $2..50) is just as exciting as many a comic book to which I have been exposed. And the sharp note of courage and honesty that young Tim sounds is something that will make a positive and lasting impression on tenvear-olds.
For this same age group and older children I recommend a group of baseball yarns selected by Phyllis R. Fenner, called Crack of the Bat (Knopf, $2..50). The story of how Babe Ruth got his name and behindthe-scenes bits about the Dodgers and the Yankees are told by sports writers like Bob Considine, Frank Graham, and John R. Tunis. Some fact, some fiction, and in either case thoroughly readable.
The Rookie from Junction Flats by Joe Webster (Pellegrini & Cudahy, $2.50) is another baseball story (strictly fiction this one) and, though it ends in the conventional splitsecond hoopla home run, it does have a good, authentic feeling of sand lot, dugout, and diamond.
At the risk of having young spaceship designers pooh-pooh my choice, I will say that I enjoyed Today's Science and 1 on by Lynn Poole (Whittlesey House, $2.75). The reason I think overearnest youths may raise an eyebrow is that the book is written in a popular vein. Chapter headings like "X Ray the Sleuth, "What is an Isotope?", "Trace Elements," and "Schistosomiasis give you an idea of the scope of the work, and I still think it will find interested readers among average teen-agers and their elders.
Also in the scientific field is Model Jets find Rockets by Raymond F. Yates (Harper, $2.50). The line drawings are clear and so is the text. Perhaps you remember Mr. Yates's equally fine Boys' Book of Model Bailreading.
The preceding notes I have made seem to lean on the masculine side. So let me hastily call to your attention a pleasant tale titled Lincoln's Little (Correspondent by Hertha Pauli (Doubleday, $2.50). I am not an authority on Lincolniana, so I must take the publisher's word as to its historical accuracy. Anyway, it's a pretty little tale, and once again a. good springboard for history. (Eight to twelve years of age for this one.)
Now back to teen-agers, and would there were a better word for this group. A fast, crisp-dialogued story for girls is A Cap for Corinne by Zillah k. Macdonald (Messner, $2.50). All the down-to-earth routine of a nursing career is chronicled here, but it is enlivened by a romance that has the added appeal of mystery — disappearing narcotics.
Then there is May Lumberton Becker'sPresenting Miss Jane Austen (Dodd, Mead, $3.00). What a lovely book this is! In text, in treatment, and in illustrations it is far, far above the run of the mill. Though it is an introduction to one of England s leading literary ladies and is thus designed for young people, it should find a much wider audience.
Always realizing that summer is practically upon us, I want to mention Black Tide by Carl D. Lane (Little, Brown, $2.75). It would be an excellent selection for anyone in your family or among your young friends who likes boats. Not only is it an exciting adventure story of three boys a long way from home in their Maine sloop, but it reprints excellent diagrams of gear, course, ships, and operations connected with the yarn.
Let's Fish by Harry Zarchy (Knopf, $3.00) is another title you'll want to jot down for that summer reading list. It has everything an embryo fisherman would want to know, including descriptions of more fish than I, limited to a sketchy acquaintance with sole Marguery and sea food vol-au-vent, had dreamed of. Tuck it in Junior's bag if he's going to camp or if he and Daddy are planning an excursion,
When An Introduction to Wild Flowers (Doubleday, $2.50) by John Kieran came in I was prepared to make quite a thing of my capacity for unprejudiced judgment by setting the book in its place with a restrained though laudatory nod. Alas, it won me. As a companion volume to his Introduction to Eirds it is delightfully informative and, once again, it is a book which cannot be directed to any specific age group. Boys and girls will like to use it after a hike, to check up on flowers they have seen; and their ciders with a latent interest in nature will enjoy it, too. There are lovely illustrations in color by Tabea Hofmann. Because of the references, it could almost have been called "Introduction to Spring."
Now comes the most frustrating moment. The books are still before me and so is the warning that says "Time and space are nearly up." Only a quick but ent husiastic mention then of Escape from the Icecap by Bertrand Shurlleff (Bobbs-Merrill, $2.50); One Morning in Maine by Robert McCloskey (Viking, $2.50), and Jim Bridget by Shannon Garst (Houghton Mifflin, $2.75).
Then there are, as usual, the Golden Books of Simon and Schuster: If heels, Seven Little Postmen, Indian. Indian, and The Tawny Scrawny Lion.
But you who follow children's books have seen these titles by now, perhaps. To you who do not keep up with the reading matter of the young generation, I can only say that a walk through a bookstore — and I realize that this sounds.a commercial note — will be a pleasant experience indeed.
Too many books are published, yes, but not too many books for boys and girls. I look forward to seeing more of them crowd our guest room next fall, and I only hope that my assistant., Ronnie, will be on hand to help me evaluate them, He will be a mature young man of fourteen by then. And — who knows?—he may be able to give me a new word for "teen-ager."