JOHN W. CONLY
JOHN M. CONLY is a former New York and Washington newspaperman who is now an associate editor of Pathtinder. "They shall Have Music" is a quarterly feature in the Atlantic.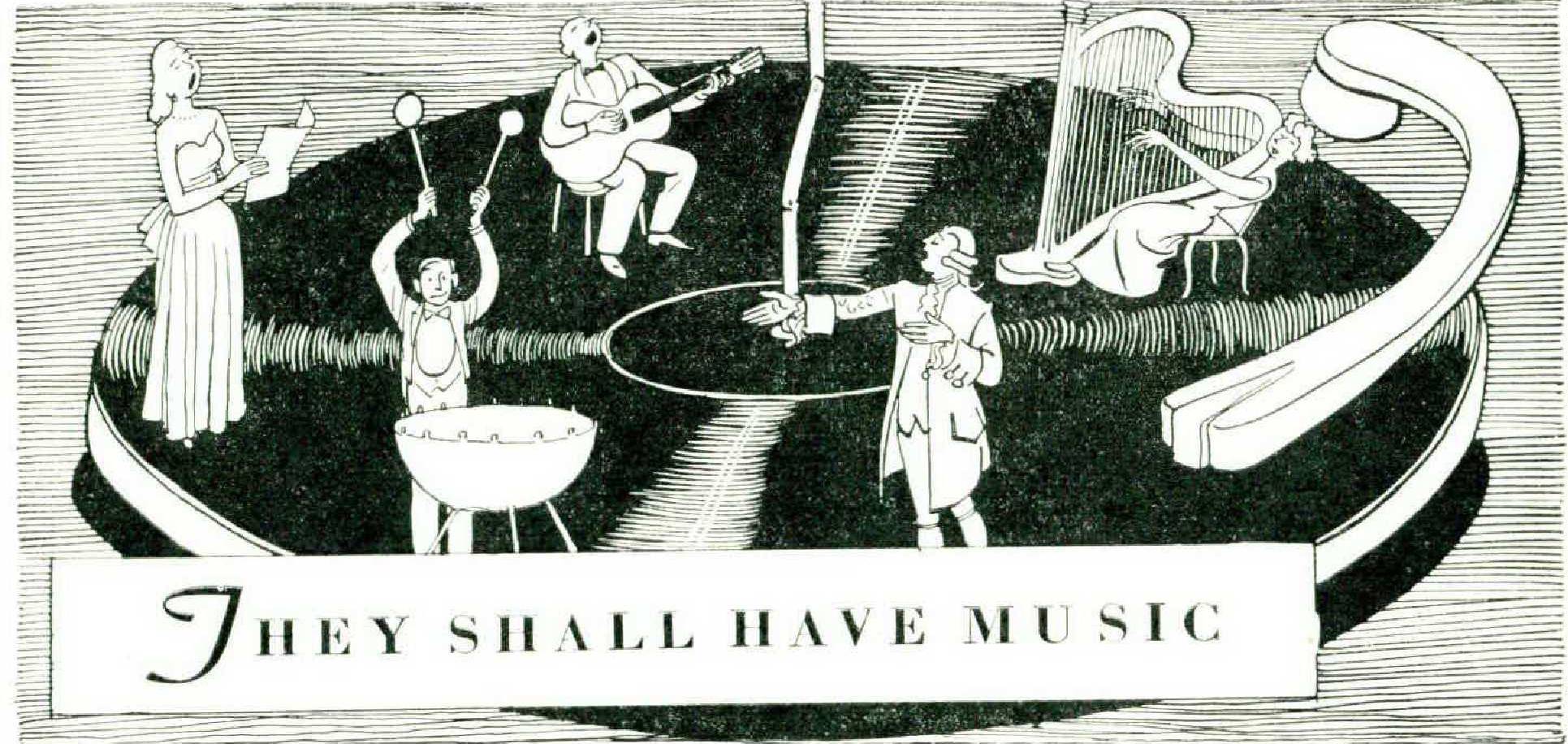 ON Sunday, March 9, the New York Times printed a special eight-page section written largely by men known in their own trade as diskery longhair chiefs.
This may sound like an anthropological term, but it is not, except to the extent that, ever since Dr. Hortense Powdermaker hit the jackpot with a book on the mores of Hollywood, anthropologists have made the argot of Variety and Billboard their own. Readers of these entertainment weeklies know that a diskery is a phonograph record company and that a longhair chief is the man charged with its classical output.
The places of honor (columns 1 and 7) on the first page of the Times's special records section were given over to two very notable diskery longhair chiefs, George R. Marek of RCA Victor and Goddard Lieberson of Columbia. They delivered opinions on the state of the record industry, and they were not of one mind.
Mr. Marek asserted that too many musical compositions were being recorded and marketed, and too fast. It would be saner and safer, he thought, to restrain the flow of Berg and Boccherini and concentrate on rounding up the vast potential audience as yet unacquainted even with the delights of Beethoven and Brahms.
No such cautious approach marked the opinions of Columbia's executive veep. Everybody knows, said Mr. Lieberson, that Bach and Beethoven sell. But Columbia's experience shows that there now exists, also, "if not a mob, a quite respectable crowd" of people anxious to latch onto a piece of previously unrecorded Mahler or Searlatti.
How other diskery longhair chiefs (there are probably over a hundred in business now ) might line up on this particular question was not indicated. Probably most of the big-company men would side with Marek, since it is their firms, with their huge distribution systems, which must keep small hinterland dealers stockedand stocked with items readily salable to unsophisticated buyers.
The longhair chiefs of the smaller diskeries, a numerical majority but an economic minority, undoubtedly would back Lieberson. Theirs are the companies which never in the world could afford to hire the Boston Symphony to record the Eroica. Neither can they print a million copies of anything. They must survive, if at all, by furnishing a succession of novelties, in limited quantities, to a small, selective avant-garde of experienced customers.
Obviously, both these sets of necessities are real, and both Lieberson's and Marek's arguments are cogent. In fact, both men are right. The classical record business, at least where it meets the customers, is not a business at all: it is two businesses. Furthermore, it is two businesses which need each other to get along.
One of these is a mass business. Its stock in trade consists of well-known compositions by familiar composers, recorded under labels long publicized and widely distributed, played by musicians with names known to every radio listener. Its outlets are department stores, drugstores, discount houses, appliance shops, musical instrument stores. Its customers are mostly marginal music lovers, earnest but inexpert. Going into a shop in search of the César Franck Symphony, they are happiest to find only one recorded version of it. Finding two on display disturbs them faintly; being asked if they want the Mengelberg, Ormandy, Monteux, or Wolf version positively alarms them. They promptly fall back on the familiar label, the familiar conductor.
These are the people Mr. Marek has his eye on, and he is right in thinking that it takes a long time to satiate them with the so-called "standard" repertoire. Yet he would be wrong to think that their taste, their "demand," doesn't change. Mr. Lieberson unintentionally proved this by saying: "We all know that Bach, Beethoven, and Brahms sell." Not so long ago, Bach didn't sell at all. And not so long ago the London brand label was unknown to the mass market. Now it crowds RCA Victor and Columbia, Somewhere up the line, somebody learns what's new and good and contrives to pass the word along.
Perhaps there is a useful analogy in the book industry, which has quietly and efficiently (if not necessarily happily) adapted itself to a dual function. It reaches a mass market through paperback reprints. But the paperback companies diligently eschew ventures into new intellectual territory. They let the hard-cover publishers do the experimental publishing, and leave to bookstores' clienteles the discovering of best sellers. By the time the reprint is ready for newsstands and drugstores, the reputation conferred by the literati has percolated down.
As a $3.50 hard-cover for the selective bookstore trade, for instance, Rachel Carson's The Sea Around Us has been a great success and a joy to the Oxford University Press. Eventually, no doubt, it will be reprinted. But it would never have occurred to Pocket Books or New American Library to compete with Oxford for the original manuscript and toss the Sea, stone-cold, into competition with Dr. Spock's baby book or Mickey Spillane's gore-spattered, sex-charged thrillers. Yet a record company does just that when it issues Bartok's Music for Celesta, Strings and Percussion and sends it to dealers to fight it out with Tschaikowsky's Symphony No. 4 in F Minor.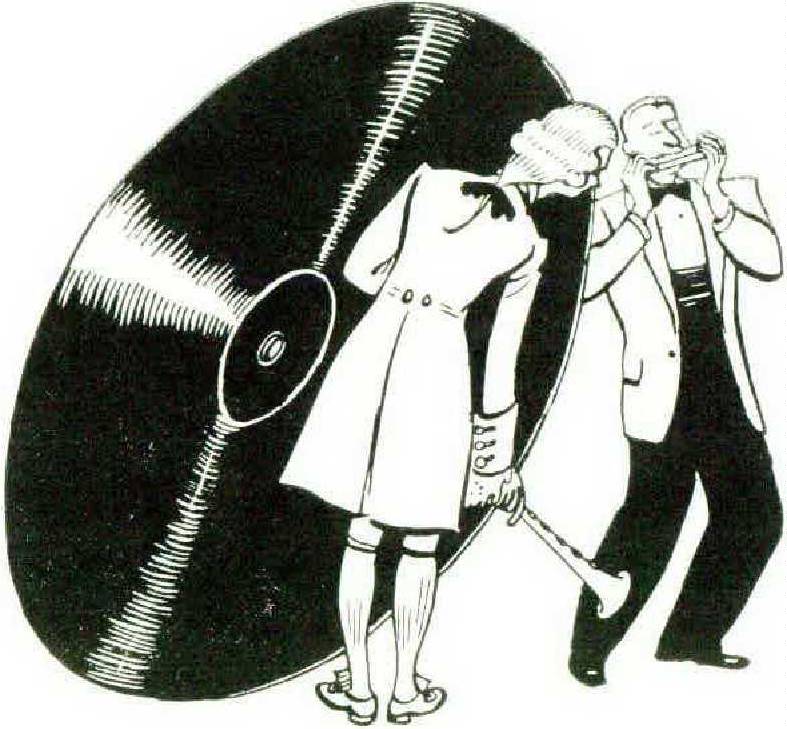 What happens is that at Jordan's in Boston, at Marshall Field's in Chicago, at Macy's or Sam Goody's cutrate emporium in New York, the Tschaikowsky is a huge success and the Bartok becomes known as a "prestige item" or, in less formal terms, a stinker. It gives Mr. Marek of RCA an opportunity to pronounce harsh words. Furthermore, if the Bartok has been issued by a small company, the cost of the printed and unsold copies makes a big hole in the budget, and one more longhair diskery chief wonders in agony how he ever got into this business.
Worse yet, so far as record fanciers are concerned, is a possible outcome of this illogical lump-merchandising. In his distress, the small record maker is visited by a cut-rate retailer. This dealer wants to buy a batch of the manufacturer's output at below-wholesale rates — a big batch. The distraught manufacturer sells them to him.
Shortly afterward the cut-rate store begins advertising the records at 45 per cent off, over the counter or by mail order. Since other dealers buy from their distributors at not more than 38 per cent off, they can't compete. If this continues long, and their customers can't resist temptation, they go out of business. So, probably not long afterward, does the small manufacturer, since his wares are not really suitable for cut-rate, mass merchandising. And the selective or "class" record customer is out in the cold—faced with an inexhaustible supply of the Beethoven Fifth but no Purcell, no Pergolesi.
Quite possibly, the escape route from this miserable maze is at least hinted at by the fact that there exists a store where the sales story is very different —where the Bartok (in two new versions) easily held its own against the Tschaikowsky (in three). Probably there are many, but one will do for illustration. It has been chosen because it exemplifies nearly all the points which distinguish its kind from the mass-market media.
It is called The Record Loft, and is in Washington, D.C., a city rivaled only by San Francisco as a market for classical records. Even in 78 r.p.m. days, the classics outsold the "pops,"record for record, in Washington.
Just the same, the present proprietors of The Record Loft found themselves out of jobs three years ago. They had been selling records in one of the city's largest radio and appliance stores. The management decided that television was going to ruin record sales, and that it would be wise to use the record department's sales space for TV. Therefore it decreed a half-price, close-out, come-and-get'em record sale. Its first customers were its two ex-salesmen, Lloyd Jones and Henry Raden.
They were in their late twenties, and both collectors themselves. (Jones had been a jazz man; he entered classical territory through a devotion to Benny Goodman, which led him to listen to the latter's Mozart clarinet recordings and eventually made of him a fanatic Mozartean.) Raden and Jones didn't believe records were defunct. Furthermore, they had built up (a) a following and (b) an excellent stock of imported recordings of hard-to-get repertory and artists, both of which they hated to waste.
They gathered till the money they had, and a little more, bought the cream of their ex-employer's stock, and set up an upstairs shop in another part of town. Their assets were, necording to Raden, a shoestring, a lot of high ideals, and the belief that they had figured out the nature and needs of record collectors.
A record collector, by their definition, is more than just a music lover. He is a Vicarious explorer in the realm of musical artistry. He wants performances he could never hear in local concert halls, and he wants them with a little legend and glamour attached. He is a perfectionist: once he assures himself that the Schnabel-Gallieri performance of the Emperor Concerto is the best there is, his interest in the Serkin-Walter version, even at half the price, declines to nil. He is a little bit vain: he dearly enjoys introducing Aksel Schiøtz to friends who used to think Richard Crooks could sing Die Schöne Müllerin pretty well.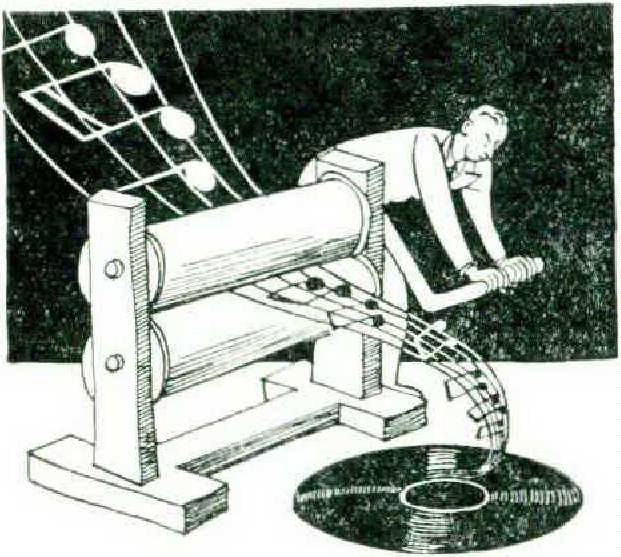 He also (and this was of key importance to Jones and Raden) likes to introduce his friends to the source of his treasures and, if possible, infect them with his own enthusiasm. Lastly, he delights in being able to foregather with other enthusiasts, and will linger long in any shop which offers him opportunity.
Keeping this customer in their mind's eye, Jones and Raden went to work and in fairly short order (as record retailing goes) had The Record Loft in the black. It can hardly be overemphasized that the main attractions held forth were rare, imported records which cost up to twice as much as competitive domestic counterparts, and knowledgeable advice about them.
When LP came along, Jones and Raden were among the dealers it failed to overjoy. For one thing, early LPs were, qualitatively speaking, nothing much. For another, the shift left Jones and Raden with a considerable stock of imported 78s (some of which they still have) and small chance of selling them. For a third thing, even the new, small LP makers sedulously sought distribution in music shops and department stores as well as record shops, thus depriving such establishments as The Record Loft of their old claim to being the only local source of rare records.
However, LP compensated them, at least partially, by increasing the supply of records until customers became confused and really needed knowing advice in their choices, even of nonrarities. Jones and Raden listened conscientiously to virtually every disk that came in. Whereas a department store clerk, asked by a customer which of twelve (!) Nutcracker Suites was the best, could only shrug helplessly, Raden or Jones could narrow it down to Stokowski (Victor) and Fistoulari (London), which was something. The other half of this service, of course, involved the proprietors in waiting on all customers themselves, and knowing them personally. Thus a known PurcellVivaldi-Handel customer was not affronted, upon entering the shop, with the suggestion that he listen to a new recording of Les Sylphides or the Mahler Second.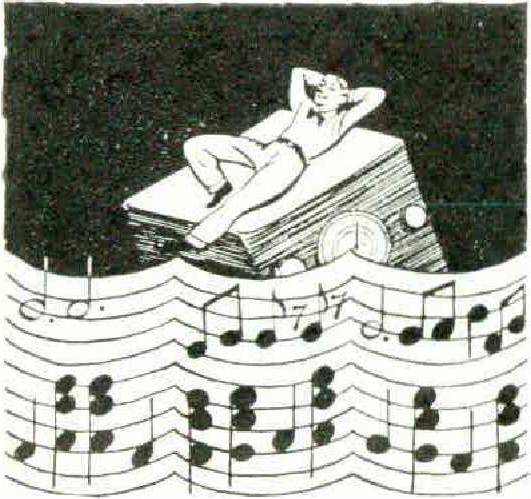 Owing to its erudite clientele, The Record Loft was apprised early of the advent of high fidelity (it began hearing about it when English Decca, later to be known as London, introduced the "ffrr" trademark). Earliest of any Washington shop, it installed a GE speaker and pickups and a Bogen amplifier. Later, through an exhibition-loan arrangement with a suburban hi-fi shop, it acquired a McIntosh amplifier, Pickering pickups, and a Bozak speaker.
Through such services, and through its natural development into a leading loitering-place for record connoisseurs with elastic lunch-hours, The Record Loft probably has made itself as invulnerable as any such shop could be to the threats of the times. Yet Raden and Jones are not happy about business. The Old Guard continue to come in, bury the two chairs under raincoats and brief cases, prop themselves on the counter, and help new customers with their choices. But more and more new customers come to listen only. They don't buy. They exploit the advice and the hi-fi demonstrator; then they go out and mail checks to Sam Goody in New York, who sells at less than the Loft pays — and 60 per cent of whose business is mail-order.
Radon and Jones, pretty sure that this is happening to their counterparts all over the country, take the situation more philosophically, actually, than the Old Guard — possibly because the latter feel temptation themselves. To strengthen themselves against it, they attempt to figure out solutions to the problem — one of which, at least, holds some interest. This is the theory: —
The cut-rate stores cater principally to buyers of the "standard repertory" (they must, since hardly anyone is going to buy a Webern or Dufay record without advice and a test hearing). Why, then, don't the major record companies, who are nervous about the price wars, split their classics into two categories — "standard" and "special" — and cut the price of the former? Patently, they can take a smaller profit per copy on a Brahms First, for instance, than on a Hindemith clarinet sonata. The Hindemith buyer won't be deterred; whereas the Brahms buyer will be much less tempted (at $3.50, say, instead of $4.95) by ratecutters. The high-grade outlet will be kept in business. And dealers will promptly divide themselves into two categories — mass or class — and thus afford small manufacturers a much clearer view of their market. The small manufacturers, of course, will still be able to price their products competitively with the "special" issues of their larger rivals.
Whether or not this forum formula solves the record-price problem, which probably is a good deal more complicated than it looks, the Old Guard has many more suggestions as to how the record makers can improve their products and their sales.
For one thing, its consensus is against 10-inch LPs, in general. They offer too short a playing time per side. When a judicious coupling of two compositions on a 12-inch record is possible, it's preferable.
Bad couplings, however, are even worse. RCA Victor once weirdly I ried to mate Hindemith's Mathis der Maler with Haydn's Symphony No. 93; other companies have perpetrated mesalliances just as bad.
Another source of irritation is the use of a whole 12-inch record for a work only 20 minutes or so long. Columbia, for example, recently superseded a Serkin-Busch Schumann piano quintet, on a 10-ineher, with a Curzon-Budapest version on a 12incher. Other manufacturers have offended even more grossly.
Worst offense of all, though, and one widely practiced, is the omission of text or libretti in vocal works, especially operas. No logic prevails. London scrupulously furnished texts for its highly intelligible Gilbert and Sullivan operellas, but none for Carmen, Der Freischütz, Madame Butterfly. Columbia documented Porgy and Bess, which didn't need it, but not Wozzcck, which drastically did. Voted best in this matter: Cetra-Soria and Urania.
Then there is the sudden and unwise concern of some companies about high fidelity, leading them (apparently) into attempts to simulate it — by boosting mid-treble frequencies — where it doesn't exist. One such recent effort made Erna Berger, one of the era's finest sopranos, sound exactly as if she were singing through a tissue-paper-covered comb.
Engineering carelessness crops up, too. A splendid recent performance of a Beethoven sonata is marred by noises suggesting that a steam roller was idling in the studio.
And there are plain monstrosities, recordings which shouldn't have been made. Item: Purcell's King Arthur, with horribly amateurish singers and an electric organ in place of an orchestra!
But enough of horrors: the liveliest topic of conversation at 1952's first Audio Fair (May 23-24, at the Hotel Stevens, Chicago) is almost bound to be C. G. Burke's portion of The Saturday Review Book of Recording and Sound Reproduction by Burke, Edward T. Canby, and Irving Kolodin (Prentice-Hall: $4.50). Burke, selecting components for ideal home-music rigs (and naming names) disagrees at one point or another with nearly every other commentator, and does it vigorously (almost ferociously, in fact) and authoritatively. In the forepart of the book, Canby presents a fascinating history and present picture of the recording industry. Kolodin furnishes some step-by-step critical analyses of recorded performances and an excellent "basic" record library". It's a delightful book; every record lover should read it before his next argument.
The Times March 9 special recordings section, incidentally, also included a staff-selected basic library.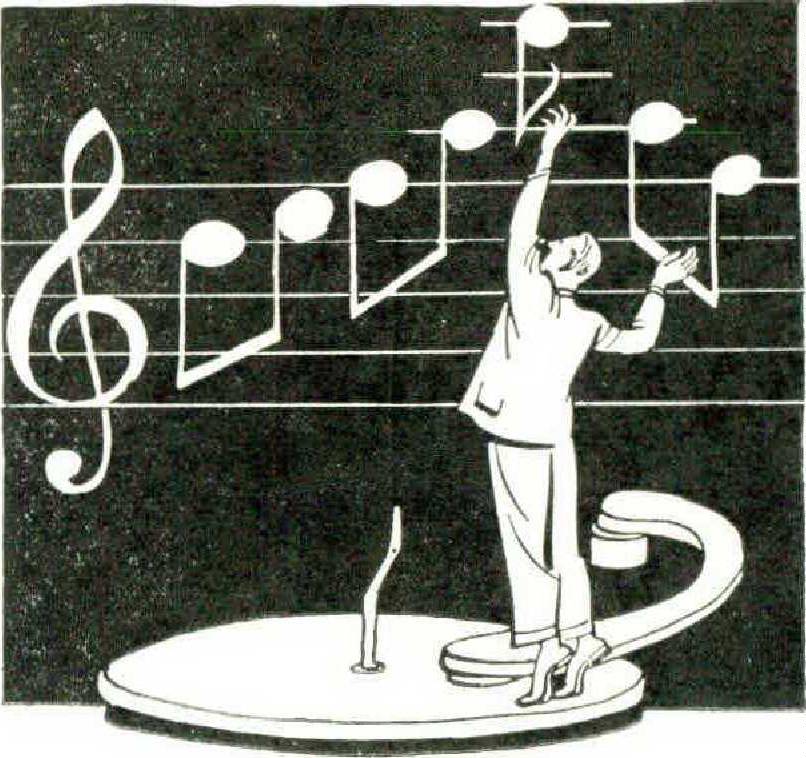 Both are useful. Neither, however, fully answers the question which most plagues today's record buyer: If I buy this item now, how do I know that tomorrow will not bring forth a version superior either musically or (more likely) acoustically? Of course, there can be no such assurance. Still, there are some items highly unlikely to be surpassed either way in the near future. At a venture, the Atlantic has compiled a list of fifty such recordings. The result is a varied basic guide to what to buy and (by its omissions) what not to buy — yet — for owners of wide-range, high-quality music systems.
Record Reviews
Berlioz: Sympphotnie Fantastique (Eugene Ormandy conducting Philadelphia Orchestra; Columbia: 12" LP). Something miraculous happened here. This is not only the best Ormandy on records, but probably the best Berlioz, Toscanini and Monteux notwithstanding. Gorgeous. Buy it.
Debussy: Danses Sacrée et Profane together with Ravel: Introduction et Allegro (Hollywood String Quartet with Ann Mason Stockton, harp; Mitchell Lurie, clarinet; Arthur Gleghorn, flute; and string ensemble; Capitol: 10" LP). A rather rare record which really projects the feeling of the fine and sensitive performance. Ideally recorded.
Dvorak: Symphony No. 5 in E Minor, The New H orld (Rafael Kubelik conducting Chicago Symphony Orchestra; Mercury: 12" LP). For the improbable collector who still lacks a New World, this Olympian series issue is it — the best there is, technically; and beyond much doubt, musically also.
Glazounov:The Seasons (Roger Oosormicre conducting French National Symphony Orchestra; Capitol: 12" LP). First of Capitol's FI)S (Full Dimensional Sound) series. Very luscious.
Mahler: Early Songs from Des Knaben Wunderhorn and Last Songs from Rückert (Alfred Poell, baritone; Anny Felbermayer, soprano; Felix Prohaska conducting Vienna State Opera Orchestra; Vanguard: 12" LP). A perfect service to this composer's tragic-sweet outpourings.
Mahler: Klagende Lied (Zoltan Fekete conducting soloists, Vienna State Opera Orchestra and chamber choir; Mercury: 12" LP). Early Mahler; a tremendous profusion of sure-fire song-and-orchestra drama, marred by bad micro phoning of soloists. Just the same, impressive.
Mozart: Quintets in E-Flat Major and G Minor (Budapest Quartet, with Milton Katims, second viola; Columbia: 12" LP). Some mighty Mozart, and never before so well played on records, or so well recorded, as here.
Schubert: Quintet in C Major (Budapest Quartet, with Benar Heifetz, second cello; Columbia: 12" LP). The competition is tougher here than with the Mozart; yet the only possible alternative is Westminster's Vienna Konzerthaus version. Listen to both.
Schubert: Trios No. 99 and 100 (Albeneri Trio; Mercury: two single 12" LPs). Schubert in transition from songster to symphonist is fascinating. Tasteful playing; good recording.
Tchaikovsky: Symphony No. 4 in F Minor (Rafael Kubelik conducting Chicago Symphony; Mercury: 12" LP). Another Olympian release, and a fine, dynamic recording. However, so is Hermann Scherchen's breathtaking performance for Westminster. Listen to both and —just for kicks — to Remington's $2.19 job, with H. Arthur Brown conducting a Viennese orchestra on (believe it or not) almost noiseles surfaces.