New Jersey, Crossroads of the East
Like the ceaseless movement of tides, there is a derp-seated ebb and flow of industry responding to the pull of economic forces. Today's management scrutinizes the latest figures on population, railroad tariffs, the availability of raw materials or semifinished parts. It is equally sensitive to new opportunities to sell its own product as customers migrate in answer to their requirements. Public Service FAectric and Gas Company, cognizant of this movement, makes known in this article some of the advantages of New Jersey, the state in which it operates.
An Advertorial by
PUBLIC SERVICE ELECTRIC AND GAS COMPANY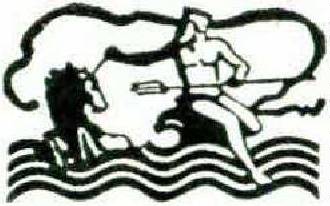 A tremendous and exciting cycle has been completed in New Jersey, the Crossroads of the East.
Back in the days when America was young and was setting her sights towards man's greatest experiment, self-rule, the colony of New Jersey was the New World's industrial center. During the seventeenth century "great" mines of iron ore were being worked; there were belching furnaces along the Shrewsbury where Colonel Lewis Morris made his products of iron. In the middle 1700s charcoal iron was being produced at Oxford by Jonathan Robeson. Here were made the cannon balls used in the French and Indian, Revolutionary, and Civil Wars. At Ringwood the chains that stopped the British at West Point were forged.
From this very early beginning the iron and steel industry sprang, and later moved west towards Pittsburgh and Chicago. It has now returned to New Jersey, to begin what appears to be the most intensive industrial development the nation has ever witnessed.
The Delaware River valley will soon have two huge steel mills in operation. The National Steel Corporation will build at Paulsboro, New Jersey, a large basic steel plant. Across the Delaware and up the river from Trenton, at Morrisville, Pennsylvania, there is under construction the vast Fairless Works of the United States Steel Corporation — the largest and most complete project ever undertaken by an American steel company. These two tremendous plants are being built on the Delaware because of shortage of haul of ocean-borne ore (ore for National will come from Labrador; that for U.S. Steel from Venezuela); the nearness of the world's largest market for steel, the Eastern Seaboard; and the ease of transporting fuel, limestone, and scrap.
These steel mills will have a profound effect upon New Jersey, the Crossroads of the East. There will appear, as if by magic, many other industrial newcomers, mostly processors and fabricators of steel products. This section of New Jersey has many acres available for plant sites and it will no doubt become one of the important industrial areas of the nation.
New Jersey's "firsts"
The roots of industrial activity in New Jersey go deep. It was in 1792 that Alexander Hamilton founded the first manufacturing community at what is now Paterson, New Jersey. He created the "Society for Useful Manufactures" and chose the "Great Falls of the Passaic" as its site.
New Jersey is characterized by long-established free enterprises dating from 1642 when the first beer was brewed in Hoboken. The state can claim a long list of "firsts": the first loom-made American flag in Paterson; the world's first sanitary ware in Trenton, 1853; the first wrought-iron beams in Trenton, 1854; the first American steel pen in Camden, 1858; the first smokeless gunpowder, developed at Maxim in 1890; the many firsts of Edison — the phonograph in 1876, the incandescent lamp in 1879, the motion picture machine in 1893.
The long-established industrial concerns and those which located plants in New Jersey in a later era read like the Four Hundred of industrial America. There's Taylor-Wharton Iron and Steel Company, organized in 1742, whose early output included shoes for oxen, horses, and mules; wagon iron, nails, and farm implements. Then there's the American Steel and Wire Company, established in Trenton in 1847. Its first president, Peter Cooper, later associated with Abram S. Hewitt to form the Cooper Hewitt Company, which produced the first open-hearth steel made in America.
The Warren Foundry and Pipe Company was organized in 1856; John A. Roebling's Sons Company, founded in 1841 in Trenton, is known the world around for its wire rope and steel cable. Ingersoll-Rand Company at Phillipsburg, with its mining machinery, air compressors and tools, is known wherever men mine the earth. There's Worthington Pump, Otis Elevator, Warren Webster and Company, Singer Sewing Machine, Victor Talking Machine of "His Master's Voice" fame, which was to become the huge RCA Victor of today. Weston Electrical Instrument Company is an old New Jersey company, as is Westinghouse, and also DeLaval Steam Turbine.
Among the great names of the pharmaceutical group are Johnson and Johnson at New Brunswick, Merck and Company, Ciba at Summit, Hoffman-LaRoche at Nutley.
The New Jersey shoreline, with its attraction for coastal shipping, has developed into a principal center of refineries of petroleum products. Some of the world's largest companies have operated in the state since 1873. Prominent among these are Standard Oil Company of New Jersey, Tide Water Associated Oil Company, The Texas Company, and Cities Service Oil Company.
That so many of the nation's important industrial companies have located in New Jersey and stayed there, and so many new plants have in recent years moved there, bodes well for the advantages the state has to offer the industrialist who is facing the problem of locating or relocating his plant.
The question of plant location or relocation is becoming increasingly important in the national economic scheme. Plants in the Northeast move to the Southwest; plants in the Middle West open branch plants on the Eastern Seaboard. There are many and varied reasons for this plant movement, or dispersion, or decentralization, as some call it. The geographic center of distribution will attract some; others move to be near the source of raw materials.
There are listed here several factors of prime importance affecting the selections of plant sites, and the industrialist should give them searching consideration singly or severally: —
a. Markets e. Diversification
b. Transportation f. Labor
c. Deep-water shipping g. A good place to live
d. Research h. Agriculture
i. Taxes
Markets
New Jersey sits in the middle of the world's richest market. A 250-mile radius centering in Trenton will sweep a circle encompassing or intersecting twelve states and the District of Columbia. Inside this circle are New York City, Philadelphia, Boston, Washington, Baltimore, Rochester, Syracuse, Albany, Harrisburg, Altoona, Rutland, Manchester, Springfield, and many other localities with good purchasing power.
Within these states there live more than 47 million people — 32 per cent of the nation's population who are within overnight trucking delivery of Jersey-made goods. These people account for more than 70 billion dollars of buyingincome after deduction of Federal income taxes; they comprise the highest income market in the land with an estimated $5134 per family in 1950; they spent in 1950 an estimated 46.5 billion dollars in retail purchases.
The industrialist, whatever his product, is certain to have a near-by market when he builds in New Jersey.
Transportation
New Jersey's transportation facilities are superb. There are many more miles of railroad per square mile of area in New Jersey than in any other state in the Union. The rails of eight great trunk lines and fourteen lesser roads traverse the state. New Jersey is not only the crossroads of an immense north and south rail traffic, but the natural terminus for transcontinental rail freight entering the Port of New York. (The Jersey side of the Hudson at New York has the most extensive freight terminals found anywhere.)
The highway system of New Jersey is among the finest in the nation. There are more than 1700 miles of paved state highways and some 6000 miles of hard-surfaced country roads. The highways are designed to by-pass more than 100 cities and towns, with grade separations and clover-leaf intersections. Over these roads roll the motorized fleets of industry and commerce. Scores of important motor truck lines have convenient pick-up and door-to-door delivery.
Just recently opened to traffic is the New Jersey Turnpike — probably the world's finest piece of highway engineering. The Turnpike was built in the remarkably short time of 24 months and at a cost of $225,000,000. It was built with private capital financed by a per-mile toll charge. It crosses the state from the George Washington Bridge to the Delaware River Memorial Bridge at Deepwater and permits direct nonstop 60-miles-anhour traffic. Ultimately, it will connect with highways to the West to give fast trucking between New York, New Jersey, and Pittsburgh, Baltimore, and Washington.
The principal passenger and cargo-carrying airlines connect New Jersey with every major community of the world. The Port of New York Authority, a nonprofit agency of the states of New Jersey and New York, operates airports in the metropolitan area and Teterboro. Of all the nation's airports, Teterboro handles by far the greatest volume of air freight.
The industrialist, whatever his product, will find transportation facilities for efficient distribution.
Deep-water shipping
Except for the 50-mile boundary between New York and New Jersey, the state is entirely surrounded by water, of which 300 miles are navigable. Through this area passes about half the country's import and export trade. Here is the great Port of New York with its vast docking and terminal facilities. Camden and Philadelphia on the Delaware share a fine harbor with modern wharfing and shipside delivery. Busy Newark Seaport, with its spacious marine terminals, wharves, and warehouses, provides one of the best points where bulk cargo can be loaded directly from ship to rail cars.
The industrialist, whatever his product, will find facilities for interocean or coastwise shipping.
Research
It is natural that New Jersey should become known as the "Research State." Since its early days it has harbored those who were venturesome and bent on looking for the new and untried — the Morrises, the Robesons, the Hamiltons, the Taylors, the Edisons, Roeblings, Morses, the Peter Coopers. New Jersey has given impetus to scientific investigation and today it contains some of the most elaborate and complete laboratories found anywhere. In a small hall circle beginning at Edgewater on the Hudson and arcing to the west around Princeton and eastward to Long Branch on the shore, there are no fewer than 400 sites where some kind of research and investigation is under way. In this concentrated area more than 10 per cent of the nation's research thrives with an estimated outlay of about $150,000,000 each year.
There are many things affecting our daily life which have first experienced "investigation" in a New Jersey research center. A few are vitamins, the electric light, the telegraph, the motion picture, high octane gas, lubricating oils, drugs, radio, television, sewing machines, food flavors, radar, electronics.
Many of the laboratories have come into being in the last few years. Built by modern architects and well equipped, they house thousands of topflight chemists, physicists, and engineers. The most recent addition to the research field is the James Forrestal research center at Princeton University. Here, on an 800-acre tract, intensive work will be done in the field of aeronautics, jet propulsion, and related subjects.
The industrialist, whatever his product, will find research and laboratory requirements close by when he locates in New Jersey.
Diversification
Since the beginning of its history, New Jersey has always had a varied list of products manufactured within its borders. As time went on and new and different things were needed, New Jersey made them. This wide assortment of manufacturing enterprises offers a tremendous advantage to the newcomer to New Jersey, for here he will be close to those who can supply him with semifinished parts or subassemblies.
The industrialist, whatever his product, will find suppliers as neighbors when he locates his plant in New Jersey.
Labor skills
New Jersey has a reservoir of labor of many skills. In a state of some 4,000,000 population, about 800,000 are counted as workers in the plants — ranging from jewelry to ships, from shoes to radar. Manufacturers who have recently moved into the state have expressed both surprise and gratification that they found unnecessary the expense of long, tedious training periods and otherpersonnel problems attendant on the new operation. Excellent vocational schools throughout the state produce a steady flow of young artisans. Some 59 per cent of the state's nonagricultural workers are employed in manufacture.
The industrialist, whatever his product, will find experienced labor when he locates his plant in New Jersey.
A good place to live, work, and play
New Jersey is an excellent place to live. A short ride from the crowded areas and you are in villages and small suburban towns of beautiful residential streets. You live a small-town life bordering on the countryside, only a short distance from your place of work. Several railroads furnish excellent commuting service to and from the larger cities, and the country's largest operator of motor buses gives excellent intercommunity services on frequent headways.
In New Jersey it is easy to follow one's recreational pursuits. Here are the famed Jersey resorts — trout streams and lakes, wooded hills and forests. Throughout the state are sites steeped in early Americana and historical importance. On either side are the world-renowned operas, symphonies, and museums of New York and Philadelphia — not forgetting the Dodgers, Giants, Yankees, Phillies, and Athletics.
Educational facilities are good in New Jersey. The excellent public school systems are augmented by many fine private preparatory schools; and Princeton University, Rutgers University, Stevens Institute of Technology, New Jersey College for Women, St. Elizabeth's College, Seton Hall University, and Drew University offer collegiate work looking towards all degrees.
The industrialist, whatever his product, will find it's good to work, live, and play in New Jersey.
Agriculture
New Jersey has been called the Garden State, and for a definite reason. Some 2,000,000 acres in 25,000 farms, or about 40 per cent of the land area, are devoted to a diversified agricultural industry. In spite of its small size, the state is a leader in the production for market of all the standard table vegetables. Its principal fruits are peaches, apples, blueberries, cranberries, raspberries, and cherries.
Poultry is a major industry in New Jersey. Eggs by the thousand millions are produced while some 30,000,000 baby chicks are raised and sold. The state's farmers market each year about 10,000,000 chickens for the table.
Fine dairy farms occupy a prominent place in New Jersey's agricultural picture, producing something better than a billion quarts of milk each year. The 25,000 New Jersey farms are highly mechanized and well managed. They are about 95 per cent electrified. Their gross on-the-farm value of products in 1951 reached a total of $395,000,000.
Taxes
New Jersey has a favorable taxation climate. It has no individual state income tax, no state corporation income tax, no state unincorporated business tax, no state sales tax; and has complete exemption of intangible personal property from local property taxes.
Industry-minded municipalities in the state, recognizing that their own welfare is linked with the success of local industries, exercise a conservative local tax policy.
A report based on personal interviews with a cross section of New Jersey industrial executives by Fact Finders Associates, Inc., throws light on the relationship of government to business. The question was asked, "Compared with the best other state of which you have knowledge, how do you rate New Jersey from the standpoint of cooperation of local authorities?" One hundred per cent replied "Better" or "Just as good."
New Jersey recognizes that it will prosper as industry prospers. Citizens' leagues, chambers of commerce, manufacturers' associations, civic clubs, and taxpayers' associations — all keep a watchful eye on the public purse.
Taxes in New Jersey buy essential services.
For additional literature about New Jersey, write Public Service Electric and Gas Company, Room 8308, 74 Park Place, Newark 1, New Jersey.