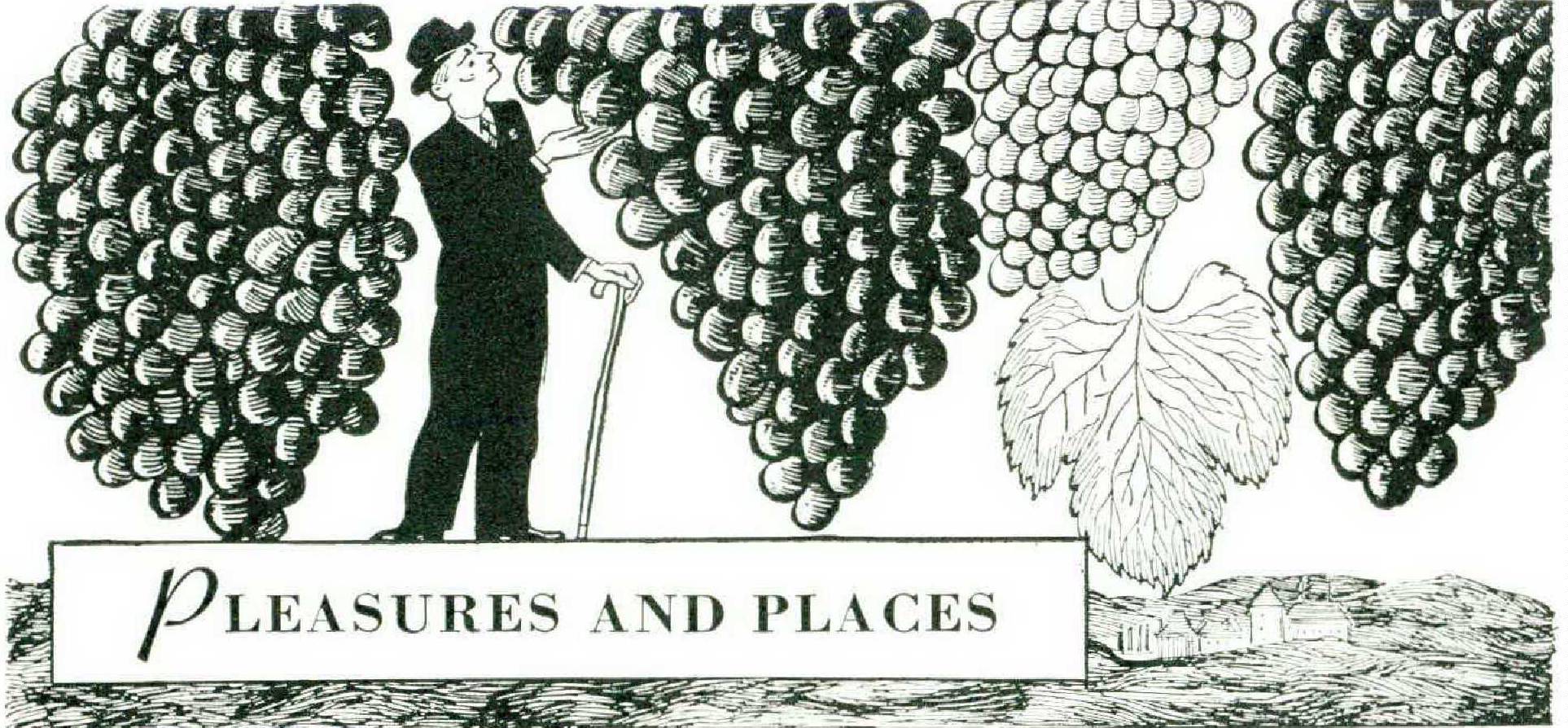 by ALEXIS LICHINE
Besides being a buyer of French wines, ALEXIS LICHINE is the owner of a vineyard in Burgundy, He is the author of the recently published book The Wines of France, a comprehensive and highly readable guide.
AS a buyer of French wines, I make two or three trips a year to France, for periods of six to eight weeks. Most of my time abroad is spent in Burgundy, for fine, authentic Burgundies are the most difficult wines to buy.
The heart of Burgundy, the Côte d'Or, stretches a scant thirty miles along a chain of hills. As you drive down the highway beside the railroad tracks, you see the green vines spreading up the hilly slope on your right and reaching into the Burgundian plain to your left. But only the vineyards in the narrow strip where the hills give way to the flatlands produce really great wines. These vineyards, besides being few in number, are incredibly small some are only the size of a city block, others smaller than a tennis court. In the northernmost half of the Côte d'Or, the Côte de Nuits, the largest great vineyard, the Clos Vougeot, is 125 acres, only about one third of which yield outstanding wines. More than fifty growers own these acres.
The great vineyards of the Côte d'Or are planted in varieties of the Pinot grape, white and black, whose yield is minute. There is only an infinitesimal quantity of the finest Burgundies. The outstanding maker of Burgundy's greatest white wine, the Montrachet, produces only about a barrel a year — that is, only twentyfour cases — and this grower is by no means unique. The vineyards on the lower flatland are usually planted in red Camay or white Aligoté, which produce ordinary wines in huge quantities. Because these mediocre vineyards fall within a township which also includes great vineyards, their wines often bear famous names.
Few great vineyards and small, each owned by a number of people — that's Burgundy. To some Americans, the name Burgundy may suggest medieval castles, titled landowners of great wealth, and a general aura, of Old World grandeur. Actually', Burgundy is the land of the winegrowing peasant — some of the noblest Burgundies are produced by men who cannot read or write. The wealthiest Burgundians, those with the largest holdings — perhaps parts of two or three vineyards, or a whole one — are families of the solid bourgeoisie, but even such are rare.
The typical Burgundian grower is a man of the soil who works from dawn to dusk in the vineyards or in his cellar. His children and his womenfolk work beside him; and if there are grandparents, they work too. (In some families, the women are not allowed into the cellar, because of a superstition that they bring bad luck to the wine.) Cooking is done on a wood stove; water is drawn from a pump. There may be a bare light bulb in the cellar, but the chances are that there is no electricity in the house.
On my last trip I invited twelve growers to a luncheon to meet an American publisher who was touring Burgundy with me. To these men, who seldom leave their vineyard to go to town, it was a solemn occasion; and they arrived accoutered in their party regalia — black coats and striped trousers. They were indescribably shocked, and not a little offended, to find the American publisher wearing a brightly colored sports shirt.
A grower whose holdings are fairly large may make a few dozen barrels of wine a year; a big landowner may make fifty to a hundred. In a good vintage year, which may he expected three or four times in a decade, the work of a grower and his entire family may bring him a yearly income roughly equivalent to $3500 — and that has to tide him through the poor years and the bad ones. In 1951, 85 per cent of the Chablis vineyards were frozen, and as much as 40 per cent of the white Burgundies also suffered from the freeze that hit the region on the night of April 29. The unusually cold spring and early summer caused rot to set into (he vines; and even if, at best, the vintage turns out to be good, the output will be miserably small.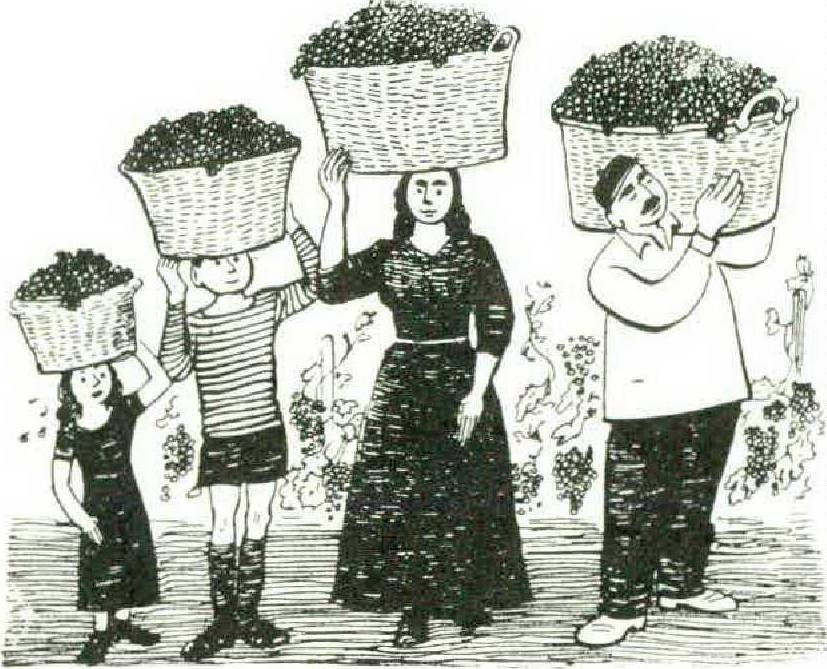 In great years, such as 1949, the demand for the wine is enormous. In the old days, shippers bought most of it, often blending the great wines with lesser ones to stretch them further. Today, some of the outstanding growers bottle their best wines themselves, a procedure called estatebottling in Burgundy, which is comparable to chateau-bottling in Bordeaux.
Most of the growers who estatebottle their own wines are honest men, not merely because they take pride in their art, but because malpractice among them can easily be detected. It is the shippers who have caused Burgundy to be called, among other things, the land of fraud. Percentagewise, one of the rarest things in the world is a scrupulous Burgundian shipper. Your list is complete when you have named about a dozen out of the hundreds — Latour, Jadot, Drouhin, Jaboulet-Verchcrre, eight or nine others.
Even if a buyer has found a fine wine and is well equipped with funds, he still has a tough time making a purchase. The Burgundian extends no man credit, accepts no man's check. Of the average peasant grower's few barrels, less than half may get on the market. He probably sells a barrel to a good friend who runs a restaurant in Paris; or to a hotel owner in Belgium, which buys seven times as much Burgundy as the United States; or to a hotel owner in Switzerland, who may have been faithfully buying a barrel a year, good or indifferent, for the past half century. The grower may want to keep part of a good vintage for his son's communion or his daughter's marriage, or as a reserve for sale when there's a bad year and he needs some cash for a tractor or a horse. He may have a barrel or two to spare for the markets of the world, and he will give preference to the buyer he has traded with for years, and whose long-term custom he can count on.
I have to court the grower, assiduously, to get him to sell to me. If he won't sell on one trip, I go back 1o him again and again, in the hope he'll change his mind. I bring nylons to his wife and presents to his children; I show him the listings of his wines in the great hotels and restaurants of the world. Perhaps, after much wheedling and cajoling, he will let me have a few barrels. Then we go through the whole courtship again over the next vintage.
I buy from only five or six Chablis growers, but on each trip I taste the Grand Crus wines of eight or ten. This must be done for purposes of comparison. Each grower may own small sections In several different vineyards, and not only must the wines of different vineyards, some distance apart, be compared, but the wines of different producers in the same vineyard. One man's vines may be too young; another may have harvested too early; a third may have made an error in vinification. The only way to be sure of the wines is to taste them, and a taster has to be able to recognize in raw, green wines qualities which will not be fully manifest for years to come. It is a bit like looking into the nursery of a hospital and trying to pick out the newborn babes that are going to be engineers or artists —or ne'er-dowells.
In Burgundy, the barreled wines are tasted in the traditional silver saucer called a tastevin, the silver reffecting the color and clarily of the wine, a characteristic often as important as its smell or taste. I often taste 100 wines a day — 150 is not. unusual.
Tasting is not done in an elegant salon, but in damp cellars, where the temperature is usually about 55 degrees. In August it's pleasant to escape from the hot sun in the cool cellars, but it's pleasant only for the first ten minutes — after that you begin to shiver. In February and November a half hour in a cellar can be torture, and no amount of clothes will protect you, for the air is very damp.
On buying trips, I have to stand around in cellars all morning, all afternoon, and sometimes most of the evening. For in addition to exploring the new vintage, I also have to check up on the wines I have already bought, some of which will be in barrel and others in bottle ready for shipment. I may get into an involved discussion with the grower as to when the wine should be bottled, or as to the amount of clarification or fining it may need. We may spend as much as an hour in one man's cellar tasting perhaps a dozen barrels of wine. There are subtle differences even between barrels of the same vintage and the same vineyard one barrel will have a bad stave; or it may be too old and the wine will turn out musty; or the wine in one of the barrels may be "sick"; or it may have been too heavily sulphured. (Sulphur is the vintner's best friend; it is used, in minute quantities, to sterilize the barrels and to kill bacteria.)
I usually start tasting by nine o'clock, and can taste all the different wines of three or four growers before two, at which time I will have a hurried luncheon at the Hôtel de I'Étoile at Chablis, a restaurant so wonderful that Parisians often drive the hundred-odd miles on a Sunday just for a meal. With luncheon, I try two or three of the Chablis I have brought with to from the cellars of the growers. So far, I probably have tasted around forty wines in the cellars and have drunk out of half a dozen bottles.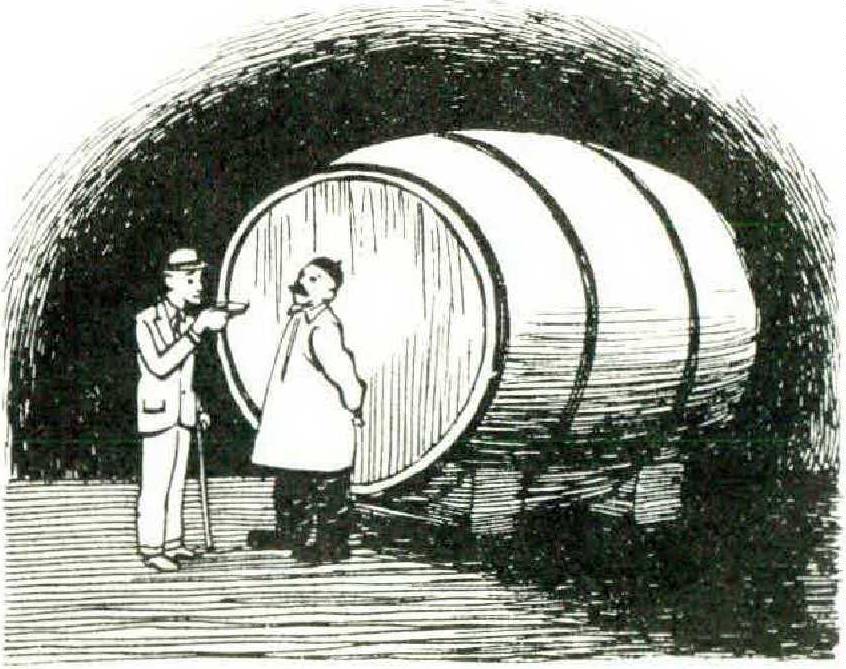 I may spend the rest of the afternoon tasting more Chablis, or start off in search of red Burgundies and head south for the Côte d'Or. I try to stop off at Saulieu at the Hôtel de la Côte d'Or, where the great chef, Alexandre Dumaine, serves some of the best food in France.
I am always in need of the great wines of the Côte de Nuits, the twelvemile stretch in the northernmost half of the Côte d'Or. And here, real frustration begins.
Your American wine-lover is familiar with the most famous wines — Chamberlin, Richebourg, Musigny, La Tâche, Clos Yougeot, RomanéeConti — but he is apt to turn his nose up at other vineyards which are almost as great though not famous: Clos des Lambrays, Bonnes Mares, Grands Echezeaux, Clos de Tart, St. Georges, Latricières-Chamberlin, Clos des Turrets, Les Prutiers, La Perrière. Then, too, there's the fetish of the vintage chart. The great wines of outstanding vintage years are as scarce as buried treasure, but my customers insist on getting them '49s, '47s, and '45s, even '37s, '34s, and '29s. I try to explain this to the growers, in the hope they may part with a few cases they have set aside for their own use. I get laughed at for my pains, as though I were a madman; but I keep on pressing and eventually some grower may say that he can let me have live cases of '48.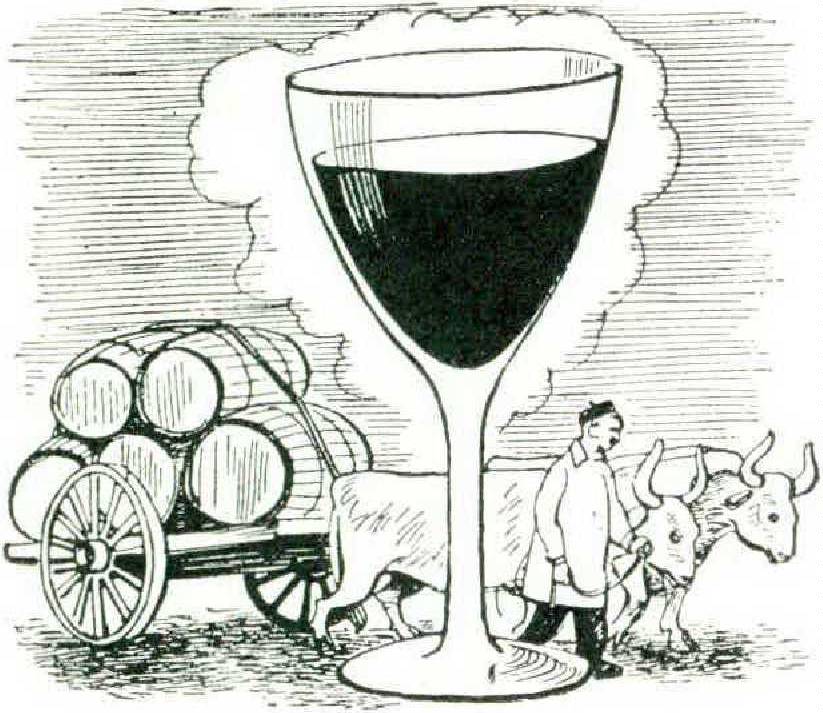 Now, '48 produced some great wines in Burgundy. But even though the best '48s are better than some of the '47s and '49s, I have trouble finding customers for them, because the vintage charts don't give '48 a top rating. I buy the wine all the same: it's superb and lower in price than more highly touted vintages.
By now it's time for dinner, and I usually stop at the little restaurant in Gevrey-Chambertin. Here the American friends I have taken with me on tasting tours invariably get a shock, for the town is merely a cluster of houses along a couple of dirt and cobble streets; and when they try to order one of the great wines in the local restaurant — an estate-bottled Chambertin, say, or Chambertin Clos de Bèze — they find that the proprietor has none to sell: it is next to impossible to get any of the greatest wines in the hotels and restaurants of the Côte d'Or. We settle for a wine of ihe township, a GevreyChambertin, which should be good and is only mediocre; and my companions want to know, "How come?"
The answer is that. Gevrey has added the name of the township's greatest vineyard to its name, so that all the wines of ihe township can legally be called Gevrey-Chambertin; that even includes wines from the poor vineyards down by the tracks. As a result, Gevrey-Chambertin can be anything. The important thing is the name of the particular vineyard.
And that, too, is no guarantee of authenticity if the wine has been bottled by an unscrupulous shipper: it is a common practice in the shippers' cellars for good Burgundy to be stretched with cheap Algerian wine. The tank trucks that bring the Algerian wines up from Marseille are an all too familiar sight on the roads of Burgundy. Not all Burgundy is genuine Burgundy, even though it does come from Burgundy in France.
The next center of operations on my route is Beaune, the most famous town in Burgundy and the home of the Hospices de Beaune, a charily hospital that is supported by the sale of wines at its annual auction, which attracts buyers from all over the world. Here my wine tourists are in for a further surprise. In the local telephone directory, as many as twenty different firms of shippers are sometimes listed under a single number. The (wholesale) wine business is built on exclusive rights to the wines from a particular shipper; but to expand his business, a shipper will form additional companies with different names, each of which offers some American firm "exclusive" distribution, and all of which are selling wine from the same cellar, even the same barrel. All the shipper needs, to do this, is so many new sets of labels. It has been said that printing is the second biggest business in Beaune.
But there is another side to the Burgundian picture. That afternoon, to show my friends how honest an honest winegrower can be, I take them to Yard's cellar in Beaune, M. Yard being an estate-bottler who owns a section of Corton Bressandes. '47 was the greatest year of the century for red Burgundies, and my friends may ask Yard whether he will let them taste some of his '47. Yard tells them he has sold it to the shippers — the wine contained too much sugar, which meant too much alcohol, and he felt he could not make a great wine with it. I take my traveling companions to other honest, growers; and as they discuss this or that vintage, they often hear the remark: "I could not make a good wine that year. I sold it to the shippers." These growers are like a poor man who owns a race horse and is proud of the gamble he takes. They are the salt of the earth, and they are keeping alive a tradition and a wonder that is centuries old.
By this time, my wine tourists have ceased to think of Burgundy as a type. They have realized that the wines of Burgundy, both red and white, run a tremendous gamut, and they have learned the first principles of buying Burgundy: —
1. Whenever possible, stick to an estate-bottled wine, and don't neglect the lesser-known vantages.
2. When you buy a shipper's wine
— and some are excellent — check
and double-check the shipper's reputation.
3. Don't be a. fetishist about the vintage chart: the years not generally Considered "Great — 1948, say, or 1950 — produced some admirable wines which, at the price they're selling for, are among the best values on the markel,
4. Select your wane with the same sort of care you would apply to buying a picture. For a fine Burgundy is a work of art as well as a work of nature.