Travel by the Stars
Artist, traveler, and author, SAMUEL CHAMBERLAIN is among the most knowledgeable authorities on French cooking. His Clementine in the Kitchen is a useful handbook and uncommonly pleasant reading.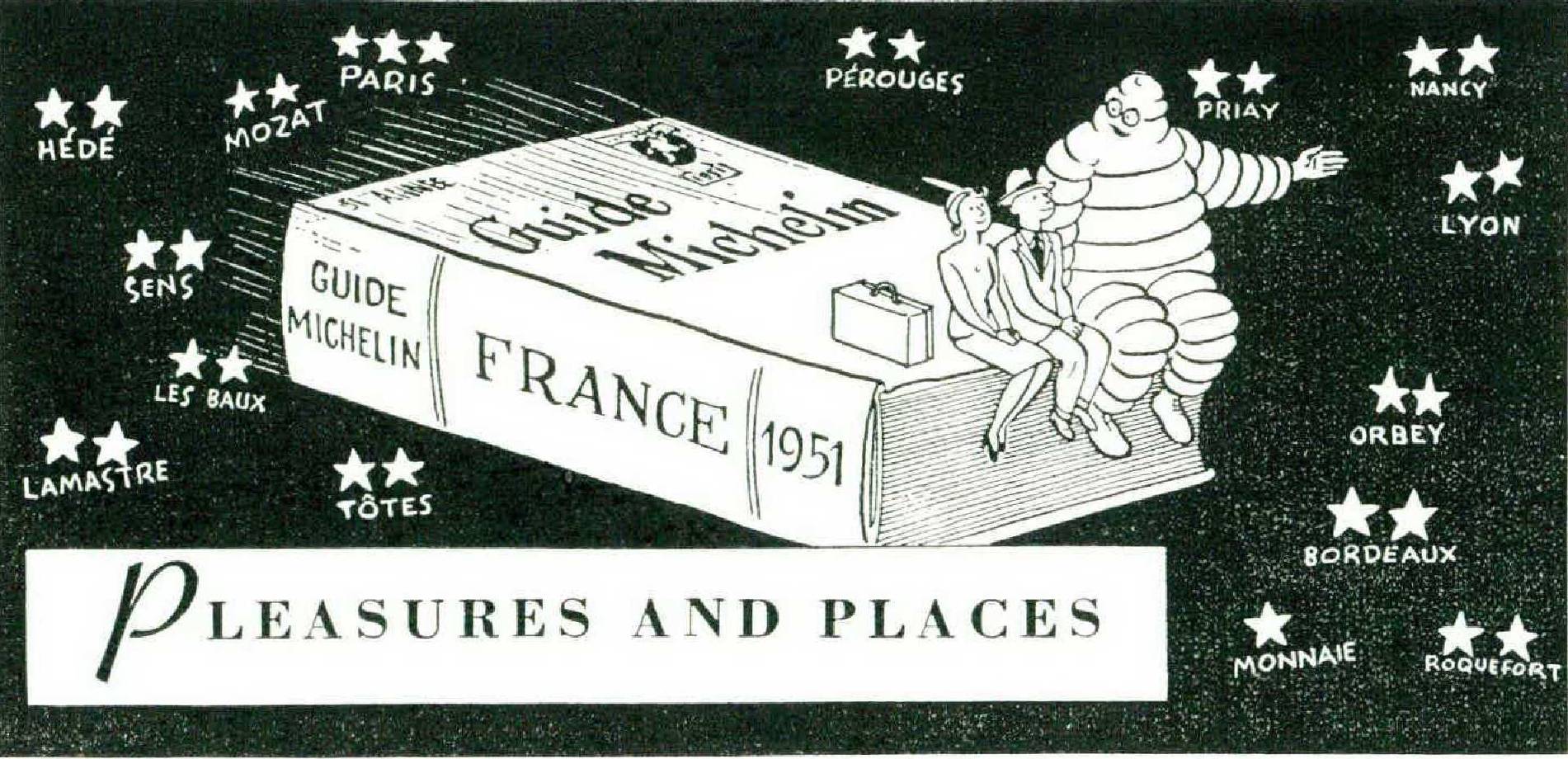 by SAMUEL CHAMBERLAIN
ONE evening in the summer of 1950, during an epicurean pilgrimage through the French provinces, we found ourselves ensconced in the cushioned comfort of the Capucin Gourmand, the best restaurant in Nancy. We were sniffing the gentle bouquet of a pinkish local wine and waiting for our quiche lorraine to cool off a little when three robust Frenchmen, well in their sixties, were ushered to a table across the way.
Two of them were urbane gentlemen, trim, meticulously tailored, at ease with the world. The third was an imposing six-footer, adorned with a magnificent white beard and the given name of Philibert. Each wore a discreet red rosette in his buttonhole, a spot of color which had its effect upon the deference of the headwaiter. One of them carried a red handbook, the Guide Michelin. Its presence affected the maître d'hôtel even more. His solicitude was charming. His three guests studied the purple-lettered carte du jour with deliberation and obvious relish. Each scanned the wine card carefully and cross-examined the headwaiter about regional specialties before arriving at a final selection. Then each sat back happily to enjoy his apéritif— a cool glass of white port.
From our discreet distance we watched them with fascination, for we had rarely seen three Frenchmen having such a thoroughly good time. They clearly were old friends, and talked incessantly, in low, animated voices. Whether they had sidetracked their wives for this pleasant occasion was problematical but likely, we decided. They had ordered a simple dinner — leek soup, truite au bleu, breasts of chicken in a truffle-scented sauce, a few leaves of lettuce, cheese and black coffee, between them they shared a long-necked bottle of Alsatian wine and a red Burgundy. (We couldn't quite read the labels.) Then, after sniffing an old brandy, they paid their bill and strolled happily into the darkness to admire the illuminated Louis XV façades on the Place Stanislas.
Two days later we were having our coffee and croissants on the breakfast terrace of the Hotel Beausite-in the remote village of Orbey, high in the Alsatian hills, when, to our enchantment, the same massive epicure with the white beard came down the stairs and took a table adjoining us. His companions, bright-eyed, freshly shaven, and pointed up with Eau de Cologne, soon joined him. During their perfunctory breakfast (and a French breakfast is rarely anything else) the conversation was focused on a single subject — what should be their next étape gastronomique? Out came the red guidebook from an expensive pigskin bag. The three sybarites hovered intently over page 24, which deals with Les Bonnes Tables, and studied a map which was spotted with names of gustatory significance.
Should they stop at the Paradis des Loups at Giromagny, or should they push on to the Lac d'Annecy, which is bejeweled with a garland of doublestarred restaurants? Would Le Père Bise do so well by them at his plush and plate-glass palace by the lake in Talloires that they would be incapacitated for a dinner "chez Point" at Vienne the following day?
It was clear that these were enlightened travelers, "two-star gourmets," who concentrate on the Guide Michelin's doubly recommended restaurants— those which appear in heavy type. The trio finally decided to forgo the Wolves' Paradise in favor of Le Père Bise, but also voted to fast for a day in Annecy before confronting the formidable splendors of Monsieur Point's Restaurant de la Pyramide in Vienne, the loftiest temple of French gastronomy.
The great decision being made, the white-bearded Philibert contentedly closed his guidebook and led the way to his dignified pre-war Panhard. Two-starred Orbey had rewarded them with an incomparable poulet au Riesling; Talloires awaited them with that unique lake fish, amble chevalier à la crême, and beyond that lay the seductions of heavy-typed shrines in Lyon, not to mention the vision of La Pyramide! We could sense the restrained gleam of anticipation in their eyes as they drove away.
The idea of planning a trip in France with fine fare as its keystone, and the Michelin Guide as its gospel, has been followed by a certain number of discriminating travelers for years. Before the last war there were a dozen or more three-star restaurants, but up to this year a double star has been the ultimate distinction. It invariably brings a stream of food-conscious motorists to the door of the honored hostelry. They come with eagerness, for they know that the Michelin editors are genuinely impartial and painstakingly deliberate about bestowing a star. That little symbol, so casually set in type by some compositor, often means success or failure to a restaurant.
This year, for the first time in over a decade, the lofty honor of three stars has been revived and bestowed upon seven citadels of gastronomy. In Paris, the distinction goes to Lapérouse, the Tour d'Argent, and the Café de Paris. In the provinces it falls upon our old friends, Le Père Bise in Talloires and Monsieur Point's fabulous Pyramide in Vienne. La Mère Brazier, perhaps the most acclaimed of the culinary matrons of Lyon, receives the triple accolade for her hilltop restaurant at Col de la Luère, west of the silk metropolis. Finally the honor goes to the Hotel Côte-d'Or in Saulieu, a traditional stopover for epicurean motorists making the two-day Paris-Riviera run.
A gastronomic itinerary based on the stars is an exciting one, full of surprises and mild adventure. It leads you to unexpected, out-of-the-way places—perhaps a sleepy country town near the Swiss border (Priay), a hillside village in Alsace (Orbey, already familiar), or a radiant terrace overlooking the Mediterranean (St. Raphaël). It leads to extraordinary old buildings — a timbered house in a half-forgotten hill town (Pérouges) or an isolated Provençal manor house in the melancholy hills of Camargue (Les Baux).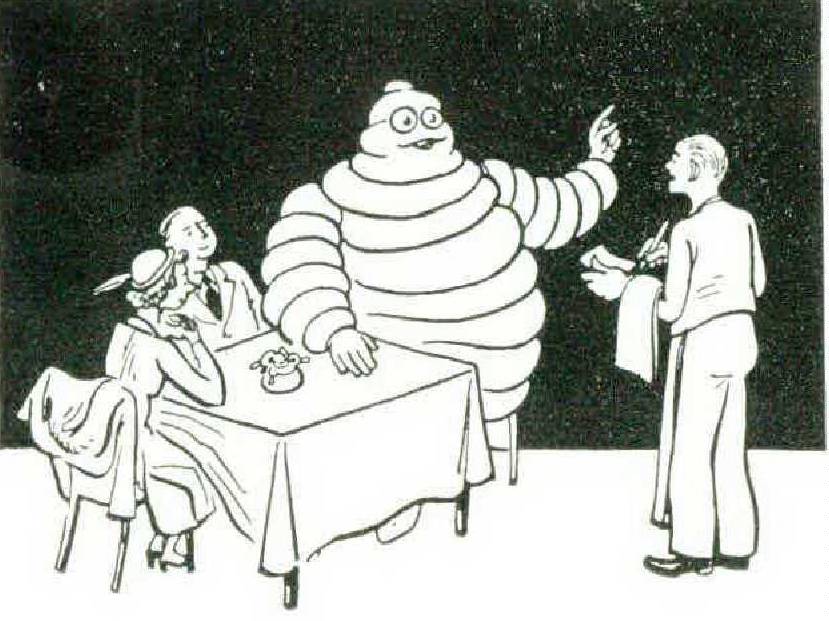 It permits you to become acquainted with some striking individuals — a diminutive chef who has retired to a Normandy village after half a century of cooking in famous hotels (Monsieur Richard at Tôtes), or a plump lady who is the culinary legend of all Brittany (Madame Mélanie Rouat at Riec-sur-Belon), or a versatile musician-chef who makes his own musical instruments and plays them for his guests and, when fortune smiles, cajoles one of his pet hens into laying an egg directly in his frying pan. (This is " Monsieur Sam " of the Coq Hardi at Monnaie, a little town in the Touraine. You may have seen him in the newsreels. He only has one star, though.) Few of the starred selections are quite so informal. Two stars will lead to the most mondain of settings as well, from the Ritz in Paris to the glittering private dining salons of the Casino in Monte Carlo.
After visiting most of the doublestarred luminaries last year (and encountering only one mild disappointment) we look back upon certain ones with particular affection. Some of them are rather obvious — Drouant in Paris, the Chapon Fin in Bordeaux, Le Molière in Lyon, and the Réserve at Beaulieu-sur-Mer. But there are other favorites, isolated in the provinces, which are genuine adventures. Here are thumbnail sketches of a few of them: —
Hédé (Brittany), Hostellerie du Vieux Moulin. — This is an inviting and spotless hostelry facing the Rennes-St. Malo road. The aesthetic motorist instinctively applies the brakes at the sight of its hospitable stone façade. In some intangible manner he is positive that a gifted cook must preside in the kitchen. The Cuide Michelin found this out long ago, and for years has been recommending the inspired cooking of Monsieur Pierre. We found it to be an idyllic spot.
Lamastre (Languedoc), Hôtel du Midi.—This little hotel calls for a 25-mile detour from the highway along the Rhone valley, but it is worth the effort. Well-posted travelers have gone that far out of their way for decades, just to enjoy the superlative cuisine initialed by Monsieur Barattero and now maintained by his gracious widow. The hotel is modest in appearance, and its sheltered terrace resembles hundreds of others. But nothing in the region even approaches Madame Barattero's finer dishes, particularly a sublime crayfish concoction called pain d'écrevisses sauce cardinal. Madame Barattero was invited this year to take her kitchen staff to Paris and to officiate during the annual regional cooking week at Maxim's. Following this triumph she was presented with a diploma by the president of the Club des Cent, the most lofty of gourmet societies.
Mozat (Auvergne), Le Pailleret. — The Michelin scouts traveled far afield to unearth this unsuspected source of fine cooking, located about a mile from Riom. It doesn't resemble a hotel at all. It seems more like an unpretentious château with charming guest rooms, a pleasant garden, and an extraordinarily good cook. Don't worry here about your French if it falters, for Monsieur and Madame Faure, the owners of Le Pailleret, have spent many years in the United States. They have realized their dream, which was to return some day to France and to establish a noble restaurant.
Pérouges (Bresse), Ostellerie du Vieux Pérouges.—Just off the highway running northeast from Lyon is that comparative rarity in France, a semi-abandoned hill town. Its sleepy public square is surrounded by medieval structures, one of which is the overhanging, half-timbered hostelry of old Pérouges. The interior is furnished with handsome old Bressan pieces. All of this atmosphere, and heavenly food too, await the hillclimber. If this tempting inn had existed in Brillat-Savarin's time, the great man would surely have been a loyal patron, for his native town of Belley is not far away.
Priay (Bresse), Hôtel Bourgeois. — About a quarter of a century ago, in the Grand Palais in Paris, an unassuming little person from the village of Priay was solemnly kissed on both cheeks by the Minister of Agriculture and awarded the distinction of being "La Meilleure Cuisinière de France." That evening she cooked the dinner for the President of the Republic and his guests and received an ovation destined for few cooks in this world. She was Madame Bourgeois, whose simple Hôtel Bourgeois still upholds her tradition. Priay has become a classic stop, particularly for Swiss travelers en route to Paris. There isn't an ounce of pretense about the place, but it would be interesting to know how many hundreds of ounces of pure butter go into the cooking daily.
Roquefort-sur-Soulzon (Guyenne), Grand Hôtel. — A visit to this hillside town in the Aveyron provides a dual experience for the hungry visitor — first a guided tour through the Roquefort cheese caves and then an unforgettable luncheon at this quiet hotel, whose dull exterior gives no hint of the culinary splendors within. There is but one menu, priced at about three dollars, and it is original, well balanced, and abundant. We talked of the feuilleté Roquefortais and the ensuing trout, woodcock, cheese, and chocolate soufflé for weeks afterward.
Sens (Burgundy), Hôtel de Paris et de la Poste. — There are many good overnight stops along the highways leading to the Azure Coast, but lew are as pleasant as this one, located some seventy miles south of Paris. Here again is something intangible. The atmosphere is cordial, the rooms are well furnished, the service is alert, and the sight of a quartet of plump Bressan chickens sputtering on a spit before the fire is soul-warming. But there is something else, a hidden tranquillity, which makes this relay post an unclouded joy. Besides, one of the noblest of French cathedrals is barely a stone's throw away. Monsieur Sandré can be as proud of his chefs as of his wine cellar, a statement which turns out to be a decided compliment to both.
Tôtes (Normandy), Hôtel du Cygne. — This is one of the most memorable of the two-star stops, largely because of Monsieur Claudius Richard, the diminutive patron-chef, who receives his guests in a magnificent seventeenth-century kitchen, filled with old china, pottery, and copper pots. This brick hostelry north of Rouen has served as a crossroads tavern since 1611, but it has reached its peak only recently, under the bright star of Monsieur Richard. This gifted maîtrecuisinier has retired to this spot after almost half a century of experience in Paris and London. For a time he also ran his own restaurant on lower Fifth Avenue in New York. Now he enjoys the simple life, often working as little as twelve hours a day.
Probably no two people would make the same selections from the Guide Michelin's Milky Way but we hope our beguiling octet will demonstrate the virtue of cookery as the basis of an itinerary. How about your figure? That's easy. Limit yourself to one meal a day.