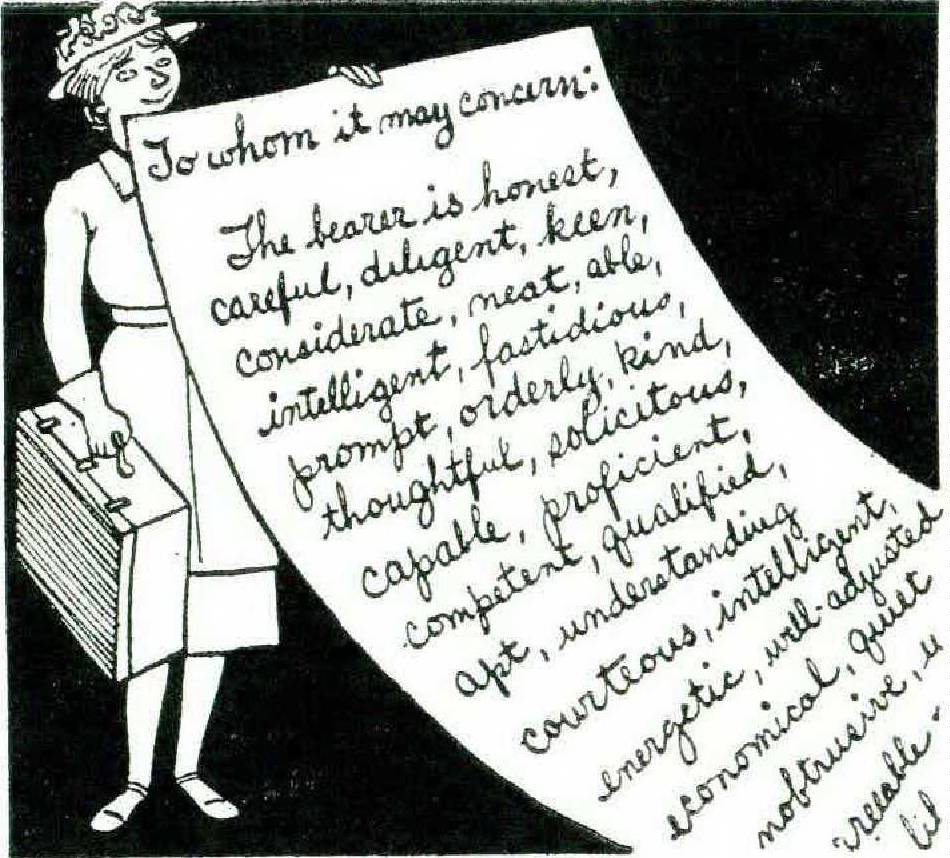 by JOSEPH HENRY JACKSON
Critic, author, and anthologist. JOSEPH HENRY JACKSON has been literary editor of the San Francisco Chronicle since 1931.
FOR quite a while now we have been wondering about the Trotts. We have never seen them but we feel they are almost friends. They are dream people, curiously dim in certain aspects of their lives, sharp and clear in others. At 500 miles' distance (they live in Southern California) they are, naturally, vague to us even though we know a surprising lot about them. Some of it, we are sure, cannot be true. Yet — well, Marta who told us so much and so little about the Trotts was herself so simply and solidly matter-of-fact.
It was this round-cheeked solidity that made us certain Marta was the jewel all families like ours hope to find. With her blonde hair edging on gray, she seemed the very model of foursquare respectability. Plainly she liked our child — all children we guessed, watching her comfortable surrogate-motherliness. When she came for her interview she scooped our cat into her lap with that absentminded assurance all cats immediately recognize and approve. The Trotts had written sincerely and warmly To Whom It Might Concern. Yes, Marta would be the ideal helper we had sought so long.
For the three months she stayed with us Marta was all we hoped. Her strudel was a poem. She would have laid down her life for our seven-yearold if necessary. She hummed little tunes when she washed the kitchen paint. On her nights off she rode the trolley happily down to Oakland to attend the sedate midweek gettogether dances at Smart's Ballroom where strangers were always decently introduced. After a short time men called for her on those evenings. All of them were admirable examples of middle-aged propriety, and my wife thought that one in particular, an electrician, might make Marta a good match. Nothing came of it. Perhaps she told him too much about the Trotts. For, as we began to see, Marta still lived with the Trotts in spirit if with us in the flesh.
We understood this when we realized that we were coming to know a surprising lot about the Trotts' family life. Mrs. Trott, we learned, wore a transformer. Mr. Trott was a pharmist. He played a flute after dinner; the music was lovely, Marta said — clear as a hound's tooth. Perhaps it was his training at the prescriptionslab that taught him to make a better Old-Fashioned than I did. Marta was firm about that; Mr. Trott always put a dash of Angora bitters in his.
As the weeks passed, we began to see the Trotts more and more plainly. Mr. Trott was a tidy man and Marta had a passion for tidiness. Once she suggested to my wife that The Mister was sometimes like a bull in a china closet. Order ruled in the Trott household; times, dates, and schedules were scrupulously observed. When we innocently assumed she would change her night off because we had unexpected guests, Marta made this quite clear. Mrs. Trott would not have taken such a thing for granite. "She would never put me in a lurch!" Marta said with dignity.
Mrs Trott, we learned, often had ladies in for tea, and sometimes for a game of option bridge. Marta had never minded doing up the cups and plates, nor did she when my wife had ladies in. But there was no doubt about her feeling that we might better have done such things with more style. Mrs. Trott, for instance, made her tea in a semaphore, a handsome brass one.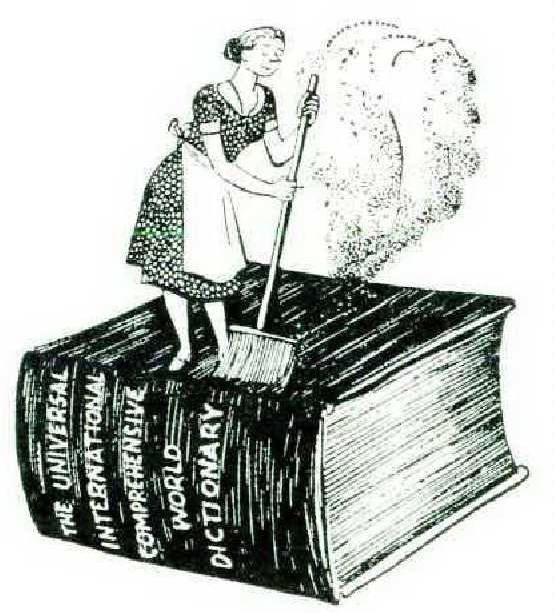 It was not long before we came to have in our minds' eye a partial picture, at least, of the Trott house. Some rooms we could never visualize. Marta made no mention of bedchambers, for instance. She spoke of the bathroom once, when she told us that Mr. Trott, an asthmatic, kept his epidemic needle there. But the living room is clear in outline and color, with the gaily-jacketed books that came by mail each month from the Literary Glide, and the derogatypes of Trott relatives on the walls.
Mrs. Trott was one for sayings, it appeared. Marta quoted her frequently. When the telephone rang she liked to say "Sometimes I wish I was invisible!" A "kick in the bucket " was what happened to someone who died, and afterward — well, it was all water under the dam. Mrs. Trott often said she didn't believe in stirring up a harness nest. As for trouble, the thing to do was to rise beneath it. Now and then, we thought, Marta felt she spoke too much of the Trotts. At such times she would close the subject briskly. "Excuse me!" she would say. " I was just talking out loud! "
In the end, we believe, it was our lack of neatness that was too much for Marta. She liked our university town with its steep, picturesque hills; more than once she mentioned the unusual conformality of the ground. But what with our child and a c;il and the fact that we were too busymost of the time to be as tidy as we should — as tidy as the Trotts — Marta felt that our house always looked like the raft of God, and she never felt wholly at home in it. She did not like it, she said, when things were all up in a heaval.
Inevitably Marta went back to the Trotts, and she is with them now. She writes occasionally, and always sends her regards to The Mister. Sometimes we think of her, busy and happy, keeping the big brass semaphore bright, dusting the Trott derogatypes in their heavy gilt frames. Perhaps some day, if anything takes us to Southern California, we shall call on her. It would be worth it, we feel, to look at the Trotts' greatest treasure, the oil painting that occupies the end wall of the living room. Marta always lowered her voice when she mentioned the subject. It is — and we would give a good deal to see it just once—a religious painting, a scene from the New Testament showing Our Lord in the Garden of Yosemite.