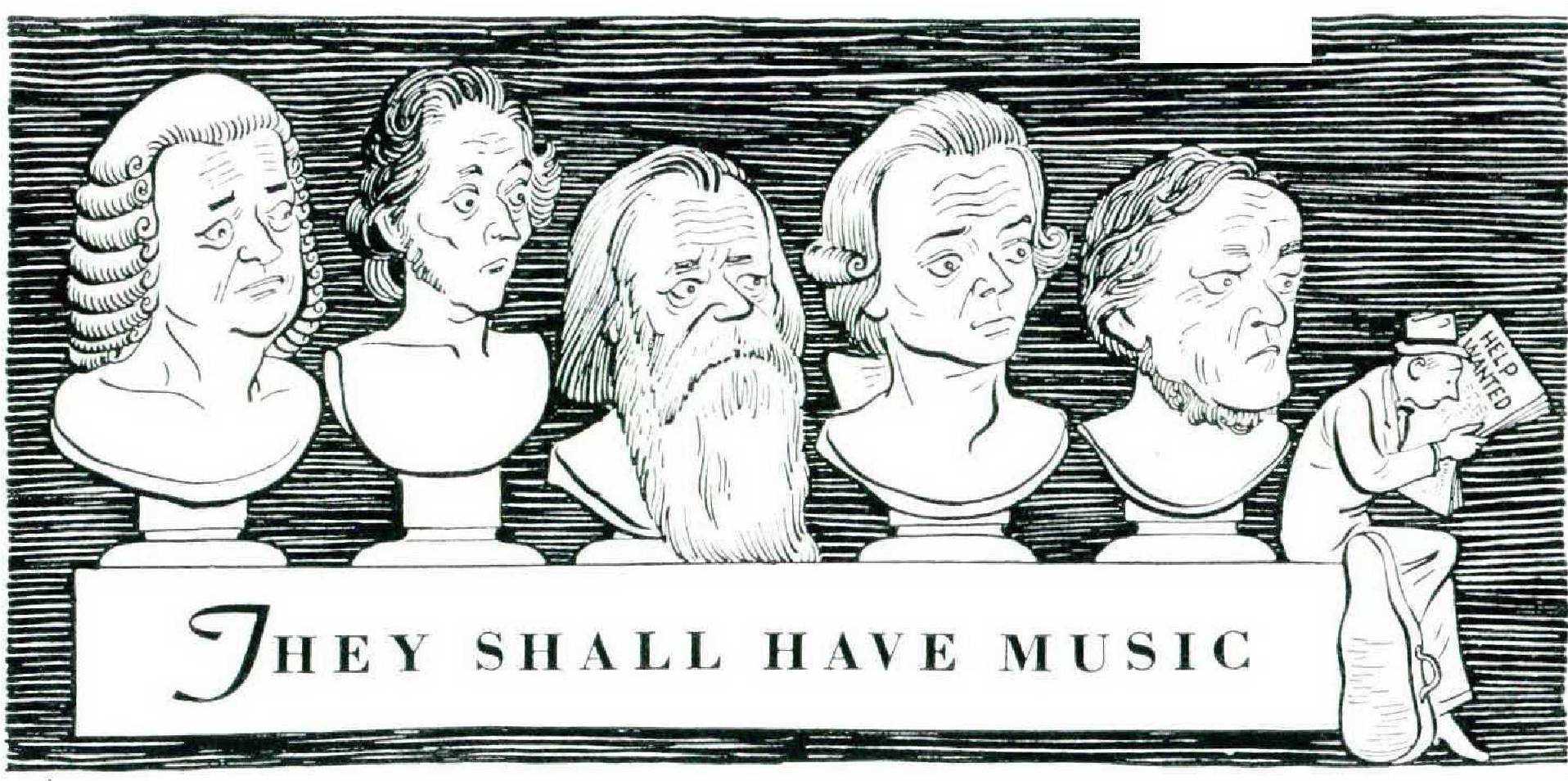 THEY SHALL HAVE MUSIC
by JOHN M. CONLY
JOHN M. CONLY is a former New York and Washington newspaperman who is now an associate editor of Pathfinder. "They Shall Have Music" is a quarterly feature in the Atlantic.
THE American musician is a dying species. Like the blacksmith, the carriage maker, and the ice-factory worker, he is being displaced by machinery. But there is one difference: when the musician is gone, there won't be any music; the machine cannot create, it can only reproduce.
This is the prediction of a thoughtful man with some knowledge of what he is talking about - Herman D. Kenin, an executive of the American Federation of Musicians, its delegate to the International Labor Organization, and a true music lover. He spelled it out last year in the Progressive, after attending in Switzerland an ILO study-session on the problem of the professional artist. He hasn't changed his mind since.
Mr. Kenin's glum expectations are widely shared by other musical notables. They aren't hesitant, either, about where to lay the blame: music's murderer is mechanical reproduction — records, tapes, and transcriptions.
This automatically makes a partner in crime of everyone who buys records or equipment to play them with, or who listens to them played by radio stations. Rather prominent accessories before the fact, by this criterion, are the readers (not to mention the writer) of this column.
However, before anyone starts dismantling his hi-fi rig, shoveling his ffrr records into the furnace, or writing hasty thousand-dollar checks to the Metropolitan Opera Guild, it may be astute to analyze the situation briefly. The blame may not belong entirely where it's lodged. Even the fatal outcome may not be inevitable.
It can be admitted at the outset that transcription technology has done the musical profession as a whole serious injury —very serious injury. For instance, before movie soundtracks were invented, American theaters employed 20,000 musicians. Now they furnish work to only a couple of hundred. On restaurant musicians, "piped" music wreaked similar slaughter. To dance-band players, the juke box is the villain.
This leaves one musical contingent to be tallied. What happened during this same period to the so-called "serious" musicians, the performers of the classics? In 1926, when the electric microphone was just beginning to gel in its dirty work, there were 33 symphony orchestras in the land. Now there are 172.
Musicians can (and will) protest that these figures are cruelly deceptive, in terms of bread and butter. Some of the 172 orchestras play but a couple of concerts a year. Even in the 28 so-called majors, the average performer can count on only 23 weeks' work, at $78.50 a week. Furthermore, it could be added, prospects are darkening now even for serious music. Three major orchestras have bitten the dust in the last two years.
All this is true, but the fact remains that, in the past quarter century in America, there have been two trends, not just one, in the fortunes of music, and one of them (albeit the lesser economically) was good. Moreover, it was brought about by reproduction technology.
Musically speaking, the good old days weren't really very good. A cultured American might know his Shakespeare, his Gibbon, even his Virgil. But, unless he lived in one of a few favored cities, he probably wouldn't know Verdi from Vivaldi. He didn't even know what he was missing.
He began to find out in the late 1920s, when the electrical mike and its associated gadgetry went to work. All at once, whole orchestras could record, relieving the tired tenors who had so long stood singing into horns. And — significantly, as Goddard Lieberson, Columbia Records' executive vice president, points out — recording costs were cut in half, encouraging manufacturers to be venturesome.
Venturesome they were, too, considering the fact that they were breaching a stone-cold market. By the early 1930s, college boys and girls were giving each other presents of Hamilton Harty playing the Beethoven Fourth, Stokowski playing the César Franck.
Radio, too, less tightly commercialized than now, did extraordinarily well by the classics. Toscanini and Walter Damrosch soon were household words. Mozart was no longer an utter stranger to Main Street.
Finally, even Hollywood recognized the trend. Leopold Stokowski's hands became almost as familiar as Jeanette MacDonald's teeth.
It was during this period that the 139 new symphony orchestras were established. The national audience for good music seemed to be growing without stop. Many musicians may have hoped that it was going to furnish them the living that had vanished when night-after-night work in theaters and restaurants dwindled.
Now they have stopped hoping. Instead of continuing to grow, the concert and symphony-broadcast audience appears to have stabilized numerically, or even begun to wane. Radio networks are dropping their serious music programs.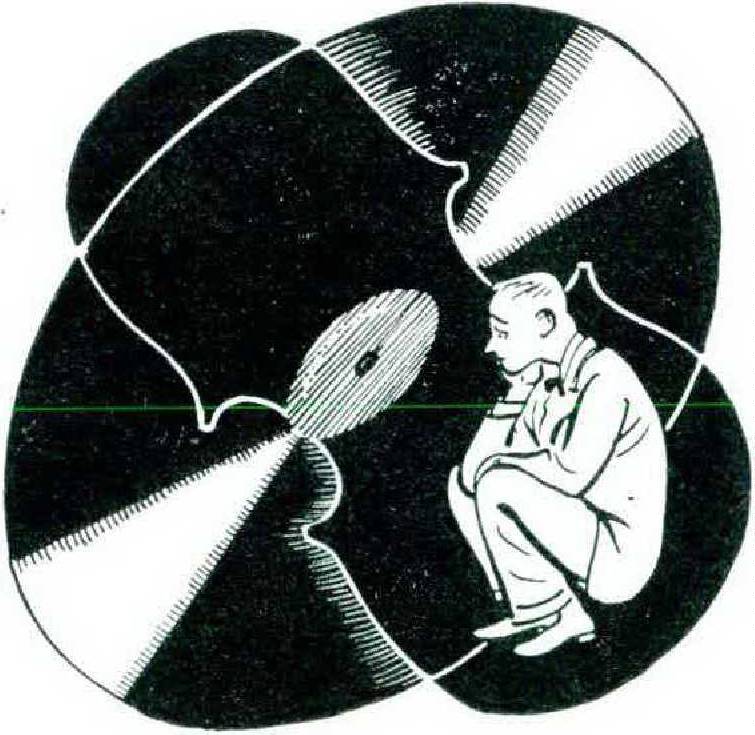 It is this situation which has inspired the current dismay among musical leaders. Dimitri Mitropoulos, conductor of the New York Philharmonic, and A. Rex Riccurdi, of the AFM, claim that subsidies are necessary, even overdue — as probably they are. They calculate that less than 10 million dollars a year would put American music on its feet. The United States, it is pointed out, has handsomely subsidized foreign music through the Marshall Plan. On its own, however, it long has levied a 20 per cent amusement tax; so concert managements dare not even raise ticket prices to offset cost increases.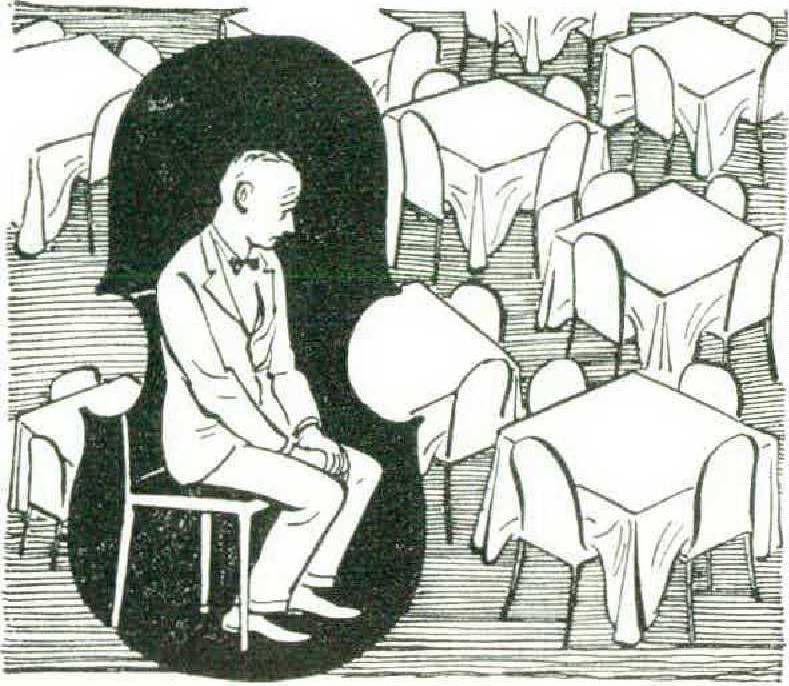 (If this changes for the better, most of the credit probably should go to a stalwart opera-lover from Greenwich, Conn. — Congressman Albert P. Morano.) The United States alone, among civilized nations, entertains the delusion that art — here meaning music — can pay its own way.
It never has, anywhere, explains Samuel R. Rosenbaum, trustee of the recording industry's Music Performance Trust Fund and an authority on the subject. "Good music," he says, "is a kept woman." Abroad, says Mr. Rosenbaum, the tradition of subsidy by princes is continued by state and local governments. Here we never had the princes and we haven't the tradition. Even the few music-minded tycoons we had are disappearing.
An even better way to support music, he adds, not very hopefully, would be some kind of performers' copyright law, subjecting all enterprises which benefit from reproduced music to a "modest payment" for its use. Musicians, unlike writers, get no such protection now. The ILO has been trying to frame a law along these lines. Disk jockeys and juke box operators are against it.
What tantalizes musicians is that, even while concert and radio-symphony listenership declines, phonograph record sales are at an all-time high. Last year 15 million classical albums were produced, mostly LP and largely recorded abroad.
This has led to suggestions like that of Alfred Wallenstein, director of the Los Angeles Philharmonic. He proposes that the major orchestras form a sort of giant recording co-op, cutting costs to match those of European tape imports. The trouble here is, there are too many major orchestras. Goddard Lieberson, who should know, says that two are enough to maintain Columbia's whole full-orchestra output; six would supply the entire industry.
Part of the whole trouble may be this fixation on the big orchestra. Naturally it has been the central feature in the promotion of classical music in America by radio, records, and concert managements. It's dramatic, salable. Nevertheless, it is also a late-comer in musical history. Most of the best music wasn't written for it.
Furthermore, it's expensive to run. Hence, to keep anywhere near the black, it must stick to a proven sure-fire repertory. Surveys show this amounts to about fifty works, played over and over again.
This makes it something less than a wild surmise to suppose that here is one explanation for the leveling-off of listenership. The "standard" repertory may well be pulling in new listeners at its former rate. But if, at the same time, it is losing its old ones, no ground is being gained.
As to where the lost listeners are going, there is at least a clue in the fact that somewhere in the neighborhood of a million high-fidelity installations have been sold in the past three years — especially when this is coupled with the boom in record sales. Not only does it represent a substantial diversion of funds (from box offices, for instance). It also gives evidence of vigorous dissatisfaction, among the vanguard of the army of music lovers, with the fare they've been getting.
The dissatisfaction can be grounded in either musical or audio-technical values, or both. The man with the hi-fi rig needn't govern his schedule to hear the New York Philharmonic's blurred AM-network version of the Brahms First. He can hear it much better on records, and at a time of his own choosing.
Even live concerts are not proof against odious comparisons on aural grounds. In Washington recently, unbiased listeners compared a noted pianist's playing of Beethoven's Third Piano Concerto, heard from good gallery seats in Constitution Hall, with a performance on records by Clara Haskil and the Winterthur Symphony (Westminster LP WL5057). Miss Haskil, aided by a topquality pickup and amplifier and a two-way speaker in a 9-cubic-foot cabinet, won a unanimous decision over her opponent, who was handicapped by the fact that Constitution Hall is one of the worst auditoriums in the Western Hemisphere.
However, against the same audiotechnical background, other musical factors can produce equally significant effects. When concerts at the National Gallery of Art, featuring unusual music played by the Gallery's excellent 23-piece "little" orchestra, were broadcast by a highfidelity FM station (WCFM), the live attendance went noticeably up.
In fact, high fidelity (including FM broadcasting and LP recording) may be giving musical history a chance to reverse itself. Initially, serious secular music was developed in living rooms (large ducal living rooms, perhaps, but still living rooms). Later, owing largely to the efforts of Ludwig van Beethoven and sundry Italian opera impresarios, it moved into public concert halls. It became more dramatic, more effective at first impact, less sophisticated and less durable under frequent repetition.
Now, the hi-fi set owner has moved back into the position of the preBeethoven prince. He can have music, reasonably lifelike, in his living room whenever he wants it. And it is quite possible that his taste may move in the direction of music written for the living room.
Granted, when Mr. X buys his hi-fi rig, his first record purchases will be his old Philharmonic loves: the Eroica, the Immolation Scene, the Pathétique. Next, drunk with the noise at his command, he will immerse himself in the thunders of Le Sacre, Also Sprach Zarathustra, and Mahler's Knaben Wunderhorn.
Then (in some cases, anyway) aural factors will join musical ones in sending him hunting again. He can't get "reality" in his living room, trying to funnel 110 instruments through a 15-inch speaker. Using a Klipsch or kindred corner-speaker system may help, or "reflecting" the speaker's output from a smooth wall, which spreads the illusory sound-source. But volume remains a handicap.
So Mr. X turns elsewhere, coached by FM broadcasters and small LP manufacturers, who operate on budgets too small for big orchestras. And he discovers something new and fine: "intimate" music; music the composers write for their own joy, not for the box office; music which stands repetition; music which fits his living room with splendid naturalness.
It's also music of tremendous variety. Leonardo da Vinci wrote some, and so does Samuel Barber. Thomas Scherman, director of the Little Orchestra Society in New York, says there is a thousand years' repertory here. He's been exploring it busily, packing people into Town Hall (as well as into Hunter College Auditorium, for cutrate rehearsal listening). The Little Orchestra pays its way, which no big symphonic unit does.
Even more interesting is the experience of Ira Hirschmann, president of the highbrow New York FM station WABF (winner this year of a Peabody citation for its musical services) and founder of the New Friends of Music. Mr. Hirschmann organized the New Friends in 1936 to furnish lieder and chamber music to people who had graduated, so to speak, from Carnegie Hall (an example followed in six other cities since). When high-fidelity FM arrived and he acquired WABF, he added another dimension.
"What we are doing, in effect," he says, "is sending music from room to room. Chamber music is written for a small room. The form and the acoustical properties are in the right proportion. We had some vigorous debates and even conducted a poll among our listeners. The chamber music won hands down." Last year Hirsehmann asked listeners to pay for New Friends broadcasts. He set the figure at $6000 and, without heckling, they came through with $5700.
There may be a trend hidden in all this. If so, it is hardly news to record makers, who already are pushing it for all they're worth. Columbia has a five-year plan afoot to produce 30 American chamber works on records. Smaller outfits are deeply involved with small-ensemble compositions, dating from Pergolesi to Benjamin Britten.
Live music's organizers, however, seem hardly to have tried yet. Musical America lists only 20 little orchestras in operation, although some of them have won considerable glory. That of the North Carolina Symphony played 44 concerts in 1950, and sold out nearly every one. Julius Hegyi, who conducted the San Antonio Little Symphony last year, reported "overwhelming" response.
Hegyi points out something else, too: that most communities could come closer to supporting a small orchestra than a large one, and that it's likely to be a good deal better orchestra. It's also likelier to sound good in the housing available for its use.
It might pay musical organizations to help promote music of this type through radio and records. As yet, for instance, the AFM discriminates in favor of "established " symphony orchestras in national recording rates. It also forgets promotional angles — and insists on straight "stand-by" rates — whenever a pair of small FM stations proposes trading tapes of live local concerts. (At the same time, it should be noted that the union itself has made considerable use of small groups in its expensive free-concert campaign to promote music in general.)
When and if music subsidies come, it's a safe bet that they will gravitate to major orchestras in major cities. It probably behooves musicians elsewhere to plan on living in the same age with electronic gadgetry and making the most of it. Used right, it may turn out not to be an enemy at all.
Some seasons it's hard to fill a column with memorable recordreleases, but not Spring—Summer, 1951. The following constitute a scoop of the cream-of-thecreatn. Releases marked with asterisks are describable as "intimate" music: —
*Arne:Thomas and Sally and Purcell:Timon of Athens, adapted by Frederic Woodhouse (Intimate Opera Company, directed by Frederic Woodhouse; London: 12" LP). These could be produced in a drawing room, yet the music is by A-1, genuine masters. Students of the seventeenth century may object to the adaptations; everyone else will find them irresistible. Fine recording; perfect intelligibility.
* Barber, Samuel:Knoxville, Summer of 1915 (Eleanor Steber, soprano, with Dumbarton Oaks Chamber Orchestra, William Strickland conducting) and Four Excursions (Rudolf Firkusny, piano; Columbia: 10" LP). This is a musical poem on the thoughts of a little boy lying on a quilt on a lawn in the dusk in Knoxville in 1915; nostalgic and beautifully done.
* Beethoven : Trio No. 7in B-flat Major, "Archduke" (Artur Rubinstein, piano, Jascha Heifetz, violin, Emanuel Feucrmann, cello; RCA Victor: 12" LP or five 45's). Feuermann's cohesive influence made this playing unsurpassable. And, as in other "Immortal Performance" reprints (notably the Toscanini-played Beethovens and the Rachmaninoffplayed Rachmaninoffs), RCA engineer Albert Pulley has done a fine re-recording job.
* Berg, Alban: Lyric Suite (Juilliard String Quartet; Columbia: 10" LP). Warning: this is atonal — but fetching. The recording is superb.
Britten:Rejoice in the Lamb and Kodaly: Missa Brevis (Chancel Choir, National Presbyterian Church, Washington, Theodore Schaefer conductor-organist; MCFM: 12" LP). Browning ranked Christopher Smart, the praying madman-poet, with Keats and Milton. Benjamin Britten, from his treatment of Smart's Rejoice, obviously feels the same way. Buy this one.
* Brahms: Clarinet Trio in A Minor and Mozart: Clarinet Trio in E-flat Major (Sidney Forrest, clarinet, Carlton Cooley, viola, Bernard Greenhouse, cello, Frno Balogh, piano; Lyrichord: 12" LP). Durable music, never recorded before.
*Catches and Glees of the Restoration (Allegro male quartet; Allegro: 12" LP). Ribald, hilarious, and convincingly put across. Those were the days!
DebussyIberia and Ravel: Valses Nobles et Sentimen tales (Franz André conducting Brussels INR Symphony; Capitol-Telefunken: 12" LP or separate 78 and 45 albums). Not new material, but exemplary playing and recording.
* Handel: Sonatas for Violin and Figured Bass (Alexander Schneider, violin, and Ralph Kirkpatrick, harpsichord; Columbia: three 10" LP's). Part of Columbia's almost unpublicized "Collectors' Series." Recording: adequate.
Haydn: Symphonies No. 100, "Military," and 95 in C Minor (Hermann Scherehen conducting the Vienna Symphony Orchestra; Westminster: 12"LP). Absolutely thrilling, in all ways. Some connoisseurs now think Westminster the nation's leading record company. Try their Schubert Four-Hand Piano Music, too. Try their whole list, in fact.
* Hovhaness: Piano Concerto (Maro Ajemian, piano, and chamber orchestra; Dial: 12" LP). Young Alan Hovhaness seems to have done what Khatchaturian (and maybe even Rimsky-Korsakov) couldn't:captured the Fast in Western instrumentation, and it's fascinating. Another worthy Dial issue: Stravinsky's impudent barnyard opera, Renard (in English).
* Ives, Charles: Sonata No. 2 and Sessions, Roger: Duo (Patricia Travers, violin, Otto Herz, piano; Columbia: 10" LP). Ives's handling of revival hymns herein is uproarious and yet, somehow, not irreverent. Splendid fidelity .
Mendelssohn: A Midsummer Night's Dream (soloists, chamber choir, and Berlin Philharmonic Orchestra, Ferenc Fricsay conducting; Decca-Deutsche Grammophon: 12" LP). It's strange to hear "Hence away" in German, but the spirit's right and the recording very good.
*Mozart and Schubert: Songs (Genevieve Warner, soprano, wilh Franz Rupp, piano: Columbia: 12" LP or five 78's). Columbia and the Met raced to sign up Miss Warner right after her initial appearance wit h the Little Orchestra Society, and her performance here shows why: voice plus brains plus taste.
Palestrina: Missa Papae Marcelli (Wagner Chorale, Roger Wagner conducting; Capitol: 12" LP or 45 or 78 album). Capitol's West Coast recordings suddenly have set a new high; this is one of the best choral jobs available.
Mahler:The Youth's Magic Horn — "Des Knaben Wunderhorn" (Lorna Sydney, mezzo, Alfred Poell, baritone, the Vienna State Opera Orchestra, Felix Prohaska condueling; Vanguard: two 12" LP's). Spectacular hi-fi; excellent delivery of Mahler's atmospheric songs with big, big orchestral accompaniment.
Spanish Songsof DeFalla and Granados (ConehitaSupervia, mezzo, with Frank Marshall, piano; Decca: 10" LP). Supervia has been dead fifteen years now, but her passionate coloratura-mezzo voice is a legend. These aren't the world's best reproductions, but all singing-fanciers will want them.