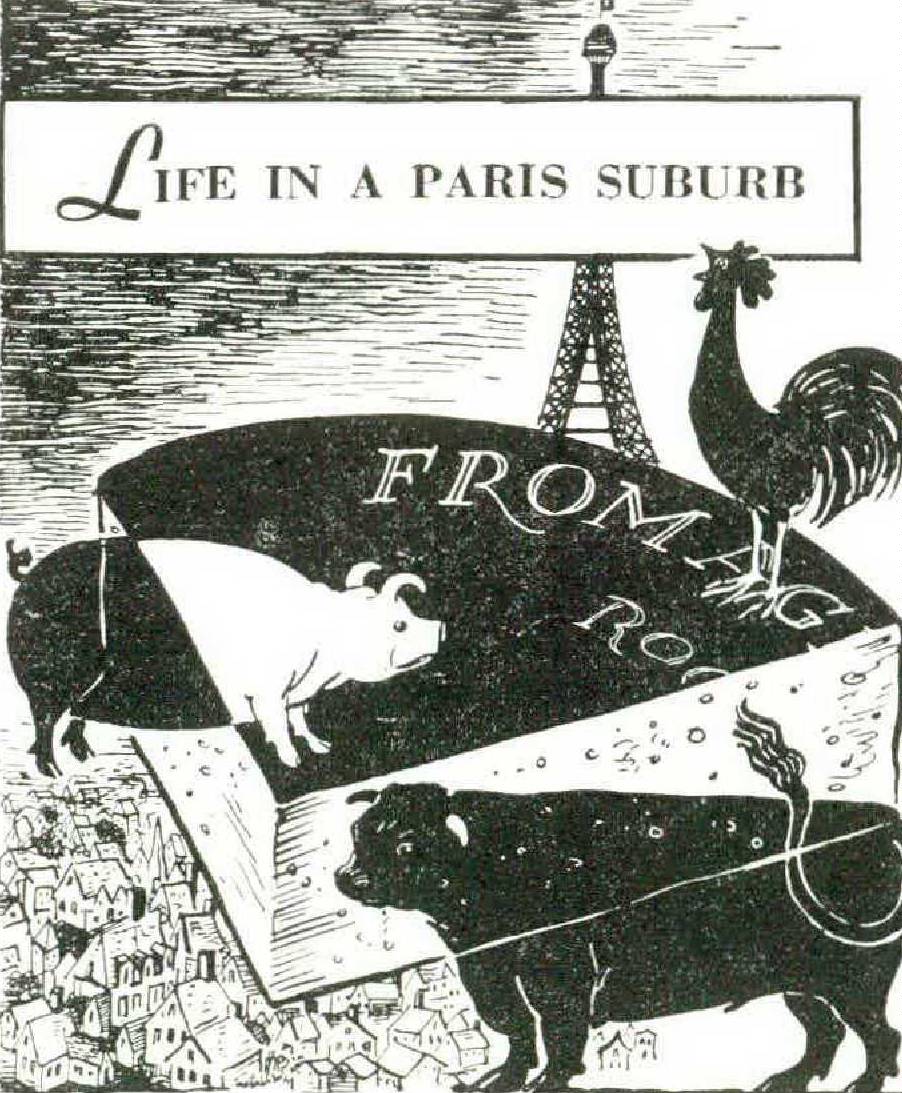 by RAOUL SIMPKINS
RAOUL SIMPKINS, a farmer British diplomat, concludes his account of the pleasures of living in France which he began in these pages last month.
WE HAD not been long in our villa ten miles west of Paris, whence the Eiffel Tower is clearly discernible on all but the dullest day, when we encountered the most traditionally pleasing factor of life in France — and, in another field, perhaps the most ghastly. I need only say that, since I left Washington a year ago, I have put on just fifteen pounds, for it to be instantly clear that French food and cooking lack nothing of their oldtime seduction and abundance. Here are some of the items you find in the great, hustling, open-air market ten minutes from our home, on two days a week, and in the shops on other days.
A gloriously rich pâté, 75 cents a pound; rillette de Tours, an even more Lucullan form of pâté, packed for the protection of its rare beauty in superfine fats— 85 cents a pound.
Prime roasting beef, $1.20 a pound; top-grade tournedos steak, which melts in the mouth like some warmed-up snow ball, $1.70 a pound.
Ducks, $2.65 each; chickens — really flamboyant offerings — $2.55 each; part ridges please note this — 65 cents each.
Veal, $1.45 a pound.
And the oysters! Lovely, clean green Fines de Clair, 20 cents a dozen. Or, if you will, Belons (rather like blue points). 35 cents a dozen.
Very alluring shellfish called langoustines (they are like slender lobsters, and make an excellent hors d'œuvre with a touch of mayonnaise), 90 cents for two pounds (and that's a lot of langoustines).
Lamb kidneys (tasty on cold nights en brochette), 8 cents apiece; best leg of lamb, $1.45 a pound.
Nice lithe soles, 80 cents for four.
Butter. 05 cents a pound.
Eggs, 72 cents a dozen.
Coffee, 92 cents a pound. Coffee was the last commodity to be rationed, and rationing of it ended some weeks ago.
Sugar, 15 cents a pound.
Milk (a bit of a nuisance the milk, because they won't send it, even on bicycles, and there is only one " farm " in our part of town, and you must sally out yourself, carrying a depressing metal container, to fetch it), 13 cents a liler.
Oranges, 25 cents for two pounds; grapefruit, 27 cents for two pounds; lemons, 27 cents for two pounds.
Lettuce, 30 cents a pound. Camembert cheeses, 25 cents each; Gruyère, $1 a pound; baby cream cheeses, a nickel each. (There are stacks and flower beds of cheeses — cart wheels of Brie, mounds of Cantal, wedges of Port Salut.)
French bread is a nickel for a medium-sized loaf. Everyone can be seen carrying the stuff at one time or another. Businessmen on their way home from work, nuns on motor bicycles, an off-duty policeman — all have several yards of bread under their arms or slung across their backs.
Creamy éelairs cost 9 cents each. And at the patisserie individual orders secure madame's rapt attention. We got a birthday cake for one of the children, complete with candles and creamed-in name on top, a rich, satisfying job of celestial chocolate and other ingredients, about a foot in diameter, for $2.80.
And then there are mountains of bacons and hams, including the nice tackily raw jambon de Bayonne, a vast profusion of link sausages and sausage meat; and of the larger sausages, with and without garlic, which dangle enticingly from the roofs of the shops among the old brown hams.
The stomach, in short, is not overlooked.
For irrigation? Excellent dry champagne is $1.75 a bottle. First-class brandy, $2.25 a bottle. A good workmanlike Burgundy or Bordeaux, 80 cents a bottle. Rum (from the French West Indies, and not, according to my own taste, as good as British and Cuban rums), $2.50 a bottle. Beer, 25 cents a quart. If you are in a really thrifty mood you can get perfectly drinkable wine at 30 cents a fifth. But if you insist on Anglo-Saxon drinks you at once run into a completely different price bracket.
Scotch whiskey—it is all going to the United States for dollars, and the shopkeepers of our suburb tend to hide the occasional bottle at the back of the grandfather clock in the hall for the benefit of old-standing customers fetches $7.15 a fifth. And le gin anglais is $6.95.
Other prices, taken at random: a woman's hair-do, 95 cents, with trim 21 cents extra. Man's suit cleaned and pressed, 75 cents. Man's shoes resoled and reheeled (an undertaking which, as I recall it, used to set me back some $5 in Washington), $1.85.
And now to pass to the Chamber of Horrors. My profession demands that I spend a great deal of my time on the telephone. And if there is any single factor that is aiding and abetting my headlong rush to a breakdown, it is the French telephone service.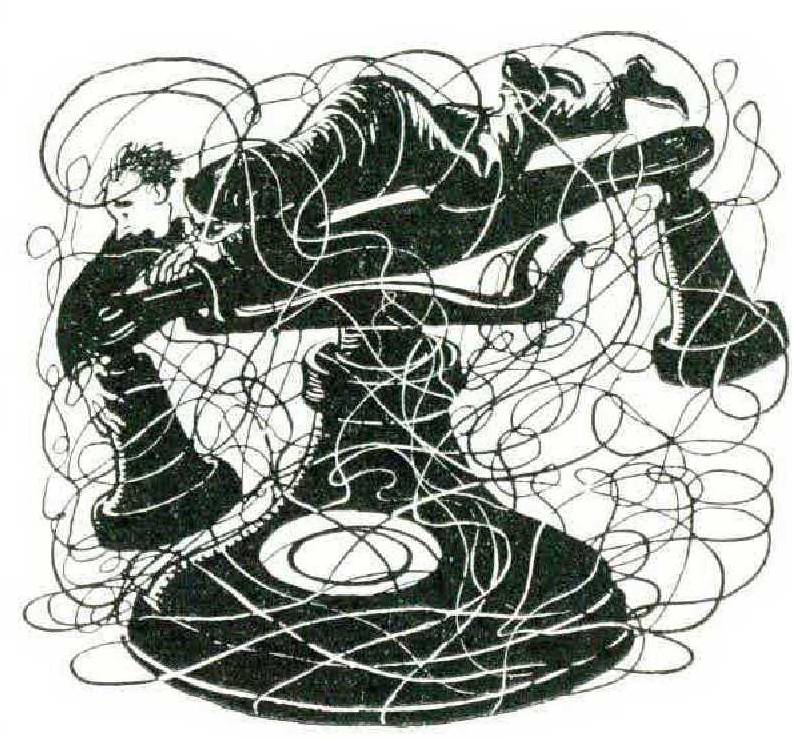 Things started off fairly encouragingly, I admit. After somber talk of a six-month wait before the instrument could be installed in our villa, a smiling man appeared and put the thing in within a week. This cost us $48.50, plus a gratuity to our friend of $6, which sent him on his way singing gaily. But then our troubles began.
Although they tell you in France that the shortcomings of the telephone service are due to war damage and worn-out equipment, the plain fact is that the operators are as reluctant and unhappy a force as ever undertook to staff a vital public service.
How I yearn for those goldenvoiced girls back in the United States who so eagerly took up the chase on my behalf when person-to-person calls were requested. With what enthusiasm would they range the Pacific Coast to track down my man; how doggedly they kept after the errant Senator, finally treeing him triumphantly on the Mexican border. But here in France. . . .
Fired by some urgent nocturnal inquiry from my London office, I lift the receiver. A long pause. Then a woman's voice, plaintive, fairly oozing harassment and resentment, mumbles, "I am listening." I give the number. Three times out of four she will ask me to repeat it (it's not just my accent, either; it's the same for a native son). Then there ensues another pause during which a medley of strange voices can be overheard, apparently attempting to outbid one another in the wheat pit. The woman handling my call is having an angry argument with another operator. A man can be heard intervening. There is an all-pervasive humming sound, as of wind in telephone wires that have been downed by a storm in the Dordogne. In anything from three to seven minutes one may be connected with the number sought in Paris.
But this is at best only a precarious reprieve. For at any moment, while one is talking energetically, the operator's voice will suddenly cut in to ask, "Are you conversing?" and unless both parties immediately respond with an earsplitting chorus of
"Yes! We speak! Do not cut! Do not be a saboteuse!" the line goes dead; and after another pause (during which, however furious you may feel, it is necessary to replace your receiver if you ever want to get back to the outside world again) you hear again the sad, harassed voice intone, "I am listening."
The main reason for all this is that the girls are grossly underpaid and resent the fact. They start at $34.25 a month, and climb painfully upwards through the years to reach the $40 and $50 a month class. Their working conditions are unbelievably awful. But whatever the social rights and wrongs of the situation, it is very hard on the subscriber. I find that just to look at the great gangling, spidery receiver crouching sullenly on my desk sends my blood pressure up several notches.
Apart from the telephone, we are achieving a precarious equilibrium. Our electricity bill for the first two months was a bit of a shock — $74.25. We made representations and were told by the local authorities that we had overstepped the "penalty level" by some two thirds. The penalty level is a sort of par for the course beyond which you automatically got charged a double rate. It seemed that our many electrical appliances (by normal French middle-class standards our villa is the house of a mad scientist) were mainly to blame, allied to the fact that our old friend the"Tropicale" water-heater, when finally hooked up, lived up to its name, ran wild, and provided us with hot water that was far too hot and at all hours of the day and night. But the inspector who dropped round to see us summed it up: —
"Must you both partake of a bath every day?" he asked in wide-eyed wonder.
This quarter I think that things are going to be better. The compulsory electricity cuts instituted by the government on one day a week in the fall helped, and by now we have got the "Tropicalc" into a lessvirile frame of mind.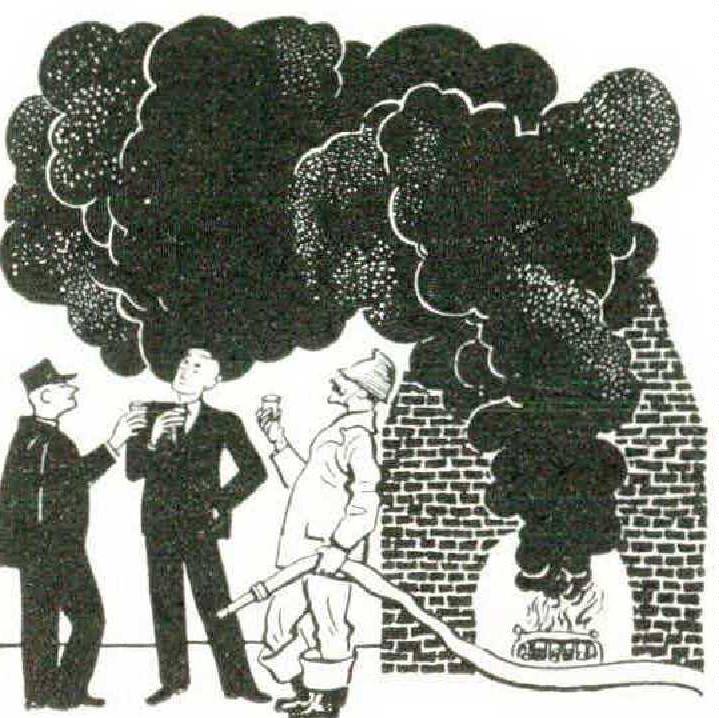 Things are settling down into a routine of sorts. Now and then, of course, something happens to enliven us. For example, what started out as an encouraging essay in Anglo-French understanding the other night ended up on a rather sour note.
In addition to the Dali-designed heating apparatus in the basement, we have an open fireplace in the drawing room. In preparation for the arrival for dinner of an American newspaperman and his wife, my wife touched off a noble fire in this grate. But quickly the cheerful crackle turned into something more sinister. The drawing-room walls became hot, there was an ominous roaring sound. Running outside, my wife observed showers of sparks pouring from the chimney.
So when I arrived from town with our guests a little later, it was to precede the local fire brigade by only a moment or two — summoned to deal with an all too evident chimney on fire.
The brigade arrived in great style from the fourteenth-century church which houses them, their siren—a two-tone, donkeylike braying — going full force. Six men wearing whitepainted steel helmets charged purposefully into the house. Informed of the nature of the crisis, they went to work with a will. Our guests, whose first sampling of our hospitality this was, backed into a far corner of the drawing room with their drinks while the firemen took over, rushing back and forth with shovelfuls of glowing embers from the fireplace, hanging savagely at an alleged vent in the outside wall, the better to survey the threat lurking in the chimney, and tearing upstairs to feel the walls of the bedrooms.
Soon a competent, pink-faced gendarme showed up and, with a man-toman air, asked me a few questions. We got on very well, and when an hour later the threat was at an end, I invited all hands to join me in glasses of my best cognac. All responded with a will. There were smiles and toasts, handshakes and thanks.
"Monsieur no doubt neglected to have his irksome chimney swept before igniting the fire for the first timer?" suggested the gendarme with a twinkle.
"Just exactly what happened,"I laughingly agreed.
Finally we walked to the door together, enwrapped in the greatest bonhomie.
They had been efficient and surprisingly neat — not so much as a dirty footmark left behind. I remember being struck by the fact that the gendarme and one of the pompiers paused to consider a Toulouse-Lautrec hanging in the hall. "Exceptional fellows,"I told my famished guests when I returned from seeing them out, amid a final round of hearty good-byes. "You wouldn't find British or American firemen or policemen displaying any such aesthetic leanings."
Today came the rude awakening. A large official document was dropped into the letter box of our outer gate. It was a court summons informing me that I was reported by the pompiers as having been in flagrant dereliction of the law of the Republic of June, 1902, by which all chimneys must be visited by Monsieur le Fumisfe (the local sweep) before the first fire is lighted in the fall. My presence is therefore earnestly awaited before the magistrate on such and such a date.
I came back indoors and turned the Toulouse-Lautrec face to the wall.