Boys Seventy-Six
SEYMOUR BARNARD, Director of the People's Institute of Brooklyn, adds this baby-sitting subject to the many articles which he has written in the field of adult education.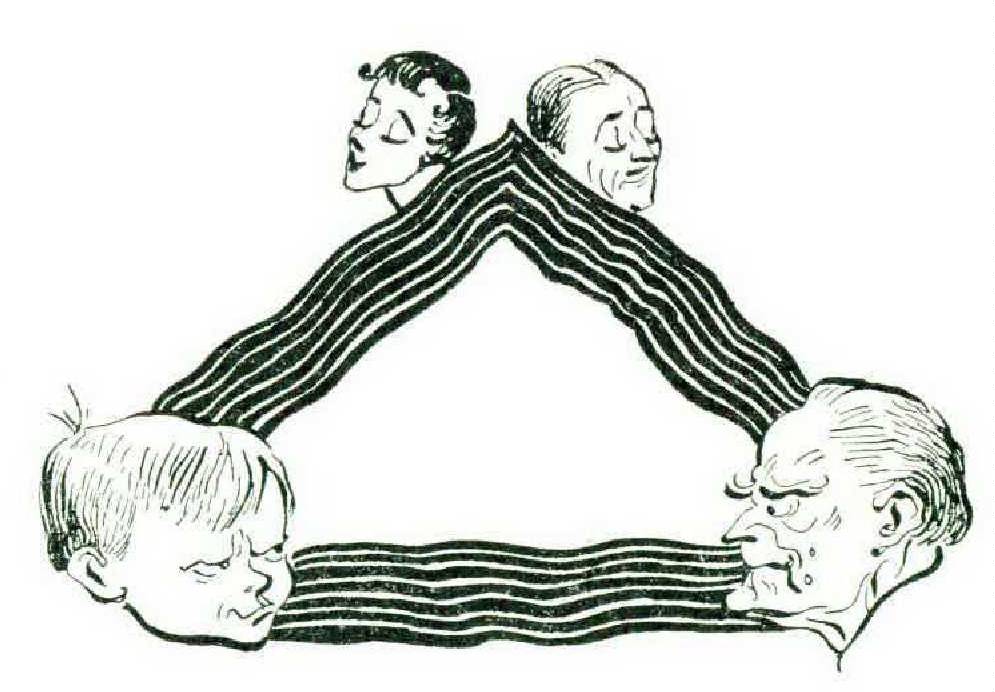 TODAY Grandfather is realizing that he occupies a new and uncomfortable position in the family setup. He still accepts invitations for a fortnight of youthful, racketing recreation at his son's, but throughout his visit he longs for the comfort of uninhibited disintegration in his own apartment or club.
For Grandfather knows that he will not only be rushed into sports and pastimes: he will also be asked to serve as midnight nursery patrol, children's guardian by day, and sometimes as reconditioned outboard motor for the baby carriage. Old age's normal reluctance to do anything it doesn't want to do is deemed insensitive, not senile. To enjoy the uselessness of senility, then, he must exhibit unmistakable signs of its ravages. Literally and convincingly he must act his age.
For example, little Tyler is celebrating the Christmas season with a cold. His nurse too is laid up with it. Little Tyler's mother must, she says, get out to market. But someone must be at home to keep the boy in bed. Well, here's Grandfather, the boy's mother reasons; he'll only be sitting around reading the newspaper anyway. Why shouldn't he read it up in Tyler's room and keep the lad covered up?
Unless Grandfather is an unusually fast-thinking septuagenarian, he will probably have to comply — but only once, he assures himself, if that retrograding mind of his can be made to meet the emergency. Of course he does not succeed in keeping little Tyler in bed — only a bland visionary would even try; and by the time Tyler's mother has come home again the bed is piled high with nursery furniture topped with the little sufferer's pajamas. Her gaze, though, is not upon the disorderly scene or the naked invalid who continues to toss bedroom effects upon the growing heap. Her gaze is upon faithless Grandfather.
She beholds him slumped in his chair, hands fallen to either side, one of them still clutching his newspaper. He breathes noisily (lest he be thought
demised rather than demoralized). Asleep at his post of duty, obviously! But that isn't all: before assuming his decrepit pose he has gently rubbed out his cigarette and laid it along a conspicuous fold in his wrinkled waistcoat. Without doubt, thinks Tyler's mother, it has fallen from his toothless gums. "Why it didn't set fire to his clothes and burn down the house . . .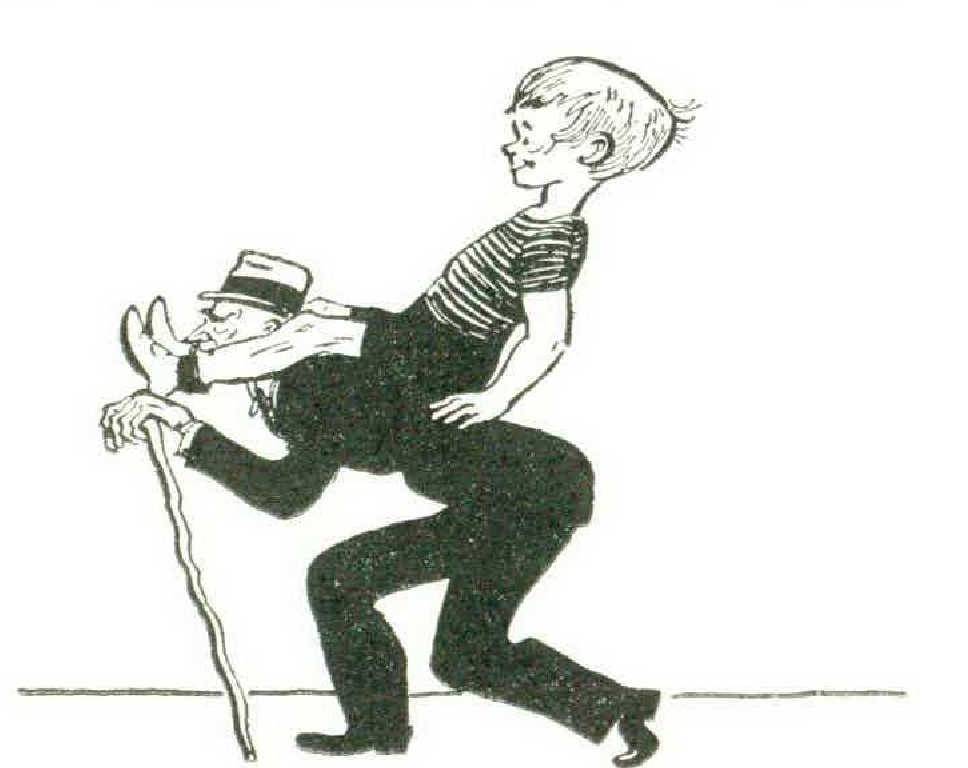 Grandfather's complete unreliability has now been established, and his career in emergency nursing ends with its beginning. But there are still other kinds of service for which he is the household's natural selection. For these he must also prove himself incapable if he wants to escape them. They comprise the day-long succession of errands which are essential to household efficiency. And it is this consideration of efficiency which draws him once more into the domestic machinery.
Wilh domestic servants getting forty-live and fifty dollars a week, nobody is going to suggest that it is they who shall be sent to grocery or drug store. But here is Grandfather, aggressively idle, earning nothing, spending considerable — so be might, determines the domicile's deity, just as well run errands as spend ids declining days declining employment. The right ness of her assumption is unassailable. And again exploited old age must reply with wile, not words.
Suppose Grandfather is being meticulously briefed on the obvious dctails of a suddenly necessary errand. As he turns to go he sways slightly. At the doorway he stops and leans against the frame. But he is brave; he smiles and recovers, confident, he says, that he will easily get to the store and back. In fact he had just such an attack a short time ago with only a little minor pain here he indicates the heart. Grandfather, of course, is at once hustled over to the couch.
Good as this ruse seems to be, it probably proves only temporarily effective, because it is soon seen that when bent upon errands of his own choosing the old man comes and goes organically unaffected. Before long he is re-requisitioned to run errands. He must therefore repeat his act, but under quite different circumstances. From now on he must stagger in the streets. The compassion of the public must be evoked and brought to bear at home, sympathy there having run its course. So, on errands, he pauses to lean against a lamppost or tree, or staggers over to ;i friendly veranda.
Sooner or later, comments on his uncertain state of health reach back into the household. Skeptical or not, those at home cannot allow themselves to be known throughout the neighborhood as exploiters of dependent old age.
But this suggested behavior is not so easy to act as might be supposed. Staggering on the street is liable to misinterpretation. People loo casually attribute it to drunkenness, which awakens no sympathy whatever. The actiug must clearly convey weakness of body and not of character. If Grandfather is known as a liberal on the issue of alcohol, maybe he had belter not try it at all.
However, the aged are not really uncoöperative; not by any means. They are willing helpers and ask only to be considered as volunteers rather than tlraflees. It is by no means irksome to walk out voluntarily with little Tyler on a sunny forenoon. To be sure, he has to make long stops to examine objects of little interest to aging adults, and Grandfather must listen to the boy's shrill comments upon the peculiarities of passing strangers. But it will never do to surrender to the lad complete control of the goings and returnings. Especially the latter, for the old man will remember a previous morning walk when little Tyler resolutely refused to return home. Long after luncheon the frantic mother located the pair analyzing rubbish up an obscure blind alley.
Little Tyler's method of asserting control is almost baffling. It consists in lying down. The use of superior strength is unavailing, and Grandfather soon begins to doubt that he possesses it. The quality of the boy's screaming would convict even a benign-appearing old man of brutal Hogging, as surely as would a club in hand.
On a particular sunny morning a compelling tug from little Tyler leads in an unexpected direction — to a spacious sidewalk in front of the near-by courthouse. The place is crowded with mothers and baby carriages, the interstices with the young afoot.
It is little Tyler's social center. Another tug leads to the very center of the throng, where Grandfather finds himself the one adult male amid a concourse of mothers. Here, apparently, little Tyler is already established socially, for he is at once surrounded by contemporaries of both sexes. Mothers too gather around.
Over the heads of the crowd passers-by greet Grandfather with smiles; someone he knows shouts "Good morning, Grandmother," but nothing budges little Tyler, whose passion for this society is insatiable. Finally Grandfather rallies his distractod thoughts for constructive planning.
Unexpectedly he sloops and picks up little Tyler. Overcoming the letter's contortions and deaf to his screams, he peers anxiously at the boy's neck and down his collar. The audience of mothers presses closer. "Little red spots,"exclaims Grandfather loudly. "I wonder what they mean."He looks appealingly at his audience, but quietly, even more magically than they had gathered, the mothers disappear, hastily summoning their protesting young. Instantly the place is deserted and little Tyler turns placidly homeward.