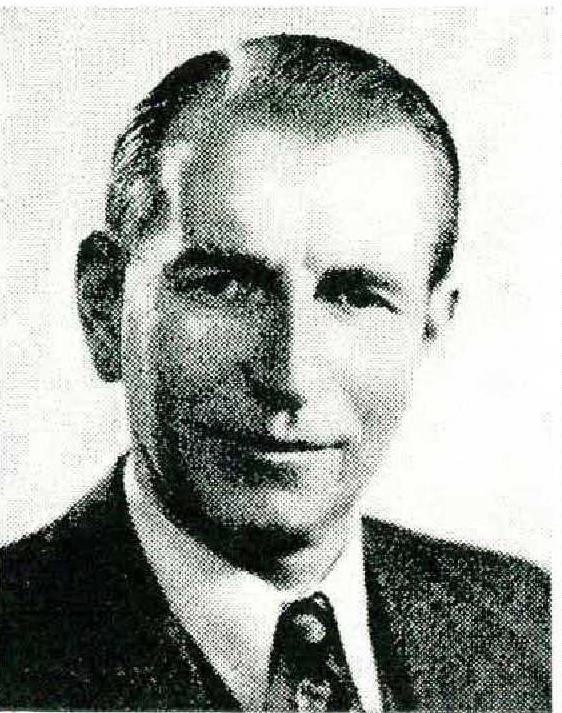 WHEN I began looking for my first job in the summer of 1923, all I had, in the words of the old song, was
... a happy disposition
And a wild desire to succeed.
I wanted to work with books, I wanted to have time to do a little writing of my own, and I knew that I had to live on what I earned. I think I was much more aware of my aspirations than of what I had to offer. I was able to type but not rapidly, I knew no shorthand (very useful for a writer, as Dickens found), and the only experience I could draw on was that as an editor of a college paper and as a correspondent on space rates for the Boston Evening Transcript and the Associated Press.
With this equipment I began pounding the pavements of New York. They were hot pavements that July, and with my shoe leather I burned up quite a lot of hope in those sticky days of trial and disappointment. I began by visiting the editorial offices of every magazine. I said I wanted to be a manuscript reader, but curiously enough they all had their quota of readers. I made the rounds of the publishing houses — there were more than thirty of them on my list — and I still held out for editorial work. I also paid my respects to the hig metropolitan newspapers. My friend Hungry Cox, who was then a reporter for the Tribune (this was just before the merger with the Herald), warned me away from the rewrite desk. "Tell 'em you've got to be out on the street,"he said; "tell 'em you'd like to cover the police courts or Bellevue any thing to keep away from that damn desk." I told 'em, and they told me they would let me know.
All this took five weeks. Even with friends like Fred Allen, then the assistant editor of Harper's, and my cousin, Alice Duer Miller, to cheer me on, I felt pretty blue. The notion I had built up in college of my own resourcefulness had been considerably deflated. On Monday of the sixth week I made a grudging decision. I decided that I would stop trying to persuade the world that I was an editor and take any job available in journalism or publishing. And that Friday I was employed as a book salesman by Horace Liveright. I had never imagined myself as a book salesman, but now at least I had my foot in the door and anything could happen.
today I see resemblances of my younger self in the college graduates, the young men and women who have majored in English and some of whom begin scouting for editorial jobs in May even before they have graduated. I try to talk to as many of them as I can; I try to tell those intent on publishing that they have to be ready to take any job that offers, as a salesman or in the manufacturing or the mail order or the advertising departments. Get a job, get experience, and then if you really have edilorial ability, you will begin to gravitate in t hat direction.
I tell the girls that they ought to have typewriting and shorthand, and not to be afraid of beginning as a typist; and I try to persuade those who want to write that if they intend to support themselves and write in their spare time, they must try for a job that does not sap their energy and eyesight.
The newspapers are a good, demanding school. If you can land a job as an editorial writer on a metropolitan daily, you will move in the current of ideas and controversy, you will learn a good deal about the human nature of your city, and you won't necessarily be spent at the day's end. The same holds true for the sports page, which opens about as vivid an opportunity for observant deadline writing as I know.
But you don't necessarily have to write against a deadline. I have known writers who have supported themselves by carving tombstones, by watching trees as a forest ranger, by tending sheep, by fishing (on a trawler, not in a trout stream), and dozens, literally dozens, who have trained themselves to write while teaching school. A young teacher — I am thinking of Thornton Wilder, once of Lawrenceville; Wallace Stegner at Wisconsin University; Robert Frost in the schools of Lawrence; George Santayana at Harvard; Thomas Wolfe at New York University — can keep in touch with human nature and not have to force the pace for his literary output. Best of all, a young teacher has time: time to travel, time to find himself, time to try.
"There he goes!"
It never occurred to me, in my search for an opening, to apply for a job on the sports page. Perhaps it was because I felt dedicated to Literature with a capital L; perhaps it was because I did not know then what I know now: that the sports pages permit the greatest freedom in contemporary journalism, and lhat the work is pleasant. Far from being an occupational hazard, this assignment has developed writers as able and diverse as Ring Lardner and his son John, Damon Runyon, Heywood Broun, Westbrook Pegler, Paul Gallico, and Bugs Baer.
As we used up our frontier and as our country became more domesticated, Americans, who have always loved vicarious excitement, needed some new way of blowing off steam, and they found it in sports. In 1887 when the New York Tribune published a little handbook of sports explaining the rules of various games and how they were played, the paper commented on this new rising interest on the part of the public, in response to which they had published eighty columns of sport news during the previous year! Today that same paper will publish eighty columns of sports news on a single Sunday. There is a story in this phenomenal growth —and one which has been told with vividness, understanding, and experience by Stanley Woodward in his book Sports Page (Simon and Schuster, $2.95).
Mr. Woodward is a graduate of Amherst who made his by-line on the Boston HeraldTraveler, and who was in charge of the Herald Tribune sports page from 1938 to 1948. His reporting of football was masterful, and he always took the part of the sucker public in his criticism of the corruption in horse racing. The candid, pungent sentences which made his column one of the saltiest in the country serve him well in this book.
He begins by telling what is required of any young sports writer. This he says is "deadline writing day after day"; it calls for a man "with quick fingers and a quick brain who can write at top speed and under circumstances which would floor many journalists. He shows, for instance, what is required of a baseball reporter at a night game: how he writes one story as the game progresses toward midnight, how he must get his second-day story finished by three or four in the morning, and still be ready for the double-header coming up next afternoon (a baseball writer will handle as many as 175 games a year).
He discusses the Gee Whiz school, founded by Grant land Rice, the Aw Nuts school, founded by W. O. McGeehan, Westbrook Pegler, and others, and the "new school" which has come to the front since 1934. He quotes some of the best of the sports writing— Red Smith's column on the Westminster Kennel Club is a beauty; tells what a reporter is subjected to in the Bowl, at the ringside, and in the press box; comments on the plus and minus of television; and signalizes the humor, the resourcefulness, and above till the ability to spot the telling play which are now demanded by the American reader.
J. P. Morgan
To anyone of my vintage, born at the close of the nineteenth century and brought up on the outskirts of New York, the name J. P. Morgan had the solidity of an American Gibraltar: it stood for power, for dignity; and in an age when T.R. was swinging his Big Stick, when Charles Evans Hughes was making his reputation by his investigations of the life insurance companies, and when a railroad baron like Jay Gould was respected for his wealth but hated for how he got it, the name of Morgan had a sterling integrity which never dropped below par. In The Great Pier pout Morgan (Harper, $3.50), Frederick Lewis Allen, who began his editorial career on the Atlantic in 1914 and who has been Editor of Harper's since 1941, has given us the portrait of our greatest American banker, and the chronicle of his doings, in a book which is admirably concise, highly readable, decent and without bias all the way.
His method is more than reportorial: he selects, he digs for motivation, he trains his spotlight on what happened, he gives his fair, shrewd judgment of why it happened, he is scrupulous and very slow to condemn the standards of yesterday by ours of today.
Mr. Allen tells us that he first encountered Pierponl Morgan's personality some fourteen years ago when he was working on an informal financial history called The Lords of Creation. "Here," he thought, "is an extraordinary man, strikingly different from the other financial and industrial princes of his day." The impression remained in his mind; and in the spring of 1947, realizing that there was a dwindling number of those who had known and worked with Morgan the elder, he began the swift quest for his source material. He spent some days with Thomas W. Lament talking and checking details; he turned to Belle da Costa Greene, long the librarian of the Morgan collection, and Leonhard Keyes, who had served as an office boy under the old gentleman and whose photographic memory decades later was of invaluable help. Mr. Allen always had friendly access to those at 23 Wall Street, who were quick to tell I him if this or that negotiation had not "worked out" exactly as he had written it. But this biography is in no sense "authorized," that being a polite term for a book in which the family censors what it does not like.
"Pierpont Morgan,"says the biographer, "was a man with whom I would have disagreed strongly on most political and economic issues if I had been his contemporary. To me he represented a trend in the direction of economic affairs which had to be altered for the good of the country. But I am also convinced that he was a man great in character and force, whose immense influence was in many respects salutary."
What Mr. Allen does is to draw for us the portrait of a Proper New Yorker — "the big, solid man with the red nose and fierce eyes who sat at the head of the table"; the conservative who only once departed from the Republican ticket (when he voted for Grover Cleveland); the American who was almost as much at home in England as in the United States; the family man whose love of family reunions and whose pleasure in an unchanging tradition found complete expression in that big brownstone house at 219 Madison Avenue (yet it was the first residence in the world to be electrified) or, in the summer months, at Cragston, his capacious country place on the Highlands of the Hudson; the cosmopolitan who on the Corsair or on his innumerable travels through Europe lived by a more relaxed code than when, in his cutaway, high wing collar, and Ascot tie. he fought the daily battle of Wall Street. Pierpont Morgan invariably finished his day with a few games of solitaire, his constant solace. He loved it for its order; and it was order, enforced by integrity, which more than anything else he brought to the business arena.
A born fighter and a magnificent tactician, Morgan again and again rose to the opportunity when the battle was going badly. Such was the case when, in his early forties, he stepped out from his father's shadow to assume the long-challenged but finally undisputed leadership in American railroads. Morgan, with English investors and the London Economist on his conscience, had no patience with the loose financing, the ruinous competition of parallel lines, the special rebates, the price wars which drove the cost of a ticket from New York to Chicago down 1o $7 and which threatened to drive a full half of our railroads into bankruptcy. He fought for reform from 1893 to 1897 and he won. The story was repealed in his reorganization of Steel; it was to be repeated in smaller issues again and again throughout his life.
He believed in capital, he believed in profits, he believed in technological change — witness his early backing of Edison: he disbelieved in politicians, for, as Mr. Allen puts it, he believed that "people like himself, who helped business secure capital and tried to keep it on an orderly and solvent basis, were doing more for the general well-being than all these yawpers put together."
The days of one-man rule in American industry are over. The Fords, the Firestones, the Carnegies — men whose power and inventive genius ruled an empire — have been replaced by a managerial cabinet such as one finds today in General Motors. The same is true in finance, which will not again witness the magnificence of a Pierpont Morgan. This book of Mr. Allen's is a one-character book: other figures are named but they have no color. Morgan subordinates them all as he did in life.
The monastic life
Many a man has heard the distant call of monastic life. I have heard it myself not only on visits to Fountains Abbey and the lovely ruins of the Vales and Dales, but on my own retreat at the monastery of the Holy Cross order. Thomas Merton, who was born in France in 1915, threw aside his last reservation to answer that call and become a Trappist monk in 1941. The account he gives us of his first twenty-six years fills t hree quarters of his book, The Seven Storey Mountain (Harcourt, Brace, $3.00); and as we follow his checkered, lonely, and wandering career, it is natural to try to identify those personal pressures which led to his decision.
Tom Merton's upbringing was not that of an American boy. His mother was an American but she died of cancer when he was six. His father, a New Zealander, was a wandering artist, who came nearest to success in his shows at Paris and London. Most of Tom's formative years were spent abroad, and since the boy was not close to his father, who was often away, it was a lonely education resulting in a cast of mind revealed in this remark: " I have always tended to resist any kind of a possessive affection on the part of any other human being — there has always been this profound instinct to keep clear, to keep free. And only with truly supernatural people have I ever felt really at my ease, really at peace."
Tom early developed an interest in writing and the egotism to support it. His poetry did not run clear until after he joined the Church; and then, as he tells us, it followed in the current of Andrew Marvell. But his love for fiction came early. He has the power of observation and the ear for dialogue of a natural storyteller; in renouncing a writer's career he burned the manuscripts of three finished novels and one which was half finished; yet it is still his inner compulsion to speak out and this his Abbot has encouraged despite the silence of his order. I think his desire for writing led to his quest for peace, just as I think the convulsion of the war enforced his final decision. At Columbia University, he had made up his mind not to fight in any war whatever. When the draft came, he had filled out his application as a noncombatant objector; then he was rejected on physical grounds, and thereafter his choice was whether to write, whether to teach, whether to identify himself with Baroness de Hueck's mission in Harlem, or whether to submerge himself in the Trappist order, for which, at first, he thought he had no vocation.
To a Protestant, this book is a mixed blessing. As an autobiography it has in it the search for the interior life —a chronicle by turns exhibitionistic. irrelevant, and intense. As a book of spiritual leading, it holds many arrows of truth for us all, as when he discusses the Communist line of attack in Harlem; or, speaking more personally, says, "I no longer needed to get something, I needed to give something." Or again, "I was free. I had recovered my liberty. I belonged to God, not to myself."Or again, "The monastery is a school — a school in which we learn from God how to be happy. . . . What we have to learn is love. ..."Yet I cannot agree with some of the sweeping condemnations which he applies so readily to those who are not members of his Church. I think he knows too little of American democracy to speak as he does about our public schools. I think there would have been more humility in his judgment of American problems had he been with us longer, not as a transient but as one who has had to live them through.
The allergies of Ogden Nash
Ogden Nash is a quizzical observer who has used the verse form to report his mildly resent tub tolerantly humorous view of the small nuisances which plague mankind. His exasperations are easily identified with yours and mine. His versification is as free and versatile as his fancy. Whether he uses the long, footless rambling line, or the more clipped accents of the quatrain, his skill is in devising iho unexpected rhyme, the rhyme being formed by a slurred or inverted word in a laughable combination. Here are three fillips from his new book, Versus (Little, Brown, $2.50), to show you what endears him to us. He concludes his lines to "The People Upstairs" with
I might love the people upstairs wondrous
If instead of above ns, they just lived under us.
And this is the way he presents some facts of middle age: —
Well, who wants to be young anyhow, any idiot born in the last forty years can be young, and besides forty-five isn't really old, it's right on the border; At least, unless the elevator's out of order.
And this is his modest disclaimer: —
No, I may never win any prizes from Mr. Pulitzer, But when it comes to supplying the customers with little jokes for their breakfast table I will always be in there pitching honestly and trulitzer.
In the new book there are jingles not quite as deft as A. P. Herbert's, there are sentimental poems which seem to me rather small potatoes, but there is also the uneonfined Nash whose style may by now be familiar but whose bright and most devastating lines have a wit and compression hard to beat — for instance, "Big hussy novel wilts on cob," or "as dilatory as a 10-cent depilatory," or "Today spring fever, tomorrow pneumonia.