These columns offered, three months ago, some advice to the engaged girl on the uses of the test tantrum in setting up a line of authority over her fiancé. Jack shall have Jill, so it went, only if he is ideally suited to her— that is, can be made to do whatever she wants. Once this basis is established, Jill can proceed to further controls.
Questions of food and cookery are important. They should be approached cautiously by the girl, and all clues as to how the man stands in that general field should he watched for. There are four kinds of men when it comes to food:
1. The one-dish man who is obsessed by some single specialty— steak, baked beans, spaghetti and meat sauce— perfectly happy with a large quantity of his preference and suspicious of all else.
2. The epicure-fanatic. He is not so difficult as he sounds, once the girl learns that he would rather talk his food than slow if away and that all she has to do is listen.
3. The man who likes to cook and who thinks he is very good at it.
4. The man who will eat anything. (Regardless of what kind she starts with, the capable girl will be making a No. 4 of him as time goes on.)
A fairly safe position for the girl in dealing with all four categories is that she herself is pretty much of an orchid. This is a good idea in any case if she happens to tend to overweight, but it's a useful razzle-dazzle in its own right. The man, great, rugged, violent creature that he is — and it makes no difference whether he weighs in at 125 or twice that figure — needs three square meals a day. He is astonished to see ihe delicacy of the girl's appetite, the spirituality of her performance at mealtime. It seems she is so interested in his tastes and conversation that she neglects even her own nutritional needs. This is a much safer role for the girl if the man is a bug on baked beans, for instance: sooner or later, they are bound to pall on her, and no girl can keep the conversation on a plane of mystery and glamour while processing a mouthful of baked beans.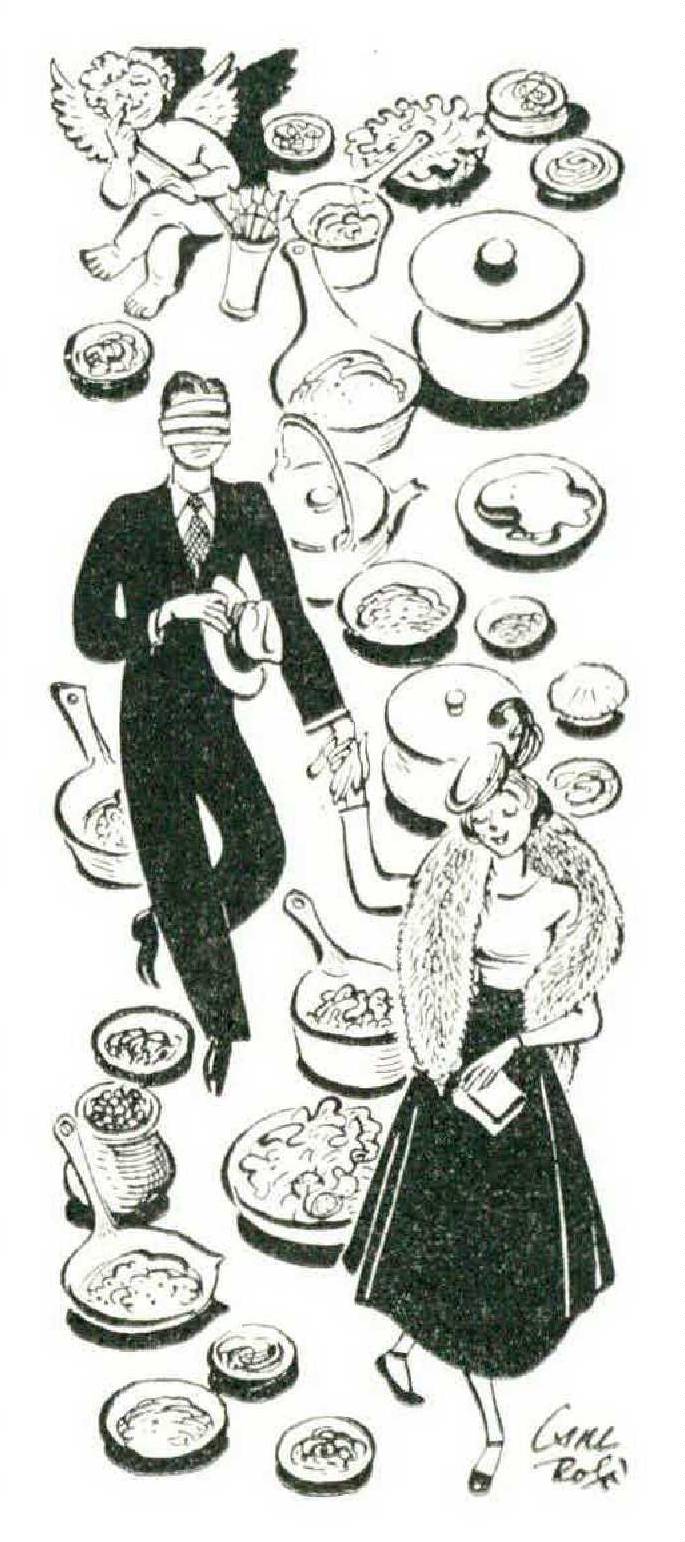 The man finds reassurance in the low-intake girl financially. Ho may marvel at her insistence on a clear soup and a lettuce salad, when his own order reaches the table on a flaming sword, but he will begin to think he can afford her. Later on, at home, after the man has gone, she can make up any caloric deficiencies, even though this means eating a hearty meal, by herself, at 2 A.M.
Dining out during the engagement period will be in places she has allowed the man to select, whatever hardships that involves. He will probably have a German restaurant on his list, where the food is heavy and the lights are harsh. But never has she tasted so subtle a Knackwurst, such cabbage, or sat down among so many fascinating people. He has "discovered" at least one other noisy, overcrowded room where the lemon pie or the onion soup is something the girl will enjoy. He is right: she does!
Sooner or later the girl will have to make her major pitch by feeding the man a meal of her own creation, at home. Man No. 2, the epicure-fanatic, will require special measures, and the wise Jill will farm them out to a cateress. The latter can use as many pots and pans as she wishes, restore the kitchen to immaculate shape, and vanish. She leaves Jill some Poulet à la Kiev or a casserole of Paupiettes de Veau and Jill puts on an absurd little apron over her coolie coat and it's all a lark when Jack arrives, no work at all. -lill is able to point out the contrast between her own pathetically simple arrangements— "I just like to have a dish or two ready to put in the oven" — and all the fuss and bother of other women's cooking.
In general, this is a slack-rein interval when the culinary decisions seem to come from Jack. But the lest tantrum will restore the normal dominance to Jill whenever he tends to get out of hand.
CHARLES W. MORTON