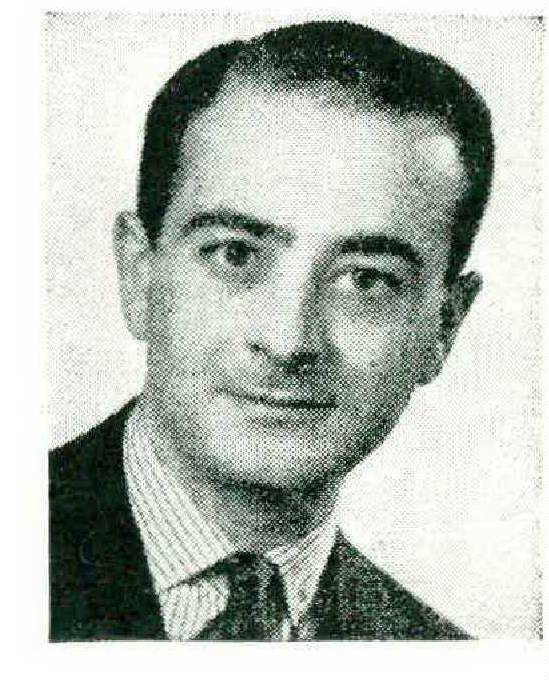 BY
THE year 1948 produced slightly more good fiction than any of the barren past five years, but gave no promise of a substantial letup in the long literary slump. The only American newcomers of notable promise were, I think, Norman Mailer and, more problematically, Truman Capote. In retrospect it seems to me that Cry, the Beloved Country, with its Victorian "comfort in desolation,"was somewhat, overpraised all round, and The Heart of the Matter was overpraised in this column (and others). Huxley's performance was disappointing judged by Huxleyan standards. The Loved One, I still feel, was treated far too seriously in the many reviews which spoke ecstatically of Waugh's "wicked satire" of American mores: the "satire" looked to me the naivest sort of anti-Americanism and the fun was often soured by acrimony. In Faulkner's case, I was among the Philistines who crassly complained his syntax marred enjoyment of his talent; sage critics rated Intruder in the Duet a great novel and a mark of growth. Doctor Faust us had all of Mann's faults and was further proof of his greatness. The Plague, perhaps the year's most remarkable novel, suggested that Camus's talent may be the most significant to mature since the war. Thornton Wilder contributed one of the year's major dividends.
The most depressing aspect of the better than average fiction was the evidence that — among young writers as well as established ones — "knowhow" was replacing creativity. A host of books were ably put together, readable enough — and not worth reading. Something was missing: the "something new" that had not been added. I'm not thinking of new material, new sights, which are necessarily scarce (the novel form is aging), but of what V. S. Pritchett has called "new seeing" - the life and soul of the novel. One and the same pair of eyes seemed to be doing the seeing for every score of hands writing fiction, and what those hands wrote had no private life of its own.
Never had so many novels appeared which were so like so many other novels published within the same year or two. Here was another frightened young man on the flying trapeze, trying to fly away from "Mom"; another glib huckster getting and spending the tycoon's dollar while yearning for "integrity," which, being interpreted, meant "writing a novel" (certain to be repulsive). Here was another small town rotted with moral gangrene; another decorous English storm which never overflowed the teacup; a whole regiment of themes and characters worn to a frazzle by too much active service; and, by way of Illumination, the Intelligent Man's Guide to Freud (or Jung or the Washington School of Psychiatry).
The womb and the dream
Rave prepublication comments described An Ant of Love (Simon and Schuster, $3,95) as "a novel about modern man which approaches in scale the immensity of the problems which face us." Ira Wolfert takes the Pacific war as his backdrop. His story describes the sinking of a U.S. cruiser and the survivors' ordeal at sea; Lieutenant Harry Brunner's recovery on an enemy-held island, first among the natives, then in the home of an American planter, Andersen, on good terms with the Japanese; the lieutenant's (frustrating) love affair with the planter's (willing) daughter; and finally, the American campaign for the island. Meanwhile Mr. Wolfert's inner eye analyzes the lieutenant's traumas; the deep tensions between Andersen, his wife and daughter; the psychic palsy of our time. The palsy, I gather, stems from our subservience to "animal fears," which cause each of us to feel "a minority of one"; it disappears when the human will deliberately conquers the brute instinct of self-preservation, and what follows is a genuine "act of love."
Although this is fairly standard Illumination, it makes a large and earnest theme. But, the advance build-up notwithstanding, I found Mr. Wolfert's handling of it unimpressive. There is too much here one has read about before: the protracted jungle fighting — in The Naked and the Dead (and better done); the insistent and elaborate commentary on womb-seeking and such - in many a page of clinical fiction and in texts on psychiatry for the uneasy layman (where it made better sense). One particular act of love (the wrong sort), which involved Harry and a brace of Pacific maidens, sounded alarmingly as though Henry Miller had rewritten Elinor Glyn; "They vibrated and moaned like strong, rank-smelling fillies. Their hands grasped and pommeled like hoofs, but Harry's mind kept wandering . . ."
The book possibly has a momentous private life which I missed bccause of the fact we never became intimate. For this I blame the author's special brand of prose, which "pummeled like hoofs" and caused my mind, like Harry's, to wander: —
"'Come to me,' she said simply, but the tone resonating above the words said so much more. The tone said she needed him, and that he would have pleasure from her need. It said she knew he needed her, and it gave her pleasure to know it. It said she was pleased to show him she needed him because she knew it would give him pleasure to see it. And from her need she would have pleasure, and he would have pleasure. And from his need, both he and she would have pleasure."
The prevalence of this kind of arty journalese, with its preposterous mannerisms, induced an exasperation which made An Act of Love, despite good things in it, seem pretentious, dull, and overlong (577 pages). A gremlin must have crept into Mr. Wolfert's typewriter; he gave us some fine war reporting.
Carl Sandburg also takes the psychosis of a Pacific lighter as symbolic of a larger distemper. In his case, the cure is found in the nation's past, which "mockers" have led many to forget. Remembrance Hock (Harcourt, Brace, $5.00) seeks to recreate that past and the American Dream in 1067 pages of fictionalized history. In one sense the book (which became a top best-seller while I was wading through it) makes criticism quasi-sucrilcgious. The sincerity and generous spirit of Sandburg's patriotism command respect: every page hymns with brooding passion the religion of America. What might perhaps be called the secular qualities of the novel are a different, matter.
The grand design of Remembrance Rock is Hollywood baroque; a threedecker novel (settlement of Plymouth, Revolution, Civil War) within a novel, the former solving the latter's problems. The main invented characters are three symbolic stereotypes— all symbol and no character who appear in each period. The pace drags. The language is mushy with sentiment and turgid with rhetoric (an irreverent reviewer wrote: "Sounds like a war-bond rally").
The wisdom that informs this cinematic epos — which has its quota of sex appeal and clangorous battle — is a troubled sort of uplift compounded of the rolling sonorities of populism and the naïve solace of momentous clichés. Love the "humble folk, lacking . . . guile"; seek comfort in "these faces out of the past"; take heart in the squealing of infants, for it is " the cry of the Future." Where, in all this, is ihe spirit private to the American Dream? The nearest one gets to it is the notion of "doom, strife and prayer" leading to rebirth - a continuous crisis which helps along "the transmission of energy." Is this not, more or less, also the Czech Dream, the Polish Dream, and a good many other Dreams? The American past carries a more personal message, surely, than the lesson that "life goes on."
Program for survival
Life will almost certainly not go on, Edgar Ansel Mowrer is convinced, unless American leadership snaps out of the dream which he analyzes in The Psightnuire of American Foreign Policy (Knopf, $2.95), Mr. Mowrer has written a biting and admirably succinct study of the mistakes made between wars, and of Roosevelt's wartime diplomacy. He concludes with a bold set of answers to the "awful choice" confronting us.
The Truman Doctrine is acclaimed as the first momentous sign of an awakening to realities. But Mowrer stresses that the present U.S. program for containing Communist imperialism shows that the urgency of the threat is still not fully grasped. The key point in his own program is that the United States, beginning with Western Europe, should forge an ironclad alliance with all of the worlds anti-Communist countries — a coalition which would aggressively challenge Communism in every corner of the globe and make itself too powerful to be challenged. Mowrer's long-range prescription for peace is a world government fortified with overwhelming power.
Anchored to the premise that the sole purpose of diplomacy is power, the author's political thinking is reminiscent of Machiavelli's. Its defiant tone proclaims the disillusioned idealist - and also leads to occasional paradox. Thus Mowrer dismisses the liberal complaint about bolstering "reactionary" governments as an example of "the moralistic fallacy"; he later notes that the Greek Communist problem was "sired" by a policy which forced a reactionary government on the Greeks. Despite occasional disagreement, The Nightmareof American Foreign Policy impressed me as being one of the more forceful of recent books in its field. And when the adversary is Stalin, it is as well to lean toward Machinvelli.
It is as well, too, not to write such juvenile and ultra-nationalistic books as André Visson'sAs Others See Us (Doubleday, $3.00) — a dossier of the nasty things Europeans have said about Americans, punctuated by all the nasty things the author can think of about Europe, and piously presented as a contribution toward cozier relations with our allies. Since Visson's America is almost without blemish and his Europe entirely without Grace, the Good Word falls about four thousand miles short of the mark.
Mr. Visson's complaint, in sum, is that Europe's un-Americanism stems from an unexcusable reluctance to play the abject Job groveling before Jehovah. Europeans will not admit that the sole reason they are worse off than Americans is simply moral and economic turpitude (they will mention geography and natural wealth); they don't like acknowledging that U.S. aid is essentially high-minded charity; vilest of all, these paupers are proud of their culture, which Mr. Visson sneers at preparatory to a clumsy defense of Hollywood.
A great many of the criticisms of America cited are, of course, absurd; but others are opinions voiced daily by responsible Americans. Visson makes no clear distinction between them; his tone throughout is that of the unpleasant small boy whose favorite social gambit is "My daddy's richer than yours," Europe's corrupters turn out to be that classic scapegoat of all anti-humanists, the intellectuals — a nefarious sect herein alleged, so help me, to have originated "in the Middle Ages." This mischievous book is clearly another of those acts of Penitente-ism so fashionable nowadays; Mr. Visson is an exEuropean and an ex-intellectual.
The good companions
It is a pleasure to move into the civilized company of another exEuropean — Joseph Wechsberg and a proud native of Skunk Hollow, New York, who is a mellow cosmopolitan— Crosby Gaige. Both gentlemen are connoisseurs of the good life and communicate their enjoyment ot living with none of the forced gaiety of the professional gloom-chaser.
In Sweet and Sour (Houghton Mifflin, $2.75), Mr. Wechsberg collects tales of his youth in Czechoslovakia and subsequent career as an international free-lance fiddler. We start out in the Prague of 1919, with an early romance that died for want of roast goose liver, and leave the author a U.S. Sergeant in Paris. Among the intermediate episodes are the Vienna Opera's hilarious Battle of the Claque; a shipboard vendetta, settled on the opening-closing night of an Algiers supper club with the help of cinnamon in the Sheiks' leg of lamb; the Maupassant-like saga of Monte Carlo's singing pharmacist.
We meet a Prague bureaucrat who stowed away all documents marked "For Immediate Decision," and is now doing nicely in Washington; a ship's detective of awesome incompetence and equal gluttony; a picturesque assortment of Don Juans, eccentrics, and musical riffraff. It is opéra bouffe but the undertones are sometimes grim, as when in 1913 Uncle Absolon, Weisskirchen's leading citizen, had to arrange a friendly pogrom against himself (followed by beer and goulash for the stone-throwers) because Vienna had ordered pogroms. Or when, years later, the author and other Jewish musicians at a Marienbad café were beaten daily by premat ure Nazis. The lunatic past was sour as well as sweet, but the author always distills humor from it.
Written with quiet geniality and taste, Crosby Gaige's Footlights and Highlights (Dutton, $4.00) is the autobiography of a man who has made the most of two lives. Something of a scholar, a collector and publisher (on his own press) of fine books, a gourmet and artist of the kitchen, Mr. Gaige has also been a dizzy gambler and noted impresario — theatrical producer, early partner of Sam Goldwyn, lecture manager and promoter of fantastic enterprises. He made millions, enjoyed them and lost them, then turned his hobby, gastronomy, into a livelihood.
Piquant incidents, casually reported, suggest the personality. Having to help finance his education, Gaige became a real newspaperman at high school — simply by phoning in the news of an explosion. As a staff reporter for the New York Times (while still an undergraduate), he once rescued a victim of white slavers from a brothel and delivered a baby on the sidewalks of Manhattan. He was not much older when he became producer of the celebrated playwright, Henry Arthur Jones.
Mr. Gaige writes of the many famous plays he has sponsored and of the flops; of the many gifted people he has known; of memorable dinners and great dishes (with recipes appended). Footlights and Highlights is rich in theatrical and gastronomic lore and racy anecdotes — a modest and engaging record of success in the art of living.
Reference shelf
A number of useful reference books, some of them outstanding, have appeared during the past few months. The Reader's Encyclopedia (Crowell, $6.00), edited by William Rose Benét, is an extensive guide to literature and the arts (plots, characters, biographies, special terms, etc.), fortified with references to history, geography, and mythology. There are some omissions (for instance, Koestler and a number of noted painters, including Bonnard and Derain), striking in view of the many trivial contemporaries included. Still, the book is a superb achievement — immensely informative, a delight to browse through and an amazing value for the price. So, too, is the enlarged edition of the more concentrated Oxford Companion to American Literature (Oxford, $7.50) by James D. Hart (also alphabetically arranged). A board of eight editors and some fifty literary authorities are responsible for a new three-volume Literary History of the United States (Macmillan, $20), which, judging from a random sampling, amply justifies the description, "A monumental addition to our literary culture, a continuous story to be read as well as consulted."
The problem of usage, which anyone who deals with the written word has trouble with at some time, is exhaustively covered in Words into Type (Appleton-Century-Crofts, $5.00), based on studies by Marjorie Skillin, Robert Gay, and others. A lucid, well-organized handbook, it deals with "styling" the manuscript, proofreading, typography, illustration, and such, and contains useful sections on copyright and libel. A Treasury of Biblical Quotations (Doubleday, $2.45), edited by Lester Berrey, is on the skimpy side (no heading for the Lord!). Laird's Promptory: A Modern Dictionary of Synonyms and Antonyms (Holt, $4.95), whose 900 pages carry as many word-headings as a dictionary, is in some respects a handier book to consult than Roget's classic. And to wind up this cursory roundup, a warm tribute to a friend which has always given more than was expected of it: The American College Dictionary (Random House, $5.00).