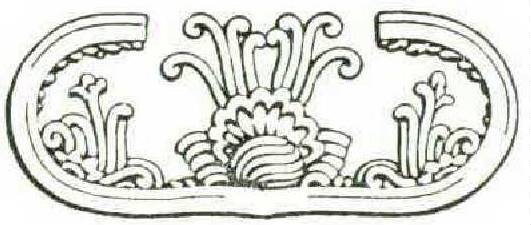 by MARGARET BEAUFORT
THEY are gone, the three houses:
Clover Hill, Palmyra, The Fountain;
Ninety years they stood in this valley
And now they are ashes and rubble.
These, the three houses known least
And loved most: square frames of brick,
Plaster, and field stone, and built for a century —
Three houses set on the rim of a valley
Facing the quick stream of this river,
With their backs to the pine hills.
These, the guardians of the fields,
Homes of those who tilled and loved this land
And built their lives upon it.
Now the soil has grown thin
And the blood stream has dwindled;
Long were the owners land poor —
How poor their land is without them.
Sam's house, of yellow plaster,
Heard always the shouts of children.
At Sam's house, boys learned to sow and reap,
To read and figure, and to lay
A straight true wall. There through the years
Sam's corn grew green and high.
At Frank's house on Clover Hill
Were brick walls and white steps in the sycamores
And height and time to look across at his brothers
And down on the valley.
There water flowed through his springhouse
And fireflies lit the land through summer evening.
The girls at Frank's house learned to card and spin:
Children and women there for generations.
To Harper's vine-clad house across the Yadkin
Down from Watauga over the Blue Ridge, every year
Rode the tall hunters, hill farmers on horseback,
Whistling through the thick frost of November;
Talking of father and son, stones laid for The Fountain.
Now no tale and no jest recollected
Of Harper the huntsman;
No echo now of eager hounds
Or men's rich laughter
Welling from The Fountain;
No smoke curls from his blackened chimney;
Now in his grove no habitation:
Old Harper lies alone yet not lonely,
For rifle in his hand the master rests.
No song is heard above the harvest,
For Frank is asleep in his sycamores
And Sam's cornfield goes to sedge grass above him.
No shot rings sharp across their pasture;
Harper's fox has bold run of their pines.
Three brothers are dust of their valley —
Clover Hill, Palmyra, The Fountain?
Bones and ashlars no kin will remember:
From the horn in the ivy, no call.