George Pierce Baker
That college students could he taught to write and produce for the stage seemed absurd to Broadway and the professional theatre when George Pierce Baker was developing his "47 Workshop" in Cambridge. His teaching, his wise encouragement, guided to early success the talents of Eugene O'Neill, Edward Sheldon, Philip Barry, Sidney Howard, Donald Oenslager, S. N. Behrman, and George Abbott, to name a few. We have called on ROLLO WALTER BROWN, one of his students, for this picture of G.P.B. in action.
by ROLLO WALTER BROWN
1
GEORGE PIERCE BAKER stands as a complete instance of the way a serious man's life may enter into a specific humanizing institution and quicken it and increase its reach until he comes to be accepted history.
Nature could not have done better in the making of a man to champion the theatre arts. He looked every inch the part of a distinguished tragic actor. Perhaps he was not any actor that one could name, though some said Booth. But when he came briskly into his Harvard classroom with his eyes modestly not looking toward anybody in particular, and took his place at his desk and began to arrange his materials from his green bookbag, some total of his pleasantly serious face and spare lips, his dark hair smoothly parted in the middle, and the flowing ribbon on his eyeglasses suggested that he must have just come from rehearsing in a very important play. Strangely enough, when he did attempt a part, he did not seem so much the tragic actor as when he was not acting; he was too evidently the serious George Pierce Baker. But whatever the circumstances, one could not be in his presence for ten minutes without being aware that he was a man whose great passion, whose life, was the living theatre.
He had to sit back a little from his desk, from any lecture notes that he might have before him, and assure us that the theatre had not died with Shakespeare. Dramatists kept coming on. Sometimes he had to stand up at the end of the desk and read to us from Henry Arthur Jones's The Case of Rebellious Susan, or Arthur Wing Pinero's The Second Mrs.Tanqueray or The Princess and the Butterfly, or Bernard Shaw's Mrs. Warren's Profession — it was then "Mr. George Bernard Shaw" — and consider what these men were trying to do, and whether or not they had succeeded. The chief thing for us to remember was that here were writers at the very moment trying to say something through the drama.
It is not easy today to see how great an innovation he was making. For at the turn of the century it was not quite respectable in academic communities to let oneself think of a writer who still walked the earth as an "author" who might be writing "literature" or "drama." Courses in English — one need only to look at old catalogues and see — ended abruptly with "the death of Tennyson." For years in the nineties the Radcliffe College girls petitioned annually for courses that dealt with living authors. They declared that college helped them to feel a little at home in every world except their own.
And here was a man who not only offered a course in which he dealt with living dramatists, but declared that universities ought to offer courses in the writing of plays. This was more of a jolt to the academic world — or the part of it that bothered to note what he said — than the study of Mrs. Warren's Profession had been. But he had been trying out the idea with an unofficial little group known as Baker's Dozen, who very quietly — almost surreptitiously — wrote away at plays as they had time until he felt sure of his ground.
So he made his open declaration. The American theatre seemed unable to provide itself with a body of competent playwrights; it was complaining about a waning supply of well-grounded young actors; and it was beginning to point out the mounting difficulties of maintaining the theatre on the road. Why should not institutions of learning give aid to the extent of providing a new source of somewhat disciplined vitality? For the drama was nothing trivial; it was established deep in the human spirit. It vivified and enlarged life by revealing life's heights and depths and forgotten joys and unnoticed tragedies and amusing peccadilloes and fantastic dreamings. How could anyone interested in the humane tradition say that the making of drama — good drama — did not fall within the scope of a university's legitimate concern?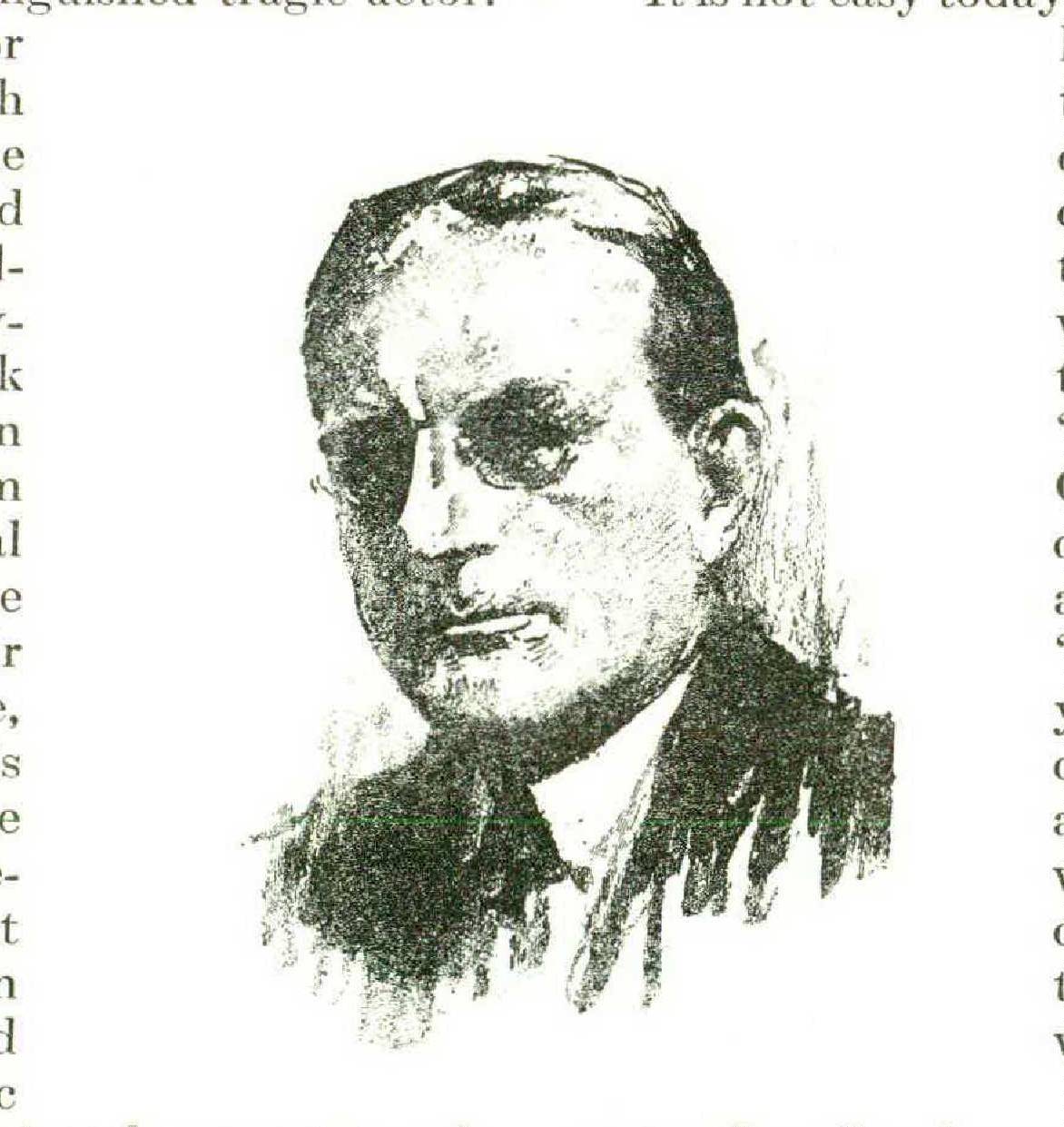 Harvard at first withheld permission for such a course as he proposed. But Radcliffe College invited him (1903) to give it over there, and then after a year or two Harvard authorized him to proceed with it in the Yard.
Now he had the wide horizon that he required. Earlier, in developing new kinds of courses in argumentation and the history of the drama, he had known something of the way breaker's experience. That, however, was but premonitory. Now he knew that he was where he belonged, and where he meant to stay. He could see with a clairvoyant's confidence how what he planned to do in the writing of plays might some day reach far and be in fact an influence in the American theatre and, in consequence, in American artistic and social life. So he worked ahead day and night, exploringly, happily, enthusiastically.
2
ALMOST immediately one of his students wrote a play that had a deserved and fortunate success — fortunate for the professor as well as for the student. For Edward Sheldon's Salvation Nell enlisted the genius of Mrs. Minnie Maddern Fiske, and the theatrical world suddenly knew that somebody at Harvard University was offering a course in playwriting.
Quickly also Professor Baker himself had news of what he was doing. The young were excited; here was a new world in which to do great things. Their elders, well grooved in their notions, found in the fact that an acceptable play had been written in a college course a phenomenon almost beyond hope of explanation. Yet they did not hesitate to try. The play was not much good; it was only the brilliant Mrs. Fiske who had given it the appearance of success. The play simply could not have been written "just as a college theme." The professor had written the play himself. In order to make everything fit into their logic, certain persons for years after Edward Sheldon became famous very neatly refrained from any mention of the fact that he had once worked with Professor Baker. Others generously said that it was true that the play had been written under Professor Baker's guidance, but that it had been a fluke, and nothing further need be expected. Some of the Harvard faculty dismissed the whole matter as "pretty small potatoes" for an institution devoted to higher learning.
Professor Baker heard, too, from the press — for several years he heard from the press. Generously, he gave time for interviews. What he was attempting, he knew well enough, was something that lent itself to easy misrepresentation. He was careful; he went into great detail to show how he was not trying to develop genius that did not exist, and how he had no formula, but was trying to shorten and clear the way for the potential playwright who had an idea in his head. He begged reporters to publish only what he had actually said, and in its context. But since too frequently they were out to write a story with plenty of scream in it about this "Ha'va'd professor," instead of trying to understand subtle nuances in the making of a play, he sometimes had to suffer the agony of reading that he had said things which no one could have induced him to say under threat of death.
He was not happy when he knew that he was misunderstood. And he was a good crusader. So from time to time he took to the road. He spoke all over the East and as far westward as Indiana and Illinois on "The Drama as a Social Force," and incidentally let his audiences know what he was trying to do in his course in play-writing. He said: " 'The dramatist is born, not made.' This common saying grants the dramatist at least one experience of other artists, namely, birth, but seeks to deny him the instruction in art granted the architect, the painter, the sculptor, the musician." Very graciously he told them that he was only seeking in a modest way to give a few young playwrights the important second half of the complete artistic experience.
When he stood before an audience to tell them of the possibilities of the theatre, ho delighted them with his very evident respect for them, his charm of manner, his enriched acquaintance with the whole field of the drama. He was full of bright asides, but always they expressed the humor of a man who was on a serious mission. In a small college town in Indiana where he was the first known person ever to speak to a public gathering in behalf of the theatre, a Civil War veteran much occupied with banking said: "I had never thought much about the theatre, but after I heard what he had to say I felt as if I ought to close up the bank and join forces with him."
All the while, the gloomy predictions concerning the road theatre were coming true. Towns in Ohio or Wisconsin that had counted on Otis Skinner and Ada Rehan, for instance, or Viola Allen, or two or three other stars of some brilliancy each season, were being left wholly without drama of any substantial kind. It was not yet evident that the screen was to play such an important role in these towns, but it was evident that some kind of shift was taking place.
Professor Baker saw in all this a greater importance for the university and college theatre. Community dramatic clubs and little theatres and all such adult enterprises might spring up and pass through strange evolutions and slumps and deaths — and they did — but at the colleges there would always be a steady stream of young life arriving to make possible year after year all necessary experimenting in the interest of better plays, better producing and acting, and better audiences.
He decided that he must add to his courses in play-writing until he had a complete experimental laboratory in the drama. The final test of any play was on the stage. But he had no theatre. Worse still, official Harvard seemed to have no interest whatever in providing him with one. Eventually he and his students were using Lower Massachusetts Hall — the gaunt first floor of Harvard's oldest building that sightseers always came to look at — for designing and painting sets, reading plays, holding preliminary rehearsals, and talking things over. In an office in one corner he carried on a heavy correspondence and held conferences with men and women — including the usual percentage of pachyderm cranks — who came from everywhere to seek his counsel. When a play was about ready for production everything had to be moved up the street to the very inadequate auditorium in Agassiz House, Radcliffe College. It was an awkward, time-consuming arrangement, but there was no choice.
He went to Germany, to France, to England, to Ireland, to learn as much as possible about anything that had evolved in stage construction, in lighting, in the relation of the players to the audience and of the theatre to the community. And how could his Workshop in the drama be kept going when there was no available money for its support? Lady Gregory in her Journals quotes a note from him in which he told her that had it not been for his knowledge of what the Abbey Theatre had been able to do with so little, the 47 Workshop might not have existed at all.
All the while his students were contributing very directly to the theatre as it was. Edward Sheldon's first play had not been a fluke; he was now a figure that the American theatre and the human species might well be proud of. Frederick Ballard came along, too, with Believe Me, Xantippe, and George Abbott with a head full of ideas, and Cleves Kinkead with Common Clay. One day, too, Eugene O'Neill came to town to learn what he could in the Workshop, and soon was giving the American theatre such a stirring as it had never before known. Since he was most appreciative of what Professor Baker was doing, he added numerously to the body of Americans who were aware of the Workshop. And then came S. N. Behrman and Sidney Howard — Sidney Howard who wrote in one of his prefaces many years later: "I went to school, once upon a time, to George Pierce Baker, at Harvard, in the 47 Workshop, and learned from him what little I have ever learned about the craft of writing plays."
There was a nation-wide demand for the places in the Workshop. Colleges were asking for Professor Baker's students to teach drama, and these in turn were sending out their students to teach in high schools, and spreading the news farther and farther. Professional producers had become more and more appreciative. It was time for him to have a halfway usable theatre in which to carry on his work.
He knew the kind of theatre he could use to great advantage. But it was not forthcoming. The dramatic awakening that had spread so far had not reached the Harvard Corporation.
3
THUS he came into the first half of what was to be the great ironic chapter of his life.
Because of his wider recognition he was a busy man. On every hand he was besought by somebody. Could he create and produce a great pageant — and he did — in celebration of the three-hundredth anniversary of the landing at Plymouth — since he had already done other important pageants? Could he read the manuscript of a play written by a woman in London who had read in the British newspapers about his work? Could he come to New York and act as toastmaster at a very distinguished dinner in honor of David Belasco, since Mr. Belasco had said that Mr. Baker knew the theatre better than anyone else in America, and that he would feel specially honored if Mr. Baker could accept? Could he write an article on stage-lighting in Germany for the Boston Transcript? Could he come to St. Louis and lecture for $200, and when? Could he find time for a conference with a boy who undoubtedly was close on the heels of William Shakespeare? Could he find two tickets — since nobody else could — for the forthcoming production of Philip Barry's A Punch for Judy? Could he not bring his Workshop players to Worcester — or somewhere else — for a few performances?
Within the Workshop, too, there was a bulge of new life. It is always unfair to single out a few when all the members of a group deserve mention, but no one could deny the vitality of such students as Philip Barry, John Mason Brown, Donald Oenslager, Thomas Wolfe, Dorothy Kuhns Heyward. Lower Massachusetts was busy all day long and often into the night past midnight. In this period "G. P." — or "G. P. B." — worked with such energy that he exhausted anyone who tried to keep up with him. He read plays, decided which ones were to be produced, cast the parts, coached the rehearsals, and when the leading lady fell ill the night before the show, or the whole cast suddenly seemed to forget everything they had ever known about a play or a performance, he was grave but usually patient beyond words, and made the best of a bad situation. Once — at least once — he threatened to walk out on them and let them shift for themselves. But usually he got everything done through patience and the irresistible charm of a personality that had a deep respect for other personalities.
In his criticism of plays and playwrights he was always very honest. He could not fail to see that the gigantic young Thomas Wolfe was a genius of some kind. But genius alone would not make him a playwright. He enjoyed too much the experience of letting himself go, of pouring himself out unrestrainedly. The Workshop office was presided over by a young woman of great understanding and enthusiasm, and when the weather was warm and the window by her desk was up, Thomas Wolfe would stand outside — his stature enabled him to do so — and pour into her ears whatever was on his mind. And always he was thinking about something interesting. Much later, when Of Time and the River was published, she said, "Why, I got all of that long ago by word of mouth through the office window." Eventually the director of the Workshop told him that nature had not designed him to be a playwright, and advised him — very wisely — to be a novelist, since a novel can have as much spread as readers will stand, and a play, after all, must be kept within the limits of one evening. "Your gift is not selection, but profusion."
There was something pleasantly feverish in the Workshop atmosphere of those years. The experienced director somehow had more enthusiasm for what his students were doing than they themselves had — though at times they had much. "He helped us to hope," said Eugene O'Neill in his deep gratitude, and summarized the whole spirit of the Workshop. Students learned how to come out of disappointment. "Now," Professor Baker said to the young woman who had traveled far to bring him the manuscript of a play that was not good, and that he dropped into the wastebasket with a bit of formality, "now we are ready for a fresh start." They could always count on that; so they worked ahead. "We would have worked our eyes out for him, for he was always working his eyes out for us." To one who had been interested in the enterprise since its beginning, and who now had to stop and linger daily where the work was going on, here was activity that in truth must be called creative. It grew; it reached out; it went on multiplying itself in minds all over the country.
Yet Professor Baker was obliged to struggle along without anything that approached adequate facilities. Each year he had to raise money to carry on the play production, and then produce the plays in a "theatre" that was not a theatre at all. There were community high schools in remote places, in the sparsely settled parts of the country, that had incomparably better theatres to work in than he had in the oldest university in the United States.
When he once again approached President Lowell about the matter, he was told that no funds were available for such purposes. When he asked if the University could not find the money, he was told that the University had other projects — vast projects — in mind. When he offered to raise the money himself if the Harvard Corporation would permit him to do so, President Lowell asked him to submit the names of possible donors so that the Corporation could feel sure that he would not be approaching potential donors already in mind for other projects.
At one time it seemed as if a Harvard Theatre might be included in the drive for a new Graduate School of Business Administration — since the Business School had revealed interest in moving pictures. But eventually it was decided — by somebody — that anything so lightweight as a theatre did not belong in the campaign. Professor Baker received the amazing news that one member of the Corporation had said that the inclusion of the appeal for a Harvard Theatre would kill the whole project.
President Lowell explained — to the writer of this paragraph one morning — that the Corporation believed the enthusiasm for the drama at Harvard might be chiefly enthusiasm for Professor Baker, who was due to retire in less than ten years. If the Corporation put six or seven hundred thousand dollars into a Harvard Theatre, who knew but that the University might be left with such another white elephant on its hands as Memorial Hall?
He insisted that there had been no personal animosity in the case, although he imagined Professor Baker's friends were saying so. And they were, after they learned that Massachusetts Hall was to be made fireproof — there had been a fire — and restored to its early use as a dormitory, without providing for Professor Baker's Workshop.
The situation, then, had come to be this: Countless people over the United States looked with deep appreciation to Harvard as a source of light in the field of the drama, and the man who had created the light was left without facilities for carrying on his work.
While an atmosphere of suspense and near-explosion hovered over Cambridge, a graduate of Yale who was a heavy donor to the institution and was thinking of building a Yale Theatre came with a member of the Yale Corporation to study the vast things Harvard had done in the drama, and to get useful suggestions. Since Professor Baker now had nothing to work with at Harvard, they rightly judged that the assurance of everything to work with at Yale would bring him to New Haven. And one day in the autumn of 1924 the New York Times carried the news.
4
THUS he entered the second half of the great ironic chapter in his brilliantly useful life.
It was not that he was unwelcome at New Haven. The Yale official attitude was "generous and cordially appreciative." In the faculty there were spots of emotional resistance — as when one well-known teacher at Yale accompanied an out-of-town friend to the entrance of the theatre and then explained that he meant never to cross the threshold. And men of football mind asked a bit petulantly if Yale could not find a director for the new theatre without going to Harvard for him — to which certain Harvard men replied, "Of course not!" These schoolboy tauntings, however, were not understood by anyone as meaning that Professor Baker was not well received at Yale.
Nevertheless, he was sacrificing much. Cambridge was home. He would soon be sixty, and no man of that age uproots himself from where he has spent his working life and brought up his family, and where he and his wife have endeared themselves to their neighbors, and transplants himself somewhere else for a new start without experiencing a certain spiritual dislocation. Specifically, too, he was leaving behind his Cambridge Workshop audience, who constituted a kind of sympathetic, stimulating atmosphere in which he and his students could work and feel the rebound of collaboration. An audience of that kind cannot be developed in a day — anywhere. When he received President Lowell's telegram accepting his resignation, he knew well enough how much he was giving up, and had to turn away to read.
But handicaps were no novelty to him, and soon he was as busily at work as ever — in his brand-new environment. When he made up his staff of helpers he was able to draw upon former students who knew his aims and practices. Some of his students at Harvard and Radcliffe became his students at Yale. In a few years people over the United States learned to say "Professor Baker of Affile" instead of "Professor Baker of Harvard." In a few years, too, he was well settled in at Yale, his Workshop audience was developing, and his students were going out from Yale to make their contribution, very much as they had gone out from Harvard.
By the time he was forced by a serious malady to retire after eight years at Yale, it was becoming easy to see specifically how his influence had touched American life. The Theatre Arts Monthly published two maps of the United States that showed just where his former students in two universities were now at work. The playwrights, the actors, the stage designers, the believers in the repertory theatre, the believers in the little theatre, the believers in a portable country theatre, the teachers in charge of college dramatic workshops, were numerous enough and active enough to constitute a satisfying life record for any man.
His most immediate, most obvious contribution was to the theatre as it existed. His students who became playwrights wore a substantial company, and their names were much in the air. Certain others who did not turn to the writing of plays sought nevertheless to quicken or perfect the existing theatre from within — men and women represented by Donald Oenslagcr, John Mason Brown, Maurice Wertheim, Theresa Helburn. Broadway producers in the end almost forgot that they had ever spoken disdainfully about "the professor." For now they were much occupied with producing plays that "the professor's" students had written. And often they turned to "the professor" for counsel. When Sidney Howard reported Professor Baker one night on Broadway in dress clothes with a shovel on his shoulder after one of Philip Barry's plays had closed
— the shovel was one of the properties — he recorded what had come to be very true: Professor Baker was a familiar and accepted figure on Broadway. He had brought to the commercial theatre a gust of life.
Yet it is just possible that his students who went out and became teachers may in the end carry his influence to the more basic depths — the great body of men and women represented by Frederick Koch, who through his Carolina Playmakers awakened the South and the entire country so thoroughly to the potentialities of folk drama that one critic in New York declared he was "probably doing more to develop an American drama than all the producers and importers in this city"; or Allen Crafton, who in the Prairie Playhouse — an abandoned saloon in Galesburg, Illinois — and in the University of Kansas Theatre set a new standard in amateur dramatic interpretation, and provided a source of supply for both professional producers and institutions in search of teachers.
Professor Baker became a kind of grand old man in American drama. In New York when he could still go about a little he appeared one evening where many of his former students had gathered together in happy remembrance of one of his intimate friends. There was a flutter of admiration when he came in
— his face touched by a smile, his eyes bright, his hair gray but as smoothly parted as ever, his flowing eyeglass ribbon looking just as it always had.
When he had very graciously said good night, they had to talk him over. Someone said, "The way he always treated us as if we were somebodies about to do something important!" "Yes, and do you suppose there ever was another man so completely devoted to the theatre?" And someone whose thought ran far afield said: "A man out west was showing me his perfectly swell new theatre and remarked, 'I never worked with George Pierce Baker, but there's a good deal of him in this building you're looking at.' "
That was how it was. That was how he had entered unobtrusively into the life of his time until he became history.