Quarter Horse
A former city editor of the OmahaWorld-Herald, B. F. SYLVESTER has written for various magazines. This is his second appearance in theAtlantic.
FACTS
by B. F. SYLVESTER
IT WAS about time — the recent recognition of the quarter horse, a blocky steed of limited scope who wants not to set the world on fire, but only to burn up one quarter mile or less thereof. He operates like the old-fashioned dime store, nothing over a quarter, dealing profitably in small lots of space and time. He is a denial of Longfellow's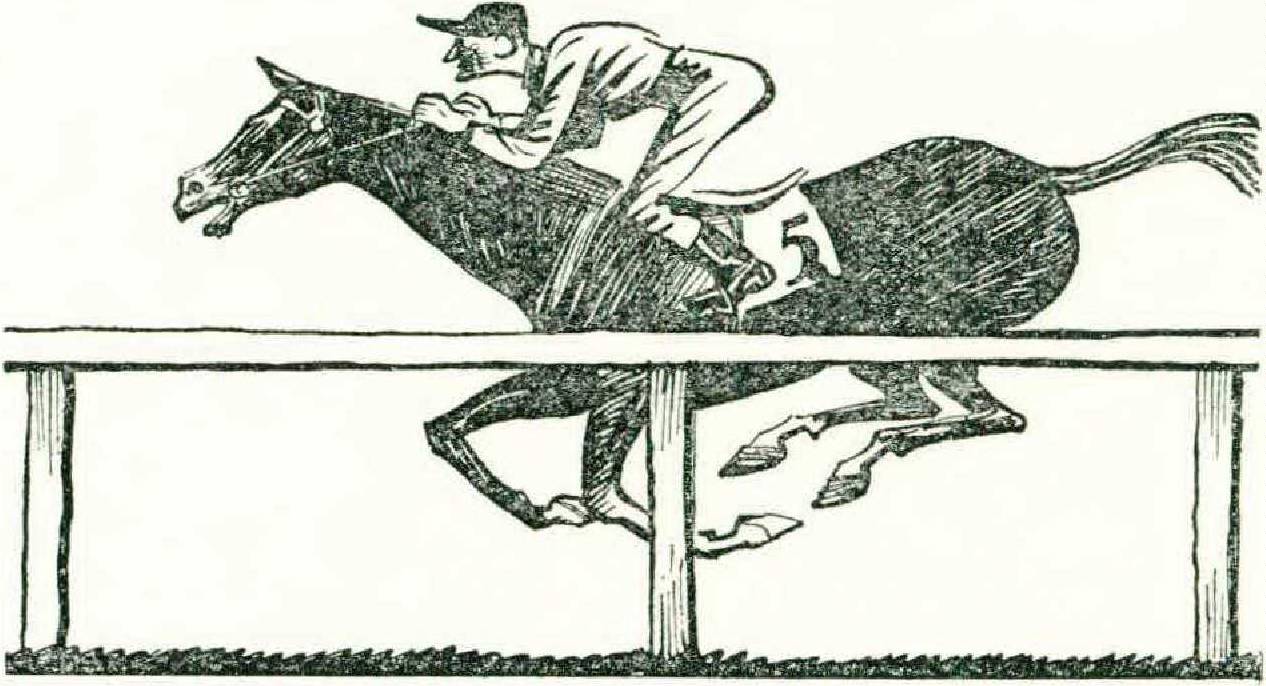 The heights by great men reached and kept
Were not attained by sudden flight.
With respect to the recognition, by state stallion licensing boards, the poet has a point. It is only after 280 years of obscurity that the quarter horse has won official identity as an established breed and the dignity of the capital letter as the American Quarter Horse. This follows recommendation by the National Association of Stallion Registration Boards. It will be a little while before dictionaries catch up. The Horseman's Encyclopedia comes halfway with "Quarter horse." Two dictionaries do not mention him. Funk & Wagnalls makes him "quarter-horse" with this definition: "(Southern U.S.) a race-horse whose wind lasts only to the quarter-pole." Rather brief, a short horse soon curried, as the saying goes. The style of MerriamWebster is "quarter horse, a type of horse developed on the ranges of the United States, having great endurance under the saddle; — so called from its high speed for short distances (about a quarter of a mile)." The publishers are on their toes waiting for the word. For ourselves, though tempted to take the bit in our teeth and write it Quarter Horse, we must follow the dictionary. One must have some rules to live by.
The distinction does not confer social acceptance, by the Thoroughbreds, for instance. That is some distance away, probably more than a quarter of a mile. For one thing, the bounder has no bottom upon which all Thoroughbred virtue rests. Some look upon him as an inferior Thoroughbred, bearing the bar sinister, the result of promiscuity with the lower cases. They are polite about it but at times one may hear distinctly the word "bastard." This is apart from those who hint that the quarter horse is so called because he is one quarter horse. England is even more sensitive to mésalliances, and because of a doubtful female in his line, the great Thoroughbred Man o' War is regarded as a half-bred and excluded from the British General Stud Book.

The quarter horse comes into high society with a strong peasant quality: a bulging jaw, heavily muscled forequarters, short, thick legs, and a posterior broad and heavy. Bob Denhardt, co-author with Helen Michaelis of The Quarter Horse, says, and he speaks as a friend: "His neck often comes out on too straight an angle and it tends to be too thick and short. His head is often a trifle coarse. His stance, particularly on his hind legs, is not all that could be desired, and often the shape and length of his pasterns could be improved. There is also a tendency toward mutton withers and a back that slopes to the front." It should not have taken so long to recognize him. Buckskin Joe, a prince of the blood, for whom Morris S. Clark of Sheridan, Wyoming, paid $25,000, is dun-colored with black mane and tail, zebra stripes around his legs, and a stripe down his back. The thing that decided Mr. Clark was that Buckskin Joe, like John (the Old Judge) Lowell, is prepotent and transmits his characteristics to his get. Eventually, this should facilitate general recognition.
Nevertheless, our subject prospers on the short track, in the rodeo, and on the range. He has instant speed from a flat-footed start, made possible by powerful hindquarters and a low center of gravity. In competition with the conventional horse, the quick start is worth up to one second or 60 feet. Jockey Johnny Orosco first rode the quarter horse, then the Thoroughbred, returned to the short horse for a season and had to learn over. Said Johnny, "My first horse jumped out from under me." In working with cattle, the quarter horse stops and turns as he starts, and an inattentive rider may leave any time for points east, north, west, or south.
Quarter horse Bob Wade ran the quarter in 21¼ seconds at Butte, Montana, August 20, 1890. The new American Quarter Racing Association (Melville H. Haskell, president, Tucson, Arizona) throws this out, on the ground that the horse had an open or flying start. The Association record is 22.3 seconds by Hepler Brothers' Shue Fly, carrying 124 pounds, and by the King ranch Woven Web (TB mare), carrying 111 pounds. Woven Web defeated Shue Fly this year at Del Rio, Texas, both carrying the same weight, but quarter horse ranks were not dismayed. Shue Fly was ten years old and Woven Web, they say, is an exception with good quarter horse conformation and performance.
In a big 350-yard race late in the summer of 1947 won by Mae West, the fourth and last was Woven Web. Further, the association has what amounts to a hall of fame, to enter which a horse must accomplish one or more of the following: 220 yards, 12.5 seconds; 300 yards, 16.3 seconds; 330 yards, 17.6 seconds; 350 yards, 18.6 seconds; 440 yards, 22.9 seconds on a fast track. One hundred and three horses have qualified, of whom the Thoroughbreds number seven. Forty-four horses have qualified for the quarter mile and the Thoroughbreds, after Woven Web, stand eleventh, twenty-ninth, thirtythird, thirty-fifth, and one not ranked but who qualified in 22.8 seconds.
The most recent quarter horse-Thoroughbred argument was at Hollywood Park track, near Los Angeles, California, August 4, 1947. In a quartermile standing-start race, for $100,000, Barbara B., quarter horse owned by Roy Gill, defeated Fair Truckle, Thoroughbred from a stable of Charles S. Howard, owner of the late Seabiscuit. Her time was 22.5 seconds, which is .1 second slower than her record.
For sport, the quarter horse comes high. Racing animals have sold lately at $15,000. Rodeo horses start at $750 and the late Clyde Burke paid $2500 to Ike Rude for Baldy. Bob Crosby had a pair for which he refused $10,000 though neither is as good as Mac, the bay on which Crosby won the world's bulldogging and steer and calf roping championships. A useful ranch horse brings $100 to $200 from cowboys who once paid $40 for a mustang. It is here that the quarter horse has beaten the machine age itself, one utility horse who finds his place expanding. If a steer is to be headed off, the rancher does not want to run him half a mile. His business is putting on beef, not reducing exercises. Moreover, the quarter horse does not buck, and contrary to some notions, this docility is desirable. Another thing: he operates on low-grade forage, can work on grass alone.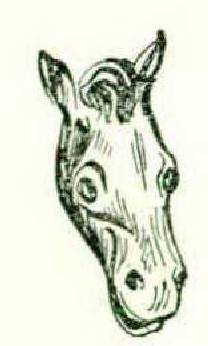 No transplant is the quarter horse, but 100 per cent American who has come up the hard way. The Virginia settlers conducted sprint races using ponies that had come from Spaniards in Florida. They imported Arabian stallions from England, crossed them with the Spanish ponies, and originated the quarter horse. This animal would plow the fields on weekdays and race on Sunday, and became known as the poor man's race horse. He was bred many years before the Thoroughbred and there were big quarter-mile races in Kentucky long before the Derby. He went west and southwest. Texas was especially hospitable.
A Methodist minister found his buggy horse could run. From then on he drove him to church on a Sunday morning and raced him in the afternoon. This horse was Methodist Bull. A butcher took a horse from his delivery wagon, put him on the track, and cleaned up Texas and Mexico. Bob Wade came from a cart horse dam. A search began for quarter horse blood that was like digging for gold. An honest cart horse never knew when he would be interrupted in his toil and whisked away to the track.
Hazel Oatman Bowman in The Quarter Horse tells how Bill Moss found a sister of the famous Kingfisher in Austin, Texas, drawing the cart of a washerwoman. Mr. Moss followed the cart horse all over Austin but the owner would not sell or trade despite a large bonus. Where would she find another horse that would stand so quietly while she delivered the laundry?
In the days of unregulated racing, there was some dirty work at the crossroads. Mrs. Michaelis tells this story of Little Joe. A Mexican bought him for $2000, bet all he had against him, and gave him poison just before a big race in Mexico City. There wasn't much time but Little Joe didn't need much. He won the race, broke the owner, and died.
The American Quarter Horse Association (Raymond Hollingsworth, secretary, Amarillo, Texas) was organized seven years ago to take over and do something for the animal which had done right well for itself under natural laws of selection. It is democratic, admits half-Thoroughbreds, and one per cent of its registration of 9700 has come in on performance, without pedigree. It is choosy about color and Old Paint; albinos and glass eyes never will join Buckskin Joe and his zebra markings.
The day of the prospector is not over. Though his family goes all the way back, Buckskin Joe himself was a discovery, a woolly colt full of wood ticks when Ramon Wood and Roy Brown of Wichita Falls, Texas, found him on Bus Whiteside's ranch at Sipe Springs and bought him for $75. He was six years old when sold to Mr. Clark in 1945. Up to that time he had miscellaneous unions. Mr. Clark has bought such doubtful male colts as he can find, gelding them to protect the family. In his new environment, Joe associates only with marcs of the highest standing. Mr. Clark has learned that the buckskin forebear of his stallion came from somewhere in New Mexico and cost $51.25 — the freight bill. He was owned by a Mexican who was said to have a considerable band of dun-colored Spanish horses. At the first opportunity, Mr. Clark is going there to look around.