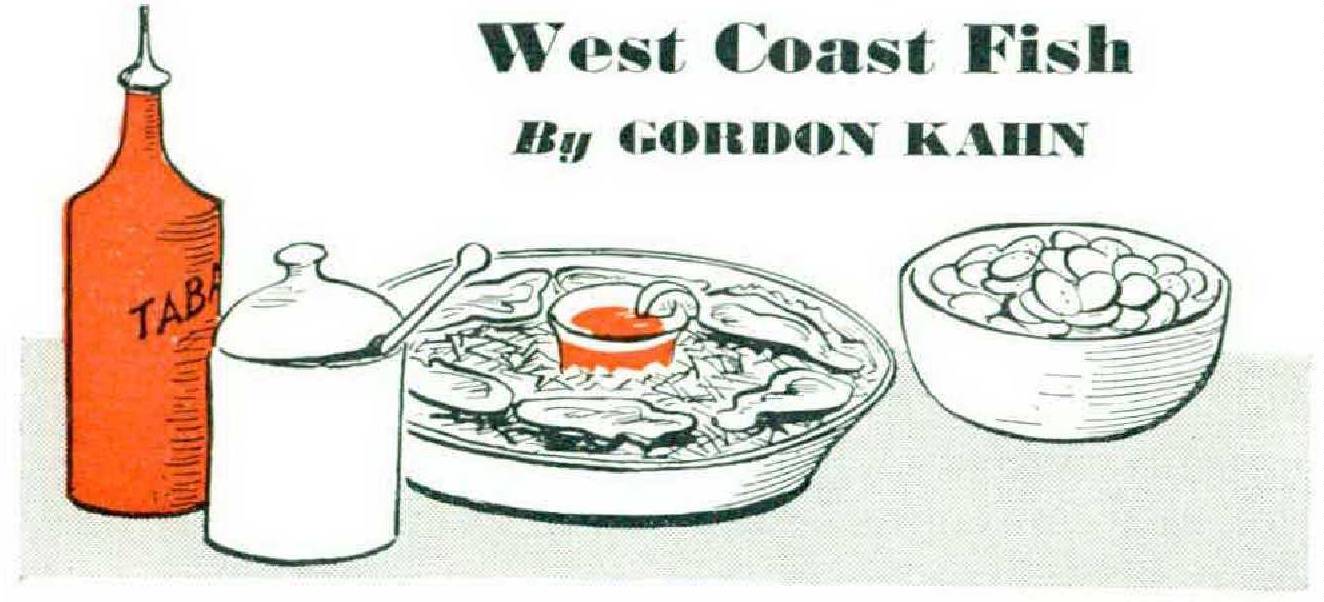 WHENEVER, in the field of amateur culinary endeavor, snobbism is displayed, I have observed that the high nasal tor is on the magisterial face of the specialist in fish cookery. A confirmed ichthvophagist regards a man busy at a duck-press with the hauteur of an Escoffier toward a fry cook composing a Denver sandwich in some lunch wagon.
In this very journal, not so many months ago, a mahatma of the haddock, Henry Noble Hall, in a disputation on the Fancy wrote: —
"It is no trouble at all to make fillets Florentine, and they are a splendid entrée. Preceded by a few oysters, followed by a pheasant with braised celery, and a little fruit, it makes an ideal luncheon."
The italics are mine in dissent from the supernumerary place in that collation given to the dauphine of eating fowls. I am not carping. I leave that, appropriately, to the fish fanciers. But no bird will ever play second fiddle to a strip of flabby bass at any meal I cook so long as there is a single robin to be snared.
And how, pray, would M. Hall deal with a pheasant which he consigns below the salt cod? Would he sautée it à la chasseur? Draw and quarter it for a supréme wit h a sauce Périgueux? Or serve it fort h as a crude salmis? Had I a dozen of oysters, a flitch of bass, and a pheasant, both the tabby and I would fare well.
But maybe I'm too harsh. I take it that Mr. Hall is speaking of fish from the Eastern seaboard and I'm suddenly respectful of his enthusiasm for—well — even bass. There gradually swim, crawl, and undulate before me fish that wear their skeletons within and without and which I have eaten on the other side of the Mississippi. The benign specter of a lobster Armoricaine in Thwaite's on Long Island Sound. A buxom pompano en papillate at Whyte's in the Fulton Market; a shad, boned, planked, and with a mound of its roe at the Stockton Inn near Flemington, N. J.; the oysters Casino at the old Friars Club, oysters Rockefeller at Antoine's in New Orleans, the Salt oysters at the Stacy-Trent, and just oysters peppered and eaten where they are shucked, and which I, at this moment, envy Henry Noble Hall.
Here, on the Pacific Coast wc are daily betrayed by fishmongers and sea-food lairs with aquaria in their windows. We get no oysters that are not twenty hours and three thousand miles from tidewater. They arrive here petrified from long icing and there is no satisfactory way of cooking them entire. I have, however, had some success with a charger of oysters à la Mali, the recipe for which I will set down presently.
Tinned oysters I find suitable only for a stew and for poultry stuffing. The Olympia oyster which is gathered here is so tiny that five dozen of him make a gill and his flavor is like that of a moccasin thong.
Only three California bivalves exist which a civilized diner can eat without insult to his palate. These ure the Coos Bay clam, which spawns in the cold inlets up north, the abalone, and the Pismo clam.
The abalone is technically not a bivalve. It has but one shell, which the organism presents to the fisherman while clinging to a submerged rock. It is recovered at low tide by prying it off with a steel pinch bar. The abalone is now a rarity in the fish stalls since Japanese almost exclusively prepared it for the market. The men would gather them, and it was the women's chore to place the huge chunk of muscle on a chopping block, where they would then beat it vigorously with a weapon like a cricket bat until they had prevailed over its tendons, tough as piano wire.
The abalone is best when sliced into slabs a quarter of an inch in thickness and fried in a well-buttered, almost red-hot skillet. Count ten slowly, turn it, and count ten again. Some prefer it rolled first in seasoned flour or cornmeal, but on the Monterey peninsula, where it is taken, it. is fried au naturel and eaten with a squeeze of lemon.
The Pismo clam, which frisks on Pismo Beach some two hundred miles north of Hollywood, is probably the only bivalve that can be classed as game and is thereby protected by the State Department of Fisheries. None may be taken that are not five inches or more across the narrowest part of the shell. All but the "tenderloin is discarded, and it makes a delicious fry.
The Coos Bay clam is about the size of an Eastern Cherrystone, but of an excessive softness. It is not recommended raw, but is suitable in a stew and for steaming provided that care is observed and the clams are removed from the fire the moment the shells peep open.
But to the oysters a la Mali. This requires eighteen medium oysters. Blue Points are about right for size. Chop these fine in a wooden bowl, adding a substantial pinch of salt, one of pepper and of paprika. Pour this into a saucepan and there will be enough of the oyster liquor to keep it stewing for fifteen minutes without stirring. Meanwhile, mince an onion fine and fry it in an ounce of butter until the shreds are a golden brown color, verging on umber. Add to this a tablespoon of finely chopped cooked spinach and a small glassful of white wine. This need not be a libation of vintage Liebfraumilch — any domestic dry wine will do. At this stage, stir into the saucepan of oysters one egg and a bruised clove of garlic which you will later retrieve. Now, take six shells of a larger breed of oyster and fill them with the contents of the stewpan. Cover them with the paste compounded of the spinach, onions, and wine. Over this lay a benison of fresh bread crumbs. Flatten the mixture in the shells with a table knife, dot the tops with a few flecks of butter, and put them on a pie plate or cookie tin into a hot (450° F.) oven for four minutes and not a second longer. If you have an egg timer, by all means use it.
This should serve three. Perhaps only two. It might, on the other hand, be better if you tried one oyster yourself before circulating bids to the kermis.
How this dish got the name Mali, oven Ramon, of the Restaurant Mayan in New York, who gave me the recipe, couldn't say. The presence of spinach usually inspires glad cries of recognition such as, "Oh, spinach? Florentine, of course." This identification of anything prepared with spinach as Florentine is a common error according to the celebrated Alessandro Filippini, who was chef at Delmonico's and who holds that the artichoke is more properly the hallmark of dishes in the mode Florentine.
The discussion of fish to which I made my earlier and undeserved animadversions is illuminated, I observe, by a picture of six finny beauties. I seem to recognize the second one nearest the saucepan as Mr. Hall's "humble porgy." Here in California, after a diet of grayfish, crayfish, and barracuda, the " humble porgy" can fetch its weight in silver. A Delaware or Hudson River shad in gold, and a genuine Gulf pompano in fine rubies.
One is able here occasionally to procure a fairly good slab of Columbia River salmon. It will broil. But it won't poach with anywhere near the perfection in flavor and consistency of its eastern cousin from the Gaspé.
The bonito, in which the western ocean abounds, is rarely seen fresh in the shops. Instead it is macerated by the canneries into that perpetual luncheonette bolus, the Tuna Fish Salad Special.
A proper fish, worthy of the Atlantic and Mr. Hall's concern, is the albacore. But this one is netted too infrequently to be commercially profitable. I am indebted to Jefferson Kibre, an official of the CIO fishermen's union, for a broil of albacore.
A species called the rex sole is fine eating — but only as cooked in a restaurant on Fishermen's Wharf in San Francisco. If it hasn't a picture of Marshal Tito over the cash desk, it's not the place I mean.
The sand dab (Limanda ferrnginea) is quite a match for the European lemon sole in the many appetizing ways it may be prepared, and some who have eaten both varieties say that the rex sole is superior in texture and savor.
The remainder of California's fish are in the realm between "not so good" and abominable. The California "lobster" and the villainous barracuda are the twin banes on the fish menu. The "lobster" is in reality the crayfish, a sluggish eunuch of the bay bottoms, without character or claws. I had my first "lobster"-mayonnaise here eight years ago and have shunned it ever since. A more unpalatable dish is harder to imagine than to come by.
The barracuda, it will be admitted, sounds like something that eats you, rather than you it. And that is just how it tastes. Pressure cooking in a refinery boiler won't make it belter. Under its camouflage of Mexicainc (green peppers, peanut oil, ripe olives, chili), Espagnole (red peppers, tomatoes, rice), or Portugaise (what you will), it's still barracuda. — and Neptune's curse upon it!
The most protean — and next to the restaurateur who serves him, the most criminal — is the shark, alias grayfish. You'll find him in every disguise — as bass à la bordelaise, creamed codfish, boiled New England scrod; quite often as mackerel or halibut with egg sauce; as fried flounder amandine, Lake Superior whitefish, fillet of this and médaillon of that.
All the stock a fishmonger here needs is a side of shark and an assortment of steel dies with which to punch out any variety of fish shapes.
I sat down to a hotel dining-room meal one fine Friday to discover that the Long Island scallops in my plate were all of identical size, roughly as round and thick as a Pine Tree shilling, a Colonial coin which if treated as these disks were could hardly have been less digestible.
The most frequent guise of the shark is that of fillet of sole Marguery. In a culture of raw chicle and clabber lie a dejected shrimp and a rubbery mussel. At the bottom of this mélange is a wan slab which is the color of pewter and tastes like a desk blotter.
Having heard from Earl Felton, yachtsman and tropical vagabond, that the flying fish (Cypselurus heterurus) with which the near-by Catalina Channel is alive makes delicious eating split, rubbed with black pepper and fresh lime, and broiled over coals, I tried to buy several from a fisherman.
"Can't spare 'em," he said. "Need 'em for bait. They just climb into the boat for flyin' fish."
"What does?"
"The sharks." And he added with a smirk, "You know, grayfish."