Civilians: Our Next Problem
By R.W.GORDON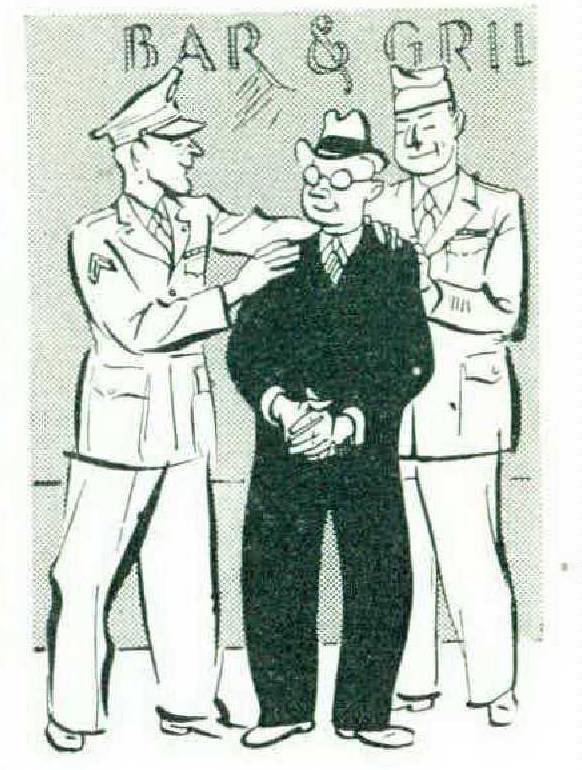 THE movie at Camp Dehabilitation was packed, largely because the commanding officer had caused mess call to be sounded early and unit commanders had marched the resulting formations over in a body. The strays herded late into the front seats were those the MP's had rounded up at the slop chute and Post Exchange.
A captain, with enough ribbons on his chest to stifle incipient jeers, strode from the wings to the exact center of the stage, where he was handed a microphone by a corporal with a crew haircut. He said words into this microphone, to wit: —
"The movie tonight, men, will be Hollywood Canteen. I know most of you have seen this picture, and that all of you except the adolescent autograph hounds are going to gag on a second dose of it, which is why we brought you over here before chow. You will consider this picture a training film, and will pay strict attention. Company officers will hold school in this subject upon your return to barracks.
"We've got to learn to understand the civilian. We've got to help him adjust himself to peace, Remember that, while we've been cruising the Mediterranean and Atlantic, while we've been taking in the sights of France and Germany or wintering in sunny Italy, the civilian has stayed at home, or at least in this country. He has worked long hours in a stuffy old office or factory, with only time-and-a-half for overtime, and seldom time out for strikes. He has been heckled by the OPA, the WMC, the WLB, the OWI, and other alphabetical nuisances. As a result, 40 per cent of the civilians you meet at home or on the street are psychoneurotic cases. They need to be handled with a great deal of sympathy and understanding.
"To help ease the strain on civilians, and to assist them to readjust to a normal peacetime routine, the armed services are organizing the UCO-United Civilian Organizations. Your first sergeants have been instructed to blackjack all of you for voluntary contributions to this worthy cause. Those of you who do not contribute heavily will be considered unpatriotic, and will be investigated by the FBI for possible fifth-column activity. You understand, of course, that all contributions will be on a strictly voluntary basis. You will also be asked to give a bit of your time, say five or six evenings a week, to this noble and patriotic cause.
"The picture you will see tonight will give you a rough idea of what is expected of you. Canteens will be organized in all cities where large numbers of civilians congregate. We aim to keep them off the streets and to provide them with good, wholesome entertainment.
"As bait to lure them in, there will be free coffee, doughnuts, and writing paper. Only older, kindlylooking soldiers (and this automatically eliminates Marines), those able to cultivate the necessary patronizing air, will be given the privilege of distributing the handouts. Each person who accepts a cup of coffee will be asked if he has written to his mother lately,
"But you younger men and sailors, be patient; there is a place for you too. There will be dancing in the canteens every night except Sundays. Majors and above will be chaperons. Other ranks may register as hosts. Those who register must be on duty at least three evenings each week, and must not play favorites, but dance with each woman present.
"On Sundays all civilians will be urged to accompany you to church, after which you will take them to the nearest camp for a good meal.
"Now lots of girls who come in for a doughnut and a dance will want to date you, but we must keep this thing clean. After all, a girl is here today and gone tomorrow. The chaperons will have no time to check and see if she is socially acceptable for a man in uniform. She might even be married. So that none of you men will be led astray, we must forbid outside dating of hosts.
"A few of you men have won honors by distinguishing yourselves in battle. You are, in short, celebrities. You lucky chaps may now show your public how democratic you can be by doing the cooking, dishwashing, and other dirty work at these canteens. Photographers will be there to record your noble work. This publicity will be of great value to you when you write your book or try to get a job.
"Some of you heroes will find that the more naïve bobby-sockers will gaze at you with a romantic gleam in their eyes. If the chaperons, upon investigation, find that such girls are sincere and pure in their hero-worship, they may be permitted one chaste kiss from each of the men who have set them ga-ga. Newsreels will record this tender scene. This will show the civilians that we have the happiness of the girls at heart, and that no sacrifice is too great if it will help morale. No need to go into details here. Joan Leslie shows exactly how it should be done in the training film you are about to witness.
"Not all civilians can come to these canteens, but all civilians can travel, as a glance at any train or bus will show you. So that we may miss nobody, volunteers in uniform will be on each station platform throughout the country, distributing doughnuts, coffee, and one stick of chewing gum to each civilian. If a person hesitates, say, 'Go ahead. It's free.' If he still appears bashful, encourage him by remarking: 'It's perfectly all right. I have a sister who's a civilian.'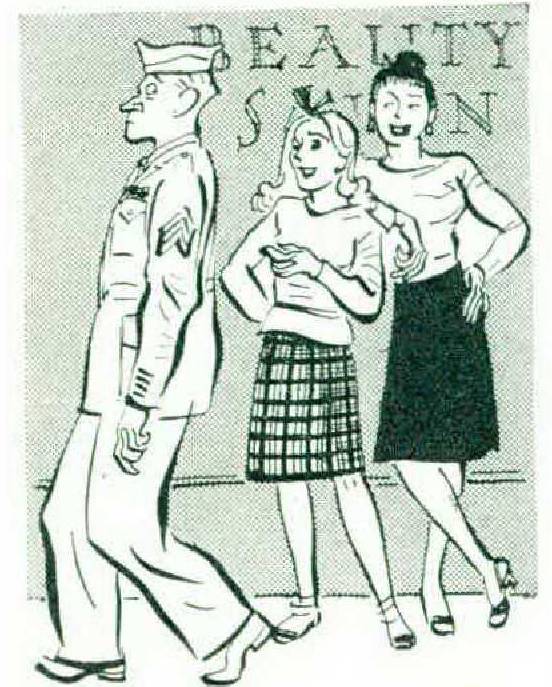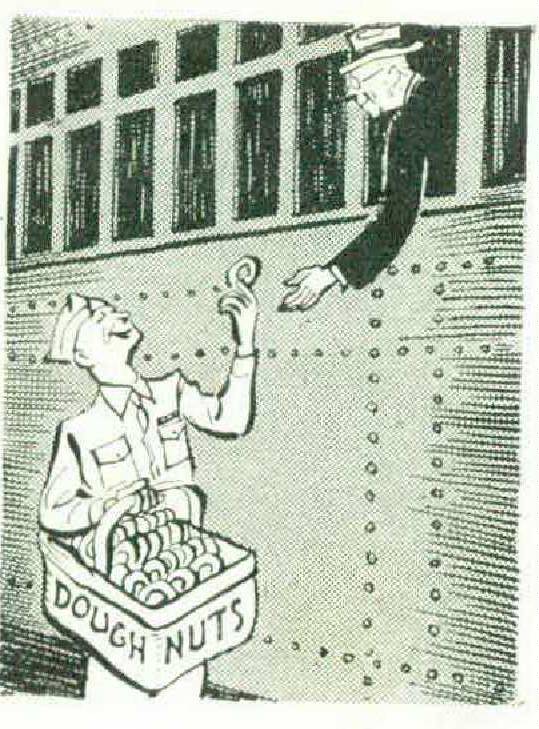 "Company commanders will attach orders to each furlough paper, assigning men to suitable voluntary civilian welfare jobs in their home towns.
"Now, before we show this instructive film, are there any questions?"
A serious-faced sergeant stood up awkwardly. "Wouldn't it be a good idea, sir, to hold school on those buttons and things civilians wear in their lapels? Some of us don't know what they mean."
"Not at all necessary," the captain replied. "Just approach the civilian in a large crowd, point to the badge of honor, and say in a loud voice: 'I see you've been to lodge meeting.' This should produce bloodcurdling stories of initiations which will keep you entertained for an hour. At this point it is proper to buy him a beer.
"If he insists on standing treat in turn, say: 'No, you're only a civilian. You fellows don't have much money, what with taxes and War Bonds.'
"But you should all learn to spot the American Legion pin half a block away. Grasp the initiative and hold to it firmly, for once lost it can never be regained. Dash up to the wearer of that pin and slap him on the back. Say, 'Hi, dad! I've got a father in the First World War. Did I ever tell you about that time at Saint-Lô? You fellows don't know what war really is.'"