Accent on Living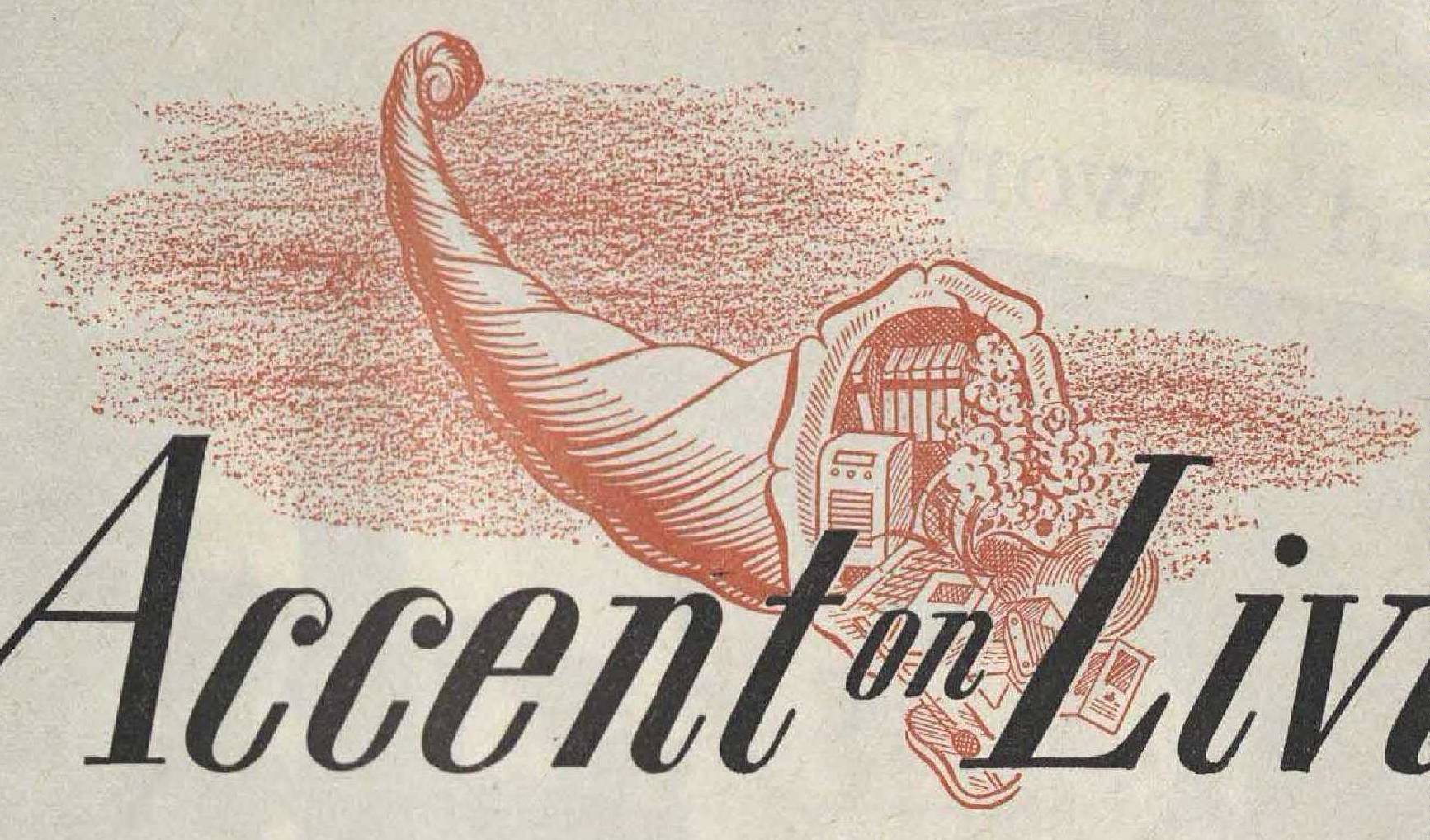 By ELLIOT PAUL
WHATEVER else the public gets in the post-war world, it is sure to be deluged with the kind of films known as "musicals."All the big studios, spurred on by the guilty feeling that very, very soon the cash customers will start setting fire to movie theaters whose proprietors dare to exhibit war pictures, are making plans for light, meaningless productions devoid of airplane and artillery sound-effects and actors wearing military uniforms.
It must have been about four years ago that Warner Brothers started work on a picture called Rhapsody in Blue, the theme of which was to be the life of the late George Gershwin, as he would have lived it had he been obliged to live it with the Hays office looking on. This was in the days when Warner Brothers still handicapped themselves with the Hays organization. Since then, this pioneer studio has freed itself from censorship and seems to be doing even better than before. No more hopeful sign has appeared in the Hollywood sky these many years.
The Gershwin biographical picture, which has recently been released for the military, and surely will reach the unarmed forces soon, is a semi-serious narrative centering on the brilliant young composer's development and career. A newcomer to the screen, Robert Alda, gives a remarkable impersonation of Gershwin, such a fresh and stimulating feat of acting that the somewhat stodgy story comes to life, and does not spoil Gershwin's very gay and poignant music.
How to be serious and write screen plays for adults without being ponderous, oratorical, anticlimactic, and dull is a problem Hollywood has seldom tackled and never solved, completely. Brilliant, sophisticated comedies have been produced, farcical ones by René Clair and Preston Sturges, thoughtful and slyly humorous ones by Nunnally Johnson, soul-satisfying burlesque by W. C. Fields and the Marx Brothers. Biographies never have come off. No literate movie fan, and there are quite a few, can think about what MGM did to Madame Curie without a shudder. Zola, as played by Paul Muni, with all references to anti-Semitism left out of the Dreyfus case, was a travesty.
The current film called A Song to Remember, purporting to deal with the life of Chopin, hits the lowest level yet recorded. Even the music is badly selected and indifferently played. José Iturbi's hammer and tongs technique and master of ceremonies personality are as far from Chopin as it is possible to travel. Cornel Wilde, as the immortal Pole (who lived in Paris, by the way), makes one reach for a pair of climbers. And no one can convince me that whoever cast Merle Oberon as George Sand did not have his tongue in his cheek. To see a sloe-eyed, soft-voiced (with seductive British accent), indolent, and voluptuous beauty in the role of that mediocre authoress may have pleased the sticks, where watches are still used to check the Minute Waltz.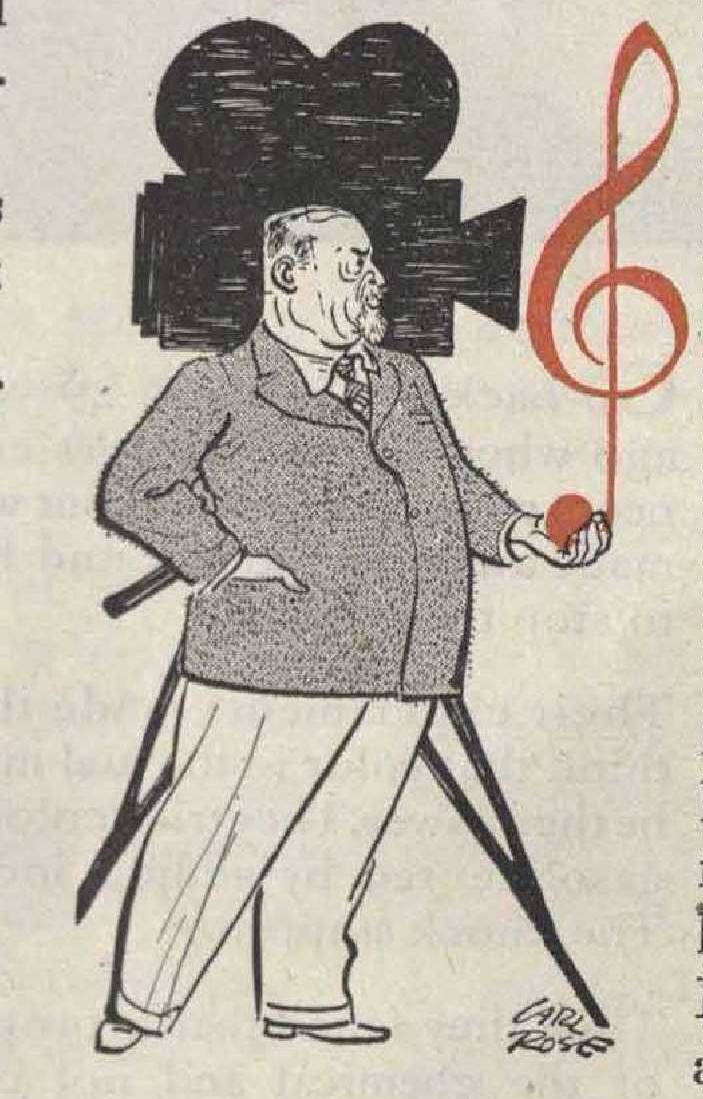 One of the few impersonations of historical characters I have seen on the screen which did not make me sick and discouraged was that of Henry VIII by Charles Laughton. Darryl Zanuck's Wilson, interpreted by Alexander Knox, was sincere and quite effective. What troubled me in that was the selection and distortion of Wilson's speeches and writings. They were more effective, dramatically, in the original than in the form Lamar Trotti used in the script . And Henry Cabot Lodge was reduced in anti-spiritual stature until he appeared like a little crabbed old woman instead of a consummate hypocrite and rogue. I am sure those who admired Henry Cabot Lodge would feel an emotion akin to mine, although in reverse. If Lodge was a hero and was justified in sabotaging world peace, he still must be played as a powerful figure and not a little martinet with whiskers.
All in all, George Washington, who cannot be portrayed on the screen without offending the English (and consequently cutting down the profits about 10 per cent), is fortunate. I can see in advance, and suffer in anticipation, some kid like Roddy McDowall looking up at Washington's father (some actor like Alan Hale) with calf's eyes, slightly crossed in tense moments like those of Margaret O'Brien, and going through the cherry tree routine.
And the worst feature of biographical pictures is that each one sets off a series in imitation of it, unless it flops completely. After Gershwin is disposed of, there will be a film in honor of practically every member of ASCAP. Already Night and Day, the story of Cole Porter, is in preparation. This will be followed by Old Man River, no doubt, with Jerry Kern playing himself. The ultimate would be Bing Crosby and Frank Sinatra co-starring in Moody and Sanky. That I would see several times.
Unlike the biographical musicals, those that have actors dressed as soldiers and wives weeping for letters into stamp presses and vacuum cleaners, the war musicals are being hurried along. Producers suspect — and, I believe, rightly—that after the capitulation of Japan, the public will protest at the mention of a canteen, transport, or military plane, and will violently resent all references to what we were fighting for, the Constitution, the Bill of Rights, and will squirm whenever a war song or national anthem is played.
The "Canteen" series of pictures included some good vaudeville and the most inane stories known to man. It seemed to me that the way American soldiers were portrayed in Hollywood Canteen and Stage Door Canteen was nothing short of libelous. I have yet to talk with a serviceman who does not agree with this. If our army contained any appreciable percentage of such dopes as "California" in Stage Door Canteen or the string bean played by Robert Hutton in the Warner Brothers offering, we should already have lost the war. On the other hand, Ray Bolger's act, the performance of Carmen Caballero and his band, and similar highlights of pure entertainment made the evenings worth while.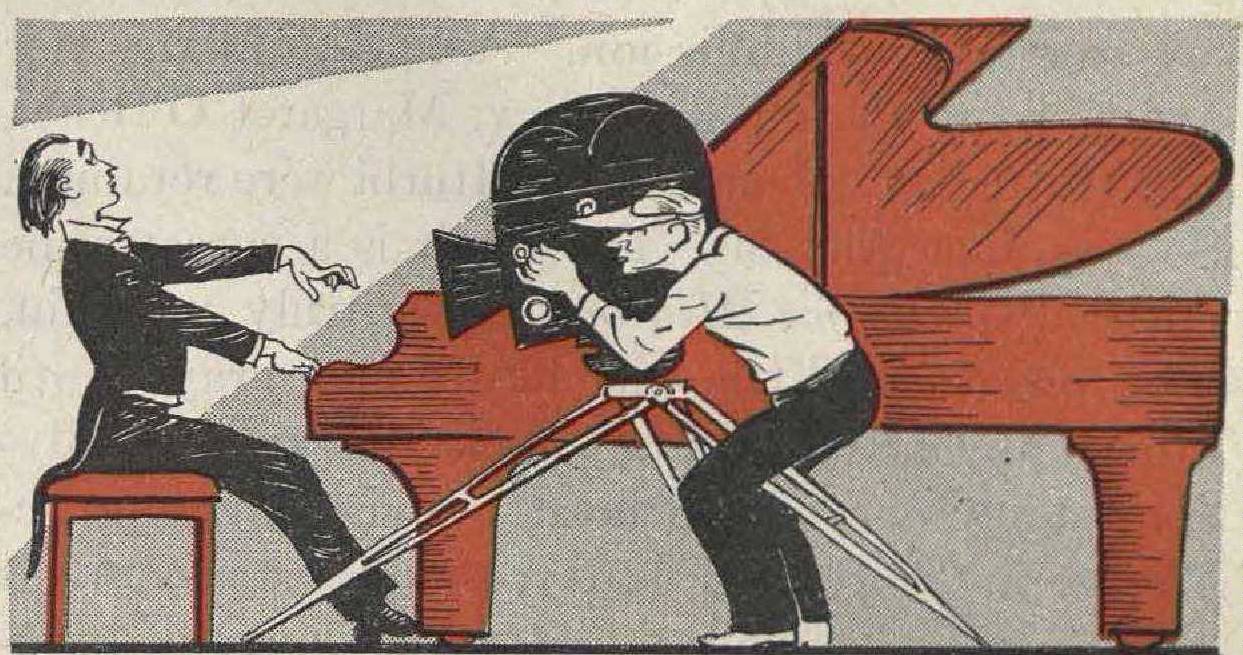 In my opinion, the best of the war musicals was Two Girls and a Sailor, produced by Joe Pasternak. The girls were June Allyson and Gloria DeHaven; the sailor was the adolescent's delight, Van Johnson.
Johnson, incidentally, deserves better praise than he has received. He is a young man and plays young men, but he will grow older just as quickly as the bobby-sockers do, and has talent as an actor that will mature and fit him for serious roles.
My complaint against Two Girls and a Sailor applies equally to any other Pasternak production. It is altogether too pure. I am sure that those boys who are giving their all for a better world do not enjoy seeing themselves on the screen with such honorable intentions, chivalrous notions, and phenomenal self-control as Pasternak gives them. Also, I think it is unfortunate that Pasternak has no feeling for jazz or swing music. What he really likes is to see some angelic young coloratura chirruping the Hallelujah Chorus or the Bell Song. In Two Girls he had Lena Horne and Virginia O'Brien to work with, and both of their spots were ghastly, not from any fault of theirs, but for reasons traceable directly to Pasternak. These two acts were the only blemishes in an otherwise entertaining musical show. It may be said confidently that vaudeville is coming back. Jimmy Durante got his first real break in Hollywood and came through in grand old style. Ben Blue's dance number is immense. Gracie Allen with Coates, of the London Symphony, brings music nearer to the masses, using only one finger and one note on the grand piano.
Two Girls and a Sailor was a hit from the start. And the inevitable happened. MGM, Pasternak, and Henry Koster started out to do the same thing over again, with enough modifications to justify another price of admission. Van Johnson was not available, so the child prodigy, Margaret O'Brien, was trotted out. Durante and Iturbi were retained. So was June Allyson. The result is a catastrophe entitled Music for Millions. It is truly maudlin. The precocious little girl bleats and prays until almost anyone would want to choke her; June Allyson, surely one of the most promising young actresses in Hollywood today, snuffles and snivels and leans on her bass fiddle in the pangs of pregnancy throughout ten reels. Iturbi butchers assorted snatches of the classics and struts around, looking and sounding like a cross between Charles Boyer and a Great Dane. Durante flaps his arms and gets in his own way, and is pathetic rather than comic. Everything is oversentimentalized, overplayed, and overwritten. The standard formula of a laugh with a tear in it is all very well, but when there is a bucket of tears and only a lugubrious chuckle or two bubbling up from the depths once every thirty minutes, something drastic should be done.
In Music for Millions there is no attempt at jazz or swing, even of the mild Harry James variety. The orchestra starts a halfhearted jam session, but it is synthetic and gets nowhere before it peters into Durante. Hugh Herbert and his frank little niece, Marie Wilson, are the only wholesome characters and contribute the much needed comic relief. One wishes that the O'Brien child had stayed in Sunday School, somewhere off the lot, and that Myles Connolly had devoted his distinguished talents to writing the story around Hugh and Marie.
It would not be possible to write about the current and recent batch of musicals without mentioning the two shows in which Rita Hayworth starred: Cover Girl and Tonight and Every Night. The former was marred by a complicated plot involving a couple of generations of disappointed lovers, all of the Social Register variety and played by chorus boys. Tonight and Every Night was produced and directed for Columbia by Victor Saville; and aside from displaying the gorgeous Rita in the most unbecoming style of heavy underwear,
Saville made good use of her gifts. The songs were slightly reminiscent of "The Bird on Nellie's Hat" (A.D. 1906). In one or two shots of Miss Hayworth, I found myself feeling tolerant of Technicolor. It's hard to decide whether it improves or whether it merely wears one down.