ByHAROLD NICOLSON
ON A Sunday night last fall "Jacques Duchesne" — a nom de guerre which had masked the identity of the famous actor and producer Michel St. Denis—said farewell to the London microphone and disbanded the team which for four arduous years maintained and stimulated the spirit of the French people. It may be doubted whether in the history of wireless anything more brilliant or effective has ever been transmitted than the nightly programs sent out from London under the title "Les Frangais Parlent aux Français."
The credit for this achievement — and it will forever remain one of the most remarkable achievements of psychological warfare — rests mainly with Duchesne himself. The team which he gathered around him — men like Jacques Borel, Pierre Bourdan, Jean Marin, Jean Oberle, and Maurice Van Moppes — was a brilliant team, composed of ardent and gifted workers. He had with him several British assistants who gave him loyal and affectionate service, and the British authorities, as he himself generously admitted in his farewell, "not only respected, but organized, his liberty." Yet in the last resort it was upon his strong and solid shoulders that rested, day in and day out, night in and night out, the full weight and burden of that tremendous task.
He had to gain the confidence of a people who had been shocked by military disaster, humiliated by enemy occupation, and confused by the constant and insidious propaganda put out by Philippe Henriot and his Vichy assistants. He had to catch and retain the attention of men and women in a country in which list ening to foreign broadcasts was a criminal offense, in which all foreign stations were studiously jammed. And he had to maintain courage at a time when hope appeared to be fantastic and when night after night Pierre Bourdan was obliged to introduce his bulletin with the words: "The news today is very bad indeed."
The technique which he adopted would not have been successful had he not been able to bring to it the resources of an acute intelligence, a deep human sympathy, and a vivid imagination. He realized that his compatriots were at first too stunned by misery to be receptive of any but the lightest forms of invective or the gentlest forms of stimulation. He realized that the difficulties of reception in France would render his audience unwilling to listen to long rhetorical discourses or to detailed descriptions of the war production of Great Britain and the United States. He realized from the outset that there was one thing which he could provide which neither Vichy nor the Germans could ever provide, and that was the unvarnished truth. He thus, in the dark years, gained the confidence and increased the numbers of his audience by providing them with news bulletins of almost stark realism.
Son of a British diplomat and himself a participant in the peacemaking at Versailles, HAROLD NICOLSON is a member of the Board of Governors of the BBC.
His most brilliant device during the months of despair was to cast his anti-Vichy and anti-German propaganda into easy little nursery rhymes sung to easy nursery tunes. A second device was the brilliant dialogue of " Les Trois Amis" in which the falsifications of Vichy propaganda were exposed in the form of witty conversations between three typical Frenchmen. Any more formidable denunciation would have been almost intolerable to the shattered nerves of those whom, between 1940 and 1942, he was seeking to convince. By the form which he adopted he aroused nostalgic longing for the old France of nursery tradition and the old France of sparkling logic, while bringing his method into sharp contradiction to the invective and denunciations of the Germans and the Vichyssois. He gave his audience truth, amusement, and repose.
It is interesting, on looking back, to note the subtle gradations through which the transmissions in French from London passed from comfort, through exhortation, to the final call to arms. Already on June 4, 1940, a Frenchman who had happened to tune in to London would have heard the defiant words: "Nous nous battrons sur les plages, nous nous battrons dans les champs et dans les rues, nous nous battrons dans les montagnes. Nous ne nous rendrons jamais." Great Britain, in Winston Churchill, had found her Clemenceau.
On June 17 Marshal Pétain, in a quavering voice, informed his countrymen that France had suffered total defeat and that he had asked for an armistice. On the following night from London he was answered by another voice, a voice vibrating with resolve, the voice of General de Gaulle: "I am General de Gaulle speaking to you from London. France has lost a battle, she has not lost the war. Believe me — and I speak to you as one who knows — when I tell you that for France nothing has been irretrievably lost. The same methods which have now defeated us will one day bring us victory. Let France unite with Britain, who commands the sea and who fights on. This war has not been settled by the Battle of France." This little taper-light in the darkness became, as the years went by, a bonfire by which, in the year of victory, the maquis was inflamed.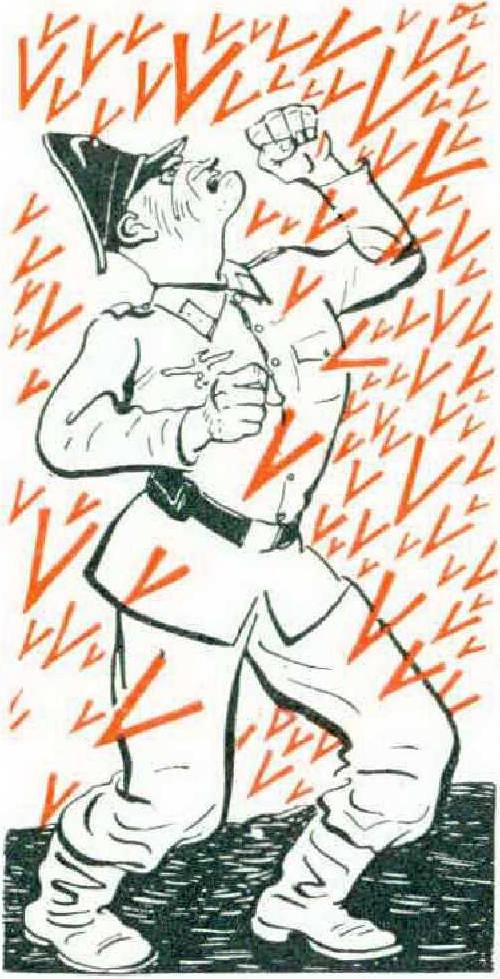 Gradually the French transmissions from London became, to use the phrase employed by Jacques Duchesne in his farewell, "the voice of French tradition; the voice that does not deceive." Gradually a more active policy was introduced. By 1942 a voice began to twine itself in and out of the music of French popular songs, a voice which whispered insistently, "Demoralize them, demoralize them, demoralize them! " When Laval's press-gang started to recruit forced labor for Germany this voice became more urgent. "Do not go to Germany!" it hissed. "Do not go to Germany! Do not go to Germany!" The V campaign followed, and the most ingenious variations were suggested for the three shorts and a long. And night by night strange messages swung across the ether: "The elephant has grown another tail; I repeat it twice; the elephant has grown another tail," and the people of France realized that some vast underground was at work.
We have had many stories since then of the actual effect upon the French people, and upon the resistance movement, of the programs devised and directed by Jacques Duchesne. The members of his team became popular heroes in France long before D Day. When some of them joined the expeditionary force and landed in Normandy they were accorded a popular ovation. In one village in Normandy the mayor gathered the villagers together in order to present Jacques Duchesne's son with an enormous bouquet. At Barfleur, André Rabache was greeted by a deputation headed by the town band. At La Ferté in the Sarthe the whole town turned out to greet Pierre Bourdan.
Throughout all this Duchesne himself maintained his accustomed calm. Only once in these four years have I seen him even faintly flustered. It was on the morning of Friday, August 25,1944. On Wednesday night we had heard General Koenig's report that Paris had been liberated; throughout Thursday contradictory rumors had been circulating; on that Friday morning anxiety still prevailed. I found Duchesne in his office looking pale and strained. Our monitoring service had managed to pick up a few mangled messages being sent out from a small wireless installed in the Hôtel de Ville; they were not encouraging. As Duchesne turned them over, his fingers trembled slightly. And then one of his staff entered with anot her sheet in his hand and his eyes aflame. Duchesne read the message and passed it to me without a word. "General Leclerc's division has entered the city," I read. "The bells of Notre Dame are ringing out our liberation." Duchesne stretched his arms upwards with all the weariness of four exiled years. "Enfin," he said.
Of all the tributes which I have heard, the most convincing came to me from a French friend who had spent three years in occupied France and who had then escaped. "It is a curious thing," he said, "but all my life the word 'Londres' has suggested somewhat dark associations — fog, and low clouds, and the smell of petrol and tobacco. But now it suggests light and hope and truth and freedom. You will never know what those two words meant to us; those two words 'Ici Londres.'"
I told this story to Duchesne. "You have done a great job for your country," I said. "You must feel satisfied." He paused for a moment. "Yes," he answered.