By HENRY WILLIAMSON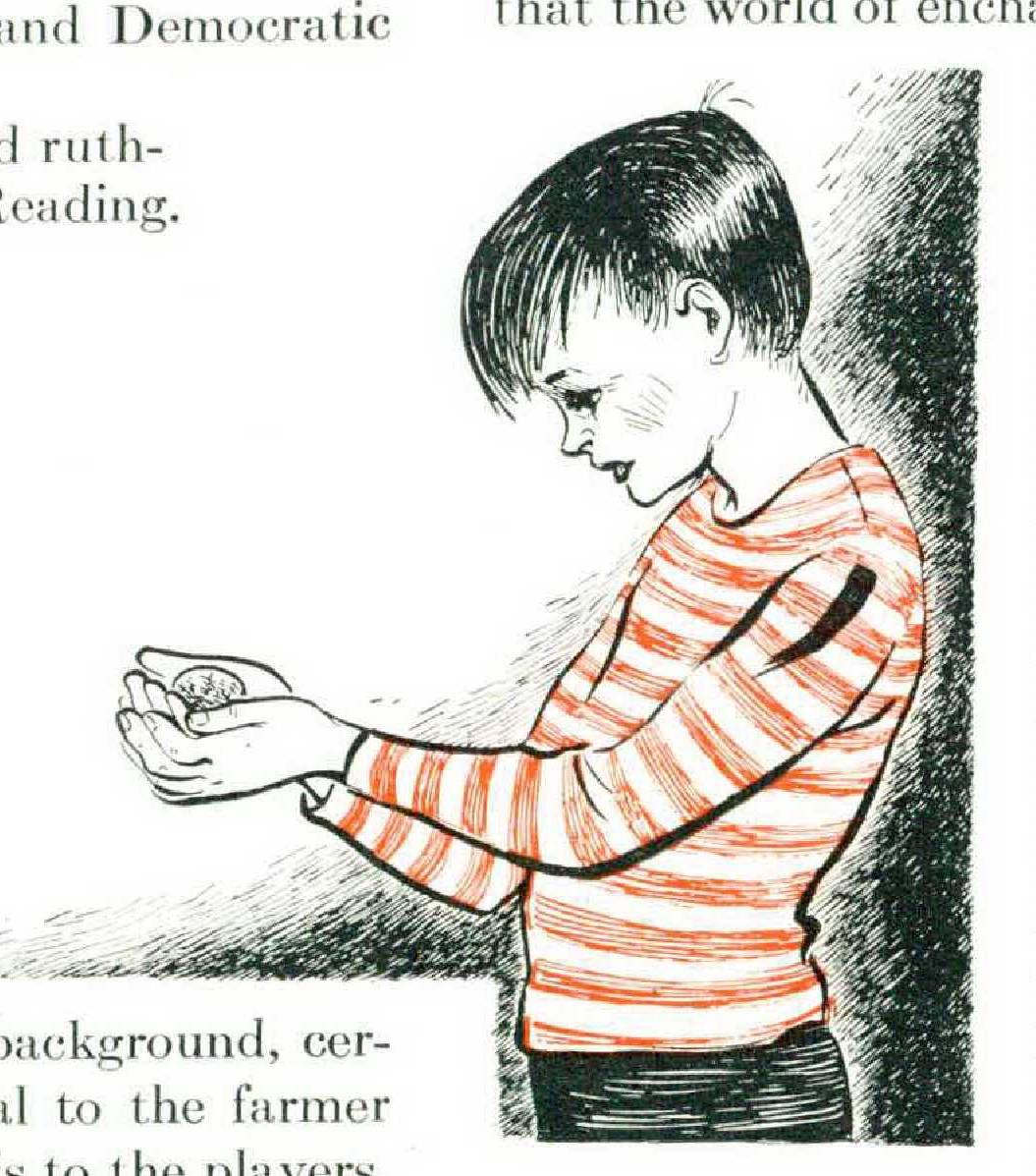 MY LONDON friends tell me that I, as a farmer, am a fortunate fellow, seeing life in terms of cows grazing in lush meadows, of green corn springing from arable fields, of the wind on the heath and the sun shining over the hill. That is the background, certainly; but it is often no more real to the farmer than the backcloth of a stage play is to the players. The countryside is there, but the farmer seldom sees it plain or clear.
His grazing cows are to him, by necessity, milkyields involving the filling in of forms for the Milk Marketing Board. His seed corn requires more forms; so do his fertilizers and the yield of his harvest. His traders require further forms for petrol; so does his car. His men are man-hours, each with its separate income-tax calculation. The barbed wire that keeps his cows from the cornfields means an extra form to be filled in; so does the wood to repair his gates, and coal for threshing. Several sets of certificates are required for the purchase of new implements. Nothing moves in or on British land without many written words and orders preceding action.
In this, the fanner is like any other businessman serving the government and the community. And how he dreads all those details, which are as verbal weeds choking his very life! Even a general in batt le has his staffs; and certainly he is not worried by also being his own Quartermaster General. The farmer is all these things, and his battle, continuing day and night, for all his life, is visible only to himself.
Such thoughts were with me as I went to see a cow, my best young Ayrshire heifer, which had been shot accidentally by soldiers firing across our meadows. A pair of snipe was nesting somewhere on that meadow, which had a rushy depression which we cannot drain, as the river-bed is higher than the meadow just there. As a small boy, it was my ambition to find a snipe's nest; I searched for years every spring, but was not successful. My boyhood, and the search, closed down in 1914, and though I tried to carry it on in 1919 where I left off, I found that the world of enchant ment, in which wild birds were part of a marvelous and thrilling life, was gone, it seemed forever, from my life.
The Ayrshire heifer, such a gentle creature, so docile and shapely, reared by us from a little calf costing only seven shillings in the market, and giving over four gallons of rich milk a day after her first calf, was thrown, and then given an anesthetic on the meadow, before the probing for the bullet began. It was a bad wound: a ricochet had spun into and through the milk bag. I was the more furious because the troops had come on my farm without authority and without notice; bullets had cracked through the woods, smoke bombs had fallen near haystacks, gates had been left open, and even tank-busting grenades had been abandoned, the split pins unsplit and loose, in the grass.
That evening we supped with a grenade on the long refectory table, as a warning to the boys of something that should on no account be touched, should it be found. It remained there after supper, for the youngest boy had not appeared for the meal.
Afterwards, more work, more forms for the farmer to fill in, for a casualty heifer to be transported to where it would become beef quickly. I had thought to take the evening off, but no, work was piling up and must be done. So I sat me down in the little barn converted into a studio, with its unread books and unused fishing rods, its hoes and scythes and paint pots, its little bags of seed and small oaken " bottles," or barrels, for cider which we would make "one day," when the piles and piles of forms had disappeared.
While I was sitting there, a shadow fell across the open doorway. A small boy came silently into the room. I looked at him as he came slowly towards me: at his large brown eyes and sunburned face, the scratches on his knees and hands, the tears in his old jacket a hand-me-down jacket from three older brothers and a sister. One of his hands was closed, but not tightly. His eyes glowed with his thoughts. A strange, solitary little boy — quite different from the other children.
He came right up to my table, waiting to see, before speaking, if I were busy. For this little boy is, in his way, an artist; he draws with pencil and crayons on paper, and his concentration while he draws, sometimes for two hours and more at a table, is such that none of us dares to interrupt him while he is at work. He knows, from knowing himself, that it is not good to interrupt others at work. He is not very old; indeed, only last year he told me that his status at the village school was "First-class Infant.
"Dad," he said, very slowly, and by that I knew he was most excited. " Are you busy? " I shook my head.
At this he drew a deep breath.
"I know," 1 said. "You have been under lire in the woods? You have found a bullet ? You have seen the poor heifer being taken away, perhaps.'
"Yes, I did find a bullet," he replied, "and I did see the poor heifer being taken away in the lorry, but it's ever so much more than that, Dad."
I waited while looking at the keen little face of my youngest child: this strange little solitary creature who wandered off alone, for hours, filling his wide and luminous eyes with the mysterious life all about him.
"Look, Dad," he said. "I have found a snipe's nest!"
He held out a brown mottled egg in his hand. Outside I heard a cuckoo calling, and the swallows twittering as they dived through the woodshed door, to the rafters where they nested every year. Were they the same birds, year after year, crossing the Libyan desert to return to the place where they were born? Or their children, perhaps? Other birds were singing, too; chiffchaff and willow wren, skylark and blackbird. The green valley was filled with bird song. I heard them all suddenly — I saw the faithful English spring — as I looked into the face of the little boy.