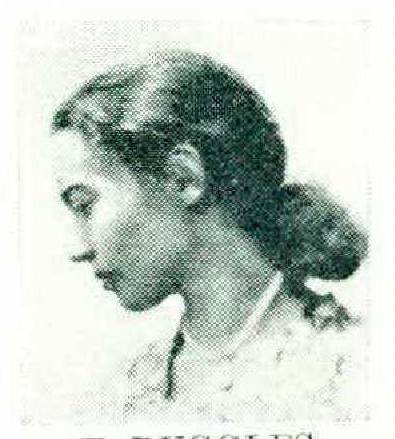 By
BORN a century ago, Gerard Manley Hopkins is a " Yea-Sayer" for our day. Yet general ignorance of him still prevails: I find one standard anthology of modern poetry dating his death 1898, and another 1899; whereas he actually died in 1889! The pressing need for lucid, nonpartisan interpretation of Hopkins is answered opportunely by Eleanor Ruggles's authentic and moving biography.
tion of Hopkins is answered opportunely by Eleanor Ruggles's authentic and moving biography. obscure recluse to life in
Her book brings this obscure recluse vividly to life in spite of the pietistic tone of much of the material. A character, a poem, or a period is often captured in a deft phrase.
There is dramatization without exaggeration. The mixture is flavored to taste with astringent humor. Though hampered by an awkward beginning, Miss Ruggles soon swings into the pace of the narrative, showing her potential command of the scientific precision and artistic skill required to create a living portrait from the multiplicity of sources available.
The musty odor of Victorian authorities seems to have crept into the opening chapters and into the setting of Hopkins's childhood and Oxford years. We feel uncomfortably conscious of the presence of the author, pulling strings from behind the scenes, afflicting us with a premature realization that here is a poet-in-the-making. The boy is not allowed to grow into the reader's affections and belief by letting the genius emerge gradually, inevitably. Yet when Hopkins comes of age and begins to shape his own spiritual and artistic destiny, author and reader alike are swept into a new current. The style becomes simpler, and the rising action in the drama of Hopkins's innermost struggles culminates in cadences of clean, muscular prose.
The sociological significance of Hopkins's ministrations is explored. His relations to "the Poor" and "the increasingly cocky lower middle class" humanize the generally cloistered atmosphere. Eleanor Ruggles gives us a glimpse of the alembic through which some of his most transcendent poems, such as "The Bugler's First Communion," were drawn.
In this connection a startling affinity between Hopkins and Walt Whitman is pointed up by Miss Ruggles with the emphasis that it merits, since she is the first to point it out. Among the elements shared by these seemingly dissimilar poets, she notes the underlying religious purpose of both, their pervading consciousness of selfhood, certain parallel exploitations of the lawless germinal strain" in speech, and in particular their all-embracing humanitarianism arising from their common "bias in the direction of an emotion called by Whitman the dear love of man for his comrade,' which means not only the feeling of man for mankind,"explains Miss Ruggles, "but also of one man for another."It is not hard to understand Hopkins's honest confession to Robert Bridges: "I always knew in my heart Walt Whitman's mind to be more like my own than any other man's living. Norton, $3.00.
CLIFTON JOSEPH FURNESS