The Old Mandarin: Translations From the Chinese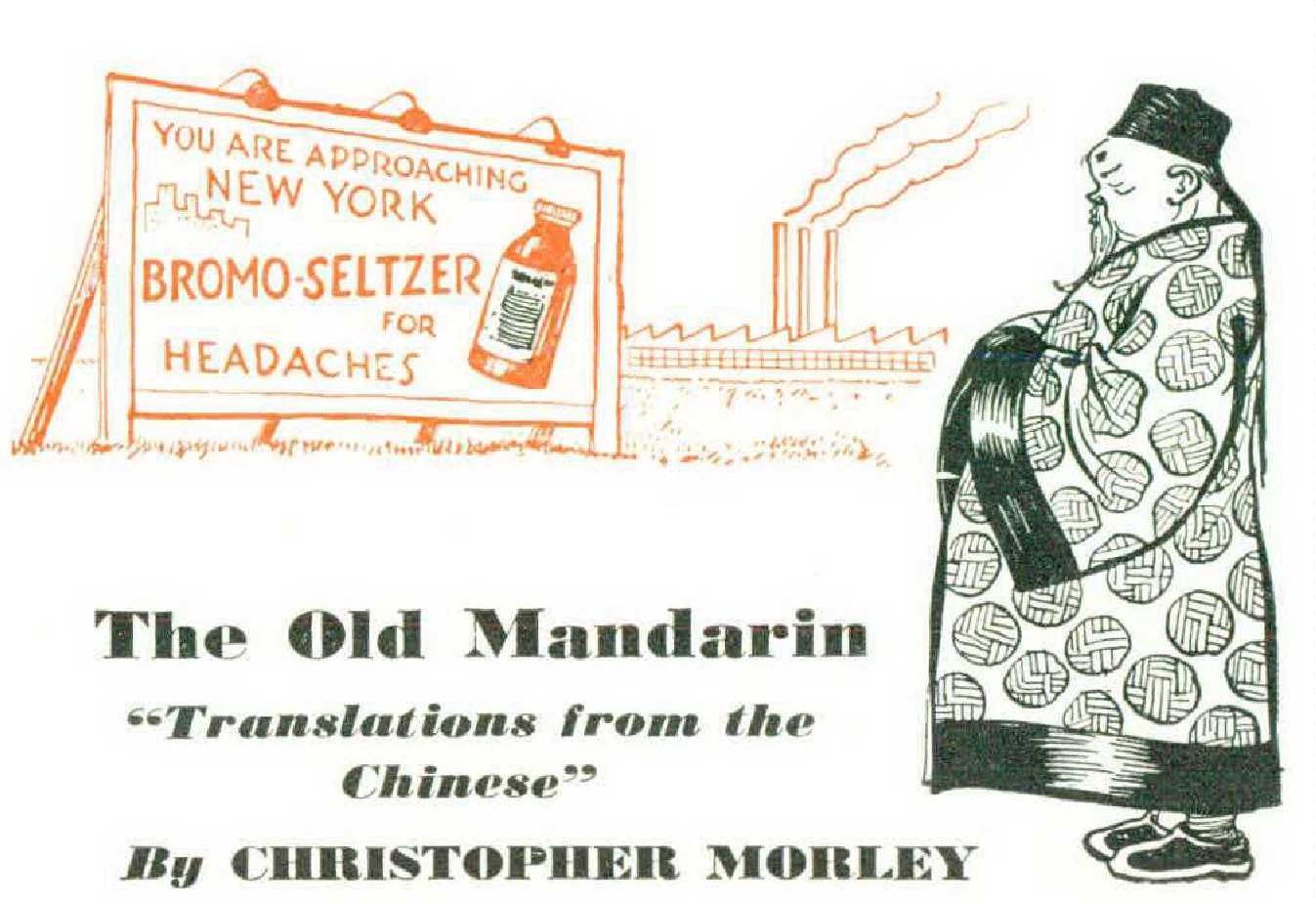 ByCHRISTOPHER MORLEY
ADVERTISEMENT
The Old Mandarin gave up travel
When they began calling it Transportation.
Now, perhaps for patriot reasons,
He stays put, for the Duration.
But oh, he cries in a nostalgia,
Is there still that noble billboard
On the islet in the marshes
By the Pennsylvania Railroad
Near the Hudson River tunnel?
Word of prophecy or warning,
New York's promise to the visitor:
BROMO SELTZER FOR HEADACHES.
Oh, he exclaims,
Maybe after the Duration
One last well-earned Manhattan Migraine!
DANGER SIGNAL
I'm always disturbed
(Said his proper old butler)
When I hear His Excellency
Alone in his workroom
Cackling to himself.
I know he has thought of
Something deplorable.
NO EXERTION
At ten o'clock on a wintry morning
There was already a long line of people
Waiting outside the theatre
To see Jane Eyre.
What gives? said Chung Stooge. These otiose multitudes
Pack Radio City to see a picture
Who would never dream
Of reading the book.
Sheer and blessed indolence,
Suggested the Old Mandarin.
They can sit warm and quiet
And let it flow over them.
They don't even have to
Turn pages.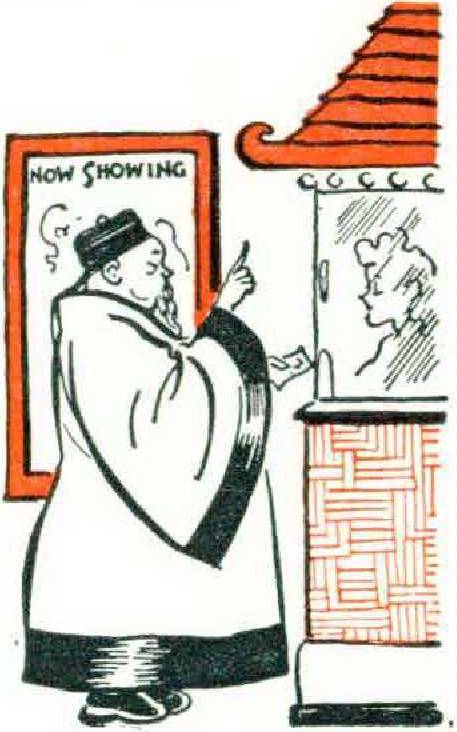 SOCIOLOGY 4
What is a doctrinaire?
One who has been taught something
Without learning it.
GATE CRASHERS
Every baby vegetable,
Grunted the sweating Victory Gardener,
Is imitated by some damned weed
That grows right alongside it.
POACHED EGGS
Wedding Breakfasts a Specialty
Said the menu card
At a secluded seaside hotel.
A delightful place for a wedding breakfast,
Said the innocent Old Mandarin.
You wouldn't believe,
Replied the manager,
How many couples
Have enjoyed the breakfast
But didn't bother about the wedding.
ENIGMA
And now, after these tragic bombings,
I'll never see again the ancient landmarks,
Those monuments of old renown.
Don't worry, she said,
You always carry
Your own ruins with you.
TEMPEST 1944
For how many young Americans
Was Shakespeare's stage direction true:
A ship at sea,
And afterwards an island.
EAST SIDE, WEST SIDE
With another sharp-tongued mandarin
I was book-hunting far uptown
When we discovered
The Guarantee Truss Company.
Let's go in, said my companion,
And ask for a Vice-president.
What would you ask him, I wonder?
For invisible means of support?
"IL ADMINISTER SA VERVE"
(G. Lanson, of Voltaire)
He mumbles an old sheaf of notes,
Of hunches, memos, casual quotes.
Perhaps he'll get a poem from it?
Then, self-abashed, he cries, "Why, dammit,
The dog, returning to his vomit!"
EVERY FORTNIGHT
Just trim olf the grizzle,
Said the Old Mandarin
When he took his beard to the barber.
Your Excellency, if I take off all the white
There'd be nothing left.
LITERARY NOTE
He admired a huge beautiful spotted dog
That lay at her feet
And wonderfully enhanced
His mistress's pretty shins.
The old commentator remarked:
"Of course the first Harlequin Dane
Was Hamlet."
STUDENT OF LANGUAGE
Activate, operational, directive,
And even currently
Are still going strong;
But what became of
Autarky?
AHEAD OF THEIR TIME
When we were students in Paris
(In the year 1912)
After too many drinks
We cried aloud in mischief:
"Vive la quatrième République!"
A most tactless ejaculation
Implying all sorts of trouble,
And the gendarmes hustled us
To the jug.
Yet now, la Quatrième République
Is what every lover of France
Waits for.