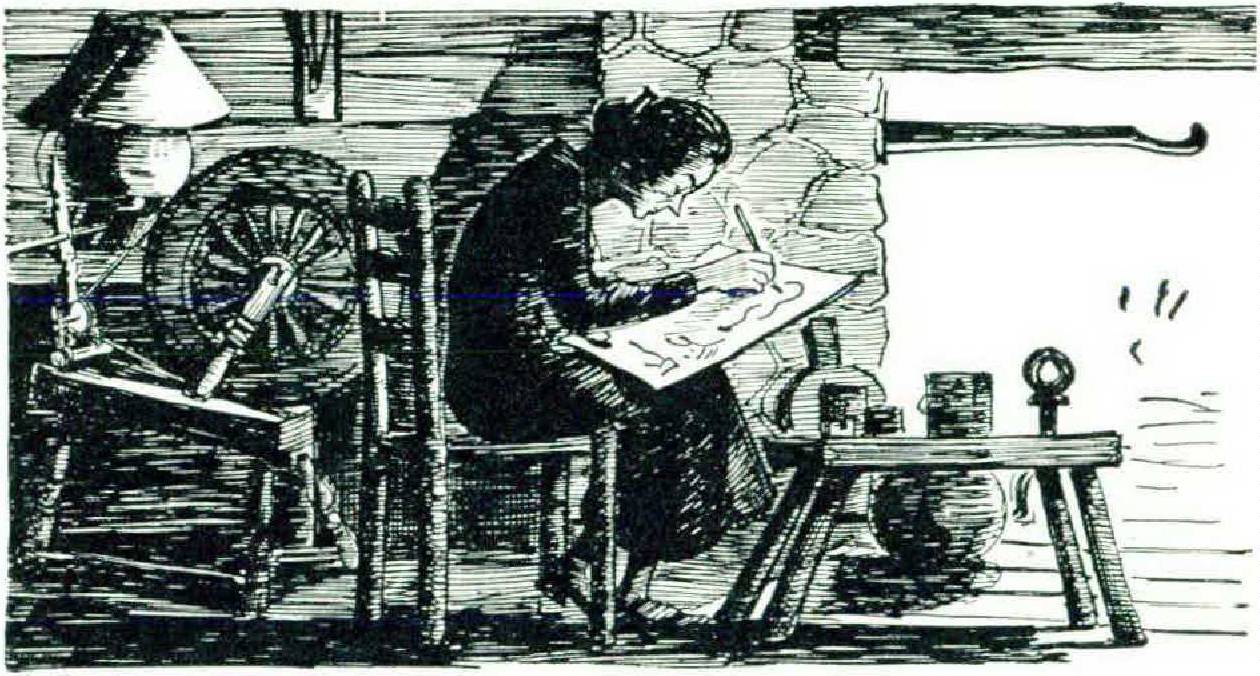 MADAME HARVEY lived in the Grand Fond, a small settlement so far back in the mountains that the priest journeyed there but once a month to celebrate Mass.
If you marry your cousin, the Church asks you to pay a dispensation. In the Grand Fond the Harvey blood ran to some degree through the veins of every inhabitant. Madame Harvey had married a petit cousin, so the dispensation was proportionately small.
Madame's husband was called Alfred. He was the guardian of a small lake to which the summer people came on easy camping trips. There he had taught their children as well as his own to fish for trout. Madame spent her summers at the lake cooking meals for campers. She did trout in several ways and was famous for her little hot buns. She enjoyed life in the woods except for her great fear of the bear.
This fear was founded on the generic: all French Canadians fear bears. But it became focused on the specific: Madame Harvey, as an individual, was particularly frightened of that bear which she knew was some day destined to meet her at the spring behind the cabin where she kept the milk and butter cool and whence she fetched the drinking water. In her mind this assignation between woman and beast was preordained: it was Eve and the serpent in fancy dress.
Madame's imagination was not limited to the bear. She hooked strange birds and bright flowers into rugs which sold for a pittance. For the little church, she wove and stitched a linen altar cloth made from flax they had grown there behind the house. She also clothed her five children and her husband. But that was nothing unusual. Homespun and knitting were as much a part of life as the spruce trees and snow were of the landscape.
But one day Madame Haryey did a most unusual thing. She painted a picture. Naturally it was not a very good one, but then she had only chicken feathers for brushes, and the odds and ends of house paints for colors. It was painted on a cardboard which still read faintly through her work: NE FUMEZ PAS DANS LE BIOS. Although in her eyes, and certainly in the astonished ones of her family, this picture lacked merit, it interested one of the summer people who saw it by chance on the way to camp. So much so that this benevolent woman sent Madame Harvey a complete box of oil paint paraphernalia: tubes of artists' colors, bristle brushes, a palette, bottles of oil and turpentine and of something called retouch varnish, along with a note of encouragement in shaky French. What particularly attracted the Harvey family's attention about this windfall was the ingenuity of the metal clasps t hat held t he box shut. These clasps were of a different nature from any that had ever been seen in the Grand Fond. To this, all the neighbors agreed.
Madame Harvey painted several pictures. Despite the neighbors' advice, she copied no models, though everyone offered her as tempting subjects the new calendars sent out from La Malbaieby the electrician, the plumber, and the general store. In her simple nature there was a stubborn streak, for she could not. be deterred from painting everyday subjects of no interest to people in general. She painted the old aunt who had come to live with them doing various chores: feeding ihe chickens, churning the butter, weaving at the loom, and sitting by the stove.
And she painted landscapes of their little church which stood at the edge of the great spruce forest. The villagers had built it themselves according to their own ideas, so it turned out to look very like one of their barns, but smaller. Its distinguishing mark was the steeple, to which the carpenters had obviously devoted much thought and time. But time was cheap, especially in the long, cold winter.
Paint, however, was expensive, too expensive, so their church was left naked in gleaming raw lumber. This shocked the summer people, who moralized about French-Canadian taste, using the church as a fulcrum point. Who else would ever put such an elaborate steeple on so small a church? Typical! Couldn't they at least paint it to hide its ugliness? Like a billboard, it struck a discordant note on one of their favorite drives through such really charming country.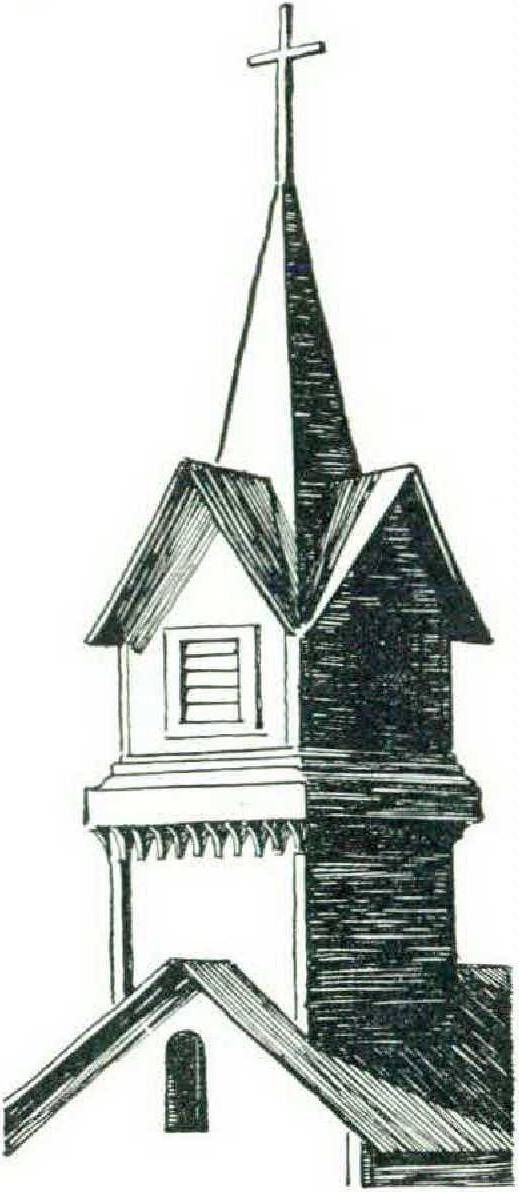 The boards soon silvered in that rugged weather; and even though the building was seldom used, its presence gave confidence to the village. "For me, it does something," Madame Harvey said, "to look out my window and always see our little church there in the field." So she painted a picture of the church against the enormity of spruce trees.
Both her family and the neighbors expressed their disappointment in her choice of subjects.
The following summer, Madame sold all her paintings. The summer people who came to the lake to fish seemed to prefer them to her hooked rugs and willingly paid quite as much for them. This was surprising to the entire family, for the pictures were obviously faulty, while the hooked rugs were expertly done according to government instruction. The family were bewildered. "It is not that your paintings don't show taste," her husband said, "but they often do not entirely resemble the subject."
" Maman has taken no lessons," said Patrique, the eldest. "Eridemment. her paintings are faulty. Yet the foreigners pay well for them."
"Perhaps," Madame said, "some Sunday when we go down to La Malbaie to Mass, I might, speak to Monsieur and Madame Morgan, since they are painters of experience who have studied much, and live not far from the church."
"There is an idea," said her husband.
It was autumn before Monsieur and Madame Harvey screwed up their courage to the point of calling on us after Mass. It was not that they feared us as people, but they feared our way of life; front door bells, books, and above all conversation on the formal level, in the sitting room rather than in the kitchen.
They drove up with a certain flourish, and stepped down from the surrey that sparkled with new varnish in ihe sunlight. Monsieur Harvey moored the old horse to the woodshed in the shade. He was dressed in black. His black suit was nearly as shiny as his black boots. His tie was of the best quality silk, maroon with small blue figures running through it, immaculate but. frayed, a remembrance obviously from some camper who had enjoyed his stay at the Grand Fond.
Madame wore a trim black suit, black silk stockings, and tottered on tho highest heels. Her black hat gained its chic largely through the rakish angle at which it was cocked. A puffy artificial flower of virulent pink centered attention to the opposite lapel and triumphantly denied any doubts about the Harveys' being in mourning. Rouge and powder slurred over the effects, of Madame's recent years.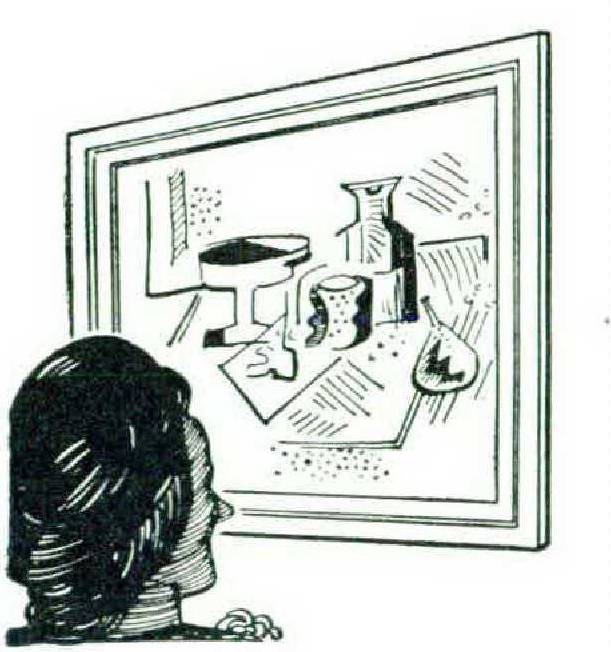 They caught us just returning from a walk with the dogs through the woods, so we were dressed for exercise rather than show. Therefore our greetings, though audibly hearty, were tempered with silent appraisal on both parts. Madame held a brown paper parcel of which she made no mention whatever. We discussed the weather — its effect on the crops, on the summer residents; in short, its effect on annual income. Here the weather was no idle topic.
Next it was our mutual state of health. No one had any complaints, and we all agreed that the bon Dieu was merciful. Would they care to come inside?
Madame hesitated. "We must think of returning to the Grand Fond," she said. "Our children expect us for dinner. We just stopped by to say bon jour.
"But your paintings, Adela?"
"Oh, yes. My paintings," Madame said. "Imagine that — I brought some paintings to show you and had forgotten it." She acknowledged the presence of the parcel. "They are not much good," she added. "I did them."
So we entered the house after all to see Madame's paintings. But as it happened the brown paper parcel was never unwrapped.
It was so unexpected it is hard to remember just how it took place. My wife, Monsieur Harvey, and I got to the sitting room, and I offered cigarettes. We must have thought Madame was unwrapping her paintings in the hall, for it was several minutes before we went back to see if we could help.
We found Adela Harvey staring at the wall, standing quite motionless. On this wall was a colored reproduction we had bought in Munich, one of Picasso's early abstract si ill lifes. It was drawn mostly in pencil and was grayish, except for one pink piece of wallpaper and a cigarette wrapper, which in the original were pasted right on ihe drawing. Both were faithfully reproduced in the print. The picture belonged to that period of Picasso's work when he habitually pasted some real object onto his compositions, which were otherwise conceived in the cubist manner with strong interlocking planes that pinned back the space layers visually, and merely hinted at the identity of ihe objects.
It was to us an exciting picture, but to our friends in the summer colony it represented somehow the enemy. Sophisticated, degenerate, meaningless, ugly, mad, modern art, which only the initiated can appreciate!
Madame Harvey stared at the Picasso, "Mon Dieu," she murmured, "que c'est beau. C'est beau. Mon Dieu, c'est beau."
Monsieur Harvey looked too and he blinked. "Evidemment," he said. "It is beau; otherwise this picture would not be hung in this house."
"Mon Dieu, que c'est beau."
"It is by a painter named Picasso," my wife remarked, hoping to ease the tension, for Monsieur Harvey was beginning to show definite signs of alarm.
"C'est un Picasso," Madame said. "C'est un beau Picasso. Et mon Dieu."
"But your paintings, Adela."
"Quel beau Picasso." Her eyes never left the picture.
"It is getting somewhat late, Adela. Are you not going to show your paintings?"
Finally Madame moved her eyes from the picture and answered. "Yes," she said, "it is somewhat late. I am afraid we must go now. Thank you. Your house is very beautiful." She shook hands with us.
"Bon jour . . . merci . . . excusez . . ." murmured Monsieur Harvey, shaking hands hurriedly.
As they closed the front door we heard him ask, "Adela, of what was that a picture?"
And Adela's voice answered, "Il me semble there was some music in it."
A graduate of Harvard who studied at the Beaux Arts and with Hans Hofmann, PATRICK MORGAN is a painter who has had oneman shows in New York and Boston. For the past three years he has been scoring a remarkable success as a teacher of art at Phillips Academy, Andover.↩