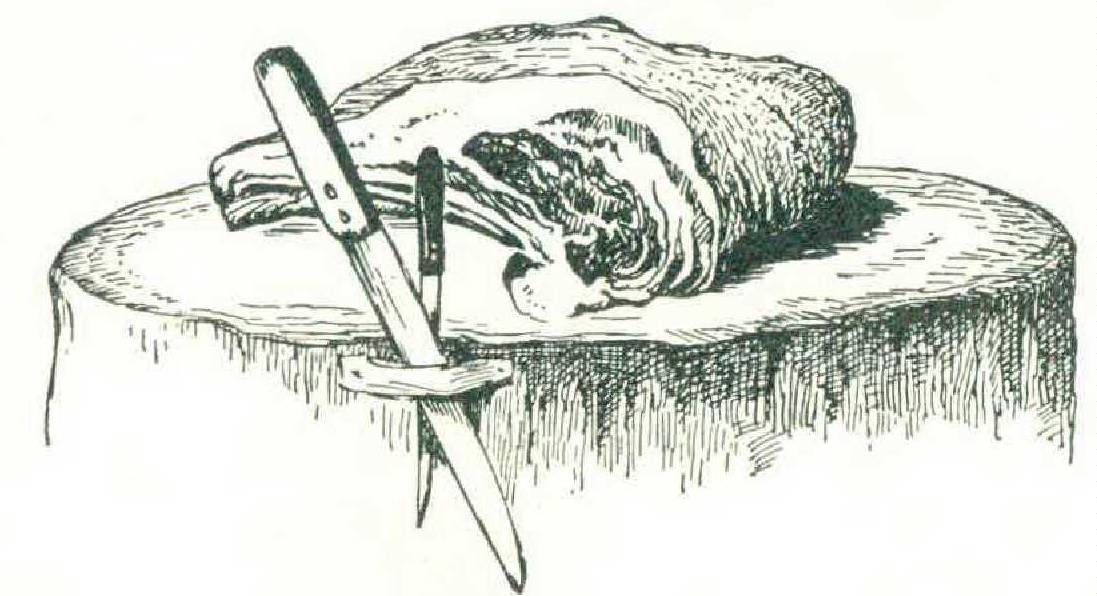 By ROBERT FONTAINE
MILLIE and I had it all figured out. We had a chart from a magazine showing how we could use our points the best way. There would be a few frankfurters and some hamburger and a ham butt. Without points, we should have fish and macaroni.
One night there would be scrambled eggs and one night a vegetable dinner. We figured out the cost and everything. It all came out beautifully. It should have: we put a lot of time into it.
The day before meat rationing went into effect Millie showed our plan to Mother and Dad. Mother smiled and shrugged and figuratively patted her daughter-in-law on the head.
"To me it's like algebra," Mother said.
"It's simple," Millie said.
"Algebra is simple, too," my mother said, "but I don't understand it."
We showed it to my father. We had a big picture from a magazine to go with it. The picture showed all the things cooked. They looked very beautiful, very.
Dad was most interested in the picture. "Rembrandt," he sighed, "once painted a side of beef which is now immortal."
Millie and I looked at each other. We had not even seen a roast of beef in six months or more. "Don't mention beef," Millie said abruptly.
I began explaining the points to Dad. I showed him what we would have: meat pie one day, vienna roast another day, frankfurters another, and so on.
In the middle he took out his violin and cleaned it carefully with a silk scarf; very deft and graceful he was about it, too. Then he began to play the scales. Once in a while he would drift off into a few bars from some violin concerto; but always back to the scales.
We couldn't interest him in our point-plan. Millie and I were not hurt about it. Dad has been playing the violin for twenty-five years in concerts and theaters, off and on. He is a fine musician, but every day of his life he plays the scales.
That's why I became a writer. A writer just writes. No scales.
Anyway, Dad and Mother were not interested in our system. They did not object to it. They just did not want to hear it discussed.
"Go ahead," Mother said.
"Do what you like," Dad said. "Do what's cheapest and best. We haven't much money and everything is so high. You and Millie handle it. You are appointed."

The next day the meat rationing started. Millie and I went down to the markets just to see. For weeks the stores had been filled with people pushing each other and shouting. Now, everything was at peace. A few people were around and they talked almost in whispers. A great change had come over everything. People smiled gently at the clerks. The clerks smiled back and spoke softly.
"Nice shoulder of lamb today," a clerk said.
Millie looked at me in wonder.
"Fine center-cut pork chops," the clerk added.
Suddenly Millie grabbed my sleeve.
"Look!" she said.
I looked. There was a roast of beef, boned and rolled — all lean meat.
"I can understand Rembrandt's feeling," I said.
"Did you ever see anything so beautiful?" Millie asked.
It weighed seven pounds and it was sixty-five cents a pound. It was also fifty-six points!
We turned away sadly.
"Maybe we should have bought it," Millie said on the way home.
"What, and spoil everything? We'd have nothing else. Just roast beef. And after the time we spent planning."
" I know," Millie said.
We went, in to Dad and he was with the scales again. We asked him where Mother was, and he said she had gone down street.
"She took the ration books with her," he added.
I looked at Millie in dismay.
"Oh, Lord!" she exclaimed.
"If she ever sees it, we're licked. It will be like that Scottie puppy who winked at her in a pet shop window."
"Maybe she won't see it," Dad suggested.
"She'll smell it a mile away," Millie said gloomily.
2
At last we heard Mother's footsteps coming up the stairs. We heard the door open and we heard the rattle of bags.
"Oh, Lord," I said, "I don't dare look."
"She's got something," Millie said.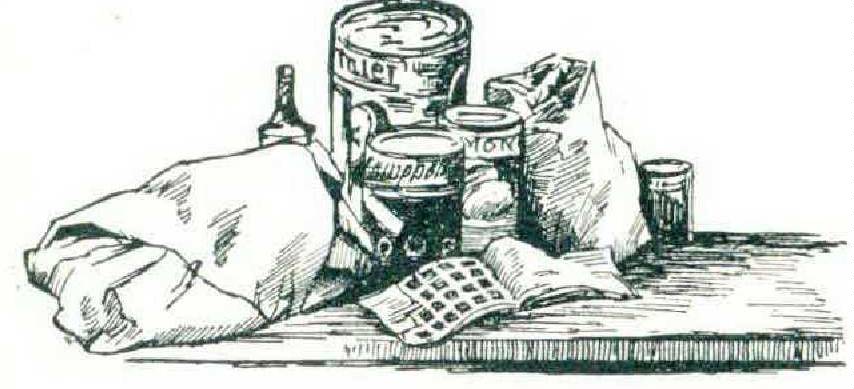 Mother came in all smiles. She put down the shopping bag and sighed.
"It's so different, now," she said, her eyes aglow.
"I know," I said nervously.
"Mamma, you—Millie began.
Mother took off her hat and waved it across her face.
"You'll never know what I got," she said.
We waited. "What?" Millie asked timidly.
"Dried peaches! No points for them this month. Also raisins, no points. You love raisins," she said to me.
"Mrs. Welkner was here, too," she went on, "just after you left. I gave her money for the Red Cross. She says you're a fine boy."
"That'snice," I said. "Tell her I'm no boy, but I appreciate the flattery."
"She says she read a story of yours last week. She said she couldn't understand it but it was wonderful."
"Look, Mamma," I said, "all my stories are wonderful. What else did you get?"
She smiled. Slowly she opened the package; the wax paper rolled nobly back; the inner paper unbent crisply and there it was. There it was in all its scarlet majesty; a thing of beauty, a joy for two weeks at least.
We did not forgive Mother for spoiling our plans. Still, we watched her rub a little garlic on it and a little sweet basil and some mustard and some melted butter and a few drops of lemon and a dash of tarragon and Lord knows what else. We watched her put it in the oven and take it out every few minutes and baste it slowly, her face aglow. We watched her turn it gently. We watched her sigh over it and coddle it.
At dinner we were still glum. Mother took the roast out and set it before us. What a scent! Mother sliced it off and it was good and rare in the middle.
"You like the end," she said to Dad and she gave him the end.
Pretty soon we were all eating in silence. No one wanted to break the spell. What could we do.? We had not tasted rare roast beef in months and no one can cook a roast like my mother.
When I was done I said sheepishly to Millie:—
"I think we'll forgive Mother. There are some things more important than the realistic approach and the sense of proportion. The golden mean is fine, but not every day of the week. Yes, we will forgive Mother."
My father chewed his beef, his eyes sparkling.
"No," he said fervently, "it is your mother who will, perhaps, forgive you. It is your mother who should have been a poet and a musician."
Mother blushed, pleased as a bride.
"Afterwards," she said, "you can play me 'Londonderry Air' on the violin."