VOLOME 168
NUMBER 2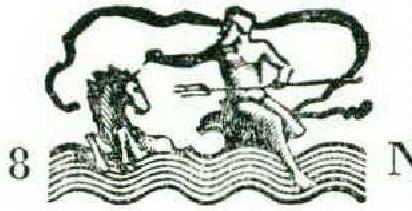 AUGUST 1941
BY E. M. ALMEDINGEN
THE story of a life may begin on a nursery floor or in an April wood, with a slab of chocolate or a broken, beloved toy. This record must needs begin with a city, whose child I was.
St. Petersburg ... I can almost hear an impatient murmur, 'Why the old name?' but I can make no apology for the use of it. In 1914 the old name was changed to Petrograd, but the change, fathered by frenzied circumstance, could not interfere with the spirit of the city. All my earliest memories of her go back to the time when the name 'Petrograd' was preferred by none except a meagre handful of Slavophile freaks. St. Petersburg was created by a man devoted to all things foreign. For nearly a century she flirted with purely German tastes. Later she toyed with a rather tawdry stage-setting borrowed from France. She ended by being her own slightly grotesque cosmopolitan self.
Most foreigners felt at home in St. Petersburg, but purely bred Russians abused and despised her. They never forgot that the ancient privilege of the Tsar's anointing was retained by Moscow, the true sovereign city of Tsardom. Leningrad now stands on the banks of the Neva. Leningrad is more or less certain to rise from the charred desolation inherited since 1917, but Leningrad, known through brief newspaper reports, is a remote and alien sound. I wish it well, but I shall never know it.
I have no map except the one still etched in my memory. On that map the Neva runs wildly and whimsically, a queenly river, girdled in purple-gray granite, powdered with snow during so many months in the year. Across the Neva were many bridges. Best among them I knew Nicholas's, which linked the Vassily Island, where we lived, to the Mayfair of St. Petersburg, where I was born and where we should have lived. Nicholas's Bridge had exquisite gryphons for railings, and they were friends.
'Please, come to life. . . . If I stroke your curly mane, will you be angry? You look so fierce, but I believe you arE kind because you are strong and beautiful.' . . . Suddenly the magic worked, the gryphon was free of his bronze bondage. he plunged into the river, away from the bridge arches, towards the land of pearly mountains and unfading flowers, far beyond the sea. I was riding him, silent and triumphant — until a fat, bearded policeman decided that the thin little girl had stood long enough by the railings.
Copyright 1941, by The Atlantic Monthly Company, Boston, Mass. All rights reserved.
'Please, baryshna, have you lost your way home?'
' You are a wicked, interfering dragon,' ran my indignant thought; 'you have made my gryphon turn back.' And a very small voice, its dignity imagined rather than otherwise, stammered, 'No, thank you, I have not lost my way. I am going home.'
To the left of the bridge stood the imperial palaces, red granite, white and gray marble, and softly primrose stone, the huge pale faces of private houses, the unwieldy yellow-gray elephant of the Senate, the low cream-white silhouette of the Admiralty, half-hidden behind the dark green fan of a garden. To the right of the bridge the English Quay tapered off to the white detail of St. Saviour's Church, built as a memorial to the sailors fallen in the Russo-Japanese War.
In the early mornings the quays were washed with light. Then the spires and battlements of the Peter and Paul Fortress over the water leapt into delicate, gray-golden splendor, magical stories could be heard in the least audible phrase of the river running under the bridge, and there seemed music even in the clang of hoofs over cobbles, the shouts of tall, dirty-faced Tartars, meandering from street to street in their search for secondhand clothes.
In chiseled and graven stone, in sloping roof and flattened dome, in the voice of several nations, in wide streets and narrow alleys, and always, predominantly so, in the insistent phrases of her waters, do I remember St. Petersburg. I have known her frivolous, mad, and merry. I have known her sober and bemused under her cloak of darkness since 1917. But even in her charred and naked desolation St. Petersburg could still offer some sanctuary from fear which invaded her walls.
II
Life came to me in shape, color, and smell. It was easy to remember the smell of the first snow, the music of sledge runners, the tiring dryness of summer pavements (when luckier people deserted St. Petersburg for Finland or the country), big straw hats, an enormous garden full of old lime trees, and a brother saying, 'This is a public park, but trees belong to the world, and so they are yours and mine.'
I remember standing by the door in an enormous room with rows of slender giltlegged chairs ranged along the walls, and observing that sea of polished parquet. I moved, and tumbled down long before I had reached the middle of the room. I had meant to slide down the whole length of it, and the disappointment brought tears, and then I knew myself cradled softly and safely—not in Wilson's thin, formal arms. I smelt violets, my cheek nestled against a sleeve of lilac sprigged with tiny white flowers, and the room was a kingdom because it held my mother. In the middle of that empty ballroom on the cold uncarpeted floor, I learned myself belonging to her in a secret and special way. We stayed on the floor; she held me tight, my small, dusty hands round her lovely neck, and the great room rang with her laughter.
'You have an unbridled imagination,' said a tiresome aunt about a century later. 'You can't remember that house. You were born there. You left early in 1901. You were just two and a bit.' She looked suddenly curious. 'Anyway, what happened there to make you remember that room?'
'Gilt chairs,' I said, 'and mirrors between the windows —'
'Chairs and mirrors did not happen. They were there.'
My mother was the clean, sweet smell of lilac to me, skies in the morning, an answer to the nightly falling darkness, the reason for everything, including God. She remained the unsullied, proud symbol of race in a humble and circumscribed environment. Years later I learned that Kipling had known her in spirit — 'and lose, and start again at your beginnings and never breathe a word about your loss.' So far as I was concerned, she stood there at the very beginning of things, not only a face or a voice, but someone whose nearness and love were as natural as the air.
My immediate world was very small. During most of my childhood Mother, my brother Gay, and I lived in a flat on the Ninth Line of the Vassily Island. My mother must now earn her living, and she gave English lessons from morning till night. Our life was outwardly uneventful, our clothes looked shabby, our toys were few, but each day ended gorgeously with my mother's return. The front door clanged, our slippered feet pattered down the narrow passage, our eager hands clutched at her before the maid could take off the snowpowdered coat.
'Your mamma is tired. Keep quiet, please.'
We were quiet. She was home. The shabby dining room looked nicely dim in the light of an oil lamp. The white cloth shone like snow, and the samovar came in with its song. We watched her hands move among the white and blue cups. Her hands were safety and music to us. She must have been tired in those days: horse buses cost money, and she saved her fares, though of course we did not know it. There were no comfortably upholstered chairs to ease her tired body. But her face never showed fatigue, her mind opened widely to receive our day's small chronicle, until the copper samovar grew into a fantastic tree and we were sent off to bed.
One wintry day when the frost sang and cracked all down the street, Gay and I huddled in front of the brown porcelain stove in our nursery. Suddenly Gay pushed the big globe towards me, laid a grubby finger on a brown spot, and told me that it was England, where our mother had come from. I stopped painting a cow bright vermilion and craned my neck. The brown speck looked very remote. It seemed incredible that she should have come from there, and I said so.
'She did not walk,' Gay said patiently, 'she came by boat.'
The day before, we had been taken to a party at my Uncle Alexis's. He was a publisher, and we loved going there because the house was full of books and nobody minded our sitting in a corner and reading all alone. But that occasion had been different. A woman had brought her two small daughters, and I was told to go off 'and play nicely.' The little girls lisped, their hair was curled, and they wore crimson velveteen frocks. Dressed in my humble blue serge, I looked at them and knew I hated them. Suddenly the younger velveteen lisped: —
'My mamma says it is such a pity that you can't have a real home.'
This puzzled me. I questioned Gay about it.
'What does a real home mean?'
'Where you live, in this house, with Mummy and me.'
'Then we have got it.'
'Of course we have, but what's the matter?'
'Two silly girls at Uncle Alexis's laughed at me and said we were all funny. What does "Papa" mean? I mean, who is he? Where is he?'
Gay explained, rather bluntly. He said that some time before, when I was quite tiny, my father and mother had decided that it would be better if they were not together any more. I could not understand it at all.
'Then we've got him? He's ours. He belongs to us. Why must he keep away ? '
'I have told you.'
'He is ours,' I insisted. 'I want him here, unless he's a wicked man.'
'Never even imagine it, Poppy. He's clever, brilliant — one day you'll be proud of the name he's given you.'
'I don't want a name,' I sobbed. 'I want him. He should be here if he belongs to us. It's all unfair.'
'Poppy, you'll understand some day.'
But I would not listen. I felt that I was being cheated in a way I could not grasp.
'You must never speak to Mummy about it. It would hurt her too much.'
'Why?'
'Because she loves him,' Gay answered, and the mystery deepened still further. Then Gay told me the little he remembered about Father — a ride in the Summer Gardens, the smells of chemicals in the laboratory, and a big conference at a place where Gay had been taken as a tiny boy. 'Father stood on a platform. He spoke and they all clapped. I was so proud, Poppy.'
III
St. Petersburg was so much flesh of Finland's flesh and bone of Finland's bone that when I first went to see my father's mother at Loksajarvi I had no sense of being in a foreign country.
I was in the train for the first time in my life. We were traveling third-class, all through the endless hot day and part of the night. The early morning came, with new colors and smells: the window gave the pleasure of a world where everything seemed painted in soft colors, and the air was sharp and pleasing — sea and pine needles together. I drank some milk and slept again until we halted and got out. There was a village, all tiny squat wooden huts, a slim blue spire of a church. A woman with a seamed brown face, her gray shawl embroidered with red, came to meet us, and we drove off in a cart which smelt of hay and fish, to the lip of a lake where the bearded ferryman lifted us off the cart.
So we came to the island where, in a low white-painted house, my small grandmother welcomed us with saffron buns, gingerbread, and milk again. Neither of us could eat or drink. Wc forgot our manners, our kisses were perfunctory. We turned our backs on the house and stared at the lake. 'It's the Neva in a lovely dream,' I must have thought. The opposite shore was enameled with multicolored mosses. Beyond a sloping field the tapering mass of a pine wood lost itself in the clouds.
Against the white walls of her island house my grandmother still stands, a tiny woman, almost a doll by the side of my tall mother. They were so alike that outsiders often imagined a link of blood between them: it was the expression of peace on their faces, their quiet hands, their softly chiseled mouths. I could never put my grandmother into the gallery inhabited by the rest of my Almedingen relations. She was so different — 'Northern,' granite, pine, and soft moss together.
'Grandmother,' I should like to say now, 'my mother and St. Petersburg gave me life and something lovely for my own. You gave me the wealth of detail. You taught me to love grass and moss, ants and butterflies. St. Petersburg had talked of water; you taught me to be at home in it. You gave me my first trees and my first sunset, mushroom hunts and the bliss of long walks. There was something in you like the island which housed you, eternal and clear-cut. What did you once say — "Beauty need not be a dream. . . . Sorrow need be neither burdensome nor ugly." '
IV
One day in March I had a cough, and my mother decided I had better stay indoors. Sadly I stood in the nursery, sucking my thumb. Gay, cap in hand, called out to me from the door that I might finish building the huge cardboard fortress we had begun days before.
'Get those gates together. Don't upset the glue. We'll get the ramparts up when I am back.'
Off he went. My cousin Andrew joined him, and I lingered by the window trying to see them cross the courtyard, but the icy t raceries on the glass pane refused to melt under my breath. I turned to the table and began working at the gates.
Nobody came into the nursery that afternoon. Suddenly, unaware of the time, I knew that Gay and Andrew should have been back long ago. It was getting dark. I could not go on with the fortress gates. I slipped out into the passage.
I saw a thin scarf of light coming from the slightly opened door of the hall. I heard a vague rumble of voices. I tiptoed towards the door and peered hard, but I could not see anyone, and the strange deep voice rather scared me. The deep bass was asking if my mother lived in the flat, and Anna's tremulous voice affirmed it. Then I thrust my head through the door and saw a burly blackcoated policeman in the doorway. The sight of him shocked me. A policeman in Russia was always a terror.
I kept still. He spoke again in a very low key. I could not catch a single word, but the gap was successfully bridged by Anna's sudden shriek: —
'Go to, I don't believe you! . . . Queen of Heaven, save us!'
My earlier dread vanished. I darted into the hall. 'Anna, Anna . . .'
But she and the policeman between them hustled me away into the dining room. They talked so rapidly that I could not follow them. All I understood was Anna's plea that I should be good and keep quiet. She lit the big bronze lamp hanging over the dining table. Left alone, I sat on the edge of a chair. Maria, the cook, presently came in with a glass of very hot tea and lots of cherry jam in a china dish. She put the little tray by me. But I was past asking questions. Tea was a forbidden beverage and cherry jam a rare luxury on a weekday, and I drank the tea and ate several spoonfuls of the jam, even though the unexpected treat helped to deepen all my suspicions.
I stammered something about Gay, fortress gates, and the cherry jam, but Maria said that my mother wanted me, picked me up, and carried me to Mother's room. I found her sitting in a chair, facing the door. That white face brought back an earlier experience and I thought, 'Gay and Andrew must have got lost, as I did — but why don't they come back?' and I ran towards her blindly. She began speaking very quietly.
Gay and Andrew had gone to the Gavan for their walk. Gavan was a part of St. Petersburg adjoining the slummy corner of the island, and there the Gulf ran past one of the quays. Andrew had insisted on walking across the ice. Gay had argued with him: it, was the last day in March and the ice showed signs of getting thin. Andrew would not listen, and the ice cracked under him. Gay jumped in and pulled him out. Mother stopped and I clapped my hands. This was a splendid, lovely story. Now Andrew would never dare to scoff at us again! The candle spluttered, and my mother said very softly: —
'It is a splendid story, darling, but Gay must have been very tired when he had done it — he could not get back.' She paused and I stammered that he would tell us all about it. Gay had such a way of telling things that they became part of everything round us. . . . She said again: —
'Darling, don't you understand? He is with God now. You remember, he used to read so much about great men like Achilles and Agamemnon. They were brave men. Gay was a bit like them.'
'But he must, come!' I said. 'You see, I had only him.' I could not understand.
V
In the spring of 1900 my mother sent the maid away. I can see her face, rough, ill-shapen, and bewildered, as she stood in the tiny dim kitchen, listening to mother's carefully enunciated Russian. I can even see a neighbor's yellow cat jump through the open window. He rubbed against my bare ankles and miaowed for milk. The maid whimpered. My mother spoke patiently.
' Yes, your work is good. It is not that. I simply can't keep you any longer. I can't afford your wages.'
The girl understood and went.
We too left the flat. We walked across the river, to the Nevsky Prospect. It was now long past our usual luncheon hour, and we came to the Philippoff pastry shop, where my mother bought six small meat patties. They cost five kopeks each, and were lovely goldenbrown things, fried in deep fat and served piping hot, wrapped in a tiny bit of thin brown paper. We ate them, standing by the counter, and next to me was a small fat woman in a silk dress, who had ordered ten such patties and ate them quickly and greedily, and I watched the precious crumbs dropping on the floor.
We left the Nevsky Prospect and found our way to the Quay. My mother kept silent, and I did not feel I wanted to talk. We reached the Summer Gardens and sat down on a bench in the famous lime avenue. The afternoon had gone, pale silver light lay all over the trees, and I wondered if my mother could afford the boat fare back to the Vassily Island. My feet ached a little and I felt hungry. We had some tea and biscuits at a cheap little pavilion at the rear of the Gardens, and then turned back to the Quay. My mother did not suggest a steamer, and I plodded along by her side. We got back to the flat. I saw her turn the key very carefully and slowly. I could see her hesitation. A small oil lamp hung on the staircase landing; her face was very near, dim and sad. Suddenly I realized how drawn and tired she looked. I too was spent, but her fatigue seemed different—just as though it had nothing to do with flesh and bone. I shed my usual reticence, reached up and kissed her cheek. She was always undemonstrative, but now, to my surprise, she returned the kiss and said, 'Thank you.'
We groped our way into the tiny hall. I was the first to find the matches.
'Mother, someone has been here.'
The hall floor was muddy and dusty. The room was bare of all furniture. I ran past her into the dining room, and saw empty walls stare at me. In the second bedroom I saw an iron bedstead, a heap of bedding, and two enormous trunks in a corner. Everything else had vanished.
'Mother . . .'
I turned. She was standing just behind me, a lit candle in her hand. Her eyes did not avoid mine.
'I could not bear to tell you beforehand. You see, there were some payments I had to make, and I had not enough money, so I offered them the furniture and they came and took it away this afternoon.'
'Took it away . .
I stared at the walls as though hoping to see some tangible memory of longbeloved things imprinted on the pale ochre paper. 'Took it away . . That moment a resolve was born in me never again to get attached to any inanimate things — parting with the least of them hurt far too much.
Wildly I remembered them, the few things I had grown up with. None of them were exceptionally valuable: my mother's slender-legged mahogany desk and bookcase, my own small walnut cabinet, the only sofa we ever possessed, the massive dining table, the bronze hanging lamps! That little mahogany table with a cunning nest of drawers underneath, where I had written my first poem, and, our only real treasure, my mother's dressing table with a mirror which swung forward, revealing a whole world of tiny drawers, inlaid with tortoise shell and mother-of-pearl. The corner cupboard, its handles carved like bears' heads, where she used to keep our modest silver. The books! Oh Mother, not the books! Not the beloved Shakespeare and Milton, Joan of Arc, and my very own Hellas . . . No, the books were in a trunk. Books did not fetch much, she said.
We went into the bedroom. I felt so desperately that it was my duty to behave in a heroic way, and there seemed nothing I could say except that now we had no need of three rooms and a kitchen. Bending over the narrow iron bedstead, my mother answered quietly, 'You are right, darling. We are leaving here. I have paid everything now.'
'Where are we going?'
'Into an unfurnished room. I am sorry I could not find anything cheap enough on the Island. It is the Petersburg Side.'
I fought back my tears, but they got the better of me. The Petersburg Side had neither quays nor ships. It lay worlds apart from all familiar, beloved haunts.
'I—I—just hate the Petersburg Side. It is nothing but traffic and narrow streets and markets — and people.'
'There is a good garden not far from the house we are going to — '
But. a garden was not enough to comfort me.
You can talk about straitened circumstances. You might write an essay about genteel poverty. But it is only after years and years that you can speak of penury in the midst of opulence, of hunger in the midst of almost sinful plenty. You must never speak of the immediate experience unless you grow old in bitterness, which is barren and futile. . . .
We moved to the Petersburg Side, to a tall, bleak, grimy house in an alley. We moved into a one-windowed back room, and the sour-lipped Baltic landlady watched our 'furniture' being carried in, a smirk on her thin, dirty face. The narrow room seemed fairly crowded with the iron bedstead, two trunks, two kitchen chairs salvaged from the crash, and a deal kitchen table bought for forty kopeks from a stall on the way to the Petersburg Side. A bed was made for me on the top of one of the trunks. The other served for cupboard, sideboard, and anything else that we could think of. Our clothes would be kept on hangers and in the trunk which became my bed at night. A small oil stove was put into a corner, for now we must do our modest cooking in one room: outside meals could not be considered. Our belongings moved in, the landlady insisted on a brief interview in the passage. My mother returned to the room and fumbled in her bag. I watched her, my eleven-year-old mind able to grasp the situation. The rent paid, we went out for a walk.
Somehow, I asked no questions all through that summer. I trusted my mother so entirely that I had not the shadow of a doubt that, if the catastrophe might have been averted, she would have succeeded in doing so. I grew that summer, and I learned much. I learned never to admit that I was hungry. I learned to be reticent with the few people who now entered our strangely narrowed world. I learned not to show pained surprise when our daily allowance of ham and bread was reduced by half. I learned to put on my clothes very carefully because I knew that an unfortunate tear meant the purchase of a reel of cotton. I, whose greed had nearly always got the better of pride, now learned to refuse a sugared bun or a piece of toffee seldom and grudgingly offered by the landlady's pale and furtive husband. But I did not succeed in learning about thrift.
One morning, at the end of the summer, my mother said she was going out for the day. At the door she turned and added, 'I should not like you to go out on your own. There's enough food. By the way, I believe things are going to be better. . . . Thank you, you've been rather a brick!'
For a long time after she had gone I could not settle down to my books. My mind lived in her last words. They were rare praise from her who never indulged in extravagant eulogy, but I wondered if I had merited them. Surely, I must have whimpered and complained often enough, longing for a ride in a horse bus and a glimpse of the Summer Gardens, now forbidden because of the fare. I remembered all those sullen spells when I would curl myself on the lid of the trunk, turn my small face to the wall, and refuse to recognize her presence in the room.
And yet she said I had been ' a brick.' I knew that it was so worth-while to do the least thing for her. She took it, as it were, kept and cherished it until the right moment, and brought it back with a smile or a word, always an intimate friend as well as a mother.
That day, indeed, (he Petersburg Side became a closed chapter. I was not told details at the time, but later I heard that my mother had won a case in the law courts, and a certain sum of money came to her. All I knew was that we went out and had a proper meal at a restaurant. Both suspense and excitement played an unkind trick on me: I came home and was disgracefully sick.
We moved back to the Vassily Island. Our fortunes had not improved enough for us to live in a flat. We were in rooms now, in a great block at the end of the Eleventh Line. The block had six floors, and each floor had a long corridor. Strangely assorted people lived there, but all the rooms had double doors, and a certain amount of privacy was still possible. Also the one window of our room gave a view of the remote Neva. Of furniture there was none except what we had brought over from the Petersburg Side, but we had a home, some clothes and food. The block faced the annex of the University on the Tenth Line, and girl undergraduates soon discovered my mother. A few English and French lessons added to our meagre budget.
But poverty troubled me no longer. By that time I would have gone to a palace wearing a shabby gingham and canvas shoes.
VI
My father's people for years remained footsteps, voices, faces, even mere names. They walked along their own street, and the children of a younger son meant little, if anything, to them.
The senior branch of his family moved north to St. Petersburg in the seventies. The estate near Tver, given by Catherine the Great to a forbear in 1793, still belonged to an uncle of mine, but nobody lived there. A century of living in Russia had not given the family any roots. Country life implied an anchorage and led to tiresome obligations. They chose St. Petersburg in a rare flash of wisdom: the cosmopolitan city had something to offer them. As to the rest, their story, when I came to learn it, suggested a variant of the Wandering Jew theme: from Spain they leapt to Saxony, from Saxony to Austria, from Austria to Russia. My uncles loved telling a meagre handful of stories about these peregrinations, but I saw little in them. 'We are like gypsies with Europe for a tent.'
My grandmother had thirteen children, and all her nine sons were soldiers except my father. He turned his back on the army and became a scientist. St. Petersburg was not a big city, and its several worlds were apt to overlap on occasion. In the world of science my father went about his way, an acknowledged leader and master. I did not know him, but what I knew of him had early enough filled me with a strange, inarticulate hunger. In that alienation, shaped by circumstances beyond my control and never remedied, lay rich material for an avidly imagined friendship. Somewhere, far removed from the Vassily Island, my father and I read, talked, and argued together.
Early in the spring of 1912 he fell ill, and I heard about it by mere accident, from my Aunt Catherine. She was kind after her fashion, and that day she tried very hard to impress on me the importance of having such a father. She talked about his work at the University, about his own private school of chemistry where he took talented pupils and asked for no fees. 'Indeed, I know him to have bought boots for some of them — otherwise they could not have come to the lectures. And he is so encyclopaedic — science and classics together. Surely you have read his Ulysses!' I had, and I loved it, but I could not discuss him. Her conversation was salt and vinegar together rubbed into an open wound.
Early in May he died.
I went to his funeral. The old cemetery had shed some of its bleakness. Young grass was struggling bravely in between the gray coping stones of ancient vaults, branches were greening here and there, and somewhere, almost vanquishing the dark mood of the place, rose the pure courageous song of the thrush.
There were enormous wreaths and interminable speeches. There was a crowd, and the corner of my mind certainly received an impression about his place in the world. But something more than the huge oak coffin was lowered into the soil: all the jealously unshared dreams of my childhood were put under the earth with each fresh spadeful. I could imagine them all, so beloved, so foolishly delicate, far more fragile than the masses of expensive lilies-of-the-valley heaped all round the opened grave. So stupidly cherished, so unreal were they, those endless skeins of secretive make-believe about a happily balanced, wisely chosen lifework, enriched by his companionship, made almost worth-while by his guidance. The unfledged, questioning mind longed to find some assurance from the thought that had left the flesh and the spirit that had ventured so far.
VII
The Mochovaya Street was fairly distant from the Bolshoy Prospect, but I had a friend there, one Gabrielle. I had met her at Wolf's; we both wanted to buy Carlyle's French Revolution, Wolf's had a single copy left. I had hoarded the money for months, but I drew back. The tall, spare woman in a shabby fur coat pulled out her hand and made me come back to the counter. 'Please. You seem so keen on having it. I can easily borrow a copy from the library.' So Carlyle was mine. I stammered my thanks and she asked my name. She appeared to know it, having met my Uncle Alexis. She gave me her card. 'Come and see me — if only to talk about Carlyle.'
I went. Soon we were friends.
One day in early March, 1917, I went to see her. The brief winter day was near its dying, the snow rang hard and sharp under foot, and the air was tinged with fugitive lilac-silver. A crowded tram carried me down the Nevsky. There were groups of policemen strolling up and down its broad face. Here and there mounted gendarmes sat stiffly on their great horses, the saddles covered with thick gray blankets. A pink-golden spear of the dying sunlight caught at a gendarme's lance, and for a short second he looked like a sculptured mediaeval knight, ready for the fray.
The presence of the police was so usual that one almost failed to notice it. Earlier in the week there had been a number of food riots. I should never have seen that particular gendarme but for the fact that the sunset chose to stamp his lance with incredible beauty.
I reached Gabrielle's house. I found her in a strangely sober mood. The girls at her school had been told to keep away. She had heard that the military were being entrained for the capital. 'Another food riot?' I asked, and she replied abruptly, 'Well, let's hope it is nothing worse.'
Then suddenly the door was flung open. Dasha, the maid, her shabby green shawl flung on anyhow, her eyes enormous, burst into the room and screamed at Gabrielle to shut the window.
'For pity's sake, pull the curtains, baryna1 The Cossacks are tearing down the street. The dvornik says it is the revolution. They are burning down houses, palaces — there is not a train running anywhere — they'll starve us — they'll burn us to death, antichrists!'
'Mother!' I stammered. 'She will be out! She is at my aunt's.'
'Are they on the telephone?'
'Yes, 45-56.'
The polished receiver in her hand, Gabrielle stood calmly waiting. Dasha remained by the door, twisting and untwisting the frayed ends of her green shawl. Presently my Aunt Catherine answered. I rushed to the telephone. Was Mother with them?
'No,' came her metallic, precise voice, 'she left quite an hour ago. Boris went with her. He is not back yet, and now I am worried about him. Where are you?'
'In the Mochovaya.'
'Well, get home as soon as you can.'
'What is happening?'
'Nobody knows, really. But girls of your age should not be out at a time like this. For heaven's sake don't try to walk home. Take a cab. There are no trams and' — here the line gave a prolonged, agonized wail and died off. I turned to Gabrielle.
'My aunt says I am not to walk home.'
'Did you imagine you could?' she asked almost ironically.
'Gabrielle, this is so unlike you! Just because trams aren't running and they have got a few extra policemen out on account of the food riots!'
She stopped me vehemently.
'Food riots! Is that all you think this is? Can't you see this is not going to be a rehearsal of another tuppenny-ha'penny barricade business? This country is like a big wooden house, rotten in every beam and joist, and it is bound to crash; and you talk about food riots. I can't tell you what is going to happen to any of us. But tiny separate atoms always have to suffer in an upheaval . . . whatever comes along, don't get frightened. Years later you might meet people who would tell you that you never had any youth because of all this. Don't believe it. Thrust the idea out of your mind. Learn to do without anyone's pity.'
The moment came, and its sharp claw bit into me. I peered through the chink of the curtains. The street lay quiet. The Cossacks had ridden past. Much was happening elsewhere, as I came to learn later, but all the mad sound, all the diabolic fury of that March evening in 1917, were far away from the faintly aristocratic Mochovaya Street. The outside quiet depressed me far more than any deafening noise could have done. Once again I was in the grip of a mood when premonition, horrible because of its vagueness, got hold of me and would not let me go. There was one possible panacea for such moods — a good long tramp. I said aloud, my eyes away from Gabrielle's intent face, 'I ought to go. I'm going to tramp it home.'
She did not smile.
'Dasha and I will find a cab. You must crouch under the seat if you see anything happening.'
We came out into the yard. The dvornik*s stuffy cubbyhole was dark and apparently untenanted. The great yard gates were shut and bolted. Dasha muttered that even dvorniks were wise enough not to run risks, but Gabrielle retorted that Petrograd dvorniks were well known for their ability to scurry away at the very first thunderclap, and Dasha must fumble with the big bolt. As soon as we got out, we heard a sledge coming from down the quay. I knew then that I could never have tramped it home; I felt wrung out, like an old useless sponge.
Gabrielle hailed the driver. He drew level with the pavement. Out of the tangled beard came hoarse sounds of protest. He did not want to take a fare. The Vassily Island lay too far off.
'Had you started such an argument this morning, I would have called a policeman.' Gabrielle was firm and polite. 'I have no idea where the police are tonight, and I don't care much. But I do care as to what might happen to this young lady. You look old enough to be her grandfather. She must go home. Her mother is anxious. For Christ's sake, will you drive her home?'
' H-m, I might — for Christ's sake,' he muttered, and flipped back the coarse fur rug.
I shook hands with Gabrielle. The old man brandished his whip in the frosty air, the sleigh creaked, and in a few moments the quiet of the Mochovaya lay behind us.
The street lamps were still burning. When we reached the Palace Quay the old man urged his horse to go faster. The little sledge lurched, bumped, and swerved. I could see to my left the massive outline of the Winter Palace, dark and brooding. Later I knew that at that very hour the Central Criminal Court buildings on the Liteyny Prospect were being set ablaze. But the Palace Quay looked ordinary enough, and so we came to the Senate Square. There lorries, never before allowed on the quays, stampeded past, crammed with armed soldiers and civilians who seemed to be brandishing extraordinary weapons. Untidy red flags waved violently here and there. Hurrying women ran along the pavements. At the corner of the Nicholas Bridge a group of 'black' people stood. The lamp burned brightly enough. I saw a man dart a sudden glance at the sledge; he looked neither terrifying nor overpowering, just a feeble-bodied, weedy man from some factory or other, but there seemed a strange hunger in his face. I felt fear creep into me as the sledge swung on to the bridge. The old man turned halfway round in his box and spoke for the first time: 'Revolution — that is what it is.' The foreign word came startlingly from the peasant lips. 'Well, well, come on, old lady' — and down the great slope of the Nicholas Square we careered at a breathless pace. Soon the Bolshoy Prospect, flanked by gaunt tree trunks, loomed ahead. I leaned forward and gave him the number of the house.
'No use going there,' he mumbled a few seconds later. 'It's on fire. Look, baryshna, burning nicely, isn't it?' He cracked his whip above the mare's ears, and for a moment I wondered if I were mad. Sheets of flames, almost metalblue in the frosty air, seemed spread all over the end of the street. The sledge raced on and I peered ahead. 'No,' I can remember hearing my own voice; 'it is the police station opposite.'
'Ah, they have got at them,' he said noncommittally, and halted his horse.
I paid, the money almost slipping out of my fingers. The lift was out of order, the dvornik nowhere to be seen. I rushed up the stairs to the sixth floor, where we had two rooms for a home. I forgot that I had a latchkey in my pocket, and banged on the door. Mother opened it. 'I am glad to see you,' she said, just as if I were returning home from an ordinary occasion. ' Boris brought me back. This floor seems strangely silent. The floor maid has taken French leave, and all her belongings as well. They are burning houses already.'
'Yes.'
Together, in silence, we stood by the window. Across the wide street the great pile of the police station was a roaring inferno of red, orange, and violet flames, shooting upwards to a sky which reflected the blazing colors in low-hanging cloudy drifts. Below, black dots of figures could be seen bustling round the pyre. There were no firemen anywhere; the building was meant to burn, and burn it did.
Few, if any, people went to bed that night. Next morning there was no water to be had in the whole vast building, and never again in Russia was I to see water running from a tap in any house in which I lived.
(To be continued)