IN words which are firm and tenacious, Lord Halifax (p. 737), England's Foreign Minister, has sought to span that distance between the experience of age and the ardor of youth. 'Many of you,' said he to his Oxford audience, 'are preparing to take your place before long in the ranks of the lighting forces, and you have every right to put the question, "What is it that we are to light for, and what prospect is there that we shall in the end secure the better world for which the fight is waged?'" His answer to this vital question will shortly appear in book form under the title The Challenge to Liberty.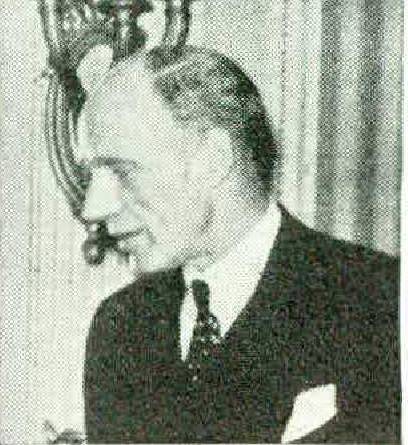 With a poise which is the despair of other harassed editors, Douglas Southall Freeman (p. 741) divides his activities into two well-ordered units. From daybreak to high noon he is the efficient editor of the Richmond News Leader; thereafter he retires to his home to carry on his writing and study as our foremost authority on the War between the States. Readers will remember his classic biography of R. E. Lee. A student of military history and an editor who must look ahead, he asks who will be our next Commander, if worst comes to worst.
The Atlantic has been privileged to draw on the new poems of Walter de la Mare (p. 751) which will appear in hook form this autumn.
Born and educated in Germany, Sibyl Peech (p. 752), after her graduation from college, served first as secretary to Oswald Spongier and then to Leo Frobenius. She left Germany as an émigrée in 1935, spent three years in England, whore she wrote a book on the social conditions of middle-class women, and since then has resided in Chicago with her husband and her two children.
A graduate of the University of Vermont who has been practising law in New York since 1895, George W. Alger (p. 758) drafted the present New York Employers' Liability Act and many amendments to labor and child-labor laws, lie has been Chairman of the Commission of the Cloak and Suit Industry, New York City, and from 1.931 to 1935 had jurisdiction over the disputes in that industry.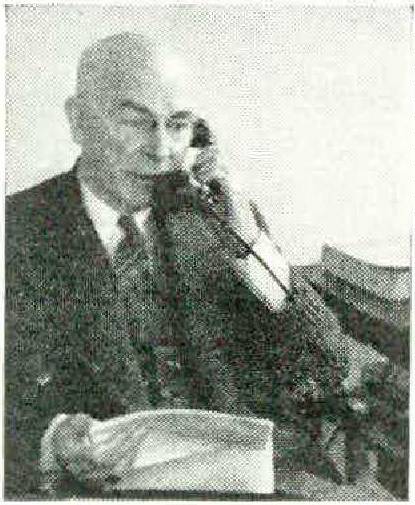 In response to the editor's acceptance of his hilarious paper, Stephen Leacock (p. 766) wrote, 'I am always proud to be in the Atlantic and especially so in connection with cricket. It has fascinated me all my life, though I was always a rotten player. But I was an enthusiast and an organizer and used to get up matches and start, teams: the first sign of success used to be that they put me off the team. The anecdote about my "duck egg" at Ottawa is literally true.'
Ernest Moll (p. 769) was born in Australia forty years ago, and his earliest memories are of his father's ranch in Victoria, which has supplied t he background for many of the poems in his four volumes of verse.
Wallace Stegner (p. 770) tolls us that he spent most of his childhood 'wandering around with his family in search of the "millennium."' He has lived in a tent house in the woods of Washington, on a desolate farm on the Saskatchewan-Montana boundary, on the shores of the Missouri River — and more recently in Massachusetts, where he writes and teaches English to his heart's content.
In the autumn of 1937 Gerard Swope (p. 777), then President of the General Electric Company, visited a number of European countries. In the Atlantic for March 1938, he compared the costs of living in these countries with the standard then existing in the United States. A key enumerating the countries in his original charts will be supplied to those who wish it. Prompted by the interest in his first survey, Mr. Swope made comparable notes on his recent visit to Argentina, Brazil, Chile, and Uruguay. He has taken for his basis the low-income group, using the hourly rate of pay for the unskilled laborer in the largest city in each country.
The Right Reverend G. Ashton Oldham (p. 780), Bishop of Albany, has given his thoughtful response to a question which is troubling so many Americans today: 'What is the American Christian answer to war?' Author of A Fighting Church and of that oft-reprinted credo, 'America First,' Bishop Oldham is President of the World Alliance for International Friendship through the Churches, and a member of the Council on Foreign Relations.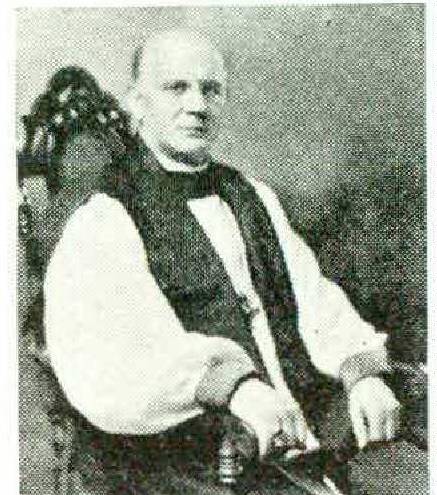 A graduate of Yale and the Harvard Law School, and a poet (he is author of thirteen volumes of verse), Archibald WacLeish (p. 786) is now in charge of the largest library in t he world, the Library of Conpress. His paper was originally delivered at the Midwinter Convocation at Johns Hopkins University.
At the invitation of the Atlantic,Hamilton Fish Armstrong (p. 761), editor of Foreign Affairs and author of We or They, interprets for American readers the full implication of Sir Nevile Henderson's war memoir, Failure of a Mission.
Iowa born and bred, Paul Engle (p. 797) found inspiration in his visits to New England and to England, where for three years he held a Rhodes Scholarship. He is the author of Worn Earth (1932), American Song (1934), and Break the Heart's Anger (1936).
Shortly before his death, Lord Tweedsmuir, the Governor General of Canada, wrote 'Finis' to his autobiography, a book which was begun in Scotland sixty-three years ago under the signature of John Buchan (p. 798).
In the April issue two writers, one from North Carolina, the other from Michigan, asked some pointed questions about the vitality of New England. Wilson Follett's (p. 808) essay gives the retort courteous, carved out of solid oak.
German industrialist, member of the Board of I. G. Farbonindustrie, Dr. Georg von Schnitzler (p. 817) describes that cooperation which Germany would like to see in a peaceful world.
William Saroyan (p. 822) swung into view like the Daring Noting Man on the Flying Trapeze. First came his short stories, original, free Irom formula, profuse in characterization. Now come his plays — My Heart's in the Highlands, Time of Your Life, and Love's Old Sweet Song.
Richard Wright (p. 826), the Negro novelist, was born thirty-one years ago on a plantation not many miles from Natchez, Mississippi. His novel, Native Son, which was the Book-of-the-Month selection for March, has been widely discussed North and South — and in the Atlantic, where David L. Cohn took Mr. Wright rather severely to task. In this issue Mr. W right accepts the challenge, defends the integrity of his Satire Son, and incidentally speaks his mind about certain problems which hedge in the Negro writer today. 'I wrote Native Son in Brooklyn in about eight months,' Mr. Wright says. 'This novel is an imaginative creation and is based on no one Negro boy now living. All of the events of the book have happened sometime, somewhere in this country.'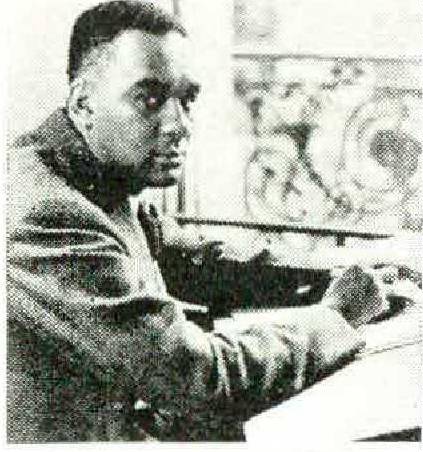 Avis Carlson (p. 829), who received her Ph. D. at the University of Illinois, is 'equipped,' as she says, 'with a typewriter, a husband, and two children. In discussing Infancy Tests, Dr. Arnold Geseil of Yale University said recently in a letter to the editor, 'There have been many articles in public print of late dealing with I. Q. statistics. We think it is fallacious to conclude from such statistics that a child is made feeble-minded by poor environment, or that a hitherto alleged feeble-minded child becomes normal through improved surroundings. Above all, in eases of child adoption the foster parents should not he permitted to think that a child of meagre growth endowment can be brought up to full normality through a good home and nursery-school advantages.'
Biographer of Thomas Jefferson and Francois Rabelais, essayist par excellence and critic at large, Albert Jay Nock (p. 833) is an Atlantic 'regular' who once edited the Freeman of beloved memory.
The words of Ph. D. (p. 840) are worth remembering in this month of graduation. She speaks for those graduate students who are all dressed up, with no place to go.
Arbiter of good English, Wilson Follett (p. 817) is a constant reminder of what habit and forgetfulness can do to our language.
The English novelist C. S. Forester (p. 849) has brought his wife and his two boys to this country while he does his best to keep Captain Horatio Hornblower shipshape in Hollywood. The film of his splendid trilogy is promised for production next autumn.