THE ATLANTIC'S PRIZE WINNER
The Atlantic Serial
CHAPTERS 11-15
BY
AGNES NEWTON KEITH
Agnes Newton Keith
author of
LAND BELOW THE WIND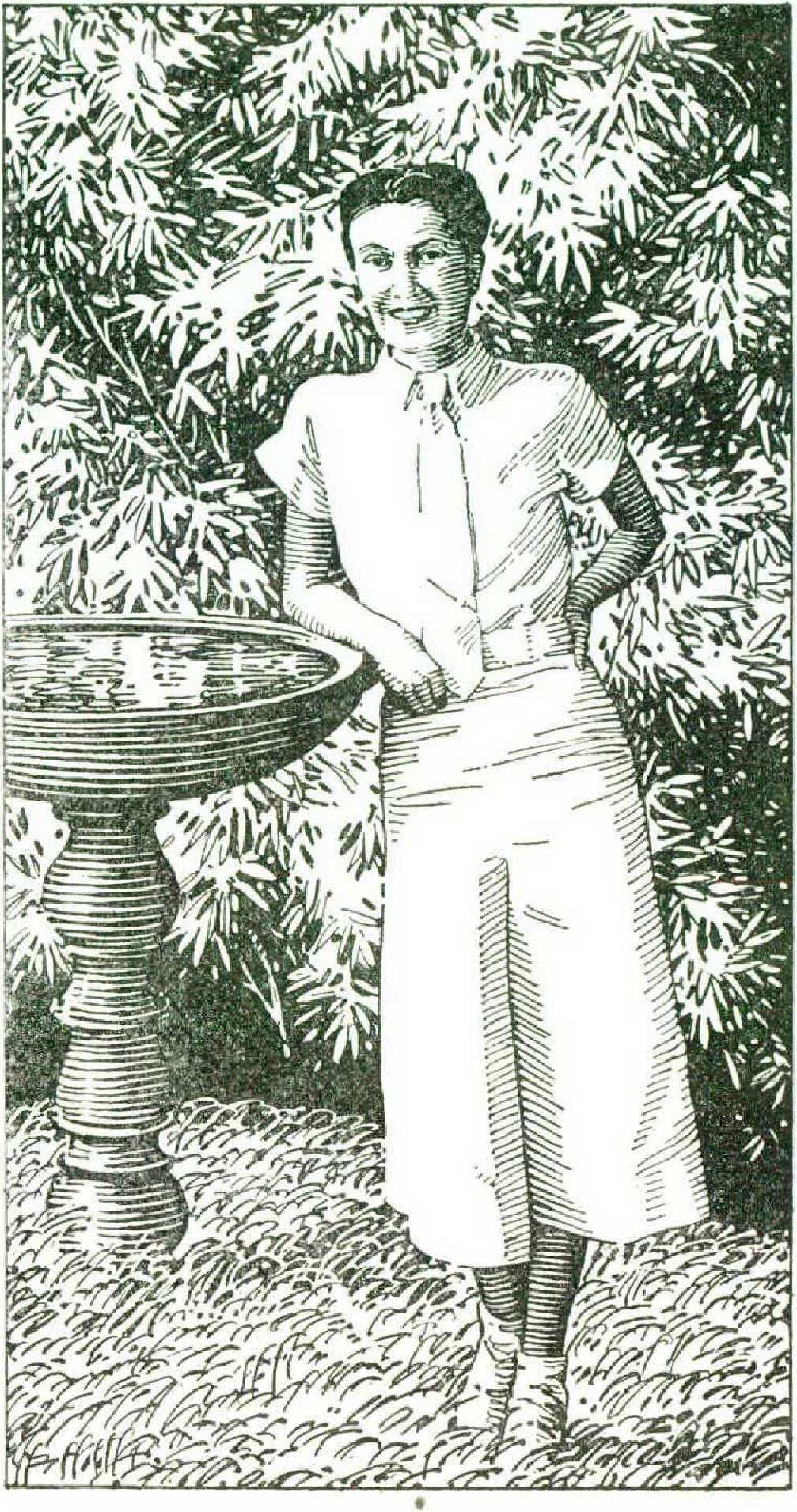 Here is the autobiography of an American girl who married an English official and went with him to the farthest outpost of the British Empire. Nothing in her upbringing in California, no course she had taken at the university, could have prepared Agnes Keith for the life she was to lead in Borneo, where her husband is one of the seventy Englishmen directing the destinies of some 270,000 tribesmen in this, the third largest island in the world.
With Mrs. Keith, who never by any chance takes herself too seriously, one enjoys the timeless days, one is party to the curious meetings between East and West which take place in Borneo, one laughs at the dilemmas and the sorry, childish ways of men, whether they be white or Malay.
We see her house in the beauty of a tropical night and also when it is drenched and leaking in a monsoon.
We see the Keith compound with its Chinese cooks, its Murut houseboys, and its assortment of monkeys and mongooses. We hear the talk that passes between the Keiths and the old native chiefs upcountry who recall the days before Borneo was 'pacified,' We see what the jungle can do to break down the fortitude of a woman who is both curious and courageous. Here is the story of a far country.
Land Below the Wind is the winner of the Atlantic $5000 prize. In the printed volume will be found much new material in addition to the chapters we have been privileged to publish in the magazine.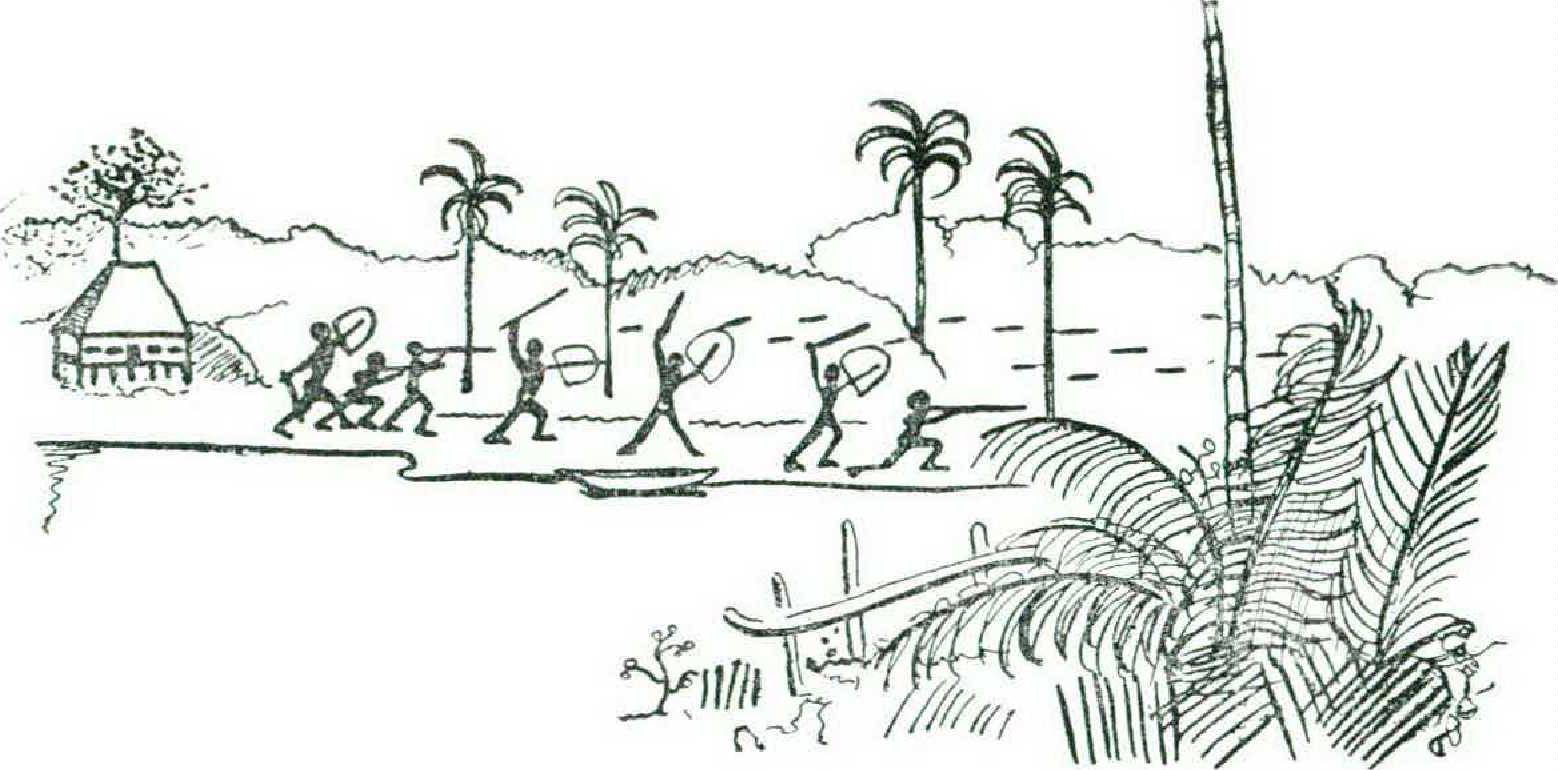 LAND BELOW THE WIND
BY AGNES NEWTON KEITH
XI
No story of Colonial life in the British Empire paints the picture as it is without a view of Government House standing in the shade of the trees, surrounded by a garden of English flowers, with a stretch of green turf for the tennis, with a secluded back garden for tea, and with His Excellency the Governor's wife glimpsed behind the hedge doing a bit of surreptitious and energetic digging in the garden between social events. No matter where in the British Empire the Government House may be, I feel sure it will be recognized by these features. Government House, Sandakan, is no exception.
If one paints the picture in more detail one sees, inside, rooms which are large and dignified and always made gay with flowers, tables with Tatler, Punch, the London Times, the Manchester Guardian, and the framed photographs of the children who are at home in their English nurseries. Chinese servants in long white gowns will be bustling in with gin and bitters and whiskey and soda, and native servants in sarongs and wound headcloths will be smiling brilliantly and moving languidly, and women in flowered evening dresses will be talking about the weather, and men in mess jackets or tails will be standing erect and presenting a more handsome than comfortable appearance. And if one listens at the open doors of such a gracious room there will be heard the soft tones of pleasant voices.
The hospitality of Government House, North Borneo, is traditional. Night after night the light s burn there, while visitors from every part of the world meet those of us who call Sandakan home. Meeting in this spot thousands of miles away from our native lands, with people coming from every direction and going in every other, we begin to lose all sense of space or distance.
G.H.,' as Government House is more airily referred to in private, is not only the international meeting ground, but the promulgator of local social custom. Functions at Government House are dignified and formal, and the guests are expected to dress accordingly.
Long columns sometimes run in the Singapore newspapers to determine the exact state of public opinion in regard to the dress-suited Briton in his Empire exile. The advent in an English colony of some prominent American visitor who has forgotten or discarded his dress suit and appears at a formal function in an open shirt usually brings up this question. In a tropical climate it is easy to relax and be sloppy, and it seems to me that it is better to be on the side of excess formality than the contrary.
This requires an effort, for there is no use in pretending that a dress suit in a tropical climate is comfortable, but the result is attractive. We women have less to contend with in dress discomfort.
His Excellency the Governor and his wife extend an unceasing hospitality to the Europeans of our community, a hospitality which we cannot return, as it is the accepted custom that the Governor should not dine away from Government House. The only social return which we can make is to remember to 'sign in the book.' At the entrance to Government House grounds is a small sentry box where may be found 'the book' of the Governor and his wife. To sign one's name in this book is the equivalent of leaving cards or calling on the Governor, and one is expected to make a dinner call within twenty-four hours of being entertained at Government House. Those who do not do so are not invited again.
It is also the correct thing for all visitors to Sandakan, which is the seat of government, to sign in the book within twenty-four hours of their arrival. After this courtesy call is paid on the Governor the visitor will be invited to Government House so that his acquaintance may be made, but unless he signs in the book his acquaintance will probably not be made. It is a simple custom to conform to, and one whose benefits in hospitality received it is usually beyond the powers of the recipient ever to return.
In Westminster Abbey one May day a King was crowned.
'O God, the crown of the faithful; bless, we beseech thee, and sanctify this thy servant George our King: and as Thou dost this day set a crown of pure gold upon his head, so enrich his royal heart with thine abundant grace, and crown him with all princely virtues, through the King eternal Jesus Christ our Lord. Amen.'1
And at the sight of the King's head being thus crowned the people cried, 'God Save the King' the Peers put on their coronets, the trumpets blew, the great guns of the Tower were shot off, the women wept and prayed, and the British Empire throughout five continents echoed with the sound.
In Sandakan we celebrated the Coronation with as much enthusiasm as if we had been in Westminster Abbey, instead of nine thousand miles away. The first royal breeze came when the British cruiser Adventure steamed placidly into the tepid waters of Sandakan Bay. Past the silent leper settlement of Berhala she crept, picking her way among the tiny islands, and then in the early morning freshness settled peacefully at anchor close to the mainland. Her guns saluted the fort, and the fort returned the salute, and with that seventeen-gun salvo Sandakan stepped into a pageant.
The opening scene was the garden party at Government House. All those on the calling book had been invited, and as this included aborigines of Borneo, Malays, Chinese, Japanese, and Filipinos, local color poured over Government House lawn as profusely as if it had been a Hollywood set. Native chiefs had come in from all parts of North Borneo, and many a pagan head-hunter ate pink cakes and drank orange squash amidst Sutton's best balsam and salvia which bloomed in the garden that day.
Suluk Chief Tuan Haji Abdul Samat, with rancid coconut-oil-scented hair, and tight, bright trousers, moved with a rocking-horse gait on his high-heeled Malay slippers. Penglima Sura, Chief of the Orang Sungei, who had traveled for three days down the rapids of the long river to be present at the fete, watched with interest the passing European pageant. Across his consumptive chest a brilliant pinch-busted bolero was fastened by one button, and his emaciated legs were clad in hennacolored native trousers which fitted him like wrinkled skin. Under a headcloth of rust and purple shone his barklike face, and his blackened teeth showed startlingly in his blood-red betel-juice smile. All of the natives were chewing sireh, with the red juice trickling from the corners of their lips.
Of the many pairs of tight, native trousers present Datu Agasi, Suluk chief, wore the pair most precariously so. Only a man of his courage would have dared to sit down in them. Perhaps his impeccable black patent-leather shoes gave him confidence.
Kiang, chief of the lazy Idahans, wore loose-wrapped Bajau trousers which allowed him to relax comfortably, and when he walked he moved with the confident grace of a marauding tomcat. Old Bagat, the Murut chief, was disappointingly dressed in khaki. His aboriginal costume consisted only of a chawat, or loincloth, and this he would not wear among Europeans. The imam, priest of the Mohammedan mosque, was a dignilied figure among his followers, dressed in a long, flowing gray robe and a fustysmelling black turban. In contrast to the native groups the rest, of us looked pallid. Although the natives stayed shyly to themselves, they looked happy and amiable and rallied with enthusiasm for refreshments, accepting the unfamiliar hospitality of European food with dignity.
The Chinese citizens of importance remained slightly withdrawn from the general festivities, forming an almost immovable, and socially unmixable, black and white frieze. Their wives, gowned with the perfection of neatness and grooming of the Chinese dress, made the European women seem overdressed by contrast.
The Coronation garden party was an event which we women had premeditated months before with the ordering of new gowns from home. During the preceding weeks our besetting topic of conversation had been, 'Will my new dress arrive in time?' Apparently they all had. Certainly it was exciting to see so many new gowns all at once, and although it was difficult to examine each other without appearing to, we all managed to do so. In addition to the confidence-restoring effect of our new gowns, our conversational powers were rejuvenated by contact with the newly arrived navy personnel. It was delightful not to be struck dumb in the middle of a conversation with the realization that you had said exactly the same thing in those very words the last time you had conversed with that person.
The Seaforth Highlanders had come with the Adventure and they serenaded us with bagpipes, and danced the sword dance on the smooth green turf of the tennis courts. The native chiefs received even this with polite impassivity. When the afternoon was nearly over people drifted towards the Governor to be ready for the farewell line. Women adjusted their expressions and men relaxed theirs, for the strain of the performance was nearly over.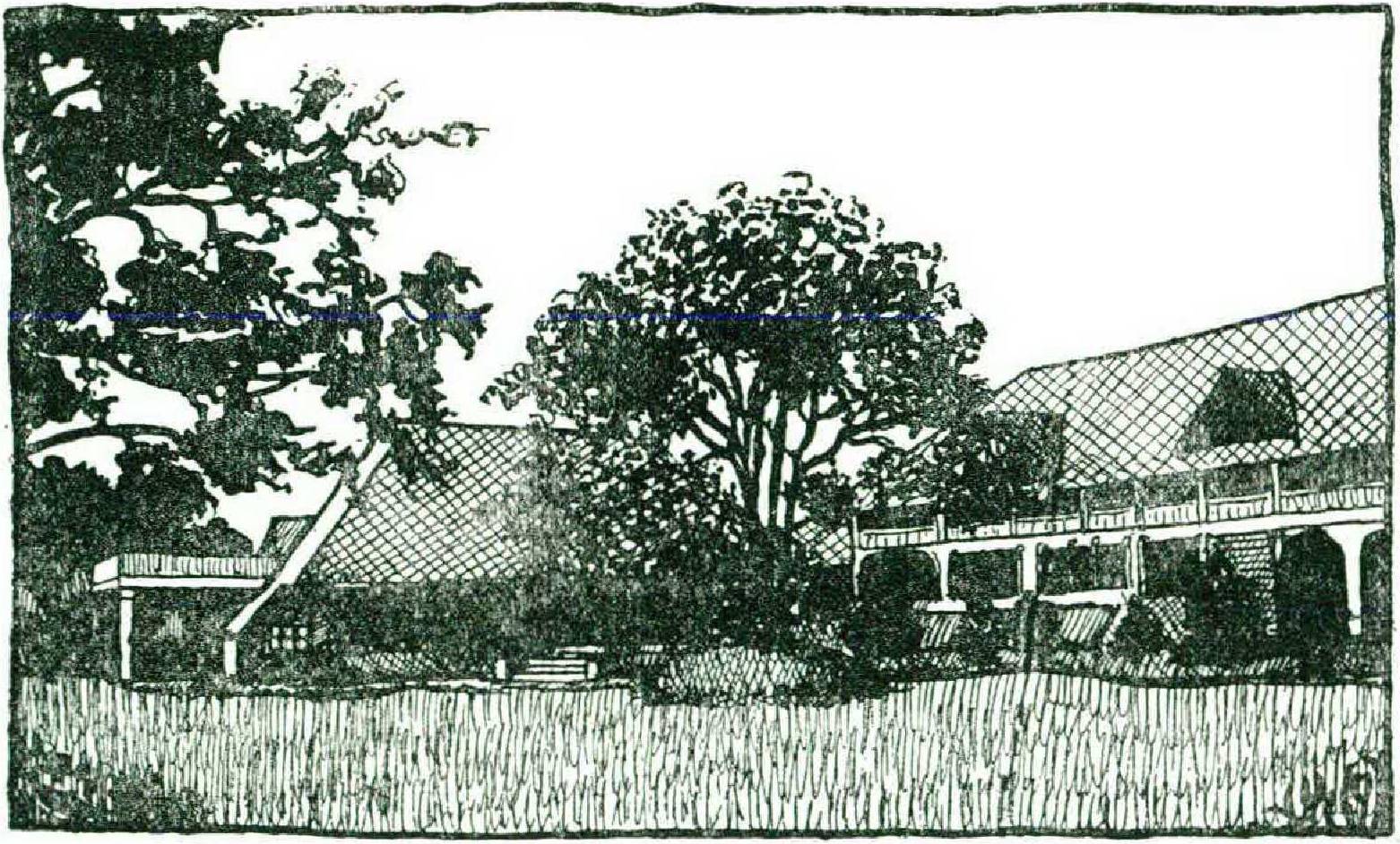 Then the ship's band struck up 'God Save the King,' and I found to my surprise that my eyes were full of tears and my heart was throbbing. I may not be an Empire Builder, but I discovered that day that there was something strong and real in the flood of feeling that was pouring over the British Empire on five continents, and I was proud to be engulfed by it. For even old Bagat, the Murut chief, even Haji Samat, even Kiang of the Idahans, could understand from his own tribal rule that with the birth of every ruler there comes the death of an individual. And we all shared one desire that day, to pay tribute and respect to the death of Albert Frederick Arthur George, the man, and the birth of King George the Sixth, the Ruler.
Following the garden party came a week of festivity. Never have I seen such intensive social activity in Sandakan. Even in the backquarters of the European homes celebrations were held, and meals and drinks were brewed all night over the kitchen fires. When we would return to our bungalow after midnight we would find that our household had moved surreptitiously into the front garden and its members were looking down with an untiring admiration at the unusual fireworks and electrical display in the town below.
All week Arusap entertained six brother Muruts who had come in from their village in the interior. They all slept in his room with him, as an aftercrop of lice and ringworm attested. My trips to the backquarters were triumphal entries, with naked natives springing to their feet and saying in Malay, 'Greeting, Mem,' which they had been instructed by Arusap to do. We donated oddments of food to their entertainment, and I disposed of a large decanter of whiskey and sherry which had been accidentally mixed together, and for which I had long been trying to find a use. I wondered at the time if I was a wicked white woman plying the natives with drinks, but at the same time I remembered the rice beer with which I had in the past been plied by the natives, and I thought that if I could stand up to rice beer with cockroaches in it, whiskey with sherry would be mild for them.
Every night there floated up to us on the hill the mingling of many melodies from the native and Chinese town below. The skirl of the Highlanders' bagpipes, the insistent drums of the Chinese dragon dance, the plaintive thread of Malayan keronchongs, the throb of native chants, all these wove in and out of the staid beat of 'The Land of Hope and Glory' like the glinting golden cords in a woven native cloth.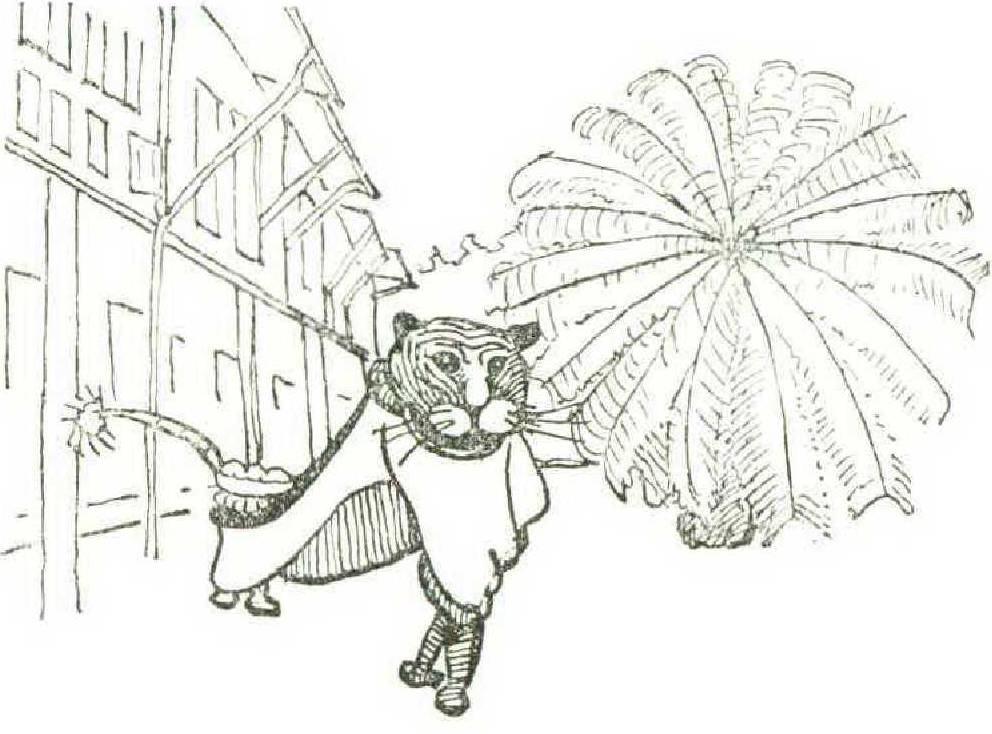 The final night of celebration came. After the good-bye dance at the Club, Harry and I stopped in the cool darkness of our garden and looked down at the harbor below. The Adventure had not yet extinguished her fairy lights, and against the midnight background of sky and water she glowed in perfect miniature outline. An imperial crown outlined with electric jewels shone amidships.
'God save the King!' I said.
And if an American citizen, and one who by marriage is also a British subject, may with reverence and sincerity feel those words, I felt them then.
Then the lights blacked out, and Sandakan Harbor became an indigo pit. Tomorrow we should again be just a far-flung outpost of the British Empire.
XII
If the Sandakan interludes of domestic drudgery lasted too long for Arusap's patience, he either asked for a vacation or resigned. Either action had the same result; he abandoned town for a few months and returned to his kampong. There he built up prestige for himself in tales of his Tuan's prowess, and drank rice beer steadily until his brown skin glowed a mahogany red. He drank rice beer through the weeks of the riceharvesting season, and then spent the next few weeks recuperating and amassing a peace offering of gifts for us before he returned to Sandakan.
Meanwhile Harry and I, still infuriated but no longer surprised at the faithless behavior of Arusap, would have promised each other not to take him back. But Arusap had a disarming way of returning to the house unconscious of having done anything except take a wellearned vacation. When met with splendid outbursts of vituperation from Harry, and the savage declaration that he should not enter our service again, Arusap sadly took counsel with himself. He agreed respectfully to all that was said, then unobtrusively retired to the back of the house, where the substitute boy recognized Arusap's superior claims and considered himself dismissed. The next time drinks were called for, Arusap would appear behind the tray, still reeking of strong tobacco, still dignified and beautiful, and life would resume its regular pace.
On one of his vacations at home at Kampong Pau, Arusap married Kuta.
Of Arusap's age in years he was himself uncertain, but for several rice harvests then he had been 'looking for tobacco,' which is to say, seeking the company of girls. Kuta, although little more than a child, had given first evidence of womanhood, and was therefore considered to be of marriageable age.
That year the rice harvest had been large and the rice beer plentiful, and under the propitious dry skies and bright sunlight the gongs of the kampongs had boomed for days. Now the favorable half moon, which in its gentle swelling symbolized pregnancy, swung in the sky, and the month was ripe for the wedding.
The wedding gift, a generous one, for Arusap came of an honored family, was presented with suitable ceremony to the bride's father. Four ancient and valued jars, three heavy brass gongs, a blowpipe, a native dagger, a scarf with shell discs, and a buffalo were delivered to Kuta's parental home. This bride-price had come to Arusap intact, as it had been the price paid to his father by the bridegroom of Arusap's sister at her wedding. The gift had then been held prudently in charge for the benefit of Arusap when he should marry.
The ceremonial jars of rice beer for the wedding guests were filled, the fowls were killed and prepared, the preserved and rotted fish and meat were dug up and brought forth in little bamboo containers. The drinking teams, composed of the friends of the bride versus the friends of the groom, sucked thirstily upon the bamboo drinking reeds placed in the beer jars until, from exhaustion and repletion, neither side was able to arise to its feet and declare a victory.
Then was the time for Kuta, with her twenty strings of beads about her throat, the gift of the bridegroom to his bride, to come forward and meet Arusap in the final rite which was to be symbolic of their union, the eating of rice from the same plate and the drinking of rice beer from the same great jar together. The pale bisque of her body shone in the orange light of the oil flames, and the brilliant beads swung on her bare, full breasts. The delicate moon-shaped face with the flat cheekbones was close to Arusap's as their heads met over the tapai jar. As her full-lipped mouth sucked on the bamboo reed she raised luminous eyes to his, then hastily, modestly, looked away. But those oblique eyes with the dark brown pupils liquid against a blue-white iris made Arusap turn a deeper red than did the rice beer.
Kuta had a small, perfectly formed body with sophisticated breasts, a bodily maturity made more entrancing by her facial childishness. She was as naturally luscious as a sun-ripe, golden-fleshed mango fruit, and as wild as the plumpchested pigeon that wings through the top of the jungle trees. And she was the only creature alive who could make Arusap hurry his dignified step.
Nevertheless in time Arusap was discontented with life at home in his village and desired to return again to Sandakan. Kuta, who had never covered her breasts in her life, who had never seen a white woman, who had never been away from her own kampong, refused to accompany him. So Arusap arrived back in Sandakan with only the memories of matrimony to solace his celibate hours.
For a number of months our household slumbered lazily in the easy tempo of Sandakan. During this time it was in the back of our minds that Arusap should have his wife with him, for a native seldom takes on that impersonality of bodiless service which in the mind of the master can emasculate a servant. Although we knew that there was probably more peace in the backquarters without an extra woman, our hearts persistently said 'Poor old Arusap.'
Then Harry told Arusap that the time had come to pergi round, again. This phrase of Malay-English, literally 'go around,' is used by all native boys to describe their master's travels, and is accompanied by another word, louse, corrupted from 'traveling allowance,' and referring to the extra food money the boys receive. To pergi round and make louse was a delightful prospect for Arusap, and when in addition Harry told him that he would revisit Kampong Pau on his tour, our household awoke to action. I could not go this time, as I was having fever, but my .22 rifle was going, and it adequately compensated for my absence.
Arusap supervised the preparation for four weeks' travel. All provisions, clothing, bedding, were packed in the tall native-made traveling baskets, and in the bongons of Harry's own design. Then Harry and Arusap, alike clad in khaki shorts, headed the kuli procession for the interior.
The Murut villager always gives a hospitable greeting to old friends, and welcomes an excuse for a holiday interval. During the five days of their visit, Harry, Arusap, and the men of the kampong hunted wild cattle, wild pig, barking deer, and sambhur. Feasts were held daily and native dances were performed. The village was in a perpetual state of celebration, everybody's belly was agreeably full, and a haze of good humor prevailed. Kuta alone of the village women remained in the background, shy and unapproachable.
Just before his party left for home Harry called together the headman, the elders, and Kuta's family, and, summing up his knowledge of native custom and divorce laws, he informed them that Kuta must accompany Arusap back to Sandakan. If she refused to return with him Arusap would divorce her, as he would have the right to do, for refusing to perform her conjugal duties. Furthermore, if Arusap divorced her under these circumstances, her purchase price would have to be returned to Arusap by her father. After taking counsel of itself the assembly agreed with the Tuan that this was custom, and Kuta must accompany Arusap back to Sandakan.
Although she had fought steadily against leaving the village, when the decision was once made Kuta accepted it with philosophical native resignation.
Arusap and Kuta lagged amiably in the rear together. Arusap's eyes were more dreamy than ever, his mind more abstract, his step more deliberate. When the party arrived at the first coastal town a kebaya was obtained for Kuta, whose clothing until then had consisted simply of a sarong wound around her waist and covering her legs. The kebaya, a short Malay blouse, was purchased, and Kuta strained it across her breasts and fastened it with one insecure brooch. From the prison of this brief garment important parts of Kuta seemed always to be escaping as if the small full body were struggling to be free.
Aside from the constant rebellion of her body against its clothing (which she removed at every opportunity) Kuta showed little antagonism to the civilized life of Sandakan. When an event did arouse her, however, she gave immediate and natural expression to her emotions.
There were also occasions when Kuta retired early to bed in their small room in the backquarters down the hill. If Arusap was delayed until late to bring drinks for a party, he might find when he also retired that the door of the room was locked against him. On such occasions he silently climbed the hillside back to the cook shed and slept on the kitchen floor with the cats.
Above all things there were in Arusap's world to desire, he desired a son. Three times life had glowed in the womb of Kuta. And each time before the birth Kuta had prevailed upon Arusap to send her back to her village, where pregnancy taboos and birth customs could be observed, and where her female relatives might administer the appropriate poundings of the abdomen and massage preliminary to childbirth.
The first time a six months' babe had been born dead. This, Kuta and Arusap reasoned, must have been owing to the fact that one night during the time of her pregnancy the fire had been allowed to die down under the house roof, and with the death of the flame the child had died in her womb.
The second time a babe was born who lived only two weeks. This death, thought Kuta, was probably due to Arusap's carelessness, for while out hunting with the Tuan he had forgotten one of the taboos which, as an expectant father, he ought to have observed — he had eaten the head of a deer. The disregard of this taboo had occasioned the baby's premature death.
The third child to whom Kuta gave birth had died after three days, and this in spite of the fact that the village midwife had cut the umbilical cord with a sharp piece of bamboo, the same piece of bamboo on which she had impaled the entrails of a buffalo, which should have given the child the strength of the animal. So Kuta and Arusap could only believe that there must have been witchcraft exercised against the child by some enemy.
Now for the fourth time Kuta was pregnant, and Arusap prayed for a son to carry the seed of his vanishing tribe. Again Kuta begged to go home to her village.
But Harry and I were determined this time, and insisted, that Arusap should forbid Kuta's return to the kampong so that the child might be born in Sandakan under a doctor's care. In his great desire for the child Arusap dared to oppose Kuta. After violent opposition Kuta once again showed a sudden philosophical acceptance of fate, and consented to remain.
Throughout her months of germination Kuta showed neither change nor maturity in her face. With her small body, her tiny wrists, her delicate little throat, and her immature face, she did not look like a pregnant woman, but rather like a beautiful child whose womb and breasts had swollen overnight into unexplainable fecundity. When she went up and down the stairs to the backquarters we all prayed silently that dogs, cats, and apes would stay out from under her feet, as her appearance threatened that the slightest jolt might precipitate the babe. But Kuta was oblivious of any worry. The larger she grew the less she moved about, the less work she did, the more time she had to lie on her mat and smoke.
Special morsels of food to which she as a pregnant woman took a fancy were brought faithfully by Arusap. Sometimes it was the sweet-sour pleasantness of a rambutan fruit, sometimes the rich, creamy kernel of a durian, and sometimes the roasted flesh of a jungle pig which Arusap must take the day off to shoot.
We were very fond of Arusap and Kuta, and we felt bound to them by the ties of responsibility, and also by the even stronger bonds of the confidence which they placed in us. But it was not only our paternal affection which determined us that the coming child should have every opportunity for survival. We had come to love the country in which we lived, and to cherish a dream of the preservation of its native races. Arusap and Kuta were both pureblooded Muruts, members of a rapidly dwindling group of aboriginal Borneo pagans. There was something implicit in this coming babe, the flesh of two pagans and the blood of a dying race, something implicit that was greater than any individual.
As to the possible date of the baby's arrival Kuta and Arusap were vague. Kuta saw no importance in noting whether it was one, two, or three months since she had first evidenced pregnancy. Arusap tried to be helpful, but without Kuta's coöperation it was difficult, and his best guess was that the child was conceived at 'the change of the monsoon.' This guess was not borne out by her overwhelming size. But the doctor under whose care we placed Kuta from the time her condition first became noticeable said that she would in all likelihood present the household with a Christmas gift.
Kuta was probably the first woman of her tribe to experience a medically supervised pregnancy and confinement. She was examined at weekly intervals by a nurse, instructed to take regular exercise, and told what to eat. Kuta was docile in the acceptance of this advice, but not in the observance of it. She continued to lie on her mat all day in a fog of cigarette smoke, and to eat only such morsels as she especially fancied from the hand of Arusap.
Her small room was cleaned and whitewashed, and a bed and mosquito net were purchased for the infant so that he need not sleep between his parents on the mat. A small tub for his bath, and a layette of diminutive bright calico bajus and sarongs, were supplied.
Christmas week arrived and Arusap was instructed to make no attempt at midwifery himself, but to call for help at Kuta's first moan, as the ordinary native birth is precipitate.
During the week there were a couple of false alarms occasioned by stomachache, the result of too much fried rice and pork. Then Christmas Eve, a dinner party, and Kuta's pains occurred simultaneously. The nurse was sent for and assured us that nothing would happen for some hours. The dinner party dawdled on over drinks. Arusap drifted about in a mental muddle. Shortly after midnight the guests left, and Harry and I and Arusap rushed to the backquarters to wait anxiously outside Kuta's room like three mutually responsible parents.
Kuta howled miserably. The light flooded out of the little room into the warm, dark night while the nurse stood in the doorway gossiping heartily. Kuta continued to howl, and the nurse continued to be cheerful, but at three o'clock she said it was time for the doctor. Despite the significant arrival of the doctor the infant took its time about actually entering a strange world, and it was almost dawn when the child emerged. But when the first tenuous thread of sound came from the lungs of the babe, and he proved upon inspection to be a son, everybody went to bed happy.
The small male form of Bayong bin Arusap was born beautiful and perfect. He sucked milk and slept, and slept and sucked milk, quite unconscious of the fact that a war was waging over his head, the war of hygiene against superstition and tradition.
During Kuta's pregnancy care had been taken to offend as little as need be against Murut customs and tribal taboos. After the birth of Bayong the doctor and nurse made small gifts to him in order to ward off possible danger incurred by their attentions, attentions which would attract the notice of an evil spirit who might harm the child.
But when it came to food and cleanliness we were determined that no compromise should be made between hygiene and tradition, if we could prevent it.
During the first forty-eight hours of Bayong's life the milk did not flow to Kuta's breasts. Kuta was terrified that the child would starve, so she secretly fed him tinned milk from a long rubber feeding tube attached to an unwashed ginger-ale bottle. When we discovered this bottle lying on the floor under Bayong's bed Harry threw it out of the window into the bamboos, while I tried to explain to Kuta that Bayong wasn't really hungry yet. The next day I discovered the rehabilitated feeding apparatus again in use. This time I confiscated the bottle, tore up the tube, and warned Arusap and Kuta that if anything other than mother's milk was given to Bayong Harry w'ould take the child away from them. Fortunately by then Kuta's milk was flowing. It was constantly suspected, however, that morsels of a more 'strength-giving' nature such as rice, pork, fish, and sweet potato crept into Bayong's diet.
In theory Bayong slept in his small bed, wThich stood by his mother's mat. But daily he could be found lying on the mat with Kuta, heavily shrouded under the mosquito net and almost invisible in the reeking haze of Dusun tobacco smoke. Kuta explained that Bayong would fall from the bed and injure himself, so the bed was banished and a wicker basket took its place. But Bayong still stayed with Kuta on the mat.
There w'as the problem of air, fresh versus fetid. Daily I went down and opened the window and door, removed the blanket from over Bayong's head, and lifted his mosquito net. I knew that this ventilation lasted only until I was out of sight, so I used to sit and talk with Kuta until Bayong had had a good breather.
When Bayong was a couple of weeks old we suggested that he should be placed outdoors daily in the early morning sun. Both parents were apprehensive about this. They feared the child would be stolen, or, if not stolen, strangers would gaze too closely upon him and attract the attention of an evil spirit who might harm him.
But Bayong continued healthy and hearty, either because of civilization or in spite of it, according to one's point of view. When only seven weeks old he was taken to the baby show at Government House. Among some three hundred infant entries of Chinese, Malays, Javanese, Indians, Filipinos, and natives, Bayong was the only Murut child. He received much attention and admiration, and a prize box of baby soap and a blue ribbon for being judged the finest native specimen in the competition. Arusap, Kuta, and Bayong remained dignified, agreeable, and impassive, accepting as their just due the plaudits of the multitude, but Harry and I were unable to hide our pride at the triumph of our joint production.
Three days later in the warm silence of the afternoon siesta hour my bedroom door flew open without warning, and Ah Yin burst in. Looking up from my book in surprise, I saw that her usually cheerful face was distorted with excitement and alarm, and she was crying as she struggled to command words in which to speak.
Ordinarily Ah Yin spoke passable English and Malay, but now in her agitation native Cantonese rushed to her lips and the chopped Chinese syllables poured out unintelligibly. Gradually into the excited Chinese Hood crept Malay and English, and finally I made out the words 'baby' and 'sick.'
Leaping from the rattan long-chair, I snatched my kimono and thrust my bare toes into native sandals as I ran to the door. Down the slippery ironwood stairway and out through the food-scented cook shed, down the fifty sun-blazing steps which descended the hill to the servants' quarters, I ran.
Anguished wails guided me to Kuta's room. There in the stifling three-o'clock heat of the shanty I found Arusap and Kuta crouched on their mat over Bayong, almost covering the child with their bodies, while the tears rolled down upon his shielded form.
Shouting at them to be quiet, I pulled them off the mat, and lifted Bayong, whose tiny body was swaddled in a hot damp towel. I listened for his heartheat. A throb of heart and pulse seemed to be perceptible. His damp head lolled helplessly back and his eyes were glazed, but a warmth of breath still came from his open mouth.
Controlling the terror in my heart and forcing myself to be calm, I asked the despairing Arusap what had happened to the child. Miserable tears trickled hopelessly down his dark face as he sobbed his answer. Bayong had suddenly been taken ill at his stomach, the Chinese doctor had come and given him some medicine and gone away, and then Bayong had stiffened out and become as I found him.
I waited to hear no more. With the child in my arms and the parents following I raced up the stairs in the torrid heat and ran through the cook shed and into the house to the telephone.
Before dialing the number I listened again for Bayong's heartheat, but my own heart pounded so violently that I could not tell whether it was the baby's heart or mine which trembled through both bodies. Then with the child held against me and the cold sweat from my flesh bathing us both in a deathly chill I rapidly dialed the number for the doctor who had attended Bayong at his birth.
The telephone was answered by Dr. Lo Mat, his Chinese assistant, who explained that the doctor was away, but that he himself had attended Bayong that afternoon. There was nothing to be alarmed about, he declared. It was just another case of summer complaint.
'But, doctor, I tell you he's dying! He's dying in my arms!' I cried. 'You must tell me something to do for him quickly!'
'Now don't excite yourself, madame,' replied the cultivated voice soothingly. 'It's just a stomach upset. All these native babies have summer complaint now. They will feed them improper things, you know. However, if you are worrying about the child let your boy bring him down to my office and I'll have another look. I assure you it's nothing to be alarmed about. . . .'
The soothing accents continued, but I no longer listened, for I now realized with despairing certainty that the child in my arms was dead. The little Murut's eyes, which had looked for so short a time on a friendly world, were open and sightless.
I dropped the receiver and turned to Arusap and Kuta. Wordlessly I looked into their submissive faces. In their resignation I saw what we had fought so hard to change, I saw conviction that the new world of white men and doctors w as only as the old world of natives and midwaves, helpless in the hands of destiny. Their son was dead. The lifeless body of the child spoke more loudly than anything I could say.
Arusap held out his arms for the child, and I laid Bayong in them.
XIII
Did you ever bathe in the hot blue water with your feet on a coral-reef strand, with starfish tickling the soles of your feet, with the bleached sand running beneath them, with the water melting into the sky in waves of sunshine, and your body melting into the water? Then your body has no burden, it wavers and washes in the moving of the sea, and your weightless feet, your water-washed thighs, your shadowed legs, your drifting hands, dissolve from you, and are born into the warmness and coolness and sweetness of the sea.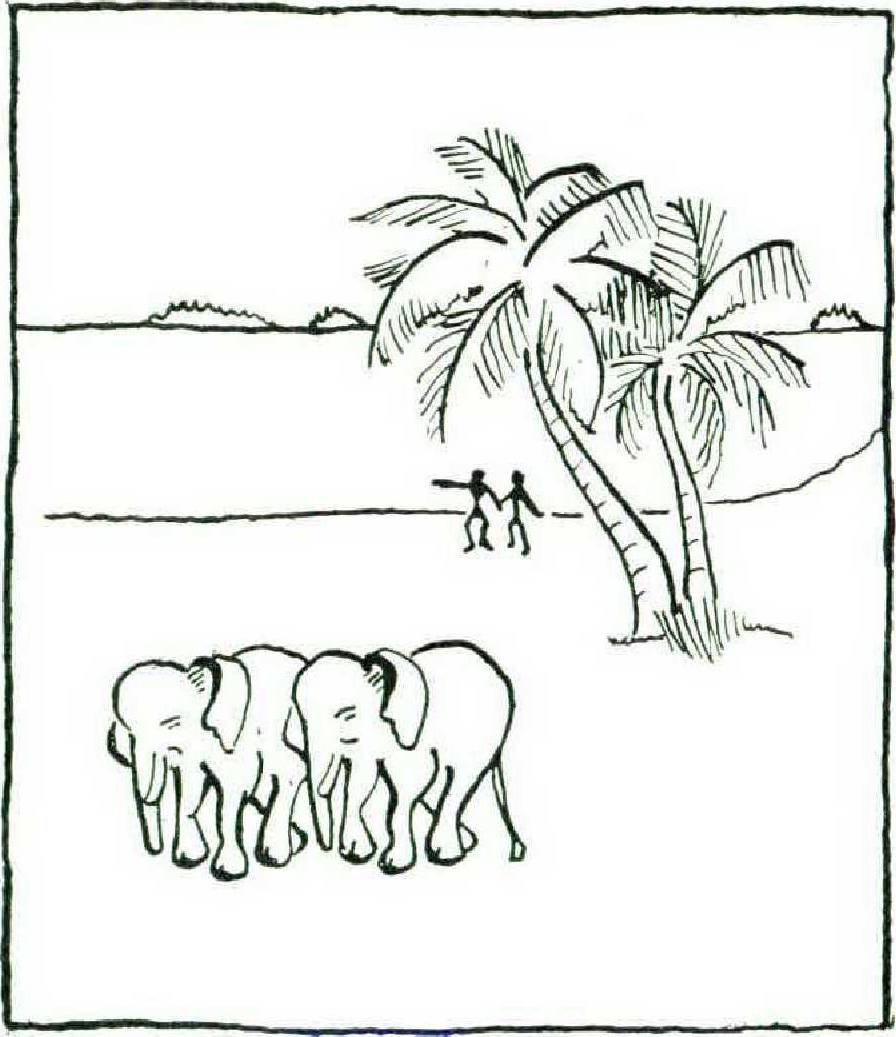 Every year in August we go by launch to the islands in the Sulu Sea. Off the east coast they lie — Selangan, Pababag, Penampangan, Timbun Mata, Omadal, Bod Gaya, Bakbak, Bamban, Punupunu, Mata Manuk, Sipidan, Pulau Babi — we go there to the islands of the Sulu Sea.
Sometimes I dislike reading poetry — it has no sympathy with me, and says nothing to me, and I am distraught with it. Sometimes I am too crude and vulgar and bad-tempered for sweet-spoken words, and sometimes there is nothing in me that is, or ever can be, fine.
But there in the islands of the Sulu Sea I would have fine thoughts spoken with shapely words — words that are cut and polished and set like precious stones, Tiffany words of rare workmanship used for flawless gems. There I would read an Iliad, and dream an Odyssey.
There in those islands the sun rises, and shines, and sets upon a tropical kingdom which belongs to us. There, lying on the deck of the launch, we divide the islands equally, Harry to have half and I half. Like rulers, we name our possessions.
'Bod Gaya mine. I want those tall three peaks, and the white orchids that bloom wild on the top, and the shallow hot bay where we swim.'
'I'll take Omadal, with the native graves, and the phallic symbols, and the boats that are only half built, and the crescent of sand that you look across to see the sea on the other side.'
'Timbun Mata mine. But it's large and you shall have half.'
'You'd better have Bakbak, too, on account of the shiny blue crabs that you like so well.'
All about us is the nighttime blue. A yellow cantaloupe moon perches upon one peak of Bod Gaya. Beneath it on the sleeping water spills a golden stream. The sky is very close and deep, and the stars are flung about most carelessly. The light flows from the stars into the water, and the ocean shimmers where the drops fall. The translucent depths of the sea are brilliant azure still above the clear coral sands. The shapes of sleepless fish are busy all the night, as may be seen by those of us who lie upon the deck and pry into the private life of tropic isles.
Thus we, two people here together, drift in the Sulu Sea.
Writing from Timbun Mata Island
Dumpas is waiting to lead the way. Dumpas is our river god. He arranges the tides that rise and fall in our island river. Only Dumpas can successfully navigate the lipa-lipa up the river from the sea to our jungle camp, and back again to the sea.
Si Budak stands behind. Si Budak does the dirty work. When nobody else will do it, Si Budak must. He is, perhaps, twelve years old, a wiry child, covered with sleek black skin and filled with iron springs and steel coils and metal organs.
Arusap is ready — Arusap, who has just been restored to our household after six weeks at Kampong Pan, and whose mood is momentarily that of the prodigal son. When Harry is not along Arusap is responsible for me, and he travels under oath not to allow me to use my own judgment.
Through the impenetrable jungle we go. Advisedly I use the lurid word 'impenetrable.' I do not use it before the Accurate Mind, my husband. He would say, and reasonably so, that if men penetrate the jungle it cannot be impenetrable. But when I am alone I allow myself these travel-book extravagances.
Today Harry is away on another island exploring for a new forest reserve, so I go through the impenetrable jungle. The path leading from our camp to the river's head is a tunnel cut through primary forest growth. This tunnel is dark, low, damp, and hot, and it has every objectionable feature that a tunnel can have, except the whistle of a train behind one. Damp drops down overhead, and seeps up underfoot. I stoop often, but creepers catch my hair and clothes. Nipah palms cross above me, and I cannot see the sky.
We come to muddy meanderings which lead away from the river, and find that Dumpas has turned the trick again with the tide. The game is to arrive at the river before the path is under water, but not before the tidal flow will float the boat to the landing. To swim down the path in order to boat down the river is a doubtful pleasure.
On the other hand, to wade through mud for three quarters of a mile before reaching the boat at low tide is even more depressing. That is so depressing, what with the stink of the mangrove mud as it sucks at my mosquito-bitten legs, and the loss of my sneakers, which are sure to remain in the mud, and the plunging of my hands into the horrid stuff when I lose my balance, that the thought of lurking crocodiles is as much a relief as a threat.
But today Dumpas has dealt craftily with the river tides, and we arrive at our lipa-lipa dry.
I lie in the bottom of the boat with bananas and dried fish, under the lovely bright sun. The lovely, lovely bright sun, I think, remembering the perpetual warm damp of our tree-buried forest camp. The beautiful, life-giving sun, I rhapsodize, expanding and stretching and drying to the very marrow, as I lie and look up at the clean early-morning sky.
Si Budak, Dumpas, and I have our shirts off, I in a bathing suit and they bare-chested, and our feet are also bare. But Arusap sits with dignity, and cuddles the .22 on his knee, for Arusap is the trusted one.
' Pigeon! '
Dumpas stops paddling, Si Budak stops, and we drift. Everybody is attentive while Arusap aims at the treetops. I cannot even see what he is aiming at. He fires, and something drops from the brightness between treetops into the darkness of mangrove swamp. Dumpas paddles in the direction until Si Budak, who stands in the bow, yelps sharply and drops into the pool. He goes in like a plummet and disappears completely. Now he is up again, with the water pouring from his round black head, and the body of a wild pigeon in his hand. He squirms over the bow of the boat and plops back into it. Every little iron spring and steel coil inside his glistening body is working perfectly.
Honor is satisfied, and we need not return to camp empty-handed. Arusap continues to hold the .22, but I doubt if he uses it again. He loves to take the rifle, and taking it he must justify himself by shooting it, but only enough to justify himself into taking it again.
We reach the sea where the motorboat lies. The captain and crew, one Chinese, one Malay, have left the boat and gone to the shallows to fish with casting nets. Dumpas halloos them back, ropes the lipa-lipa to the stern of the boat, and throws out his fishing line. I tie my fishing line to the roof of the boat cabin.
I only pretend to fish because the Bajau soul of Dumpas suffers if it sees an unused fishing line. Then I stretch out on the top of the cabin in my bathing suit. I lie on my back anti look up above me. Clouds are in the sky and islands are in the sea, and islands are in the sky and clouds are in the sea, and sea and sky are one inseparable iridescence of reflections.
Never in all the æons of time has there been such a day as this. Never in all of the lives of men has there been such a day, such an hour, such a moment, as this, I think. I am a cloud in the sky, an island in the sea, a breeze on the water, a freshness in the air. I am a girl in love, I am a woman well-wedded, I am a man adventuring, and I am a child enchanted.
I am thinking extravagantly, I rebuke myself. But this is an extravagant day.
And then a cloud above me, and suddenly comes the rain, as excessive in its violence as the day has been in its beauty. We haul the mattress into the tiny cabin. The rain beats and blows and drives on us. Dumpas and Si Budak sit in their lipa-lipa holding mats of nipah palm over their heads for umbrellas. The water pours from the black tar head of Si Budak and shoots off his nose like a waterspout. Si Budak sheds water perfectly; he is always dripping but never wet. It must be a waterproof quality in his skin inherited from generations of Bajau ancestors who have lived on the water.
The motor put-puts back a horrid petrol odor which smells fine to-day because it is part of Robinson Crusoe's equipment. I sit and grin at my bare toes, and think how surprised Man Friday would be to see toenail paint on his island.
The rain bounces brusquely off the sea. At the stern of the boat the Malay captain has made a bed of coals in a large iron basin. Two pots are cooking over this. One has rice — that I know without, looking; the other has boiling octopus.
The rain stops. It doesn't grow loss and then abate; it just turns off and the sun turns on. We anchor over the shallow coral strand where I may bathe. The water is transparent oxer the clean white reef. Dumpas stands at the stern and Arusap takes the bow to watch from the boat for sharks, octopus, or rixermouth crocodiles. The sandy bottom is daintily crusted with starfish, and these alone look up to see what I am doing.
In the little cabin again, I put on very short shorts and a shirt wit h the tail out. The tail being out marks the low point in sartorial imperfection, but it gives coolness to the stomach.
The others gather at the stern for food. Everybody eats, putting the rice in individual white shells that look like blane de chine, and dipping into the common pol for the fish. It smells good and I am hungry. I should like to eat with them, but I distinctly hear my husband describing various possible diseases to be encountered in that common kettle. I open my hygienic tin of bully beef.
Now we are going down to the little island with the Bajau village on it that I saw the other day. How thrilling it is actually to see a little island in the distance, and then to be able to go to ii! Other people go by islands and say, 'How quaint! We must go there sometime.' But they never do go there. And now I am going there.
We are at my little island and the motorboat anchors. There is my toy matchstick village under the coconut palms. Dumpas is going to take me ashore in the lipa-lipa. Dumpas takes us all ashore, the captain and crew happily abandon in the motorboat. We all have our fish to catch, our food to wangle, our evening kettles to fill, and we are full of business.
Several families of Bajau women are wading over the coral-reef shallows, in water up to their thighs. They stand silently to watch us in our lipa-lipa, and for a moment they are figures painted in burnt sienna on a jade, water-color sea. Then they wade on through the water and become groups of women doing their marketing on the ocean bottom.
I climb out of the boat and follow behind them. After that first interested look they do not stare. They are not surprised at me, and they are too unfamiliar with European women to see anything astonishing in the costume I am wearing, shorts and a flying-tailed shirt. It is natural to them that I should wish to follow in the shallow waters and search with them for the wealth of the sea. There is plenty there, plenty for all, and tomorrow the tide will leave more.
Their henna-red and indigo-blue sarongs are twisted tightly above their breasts, and hauled high between their legs. Occasionally a woman untwists her whole sarong, slips it loose, and then retwists it snugly.
Naked babies are tied to their backs and naked children wade with them. The children are little burnt almonds. The young women are firm-bodied, with conical breasts and nipples like young round ginger roots. The plum blush of their cheeks glows through the brown sienna. The old women have stringy arms and faces like walnuts.
I follow the emblazoned path they are leaving behind them on the sea bottom, a ghoulish path strewn with the dead bodies of black sea slugs, black beches-demer. A vermilion rosette of floating velvet ribbon blossoms from the middle of each dead slug. The rosette streams out in the water over the white sand bottom. I follow the ribbon-budded funeral path, and come closer to my Bajau market-women to see what they are doing.
I watch one old mother. She slides her arm down into the water and picks up a slug, rips him down the belly with her knife, and probes for a piece of sweetmeat. while his crimson internals gush out. Then she tosses the emboweled black bladder back into the sea, and the red guts trail from it, in the salt water. The black bulb lies like a beautiful, empty, ribbon-tied package.
I walk with the women now, and try to tread warily as they do among the starfish, tiny squid, and jellyfish. When a jellyfish is sighted mamma warns the children, and I take heed too, standing quite still until I locate it.
Sea snakes we find also. This is a travel-book exaggeration, for they are sea snakes only as long as they are under water. They are of all sizes, from a couple of inches to six feet in length, and they are usually a pale, best-quality jade green with opalescent rings about them. They are terrifying under water, but lift them carefully out of water on the crook of a stick and all the terror drains from them as the water flows away, and they become nothing but twisted, empty snakeskin stockings. I drop them quickly in the water again so they may recover their self-respect.
Enchanted coral gardens grow under the sea. They bloom with bright perennials, miniature herbaceous borders, blazing balsam beds, bright blue salvias, and periwinkle petreas. Surely the best seed of the Empire is here; surely it was catalogue-ordered long ago and Sutton himself has gardened diligently over it; surely, surely it doesn't just grow!
The occupants of these gardens are little darting fish, little blown-glass fish from art-shop windows, little fish too fragile and beautiful to be real, little fish of every hue. Watching them flash is seeing a prism turn in the sun, is looking into a spectroscope. They are enchanted and belong in these gardens; they bedizen. delight, and adorn them. I move carefully, apologetically, among them.
The Bajau women at their marketing give little attention to the unedible side of our surroundings. Old mother and I have arrived at an unspoken agreement. I am collecting sweetmeat from seaslug rosettes for her, and she is saving the largest, clearest, and thinnest clamshells for me. This is good, this is very good indeed, we all agree.
The Bajau baskets are filling quickly. It is a good market day.
(And what have you to-day, Mr. Ocean? A nice mess of clams for Papa Lamug? Some little sweet mussels for Baby Bagat? And a bit of sea-slug sweetmeat, please — we do all like that so much! Oh, no, Mr. Ocean, not that one, nor that one, nor that one. . . . You know those are not your very bestquality sea slugs, and I am not satisfied. I shall just keep on opening them - yes, I will pinch the fruit — until I find the ones I want with the delicious little piece of sweetmeat down the centre. And a couple of twists of that tender, slimy seaweed for old Grandmother. She does fancy a chew of that. And just throw in a couple of squid for that lazy dog of ours. A soup bone for Fido, please. If it wasn't for the children I'd put him in the pot too.)
The sun comes and the rain comes, and the rain comes and the sun. The sea is clear blue glass in the sun, and then the sea is frosted green glass in the rain. The rain dries on my face and hair, and the salt dries on my legs, and my clothes dry to my body. The clouds swim over us, the sun beats on us, the brown babies cling to us, the naked children follow us, the spun-glass fish play about us.
Oh, life, this is very good of you! Oh, little girl that I used to be, what more can I ask than I have!
Dumpas comes after me with the lipa-lipa. Arusap says it is time to go home, and home wo must go. Back on board the motorboat I return to my mattress on the roof. It is sunset now, and there is nothing left in the world but beauty. I am too small for such beauty. I only know that I give thanks to the blazing, clouded sky, the tossed-up black tropical islands, the oily, resting sea, for existing until I could see them. There is nothing in me great, enough for this, but all of me that is gives thanks.
The boat bangs over an uncharted coral reef and bumps to a stop. I nearly shoot off the roof. Everybody stands up and poles and shouts and we move again. Full speed forward goes our Malay captain. Bang on to a coral reef again we go. This is like riding over a rough road on a tire-less wheel rim. Again we pole forward, again we shout, again we move, and again we bump. I think that this must be very unseamanlike navigation, but nobody seems to care.
Now we are off the reef and moving smoothly. Arusap shoots at jellyfish which burst obligingly on the surface of the water. I hope that jellyfish aren't very sensitive to pain.
We arrive at the river's mouth, where the high tide is faithfully awaiting us. River God Dumpas has made his usual infallible arrangements. Dumpas, Si Budak, Arusap, and I cast loose in the lipa-lipa. In the dusk of the river's mouth they paddle very carefully among the flooded mangrove roots. Here every night near the muddy banks Dumpas sees Grandfather Crocodile. Tonight he will not even let us joke about him lest he should show himself. Until we are well up the river we keep a respectful silence, not daring to mention his name.
Where the river goes dry and the path goes wet, Puasa meets us with flashlights. It is stumbling business to follow our tunnel through the jungle back to the camp by flashlight. A large monitor lizard out for an evening debauch flops off the path in disgust. A wild pig grunts in the undergrowth, and barking deer call. Si Budak slithers into a pool and is again in his native state of drippingness. Old Father River has become impatient about his delayed business, and sometimes now we wade on a flooded path. But Robinson Crusoe doesn't mind wet feet on his way home.
Through the black bars of trees the campfire greets us. Harry shouts 'Hoha,' cookie asks if we brought something for the pot, and I ask if a new forest is now reserved.
' Was it a good day?' says Harry.
I am lying flat on my cot now, with my shoes off and my muddy feet dangling. A hot hath is cooking in the petrol tin. I smell pigeon curry. When I have the energy to stretch my arm out I can reach the cigarette tin, and if I stretch further I can reach the whiskey flask and have my little drink.
Extravagant phrases come to my mouth, and travel-book exaggerations are on my tongue.
Then I sigh happily and say, 'Every day in the life of Robinson Crusoe was fun.'
But not every night!
Our camp on Timbun Mata was cut in primary jungle, where the wild pigs had wallowed unto the third and fourth generation of them that had pig ticks.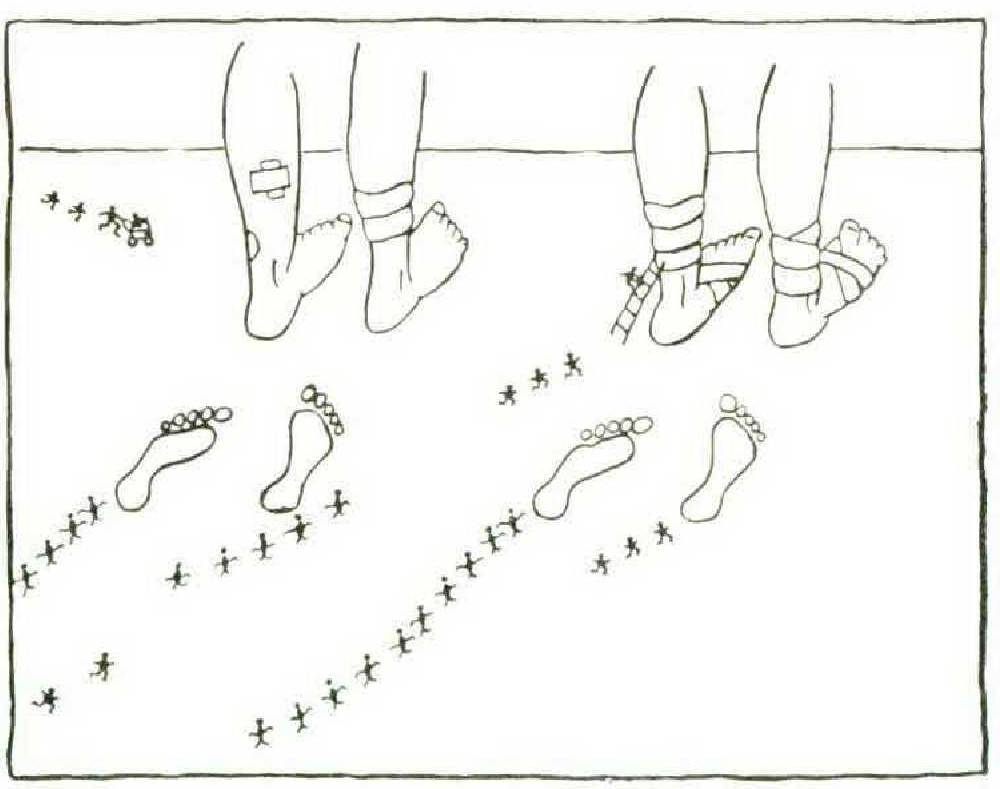 I awoke in the middle of the restless night, scratching. Every pin point of my body crawled, the hairs of my flesh stood on end, and even my mind itched.
In this condition it was maddening to listen to the regular breathing which told of Harry's sleep. He had as many pig ticks as I had, as many sand flies, and more leech bites, and it wasn't interfering any with his night's rest. He didn't even have the decency to wake up and sympathize with what I was enduring.
I grip my hysterical thoughts and say, I do not itch, I do not itch. I am very comfortable. What a nice cot I have to lie upon. Now I am going to sleep. Now I am going to sleep. Now I am going to sleep. Now I am going to sleep.
I jump out of bod and disentangle the mosquito net, feel on the floor for the alcohol bottle, pull off my nightgown and douse myself with spirits, then crawl back in bed, tuck in the mosquito net, and start counting sheep. I herd them up to the fence, and boost a couple over, and then recall having read an article which exploded the somnolent theory of sheep-counting.
Now the mosquitoes which bit me while I was out of bed are producing their own itches, and the pig ticks are burrowing again in jealous exasperation. I give up mental soothing syrup and indulge in a thorough, complete, and satisfying scratch. But scratching is only good if you are prepared to keep it up until you tear yourself to pieces, throw the pieces to the pigs, mop up the skin and hair, and call yourself a melancholy memory. To stop short of this is torture, and I am not a stoic.
I think about two possible courses. One is to be a hysterical wife, wake Harry with screams, and tell him he must gel me out of this. Women do do things like that—why not I? But Harry would be such an unresponsive audience. An imagined glimpse of his face at such a performance shrivels the idea. He dislikes being awakened rudely under any circumstances, and I feel sure that his wife's sobs while she scratched pig-tick bites would not call forth the best in him at two o'clock in the morning.
I will take the other possible course and get out of this tomorrow. I will quietly and sensibly ask Marry to send me back to the mainland, and from there I can catch the steamer to Sandakan. But this is Tuesday and I have missed this week's steamer, and that means a week as uninvited guest somewhere, inconveniencing men who have more business here than I, being another woman who thought she could take it and couldn't. Oh, dear, why did I ever come!
But I can't stand this — hard days in the jungle and then sleepless nights. If Harry sleeps I can too. I will sleep.
I do not itch. I am very comfortable. What a nice cot to lie on. The kulis have no cots. And I have a nice little cot mattress, too. Damn, I'll bet the ticks are in that mattress! I'll douse it with petrol tomorrow, and the blankets too. If I can get rid of the ticks I can stand the other bites. But the ticks have no respect for decency—under the arms, around the middle, up the legs, over the stomach.
I get out of bed and get a cigarette. The flame of the match is comforting. The clock face shows me three o'clock. Harry turns over and grunts, 'Time to get up? Anything the matter?'
But this is not the time to tell him.
'No, it's not time to get up.'
My bites are leaking now and will probably get infected. I cannot continue with this performance night after night. I shall ask to go home tomorrow even if it hurts my pride. And once I am home I will never come in the jungle again. So that's settled, tomorrow I go home. . . .
Can it be that I have slept?
I smell coffee. Life-giving, humanizing, sent by Heaven to put hair on the chests of heroes — coffee!
'Ringgggggg!' I shout across at Harry's cot. But he already has his cigarette lighted and his socks on and is searching for his always lost garters.
I pull shorts and shirt from under the mattress where I keep them out of the nighttime damp. I disentangle myself from the mosquito net. We both sit on the steps of the sulap2 drinking coffee.
The jungle morning opens, and the heaviness of the night pours away into the freshness of the dawn. The weight of my sore and sleepless body lifts from me in the vigor of the coming day.
It is light enough now to see to comb my hair, and I put on a little rouge, and Harry is whistling.
' Have a good night ? '
' Lousy.'
'What's the matter?'
(Now is the time to say I want to go home.)
'It's those damnable pig ticks. I itch so. I think I'll not go in the jungle today with you.'
'Tell you what, we'll both take a holiday. We'll go off on the motorboat and look for a shallow beach to bathe from. The salt, water will do our bites good. And there's a plot, of teak on the other end of the island I want to look at, too. Come on, hustle up.'
(Now is the time to say I want to go home.)
(Eeeah! If you go home now you're gonna miss a lot la fun. Eeeah!)
' Ready?' Harry calls.
'Just a moment,.' (There is a funeral being held for one hysterical wife.)
'Coming,' I answer.
For all I know better men than I may have wanted to go home — in the middle of the night.
Writing from Selangan Island
And now, in one short but extravagant section I recall the ridiculous behavior of the leaves, the crabs, the sails, and tinsulaps on Selangan Island.
As soon as Arusap lighted the petrol lamp we heard stealthy movement and persistent rustling in the fallen leaves upon the ground. I climbed down from the sulap and stood with the flashlight focused on the clearing. The dead leaves at the edge of the jungle were moving toward the sulap, undulating with a whispering voice, and surrounding us like a creeping carpet. I watched very carefully to be sure it wasn't the effect of my second gin.
'Harry, come here. If you don't see what I see I'!! give up my gin forever!'
Harry, shocked perhaps by this proposal, joined me quickly on the ground, while the dead leaves crawled in on us. And then, by the simple expedient of lifting the leaves and looking, we found crabs and crabs and crabs and crabs.
They were moving curiously in toward the circle of our lamplight, probably the first bright light in their lives.
Within the hour they had all been up to see us and gone away again. Looking for them later, we saw nothing.
That night we ate too much. There were turtle eggs with sunken shells, tapioca root baked crisp like long French rolls, boiled heart of wild palm with a flavor like oysters and artichokes, durian merah roasted to a magnificent scarlet and tasting like chestnuts, and a roast of barking deer, and rice.
After that there was little left that we could do, or wished to do, except admire our great content and tightened stomach skins. Lying on our backs under the mosquito nets, with nothing itching for the moment, with Timbun Mata jungle camp and pig ticks left behind us, with the breeze blowing from the sea through our sulap, we were in luxury. The only other thing to make that luxury complete was a book. The sole remaining unread volume of the books that we had brought w as Somerset Maugham's Traveller's Library. Harry had it.
'But I want half,' I said. 'It's my book, too.'
Harry took a razor and cut the back binding through the middle. 'Here's your half,' he said.
My half began with Arnold Bennett's Old Wives' Tale, and was a very satisfactory half.
Like that we lay under the mosquito net. And Harry quickly fell asleep, and I was nearly so, when suddenly the breeze became a wind, the wind a gale, and I looked up to see the roof blow off. The stars were there above me, and nothing else.
Again I blamed that second gin, again I called for Harry, and then, I in a nightgown holding on to the vanishing sides of the sulap, Harry in a sarong hanging onto the last piece of palm-leaf roofing, we cried for Arusap, Dumpas, Puasa, and the kulis.
More quickly than it seems such things can happen the supports of the sulap were swarming with the bare brown legs of rescuers. Lashing down with strips of rotan such kajangs3 as remained as house walls, and running to the jungle after the fleeing atap roof, they reassembled certain pieces of the house.
Meanwhile the gale blew harder, I rescued Harry's glasses, the Leica, our garters, and any small luxuries that still remained, and crawled into my bed with them, trying to stifle my laughter and remember that this was a situation which might be serious. Above me in t he sulap wove a network of human legs. Never have I seen so many, such goodlooking, such brown and shining and active legs, in such unconventional and unstudied and innocently risqué poses. Such a beautiful tangle of masculine legs would surely save us from anything.
But fast as the men worked to get the house together, struggling to have us sheltered before the rain, so quickly the wind puffed the house apart again.
Then Dumpas the Bajau, who lived in his boat, climbed down the cliff to the shore, took the great, bronze sail from off his lipa-lipa, climbed up the cliff again, and wrapped our little house up inside that great bronze sail.
Harry and I were left inside. The men crawled out, and bound the sail about the house with rotan strips, twisting and knotting and making all secure. With the house bound about thus in the sail, no wind could get inside; our sulap rocked and swayed, but held together.
'Do you think she'll blow to the Philippines, Captain?' I asked. Just then my eye fell on the gin bottle, tipped over on its side. 'And don't you think, Captain, that a storm like this calls for a tot of grog?'
The Captain made no answer, but the First Mate knew what she thought. And so then the Captain, just to be matey, joined her in one.
And the gale blew, and the sail billowed, and the vessel swayed and creaked, and the next morning we awoke in Manila Bay.
So I should like to say.
But we didn't. With sails furled close, with anchor dragging and wheel lashed fast, with the Captain and the First Mate drunk in the hold, the ship rode safe through the storm and awoke to another dawn on Selangan.
A month later Harry and I board the coast steamer together. We are very brown and very thin and very healthy, and our legs are embossed with adhesive patches.
'Good morning, Mrs. Keith,' says the Captain. 'Did you have a good time out there on your tropical islands?'
'Wonderful. Don't we look well?'
'That you do. I always thought those little islands would be nice to go to for a holiday. I'd like to send the wife and kiddies off to one for a couple of weeks. They could have a good rest.'
'Yes, indeed, Captain, just the place for the wife and kiddies. Air conditioning, modern sanitation, vacuum cleaner, sewing machine, and a circulating library being installed next year.'
The Captain looked a bit confused, as well he might, and said, Well, well, he hadn't heard. And then the steamer Stopped at Lahad Datu and Mrs. Tuxford came on, and she said, What fun it must be on the islands, she must go there sometime. And then Miss Sawyer came along and she said, too, she must go there sometime. And then the steamer sailed again and we went by more islands, and people said they would all go there sometime.
But we go there.
XIV
With youthful swiftness Fi-fille came towards us across the lawn, using the private path that leads between the Chinese Consulate and our garden. She carried in her hand the blue paper of the Consulate war telegrams which came to her father, the Chinese Consul, and which she often brought to us.
At the same moment in which I saw Fi-fille I saw the tall Japanese Consul appearing from the public path at the other corner of our lawn. The paintedon-silk figure which tiptoed beside him, the high spikes of her French heels lapping elegantly into the turf, must be the animated Tokyo wife of whom I had heard. They came towards us smiling.
The smug hostess expression faded from my face. The Japanese Consul and his wife were our invited guests for tea at what would be our first meeting. This afternoon I could not welcome Fi-fille. The Sino-Japanese war situation was just entering a crucial phase, and to entertain together the families from both consulates would he a social stupidity which was almost a rudeness.
Rapidly the International Situation advanced across the turf towards us, unaware as yet that, it was a Situation. Fi-filie's casual glance did not recognize the Consul, and she herself, in saffroncolored jersey and skirt, was, at first glance, any smart young woman.
As simultaneously as if they had measured their steps beforehand, the three arrived at our doorway. Hoping that this moment in my life would never repeat itself, I stepped forward to greet them.
'It is indeed a great pleasure that we meet.'
I turned to the bowing Consul. 'Good afternoon, Consul; we have been anticipating knowing you. And do you know Miss Genevieve Ou, the daughter of our Chinese Consul?'
Austere wonder appeared in his eyes at my introduction, and the air became full of unspoken exclamations. Fi-fille's face grew bright with confusion, now she was understanding the situation. It seemed to me then that the tinge of rouge and lipstick on her oval face added no more sophistication to her countenance than does a turquoise ribbon to a kitten.
The Consul recovered first, and gripped Fi-fille's coral-tipped hand. It lay in his slender fingers like the wax hand of a window mannikin. Fi-fille had apparently lost connection with it, and I wondered vaguely if the Consul might toss it away when he had finished.
'Fi-fille, this is the Consul's wife.'
With easy grace Madame veiled the questioning in her face, and extended her hand. The Consul transferred Fi-fille's hand to Madame, who touched it daintily and then returned it to Fi-fille, at whose side it swung abandoned.
The next difficulty was to negotiate our doorway. I stepped back and gestured for Madame to enter, and she gestured for me to enter, and I gestured again for her to enter, and she deprecatingly held back for me to enter, but I stood firm. Protesting, she then stepped over the sill first. I then gestured for Fi-fille to enter, as I was the hostess. She gestured for me to enter, as she was an unmarried girl. This dilemma, we usually solved by entering doorways together, but to-day she was determined on etiquette. I gave up and preceded her. Meanwhile my husband had solved his doorway problem by stepping around the corner to the French window, and forcibly injecting the Consul through this before him.
Fi-fille sat on the divan by my husband. Her face had become an exquisitely moulded bisque mask. The expressionless young woman I saw there was a stranger to me. I could not tell whether she was deliberately handling the situation thus, or whether she was in a trance of embarrassment.
The face of my husband beside her was another mask. The yellow, livery look of many years in the East now for the moment possessed it painfully. Distress at the awkward situation had strained away into tightness the amiable laugh lines which usually show at the corners of his eyes. I read his thoughts behind his mask, but hoped that nobody else could. He was a conversational loss, and husband and friend together formed an unrising dough in the social sponge.
I searched for a conversational loophole. 'You have lived in San Francisco, I understand, Madame?'
'Since one year. But only a little do I speak English. You will pardon?' Her voice tinkled out the words with a diminutive sweetness which suited her small stature.
'My wife desires to learn immediately to speak better English.' The Consul's voice was clear and decisive. I noticed that, although he was very tall, he was not un-Japanese-looking. His bones were Oriental and shapely, and without fleshy padding. Ilis face was like a fineboned and beautiful skull with parchment moulded over it. The death mask of a samurai, I thought.
'You find our isolated Borneo very quiet after San Francisco, Madame?' The question was inane, but the pauses were worse.
'Ah, quiet, yes. But there is movie here in Sandakan. I like movie. And you, Madame Keith, you have been to Japan?'
'Yes, but we were only there for one week.'
'You like Japan, yes?'
'Yes, indeed, Japan is very beautiful,' I said helpfully.
'You were there in cherry-blossom time?'
' No, we were there in October.'
'Ah, chrysanthemum time.'
Tea arrived. With the passing of cream and sugar, sandwiches, biscuits, and tarts, with the comforting occupation for our hands, the scene became almost social. I saw my husband's mask becoming pliant with the warmth of tea.
And then Fi-fille refused tea. She hurled a belligerent 'I do not care for any tea!' like a bomb into a nursery. It burst among us, and its fragments shot up and exploded the comic-strip balloons which still floated inoffensively above our heads with our amiable pleasantries on them. Our social phrases came tumbling down, and the descending fragments scratched our bright surfaces.
Conversational rigor mortis ensued.
I passed the flower-decorated cakes to Madame, who removed one tiny pink one from the tremendous plateful.
'And does not the other lady enjoy tea?' she questioned.
'She says she has had her tea. Fi-fille, why don't you speak French with Madame? Madame speaks French fluently,
I believe.'
This bait dropped by Fi-fille without a nibble. I passed the cakes to the Consul. He would not have any. I passed them to Fi-fille. She would not have any. I relinquished the overwhelming plate with the one tiny pink cake missing. I never again wanted to see sandwiches, cakes, or tea.
Just as I gathered myself together to reopen Japan, the Consul's eye fell on the milky jade of the large Sung celadon plate which hung on the wall, the one with the highly embossed acanthus blossom, of which we were so proud. The eye of the Consul sparkled from out his samurai mask.
'You collect?'
Even without words the answer was in the glow which came in my husband's eye. Expression wrinkled his mask.
'A little, Consul. And you?'
'I also have the spiritual joy, the financial misfortune, to collect.' The Consul was over by the plate, gently removing it from its holder, smoothing the ancient surface, feeling its oyster gloss, touching reverently the embossed acanthus. My husband was beside him, unable to conceal his pride of his treasure.
'It is genuine, Consul. You see here . . They turned it over, then back. 'Nine hundred years ago some old boy turned, and worked, and moulded . . . this leaf, this petal, this stem,' finger tracing them lovingly, 'perfected this oval, and today we have them still. That's what gets into the bone about this early stuff. It's that feeling that throughout centuries men have handled and valued this, and that for centuries to come other men may do so. It is our link with the past. Don't you feel that way, Consul?'
' Indeed, yes. It makes us one with the ages.'
I thought that I had heard these phrases before somewhere, but my husband and the Consul seemed quite satisfied with their originality.
'And you are happy also that your husband collects?' questioned the Consul's wife of me. We exchanged sudden laughs. We saw that both of us understood that the wives of collectors live on the verge of bankruptcy.
The Consul and my husband disappeared into the library, and I knew what this meant. The best pieces of Sung were there.
'Diplomatic relations with Japan saved by Sung celadon!' My mind carried a front-page newspaper arlicle with this joyful streamer. 'Ceramics save the day! Sung, and Ming, and blue-andwhite, play their part in keeping world peace. Siamese ware and early tradeware, blanc de chine and famille rose, snuffboxes and medicine bowls, pots, jugs, and pitchers, all gather at International Conference to make the world safe for collectors. Wives excluded, and the wolf not allowed at the door!'
Now that the samurai mask and the angry-husband mask had disappeared amicably together, I felt that I could deal with the female situation. Almost with gusto, I eased us out of our seats and towards the hall. Madame was an obliging creat ure and quite content to be disposed of in any way I suggested, but Fi-fille was still enveloped in her aura of obstinate tragedy. Slowly we negotiated the hall doorway, again an almost insuperable obstacle for our gentilities.
'This is a native blowpipe used for poison darts. It is a favorite Borneo weapon,' I described.
Madame acknowledged this gracefully, and then stepped over to a hanging native skull, the trophy of a head hunt.
'And do these Borneo men still hunt heads?'
'Sometimes.'
'But that is not civilized, I think!' She shuddered away.
I caught Fi-fille's glance, and felt what she was thinking of Madame's comment. Fortunately, she did not say it.
I chose the double doorway through which we three might step at once, and we went out to the garden. We all said that the view was wonderful, wasn't it! And what tree was that? That was the African tulip tree, the Spathodia campanulata. And what rose was that? That rose was an hibiscus. And did that, white lily have a fragrance? No, that white lily was a scentless orchid. And wasn't that wonderful to have orchids growing all about! Yes, that was wonderful, but we still liked geraniums. And should we all like to walk down and see the wah walls? Wah wah was the native name for kelawat, and kelawat was the Malay name for gibbon ape, and if Madame loved the animals she would surely like to see the wah wahs?
Slowly, slowly, slowly we walked.
'Oh, Hermie! Oh, Anjibi! Ooooooooh! Whooooooo? Whooooooo?' I made wah wah noises. 'They go to bed very early, and now that dark is coming I am afraid I cannot get them to come down.'
'Oh, but the baby one! Can I love him in my arms?' begged Madame.
I entered the cage, but Herman was nervous with strangers about, and hung out of my reach, and jibbered at me like an old man with unmanageable false teeth. Madame and I made supposedly enticing noises. Herman, Anjibi, and Fi-fille looked at us with common scorn.
'If you will come over some morning I can get them down for you. They are more playful in the morning,' I apologized.
We returned to the house, and we all looked at the clock. 'You pardon, please, if I call to mv husband in -Japanese?' queried Madame. I pardoned gladly, and she called.
'My husband! It grows dark. Surely we have been here a long time. Surely we have said everything twice. Surely it is time to go home. Come away from your plates and your bowls.' Her voice tinkled it out in music-box Japanese, but I knew every word that she said.
'Yes, yes! Indeed I do forget the time when we collectors are together. But now I come.' The samurai mask appeared from the library, accompanied by Harry.
'Good-bye!'
' Good-bye! '
'Good-bye.'
' Good-bye.'
The sloping path lost them to sight. Then Fi-fille turned quickly to me, and I saw that the delicate mask of her expression was breaking.
'Oh, you must be angry with me for coming! Oh, please do not be! I am so sorry, but after I was here I did not know what to do.' The clear skin flushed with unmanageable emotion, and a lock of shining, irresponsible hair fell forward out of the well-arranged permanent wave.
I remembered then an old Chinese proverb I had read, 'When riding a tiger it is difficult to dismount.'
But Fi-lille had dismounted from her tiger now, and in the place ol a militant Amazon there was just a small girl who had been too distressed all afternoon for tea and her favorite cakes. My heart recalled the childlike defenselessness, the youthful eagerness, I had seen in her face in the afternoon sun.
I took Fi-fille's hand and I held it tightly, while I urged her ahead of me into the lighted room. I called for the afternoon cakes again, and we searched attentively for her favorites. I called for a watered vermouth for her, and lighted a cigarette, and then while we sat and smoked we looked about us searchingly. The parlor of horrors had vanished. And I saw, and Fi-fille saw, that this was the house of her friends.
From the evening when I first met the Chinese Consul, and Madame Ou his French wife, and Fi-fille and Georges, the young daughter and son, I connected them in my own mind with my family group at home. And the better that I came to know them the more they came to be for me the symbol of family life in Sandakan. I went often to the Chinese Consulate, for Fi-fille and I discovered a mutual attachment, Georges and I practised the tango, Madame Ou lent her French-style periodicals to me, and the Consul discussed with us Chinese nationalism and gardening. I went often, and always when I entered the doorway there I felt as I had felt in my own home in the United States, that family affection is a fire which warms all those who come near it.
The Consul himself spoke the Mandarin dialect of Chinese, the dialect of the diplomats, but he also spoke French perfectly, and French was the family tongue employed by all of them in their home. I used to try intensely, when the flames of their French licked around my head, to bring back to my memory the small amount of French which I had one time known, but always instead Malay words sprang to ray lips. But Fi-fille and Georges, who spoke English very well, would dart with their agile tongues in among the French phrases, and pluck out those of significance, and translate them into English for me. By reason of this erratic method the conversations at the Consulate were always very alive, very fluent, very well illustrated by gestures, but principally made comprehensible by virtue of our mutual desire to understand one another.
There in that home I found mam beautiful possessions which I admired, of both Chinese and French origin. And I not only found cosmopolitan treasures from Peking and from Paris, but found in the Consul and Madame themselves qualities of being which came from equally distant sources. But never was there anything in those differing qualities which failed to be predominated by the bond of affection between them. Madame ruled her end of the dinner table with a generous elegant gesture. The Consul ruled his end with an unobtrusive low-spoken word in Mandarin, but the rule of both was to the benefit of both.
And great among the qualities which I found in that; home to admire was the quality of sincerity to their friends. And among those friends, whom to me it was unaccustomed pleasure to meet, I found ever more fuel for the fire of my interracial warmth.
Not all Asiatic homes are open to Europeans, and not all European homes are open to Asiatics, and to Eurasians sometimes the homes of neither are open. But when a home welcomes all, as the Consulate did, it welcomes people whose stories are writing the future of their races, but whose lives are tangled.
I watched many stories begin at the Chinese Consulate, and many of them are still without ending. There was the Chinese doctor with an Edinburgh degree, who brought to Sandakan his wife, a smartly dressed young Spanish woman born in Gibraltar. He practises in Sandakan still, but she has returned to Gibraltar with their baby.
There was a young Eurasian nurse who came to Sandakan from Singapore.
Her mother was Siamese and her father was English. When she first saw our semi-Siamese cat, Mary, she picked her up and laughed and said, 'You're like me, kitty, half and half!' I had read that the Siamese Eurasian women were often very beautiful, and when I met this girl I saw that it was so. She was also intelligent, industrious, and ambitious. Her story is only beginning.
These and many others came to the Chinese Consulate, while through companionable buoyant evenings we gorged on Madame Ou's lavish French dinners, or at cheerful Sunday tiffins reveled in the salty tang of her Marseilles bouillabaisse. And those days were happy days, it seems to us now, as are all days before impersonal disaster becomes personal, when looked back upon.
Then coincident ly with the growing imperativeness of the war in China the dinners and tiffins began to abate, and I thought that it must be the war situation, which it could reasonably be. Some time passed without my visiting the Consulate, and then suddenly as a shock the answer came to me. Unexpectedly one afternoon I happened upon the Consul in his garden when I had not seen him for some weeks. He smiled, he was most courteous as always, we said good-day, and I passed on, but I had seen that he was very ill. A few days later Fi-fille came and told us her father must leave immediately for Hong Kong, where he would probably have an operation.
The afternoon came when the Consul was to sail. We asked permission to go with his family on the launch which was to take Madame Ou and the Consul to the Hong Kong boat that lay in midstream. At sunset the boat weighed her anchor and moved slowly towards the harbor's mouth. When we on the launch below looked up and watched the ship out of sight I could see to the last, the Consul's smile, which seemed to me celestial upon his beautiful and aristocratic face.
I had always drawn a comparison in my own mind between the Consul and his family and my own closely knit family, but I had little known the coincidence which was to work out in our relations to draw that comparison more deeply and more sadly.
Within a few days after the Consul left we had news of him which had been radioed to a passing Borneo-bound ship. The message said that the ocean passage was very bad and the Consul was grow - ing weak. Then came news by wireless from Hong Kong — the captain of the steamer had forced his engines to their utmost speed, had brought his ship in to Hong Kong a day ahead of time, and the Consul was safely in the hospital. Then came the news, just eight days after he had left Sandakan, that the Consul was dead. Five days after that I received a cable to say that my own father had died in the United States.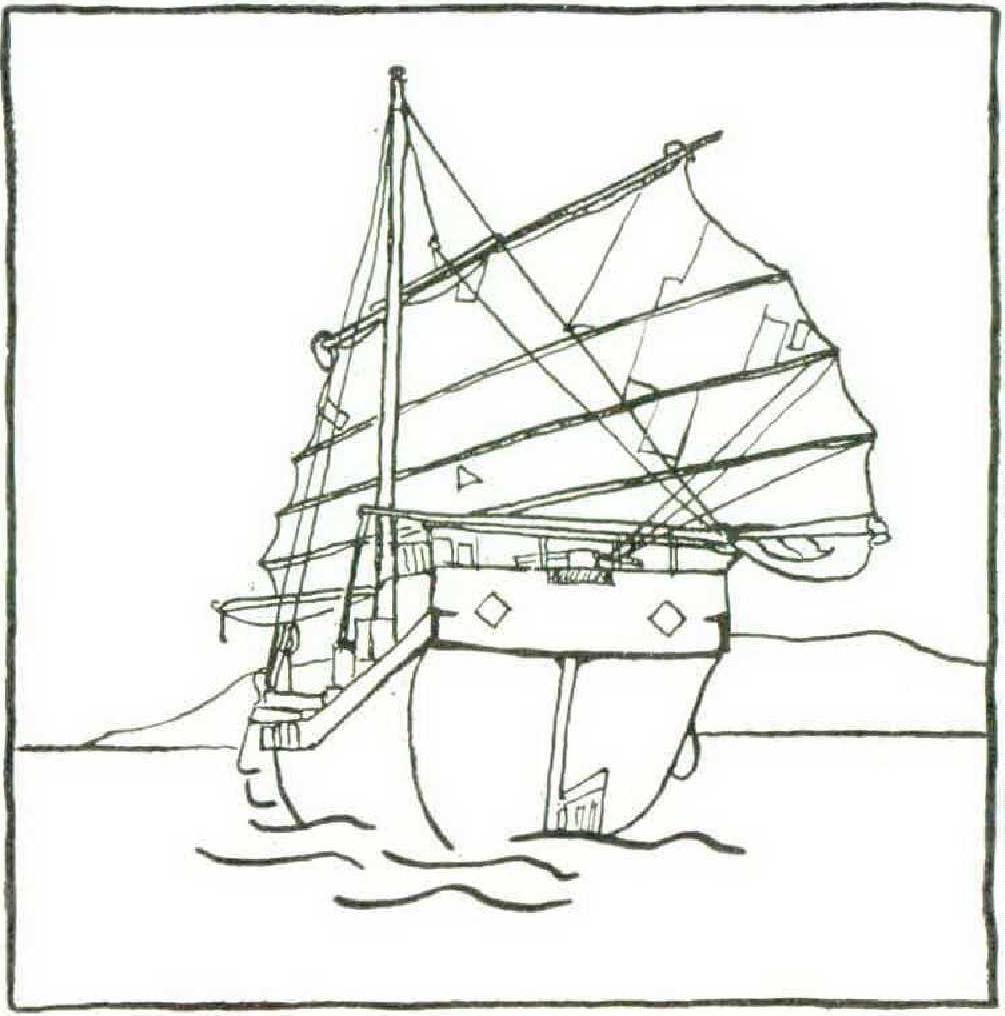 And I do believe that these two fine men live on, in the hearts which they leave behind them, and that to create love in the hearts we leave is the richest legacy.
XV
We were on the Empress of Canada in Hong Kong Harbor.
'There's too much luggage!' Harry said, and the words were somehow familiar.
There was my wardrobe trunk, Harry's favorite abomination, standing boastfully against the wall with its chest swelling out like a fat woman in a Pullman aisle. There was Harry's steamer trunk, hiding modestly beneath a bunk as a well-trained trunk should do, and there was Ids small sheet-metal trunk with the manuscript of his Murut vocabulary and his favorite books, lying docilely beside his other trunk. There were two legitimate suitcases with clothing, there were two zipper bags with dutiable goods, and one large suitcase with dutiable gifts. There were our two brief cases, each one fighting to be on top, and my portable typewriter, and the golf clubs, and the duffle bag with Harry's Ming porcelain wrapped up in my rabbit coat. And there was the large, very large, Chinese-made extension suitcase which held my manuscript.
'Can't that manuscript suitcase go in the hold?' Harry asked.
'No,' I answered. And Harry said nothing.
When I had had fever and had worried constantly about not being able to finish my book before our leave came, Harry had promised me that I should take it all home with me to the United States, down to the last scrap of paper.
'All those drawersand drawersful of half-written notes?' I asked. 'You mean I can take all of that home? And all those stacks of what looks like scrap paper to anyone else? And all those papers in clips? And my sketches? And my Malay dictionary? And the Handbook? And the Malay pantuns and songs and the Jawi reader? And the sheets and sheets of stuff that I might never use at all, but maybe I might? All of that?'
'All of that,' Harry had promised. So now the Chinese extension suitcase stood in the cabin. It had extended to such proportions that it would not go under the berth, it would not stand between the beds, it would not fit in a corner, and it would not go in the closet. The suitcase stood, and Harry said nothing.
My plan was to work on the manuscript all the way across the Pacific, and to have it emerging in a coördinated state by the time we reached British Columbia. During the first few days of tin; voyage I upset everything in the cabin daily by opening the Chinese suitcase and sitting and nibbling tastelessly at the edges of the sheets which lay on top. At each nibble it became less appetizing.
Meanwhile Harry vacationed in the smoking room, occasionally returning to the cabin full of the beer of human kindness, only to find me dyspeptic on undigested manuscript. Then after three days, like a vaccination, the virus of vacation took. I strapped up the Chinese suitcase and sent it down to the hold, and gave myself up to watching the exile's return.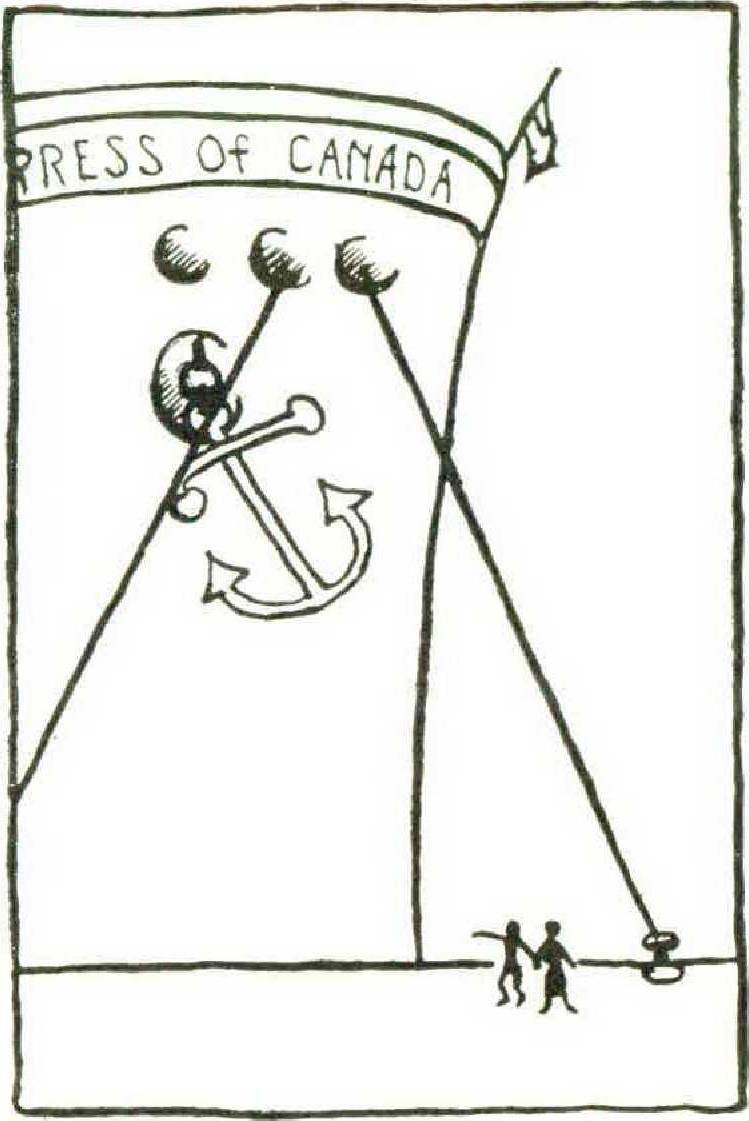 Oh, that trip across the Pacific! Oh, the cold again! Hong Kong was cold, Shanghai was cold, Kobe was cold, Yokohama was cold, the Empress of Canada was cold! Or maybe it was I that was cold. The only time I was warm was sitting in a hot bath or drinking whiskey, and once I took the whiskey in the bath with me. My body hurt with the cold, but it made me live again.
And oh, the food! Red-blooded Canadian beef; liver that had no cirrhosis; kidneys without Bright's disease; apples, oranges, pears, and grapes which could be distinguished one from the other by flavor as well as by shape; vegetables which did not have to be labeled and indexed in order to reveal to the consumer their identity; and one head of lettuce per day per Keith, and NO tins.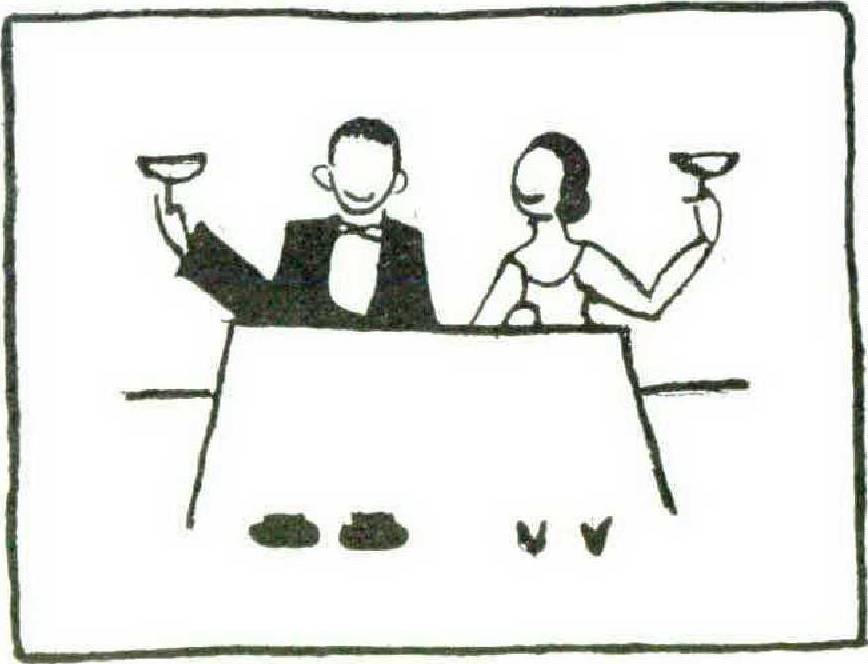 Oh, the women in furs again! And a real dance orchestra, and hot water running out of the taps, and an enamel bathtub with a drain therein, and all the luxury of a luxury liner, and we two people in the lap of it! Ships have carried passengers before, but never two more contented ones.
'And the natives,' we explained to our English friends, 'will paddle out to greet the ship in kayaks and birchbark canoes. They are a white-skinned race of more than average stature, with Aryan features and simple ways. Clad in the skins of the wild beasts which they have shot in the Canadian Rockies, and adorned with the beads and bracelets which the traders from England have brought them, they will look alarming, but they are not dangerous. Be surprised at nothing, however, for we are about to touch at our first port on the North American Continent.'
The next morning we came into harbor at Victoria, British Columbia, and if the natives of Canada were a disappointment to our English friends, at least early spring in Victoria was all that we had promised.
I walk down the quiet streets of Victoria wanting to shout and sing, filled with a joyful vigor again. It is the old wonderful feeling remembered from all the happiest moments of my life, the joyful feeling that went with me on the hilltops of Borneo and came down the Borneo rivers. At last I no longer carry the listless carcass which has burdened me through weeks of fever, and the blood awakens in my quiescent flesh. This is no whiskey stimulation, this is coming alive in a spring world — a spring world after four years and a half in a land without seasons. The crocuses bloom. How happy they make me! The sun shines. How beautiful it is! The rain falls. How cozy our fireside! And the milk comes out of a cow, not a tin.
Everything in the world about me shares in a great vigor. I recognize now as never before the tremendous aliveness of the people of this continent, a germinating aliveness which makes it impossible to catalogue them. People and positions flutter out of their pigeonholes and refuse to be documented. Wives wash their husband's underwoolens in order to rifle in handsome motorcars; plumbers talk philosophy and philosophers do the plumbing; the man who paints the pantry borrows the anthology of English poetry and the man who compiles the anthology paints his own pantry.
Conversation here is not English dinner-table conversation. It leaps nimbly from the subject of unemployment in the Canadian provinces to the submarine habits of the goldfish who swim outside in our garden pond; from the threat of war in Europe to when will the neighbor's bitch have pups. It is not English dinner-table conversation, but it is very alive and very invigorating.
From Victoria, British Columbia, to Los Angeles by train is two nights and two days. Two nights of boring in and out of sleeping berths like a maggot in a cheese hole; two days of crawling in and out of Ladies' Rooms like a constipated caterpillar; of watching female hair, teeth, eyebrows, lips, and cheeks vanish from their owners to lie disabled, impotent, in shelves above I he washbasins; two days of squeezing by the bosoms and bottoms of fat people who stand in the aisle, and of stepping on the feet and suspenders of men who undress by their berths; two days of asking the Pullmancar porter persistently, When do we reach Portland, please? and Eugene, please?and Klamath, please?and Shasta, please? and Oakland, please? and of trying to get off at each flying station to telephone home, feeling that I cannot wait longer, now that I am so near, to hear the sound of those dear voices again. And finally asking, And When Do We Reach Los Angeles, Please? And then we do reach there. And a traveler has returned.
A traveler has returned — to the greetings of people she loves, to the warmth of affections withdrawn from, to the circle of arms that was hers at her birth. These be three enduring things, and for them a traveler gives thanks.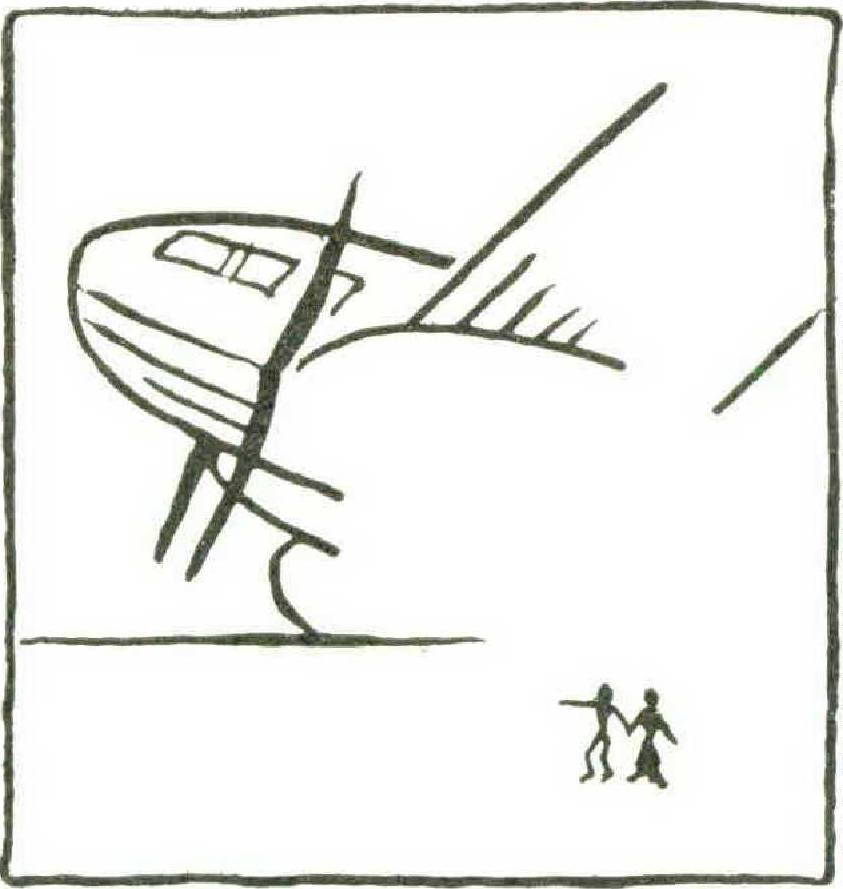 And so I am home in America. A traveler returns, but he is never the same; he returns, and what he returns to is new. And if he comes from an outpost of the British Empire, and from jungles and swamps, and from Eastern languors and tropical calm, then a traveler returned is momentarily confused by life in the U.S.A.
I read the headlines: 'Ape Man Bites Woman'; 'Phantom Burglar Robs House'; 'Girl Sobs Story of Killing Father for Affection'; 'Arsenic Widow Marries Victim's Son'; 'Actor Divorces Fifth Wife Because He Loves Her.'
Life here seems to be lived in headlines; love is in electric lights; vice is illuminated with neon signs; crimes are the biggest and best; men test their strength by the number of live goldfish they can swallow within the hour, by the number of girls they can kiss within the day, by the number of women they can marry within the year. Quiet affection and unblazoned love lie moth-eaten in the bottom drawer. The digit 'one' is at a discount, nothing under five counts in marriages, and when the man bites the dog it is appetite, not news.
These are my people and I am proud of them, but not when I read the headlines. But I know that behind those headlines, like a clear flame which is distorted when seen through the glass of a cheap lamp, burns a fine and great energy. Burns the same great energy which made our forefathers set sail for this once stern and rockbound coast, which made our grandfathers move in covered wagons across this once uncharted soil, which made our fathers build New York, Washington, Boston, Chicago, San Francisco, and Los Angeles on these once unbroken and unbullyhooed acres. Burns the same great energy which makes the United States today the potentially greatest, the most exciting and dangerous, place in the world, far more so than the Borneo jungles.
This is my country and I am proud of it. For I know that here is a fertile clay which teems with the very bacteria of life. Everything flourishes in this clay, grows to the tallest degree, flowers to the hugest size, and reproduces in the greatest number. On such a fertile clay guard well what seeds may fall.
A traveler has returned, and he wishes to tell what he sees. But there is the same risk in writing about this country as there is to the around-the-world journalist who writes about Borneo — the risk of seeing only the elephants and the rhinoceroses, because they are SO big. And that is the way with the United States, and with Borneo — unless you look closely you may classify them by their elephants and their rhinoceroses.
People ask me if I wish to return to Borneo. People ask me if I like our life out there. The answer is that I like our life as we live it better than I like anybody else's life of which I know.
I like the black nights of Borneo when the air smells of tree buds and wet leaves, when the only sound is the bark of the frogs and the lock of the nightjars in the jungle, and the only company is our own, and the only words are ours. I like the quiet days at home alone, days in which I am not ambitious, energetic, or noteworthy, but just am. It takes time and solitude to exist, and we have those in Borneo. I like the jungle trips, when I come to know the things I have wanted to know — the Stygian gloom of the nipah swamps, the murky green of the rivers, the beautiful excitement of the rapids, and the mellow color of sunlight on the backs of naked men.
I like our coming home on leave. We hurry through space, over oceans, across continents, and pass through all conditions of climates, people, mental attitudes, manners, and morals. One day my feet are too big for my shoes and the next day the shoes drop off in thecoId;one time my dress is too daring and the next time it's dowdy; in one place I am being careful not to shock the people and in the next place they are shocking me.
I am glad that we come home on leave to a new continent, to these United States of America, where we may see life written with headlines again. And while I am here I like being the woman who came from a long way off — was it Bermuda or Buenos Aires? Siam or Central America? China, India, or Africa?
When I left the United States to sail for Borneo in 1934 I said to my husband, 'This is a moment of great joy. I will remember it all my life.' That was almost five years ago, and there are things now which I understand, and accept , which I did not know then.
I know now that in that land to which we are returning there will be two people there together, and they will be everything to each other, or they will be nothing. I have learned now that it is not easy to leave children, and the people you love, to grow up, or to die, in a distant land. And I know now that when in that last moment I stand on the deck and look back at the dear faces which say good-bye to me I shall be embracing in my mind the fact that such farewells may be eternal. Then everything in me will say, 'How can you go!' But I shall go.
I shall go, because I know that when we sail again for Borneo this fall I shall feel the same deep emotion of happiness from which I spoke five years ago. But my lips will not need to utter the words this time when I turn to my husband, for we both know now without speaking that to journey together is happiness.
(The End)
Beginning in the January Atlantic
MORE TRUTH THAN POETRY
The Biography of B. S., by Hr. Hans Zinsser
Prayer spoken by His Grace tie Lord Archbishop of Canterbury, at the Coronation of His Majesty King George the Sixth, May 12, 1937.↩
Sulap — small native-made hut, usually constructed from matting strips of screw-pine leaves, and roofed with strips of ni pah-palm leaf.↩
Kajang — strip of matting made from nipahpalm leaves.↩