CHAPTERS 6-10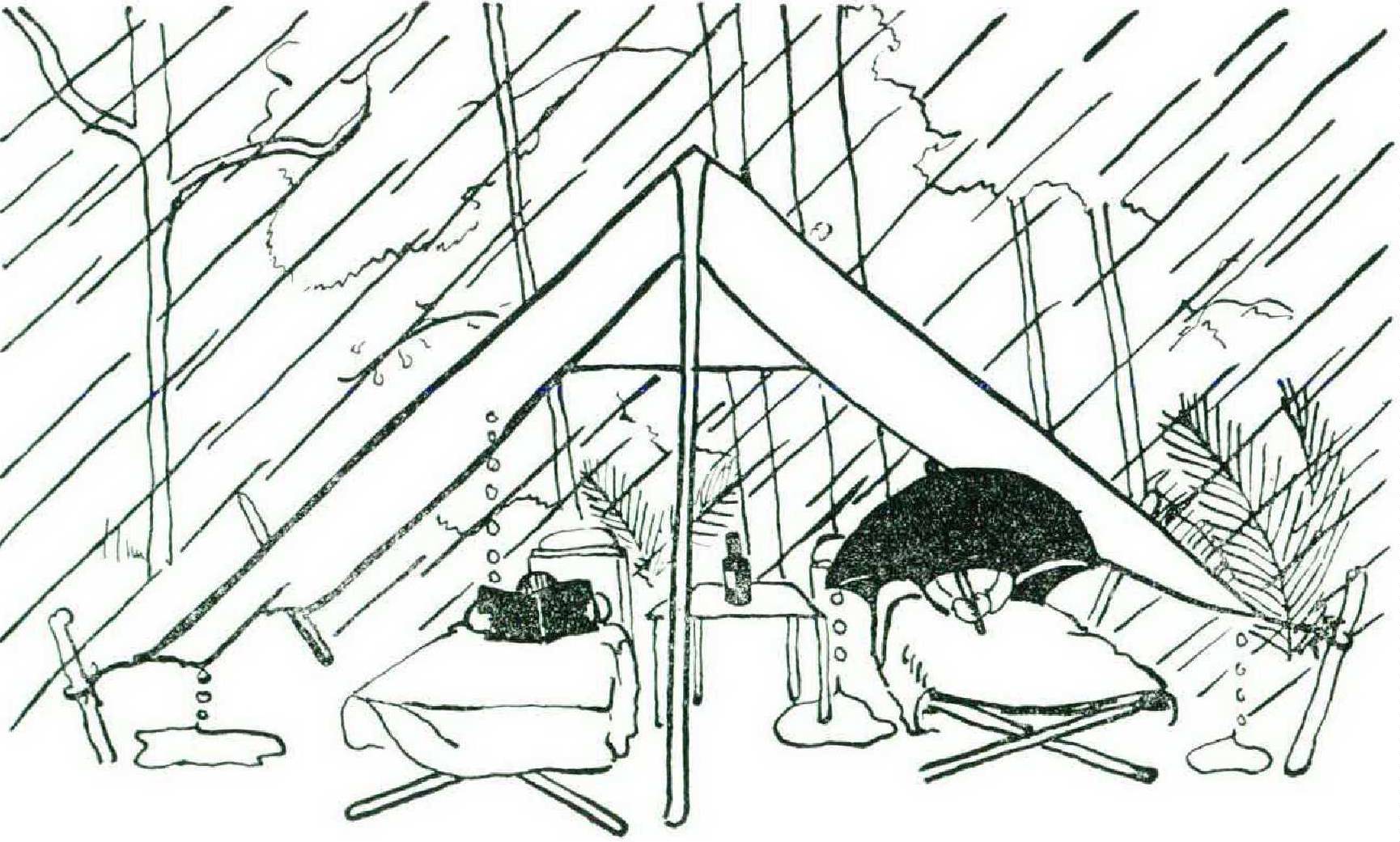 BY AGNES NEWTON KEITH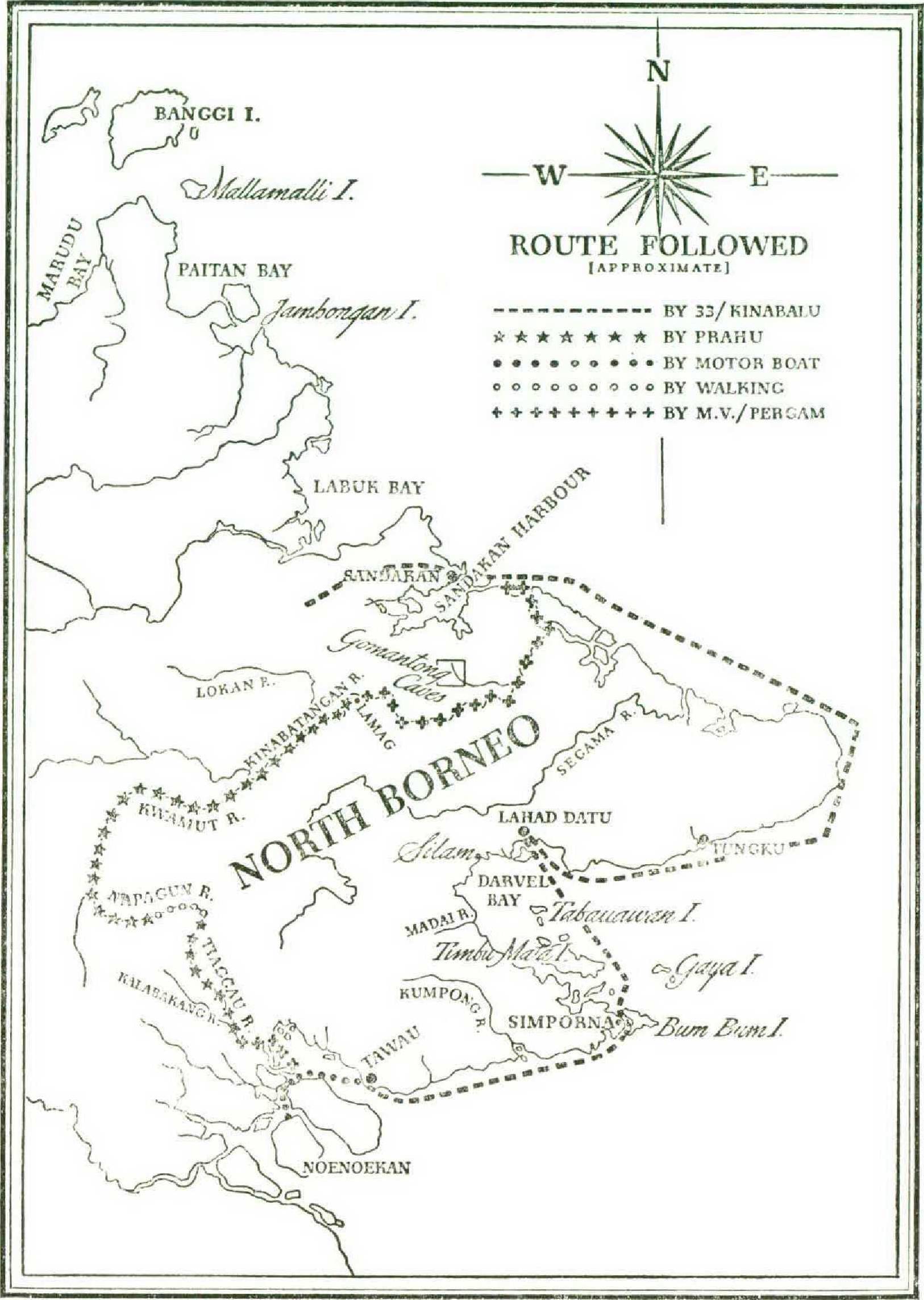 Land Below the Wind
BY
AGNES NEWTON KEITH Winner of the Atlantic $5000 Prize
Here is the true story of an American girl who married an English official and went with him to the farthest outpost of the British Empire. Her husband is one of the seventy Englishmen who direct the destinies of some 270,000 tribesmen in North Borneo. Conservator of Forests, Mr. Keith spends much of each year in the jungle and far up the waterways of North Borneo. And with him goes his wife. Such expeditions call for fortitude, everlasting good humor, and a power of observation such as few women possess. In her words, as in her pen-and-ink sketches, Agnes Keith makes clear her devotion to a land whose animals and forests and head-hunters are legendary.
Her book is a long one, and we must add that the printed volume will contain as much fresh material as the chapters we have been fortunate enough to serialize in the magazine.
LAND BELOW THE WIND
BY AGNES NEWTON KEITH
VI
'To eat the wind' (in Malay, makan angin) means 'to walk for pleasure.'
If I am met on the road by some old mother or some young man, when out for a morning walk, we greet each other thus: —
'And where are you going so early, Mem? Are you out to eat the wind?'
'Greetings, Old Woman, it is so. I am out to eat the wind.'
Adventure for me has three stages. There is the first unshackled interval before starting, when my dreams are bounded by nothing, north, south, east, or west. There is the second interval when, footsore and insect-bitten, achingbacked and broken-spirited, I wish that I had never come. And then comes the third interval — and in this interval I know that such adventures are the caviar of my existence compared to which other events in my life are Schwarzbrot. In this interval the fantastic, the unreal, the magnificent, and the unimaginable, which might have occurred only to other people, are occurring really to me. And then I know that it is right that such things must be paid for in discomfort, discouragement, and weariness; it is right that they are not free.
Stout-hearted people seem to escape the second interval of discouragement, and rush valiantly into a third interval of endurance and resolution which makes them thrive on hardships. They become like lions, exultantly licking their own wounds back to health again. I admire them and envy them, but I cannot emulate them. Compared to them I have only the lamb's place in adventure, which is in the stomach of the lion.
From the time my husband said to me last June, 'Are you coming to Ulu Kwamut1 with me?' and I answered him 'Yes,' I was both hot with expectation and cold with premonition. I wasn't afraid of possible dangers on the trip, for if I were as dependent as an incubator baby my husband would still bring me back alive. But I knew that there was nothing which could insure me against the discomforts of jungle travel with which I was so familiar. And my spirit which was bold at home in the library was a craven with wet feet in the rain.
Thus when I looked up at the books on the shelves about me on the day that we were to start, my eyes rested with especial pleasure on the title Everyday Life among the Head Hunters. It was a reassuring idea that the head-hunters had everyday lives.
The other titles that I saw on that shelf led my mind on to where it wanted to go: Home Life of the Borneo Head Hunters; Head Hunters Black, White, and Brown; Head Hunters of Borneo; Primitive Peoples of Borneo; Pagan Tribes of Borneo; Pagans of North Borneo.
And on another shelf: Men of the Inner Jungle; Where the Strange Trails Go Down; The Pirate Wind; Borneo, Stealer of Hearts. I saw that the pioneers of Borneo had dreamed long years before me.
Then I turned to my typewriter, and wrote a last letter home: —
We are leaving Sandakan today for a trip into the interior of North Borneo, through territory that is the last stronghold of the head-hunters. Although I have been on a number of trips with Harry before, and I have met many interesting and amusing natives, they have never seemed to be the same wild men of Borneo that people have written about. They always turned out to be the brothers of Arusap's friends, or cousins of Saudin's wife, or old men who asked after Governor Humphreys, or young men who asked about flying machines. But now we shall be going through a district where there has been almost no European travel. The natives who live there are the head-hunters of North Borneo, and are still reputed to take heads. There, if any place, we should meet the wild men of Borneo.
I sealed the letter, and sat for a minute wondering if other people ever felt as skittish as I did when they were looking bold. Then I left the room and closed the library door behind me. Vicarious Borneo adventure lay there; I was going out now to a real one.
The Chinese women kulis were carrying our barang (luggage) out to the bus.
'Haveyou forgotten anything?' Harry asked.
'Probably, but even if I remember it I can't get anything more into the bongons.'2 We watched the bedding rolls go down the garden path; we watched the camp beds, the medicine box, the carrying baskets. . . .
'There's too much luggage!' Harry said.
Before we were married my husband lived on rice and game when he traveled. He didn't use a mattress, he didn't take a tent, and he didn't take a wife.
'Yes, I know there is, but what can we leave out?' I always felt apologetic at this stage. 'Here is the list of the pieces and what is in them.' I read the list aloud: —
6 bongons — food, cooking and eating utensils, bedding and towels. Mutual use Harry and Agnes and Arusap.
2 sikutans,3 holding camp beds and mattress rolls. Mutual use H. and A.
1 tent fly — H. and A.
1 medicine box — Harry. Equipped for every emergency except childbirth, and could probably assist with that.
1 .22 rifle — Harry.
1 shotgun — Harry.
1 rucksack — films, camera, cartridges, pipe and tobacco, fishing lines, pickling bottle for insects — Harry.
10 flower presses for collecting specimens — Harry.
1 sikutan — Arusap, personal.
1 bongon — Harry, personal.
1 bongon — Agnes, personal, and a miracle of compact packing!
'That's the list. Is there anything we can leave behind?' I asked.
'Nothing except you,' said my husband, and this was too near the truth to be laughed at.
Arusap followed the barang down the path to the bus. He was carrying one basket full of eggs, and another basket full of vegetables, and Ah Yin was following him with the blue cotton umbrella which she was telling him not to forget on my account. Harry looked after them protestingly, but the will to resist was broken. And then we also went down the path to the motor. I knew that when next we should come up that garden path there would be jungle mud in my toenails and campfire smoke in my hair, strange scents in my nostrils, and the memory of the things that I wanted to know in my heart.
'Good-bye, Ah Yin,'
'Good-bye, Missee. You take much care. I one man alone now, I very lonely. Good-bye, Master. Good-bye, Arusap. Peace go with you!'
'Peace remain!'
I looked back at our sheltering home. I was intensely anxious to go, but I guessed that I should probably be intensely grateful to get back home again.
This was a trip which we had tried for several years to make. We had set the date three times before, bought the provisions and packed the barang, and then been prevented from going — once by an emergency call on my husband for other work, and twice by floods on the rivers we planned to travel on, which in time of heavy rainfall were not navigable.
Our plan was to go by coast steamer to Tawau on the east coast of North Borneo, and then to travel overland from Tawau back to Sandakan, a trip through an inaccessible part of the country. As there were neither tracks nor trails in this section of the jungle there was no European travel there, and part of the interest of the trip lay in the fact that the natives of the area had no contact with, and little experience of, white men. The river travel would be accomplished in small native canoes known as perahus, and the jungle travel would be on foot.
My husband believed that there were good forest areas and desirable agricultural lands along these rivers and covering the watersheds between. If there were, as he hoped, good forests, it was important that the areas should be protected and preserved. He also expected to find certain rare and hitherto uncollected trees peculiar to Borneo.
Twenty-five years ago the headwaters of these rivers had supported flourishing native kampongs; now these villages were buried in secondary forest growth, and the natives had vanished. A wish to know more about their disappearance was also in our minds.
The lurid memory of the tragic story of the Flint brothers, Walter and Raffles, had been largely responsible for the journalistic reference, among Europeans of North Borneo, to this part of the country as the last stronghold of the headhunters. For the story of t he sanguinary Flint expedition of 1890 up the rivers which we now planned to travel was one of the most hair-raising of the half-told stories of North Borneo. In my mind there had always been the desire to hear the other half of the story from the lips of the natives themselves. I hoped that now I might be going to do so.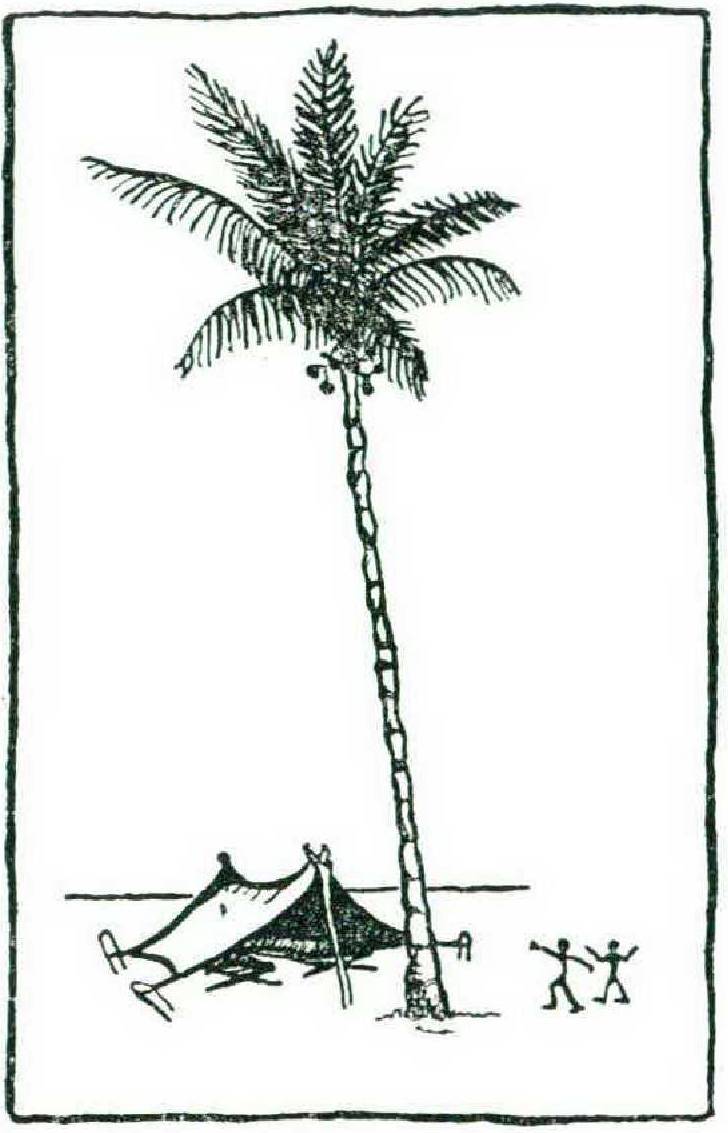 The trip could only be attempted in one of the so-called dry months, June, July, or August. The rivers involved were in the hydrographic centre of the east coast, and were subject to flood to such an extreme degree that you could not tell from hour to hour whether you could continue your travel on them. Borneo river travel is always uncertain, for when the rivers flood you cannot travel, and when they do not flood they fall too low for travel, and a loaded perahu dragged by natives through the boulders of dry rapids is slow motion, even for Borneo.
But there comes a brief fluxing interval between spate and low water. Then your perahu takes wings, your boatmen sing, your body glows with enterprise, and you forget the hours of waiting, and remember only that the water is cool and the sun is hot and the day is clear, and the whole long river belongs to you.
So we were going in June. At home it was the month for brides and trousseaus, for graduations and summer vacations. But in North Borneo it was the dry month.
I was bothered by only one thing. All winter I had been having spells of fever which did not by blood test show to be malaria, but which resisted every treatment. I did not mind in Sandakan, as Ah Yin ran the house better than I did, and I could lie in bed and read until the fever relaxed its grip. But I knew that I could not take my bed, book, and fever with me up the Borneo rivers.
When we decided on the date of the trip I made a hasty visit to the doctor, who recommended an anti-infection serum. The Dispensary was out of the serum, as a party of American gold prospectors had bought the entire local supply, and the new serum which had to be ordered from Singapore would not arrive for three weeks. This meant that I should have to take all of my injections the last week before our trip commenced, which would leave no margin for unfavorable reaction.
The serum arrived. I took seven armfuls in two thin arms, and went about in a state of spiritual vigor and physical decay. Should I be able to start? said Harry. That had nothing to do with it. I knew that I was going to start.
I did my packing in a feverish state. Fortunately there was not much demand on me in the line of packing. Ah Yin allowed me to pack my own personal possessions, but not those of my husband. Arusap did the food, bedding, tent, and camping equipment. Harry did the medicine kit, the armory, the photographic supplies, and the contributing influences to culture, which always included Blackwood's Magazine, an omnibus volume of stories, a family cycle novel, and his pipes. Everybody appeared to have more packing responsibilities than I did, but the paradox was that if anything was missing from what anyone packed I was the one to blame. This prevented my accepting with a carefree spirit the back seat which was offered to me.
So I made lists. I made Arusap a list, written in Malay, of the food, camping equipment, et cetera, for which he was supposed to be responsible. I gave Ah Yin a list of things to pack for my husband. She checked off all items immediately with a red pencil, and hung the list in the kitchen with the dinner menus. She then packed what she thought best for him to have. This was all right for Ah Yin, who was not present to hear his language when he unpacked.
On this trip I had been successful for the first time in packing everything for myself into just one bongon. Harry always said I could travel with him only if I could go as he did, with the same light luggage as he used, and traveling at the same rate. Although I did not really travel at the same rate, at least I traveled as far by nightfall on each day as the kulis and the luggage could travel, and measuring by that rate of speed I was not holding up the party. Harry's edict I knew was right, as the trips were Government expeditions, and not conducted for my edification.
And so I had one bongon. It took me three days to pack it. In the end I had created a perfect design out of manysized articles and vari-shaped pieces, and had formed an analogous whole from liquids and solids.
I needed a greater variety of clothes than Harry, who used only shorts and jerseys. I took shorts for active jungle travel, long trousers for appearing in native villages, and culottes to wear when traveling in native boats. The culottes were anticipated to protect me from too violent sunburn, and from kurap, an infectious skin disease which many natives have. I always took culottes, I always expected to wear them, and I seldom did. Shorts were better. On a hard trip freedom of action and escape from the horrible hindrance of clothing was the only thing worth while. Skin diseases, sunburn, and lost beauty did not enter into the reflections of a tired body, and I discovered that the briefer the trouser the lighter the foot.
I had also in my bongon six jerseys, six pairs of rubber-soled canvas shoes, a dozen pairs of socks, a negligible bulk of underwear, a leather coat, a kimono, four nightgowns, journal, ink bottle, nose spray, sewing kit, drawing paper and pencils, and a pillow, a luxury for which our bedding rolls did not allow.
All of this was contained in an oblong bongon of light three-ply wood, one foot by one foot by two feet. This was Harry's own design of carrying pack for jungle tours. The box was measured to be narrower than a kuli's back, so that it would not catch on trees. It was fitted with carrying straps, and it must not weigh when filled more than thirty-five pounds, as it was designed to be one man's burden. Unless the sliding lid slipped, the contents of such a bongon were almost secure from water.
'Where does Winki meet us?'
'In Tawau, and then we spend the night at his camp on Sebatik Island.'
Dr. Wenk, the oil geologist, was at that time engaged in making a geological survey of North Borneo, and when he and Harry discovered that they were both projecting a trip through the same district they had decided to go at the same time and take advantage of a single organization of native boats and boatmen and launch.
'I wonder how we shall all get on together,' I ruminated. 'I suppose that Winki and you and I will know a lot more about each other by the time we come back from this trip.'
Winki met us at Tawau and we sailed back to Sebatik Island with him behind the black and yellow sail of a pirate bagong, with our city shoes piled in the bottom, and our socks wadded into them, and our feet bare and comfortable. Harry said the boat was a bagong such as the old Borneo pirates used to use. Winki said it was a gobang, and Arusap said it was a pakarangan. In arguments like that it was well to have one person such as myself along who knew nothing about it.
We were going up the Kalabakang River by launch to the village where we expected to get our native boats and boatmen. As I still had fever, I slept all day on the deck, opening my eyes only at intervals to watch the long swaying line of river that trailed behind us, and the imperative arrogance of the nipah palms which flung their sword-like shadows across us. When Harry awoke me at noontime to move me into the shade the nipah palm outline had softened into the featheriness of forest tops. The colorless shine of midday was about us. Air, water, insects, and even the life within ourselves, seemed to have become stagnant in it.
The next time I awoke it was to be rescued from the rain, which plunged through the bridge-house windows and beat on the decks. But before we had time to finish a pot of tea in the cabin the rain had passed, and the decks were sweating and the trees were steaming and the air was as still, as thick, as hot, as before, and even less breathable.
That night Harry and Winki put their cots up on the bridge, and I stayed in the cabin, as the deck space was limited. The cabin was in the exact centre of the boat, with doors on two sides and windows on four sides, the engine room to the back of it, the sleeping deck for the boatmen to the front, and passages along both sides.
There was a wooden grating in the cabin on which we stood while we bathed, and during the bath the water poured generously over the luggage.
There was a commode which stood high on a stand like a throne, and was floodlighted by shafts of light from all the windows. The bunk had two portholes opening over it which were level with the deck outside, where the ship's crew slept. I could think of nothing to make the cabin less convenient, unless it was to take the bunk out and replace it with the Diesel engine.
We anchored up the river that night. Degrees of heat when one is completely uncomfortable are difficult to judge, but a long time after it was so hot that I thought it couldn't be hotter, it still continued to be hotter. When I finally slept I dreamed that I was in a kettle stewing over a slow fire, while the fat on my body clarified into grease and the flesh fell from my bones.
I have decided now that all native headmen look respectable. For a long time I used to hope otherwise, but now I know that you can't get away from that look of eminent probity.
And thus it was with the Orang Tua4 of Kampong Kalabakang who came to meet us in his perahu. His naked brown chest, and the tattooed designs on each shoulder which indicated that he had to his credit the taking of human heads, in no way interfered with that look of respectability.
Here was a good old man, his face said, who had lived an honest life, had gone to church every Sunday and given dimes to his grandchildren, who had never known violence except to condemn it or sex except to apologize for it, an old man eminently respectable.
Or, here was a Murut headman in only a loincloth, private and sex life unknown, violence suspected. Respectable?
Nevertheless, that's the way he looked.
His perahu was surrounded in the water by smaller perahus that darted about like startled fish. These boats were manned by the Old Man's children. The relationship was as complicated as that in the verse: —
Brothers and sisters have I none,
That man's father is my father's son.
For convenience' sake they were all known as the Old Man's children, and it is not my intention to suggest promiscuity in a character whom I have just established as respectable.
Small men these natives were, of that rich polished-wood color which goes so well with the out-of-doors. Most of them were naked except for their rustcolored loincloths. These natives, who are known as the Tengara Muruts, made me think of the men of Arusap's tribe, the Bokun Muruts, and this association made their Mongoloid features seem familiar and pleasant to me. Their loose buns of long black hair, their mouths crimsoned by sireh juice, their wellmuscled legs with the unkind sores and ulcers, all these I recognized with a feeling of amity.
Arusap called to them in Murut. It was the first arrow to start the verbal onslaught. The air sang with greetings, laughter, and jokes. Amidst this atmosphere of jovial fellowship the Orang Tua mounted our launch and stood on the deck before us. While Harry and Winki gave him cigarettes the business began.
'What is the news, Old Man?'
'The news is good, Tuan.' A pleasant smile embroidered itself in red scallops on his lips with the oozing sireh juice from his betel chewing.
'Did you receive word from the District Officer to tell you that we wish men and boats?' Harry asked.
'Yes, Tuan. Five of our boats and eighteen of our men are prepared to go up the river with you.'
'We wish strong men and strong boats, for the trip will be hard.'
'It is so, Tuan. The men and the boats are strong, and I myself will accompany them to guide you.'
'Whatever wage is fair I will pay to the men. They should take enough rice with them for at least two weeks.'
'It is so, Tuan.'
Business being over then, the Old Man turned his attention to me. Natives can stare and yet not be rude. I do not know whether this contradiction is in the quality of the stare or in my interpretation of it, but the result is that the stares are not discomfiting to me. The Old Man employed his best occult powers to the edification of both of us. His black eyes were bright and never wavering, yet what he saw might well have made him blink.
He was seeing a person who was as tall as either of the Tuans, as thin and as brown as they, with shorts and jersey and sneakers and native knife like theirs. On this person's head was bound a bandana such as the Tuans also wore. Three men in the jungle, perhaps? And yet — was it in the shape of the hands? in the different turn to the calf of the legs? the smaller features of the face? the tone of the voice? Or was it that this person alone of the three seemed to have nothing important on his mind? Certain it is that the Old Man turned to Harry and said with conviction, 'This is the Tuan's wife.'
Harry admitted that it was.
' Does the Tuan's wife go with him all the way?'
'She goes all the way.'
'In jungle also?'
' In jungle also.'
The Old Man thought about it. Then he looked at me and shook his head and said cryptically, 'I hope the Tuan's wife has good luck!'
I felt that I was introduced then, and thought I would be about my own business, on this expedition, of collecting information. 'Greeting, Old Man. I see by your tattoos that you have taken heads,' I said.
'Probably I have, Tuan, but perhaps I have not,' he answered me diplomatically, being familiar with the fact that the Government has forbidden the taking of heads. He called me Tuan because, like most upcountry natives, he did not know the term 'Mem' as it is applied on the coast to white women.
'Do you remember, Old Man,' I asked, 'the great trouble fifty years ago when two white men with many police and guns came across the jungle and down the river, to punish the Tengara Muruts for the murder of Walter Flint?'
'All men on the Kalabakang River remember that, Tuan.'
'How many Muruts were killed that time?'
'Some say one hundred, and some say two hundred. The story is very bad, Tuan.'
'Tell me, Old Man,' I said. I wanted the story of Walter Flint; I wanted it the way the natives told it. I wanted it here on the Kalabakang River beside the rice fields and under the coconut palms.
'Tell me, Old Man,' I said. And then I listened carefully.
VII
This is the story of Walter Flint as it lives to-day on the lips of the people of the Kalabakang. The Orang Tua told his part of the story as if it had happened yesterday, for the Tengara Muruts are of the same tribe as were the natives who took Flint's head.
The version current in Sandakan, which everyone interested in 'wildest Borneo' repeats, is based on reports to the Government of an expedition of inquiry. The story current amongst the natives is as it passes from mouth to mouth. Both reports are perhaps prejudiced by the sympathies of the narrators, but the native's story has not before been told.
Its truth — its falsity — each listener decides for himself.
The rains were long on the Kwamut River, and between the rains the sun was hot, and the air steamed up from the mudbanks and the jungle to hang like an exterminating vapor over the dank mouth of the river. The sand flies and mosquitoes were energetic, and nothing else was. The wild pigs died of starvation, the crocodiles moved only when they had to, the natives waited for the crocodiles to move, and the traders waited for the next boat. And so it was in 1890.
The little shop of Flint and Company on the mudbanks of the river carried sardines, sauces, biscuits, sausages, tongues, chocolate assorted, and soap. The shop was hot, and the tins were dusty, and the labels were no longer bright, and they came off some of the tins entirely, so that you could not tell the oxtail soup from the greengages in syrup. But this didn't make any difference to the customers, who were the natives of North Borneo.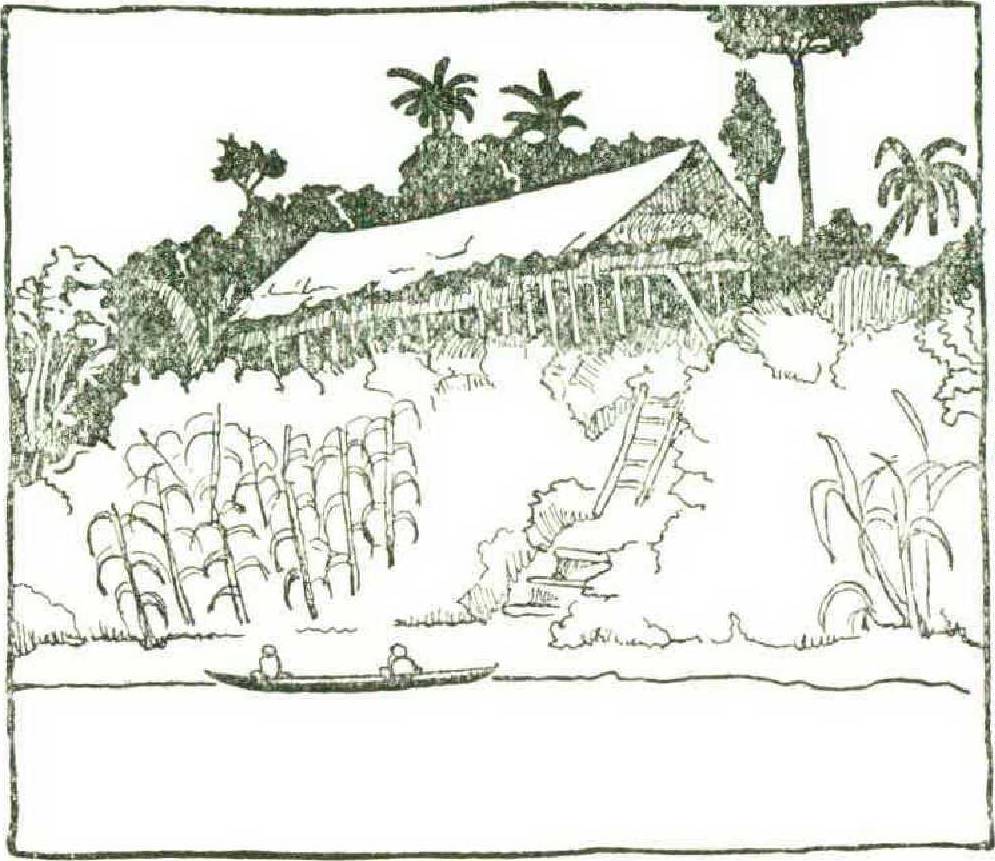 There was a great deal of sitting to be done in that little shop. The natives sat, and Walter Flint sat. Flint sat very comfortably now, because he had discovered that although trousers become a man who walks on city streets a sarong is of better use for purposes of sitting.
And as Flint sat he found that there was nothing to look forward to in the morning except the first drink at night, and there was nothing to look forward to at night. He found that it was dull to go from a dusty shop to an empty house, and an immaculate bed was a poor companion.
But there was the little Tengara Murut girl, Lingud. Her eyes were a shining blackness set in such clear whiteness as Flint had never seen amongst his own women, and her admiration of his magnificence was also unequaled in his experience of women. Her body had vigor and warmth and roundness, her simplicity of mind was pleasant, and her streak of wild savagery was amusing.
But she was the daughter of Semporna Numpal, the head of the tribe of Tengara Muruts, and not to be had for nothing. Like a good trader, Flint was willing to pay for what he wanted. He paid Semporna Numpal one hundred and twenty-five dollars as the bride-price of his daughter. Then, in accordance with Murut marriage ceremonies, with dancing, feasting, and rice-beer drinking, Lingud became Flint's wife.
And Flint became the son-in-law of Semporna Numpal, and it was in that relationship that the difficulty arose. For Semporna Numpal was a primitive savage. Not he, nor his father, nor his grandfather, nor any ancestor, had ever lived by law other than Murut law.
A Murut house has a flexible body and a communal soul and it always has room for one more. The native shares his mat and his rice till his mat is worn and his rice is gone, and then he shares his friend's mat and rice until these are gone, and then together they look for another friend.
But to Flint, communal living was not as simple as that, and when father-inlaw Semporna Numpal and mother-inlaw Masian settled themselves in the house with Lingud, Flint was not pleased. Certainly there were brothers and sisters who came too, and cousins who took things home with them in carrying baskets, and friends who collected the swill for their pigs and the scraps for their snarling dogs. And Lingud liked to sit with them all, and gossip and talk, and neglect her work, and spit betel juice into the corners, and be a little hellion when she was angry.
And the once empty house of the white man became gradually much too full.
It was a problem which grew on Flint for two years, and then he dealt with it like a white man. He promoted the idea to his father-in-law that the Tengara tribe needed a change of air, needed to get away from the damps and dews of Kuala Kwamut and the commercial atmosphere of Flint and Company, and go up the Nasan River to the fine long stretch of virgin jungle which lay high above the river's mouth. There they could make a new clearing where the land was still fertile from a never-felled forest, and grow better padi, and more tapioca root, and have bigger pigs to nuzzle under a better longhousc than the Tengara Muruts had ever had before.
Numpal agreed with Flint that the idea was promising, for by then he was heavily indebted to Flint and not in a position to disagree. When the time came to go, Flint said that Lingud should take their two babies and go also with Numpal to Nasan, while he, Flint, went, down to Sandakan for a holiday. They all parted on friendly terms, and if each one suspected the sincerity of the other's motives at least he didn't say so.
But Flint went only a short distance down the Kinabatangan River to Lamag. Then, like the suspicious husband of stories, he returned unexpectedly to Kwamut, and went up the Nasan River to visit the new Tengara settlement which father Numpal was clearing on the nice strip of virgin land which Flint had suggested to him.
But father Numpal was not clearing the virgin land, nor building the longhouse, nor planting the padi, or tapioca, or coffee, nor doing any of the things that Flint had planned. Part of the Tengara tribe was there sitting, sitting and waiting an omen from fate. But Numpal himself had left, with his wife and Lingud, and disappeared through the jungle and over the watershed, headed for the Kalabakang River. Numpal had reckoned that that fiftyfive miles of jungle was a journey that would delay a white man for some time. Numpal was thus free of the imminency of his debt to Flint, and he had his daughter back, who was again worth a bride-price to him from someone else.
But by Numpal's move Flint had lost both his debtor and his wife. Considered on either a cash basis or an amorous one, it was annoying, and Flint found it so. Accompanied only by two native boys, he followed Numpal's steps through the jungle and over the stormy watershed of the rivers, to Numpal's stopping place at Linidis on the Kalabakang River. Events of the family reunion which must have occurred there remained for a time obscure.
Soon, however, the story began to pass down the river from mouth to mouth of a misfortune which had occurred to Flint after that reunion. The journey, the story said, had been too much for the while man, and he had been taken ill of a strange disease, and had died a few days after arriving at the house of his fatherin-law. And the making of his coffin had taken seven days, and the digging of his grave had taken three days, and great had been the mourning at his burial.
Slowly the story passed down the rivers, from the lips of the Muruts to the lips of a Dyak trader, to the lips of a Dyak policeman in Sandakan, and thence to Raffles Flint, brother of Walter.
Raffles, it seems, had never trusted his brother's household at Kuala Kwamut. Now when he heard the news of his brother's death he remembered the glut of native life which had finally cloyed his brother's digestion, and he remembered it with suspicion. He went to the Government and requested that an expedition be organized to accompany him to the Kalabakang River to inquire into the causes of the death of his brother. The request was granted, and the expedition left Sandakan with a personnel of the Sandakan Resident and Raffles Flint and thirteen Dyak policemen. The expedition was not organized as a punitive expedition with an object of avenging Flint's head, if the head should be found to be detached from the body. The expedition was sent out from Sandakan to be an expedition of inquiry only.
Slowly the men of the expedition moved, slowly; everything had to be waited for. There was waiting for boats, waiting for boatmen, waiting for floods to recede, waiting for rivers to rise, and the rain to be watched while they waited. Slowly the men moved up the rivers, up the Kinabatangan, up the Kwamut, up the Nasan, then through the jungle, and over at last to the Kalabakang side.
Always as they moved they asked for the story of Walter Flint. Every native knew it. Walter Flint had died of an illness, he had died of a great cough, he had died of a sick stomach, he had died of passing blood, he had died a sick man's death in the house of friends, and great was the mourning thereat.
As the Muruts of Kalabakang River were known to be a shy tribe, and a group that shunned contact with white men, the expedition had employed as a gobetween a Dyak trader who had married into the Murut tribe and was trusted implicitly by the natives. They sent this confidant on ahead of them when they traveled, to assure the people of the Kalabakang of the good faith of the expedition, and that it came to bring them no harm, but only to make inquiries into the death of Walter Flint.
Six weeks after the expedition had left Sandakan it arrived at Linidis on the Kalabakang River. The Dyak trader had been able to persuade most of the Linidis Muruts not to retreat to the jungle, but Semporna Numpal himself, with his wife and daughter, had vanished. Of those who remained at Linidis, Raffles Flint interviewed many witnesses. Old women described again to him the extreme degree of the illness of Flint, young women told of the affection of Lingud for her husband, old men told of the affection of Semporna Numpal for his son-in-law, and young men told of the affection of Flint for his father-inlaw.
But at Linidis there was a freshly made grave. This was across the river from the deserted house of Semporna Numpal. In the enforced presence of unwilling witnesses the expedition opened this grave, and there discovered the decapitated and dismembered body of Walter Flint.
Not until then did the witnesses find themselves able to recall the violent scene which had taken place when Semporna Numpal and his relations had met Flint's angry pursuit with the mortal blows of swords and spear thrusts. And not until then did they recall the dancing and feasting and celebrating which had honored the event of the taking of his head.
Hastily then, with horror at having their worst fears realized, and with an indignation which outran every other emotion, the expedition closed the accusing grave, and prepared to follow the fleeing Numpal and his guilty relations. Before leaving the scene of the murder they warned the Linidis natives that the expedition would return later and burn their houses and destroy their crops, in retribution for their deceit and implication in the murder. Taking the peralius of the Linidis people from them, the expedition started down the Kalabakang River in these.
It was raining, the river was in flood, and the dark overtook them before they had come upon any sign of Numpal. They stopped for the night in a deserted Murut house, but sent Dyak scouts on ahead in an effort to locate the fugitives. Very shortly the scouts returned. They had found a very fine longhouse down the river with hundreds of people gathered in it, and there was a great celebration. Semporna Numpal was there with his wife and daughter, and his family, and his family's family. The men were dancing and singing and the gongs were beating, and the rice beer was rising in the throats of the drinkers, and sinking in the great tapai jars.
As the Dyak policemen scouts told the expedition of what they had found, the Dyaks' eyes sparkled fiercely and they rubbed their swords hungrily and patted the butts of their guns. The expedition decided to go down the river and surprise the exulting Muruts before daybreak of the next day. But meanwhile the river rose and crept into the old longhouse where the two chilled white men waited for the dawn. Fires washed out, and blankets and mats were soaked, and finally they and the Dyak policemen were driven from the house into their boats, which in the height of the river's flood had to be moored to the roof of the house. There in the open boats they crouched; the only light was the lightning, the only sound was thunder.
They dared not ride that flood in the dark, but with the first hint of daylight they started again down the river, shivering and half drowned. Following the lead of their scouts they turned out of the Kalabakang River and up a tributary river known as the Pegan. In the almost darkness they could just sight t he longhouse in the distance. They landed stealthily downstream, left their boats hidden in the heavy creepers of the riverbank, and struggled through the mud, back into the jungle for some distance, in order to come upon the Muruts by surprise from the rear of the house. Finally they waded into the clearing at the back of the longhouse, and were within a hundred yards of the house when the Muruts first saw them. Then, just as the house burst into life, the expedition fired. From that time on each person had either to kill or to be killed. The Muruts had men. The white men had guns.
It was only twenty minutes. The guns of the expedition swept through the longhouse from both ends. Blood poured through the floor, and raced down the tall stilts and oozed in the mud below. The men of the expedition fought for their lives, which they succeeded in saving, but between one hundred and thirty and one hundred and forty Muruts, including women and children, were killed. Those who ran from the house to the river were shot down and cut to pieces. With the exception of four women and three children who creptinto the jungle wounded, all.who were in the house when it was surrounded died. The longhouse blazed and then it was embers.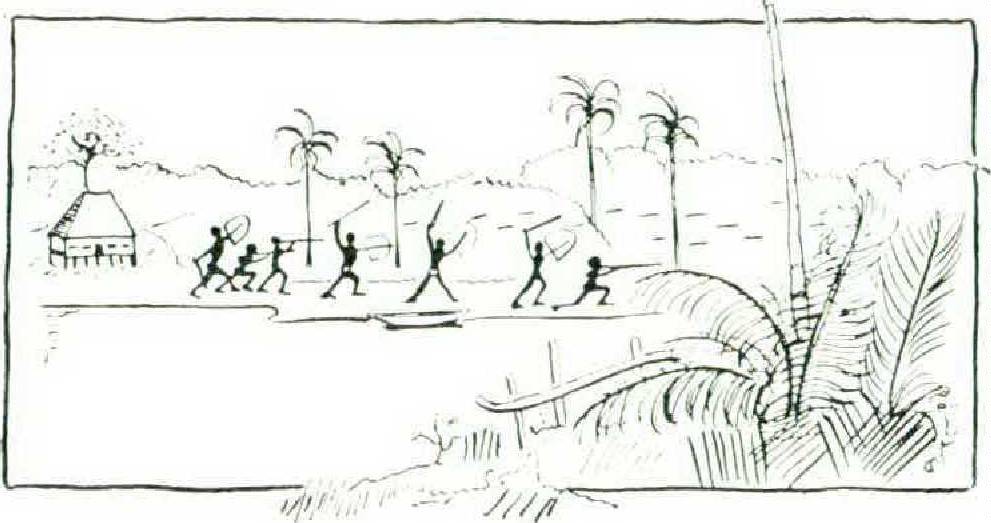 The Dyak policemen wiped their swords, and slung the Murut heads over their shoulders.
Then the expedition of inquiry proceeded down the river.
An eye for an eye, and a tooth for a tooth, the native understands. But as the story lives up and down these rivers, as the story passes from mouth to mouth, it seems to prove to the musing natives that the white men took not an eye for an eye, and a tooth for a tooth, but a hundred eyes and a hundred teeth, in the Murut longhouse one rainy dawn on the Pegan River in 1890.
Two respectable-looking, betel-leafchewing elderly Muruts talked to us at Kampong Kalabakang later that day. Four women and three children, they reminded us, had crept into the jungle wounded. Two of these were the grandchildren of Numpal, the offspring of Flint and Lingud. Their names were Alipin and Ohdohn. The two respectable-looking elderly Muruts shifted their squatting from foot to foot, tightened their sarongs, and said, 'We are Alipin and Ohdohn.'
'How do you know?' we asked.
They pointed at the old woman who squatted near, with fallen breasts and straggling hair and blackened lips. 'She,' they said, 'is Lingud.' . . .
'The story is very terrible,' I said.
'Yes, it is,' my husband answered. 'But that story is one reason that you and I can travel on this river today without danger to our heads.'
VIII
It took us an hour and a half that morning when we left Kampong Kalabakang to stow ourselves and the barang into the small boats for the first time. Harry and I used four Murut perahus, and our party consisted of twelve Tengnra Muruts acting as boatmen; Puasa, Unggib, and Kadir from the Forest Department; Harry, Arusap, and myself.
Winki wanted only one Murut perahu, as he was using three boats of his own. In his party there were six Muruts, his own Dyak foreman, his boy, and himself. Throughout the trip our numbers varied with the changing of boatmen at villages, the picking up of sick people who asked for treatment, the meeting of native friends, and the recruiting, on Winki's part, of new kalis to take back to the oil survey work on Sebatik and at Tambisan.
Our perahus were native-made boats with rounded bottoms, about twenty feet in length and just wide enough for one person, of unstable equilibrium, and obviously pervious to water. When overloaded with luggage, as they were now, they looked perilous. The barang had to be stowed in order to balance the boats, and quite without regard for comfort. Later in our travels I managed to arrange some of it so that I could occasionally stretch out flat on the top of it, and look up to the trees and the heavens, and give thanks that I could for a few minutes take the weight off my haunches, and the corkscrew out of my back, even if I tipped the boat over. But most of the time we squatted in the bottom of the boat with our loins aching and our buttocks wet from the water that was always awash there.
Now we were ready, blue umbrella, basket of eggs, wife, boy, and Conservator of Forests.
Now Winki was ready. Cross-legged in his perahu he sat, his survey instruments before him on a portable table top, two chickens cackling on his bedding roll, the Swiss flag floating over all. Big moment this, packed with emotion and sentiment. Farewell . . . farewell . . .
'Tickets, please!' shouts Harry.
'Punch, brother, punch,
Punch with care,
Punch in the presence of
The pass-en-ger.'
And so we left Waterloo Station.
Each man ploughed his paddle. The water pushed against the perahus ns the river in spate opposed us. But the Orang Tua had spoken truly when he said, 'My men are strong.'
The white man builds the roads and follows the coastways, speaks the laws and rules the land. But the native knows the strength of his own arms, the endurance of his legs, the fortitude of his naked body, and the wit of his leaking perahu — an old patched perahu, tipping and swaying and waterlogged, but a perahu which travels to the heart of the country to make river and jungle his alone.
I looked back at the kampong women standing in the sunlight on the black mudbank. Three things faded slowly in that memory: the black pupils of their eyes shining in their faces; their lips, red with sireh juice, like cerise flowers blooming; the fluttering notes of their treble voices blowing like leaves on the wind.
We had been traveling since six o'clock in the morning. Then the rain had come before we made camp in the afternoon. No one had been dry all day. Now we were crawling into our camp beds for the night.
'The tent is leaking, Harry; the rain is pouring in over my bongon!'
'It will stop when it gets thoroughly wet.'
'Well, I'm not going to let it get thoroughly wet.' I started to lift my bongon towards the bed.
'The tent, I say. When the tent gets thoroughly wet it will stop leaking.'
'It will be too late then. Everything will be soaked. Just feel my bedding. Aren't you going to do something about the tent?'
'There's nothing to do. That African safari cloth isn't waterproof until it's wet. It's only leaking badly over your bongon because you allowed the bongon to touch the tent, and that always makes a tent leak.' Harry lay philosophically back on his cot.
'Well, it's leaking over your bongon now,' I said with satisfaction.
'Cripes! So it is.' His bongon was pulled towards the centre of the tent with rapidity.
'It may be an African safari tent to you, Harry, but it's only an irritation to me,' I said, putting up my blue umbrella.
'Look out with that umbrella, if you must put it up. Don't poke it into the tent or you'll start another leak.'
'It will keep me and the pillow dry, anyway,' I said, squatting hopefully under it on the cot. 'What became of that big tent we used to take with us?'
'That old piece of brown sailcloth? That never was a tent. It was just the sail off the lipa-lipa.'
'Well, it kept the rain out anyway.
I wish this tent had never left Africa. The water is pouring in under the beds now. It must be coming down from that slope behind the tent. What's that under your bed, Harry? It looks like the Leica! '
'Cripes! I thought I put that back in the bongon!' Harry rescued the Leica, and tenderly wiped it dry with his sarong. 'Put it in your bed, Old Thing
—that seems to be the driest place.'
I took it to bed with me. The rain was blowing in from both ends of the tent. I had rolled back the ends of my mattress, and I sat like Noah in his Ark in the waters of the flood, except that Noah may not have had a blue umbrella. I tied a sarong about my head to keep my hair dry, and placed bath towels over the bedding to absorb the top moisture. The rain came through the tent cloth in a mist and dripped off the edges of the umbrella.
I dozed that way in a cramped position all night. When Harry called me at five o'clock the next morning the rain was still pouring. He had been up at regular intervals in the night to point his flashlight at the rising river. I had had chills and fever all night, had lost my voice from the dampness, and was in the stage in which I washed I had never come.
Tactfully, Harry didn't ask me how I felt, or try to be cheerful, but just poured three large cups of boiling coffee for me, and got my dry clothes out of the bongon. Kind words, coffee, and dry socks did wonders, and by the time we were in the boats and going up the river, with the detestable safari tent packed out of sight, I felt better. The first sunlight fell on the river by eight-thirty, and it was such a lovely warmth when it came through my jersey that I felt like the coming to life of a cold clay statue.
We made rapid progress up the river, as the water had risen enough to give clearance to some of the rapids. We hoped to reach the pengkalan, or landing place for the jungle carry-over, that night. There we would leave our boats and start on foot over the watershed. Early in the morning we had asked the Orang Tua if he thought that we could reach the pengkalan by five o'clock in the evening, and he had said yes. By noon, with a dark sky ahead of us, Harry consulted him again.
'You say that we can reach the carrying place tonight, Old Man?'
'Of a certainty, Tuan, we can reach it. It is but two hours away.'
Two hours later, with the sky more threatening, Harry resumed the conversation. 'How long now before we reach the carrying place? '
'It is but two hours away, Tuan.'
'So you told us two hours ago.'
'Then probably it is only an hour away, Tuan.'
An hour later we return to the conversation. 'How long now before we reach the carrying place, Old Man?'
Old Man studies the scenery more carefully and says, 'It is perhaps three hours away now, Tuan.'
It becomes obvious that we are getting nowhere by measuring in hours. 'Do you think that we can reach there by dark to-night, Old Man?'
Old Man looks at the sky, which is black, at the river, which is rising, at Harry, who is scowling, at the moderately possible camp site which we are passing, and says diplomatically, 'Perhaps we could reach there, Tuan, but then again probably we could not reach there, Tuan.'
'Have you ever been to this carrying place, Old Man?'
'Certainly, Tuan!'
'How long did it take you to get there after you left the mouth of the Tiaggau River?'
'Let me remember carefully, Tuan. We stopped for one day to visit our friends who had the longhouse near Karandulang Rapids, and there was a good harvest of padi there and much fine rice beer and we had many matters to discuss, and that took us two days. And then we went to collect gum pontianak in the jungle with another friend and that was four days, and then we met a friend who had shot two pigs and we stopped to eat them with him and that was five days, and then . . .'
'Never mind, Old Man. We camp here.'
The men got the tent up and the kajangs over the barang before the storm came. Then almost instantaneously a strong wind came up the river valley and quickly swept the storm to the east, and we felt only the tail of it. Before the dark came the rain stopped, and Arusap went hunting. He returned to camp carrying a spectacular bird with long luminous blue wattles and a pure-white, long-feathered tail. To see such beauty brought to death frightened me, and when Harry saw the bird he was furious, for Arusap had shot a Bulwer pheasant. The pheasant is very rare, it is a difficult bird to hunt, it is difficult to get a license to shoot one, it is protected by all of the game laws, and Harry is the Game Warden. Poor Arusap!
When Harry quieted down enough to ask him why he had shot it Arusap answered, 'I like it. My people think it is very fine. My people wear its feathers in the hair. Its flesh is sweet. I shot it for the Tuan's dinner.'
Item, one Bulwer pheasant, stew for the Game Warden's dinner.
The Muruts, who had all gathered around to admire the pheasant, listened then to what was probably their first exposition of the game laws of the country. They all said, 'Good, Tuan,' and 'Yes, Tuan,' but they continued to stroke and gloat over the white tail, and to look admiringly at Arusap.
Shortly after that Winki dropped into camp, and Harry was diverted from the pheasant by a discussion between himself and Winki as to the best jungle footwear. Winki and Harry represented two different schools of thought, and each believed implicitly in the superiority of his own school.
Winki always wore heavy leather hobnailed boots in the jungle with heavy wool socks which were a cuff length higher than the boot. But when traveling in his boat, or when in camp, or anywhere except in heavy jungle, Winki went barefoot. This, he said, was the ONLY' WAY. Winki had bites, sores, and ulcers on his legs.
Harry wore nothing heavier than rubber-soled canvas sneakers, and he usually went barelegged. He said that wet leather boots made his toes crack, He never went barefoot, however, because of the danger of hookworm. His way, Harry said, was the ONLY WAY. He also had bites, sores, and ulcers.
I didn't belong to any school of thought because I was never convinced of the correct ness of the shoes I wore; whatever shoe I was wearing always seemed to be the wrong shoe at the time. Leather boots gave support and protection to my feet, but were burdensome. When they filled with mud and water I found it unbearable to drag them along on the end of my tired legs. So I wore rubbersoled canvas tennis shoes like Harry's, not because they were good but because anything else was worse. At least they were lightweight, they didn't hold the water, and they could be removed and the mud emptied from them quickly. They gave no protection to the feet and were slippery on wet rocks, and in an emergency I would take mine off and walk barefoot on the rocks, but as my feet were tender I could not do this for long. About the camp and when traveling in boats I went barefoot like Winki. I also had bites, sores, and ulcers on my legs.
One disadvantage of wearing shorts was the long expanse of leg which was left bare and resulted in scratches in the jungle, bruises on the rocks, bites from sand flies, wasps, mosquitoes, leeches, and finally a number of patches of rengas poisoning from rubbing against the leaves of the rengas tree.
There was a beautiful place in the river to bathe, but it was just in front of Winki's camp, so we put up the 'Look the other way' signal. That's my pink bath towel, and all the men look away from and stay away from my pink bath towel. There was a fallen tree wedged into the bank and reaching over the river and touching the water. The river was so swift that we couldn't keep our feet but had to hang on to the fallen tree with both hands, while our bodies drifted out behind us just below the surface of the water. To float in this swift-running water was like moving fast, without making any effort, and our bodies when we looked back at them were like figures on a Lalique vase. And then we got out of the water and stood on the bank to rub the soap on, and got back in the water again, and this time when our bodies swept out behind us soapsuds floated down the river, and the very last of the jungle mud washed off, and I forgot that I was never going to take a jungle trip again.
By six-thirty we heard thunder down the river, and called for our food early, hoping to get through eating before the rain. We didn't. We ate corned beef, rice, and tinned carrots, sitting in the drizzle which always came through our tent.
The storm rolled up the canyon and broke on the hills surrounding us. Between cannon balls of thunder came the crash of dead trees falling in the jungle. With each flash of lightning the Muruts whooped an answer, and the whoops were exuberant and welcoming. I had just opened my bedding roll and was sitting on it in my nightgown with the blue cotton umbrella over me thinking how cozy I was, and what a lot of merit there is in corned beef, when Winki suddenly appeared in the tent. The rain dripped from his tow hair and slid off his sunburned bald spot, and his sarong was hauled high between his legs for action.
' I move my baranghe said excitedly. 'I measure the river. It rises three feet. I send everything to the upper riverbank.'
I could see his Dyaks, then, filing by in a flashlight procession, carrying his things. The lightning played on them like floodlights. They hurried, not quite running because of their loads. I watched them to the river's edge. Each one went in with a shout, nearly disappeared, struggled, and finally shoved head and shoulders up above the rushing water. They formed a chain, half sw imming, half pulling each other, singing and chanting, and got the barang across.
Winki stayed in our tent for a minute looking worrited. Harry called for Arusap and started immediately to send our barang up to the river bluff. Then he placed a pole in the mud by the edge of the river to mark its rise in order to gauge whether or not we must leave camp ourselves. I sat under my umbrella and didn't believe any of it.
Harry went to the water to look at his marking stick, and it was out of sight under water. 'We must go,' he said.
Still I sat under the umbrella. It wasn't until I heard Puasa's voice shouting in the distance, and the Muruts singing the words with him in Malay so that it almost made a chant, that I knew I was in a flood. They sang:—
'The Mem go first, the Mein go first, the river runs strong,
The Mem go first, quickly bring the Mem,
The river comes fast, the river comes strong,
If you wait the Mem cannot cross,
Quickly bring the Mem, the flood comes;
The flood, the flood, flood, flood, Hood, flood, flood, flood!'
The dazzling illumination of the lightning photographed the picture of Puasa and the Muruts racing down towards us from the upper bluff of the river where he and the kalis had wisely made their own camp for the night. With the increasing violence of the storm they had known that we were in danger, and had now decided that the time had come to rescue us.
But I didn't want to be rescued. I didn't really believe that the flood would reach us, and I thought that the Puasaled demonstration was like a lifesaving drill with a women-and-children-first theme, fine in theory but a great nuisance' in practice. So I sat quietly in my nightgown on my bed under my umbrella.
Then suddenly the men were all in the tent and pulling the canvas off the ridgepole, and everybody was shouting at me, and Harry was getting annoyed, and he grabbed the blue umbrella away from me and shouted, 'Don't be a damn fool, or we'll all get drowned!'
And I shouted back, 'Well, I'd rather drown than die of a cold from being rescued in my nightgown!' But I was half out of my nightgown by then. I rushed so quickly into my jersey, shorts, and shoes that there was hardly a naked moment. There were so many people around me participating in things that I had the feeling that I was lost to sight. I got into my leather coat then and even remembered to find the belt, and crammed any loose possessions I saw into my bongon. Before I went to sleep every night I always put everything I could inside the bongon for a quick morning start, so there wasn't much out except my nose atomizer, which the Muruts had always thought was very amusing. I pushed the plugs in the ends of that so the medicine wouldn't run out, and packed it into the box, shoved it into the bongon, and put the lid on tight so it wouldn't leak. Then I took my flashlight, and we were ready. Meanwhile the tent had disappeared from over me, and the river was filling the front lent holes.
What had been a beach to be walked upon half an hour before was now a river separating us from the upper bluff. Harry held on to me and I waded in, still mentally pooh-poohing things. But waist-deep the water poured against me, and I almost lost my feet, and entirely lost my cynical attitude towards the flood. I tried with all my strength to stand against the river and could not do so, and Harry braced himself and held me, and together we could stand, but we could not move. Puasa was reaching towards me from the end of a chain of men extending from the upper bluff of the river. When they saw that I could not move against the flood, slowly Puasa and the chain forced towards us through the waters. Then Puasa reached out for me, and made me another human link in the chain, and then the chain, with Puasa shouting constant directions of'Quick, quick,' and 'Careful, careful,' pulled slowly back towards the bluff again, and I was rescued.
I stood on the top of the bluff and looked back at the line of men behind me, half swimming, half wading. Our barang was passing over their heads from man to man. Unggib's head was just above water, and he still had his pipe in his mouth. They all looked happily excited, and at intervals they whooped and shouted.
Before the tent could be put up the men had to cut down trees and clear a place on the upper bluff. Now by flashlight in a storm they had to do what had been too difficult to do in the afternoon. I stood on the bluff under my blue umbrella and tried to think of some way that I could help, but every idea I had was thought of first by somebody else. Arusap was trying to light a fire and I held the umbrella over it, and then I kneeled down and blew on it But if I kneeled down to blow, Arusap had to hold the umbrella over it. And as Arusap is a stronger blower than I, I finally resigned myself to being nothing but the blue-umbrella holder, while the rest of them rebuilt the camp.
Now that I was seeing Arusap every day with his own people, I realized what a long way he had come from them. In twelve years spent away from his Village he had covered centuries. He had learned to think with his mind as well as to feel with his body. At home I was often annoyed with Arusap for his failure to achieve the standard of efficiency of Chinese servants. But now that I saw him with his own people I saw that he had in his individual lifetime encompassed a diuturnity of learning.
He has accepted electric refrigerators, flying machines, warships, and submarines. He has accepted both the white man 's laws and his idiosyncrasies. He has accepted a belief in the importance of the unessential possessions with which we surround ourselves. And although he has accepted the white man's own high estimate of the white man, I do not think that he has accepted the white man's underestimate of the brown man.
At times Arusap can think through the mind of a white man. Yet he can still return to his own people, and be one of them. He has taken on none of the superficial veneer which among white men separates the small-town man who makes good in the big city from the small-town man who stays at home. He has a simplicity of mind which makes both white and brown ways seem right to him. I frequently recognize that he is being tolerant with Harry and me, that he knows better himself, but humors us in our whims.
I told Harry that I thought our Aluruts were as amiable and pleasant persons as I had met in a long time and that. I couldn't imagine being afraid of them. Harry then said that as recently as 1925 these pleasant persons were conducting regular, systematic head-hunting and warfare as a part of their daily life.
Then I remembered the day when Harry had shot a wild pig on the riverbank as we went by in our boat. The pig went limp and his head flopped forward and his eyes rolled upwards, but he wasn't dead. With a joyful yell Apul jumped out of the boat and carved off the pig's legs, and sliced pieces off him while he was still squealing. Harry called to him to kill the pig quickly, and then Apul did so because Harry told him to, but not because he saw any reason in stopping the pig's suffering.
Our Murats all showed an uncomplaining acceptance of pain in their own physical ailments. They had an unimaginative indifference to suffering in others, and a stoic acceptance of suffering for thomselves.
When they thought in terms of themselves they gave death violently and accepted violent death, for that was their way. But when they thought of white men they did not think in terms of themselves. They thought of us as strange persons whose strange lives were ruled by strange standards. If these were the standards we liked they were willing for us to have them, and they accepted any incidental benefits which came to them by way of these standards. This was t he mood in which they went to Harry to ask for medicine for their ailments. We had the medicine and they were willing to be benefited by it, but if the medicine had not been there, and we had not been there, they would not have complained
—they would just have accepted.
They did not judge me by their own standards, and say, 'Here is a woman who does nothing. She doesn't harvest the rice, or work in the fields for her husband, or nurse his children, or build his fire. Why should we do her bidding? Let her get out and work for herself.'
Instead they thought, 'Here is a strange person from a strange world, and we will make no attempt to understand her. Perhaps her husband may find some use for her in that strange world from which they come. Meanwhile, we Muruts are good-hearted men, after our fashion, and they seem good-hearted persons after their fashion, so let us all be amiable together.'
As long as we remain people of our own world they do not force their world on us. But if we try to invade their world we must accept life at their terms, for they will be thinking of us then in terms of themselves.
IX
We arrived at last at the carrying place which marked the end of the trip across the watershed. We found Winki's camp there. He said that he had had a bad trip the day before with rain all day and many leeches. We got our camp up just before the rain came. The river was flooding, which made our nightly bath exciting, Harry sent the Orang Tua on ahead of us to Kuala Biyudun to arrange for more native boats to take us down the river.
Meanwhile Winki came over to visit us and we started rather nervously to count our provisions. We found that we were both going short on rice for the kulis, and on personal supplies, as the trip was taking longer than we had expected. We had thought we might get rice as we traveled along, but the country proved to be so sparsely inhabited that we had not been able to do so. We told the Orang Tua to try to bring us rice from the village at Kuala Biyudun, but we were not sure that he could do so, as the natives there ferment much of their rice into rice beer.
By five o'clock, when the Orang Tua had not returned, we decided that he must be drunk on rice beer in the house of a friend, and would not return that night. Harry, Winki, and I were condoling with each other, and drinking a peg of gin, when we heard welcoming shouts from Apul and Nulang. Thus announced, the Orang Tua wove his way into the firelight, and proudly reported that he had obtained the loan of three small boats for us to go down the river in. The Old Man had the polished mahogany glow, both physical and spiritual, which comes from the recent meeting of a Murut with a quantity of rice beer.
The realization that we should be traveling down the river the next day reminded us of the fact that our Tengara Muruts from the Kalabakang River would leave us to return to their own village as soon as we acquired the new boatmen on Biyudun River. So when the Orang Tua sobered up later that night Harry made the bill out to him for the wages of each of his 'children.' The account covered the work of each man and the use of each boat, and extra wages to cover the time of the return journey back to the village after the men had left us. The Old Man and his children stood around us and looked wise, while Harry struggled with accounts and worked it out down to the last penny, which was not easy, as every few minutes Somebody remembered a new item which changed the account. Harry made the chit out to the Old Man to be paid by the District Officer at Tawau. The Orang Tua could not read what the chit said, but everybody seemed perfectly satisfied.
Upon inspection by flashlight the last thing before going to bed we found that the three perahus were very small and very leaky. We decided that in order to lighten the load we would send the luggage by boat, and go on foot ourselves through the jungle again. My heart sank, for I had hoped that my jungle walking was finished for the time.
And then I find, in looking back over my journal of that trip, some brief entries as follows, each one marking a day:—
Make camp three o'clock. Pouring rain since noon. Too tired to write.
Make camp one o'clock. Pouring rain all day. Dead tired.
Make camp two o'clock. Pouring rain and electrical storm. Too tired to write.
Well, if our matrimony can stand this trip it can stand anything!
Make camp two o'clock. No RAIN !
What a day! Too tired to write and too wet to care!
How I HATE JUNGLE TRAVEL!
That was a day which started badly but ended well. We were still traveling through the jungle, but sending our luggage on by boat. I was becoming very tired and each day seemed worse than the one before. I felt an almost physical nausea when I fell in the jungle mud. This day I could not even keep Harry in sight. It seemed equally impossible either for him to slow down or for me to speed up. Again and again I lost sight of the person ahead of me, and fought the trees, and missed the blazes. When we followed down a river bed I always missed the blazes which marked the place where the trace left the water and ascended the riverbank again. Once I rolled down the mudbank and ended with my face in the mud. The kulis fell back in a discerning way, and pretended that it was a clever acrobatic stunt. But I was past pretense, and the tears rolled down my cheeks from anger with myself.
By noontime we had reached the carrying place on the Nepagan River and I was cheered by the thought that the rapids of the Kwamut River would soon be before us. We said good-bye then to most of our Tongara Munits, as they were to return through the jungle to their own village. I felt sentimental about it, but no one else did. Apul and Melisang stayed with us, as they were going down to Kuala Kwamut.
We were met at the river by three very small boats sent up by the headman from Lunud Village. Those perahvs were inadequate to our luggage or personnel, not to mention that of Winki, who had not yet arrived at the carrying place. We saw that we should again have to relay ourselves downstream. As we were the first to arrive we took the best two boats and left the poorest one for Winki. We put what we could of ourselves in the two perahus, leaving part of our luggage to bo returned for the next day. When loaded, the boats sank almost to water level, so that they not only leaked, but shipped water consistently. Although Harry and I bailed all the time we could not keep up with the water. After each rapid we had to draw to the riverbank and empty the boat, but in contrast to the grind of jungle travel this inconvenience was not lung. Actually shooting the rapids was lovely, a wonderful feeling of painless precariousness, whereas travel in the jungle was a painful certainty. We had four new boatmen who were I ban Dyaks from Lunud, and were covered with kurap.
At three o'clock we arrived at the place where the Nepagan River empties into the Kwamut River. It seemed to me that the Kwamut was faster in its upper waters than any Borneo river I had seen before, and distinctly more forbidding. On the other rivers we had been people of some importance, but on the Kwamut we had neither weight nor substance. As we sped down the river Harry was watching for a place to camp, and we saw a pleasant high bank with a Murut house standing on it. With difficulty the men paddled our small boats out of the current of the river and over to the bank. As we waded through the mud and climbed up the riverbank, we saw that the house, which stood high on stilts above the mud, was deserted. 'Here,' said Harry, 'is Ye Old Family Tavern for the Keiths.' And we climbed the notched log which served as a ladder and entered the house.
That was one of the nicest houses in my life. From the moment we entered it, it was friendly, and everyone who entered the house adopted its congenial manners. Arusap, who was excited at being in a house of his own people again, said that it must have belonged to the chief of the village.
'But why did he leave it?' I asked.
'The roof has fallen in, Mem.'
'But that is easy to fix,' I suggested. 'We can even patch it up ourselves before tonight.'
'It is taboo to these Muruts,' Arusap answered, 'to repair their houses. When a house falls apart it is fate that the owner should move.'
'Those little packages hanging from the roof, Arusap, what are they?'
'I do not know, Mem, and it is taboo to touch possessions left hanging thus, because the owner may intend to return for them.'
'Is it taboo for us to stay in the house? '
'No, if a man has no house of his own then it is good that he should use the house of his friend.'
The floor of the house was eight feet above the ground, and made of narrow strips of split bamboo laid over crossbeams. As the bamboo was rotten with age we took care to step where the planks supported it. We balanced the legs of our camp beds on these plank supports, and getting in and out of the beds without tipping them off the (dank was a feat of equipoise. The middle of the bark roof had fallen in and a largeleafed vine grew over the outside of the house and down through the roof. Sitting inside the house we could pick the leaves from the vine, and these Arusap sometimes cooked for a vegetable.
There had been bark partitions in the house to divide it into cubicles, but these were only remnants now. I asked Arusap to describe the uses of the various rooms to me, and following his description I drew a floor plan to illustrate the text of his story, showing little Murut figures at their daily occupations. Each time I thought that I was finished he would introduce a new member into the family. Finally after I had reproduced two young Murut men having a cockfight in the bachelors' hall, the house was so full that I had to stop. Arusap looked over my drawing of the household then, and he was disappointed, because he said that the cocks looked like hens.
The house stood in what had once been a pleasant garden. There were bananas, green pineapples, sweet potatoes, tapioca root, sayor manis (a form of sweet greens), and six-foot keladi. Arusap knew how best to cook these things. He washed them carefully, soaked them, and arranged the leaves according to shape and size, and our vegetables before they were cooked were as ornamental as the flowers in a bowl. He introduced us to the delicate flavor of green pineapple fried with rice, as a vegetable. The first two days we had an abundance of green stuff and everybody came in with his hands full. And then we had to go farther and farther from the house, until finally we had eaten our way through the cycle of the garden, from ripe to green, and were back to tins of Army Rations again.
The area of the whole house was about as large as that of our living room and dining room in Sandakan. Staying in this house for four days were Arusap, Puasa, Unggib, Kadir, three Dyak boatmen, Harry, and myself, but never once did anybody seem to be in anybody else's way. There was a long box filled with earth in one end of the room that was the kitchen, and in this box the men made the fires for cooking. As we all ate at different hours there was always a pot simmering in the kitchen.
That corner of the house which Arusap had described as the married quarters we allocated to be our bathroom. We hung a palm-leaf mat and a bath towel over a rope to make a wall. We used an empty gasoline tin for a bathtub and an empty fruit tin for a dipper. As the floor of the house was pervious to water we just stood on the floor and poured the bath water over ourselves. Although the other seven occupants of the house were on the other side of the precarious bath towel I never felt any lack of privacy. Their desire not to intrude upon me was the greatest protection I could have had.
Usually Unggib was shy, but the night he returned from Lunud Village he was not. He brought triumphantly back with him three chickens, five gantangs of rice, a promise from the Orang Tua that he would send boats to us the following day, and a bellyful of rice beer. That bellyful of beer transformed Unggib from the simple jester into the inspired priest of his people. His mouth overflowed with proverbs and prophecies. His two expressions raced back and forth across his face without settling, his words never stopped, and when we went to sleep that night we could still hear him orating to his sleeping companions.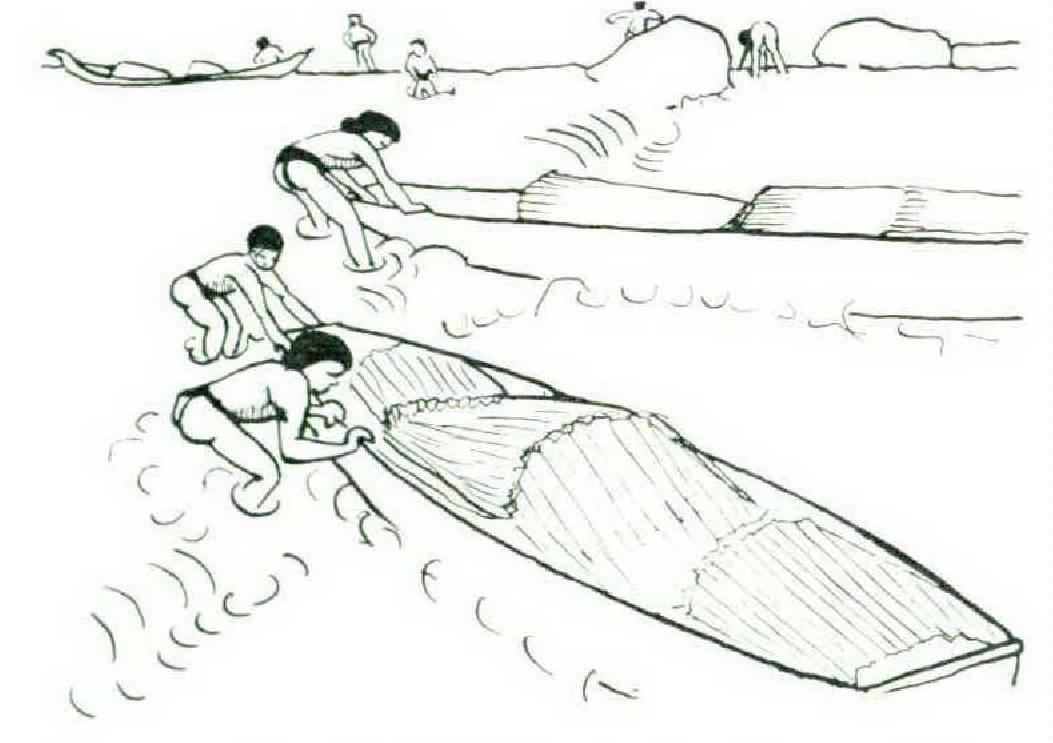 Along with the welcome news that Lunud Village would send us two perahus the next day I Unggib brought the less pleasant news that the seven boats Harry had instructed the Deputy Assistant District Officer to send to us at Kasuyun Landing had by mistake gone up the Kasuyun River. There they were waiting for us at the carrying place for the bird's-nest caves at Timbang Batu. This meant that they were from three to seven days away from us, the time depending upon the condition of the river.
When Winki visited us that evening and we talked over this news we all managed to be thoroughly upset about it. It meant that, we should have to relay our two parties in the two or three small boats that Lunud Village could furnish us, until word had reached the other boats that they should come to meet us. Harry and Winki decided that the Lunud Village chief should take one boat the next day, go after the seven waiting boats at Timbang Batu, and send them back to meet us. Meanwhile we should ourselves be traveling down the Kwamut River, if the Kwamut River was navigable.
The chickens cackled all night at the foot of our beds as a cheerful reminder of fresh food, and we awoke the next morning to find that the sun was shining, and Unggib had again become silent. By ten o'clock two small perahus and one fair-sized one arrived with the chief from Lunud Village. The chief was dressed in a dirty white tropical suit of European cut, and was wearing spectacle rims without glasses. He brought his flashlight with him, which had neither battery nor glass bulb, and these he suggested we might supply for him.
By eight o'clock that night the men and boats had not returned to us. Winki came to see us looking very worried, and we drank the last of the gin, and we all gave up hope of the return of the boats that night, and consequently of our departure the next day. It was a depressing moment, to see the last of the gin disappearing, and to face another day of waiting with the possibility of another flood and indefinite waiting again. In the depth of this despondency we heard a shout from the river, and Unggib and Arusap rushed from the house to welcome the returning boatmen, whom we received like heroes. They had taken our barang to below the large wasoi, or waterfall, and hidden it. They promised us that if the good weather held through the night we should all join the luggage at the waterfall the next day.
We had loved the Murut house — for four days; but always in our minds had been the nervous realization that, although the rest was pleasant, it was not accomplishing our trip. Now at the thought of action we all revived. We had a party meal— stewed chicken, rice, baked tapioca root, and a tin of peaches. We couldn't eat much because we were so excited, but it was a festive gesture to have both chicken and fruit, and we knew that the others would enjoy what we left of the food. Eleven of us slept in the house that night, counting the Dyak boatmen. I listened for a long time to the sound of their whispers and their bare feet patting on the bamboo floor.
We had been traveling in jungle for two days while Harry inspected possible forest areas. All that day had been a nightmare, but we were in camp at last. I had peeled off my wet clothes, but Harry's still stuck to him like skin. I was sitting on the edge of the damp camp bed and rubbing alcohol on my bare legs. ' I wish this leech bite would stop bleeding,' I said; 'I can't put on my nightgown because if I do I'll get blood on it and then I'll have to wash it, and I can't wash it because I can't get. it dry in this rain even over a campfire, and anyway I've already burned up two nightgowns over campfires.'
'Your leech bite will never clot unless you stop pulling those ropes of dried blood away from it.'
'I know, but I hate seeing the dried blood on my leg.' I gently picked at the long red creeper, trying to detach the rope without reopening the bite.
'Did you get the leech that did it ?'
'No. I was sitting here on the bed with my leech-control precautions temporarily relaxed, and the bastard came up the leg of the bed and went up my shorts. He sucked full and fell off before I noticed him. I expect to have leeches in the jungle, but it's pretty thick to have them come and get into bed with me.'
Harry's stockings were matted with blood as he peeled them off, and the leech holes were clustered about his ankles. 'Here's one at work now. Ho, George, here's where you get yours!' He lit a match and held it to the leech, which let go in the flame, popped at the end, and belched blood.
'The sand flies are awful to-night. I bate them more than the leeches,' I mourned.
'I sometimes wonder why you come on these trips,' Harry said. ' I go because it's my job, but what's the sense of your coming when you're not comfortable; '
'But I don't want to be just comfortable all my life! '
'Oh? What do you want?'
I stopped picking at the leech bite, and thought. In my mind I saw a shelf of women's fact's that all wore the same expression. The bodies that, went with the faces wore soft rubber corsets, and the minds that went with the bodies had sagging muscles.
'I guess I'm afraid of too easy living. That's part of it.'
'Oh?'
The 'oh' didn't urge confidences.
I wanted to say: 'Can't you see that I admire you, and want to see the things that you see, and do the things that you tell me about? And can't you see that this country is only good for people who give to it, as well as take from it ? I wanted to say: 'I don't want to be a parasite on the country; I want to be a living part of the country. I want to talk the language, and know the natives, and laugh with their jokes, and smile with their joys, and sigh for their troubles as you do. I want to come down its rivers and go through its jungles. I want the mud, and the rain, and the leeches, and the discomforts, and everything that this trip is . . . except sometimes my body doesn't do it very well.'
And I wanted to say: ' But even if my body doesn't do it well, I will beat it in the end with my spirit. Only please, please don't hate me when my body stumbles, and whines, and complains, because it's doing the best that it can.'
That was what I wanted to say. But people don't say things like that. Devoted husbands don't hate their wives. Decently reticent people don't talk about their spirits. And proper-minded persons are uncomfortable when confronted with such confessions.
'Oh? What do you want?' came Harry's question.
'I don't know, but I guess that spirits aren't as reliable as guts, Harry, and you've got guts.'
'Tra — la la la — lala,' he hummed, but the hum was an amiable one.
I returned to rubbing my sore legs while I held the Devotional. Every night while disinfecting my biles I held a catechism of Body and Spirit. This night there were no beating of wings and triumphant cries. Spirit's wings were drooping and wet.
Must let me crawl quickly into bed with Body,' she begged.
'This morning you were brave enough! ' I said. 'Your wings were dry and they fluttered. And Body had nice dry shoes and a dry jersey to put on. This morning you said you would not ask to stop and rest all day. Not if it killed you!'
'Yes,' whined Spirit, 'but Body said, "Why kill yourself?"'
'Rubber corsets for you both,' I pronounced.
'What are you babbling about corsets for?' said Harry. 'You don't wear them.'
'I babble for the same reason that you hum.'
I basked in the warmth of his returning informality. Perhaps he was going to be fond of me again. 1 knew that I had been very aggravating on this trip, and 1 didn't blame him for being annoyed with me. But I wished that he wouldn't be, because it didn't stiffen my backbone any.
When il rained at night and the tent leaked it was no worse for me than for him. But I put up my umbrella, and shifted my cot, and huddled, and looked dejected, while he lay serenely quiet and read a book. When it rained all day and the perahu leaked, I was obviously wet, and chilled, and miserable, but he always smiled.
Everything in the jungle bit me until my skin was raw, and I couldn't sleep at night for the scratching, and I said so. He was covered with leech bites and inflamed scratches, but he always slept as soundly as a crocodile on a sunny bank.
I stumbled and fell often while walking in the jungle, and when I dragged myself up coated with mud, I thought he looked at me with silent disgust. At such times I hated his resilient step and his untiredness.
These days I walked just in front of the carrying kulis. As long as I kept ahead of the kulis I knew I was moving as fast as the camp could move. But this wasn't thrilling and proud the way racing along far ahead of the kuli line with Harry was. But I had ceased being thrilling and proud when he began to be mortified by me.
We didn't talk together so much now when we came into camp. He hummed to himself in a controlled manner while in the tent, and then went back with the men and laughed and joked with them in Malay and Murut. I could hear their soft tones and their laughs, and I felt closed out. I must not go back with the men because they would be bathing and eating and making themselves comfortable in the ways they could not do when a woman was about.
A kuli came up with a sore foot and asked for medicine; he had driven a stake through his foot between two toes. The boy was uncomplaining and laughed about the accident, and he trusted Harry to make it quite right. Harry cleaned the hole and soaked it in disinfectant.
The boy sat on the ground fomenting his foot in his rice bowl. With great amusement he called to our attention the absence of one toe from the foot, a toe which had been lost years before in the overthrust of his chopping knife. I thought that such an accident to myself would have been no laughing matter. But with the natives, catastrophe held amusement, and it was only polite for us to share his amusement.
I looked at Harry and thought, I wish you would look at me like that — with approval and admiration. But then, I couldn't do that run a stake through my toes and laugh about it, and then sit at your feet and look at you with worship because you put Lysol solution on it.
Harry repacked the medicine box and found that my eyewash bottle had leaked again. It was always doing this. At first I had fell humble about it, but now I got mad about it. It seemed always to be in Harry's way. I almost threw' it away now in a temper. Then I corked up the leaky bottle again. Damn it! To hell with his fussy old bandages that he says are getting wet !
Arusap brought us an extravagant meal. There was the brown native rice with a nutty flavor, and a sauce pot full of stew made from Harry's barking deer, with just enough curry in the gravy to make it exciting. There were long, roasted tapioca roots, crisp and brown outside from the fire. These I liked to eat with butter, breaking them up with my fingers and pretending they were hot French rolls.
'There is no meat as sweet as barking deer,' Harry pronounced happily to Arusap.
'Yes, Tuan,'said Arusap approvingly. 'My people prize it also.'
I ate with excitement. I was ravenously hungry every night. We thought it was wasted time to have a meal in 1 he middle of the day, so we ate nothing from the time of the pot of boiling coffee at 5 A.M. until late afternoon after camp was up. So I ate deer stew now until I almost hurt, and when I finished I was already looking forward to the next night's meal.
It's the high spot, I thought. I used to think it was the drink of gin that was the high spot. But it isn't. It's the food when you're hungry. No, maybe it's the hot bath when you're cold. . . . No, I think it's just being able to lie down inside the mosquito net and quit pretending to he lion-hearted. Well, I can do that now. I craw led into my small camp bed.
Harry crawled into his small camp bed, the older camp bed, with the tippy legs, and the thinner mattress, and lesswarm blankets, and the singed pillow, and the second-bests of everything, because he had given me all the bests. The mosquito net hung about both beds. One side of the net was still wet from last night, but that was the side he took.
'Are you warm now ? You can have one of my blankets,' he said.
'No, I'm fine.'
'Did your leech bites stop bleeding?'
'Not yet. Perhaps I'm a hæmophile.'
'Did you hurt yourself when you fell in that stream today?'
'Considering it was me falling, I did it quite painlessly.'
'How's the old body? Ready to push on tomorrow?'
' Yah-lah! '
'Tomorrow will not be very hard. We did our last day in the jungle today.'
'I don't really mind jungle travel, Harry.'
'Good old thing!'
So he had stayed fond of me! Even when I was mortifying, and aggravating, and puny, and dejected!
Decently reticent people don't say tilings, but I was sure now that they felt them!
I lay under the blankets and listened, while the rain and the trees talked to themselves, and the river paid no attention to any of us.
I looked towards my sleeping husband.
I reached out and touched the hardness of his bones, and the touch pleased me. That strength was mine also. And then I saw that it was part of being husband and wife that, in the same way his strength was mine, my weakness was his, and hurt him. If I had been somebody else's wife he might have thought I was pretty good in the jungle.
Tomorrow I'll not even look dejected, I whispered. And when I get home I will be just a woman again for a while. I ll go up on the shelf of women's faces, and adjust my expression, and wear soft rubber corsets, and be just a wife. And I'll use rouge and lipstick again, and that softens the shape of my face, and makes my eyes look nice. I'll wear my prettiest dresses. At home he shall think well of me, because as a woman I'm all right. But as a man, or an adventurer, or a pioneer, or a wilderness breaker, I'm just a washout. . . .
But anyway, I did it. Nothing can take from me what there is in me of this trip. Better, maybe, than rubber corsets. . . .
X
By six o'clock that night we began to plan what we would have to eat. We would have toast. If there was a shop at Pintasan, and if the shop had bread and a tin of butter, we would have toast, hot thin buttered toast, lots and lots of it. And we would have sardines, not one tin but at least three, and the sardines would be fried until the grease was out of them and they were very crisp and their tails curled up. And we would have three tins because we were only four days away from Sandakan now, and we no longer needed to hoard our tins, and we did actually have the sardines, so at least we were sure of them. And we would also have tea not thick body-building cocoa, but dainty, ladylike, litter fingerextending tea. We would, if the shop at Pintasan had tea. And we would not use' the celluloid cups which had absorbed the flavors of tool It wash and antiseptic and coffee and cocoa into their very fibre. We would take turns drinking front the one porcelain cup, which would make the tea so much hotter and cleaner and more luxurious, for this was to be a meal for gourmets and epicures. If Pintasan had a shop.
'Do you think we shall get there by eight, Harry ? '
'By nine at least, the way the men are paddling. They're digging right in.' Harry stuck his head damply out from under the kajang-roof shelter of our boat. 'When shall we reach Pintasan, Nulang? '
'Eight tanjongs farther, Tuan.'
A tanjong is the answer to both ' How far?' and 'How long:' As a native measures distance on a Borneo river, a tanjong is a hairpin bend, and one tanjong is from the end of the hairpin around the bend to the other end. The answer 'Eight tanjongs,' to Harry's question, might mean any length of t ime according to the size of the hairpin.
The rain poured off the unprotected backs of the men in front of me. They had unwound their headcloths and draped them over their heads to shed the water, and the rain ran down the long folds of cloth like water off a roof.
'Are you very cold?' Harry asked me.
'No, just some. My central zone is radiating nicely, but the ends get cold. But never mind, we'll have a hot bath when we arrive at the launch at Pintasan, and a dry bunk to sleep in. I'm going to sleep in the cabin just for the feeling of four walls again.'
'If this rain continues,' Harry said, 'I think I'll sleep in the cabin too. A dry bed for a change won't hurt my feelings. I scrooged back under the kajang roof of the perahu, and felt grateful that the Penglima who had lent us his boat had had a wife who liked to travel in the protected luxury of a floating harem.
We had arrived at Kuala Kwamut early the afternoon before. It was the first sophisticated port we had touched since leaving Tawau four weeks previously, as Kuala Kwamut was frequently visited by District Officers and Government medical dressers.
The Penglima, or native chief, who had heard we were coming, met our perahus with much ceremony. He proved to be a very punctilious person, who was, compared to us, exquisitely dressed. I had looked especially disreputable, as I was sunburned to a crisp and plastered with dried mud from river wading. The Penglima, who represented Government at Kwamut, was known as the D.A.D.0. He offered us the Government office to sleep in and we gladly put our camp beds there. This office was used as a court of justice for the district, and beside my cot stood a witness box with a chair in it, and the rail of the witness box was convenient to place my mirror on when I combed my hair, Before I left the office to appear in public I changed to gray flannel trousers and a clean jersey, in order to bear the white woman's burden more creditably before the crowds (fifty natives and Chinese) of Kuala Kwamut.
Winki and his men did not arrive until about six o'clock. It seemed that his boat had struck a rock and overturned in the last strip of bad water on the Kwamut. His men had managed to bring the boat and most of the barang safely to the shore, but had had to stop for some hours to dry their things on the rocks. Winki had ruined his Leica and lost a number of his pictures. I was sorry it happened to Winki, but relieved that it hadn't happened to us. A trip like this develops the instinct of self-preservation more than any other instinct.
Winki's outboard motor had arrived at Kuala Kwamut to meet him, and he told us that he would be going downriver to Pintasan in two days' time by motorboat, to meet the launch at Pintasan. As Winki had five perahus and twelve kalis to tow, and expected to hire twelve more kulis at Kuala Kwamut, he would not be able to tow us, as he had expected to do. We decided to leave in our perahus the next morning, in order to arrive at the launch at Pintasan when Winki did.
When the Penglima heard that Harry and I were continuing our travel by perahu he insisted that we should borrow his covered boat. After a good night's sleep in the courthouse we were ready to leave Kuala Kwamut at six in the morning, with the sun just showing on the river. When I saw the sun instead of the usual rain I wasn't so pleased with the borrowed perahu, for it was like Noah's Ark compared to the naked little boats we had been using. Judging from the small size of the peepholes in the wooden sides of its haremlike walls, I decided that the Penglima's wife had not cared for scenery. But it would have been ungracious not to accept the well-meant offer of a vessel obviously more impressive than our own, and Harry said that if anything happened and we failed to meet the launch, this larger perahu would be one in which we could sleep.
By the time we had our bongons in the boat it hardly looked possible for us and our four men and the five boatmen to get in the boat, too, much less to sleep in it. But packing people and luggage into boats is like packing suitcases; the longer the container is packed the more space there is.
All of Kuala Kwamut had come to the landing to inspect our luggage and ourselves, and see us off. This was my moment. I had saved, through flood and mud, one entire change of clean clothes. I had clean white shorts with ironed creases in them, a white jersey, white socks that were not mud-tinged, and one last pair of new canvas shoes. I was favorably impressed with the three-inch mifror's-eye view which I had had of myself that morning, and with my cleverness at being able to present such a good appearance at Kuala Kwamut.
The Penglima's boat was moored at the landing. When the river was low, as it was at present, the landing was at the water's edge, and there was an expanse of mud for a hundred yards between the landing and the bank of the river. A trestle of single logs which were laid end to end across this mud connected the landing with the top of the riverbank. Conscious of the temptation to fate which my clean clothes offered, and of all of Kuala Kwamut watching me, I followed Harry very carefully along this single-log track. When I reached the end of it Harry looked back at me with approval. I knew he had been thinking, 'It's just the sort of place where she would fall in.'
I arrived at the last log, and there was one loose plank which balanced between it and the landing. With intense concentration and the caution of an infant taking its first step, I stepped on the wrong end of that plank. The plank tipped like a seesaw, I dropped into the mud and sank to above my knees. All activity in Kuala Kwamut stopped. It was like a motion picture which suddenly halts, leaving the people on the screen in grotesque attitudes of suspended animation. Everybody was overwhelmed by the happening, including myself. Harry gave one horrified look back at me, and then left the woman and the crying baby and went to the front of the trolley car and pretended that they did not belong to him.
I was quite helpless until the Penglima and his number one recovered from the shock and came back to me. Then each took hold of one of my legs above the knee, and by levering on them alternately they got me out.
They say that violent emotions release poisons in the system, and I was so angry with myself that I fell physically ilk 1 was too exhausted emotionally even to swear. My legs were coated with black silt, my clean clothes were spaltered with it, my shoes had stayed in the mud, and my shins and knees were bruised. I sat on t be edge oft lie landing and washed myself as well as I could, with the assistance and advice of the Penglima and several old women of the village. Nobody laughed, and I don't think they even wanted to laugh. They were completely overawed by the downfall of the white race.
After that I had no ad vice to give upon the bestowal of luggage in the boats, or the placing of bedding rolls, or any of the little things that I had formerly thought I had such good ideas about.
Perhaps if I had approached the Kinabatangan River from the Sandnkan end, without having first come down the Kwamut, I should have felt more admiration for it. But after the majesty of the Kwamut, the lower Kinabatangan seemed hot, slow, and muddy. Although the headwaters of the Kinabatangan are as beautiful as those of the Kwamut, from Kuala Kwamut down to Sandakan the river showed the unattractive results of native shifting cultivation which has done away with the tall trees and forests.
The native farms which we occasionally passed on the riverbank wore pleasant-looking, and had vivid flower gardens, but there was no evidence of industry in the agricultural line. As we passed one of these farms Harry said, ' I shouldn't be surprised to see most of this land farmed by the Chinese in time, and it might be a good thing for the country if it were. The Chinese have energy and the natives are lazy.'
T should hate to see this land occupied by the Chinese. I don't see why the natives shouldn't be lazy if they have enough to live on without working,' I replied.
The pro and con of the native-versusChinese problem is something we discuss regularly. Whichever premise one of us begins with, the other one takes the opposite side. We are equally good with both sides of the argument, but our sympathies, with which reason has really little to do, remain with the native.
By one o'clock the rains came. The four of us crouched closer and closer in the bottom of the boat. Each one had his occupation. Harry read a collection of modern short stories and said that he didn't like them—they were all about nothing. Arusap smoked his pipe, Puasa sharpened his knife, which is an inexhaustible occupation for him, and I rubbed my bruised legs, which is an equally inexhaustible occupation for me. By six o'clock we had arrived at the sardines-and-toast-for-dinner stage, by eight o'clock we had arrived at the anything-for-dinner stage, and by nine o'clock we had arrived at Pintasan. By 9.01 o'clock we had arrived at Pintasan and discovered that the launch was not there. There was only one launch on the river and that was the Chinese freight launch belonging to Yong Soon. After inquiry they told us that our launch had come up the river to meet us three days before, on the flood waters, but when the river had started to fall the launch had been afraid to wait for us and had gone down again. I saw in my mind, then, the instant disappearance of dry bed and hot bath, and I felt sure when the launch was not there that there would be no shop at Pintasan, and if there was it would not have bread or butter or tea.
He lay in the sun on the mudbank at Lamag. He was brilliant and handsome. with a skin of a clear yellow ochre color with shining black markings, almost the colors of a sunflower. But he looked more like a griffin than a crocodile. If a flame had come out of his mouth I should have known he was a griffin.
We were in the smallest perahu and could approach the mudbank silently. While we wore doing so Harry got out the .22, and I got out the extra cartridges, and the Leica. As we neared the bank I snapped pictures, expecting at any moment that the creature would move for the water. But he paid no attention to us, and I thought for an instant that he was dead. Then his eyes blinked. I realized with the blinking of those eyes that a crocodile, even in his most innocent moment of lying on a bank, still looks malevolent and leering. Perhaps his looks influence his personality.

As Harry had only the .22 with him in the boat, we waited until we were about fifty yards from the crocodile and then Harry emptied the magazine at him. The crocodile threw up his head and beat in the mud with his tail, and tried terribly to struggle towards the water, but he could not move his centre of gravity. He was terrifying and hideous and pathetic in his dying malignant ferocity. Harry refilled and reëmptied the rifle twice down his open gasping mouth, and the crocodile must have died then, but he still didn't stop beating with his tail. Then Puasa jumped out of the boat and stabbed him in the chest, and Melisang grabbed the flaying tail and cut the tip off it for a good-luck charm. They roped the crocodile then by the jaws, and tied him to the boat so that we could tow him behind us.
Harry's men were pleased with the crocodile incident. It vindicated the .22 rifle, which was known as the Tuan 's phit-phit-phit gun,'because it did not make as impressive a noise as Winki's big gun, or the old shotgun which Arusap used.
Just as we had sighted the crocodile on the beach we had also sighted the launch lying in midstream off Lamag Landing. In the excitement of the crocodile I had forgotten that this was the moment I had been longing for. I even forgot to be conscious of any happy last minutes of being in our small perahu. Suddenly I found myself standing on the deck of the launch and knowing that the exciting part of the trip was over. And it was already like having eaten something strange and full-flavored; while it is in your mouth you do not know whether you like it or not, but the minute it is down you know it was delicious.
I went below to bathe. There we were on the launch, and the sleeping in perahus and under sulaps and under tents and under keladi leaves was ended. A roof, four walls, and a wooden bunk were ours. The rub of paddles against the sides of boats would soon change for tlu1 thump of Diesel engines. The tip and lift and sway of perahus, the untamed coltishness of perahus, would be disciplined behind the steady and heavy pound of machinery. The roar of the rapids was a long way off, the sun on the river was hard to feel, the breeze in the face that smelled of wild cattle, and the sickish, sweetish smell of dead pig, and the strong, delicious smell of the smoke from the fire these were only words written on paper. My nostrils would be clean of them now. I went back on deck. I was clean, I was bathed, I was dry, I was comfortable. But I wanted to cry.
Perhaps I was tired. That was nine o'clock in the morning, and I lay on the deck and slept until live in the afternoon. When I woke up then I heard the putput of Winki's motorboat. I looked up the river and saw the whole Swiss Navy sweeping towards us. The Swiss flag with the white cross on the now-faded red background floated above the outboard motorboat, and Winki sat cross-legged under it. His head was wrapped in his white bandana, and his face was very thin, and he looked hard-used and heroic. Trailing behind the motorboat swung a long buffalo tail of nine perahus, towed one behind the other. There were twentyfour men in the boats, and when they saw us they flung up their paddles in greeting and shouted jubilantly. Drops flew from their paddles over their tattered clothing, over their thrown-back heads, down on their smiling faces, and over their friendly bodies. It was a fine moment, and I wished that I could have held it.
Then Winki climbed on to the launch carrying his Swiss flag. He was grinning widely and looked like the youth who bore mid snow and ice the banner with the strange device, and I wanted to sing 'U-pi-dee . . . U-pi-da . . . I -pi-deei-da!' Then Diesel engines began to throb and we were moving. Then came sunset, the heaviness of the night descending, and the soft kind tones of the men who were lying on the decks, and for me sleep, sleep, sleep.
When I awoke the next morning, my first thought was, 'Push on,' and then, 'No more need to do so; the launch does the pushing now.'
Before we left Sandakan we had sent a package of clean clothes up the river to Lamag to he delivered to us on the launch. I opened the package that morning. 'There was a pair of clean, starched, and creased culottes. After four weeks in shorts I fell as feminine in them as if I had been wearing a gardenparty gown. I hadn't used make up for four weeks. I pul on a little rouge then, and a little lipstick, and a litlle more, and I was really startled by the eflect. Dashing! Almost pretty! . . . Just,of course, if you looked quickly, and then looked away again. I swished my starched culottes. It was rather fun being a woman.
All that day everybody on the launch took it easy. We had about fifty men on board, counting Winki's twenty-four, our party of eight, and the crew of the launch. Most of them had little to do but lie on the deck and talk. Winki's men vied with our men to tell the tallest tales, while the men of the launch encouraged both sides. I listened shamelessly to their accounts of our adventures.
Winki's man said, 'Your Tuan's gun says phit-phit-phit, my Tuan's gun says pommm-pommm-pommm!'
Arusapsaid, 'Never mind! My Tuan's gun shot the crocodile!'
Puasa proudly described his fear while going through the rapids. He has made a virtue out of it. 'My heart beat my sides. I was very frightened. For twenty-eight days I was frightened. When we came to bad water I would get out and walk on the banks, over the rocks, through the jungle. I am a man of the jungle, not a man of the river.'
'Was the Mem afraid in the rapids?' This question came to Arusap.
'She was not afraid, but she was often angry,' answered Arusap. 'At first when they came to bad water the boatmen made her get out and walk on the rocks. They were afraid that if the boat would turn over the Mem would drown, because probably she could not swim, and even if she could swim probably she could not swim in such bad water, and it the Mem drowned the Tuan would be angry, and that would be bad for the boatmen. So when we came to strong rapids the boatmen said that she must walk. But when the Mem walked on the wet rocks she fell many times. That made her very angry.'
Puasa interrupted here. 'I cut sticks for her to help her, and she threw them away, and again she fell, and again she was angry.'
Arusap continued, 'So one day the boatmen took the boat to the shore for her to get out and walk while they went through the rapids. But she sat in the boat and said, "Go on! I would rather drown than break my legs crawling on wet rocks. Go on! From now on I sit in the boat. Go on!" So they called to the Tuan to come to ask her to get out of the boat. But still she said, "Go on!" And the Tuan said to the boatmen, "Never mind. You'd better go on." And we did, and after that the Mem always sat in the boat through the rapids.'
And sometimes they made a Malay nursery rhyme of it all: —
'What does the Tuan who seeks oil do ? '
'That Tuan strikes the rocks.'
'What does the Government Tuan do? '
'That Tuan looks for trees.'
'What does the Mem do?'
'The Mem follows the Tuan who looks for the trees.'
'Why does she not stay in her house in Sandakan?'
'She does not like to stay in her house in Sandakan.'
'What does she do when she follows the Tuan who looks for trees?'
'She does not do anything. Her heart desires to eat the wind. That is the way that it is.'
'Baik-lah — very good, that is the way that it is.'
'Yah-lah, very good, that is the way that it is.'
(To be concluded)
With each twelve months of the Atlantic
THREE GREAT BOOKS OF THE YEAR
RUMFORD PRESS CONCORD. N. H., U.S.A