CHAPTERS 1-5
BY AGNES NEWTON KEITH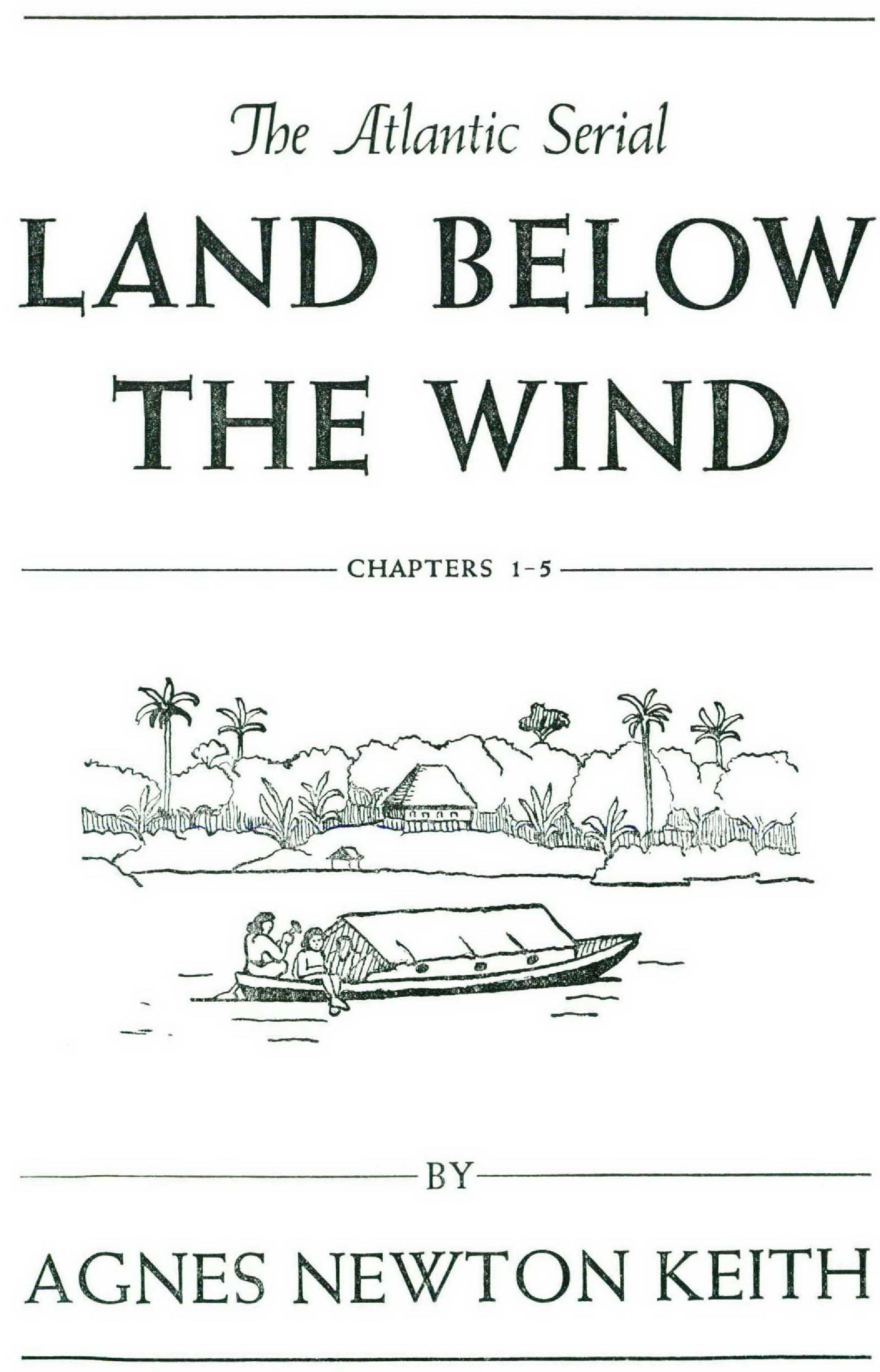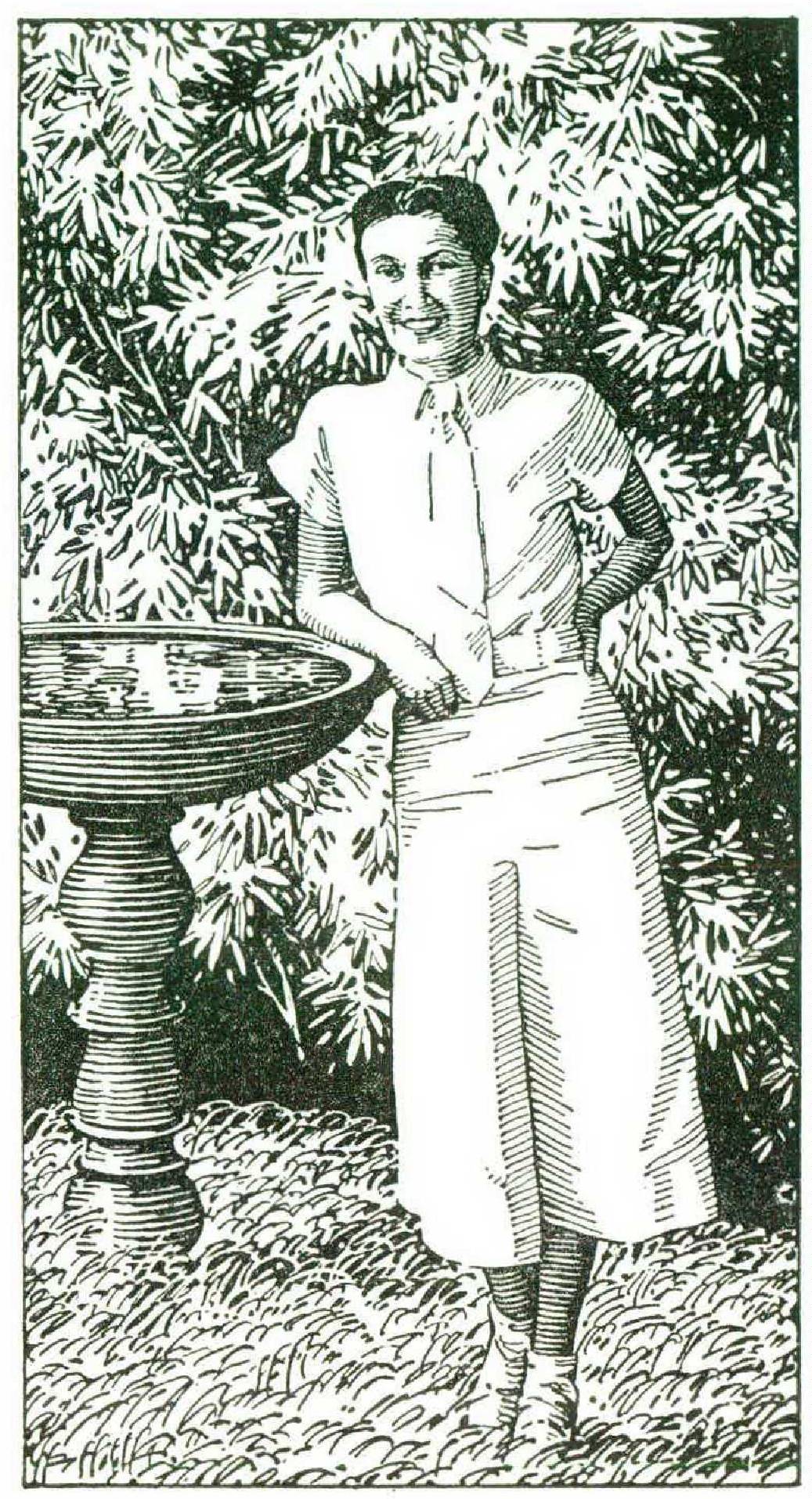 Here is the personal record of an American girl who married an English official and went with him to the farthest outpost of the British Empire. Nothing in her upbringing in California, no course she had taken at the University, could have prepared Agnes Keith for the life she was to lead in Borneo. Her husband is one of the seventy Englishmen who direct the destinies of some 270,000 tribesmen in this, the third largest island in the world. Conservator of Forests, Director of Agriculture, Honorary Curator of the State Museum, Game Warden, and collector of strange beasts for distant scientists, Mr. Keith spends much of each year in the jungle and far up the waterways of North Borneo. And with him goes his wife. Such expeditions call for fortitude, everlasting good humor, and a power of observation such as few women possess. In her words, as in her pen-and-ink sketches, Agnes Keith makes clear her devotion to a land of tropical heat and hurricanes, a land whose animals and forests and head-hunters are legendary.
Her book is a long one, and, in fairness to the author and the reader, we must add that the printed volume will contain as much fresh material as the chapters we have been fortunate enough to serialize in the magazine.

LAND BELOW THE WIND
BY AGNES NEWTON KEITH
I
FOR four years now I have drunk the toast to 'Absent Ones' with people whose hearts turn back to a different land from mine, whose thoughts are of another country, whose children play on a different soil. We have spoken of 'home,' and home to them was England.
In my heart these people are mine, as I hope in their hearts I am theirs. But when we open our mouths to speak, as I do, or when they do not open their mouths to speak, as they do not, there is no mistaking who comes from the United States of America. As an Englishman's wife I think too much has been written on the question of Understanding the English. When my husband removes his pipe I can understand him almost perfectly, and when he expresses his views on publicity his meaning is all too clear. If for the moment, then, I call the attention of strangers to the Conservator of Forests and Director of Agriculture of North Borneo, it is because my only business in Borneo is as his wife.
North Borneo is a British Protectorate which is administered by a Governor and Civil Service appointed by the British North Borneo (Chartered) Company, and it is the sole remaining country in the British Empire to be administered by a chartered company.
Here my husband stopped me for discussion. I said North Borneo was the only country in the world administered by a chartered company, and he said No!—and why did Americans always want to say that a thing was the only one in the world? And I said it was for the same reason that English people said a thing was the only one in the British Empire, the world and the B. E. being of comparable size in our respective minds. After which we turned quickly to latitudes.
The state of North Borneo lies between four degrees and seven degrees north of the equator, and covers the northern tip of the island of Borneo, which is the third largest island in the world. It has a population of about 270,000 and its Civil Service numbers, all told, some seventy persons.
The length of time required for a person to come from the United States to Borneo is approximately the same as for my mail. When we came out in 1934 we left Southern California on September 27 and arrived at Sandakan, North Borneo, on November 10, forty-four days later, or just over six weeks.
The climate of North Borneo is warm, as day in and day out the temperature averages about 88°, and the humidity is very high. It is not a distressing climate, but it makes one too content to sit and do nothing. If you go to bed tired at night you wake up so in the morning. There is never anything in the air to make you breathe deeply and throw out your chest and say briskly, 'How invigorating !' One may say, 'How delicious, how fragrant' — but one sits down and relaxes even while saying it.
Our home is in Sandakan, the capital of North Borneo, which is situated on the east coast and is the largest town in the state. It has a population of approximately 14,000 persons. About seventy-five of them are Europeans, 10,000 are Chinese, and the rest are natives of Borneo, natives of Netherlands East Indies, Philippine Islanders, Malays, Indians, and Japanese. The Chinese predominate in the coast towns, but are seldom found in the interior.
The natives of North Borneo are a brown-skinned people of less than average height whose features show a Mongoloid influence. That is as far as I can safely go, for students of ethnology tear each other to pieces and retreat on crutches after a discussion of the identity and origin of the earliest North Borneo inhabitants. The natives have no written language and therefore no written records, and their only history is tradition and folk tale. Mr. Owen Rutter, in his volume British North Borneo, roughly divides the native pagan peoples of North Borneo into Dusuns and Muruts, the Dusuns being people of the plains and the coasts, and the Muruts people of the hills and the interior. The Dusuns are generally speaking a farming people, while the Muruts are a hunting, and formerly head-hunting, people. These are the aborigines of North Borneo, and both Muruts and Dusuns are believed to have come from a common stock.
My husband has been in Government service here in North Borneo for fourteen years. As well as being Conservator of Forests and Director of Agriculture he is Honorary Curator of the State Museum, Game Warden, collector of strange beasts for distant scientists, patron of pauperized natives, and the repository for unwanted animals. He collects old Chinese porcelain, writes papers on scientific subjects, is recording a Murut vocabulary, speaks Malay well enough to be distressed by mine, and cites Oxford Dictionary English to the confusion of my American.
Before we were married he told me that he hated cats, letters of introduction, leftovers, people who cut down trees, coeducational schools, bombastic phrases, and women in shorts.
I like cats and leftovers, and I think that a good bombastic phrase and a woman in shorts can go a long way at the proper time.
Since I have been married to an Englishman I have come to believe that the profane words 'all Englishmen are . . .' and 'all Americans are . . .' usually precede a libel, and the greater the truth the greater the libel. But one thing is true: an Englishman's wife is his wife, and I like that possessive pronoun. When I left the United States it was difficult to tell whose wife anyone was. As my husband's wife I have tried to cultivate an appreciation for the beauty of plain facts. But I have been in Borneo only four years as against his fourteen years, and my statements sometimes shatter him. When he looks at me dispassionately and says 'Look up the facts!' I feel as chilled as a fish on ice, but I do look up the facts.
Without my husband my story of Borneo might have been more what people think Borneo ought to be, and less what it is. But when I see a shudder shaking him I quickly reduce my adjectives and multiply my qualifying clauses. In fact we have almost collaborated — I to enthuse, and he to refuse.
And so I acknowledge with gratitude his criticism, which, while it distresses me, does me good.
Like most Californians I wasn't born in that state, but was carried in at an early age. I grew up in Southern California, in fact in Hollywood, and this may be one of the reasons why the actions of the natives of other continents have neither surprised nor alarmed me. I spent four years at the University of California at Berkeley during the flapper decade. There I acquired a certain amount of scholastic knowledge in spite of the fact that I belonged to various organizations whose social activities required attention. It was collegiate in those days to be sophisticated, and to sigh aloud that life was futile, even while we whispered to ourselves that life was thrilling. I spent four very happy years there, sighing and thrilling; such happy years that I came to believe that happiness was a common state of affairs, and not, as I now know, an occasion for comment.
After I received a university degree, I decided to be a newspaper woman. For days I sat perseveringly in the outer office of the San Francisco Examiner until I finally wore down the resistance of the editor and was hired for one month's trial. There was at that time in the city room a very beautiful young blonde woman who was nicknamed Kissy-wissy. She ran the Beautiful Baby contests and the Thought Symposiums, and irate parents and persons who thought their characters had been maligned were turned over to her to be placated because she was fluffy and sweet. Her body was moulded in beautiful curves, and mine was not, and we were known in the city room as 'Spareribs and Gravy.'
At that time Annie Laurie Bonfils — or Winifred Black, as she was known in the East — was a significant voice on the Hearst newspapers, especially the San Francisco Examiner. She said to me once, 'Kissy-wissy is too beautiful for the newspaper business. But I think you'll do very well, Agnes.' I did not mind the inference about my beauty at all, I was so intoxicated at the suggestion that I should make a newspaper woman.
That year I made out my first incometax report, and was perhaps the only person in the United States who was really grateful to do so. And then, just as I felt the world at my fingertips, I became involved in a violent scene which nearly destroyed me. At noontime one spring day I stepped out of the revolving doors of the Examiner Building in San Francisco to be met by a temporarily crazed drug addict. He smashed my skull in with a two-foot length of iron pipe which he wielded like a baseball bat, and then continued to beat my head until he was literally pulled away by the traffic policeman. He didn't kill me, but during some of the ensuing years I almost wished that he had.
After the case had been dealt with in the courts and the man had been committed to prison, I left San Francisco to go south to my home in Venice, and recuperate. It was not a triumphant return. As a result of the injuries to my head I suffered a partial loss of memory. Then as I began gradually to remember again I had constantly to fight the belief that I was losing my mind. Owing to the severity of the skull fractures I had lost all power to concentrate and my thoughts shifted about like a kaleidoscope, and trying to grasp an idea was like trying to pick up a piece of wet soap. During those years when my mind was distracted and my nerves were broken I learned that happiness is never to be taken for granted.
I must have had a naturally thick skull and a strong constitution, because in time I began to recuperate, and my father sent me to Europe with my brother. The plan was that I should go to the French Riviera to rest and grow strong, while my brother, a civil engineer, engaged in a more exciting project of skipping about southern Europe while he tried to persuade the Albanian Government to build a railroad.
By the time we returned to America I was beginning to have trouble with my eyes, a trouble which in diagnosis proved to be a result of the old frontal skull fracture. For two years then I lost the use of my eyes, and was unable to read even a page in a magazine. With my temporary handicap, which the doctors told me would only be remedied with a gradual healing of my nerves and a return to strength and health, I could do none of the things I wished to do. Only the wisdom of my family and the tolerance of my friends made that fruitless period endurable.
Those were the early years of the depression. The one stable feature that I knew in that fast-moving, high-pressure America was my home, of which my father and mother were the body and soul. I have never met any other persons like them. They proved to me what love can make of human beings. Against the dignity and beauty of their relationship the marital dissatisfaction of my generation was pathetic. Their love was the same, yesterday, today, and forever. But my generation was not only married — it was divorced and remarried to each other's husbands. That was 1934.
Then a young Englishman, a friend of my brother's who had been for a time at school in the United States, and whom I had first met when I was eight years old, came to visit us on his leave from Government service in British North Borneo. Several times in the past we had almost married each other, but each time events which I thought at the time were more important had occurred to prevent us. But as soon as we met again in 1934 we both knew that nothing more important than marrying each other could occur to us.
We decided to be married immediately. We could and would see no obstacles. We procured a license, waited the necessary three days, and were married.
I had three months then to prepare for Borneo. I first found a doctor who agreed to perform an operation on my head which might prove a final cure for my eyes, and for the injuries from which I still suffered. I believed, because I had made up my mind to believe, that it would cure me. It did.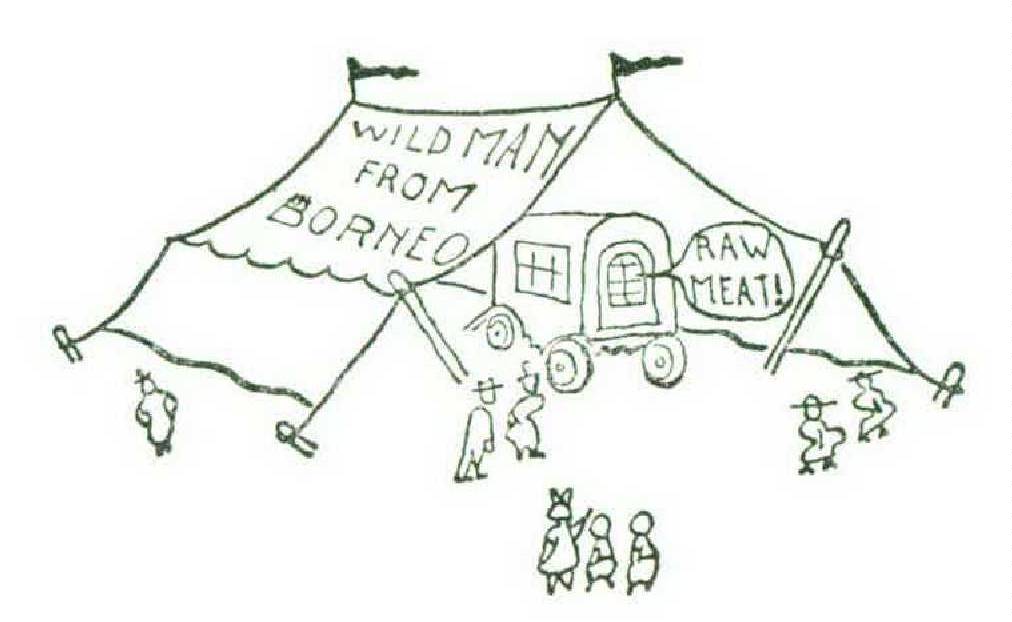 The life, as my husband described it to me, of the British inhabitants of North Borneo seemed to have little to do with the Wild Man from Borneo as advertised by Barnum and Bailey. I decided that I should need more dinner gowns than safari clothes, for if there were only twenty European women in Sandakan, where we were to be stationed, what those women wore must be noticeable.
'What do the Englishwomen wear in Sandakan?' I asked Harry.
'I never noticed. Frilly things, I suppose.'
'I don't like frilly things on myself.'
'Oh, women always wear frills. And take several garden-party dresses and big hats for Government House teas.'
'I look ridiculous in big hats.'
'Well, everybody in Sandakan wears them. Take things like that dress you have on now. I like that.'
'This isn't a dress — it's a negligee.'
I ended by taking everything I had, as no European dresses may be purchased in Borneo. In the four and a quarter years since, I have made and remade, copied and created, on the basis of that wardrobe. I am far from the mode of Vogue and Harper's Bazaar, but here in Borneo where we dress from leave to leave we have standards of our own which enable us to look with an understanding eye upon rejuvenated clothing.
Before we left the United States I discovered that most people didn't know much about Borneo. The advice of my friends was confusing. Although no one knew about Borneo, everyone knew about The Tropics. I was advised not to take silk underwear as it would rot in the tropics. This I did not find to be so. I was advised to take many pairs of silk stockings, as I could not purchase them in the Far East. Later I discovered that American silk stockings may be purchased more cheaply in Hong Kong than in the United States. When sold in the United States the minimum price is protected, whereas in Hong Kong the article is unprotected and also duty-free. However, I took a bathtubful of stockings with me, soaking them all overnight in a tub of cold water before leaving. I still have them, as I have never worn stockings in Borneo.
Friends advised me to take beach costumes and shorts, saying that in the tropics I should live in such things. But I discovered the answer to that was — not in conservative Sandakan!
I was advised to dispose of jerseys and knit goods. However, in the wet season I still huddle gratefully into a jersey, and when traveling in the mountains of Borneo I have sometimes slept in all of my clothes under five blankets, and shivered still, so penetrating is the perpetual dampness.
My mother advised me to take her electric heating pad. I humored her and took it, not really expecting to find a use for it. But that pad has since visited all about Sandakan comforting people who have sciatica or rheumatism, ailments which are aggravated by the dampness here.
I was advised to have inoculations against smallpox, typhoid, cholera and plague, and anything else anyone could think of. It was better, people said, to Get It All Over With Now. But when I consulted the list of things that my friends thought I should get over with before I left the United States, the program left time for nothing but recuperation. I disregarded advice and sailed without inoculations. I do not advise others to do so.
One friend suggested that I should have my appendix out before venturing in the wilds, as a prophylactic measure. Never having had any unpleasant relations with it, I hesitated. My husband saved me by saying that I must keep my appendix, as an attack of appendicitis in Borneo meant a trip to Hong Kong for the operation, a pleasant break in a four-year Borneo tour. He had had his own appendix removed in Hong Kong several years before, and had enjoyed the holiday. However, my chance for a Ilong Kong appendectomy has since vanished, as North Borneo has advanced in medical efficiency.
The problem of how I should occupy myself during the long indolent hours of being a white woman in the tropics was worried about by my friends. They advised me to take fancy work, embroidery, knitting, anagrams, puzzles, art materials, learn hooked-rug making, and study French, I should like to do all of those things, and perhaps when I am home on leave I may have time for them, but my life in Borneo has so far been too busy.
The last night before we left the United States I stayed up all night packing. At intervals my husband awoke to ask me why I did not come to bed. The answer was in our twenty-three pieces of luggage. Not until the shore line was out of sight the next day and the agony of saying good-bye was over did I look about me on the ship. The other passengers apparently saw nothing extraordinary in us; they did not know that there stood before them the phenomenon of two perfectly happy people. It was surprising to me that they didn't point at me and whisper, 'She's been dead for years, but look at her now!'
I turned to my husband and said, 'I will never forget this moment. I am doing what I would rather be doing than anything else in the world, with the person I want to do it with. Some people may live a lifetime and never have a perfect moment like this.'
'I hope you still feel that way after four years in Borneo,' my husband said soberly.
That was almost five years ago, and I still feel that way today.
II
If we are to believe the poets, the Empire Builders of today, when compared to those of Victoria's day, are only as men among gods; but the gods are gone and the men still live.
If I were a British-born wife I should not write the following paragraphs. Not because, although the quality of despotism is inferred to be common among British husbands, I had been silenced or intimidated by Harry. But I should keep silent for a better reason, one for which Britons do keep silent: I should keep silent because I should wish neither to condemn nor to compliment my own family to strangers. But I am an American, and I was a stranger in North Borneo. These Britons are mine by acquisition, and I have the right to plead for or boast of them.
There are now about seventy men in the North Borneo Civil Service. In Kipling's time they would have been called Empire Builders. Mud, blood, guts, and boots they had then, with a white man's burden on every page, an old tradition in every line, and an old school tie to mark the place where the body lay. Men with a magnificent gesture then, a magnificent gesture which will not come again until another Kipling finds the words to make of our husbands heroes, where to-day we make of our heroes husbands. Empire Builders then; 'men in the Stud Book' we call them now. (Look him up in the Stud Book! Name, age, qualifications, years of service, salary, allowance, and class.)
For four years now we have studied each other's idiosyncrasies. We know each other well, and I speak truly when I say that the honesty and integrity of purpose of this group of men are beyond question, their ability and manner of life are above average, and their kindness and hospitality are such as I shall remember all my life.
I think if after four years of a similarly close scrutiny of those who administer government in the United States the same conclusion is arrived at, then no subject of the United States will feel himself any more ill-governed, oppressed, or abused than do the subjects of North Borneo.
Around-the-world journalists often pass through Sandakan. They seldom stop, because the matter may be dealt with in passing through. There are only seventeen miles of paved road and this may be driven around in three quarters of an hour, with a passing glimpse of the golf club, Paupers' Home, the wireless station, and the agricultural station. At one end of the road is the jungle, and a more sensational description of the jungle may be given by those who do not travel in it. At the other end of the road is the Sandakan Club, and bachelors may be located there who will tell good elephant stories, both in size and in subject. The local color, and the social characteristics of an Outpost of the Empire, may be picked up on the run by studying the characters of Somerset Maugham or Kipling, according to which public one writes for. A week-end is enough for the whole problem.
At a safe distance, and not, one imagines, expecting to be seen in Borneo again, the aut hor sends his book to press. One chapter of compendious paragraphs covers the complete canvas of life in North Borneo, both wild and administrative. The authors have not been reticent in printing what they think about us. We, perhaps, are at a disadvantage inasmuch as our thoughts about the authors have so often been unprintable.
The unusual form of the government of North Borneo always excites these galloping geographers. The fact that we are administered by the appointees of a chartered company, under the protection of the Crown, would seem to suggest to them that the subjects of North Borneo punch time clocks like store clerks, only without benefit of trade-union hours. The shareholders in the Chartered Company are usually pictured as a group of coupon clippers bartering the souls and bodies of wild men for a 2 per cent dividend.
One writer has described North Borneo as the place 'Where There Ain't No Ten Commandments,' and attributed this blasphemous state of affairs to the 'iniquitous character of the administration of the country.' This author devoted two chapters and considerable emotion to describing the 'shocking' condition of North Borneo. A few months after publication this book was withdrawn from circulation by its publishers, with an apology to the British North Borneo Company for the 'grossly libelous and untrue statements' therein.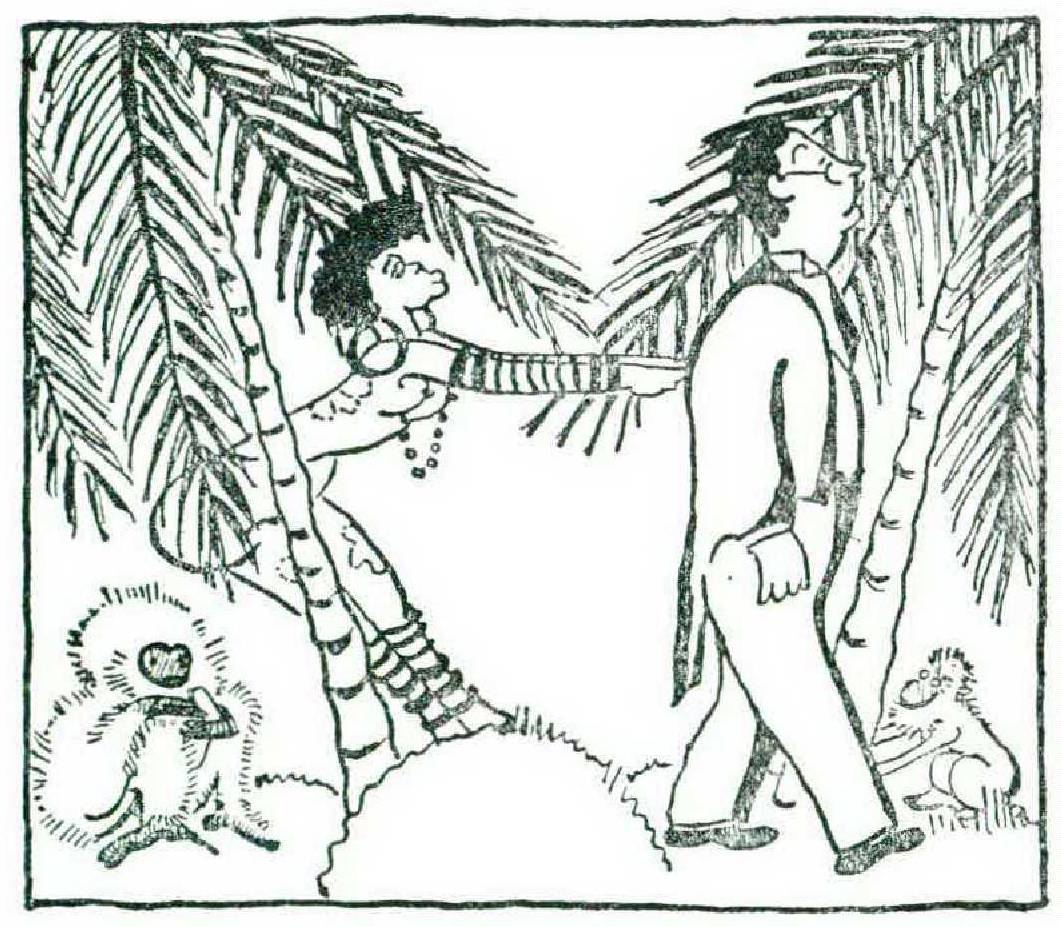 Less septic but no less remarkable are the experiences of our big-game hunters. One intrepid hunter recalls having shot a rhinoceros in the front garden of the Residency at Tawau. He explains that the Resident had sent, for him to do this, but as he was unlicensed for shooting rhino the Resident confiscated the carcass. This so enraged the author that he almost shot the Resident, perhaps would have done so had he been licensed for shooting Residents. People in North Borneo remember this doughty visitant well, and rumor has it that other details of his visit are in the official files, but no one has yet been found to recall the shooting of the rhino.
Another writer describes an elephant hunt in which a slim, steel-nerved young Englishman fearlessly pursued a rogue elephant and shot him through the car and brain. The young Englishman assures me that he shot the elephant through the tail, because the elephant was running away. Possibly the author became confused by some similarity of appearance between the ends of the elephant.
In these bold stories of the Borneo wilds, it seems to me that the adventurers have passed over the most melodramatic scene of all, and the one which needs no exaggeration. Here is a jungle background almost as wild as our chroniclers picture it. Here are the aborigines, as fierce or as mild as they seem. Here is the tangled green of the jungle creepers which have constantly to be beaten back, and the wild which awaits to engulf again the clearing we call Sandakan. And here, living in astounding peace and security, following a social pattern as formal, as pleasant, as gently inflexible, and as uniform as the design on a set of teacups, arc the European households of Sandakan.
A few miles out elephants may be seen upon the road, and orangutans and gibbon apes are one jump away in the jungle, and crocodiles are caught off the customs wharf, but at four o'clock in the afternoon we are drinking our afternoon tea.
Then, just as the rural pattern falls indelibly on us, and background and scene seem unalterably at odds, Sandakan is translated into terms of Graustark and played to an operetta score. There are medals and uniforms, and guns and saluting and feathers in hats, singing and dancing and native chiefs. There are Headmen and Orang Tuas, and Suluks and Bajaus and Dusuns and Muruts, and Hajis and Imams, and Chinese and Filipinos and Japanese; there are the pagan tribes of Borneo and the ladies of Sandakan, drinking tea and eating cakes together on Government House lawn to celebrate the crowning of a British King. And there in that scene too fantastic for fiction breathes the real heart of a nonracial empire that mankind could, if he would, build today.
When I first arrived in Borneo we were assigned to the same small, wellpreserved, pleasant, but very warm bungalow in which my husband had lived as a bachelor. It was a house which was popular with bachelors because of its secluded position behind tall bamboo hedges. This secluded position, however, made for warmth, and the bungalow was never popular with wives who had to spend the hot hours of the day in it.
Harry recklessly advised me to do what I wished with the house. I did. Partitions fell, hangings went into closets, weapons went into corners, and fringed lamp shades disappeared. I liked it, he exhibited admirable selfcontrol, and apparently we were about to settle dowrn. Just then we discovered that a Government house was about to be vacated on the hill. I had always wanted to live on a hilltop.
The people who were leaving the house invited us up to inspect it. When we sat in that house and looked out through its open doors the harbor of Sandakan, with the dark mangrove swamps in the distance, became a background to our entire world. I knew then that was where I wanted to live.
When the possibility of our moving was discussed everyone reminded me of the violence of the wind on that hilltop, of the age and enfeebled condition of the house there, of the superior condition of paint and polish in the house which we still occupied, of the hillside garden without topsoil where flowers would not flourish, and of the difficulty of coercing a vigorous enough stream of water up the hill to gush through a water closet.
I worried about the last. Only people who have lived both with and without plumbing can appreciate it. Finally I decided that I would not allow the lack of a w. c. to keep me off the finest hilltop in Borneo.
First my husband had to be persuaded. He said he wanted me to have what I wanted to have, but . . . the house we were already in had just been painted, the partitions had just been taken out for us, the plumbing had just been put in, the garden was in bloom, the trees were coming on to flower, and it was the house that he had always found large enough, cool enough, and breezy enough as a bachelor. . . .
But women are very tenacious when it comes to the matter of moving. In time my husband was persuaded, the Government department which assigns houses was persuaded, our friends who thought we were foolish were persuaded.
Then moving day came, and went, but not with the case which the words imply. It was a grievous revelation of the hidden frailties of our household goods. When we took the bed apart it disintegrated into predigested termite food, the cupboards had no backs when moved from the wall, and the tables that had crossed their legs at ease in corners toppled over. The whole was a sad exposure of clay feet. Only the Martin Johnsons' refrigerator, standing cold and efficient, a monument to man's conquest over decay, was all it had seemed to be. I was proud indeed to walk up the road behind it, while ten Chinese kuli women trundled it up the hill.
When the furniture had limped into the new house and lain down in new corners, when the dog had found a new divan, and the wah wahs1 new trees, and the orangutan the new godown, I stood looking down at Sandakan Bay from the hilltop which now was ours.
The harbor of Sandakan lay below me. It was morning, and the water of the bay was motionless and flat and chromo blue as on a picture postal card. The roofs of the Chinese town were very red in the sun, and the tree-covered cliffs of the coast very green, and in the distance the mass of the jungle was a deeper, duller green. The coconut trees, where they fringed the shore, were drawn in with meticulous attention to detail, and the mushroom islands which skimmed on the water were so small and perfect it seemed that I could capture one and send it home with 'Greetings from Borneo.'
Native boats took the wind and leaned with it, their colored sails abandoning themselves to it; launches cut pale scallops on the flat blue surface, and Chinese junks rocked restlessly. Only the Hong Kong steamer was dignified and discreet. Ponderously she lay in mid-harbor, with her only finery a crimson stomacher about her funnels.
And thus we came to live in a house with an amiable disposition but negligent manners. Every winter it grows shabbier and shabbier, and more resigned to be so. When the northeast monsoon blows from the Sulu Sea it comes to us over five miles of jungle, sweeping up the damp breath of the trees and hurling it on us till the skirts of the house whirl upwards, and she braces herself and screams. And when the southwest monsoon drives the black clouds up from the bay and the wet sheets fold over us, there's not a garment the poor house wears that isn't soaked in the rain.
But when the sun comes, how she steams and sweats, how her pores open while she stretches and relaxes, and then grows brisk again. Then I think with fright of the well-disciplined houses at home, with double doors and wellfitting windows, efficient radiators and tiled bathrooms, houses that are despots to be catered for. No cracks in them for the wind and the sun, no carved niche for a favorite goddess, no bare beams for lizards to sleep on, and no place in the rafters for Georgie the musang.
I have recently read the statement of a journalist in the tropics that he could not bear the sight of another bougainvillea against a blue sky. I have sometimes felt that way about journalists but never about bougainvilleas. All day in the sun the sides of our house, the doors and window's, lie open to let the beauty in, to embrace and absorb the fecund warmth, the deep strong scent, and the lazy, lovely languor.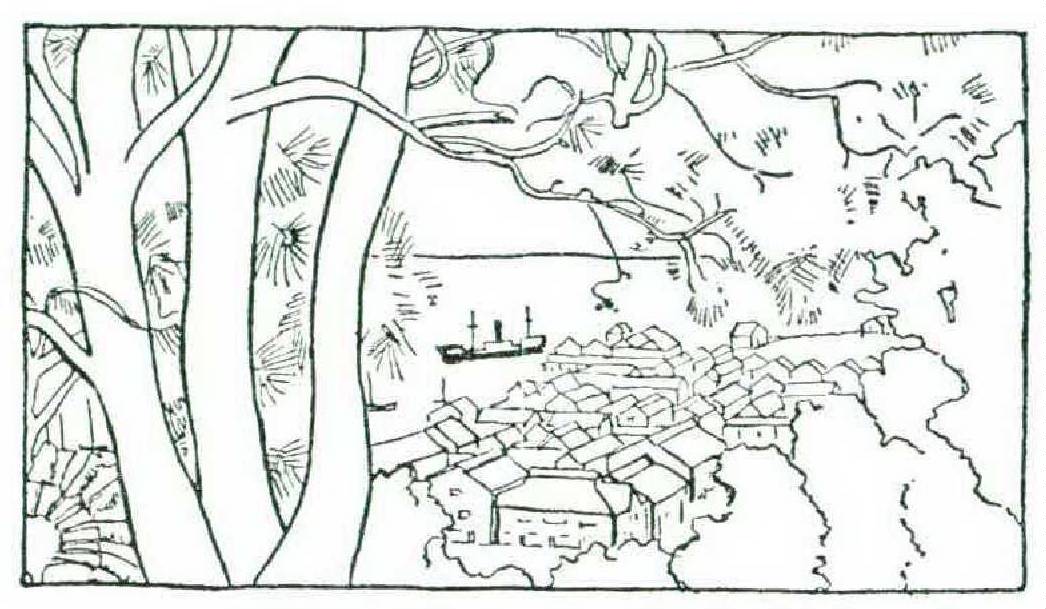 Royal Sulu sarongs hang at our doors, chrome yellow, cerise, and purple. They blow out into the color of the garden, and suck it in again with them in a deep exciting breath — yellow grapes of the Cassia fistula, cerise and copper of bougainvillea, lipstick lips of the African tulip, crimson petals of flame-of-theforest, and the stealthy scents of frangipani, chempaka, kenanga tree, and sundal malam. The outdoors is our only adornment, the only one that can stand against the insects, the sun, and the rain.
Once we had a very nice woven-grass Shanghai mat. It was so large it covered the living-room floor of chipped cement, and so new it wasn't paid for. The white ants came up through a crack in the floor and ate their way across the mat from corner to corner. Between the hours of 8 P.M. and 8 A.M. they ate, digested, and excreted the mat. I remembered then the words of Government House Nanny, who had just come out from England: 'The whole of Borneo is nothing but an anthill!'
But when the rain comes . . .
Barefoot activity runs through the house, while mats, tables, lamps, and chairs are hauled away from leaking doors and windows and unshut terable verandahs. Everything that will close is closed, but it is impossible to control the ventilation space between the top of the wall and the roof, and the rain blows in.
Charcoal braziers are lit in the bedroom to dry the bedding, and glow under the bed itself. My shoes in the wardrobe are wet, my clothes on their hangers wilt, the coughdrops melt in the corked bottle, and the envelopes in the desk all seal themselves.
Sandakan Harbor has vanished, and our house drifts alone in a cloud of rain. We have one place to go for comfort. Over a burning brazier we sit in the one dry room where we keep our books.
'Aren't we having more rain than usual this season?'
'No. We always have rain from September to March.'
'But perhaps we are having a record rainfall this year.' I always feel sure of this each rainy season.
'Don't be ridiculous. Our annual rainfall is only one hundred inches. Besides, we need rain for the garden.'
'I should think with a rainfall of a hundred inches we could live in a house that wouldn't leak.'
'Any house that is built to be cool is bound to leak.'
This book room is built inside an extra upstairs bedroom, with sealed walls and screened doors and windows. Cockroaches, mud wasps, silver fish, and bookworms are outlaws here. After the lights are lit in the evenings it is the only place where flying ants, beetles, mosquitoes, and cicadas do not make fun of you.
There is mental energy in this room, discharged and accumulated from the past, which seems to exhilarate you when you enter it. Not only is it a good place to work in, but it is a good place to stop while the bath water runs, or when dressing for dinner or waiting for breakfast, for there is always something unfinished to be gone on with there.
The bedroom is the next place of importance. Like a ship beached by a high tide, our bed stands in the middle of our bedroom floor. All the other pieces of furniture have washed away from it to the outer edges of the room, where they will not intercept any breeze. We made our bed and we certainly like to lie in it. Six-foot-six both ways it is, made of heavy Borneo timber, and constructed after a picture we drew. For coolness' sake it has a wooden bottom and a hard mattress. I hated such beds at first, and thought that I faced four years of sleepless nights on hard beds, panting for breath in the warm air, longing for home leave, and wondering why I left America.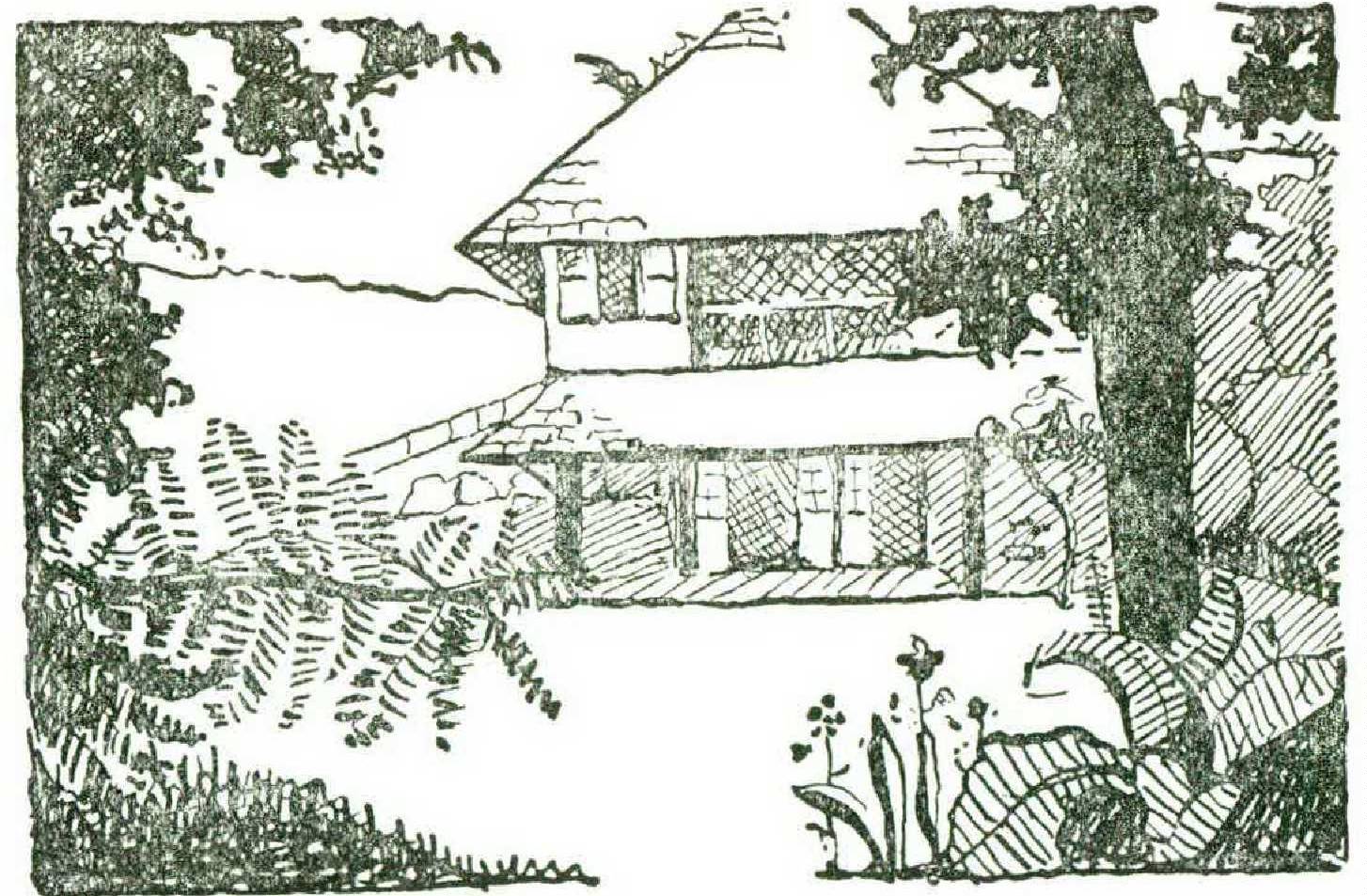 The climate is like that — unbearable at first, then forgettable, then comfortable, and before leave comes you get chilly. My grandmother always told me that I couldn't change the weather, but perhaps that was because we lived in California then, and it wasn't necessary.
However, one soon becomes accustomed to the warmth, which is not extreme for a tropical country. The worst that can be said about the climate in Sandakan is that it is never invigorating and the warm, humid air seems to promote longevity in germs. Germs never die here; they are passed about from person to person like poor relations visiting; and colds and influenza, and various fevers carried by mosquitoes, are prevalent. But nobody gets run down by motorcars, or trampled to death in crowds, or beaten up by policemen, or falls out of skyscrapers, so perhaps it evens up in the end.
When I take my bath I stand by an open window and look through the tall bamboos past the European houses on the hillside, across the jungle, to a distant blue horizon. That is the Sulu Sea. There is an island there, which looks like a dog's head swimming in the water. Its name is Tnganak, and it belongs to the Philippine Archipelago. My husband has explained to me that it has nothing to do with America, but I still look toward it with the sneaking feeling that it is a compatriot of mine.
Inside the bathroom the view is not so inspiring. There is one faucet in the side of the wall, and a small zinc tub for bathing. The accepted manner of bathing is to stand on the floor and dip water over yourself from the tub. However, I still feel there is nothing to take the place of reading in your bath, even if all you can get in is your bottom, while your legs hang over the edge. The cement floor in the bathroom slopes to an open drain in one corner, and is always wet.
I soon learned that it requires five servants to take care of my husband and myself. Our household grows and dwindles with unemployment in Sandakan, but usually it consists of two Chinese amahs; Arusap, our Murut house-boy; one Dyak-Murut small-boy; a Javanese gardener; three to a dozen semi-Siamese cats, one dog, two gibbon apes, and sometimes an orangutan; jungle animals as they come and go; and my husband and myself.
The food for all of us is prepared in the cookhouse, which stands slightly apart from our bungalow. Half the floor of the cookhouse is occupied by a cement mausoleum which functions as a woodburning stove. Here fish heads, buffalo stomach, pickling octopus, gamy wild pig, and barking-deer stew simmer in amity beside less gustful kettles which provide the food for Harry and me. A huge iron basin is always steaming with water for the baths, and two smaller kettles bubble with the drinking water. Tap water in Sandakan is safe, but as we frequently travel in districts where everything must be boiled as a precaution against dysentery, we continue to boil our water in order to establish an unbreakable habit with the servants.
I have cooked over our stove, and that is literally true, for I myself cooked more readily than the food did. I have turned omelets, and produced soufflés, and baked cakes in its oven, and they were good but I was miserable. Now I conline myself to cold desserts and advice.
The bread is what I marvel at. Made from tinned flour, raised with tinned dried yeast, kneaded by a Chinese girl who never tasted bread until she learned to make it for me, baked in an oven which a cook at home would scorn, eaten with cold-storage butter months removed from the cow which produced it, it is the best bread that I have ever eaten.
The lower compartments of the stove are used by Wimbush, the Siamese cat, for her kittens, and by Thomas, the semi-Siamese, for voluptuous living, and the back of the stove is used to ripen the mangoes and to dry shrimp paste and tins of salt and red peppers and herbs and the skulls of the animals which Harry collects.
Scrambling down the hill about fifty yards distant from the house are the backquarters. Here live our Chinese amahs and Arusap. Ah King's room is first. It is the corner room, with two windows; a wardrobe is used to close one, and shutters are nailed over the other. Ah King has a large ironing board in her room, the symbol of her trade, and a small stretcher bed. From what I know of Ah King I imagine that she sleeps on the ironing board and irons on the bed.
Ah Yin's room is the place of discarded possessions. The old floor mat with the pink flowers, the dressing table with the fancy headdress, the broken mirror, the empty ginger jars, the dogbitten sarongs, the faded cretonne curtains, the sea shells painted with the Woolworth Building, and the old wooden wardrobe that always smelled — we threw them out. Down the back stairs they were hurried, and now they crowd into Ah Yin's room. The wardrobe has ceased to smell, the ginger jars have flowers, and the Woolworth Building holds pins.
Arusap's room is the last. It will always be the abiding place of an aborigine whose people are accustomed to live in a house till the roof falls in, and then move on to another house. On the wall of Arusap's room there is a large photograph. This is a picture of Arusap, posed for in a store suit. One would not know to look at this stylish Arusap with the broad lapels and the striped tie that he is the brother of Mensaring, the Murut chief, whose naked likeness is on the picture postal cards that tourists send to the folks at home to show them wildest Borneo.
Close by Arusap's mat sleeps Usit, youngest and most useless member of the household. His eyes are glued shut and his soft mouth is just, open, as he sleeps the close, deep sleep of all small boys.
And last of all a little room connects with Arusap's room, and this is where the Muruts who visit Sandakan may stay. Six stayed with us for Coronation week.
Our furnished living quarters are supplied to us by Government and upkept by the Public Works Department. As is usual with landlords and tenants, our point of view is sometimes at variance. P.W.D. furniture in its natural state arouses uncontrollable impulses in me for surgery. Legs, fancy backs, flourishing arms, malignant growths, humps, and decorational deformities I deal with like a surgeon.
Our personal furniture is of Borneo timber made after our own design. There is something peculiarly your own about a piece of furniture which to begin with was a tree in your forest, then was a picture drawn on a sheet of paper, then was a log in a timber mill that you saw every day, then was a piece of smoothed timber that you told the Chinese workman what to do about, and now is the shining, flawless top of the long diningroom table.
The day relaxes into evening, with a warm deep breath. The grinding of an anchor chain at sea, the striking of a clock in town, the tap of wooden clogs upon the road, sound faintly. Arusap steps softly with the dinner plates, and small-boy steps precariously with the bowls, his eyes on us and not on what he carries. The tall emerald goblets sparkle on the table, the rose hibiscus floats in the celadon bowl, the candles burn like topaz eyes in the fat brass fish that hold them, the tall Malay lamps flicker behind my husband's head, and his bare feet touch mine under the table. All that is uncouth is hidden in dusk, and now in the gentle evening the glowing candles tell the truth.
Before we arrived at Sandakan Harry had told me about Arusap, the Murut boy who had lived with him for ten years. Harry warned me that Arusap might not stay after we were married, for newly arrived wives had the reputation of installing unwelcome efficiency in bachelor households, and of expecting the native boys to work diligently, which is the last thing that a native is by nature equipped to do. Native servants will only work for the masters they are fond of, and if displeased with their employers they 'resign' and return to their villages to live on their relatives.
The first face that Harry picked out for me among those of the persons standing on the customs wharf to greet us when we arrived at Sandakan was that of the friendly and smiling Arusap. He was holding in his arms a large and very old porcelain jar which he had brought down from his village as a wedding present to us.
He presented it to Harry, and inside the jar was a note written in Malay. The note said: —
GREETINGS, TUAN,
I know that the Tuan likes such ancient and valuable things as this jar, but the Mem I do not know about. It she does not like the jar, please give it back to me, because I do like the jar.
ARUSAP
I did like the jar, and it has always been kept in a place of honor.
During the years since I first saw Arusap smiling on the wharf he has resigned many times, but never with any intention of leaving us, for he soon discovered that I did not install efficiency in the household, and I did not expect him to work too diligently. Although I should like him to work diligently I am a person who accepts facts, and I have accepted the fact that Arusap is Borneo's gift to us, and that he is subsidized by ourselves to represent one pure-blood native survivor of a now vanishing Murut tribe.
When I do not know where Arusap is I can usually find him sitting quietly in the pantry smoking rank black Dusun tobacco. If he did nothing but sit and smoke, as he usually does, he would still be worth it, for Arusap is child and parent, philosopher and friend, but he is not a good housekeeper.
Ah Yin, our number-one amah, is known to us as the Pearl without Price, for among the local amahs of Borneo she is the jewel of the Orient set in the ear of the sow. Ah Yin is young, attractive-looking, scrupulously well-groomed, and she has two expressions; one is that of smiling very happily, and the other that of weeping sadly. Thus the impassive Oriental.
We first discovered her four years ago in Hong Kong when she was working for friends of my husband, and we asked her to come to Borneo with us then. She said that she would, but that, she must go first to Canton to say good-bye to her mother and father. This she did. That farewell was, we now believe, a last good-bye. The small village near Canton in which her parents lived has since been destroyed by the Japanese, and when we telegraph for news of them there is no answer.
When Ah Yin arrived at our home in Sandakan, having followed us from Hong Kong one month later, she presented me with an attractively wrapped gift. The package had been addressed for her in English by a Chinese letfer writer, and it said, 'Wedding gift for Mr. & Mrs. Keith. A happy wedding to you.' Inside was a pair of silk bloomers.
Coming down on the Hong Kong boat Ah Yin established several invaluable contacts. One was with the Chinese pantry steward, and consequently we have always been able to purchase Hong Kong vegetables and meat from the ship's larder when the boat comes in port.
Contact in the East with European women so often becomes superficial that my contact with Ah Yin fills a need in my life. I prefer to have her speak Malay, so that I may use my vocabulary, but she prefers to speak English so that she may use her vocabulary. The result is intelligible to ourselves only. But the words of our lips hide nothing, because we know what is in our hearts.
Ah Yin is very feminine, very wily, very yielding, and very forceful. She is immaculate, she gives grace to each duty, and performs every service with a craftsman's hand. There is no job in the house which she does not have better ideas about than anyone else, which she cannot perform better than anyone else if given an opportunity to, and no job in the house which she does not sternly dictate.
Far behind Ah Yin in importance comes the number-two amah, Ah King from Canton, who is known to us as Elephant Foot. When the door bangs, the stairs creak, and the house shakes, they herald the slippered approach of the Silent-footed Oriental. Ah Yin said to me once about her, 'I think Ah King not very smart; he only very good.'
Ah King left Canton two years ago in answer to a letter from her friend Ah Yin, which cited the prosperity and the full stomachs of the Borneo Chinese. Ah King may not have been very smart, but she knew enough to catch the first Hong Kong steamer for Borneo after receiving that letter. She arrived in Sandakan to occupy the position of wash amah in our household. Before Ah Yin would allow Ah King to appear before me she first, taught her to say 'Good morning, Missee' and 'Good night, Missee,' both of which Ah King obediently produced in one phrase, 'Goodmorning-Missee-good-night-Missee,' when presented to me. She learned that two years ago, and she has not learned much since.
One tiling only Ah King can do well. With her tar-black pigtail tied around her waist she squats on her haunches by the tubs, humming, littering, sniffling, belching, stealing a puff on her cigaret te, and sopping her arms in and out of the tubs till the dirtiest clothes emerge spotless. And then, standing barelegged in her underpants at the ironing board, with the loosened black pigtail spanking her bottom, she can iron perfection into them.
When Ah King is careless in the housework All Yin attacks her in such scathing Chinese that her thin form withers like seaweed on the sand. Five minutes later, wiping the tears from her eyes with her pigtail, Ah King titters with laughter as she steps on the cat, drops the thermos jug, and falls downstairs with the tea.
Ah Yin, with her quick, perceptive mind, performs the mental processes for both, banks Ah King's money for her, gives her salts and quinine, takes her to the dentist, and makes her clothes for her. And she has just now to our distress bobbed off the long black plait of hair which was Ah King's only beauty. All Yin says that Ah King spent too much time plaiting it.
There is also on our payroll small-boy Usit, the offspring of two Borneo natives. It is difficult to explain in sensible terms just why we employ Usit, or what his duties are. One duty, for instance, is to laugh very hilariously in a high, sweet baby voice, and another is to stand with his small bare feet apart and whistle fuzzily, and another is to cry and have to be comforted. I think in the first place we got Usit because we had a dog, and no one should ever own a dog without getting a small boy to go with it. This afternoon I see that Usit has affairs to attend to in Sandakan at the football field. He may return in time for tea, or possibly dinner, or — well, whenever he is free.
Outside in the garden there works Husin, a Mohammedan with two wives lurking at home. Before him was Amat with three wives, one divorced and remarried to him three times. Strong, silent men of the fertile soil, these, men of the great outdoors!
Arusap has just laid a letter on my husband's desk.
GREETINGS, TUAN,
I know the Tuan does not like to lend money to the servants, and I hope the Tuan will not be angry with me, but. I ask to borrow five dollars to send to my wife Kuta at Kampong Pau. I promised to send my wife five dollars in the seventh month, and five dollars in the eighth month, and five dollars in this month, the ninth month. I did not do so because the Mem has not yet paid the wages for the seventh month, the eighth month, and the ninth month. I hope the Tuan will not be angry with me, but I ask with many thanks if the Tuan will lend me five dollars to send my wife Kuta at Kampong Pau.
With greetings and salutes, Tuan
ARUSAP
'Agnes! Haven't you paid the servants their wages for three months?' Horrified voice of my husband.
'I must have paid them! . . . At least I suppose I paid them. I always do pay them at the end of the month when the salary check is credited. I don't actually remember paying them, but, well . . . Perhaps I didn't pay them. . . .'
I think backwards. This would explain the bank balance which I noted with smug approval the other day. I had thought it was because I had been too busy to do catalogue ordering from Singapore. My mind went back to the sixth month. Yes, I remembered paying them for June because we had just returned from a jungle trip and I remembered adding seven dollars extra to Arusap's wage for traveling allowance.
But the seventh month? A blank in my mind. What had I been doing at the end of the seventh month when I should have been paying servants? July, that was . . . OH! It was in July that I started to write!
It was in July that I started to live in the hook room surrounded by loose scraps of paper. My physical likeness came out to meals, and went for walks, and talked with people, and told Ah Yin what we wanted for dinner. But my mind remained in the book room, sniffing nervously, hopefully, disconsolately, excitedly, but persistently, among those fluttering papers.
'Arusap? '
'Mem?'
'Haven't I paid any of the servants their wages for three months?'
'That is right, Mem. Nobody has been paid gaji for three months.'
'Why didn't you tell me, Arusap? I forgot about it.'
'We saw that the Mem was busy writing her story. Never mind, Mem. It makes no difference, Mem. I only wish to borrow five dollars to send to Kuta.'
Shall we ever again be served like this?
And so we have the servant problem.
Life in the early days before I arrived in Borneo must have had a Gargantuan lustiness, or so it seems to me when I listen to the old-timers talk.
'Gone are the days when we rode to the races on buffaloes, and went out to dinner in sedan chairs,' says the Principal Medical Officer. 'It used to cost, me and my wife eight dollars to go out to dinner. We had two sedan chairs and eight kulis, four to each chair because we were so heavy.'
'And twelve courses to each dinner,' says my husband.
'I remember,' says the Captain, 'when everybody in Sandakan drank a man off when he went on leave, and he still owed chits for the drinks when he went on next leave.'
'Men went down to office at ten, and went to the Club at eleven. Some of them couldn't sign their names before ten in the morning, and they didn't know them after six in the evening.'
'What a book could be written about those days!'
Nostalgic silence. I wait hopefully.
'Most of the men were bachelors then. Ah. well, we're all domesticated now.'
How truly, I thought, may the decline of all glories be laid to women, either the presence or the absence thereof.
'Speaking of the old days, Keith, where are the Murut heads that used to hang in your living room when you were a bachelor ?'
'We keep them in the hall now.'
'How about that big rice-beer jar that used to stand on the verandah?'
'My wife put the umbrellas in it, so I loaned it to the Museum.'
'What became of your game trophies?'
'They're on the verandah now.'
'This place doesn't look the way your old bachelor house used to. That was as good as the Museum. You must have had as many native weapons on your walls as there are in the whole of Borneo now.'
'I say, why did you move from that other house? Nice, cozy little place it was.'
'My wife liked the view from this hill.'
But now that wives have found their way in it is useless to listen longer. The Gargantuan lustiness of the old days is gone.
III
Bachelors say that bringing a wife out here is not even a gamble — the chances are ten to one against success. This may be a barricade behind which the eligibles crouch to avoid the onslaughts of the women, but the barricade is built upon some truth.
The men have their jobs to do, but the wives have to make theirs for themselves. If a woman does not adjust herself to the life here, to hours of solitude, and to isolation from the modern world, there is nothing to take her mind off her own discontent, and no one to hear her complaint except her husband, who soon learns to say yes without listening. There is too little to do, and it is too easy to do it.
If a woman has children their care and responsibility are to a great extent taken over by Chinese amahs. And at the age of four or live they must, in any case, be sent home to England, as there are no European schools in North Borneo and the tropical climate is not a healthy one in which to raise a family.
There are seldom more than twenty European women here, and the only unmarried English woman resident is the Hospital Nurse Matron. The rest of us all belong in one group, So-and-Sos' Wives. Being one twentieth of the white female population, each one of us comes in for considerable comment.
As men in tropical service are not eligible to marry until after eight years of duty here, our husbands, before becoming our husbands, have had this period to observe the mistakes of So-andSos' Wives. They have had leisure and opportunity to observe the indiscreet, irrational, injudicious, and obtuse actions which So-and-Sos' Wives always commit. Our husbands, being kind men, are anxious that their wives shall not make these mistakes, and in addition there are some new ones that they have thought of themselves. They chart a course carefully for the wife to follow, with red lights on the danger spots.
'Don't play morning bridge — it's nothing but gossip. Don't visit the women in the morning — there's too much scandal talked. Don't get mixed up with the dramatics or the music crowd; they're always having split-ups, and you don't want to get mixed up in it.
'Don't call people by their first names — there's too much quick intimacy. Don't accept invitations until you know people well; go slow at first. Don't let the women advise you about your household, or start managing your servants. Don't be motherly to young cadets or you'll be talked about. Don't go in the Club on Saturday or Sunday — the men don't like it. Don't play games in shorts. Mrs. So-and-So looks ridiculous in them.
' And don't ' (this with great emphasis) 'ask Public Works Department for repairs to the house. The house is allocated to the Government servant, not to his wife, and P.W.D. has no authority to take orders from the wife.'
This last 'don't' alienates the wife from her place which she had just decided, by the process of elimination, must be in the home, and at the same time elevates household repairs to the realm of diplomatic relations with a foreign power. If you want a leaky water faucet fixed or an electric light repaired you ask your husband to ask P.W.D. Your husband forgets it the first day, and you ask him the second. He has a busy day at the office and forgets it again, and you ask him the third. By then it has developed into nagging, which is annoying and inexcusable in the face of the more important things which your husband has to do. You realize this also, and early the next morning you quictly employ private labor to repair the water faucet and the light, and by ten o'clock everything is in working order.
By noontime P.W.D. men arrive at your husband's suddenly remembered instigation, and you try to explain matters to them. It seems simple to you — you did want them and now you do not. But P.W.D. has been given an order, and supplied with materials, and it is down on an official form, and unless the men carry out the commission it may lake months of official communications to arrange for an orderly retreat. The best solution is to supply them quietly with another water faucet and light fixture to work upon.
But this may not occur to you the first time. You continue to try to explain to P.W.D., and at tiffin time to your husband. He then has to explain to P.W.D. that his wife changed her mind, which is embarrassing for the husband, as the wife had no place in the deal anyway but just wormed her way in.
The mystery of it is that despite the network of cause and effect, of Government minutes and official channels, if the water faucet continues to leak and the lights still refuse to function, somehow by some subtle course of deduction the wife seems to have been to blame.
In the beginning I found the pattern of Sandakan social life difficult to follow: the significance attached to doing and saying the right thing irked me. To wear tails when one should wear a dinner coat, or dinner coat when it should be a sack suit, was not one of the major problems in America when I left. The men here also dislike wearing coats, ties, tails, mess jackets, but nothing except death will prevent their being found in them at the proper times. In theory this chafes me, but the result is attractive to the eye.
In justice to the Empire Builder at home, let me draw another picture. It is dinnertime. My husband wears a Malay sarong and baju and I am wearing kebaya and sarong. The heat of the day has gone and the outdoor night creeps quietly in, while we sit with bare feet and relaxed bodies looking out on the black of the harbor and drinking Bols gin. There's not much at that moment that London or Paris, New York or Chicago, could offer to entice us from our outpost.
In the daytime the men use numberless white wash suits, for which there is no substitute in a tropical climate. Women rely exclusively on wash dresses for daytime wear, as materials demanding dry cleaning must he sent to Singapore, an expedition requiring three weeks' time, and export and import customs permits. At intervals some enterprising Chinese opens a dry-cleaning establishment in Sandakan, and I optimistically experiment by sending my husband's flannels, and consequently he has no more flannels.
For evening wear we preserve from the cockroaches, the moths, the mildew, and the rot, several silk gowns. These are known among us by the occasions they have celebrated, as'the Coronation Day lace,5 'the Charter Day pink,' and 'the white I wore to the wedding.'
The second year of residence here a woman begins to wear her uniform. This is the dress the Chinese tailor copies for her after the style which she brought out from home. This uniform goes through various editions in local cottons, the editions corresponding to the number of years before her next home leave arrives. By that time she is so wedded to the style that it may endure for a lifetime. I started on culottes two years ago, and am now standardized in them. They are known here as 'Mrs. Keith's culottes,' and I imagine that my tailor issues licenses to other users. I doubt if my fashion sense ever advances now beyond the culotte era.
Styles of the season are nothing to us. By the time we have read in the magazines what the smart women are wearing, the smart women are not wearing it. But hats destroy complacency. It is unbelievable, seeing them in magazines, that human beings wear those things. And yet, after you see the new hats pictured, your own old hat looks like the kind that only Royalty can wear and get by with. Many a Borneo shelf hides a stylish hat, mail-ordered from home, that its owner has never had the temerity to wear.
Beauty culture occurs once a year when Mrs. Africa arrives from the Philippines with the permanent-wave machine. Three years ago on her first visit she had four curlers, and a permanent wave look all day, but now you can get it done in three rounds, if the electricity holds out.
The first Sandakan sitting blew out the lighting system, but the second attempt took place successfully at the rear of the specially wired Filipino barbershop, with myself as patient. It was like being operated on in a public clinic, as all the Chinese, Malay, and native children of the town crowded into the open front of the shop to watch. All through the long hot hours the watchers kept their vigil, and when the time came for the patient to be wheeled out, they ran home and returned with parents and grandparents. We all came out of the anæsthetic together, and looked with mutual anxiety at the result. When my hair emerged in tight pigtails a hush of disappointment swept the audience, and their eyes went in disparagement from me to the picture on the barbershop wall of the Filipina with the wavy coiffure.
I was slow at first about learning the Sandakan food regulations. I used to eat lamb without peas, roast beef without Yorkshire pudding, eggs without bacon, toast without marmalade, and I would sponsor without a shudder the mixed marriage of vegetables and fruits. I know the combinations now, can use the proper condiments, and no longer baste mutton with mustard or use Worcestershire sauce with scrambled eggs, I do not ask for sherry when I should have taken a long drink, or whiskey straight, or gin neat. But on my return to America I shall go and sit by the service door of a restaurant and watch the trays go by, where sausages mate with sauerkraut and baked beans furnish a meal and a half, where ice cream is a labor of love and lettuces have hearts and aren't ashamed to show them.
In Sandakan there is a game played with visiting cards. Every married woman has a small card box with her name lettered on it, planted at the entrance to her garden path. Spiders and lizards live in this box and in the wet season a very small snake, so care must be taken in opening the door not to snap off the end of the lizard's tail or flatten the snake in the hinge. At intervals, among the lizard's droppings, if you remember to open the box, various cards will appear. These you scrutinize, forget about, and some days later find under the ash tray. You then disinter your own and husband's cards, stealthily approach the friend's card box, and offer a return sacrifice to his lizards. The rule as to who drops the first card is as mystifying and inexplicable as the use of a subjunctive clause, and I have never really understood either of them. The rule has something to do with the sex, length of domicile, and matrimonial alliances of the parties involved, but the whole thing is best enjoyed if regarded as a game. The really important rule to remember is that when calling on the person you should not meet him in the flesh.
Sometimes newcomers do not understand about this game, or play it with a different set of rules in the outer world from which they come. This creates an impasse in social relations, for not until after the first round of cards can people meet in person. The impasse continues until somebody quietly hands the newcomer a printed slip containing the laws of the Medes, the Persians, and the Game of Cards.
There is a growing tendency now to modify the rules of this game, and I believe that, in the near future it may be played by tangible human beings whom one sees and greets, instead of unseen robots who drop cards silently and disappear on oiled wheels along greased grooves into the cosmic vacuum.
The men play another game in Sandakan. My husband is not an enthusiastic game player — in fact it was two years before I saw him come in contact with a game, and even then he seemed to be staying as far as possible away from any of the activity. On that occasion the married men were to play the bachelors in a cricket match. As I had never before seen cricket, or my husband playing it, I thought I should attend.
I went down to the padang at ten o'clock with my best hat on, as I knew the women would be there too, and we all sat under a canopy with cold drinks, and waited for the game to begin. At least I thought we were waiting for the game to begin. The men were on the field in smart white flannels, moving about in such a leisurely manner and with such gentlemanly courtesy and good feeling, and such apparent desire for the opponent to make the best shots, and such well-modulated remarks of 1 Well bowled, sir,' that I, accustomed to American football, thought they must still be practising.
My husband was sitting (he says he was standing, but he wasn't) in the extreme corner of the field looking at the sky. I thought he was a substitute and waiting for his turn to come.
Meanwhile the gentlemen on the field continued to exchange courtesies about the weather, and to applaud each other's plays, and occasionally one would trot good-naturedly off the field towards us, and we would pat-a-cake amiably. The trotting off the field was about the only violent movement there seemed to be. Every time someone retired I expected to see Harry flash nobly into the thick of the action, or what would have been the thick of the action if it hadn't been cricket. But he remained with dignity at the corner of the field looking at the sky.
As I had been warned that the game might continue all day I thought I would just walk over and ask Harry if he couldn't sit in the shade until his turn came to play. I strolled down the edge of the field to his corner, and although he seemed still to be looking at the sky he saw me out of the corner of his eye, and he looked around with disapproval at me for making myself conspicuous. Just then a ball got away from one of the quiet gentlemen who were talking about the weather in the middle of the field, and came towards Harry. But as he was looking with disapproval at me instead of the sky, the ball had the field to itself.
I went home then because apparently Harry had been playing cricket all the time, and that was what his job was, to sit in the corner of the field and look at the sky, and not, even with good cause, to turn and look with disapproval at his wife.
IV
One can pay back the loan of gold, but one dies forever in debt to those who are kind — so says a Malay proverb. In Borneo we must be both debtors and creditors, for there is much here which money cannot buy.
There is a hotel in Sandakan, and there is also a Government Civil Hospital. The hospital charges one dollar per day less than the hotel, furnishes better meals, offers the use of modern plumbing and the attention of nurses and doctors. It is my experience that people go to the hospital with less complaint than they go to the hotel.
When guests come to North Borneo not only their housing but their transportation usually becomes the responsibility of the people who are resident here. There are 124 miles of railroad track, including sidings and switches, in the entire state of North Borneo. This railroad connects Jesselton on the west coast with Melalap, towards the interior. There are 102 miles of metaled roads in the entire state, of which road age Sandakan, the capital, boasts as its own about seventeen miles. Consequently we do not take buses and streetcars when we travel in North Borneo. We go in either launches or small native-manned boats up the rivers, or walk through the jungle, or if there is a bridle path, and there usually is not, we may ride small native ponies from the like of which my own feet dangle almost to the ground. These forms of travel not only are slow, but require that we transport our living accommodations with us, which necessitates the employment of native kulis who carry the luggage on foot. The arrangements for these carrying kulis are best made through the auspices of the Government, as the natives are not enthusiastic about carrying luggage even although paid to do so. Consequently the travel of visitors in the state of North Borneo is almost entirely dependent upon the cooperation and personal assistance of the Government.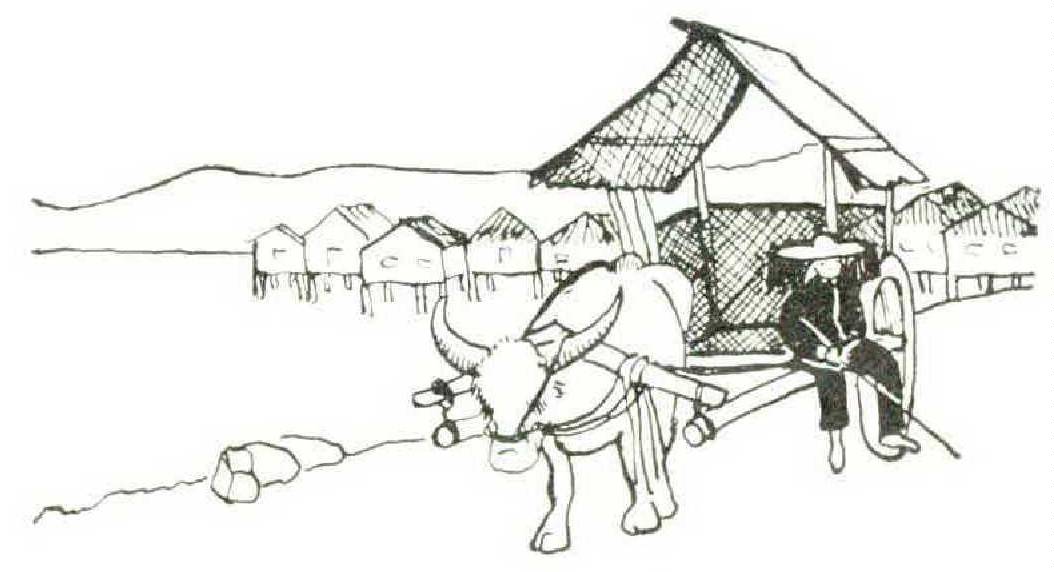 Borneo is frequently visited by expeditions both popular and scientific. Until recently little scientific work has been carried out here, and the island is of growing interest to students of anthropology, ethnology, zoölogy, and geology. These visiting expeditionaries fall into two groups — those who take care of themselves, and those whom we take care of. Osa and Martin Johnson were the shining examples of visitors who took care of themselves, and left many of us in debt to them for their kindness.
For some months whenever I opened an American pictorial I would come upon the picture of our refrigerator surrounded by Osa and seven Muruts eating ice cream. The text of the pictures would advise me that this well-known brand of kerosene-burning refrigerator bad manufactured ice for the pagans of North Borneo, and added ice cream to the diet list of the head-hunters.
Retired from public life now, the refrigerator stands in our pantry and relaxes comfortably into middle-aged obscurity. It is a valued and respected member of the community, but its day for the headlines has passed. In our home it has never produced the same ice cream which it did under Osa's hand, for there isn't the same fine enthusiasm in my touch. Osa, who had a way with food, and whose camp pantry made my home godown look like scraps from the rich man's table, did things with a magnificent gesture. I have never forgotten the size of the soda biscuits from which we ate caviar, sitting on campstools in the jungle camp at Abai.
Abai Camp (known as Johnsonville) was created by the Martin Johnsons in 1935 as a headquarters for the moving pictures they made of the Borneo jungle. The camp was on the Kinabatangan River, about fifty miles from Sandakan. They cleared the jungle there and built a small village, with its own electriclight plant, half a dozen bungalows, and vegetable and flower gardens planted by Osa. There the Johnsons, the film sound engineer, the airplane pilot, half the unemployed of Sandakan, and all the animals obtainable by capture or purchase in North Borneo or Malaya, spent almost a year.
The animals were everywhere, either in cages or loose, according to their supposed state of amiability. Osa was always being chewed up by various ones because she would embrace them without paying attention to the animals' moods. Osa, with her cheek against a large Siamese ape, tickling it and saying ' Koochi-koochi-itsy-bitsy-muvver's baby,' telling Martin what to do about a reel of film, shouting to the cook how to mix the butter in the cake, and telling me that she was going to buy a mink coat as soon as she arrived in New York, while the ape was obviously making up his distracted mind to wallop her one — Osa was an awesome sight. She was completely without fear of the animals, and sometimes, I thought, without discretion. However, she was the one to get bitten, and she never complained.
One day at Abai they were photographing five orangutans in an artificially erected tree in camp. A boy stood beneath the tree with the end of an electric cord which was wired to carry a slight charge of electricity. When the orangutans grew restless in the tree and started to climb down, the boy would reach up and shock them with the wire. At each success the boy gained confidence and the orangutans lost it.
Finally the largest and most influential of them decided to be fooled with no longer, and began a determined descent. The boy climbed up the tree toward him, not realizing that the wire must be grounded on earth to carry the electrical charge. When he reached the orangutan he found he was tickling the angry beast with a powerless piece of wire. The orangutan pushed the boy out of the tree, and came angrily down.
We all, with the exception of the airplane pilot, ran for one of the bungalows. For the pilot the orangutan had developed a demonstrative and somewhat maudlin affection. When the pilot stood his ground and reached a hand out for the ruffled beast, the orang meekly took the hand and walked beside him with a sheepish expression on his face which seemed to say, 'I just can't explain it, fellows! Love must be experienced to be understood.'
The last thing I heard that night as I walked down the path from the dining house to the sleeping bungalow was Mr. Johnson calling after me, 'Wait for the boy with the lantern! The hamadryads sometimes get out of their cages and sleep on the path at night.'
Before the Johnsons moved the animals from Sandakan to Abai, the reptiles were kept in small cages. Word went around town that the Johnsons were buying rats to feed to the hamadryads. That night a feast was brought in, and an especially fine Borneo rat was placed in the cage of the largest hamadryad. The next morning the hamadryad was found dead with a hole eaten through his back, and the rat was alive and hearty. The cage was so small that the reptile could not move freely enough to catch the rat.
The last afternoon the Johnsons were in Sandakan they came to our garden to try to make a sound record of the song of Anjibi, our large female ape. Martin said that he had had difficulty in obtaining a record of the song of the gibbon apes, as they will not sing in strange surroundings, or if they are terrified. Ordinarily with the coming of the first morning sun our Anjibi may be heard all over Sandakan. But that afternoon, with an opportunity to sing a song which would be heard all over the world, she sulked shyly and refused a note. I do not now know, as we have not seen Martin s film in Borneo, whether his sound track did ever produce that lovely jungle song which is so haunting and so wild.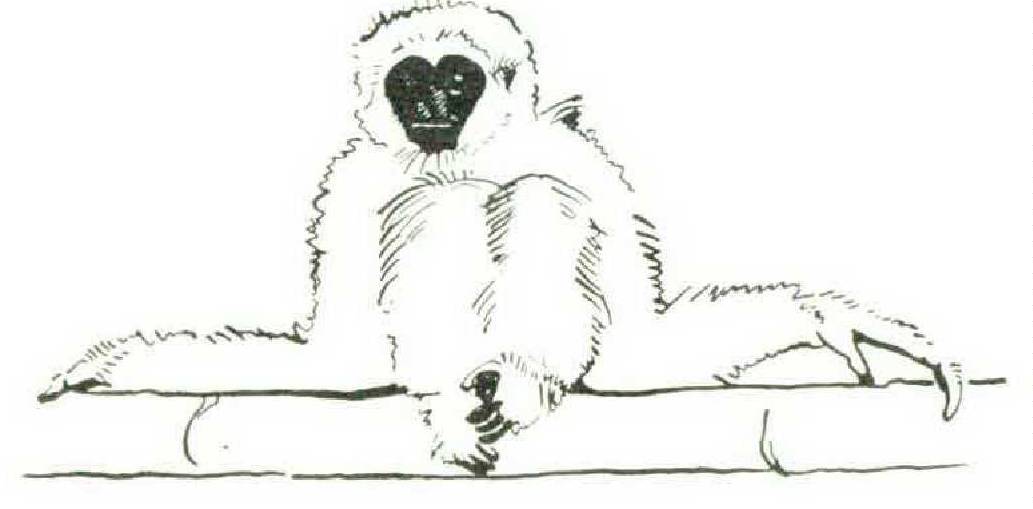 Osa was the most generous person I ever knew, and when she and Martin left Borneo our pantry was swollen with American delicacies of bottled watermelon pickle, maple syrup, popcorn, corn meal, California ripe olives, and Boston clam chowder, and my dressing table had Fifth Avenue beauty creams and lotions such as it had never seen before.
Martin's words were, 'My time is money; I pay for speed,' which is an iconoclastic idea in the tropics. Naturally they upset all Borneo standards for the treatment of servants and helpers. Martin would swear at them and threaten to beat them up at one moment, and write gift checks for them the next. When in Sandakan Osa showered clothing on the female servants; she let the amah iron in the living room and hang the washing on the front verandah; she wore a zebra-striped silk dress to Government House and stood in the middle of the drawing room there and brayed like a zebra, and everybody liked it.
The Johnsons' plane was the first to fly regularly in North Borneo. They were fearless in its use themselves, and generous in giving guest flights to the rest of us. Everything about the two of them was big, except Osa s physical stature. They were two rare and real human beings; I think they would be recognized as such anywhere, and certainly they were so recognized in Sandakan.
When the word came by radio that Martin Johnson had been killed in an airplane accident his old servants came to us for verification of the news. No written tribute could have said more for him than their repeated words, 'He was so good to us.'
V
When I left home one bright autumn day and traveled across the waters for six weeks to a land on the other side of the world, I cut loose from many affections. At first I dwelt on returning to those affections, but after living in the new land for four years I came to know that some of the dearest of those attachments would not be there to return to, and that nothing returned to is ever the same. And in the new land I learned also that the bones of affection are slow to form, and, in any case, human attachments are numbered.
Perhaps the reason that our animals have never been kept in their place is because their place in our lives has ceased to be that of animals. For true it is that every living thing that has wandered up to our hilltop has come in time to be joined by almost consanguine ties to the kindred life of our household.
The capture of gibbon apes is forbidden by law in North Borneo, as the mother is usually killed in the capture of the baby, and the possession of such apes in captivity must be licensed by Government. When apes are illegally captured they are confiscated by Government and sometimes placed in the custody of my husband, who is a game warden. These baby apes, when once separated from their mothers, cannot be turned back to the jungle until grown to a size to take care of themselves, and when ours are grown they will not leave us. For apes who live with people come to show an intense craving for human affection and companionship, and seem quite happy in captivity when they receive these.
That love may only be experienced between human beings was once my pedantic conviction. Jojo changed my mind about this.
He was my first ape in Borneo. Whether it was love or lust with which his being thrilled, I never challenged, for it created in him some great rapturous sensation which made the world a very desirable place in which to live, and one peopled by extraordinarily pleasant creatures who were, in his mind, all there to make him happy. Jojo's capacity for affection was such that not to give it to him would have been as brutal as to beat him.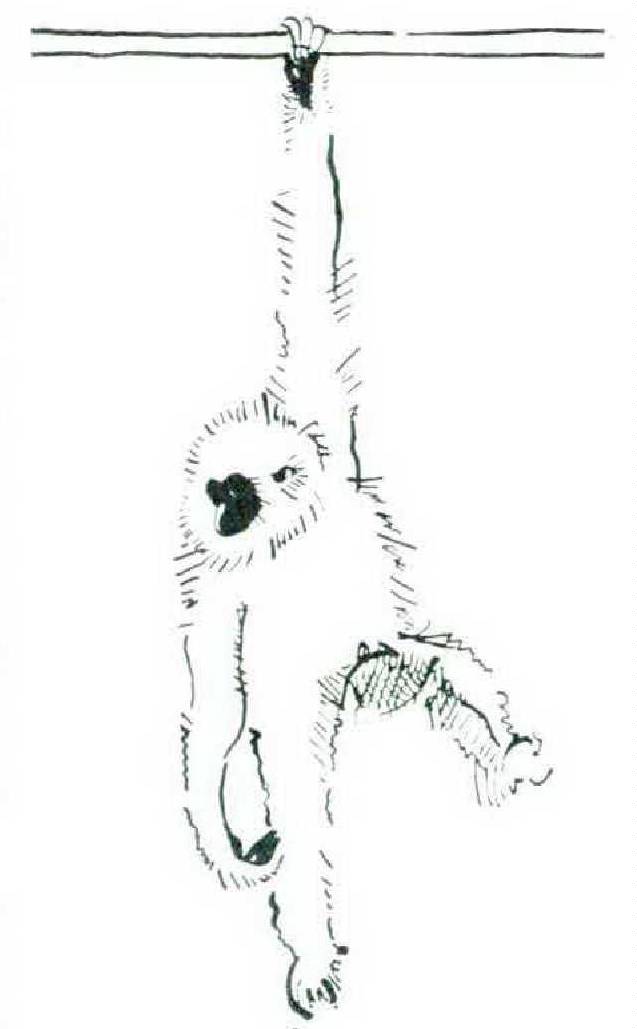 moments in the tops of mango trees, but always ready to come when I called. When I stood on the top verandah and called 'Oooooh? Oooooh?' he would come from far trees, swinging and dropping from mango to jack fruit to chiku, and then through the burning crest of the flame-of-the-forest, his black face pushing through the crimson flowers like a Golliwogg lost in the garden of Proserpine. As he neared me he would make small answering noises of infinite delight until, in that last moment before he flung himself into my arms, he was the very soul of ecstasy embodied in the fur coat of an ape.
When I would read upstairs in the afternoon he would lie for hours on the bed with me, on his back with one leg cocked over the other, and one arm tucked under his head, and the other reaching out and plucking gently at my hand if I stopped stroking him.
As he was my first ape, our wedding presents were still intact. With a human curiosity Jojo would surreptitiously pick them up and look on the bottom for the price marks, and if what he found was not to his satisfaction, as apparently it frequently was not, he dropped the gifts scornfully, thus clearing the house of surplus ornamentation. Table lamps with trailing cords were his idea of indoor trapezes. Jojo would swing his way through the house on the artistic effects, and the indirect lighting system which I had installed suffered in consequence.
There were other things he could not learn in one ape's lifetime, and one day he had a very sad experience. He tore up some of Harry's Murut vocabulary. It was the sort of thing that might have happened to him, or to me, new as we both were to the sanctity of scraps of paper, but an ape can be thrown out of the window, and a wife cannot. While Jojo was describing that graceful sweeping arc in the air from the library window to the garden below, Ah Yin and I were racing to catch him. While in the air he nipped his little tongue between his teeth and when he lit in Ah Yin's arms one small drop of blood came on his lip. We wiped this blood away on Ah Yin's blouse, and then we three mutually indignant creatures retired from the esoteric sight of learning to grumble at intolerant man. At teatime that day, when Jojo would take his cake from my hand only, it was cutting rebuke to all angry writers of Murut vocabularies.
There was also the sad case of the lipstick, a new one, poppy-red, ordered from the United States and waited three months for, and expected to make of me what nature failed to make. I left it uncapped in my open drawer while I went down to answer the telephone. That lipstick could not possibly have been to Jojo's stomach what it was to have been to me. And when he ran to meet me with the lipstick clotted in his fur and oozing thickly from his lips, facetious comment on the well-groomed woman, I almost beat him. But of the many mean, unkind, and unjust actions that there are in my life to be ashamed of, that, I am glad to say, was not one.
When I studied Jawi, which is Malay written in Arabic characters, with old Ismail, Jojo always sat on the arm of my chair with his arms wound around my neck like a feather boa. Ismail, who did not like our animals and thought them unseemly in the household of a European, dropped many hints which we all disregarded. But Jojo knew that Ismail did not like him, and at intervals Jojo would arise and stand on the desk with his back to Ismail, then bend over with his bottom in the air towards him, twist his head and catch his eye and say 'Oooh! Oooh!' and then sit down again.
This was known among wah wahs as the Retort Discourteous, a Borneo edition of the Bronx cheer, and was reserved by them as a sign of disapproval.
As that time we were keeping four apes for Martin Johnson in a wire house in the garden, and Jojo would sit on the lawn outside their cage and tell them the household gossip. His attitude was that of the eldest son who owns the manor, but is being condescendingly gracious to transient guests of uncertain status.
One of the visiting apes wore a threadbare flaxen union suit of fur, from which his long black hands and wrists came reaching out as from the shrunken sleeves of winter underwoolens. His black elbows protruded through the light fur as if they needed patching, and his black neck and face above the fuzzy underwear had the vulnerable look of a man without his collar. He was impressed with Jojo and sat close to the wire to listen, but the two rose-beige male Siamese apes known as Wilde-andFriend were interested only in themselves, and sat all day entwined in each other's arms, picking at each other's fur and other less mentionable things. The smallest, blackest, youngest, and wisest ape pretended that he didn't give a damn for anyone, and would swing and swing and swing, then suddenly drop down by the flaxen one and make a blasphemous comment on the situation which would tell you that he had been listening to the whole conversation.
Although Jojo took food from a basin in the kitchen, he always sat on the arm of my chair at mealtimes, and accepted selected dainties. He was careful in his manners and took tiny biles with a discriminating air, and if I gave him quickly what he was eyeing he would not snatch for it. The quietest mealtime solution was to involve him with a chewy caramel at the beginning of the meal.
Once a day we fed him cod-liver oil, and combed his silky fur, and bathed him in warm-water suds. And as his belly grew round, his actions grew precocious, his body throbbed with love and wellbeing, and we all came to recognize that he was indeed the young scion of the household.
And then most embarrassingly one day he developed diarrhea. Of all ailments for a house-proud ape to have, that is the most humiliating. For three days we dieted him, fed him castor oil, tried to assist nature in every way we knew, while Jojo grew weaker and weaker. All he could do was to lie on a chair with a rubber sheet under him and ask us to Please Excuse.
He could retain nothing in his stomach. I tried him with milk, Ovaltine, Bovril, beef tea, chicken broth, and the gruel from rice which Arusap made, and then brandy to help his heart, which scarcely seemed to throb. At first he opened his mouth for my tiny spoon; and then he could not swallow and the liquid ran from his mouth on to his silky fur; then he could no longer open his mouth, and his round pothelly was shrunken in, and his black hands fell on his chest, and his shiny face was cold, and his eyes said Don't Bother Please. And Jojo was dead.
I had not known, before having Jojo, that people felt like that about animals. I had not known that the tissue-paper relationships of society were transparent and thin, but the feeling of man for animal was body and bone and pain.
I did not go out to the visiting wah wahs for some time after Jojo died. When I went again he of the threadbare flaxen union suit still needed an elbow patching, the rose-beige Wilde-andFriend still twined in each other's arms, were still doing nasty things in a nice way, and the smallest, blackest, youngest, and wisest wah wah continued to swing and swing and swing.
But there was a subtle change. Gone was the air of polite subservience. The scion of the house was dead. Had Jojo worn shoes and left them behind him, the visiting wah wahs now seemed to say that there was no reason for waiting longer before they stepped into them.
Anjibi and I have not much longer now to be dear friends, for an ape walks alone when humans begin to fear her.
For a long time now in her increasing power and wildness she has been too much for everyone except myself, but she and I have always had an understanding which allows us to see only virtue and comeliness in each ot her. We bring out such fine qualities in one another that the deviltry that may be found in either of us with unwise treatment is a surprise even to ourselves.
Three years ago when I first saw her she had no friend in all the world, or so she thought. She was cowering in the corner of our room and waiting for the blows to fall. As I approached her there she made herself smaller and smaller as one who would by very will power disappear before my eyes, and when at last I gently stroked her, she bared her teeth in a soundless extremity of terror.
Slowly I touched her, slowly I picked her up, and slowly I made her know that, whatever the terror was that she had known, it was no longer there. I kept her with me all that, day, carrying her about, letting her sit with me, bathing her, combing her fur, and talking to her of the things we seemed to understand. I did that several days, and ever after that she knew me as her friend. It was as if she had found just one thing in the world in which she could believe.
When she first came to us, it was obvious that she had been badly treated by the Chinese kulis, in her former captivity in a timber camp. The fur was rubbed off her neck from the tight, rope that had chafed it and the skin was raw and bleeding, her hands were cut and sore, the fur of her body was patchy and sparse, and her emaciated stomach caved in beneath her ribs. For all of this we knew what to do, and the ills of her body we happily remedied. But the scars of her mind, and the memories that whispered to her of fear and of flight, she could never forget. She never knew the ecstasies of our Jojo, or any tender affection for persons other than myself. She knew instead that she was woman and born to weep and cry. She snatched her favors hurriedly and never looked for more.
She would have nothing to do with any man, or with the Chinese amahs in their trousers. Harry wooed her most assiduously, but her flight in terror from him to me was a slap in the face of the suitor who pleaded for a smile. To me she came for everything — to protect her from the cruelty there was not, to understand her for the female that she was.
It was fluttering to me to have Anjibi thus, but it entailed responsibility as she grew up. I was the only one who could keep her off the dinner table spread for guests, who could lead her to the godown where she slept, who could entice her away from our shelves of Sung celadon, who could remove her from the guest's bathroom, who could distract her from the new bougainvillea shoots, who could keep her from tearing the amahs' trousers and biting their legs when they worked. Anjibi and I could have had a full life toget her, had I been ready to give up my husband and friends.
Finally we built a large wire-covered enclosure at the foot of the garden around the great mango tree, and there Anjibi went to live with the tree squirrels. At first she expected that I was going to live with her in the cage, and every time I left her there and disappeared into the house it was a new betrayal. And then she came to know that the wire house was hers against the outside world, and she grew tempestuous and vehement and deliriously active, and wilder every day. I would go out to her each morning, and some days she would pull open her door and come out to me, and the longer she lived in the wire house the wilder she was when she went free. She would not leave our premises and go back to the jungle, but neither would she be one of our family and bow to conventions that make for peaceful community living.
When Anjibi got loose from her house Arusap would not touch her, Husin let her pass him by, and little Usit ran from her. Straight for the house she would come, tiptoeing silently up the stairs, and then like a gray simian shadow she would drift through my bed room door. I would look up and see her, our eyes meeting, and hers so melancholy. It was a proud moment for me when she came softly in and put her great arms about me, placed her brooding face gently by mine and touched her lips to my cheek, and sang the yearning jungle wah wah song. The haunting cry would echo so deeply that it seemed to come from the lungs of us both. It was our song, the only one either of us could sing, and when the clear strong notes ceased she was ready to go.
I would take her hand and lead her back to the garden. She was tall, and moved beside me like a mortal married to the grace of winds. Under the chempaka tree at the gate of the wire house, where the subtle sunlight fragrance welcomed her musky female scent, we would stop. I would thank her then for coming, tell her she should come again soon, and tell her that her song was the loveliest in all the jungle world. Then slowly I would turn to go, while she pressed her satin black face against the wire in a submissive but eternal melancholy.
That is the way that it used to be, when I was the benevolent mistress, and she the suppliant one.
But Anjibi got out of her wire house this morning, and she did not come to me.
Perhaps if it had not been for the two small new apes who arrived last week, she might have come. But they have been living innocently enough on the verandah among bananas, basins of water, and small piles of ordure. Anjibi came to the house looking for me, and she found them. Their only offense was being there on the verandah, which in Anjibi's mind is either mine or hers, but never in any case the verandah of two small, strange, interloping, upstart apes. She swept upon them in a sudden crazy rage, and battered them on the floor, hooting and screaming and crying, and in the excitement, the heartburn and blood lust and shrieking, she forgot that she had ever been tame.
I chased her away from the babies, but she would not come to me or let me catch her. I tried all my wiles on her, — I called to her like a lovesick ape, I crouched on the lawn and wept, I sat and squinted my eyes shut and pretended I didn't see her, I lay on the grass and waited for her to examine me, I used all those pretty artifices which she has in the past given me to understand are pleasing to her, — but she would not come.
I would have left her alone then to follow her own pleasure, except for the baby apes, but with them exposed to her anger I did not dare to do so. I called to Arusap, and together we played a game which alternated strategy with pursuit, with Anjibi outwitting us at both of them.
A strange chase that. The running, leaping ape going from bush to bush and snatching a flower, an orchid, a frangipani bloom, a crimson hibiscus, and carrying it in her mouth like a Carmen, almost waiting for Arusap, and then flying before him like the shadow of a bird; the rushing barefoot Murut boy, now running, now crouching in ambush, pouncing and missing and running again — and before them the cats scattering in flight, the baby apes trembling and hooting in the rafters, Ah Yin running from the kitchen, Husin coming from the valley, two hawks crying and swooping above, the Hakka women staring up from the road, and all the time Anjibi knowing more and more her strength and her swiftness, Anjibi knowing that she need not ask favors again.
And all the time I thinking, 'Oh, God, what beauty! What glory of movement and form! If this is animal, why can't we all be so? If this grace is only mortal, who asks to be immortal?'
But none could catch her. So I told them to go away and to let quietness come, while I sat down on the verandah at the far end from the baby apes, and waited.
Some time I waited, and then Anjibi went up the mango tree. I called to Arusap quietly, and he climbed up if after her, and she went out a small high limb till it bent over with her weight, and then dropped down from limb to limb until I could reach up from the ground and grasp hold of her arm. She would not come, she held tightly to the limb; I pulled with all my weight, and still I pulled; and then she came away with her teeth bared, and a leap upon me, and a savage bitter cry, and she turned on me and put her teeth on my arm to bite.
When I had pulled at her against her will I had been frightened to do so, and when she leaped on me I knew that she would bite. The teeth were sinking into my arm, the jaw was closing, and she was desperately fighting me, and then she was Anjibi, my dear friend. She did not bite. Her jaw relaxed, she rested in my arms, she shook her fluffy fur, she put her face near mine, her cheek against my cheek, and waited, and remembered.
I called to Arusap then to go away. I put her down and held her hand, and we walked quietly back to the wire house. She entered compliantly. But we both knew that she had come with me by the grace of Anjibi, that she had spared me from harm by her generous will, and that she and not I was now the gracious lady.
Herman was to be Anjibi's husband.
To match her growing passions, her changing female whims, her frustrated desires, and her moody despairs, the Great Ape Herman was coming. And a new chapter of jungle history was to be written in the welcoming garden and under the fascinated eyes of one who had never lived out of the cities before. In my mind Black Beauty and Beautiful Jo, and Mowgli and Kaa, and little furred brothers and four-footed friends, and Tarzan of the Apes and Rin-Tin-Tin, and all the animal heroes of book and of screen, were already making place for the legend of Herman the Bridegroom.
When we heard there was a new male ape coming to us from Keningau, we felt so certain that he was going to be Anjibi's mate that we enlarged the wah wah house into two connubial compartments, and installed a double sleeping house, double trapezes, double rope swings, and double perches.
And then came Herman! Herman, who was of a size which allowed him to arrive in the orderly's pocket with a banana, and if the pocket had been smaller, and Herman had had two bananas, there would still have been space in the pocket. Herman was obviously not of the age of consent, and although he showed himself from the first anxious to oblige, anxiety alone was not sufficient.
Oh well, we thought, he'll grow; meanwhile he shall be the beloved son. But Anjibi's maternal instinct was as undeveloped as sex appeal. When Herman was placed in the connubial apartment she chasedhim from corner to corner, nipping, biting, smacking, pommeling him until he was a teethbared spectre of his former carefree self. We thought that in a day or two they would become accustomed to each other, but after twenty-four hours Herman's tender black hands and feet were raw from climbing on the wire in an effort to escape the rejected bride.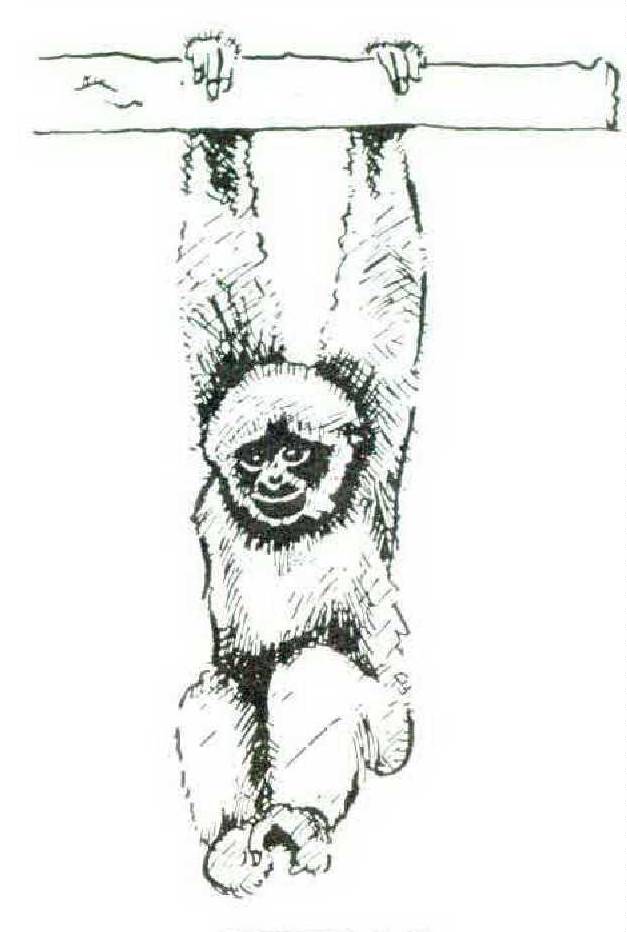 So we took him out to live with us as all the new pets do: a few days of clinging to us, a few nights in the bedroom, then downstairs to the godown, then the whole house for a circus, while there follows for me the picking up and feeling sad about, the becoming resigned to and sadly throwing away of, the broken remnants of more lamps and bowls and vases.
But Herman was worth it. My husband has always been as severe upon the subject of my talking baby talk to the animals as if he did not do so himself. But Herman's loving personality pleaded for an affectionate diminutive, so we called him the Little Lamb Chop. We could say Little Lamb, and then change it hastily to Lamb Chop if the other of us was listening.
And sometimes we called him Herman the Vermin. One day a young doctor of science from Harvard who had come to Borneo to study the behavior of apes was fondling Herman on his lap. When the doctor arose he had received his first lesson in the behavior of apes.
Usit had a red box with a rope fastened to it, and in this he used to drag Herman about the garden. Herman would hang on to the sides of the box for dear life, his eyes popping in fascinated terror as his vehicle rocked and reeled over the turf. Exactly that expression must have been in the eyes of the first people who rode in automobiles. Scared to death, but they loved it! Vowed they'd never get in another one if they got home safe this time, but the next day there they'd be tearing down the road again! Herman would emit tiny terrified squeaks, and when the chariot slowed down for a corner, or perhaps tipped over, he would leap out and scuttle away. But in a few minutes he would be back again, hopping about the overturned vehicle, twitching at Usit's sarong, pleading for another ride.
One morning when Herman came in for his coffee He was dragging his leg behind him. We had it X-rayed and found it was broken, and the doctor set it in splints. Herman took the splints off, and the doctor set it again, and Herman took the splints off, and the doctor . . . and Herman . . . with Herman always having the last word. So then I trussed the leg up in a shiny leather appliance made from my best red patent-leather belt, which was lightweight and pliable. Hermic got about admirably with this, and would swing himself along using his two long arms like crutches, with the little red leg sticking out stiffly behind. The leg knitted quickly, but long after it was well Herman still insisted on going on crutches with the leg out stiff behind.
Meanwhile the bride tarried while the bridegroom grew. He grew until we thought he would no longer be ridiculous in the sight of Anjibi. Then we built a further addition to the wire house, this time leaving the screen in to separate the new compartment, and we sent Herman to live in the extension. At first he and Anjibi were antagonistic and would leap at the wire with their teeth bared. Then in time both came to cling to the wire, one on each side, and when they slept each sought the corner shelf, where, knees humped up to chins and silver arms folded on somnolent chests, their gray fur mingled through the wire.
Then section by section one day Harry took out the wire that separated them, and they were together. It was a big moment for Harry and me, but Herman and Anjibi were less sentimental. Herman, making the circle from wall to wall, found that the fourth wall was not there, and flew through on to Anjibi's trapeze, while Anjibi swung across to his basin of water and flung it to the ground. Then both swung together to the top trapeze, and there, with the excitement of apes which causes an illustration of the Biblical reference to bowels that turn to water, they made it unsafe for Harry to remain longer in the cage below them pulling out nails. So we left them then to what we hoped would be marital bliss.

Now if I go into the wire house I can no longer pet Herman because Anjibi becomes furious, and when I embrace Anjibi he does his amiable best to be indignant. Anjibi grows steadily wilder, more vigorous, more beautiful, and the Little Lamb Chop is now most anxious to please her.
Our simpalili, better known to us as Lili the Simp, was the best, endurance flagpole sitter in all of North Borneo. He was brought in to us from the jungle clinging to a long slick, and his expression of strained affability, and his determination not to leave his stick, always reminded me of the expressions and actions of the human contestants in American endurance contests.
Scientifically speaking, this tarsier — or simpalili, as the natives call him — is an important link between lemur and monkey, and is popularly considered to be an ancestor and close relative of man. Our first simpalili was twelve inches long including his tail, and he would have been a pretty surprise to find in the top of a Christmas stocking. He had soft buff fur of the best-quality plush, and a hairless tail which was longer than his body. The tail extended stiffly below him along his stick, and he sat on top of it as the flagpole sitter rests on the top of his flagpole. The hairless underside of his tail helped him to cling to his stick and maintain this upright, position.
He had attenuated fingers and toes, with diminutive nails like a human's, but with small adhesive pads at the ends of the fingers which he used like suckers to cling with. His head was large, with two round popping eyes and a perpetually surprised expression, an expression perhaps accounted for by the fact that in Simpalili each eye received a different picture, although his nerve cells very nearly provided for the stereoscopic vision of man. His capacity for vocal expression was limited, and Simpalili would open his mouth in terror while only a thin squeak came.
Our Lili could do just one thing well — he could sit indefinitely on his flagpole. We cut a stick for him five feet tall and leaned it against our wall, and then moved it from place to place, — into the dining room for dinner, on to the verandah for tea, up to the bedroom for sleeping, — with Lili always clinging to it.
We liked Lili, but he didn't have a responsive nature. His eyes were nightseeing, and his ways nocturnal, and his only warm interest in life was cockroaches. As soon as dark came we would hear a soft thud which was Lili jumping a yard or so from his flagpole to capture a cockroach. He ate them with epicurean relish, first quieting the victim with a crunch of his jaw, then holding it in padded fingers and daintily nibbling around its wings and then mangling its vitals.
Lili lived with us contentedly until one night his perch was left outside on the verandah, and the next day there was no Lili. Well and good, we thought, the wilds have received again the wild, and other appropriate sentiments. Then the telephone rang, and a neighbor said, 'Our cat has just brought a peculiar animal into the house. Does it belong to you ? '
So we brought Simpalili home uninjured, as the cat had been too surprised at his appearance to do him violence. Then we took him down to the jungle growth at the foot of the valley and bade him return to the freedom of the mammals of Borneo, out in the great outdoors. But the next day Lili had returned to our verandah and seemed to be searching for his flagpole. The following day we took him in a motorcar to Mile Fifteen, where the deep jungle begins, and there we planted his flagpole and left him, still intent on establishing the endurance record for flagpole sitting.
During the summer months in Sandakan we are companioned by the southwest monsoon, a wind of great precipitancy which arrives at our back doors like an invading army, and bangs its way through the house with inconsiderate tread. It leaves by the front door, proudly, and in the sudden silence that follows I look about at the marks of its arrogant boots.
But with the change of the monsoon in November the troops of more ruthless soldiery form in the glowering bay, and in the distance I can watch them come. Savagely they ride the black clouds up from the harbor, with the guns of their artillery detonating behind them and the flames from their rifles leaping in the sky. Before they leave they will deluge us with liquid bullets of rain and lash at the garden with wind whips until the house animals cower in corners and the garden kind cry in the trees. The morning after such an attack we emerge cautiously to count our losses, and inspect broken telephone wires and cracked electriclight transformers.
It was just at the beginning of this riotous monsoon season that Niffles and Sniffles came to live in our drains.
Niffles and Sniffles were created in the image of otters, with one important difference — they didn't swim when all other otters did. Apparently they realized that this was their only claim to distinction, and when we tried to encourage them in aquatics by dropping them in the goldfish pond they immediately demonstrated that they would drown sooner than lose their individuality by swimming.
In appearance they were inconspicuous, being built so close to the ground that every time you lifted a foot they slid silently under it, and were there waiting to be stepped upon when you put the foot down again. They collected dirt on their white shirt fronts and wore their food on their chins and collars. They had rapacious appetites, but never learned to feed themselves, and always required to be fed with a medicine dropper at inconvenient times.
Harry and I, who frequently debated the perversities of the English pronunciation, named them Niagara Falls and Saint Niagara Falls in tribute to my country, and pronounced them Niffles and Sniffles in tribute to his.
Our house was surrounded by a cement gutter which in the dry season was irresistible to animals, but in the wet season was good only for aquatics, as it joined a larger drain whose waters spurted down the hill like a millstream. Niffles and Sniffles proved to have a natural aptitude for life in the gutter, and spent most of their time niffling and sniffling up and down ours.
Then precipitantly one day in November the northwest monsoon fell upon us, and in the downpour that followed the drain rose almost instantly to Hood tide. It was typical of Niflles that he should fall in. Sniffles stood on the brink and waved warnings, as if shouting lastminute instructions for breast stroke and crawl. But for too long Niflles had neglected his normal function of swimming, and the last ever seen of him he was pouring helplessly down the drain on the crest of a foaming wave.
Sniffles, alone, was inconsolable. During the ensuing week of mourning he attempted suicide repeatedly, prostrating himself beneath people's feet like a sacrificial offering under a Juggernaut. But we had developed such agility at jumping over otters that Sniffles was unsuccessful. At the end of the week he gave up more sensational methods of suicide and quietly laid himself down in the gutter where Niflles had last been seen, and died, with no more apparent cause for demise than a broken heart.
Georgie the Musang was a very fine fellow even when four inches long. Although in the end he was outlawed from domestic living as a dangerous desperado, we knew in our hearts that it was never in Georgie's desire to be other than a loving friend.
Georgie came before I was accustomed to undomesticated animals, and when the forest ranger first sent him to us he was so bright-eyed, so infinitesimally perfect, with such a pounding heart and throbbing pulse of life in tiny body, that when I held him it was like feeling the heart of the jungle beat in the palm of my hand.
Georgie was a dark fawn color with darker markings down his back, and on his forehead in the pompadour of his hair there were bright streaks which made him look like one who has turned white too young. He had a winning expression on his catlike face, and a vigorous, not unpleasant scent of mouseshampooed-with-fish-oil. His tail was almost prehensile, long and strong, and in the use of it he Was adroit. Favorite position of Georgie in play was being held up by the end of his tail while he arched his body upward almost, but never quite, to form a circle.
Small desk drawers and behind the books on shelves were Georgie's habitats in daytime. There he would sleep the sunlight out, emerging with the dark, the coolness, and the evening drinks, to have a bowl of milk and a raw egg.

That was the time for play and he was good at it, though it was difficult to guess whether we were giving Georgie a good time or he was giving us one.
When ray red toenails charged across the floor like a platoon of dragons Georgie attacked them like a Giant Killer. His teeth were piercing sharp, but the tiny bulk of his jaw behind them could only tickle me. When I would dress for dinner at night, sitting barefoot at my dressing table, Georgie would rush madly back and forth from my bare feet to Harry's, nibbling and tickling and biting until we were frantic. He moved with lightning speed, and the only way to catch him if he didn't wish to be caught was to lie on the bed and pretend to be asleep, when Georgie would bite us awake again. One night when we were going out and did not wish to leave him in the screened room, I lay enticingly on the bed pretending slumber, while Georgie bit hysterics into me and then eluded me, and we were late for dinner and Georgie was not caught.
He made a little noise in the back of his throat which sounded to me like 'nehneh-neh-neh,' and if I made a noise like that he always had the courtesy to answer me, for he was a most obliging fellow in the little things that count.
When he was so little, held in my hand, he had seemed like the heart of the jungle. And growing and strengthening and lengthening out he became truly the heart of the jungle, and no longer suited to hold in our hands.
During one monsoon season Georgie grew so fast that when he stretched along the rafters where he lived he measured full three feet from nose to tail. He no longer wanted milk or egg when he came down at dark, but lived on insects and cockroaches, and snakes and small prey which he stalked in the jungle at night. He no longer wanted anything that we could give him, but dutifully, like a grown son who humors his parents, he still came with our evening drinks to give us a little play. But the bulk behind Georgie's sharp teeth then, and the clamp of his jaw, were too innocently destructive to allow for our bare feet, and well-slippered we would sit while Georgie led the game.
He would whisk about us in a perfunctorily light mood for a moment, his mind on something else, then suddenly retreat under the stair, from where his eyes burned sternly, while he looked at us as if to say, 'That's enough for tonight. I, at least, am no longer a child.'
As our bungalow could be entered or retired from by animals via the ventilation space between the roof and walls, Georgie had free run of the house, the garden, and the bamboos and jungle at the foot of the valley. Harry and I were away for some weeks, and when we returned Ah Yin had cleaned house extensively, not even sparing Georgie's rafters where he hoarded cockroaches, and Georgie had not been seen for sometime.
I hoped then that when the lights came on he might return again, but he did not. I thought when we wont up to bed that night he might be in the rafters there above us; I hoped to see his footprints on the verandah roof, or the tip of his long tail hanging over the bathroom partition, or the shining globes of his eyes in the dark, but there was nothing.
Some weeks passed, and still no Georgie. Then one night I smelled the familiar mouse-shampooed-with-fish-oil scent. There above the centre beam of the ceiling I saw Georgie's night eyes glowing.
I shouted joyfully, 'It's Georgie!' jumped up, stood on my chair, and reached my hand up for him. Georgie recoiled with a bristling defiance, spat out and clawed at me, just as Harry called, 'Don't touch him! He's dangerous!'
Georgie crouched on bis beam then with his teeth bared, like a fugitive defending his life. I stood uncertainly below, rebuffed and disappointed, while slowly my scent went up to him. Then I think he began to remember, for he relaxed and lay out easily again, but would not come to me. Perhaps if I had waited before making my first move we might have met again. But now it was too late. With Harry's words, 'He's dangerous!' Georgie the Musang was branded, and joined forever the society of outlaws from men.
He came often after that to look down at us from the rafters, and I knew again that he liked us, but we never attempted to touch each other. Beautiful, swift, wild thing that Georgie was now become, powerful and dangerous, he would look down with glowing eyes that seemed to say, 'Not that I ask anything of you now, you understand. But I want you to know that I think of you sometimes.'
(To be continued)
With eath twelve months of the Atlantic
THREE GREAT BOOKS OF THE YEAR
Dyak name for gibbon ape. — AUTHOR↩