Storm Jameson and Rumer Godden
THERE is a certain quality to be found in some works of fiction which, for lack of a better word, might be—often is called integrity. This trait isn't necessarily greatness — though no great piece of writing lacks it. It is more a matter of disciplined imagination, and enormous technical craftsmanship. Imagination enough to think within and beyond the fictional situation; discipline enough to keep imagination within bounds of sense and, above all, within the limits of the individual writer's individual ability. Which is where craftsmanship comes in.
Should Wodehouse slop over into world-symbolism, should Hemingway turn to parlor comedy, what they produced would probably be tripe. A great deal of nonsense is talked about the pity of a successful author's being 'caught in one style.' He isn't caught in it; he has, through slow and painful processes, evolved it, recognized it as his medium, respected both his talents and his limitations, and, thus equipped, proceeded to do the best he knows how with the best tools he could forge. Whether, after that, he ends up among the immortals, only the immortals can prove.
Two recent novels by two Englishwomen have in common this one trait of integrity. Their writ ing manner, their preoccupations, the matter with which they deal, are wholly divergent; but they both know what they want to say, and why, and how. What's more — they both know what they personally cannot say — with the result that these are two uncommonly good books.
The Captain's Wife (Macmillan, $2.50) is another facet of Storm Jameson's long absorption with the Hervey family. Miss Jameson has never hoped to amuse her readers. It is as though she felt she had not the time for that . With the succession of her books her ability grows, and with the growing of her ability one can almost see the growth of her passionate necessity to speak louder, more clearly — to make you feel the burden of stupid wanton human suffering which haunts her days. Her autobiography. No Time Like the Present, is, in the opinion of this reviewer, the best document about the war any woman has produced, though it was outglittered, the year of its publication, by the speciousness of Testament of Youth.
In The Captain's Wife Miss Jameson gives it us again; Jake's death reappears, with all its waste and all its harshness. Mary Hervey's daughter Sylvia marries Russell; not a very good captain, not a very nice man. The book is a history of that marriage, a clinician's merciless analysis of the erosions on character which pride and vigor and wrong-headed endurance can trace.
Miss Jameson's sensitiveness to the look and smell of places, to the change of seasons and of hearts, and the beauty of the prose she writes, are very close to Virginia Woolf's. But in The Captain's Wife the last two chapters are too long drawn out, flawing the book's tight, inexorable process — as though Miss Jameson herself could not quite let Sylvia go. By the same token, readers will not quickly forget her, either. The very set of the Hervey chins is as real as the cobbles on Danesacre streets, as the creak of masts in hot crowded foreign ports. Incidentally, should England drift her appeasing way into yet another war, she will have Storm Jameson to reckon with.
Rumer Godden'sBlack Narcissus was published in July (Little, Brown, $2.50). It just happens that up here in the country we have read no reviews of it. But from time to time we have heard it praised or panned, compared to this book or that one.
It is not, it seems, a book to pass over lightly. Nor is it, now that we have read it ourselves, an easy book to discuss. It gets tangled up with your personal emotions, this tale of the nuns in the Himalayas, and you resent its being common property, if you like it at all you like it very much, and are convinced that only you and perhaps a few carefully chosen friends can appreciate it.
We personally like it very much; so to those who call it thin we reply that no, it is delicate and fragile. To those who say it is 'just a tour deforce' we reply that it is as lovely a piece of quiet, humorous, sustained imaginative writing as we have seen in many years. And to those who compare it to this other book or that we say well, if you must compare it, think of Mr. Fortune's Maggot. The short time span which Burner Godden has chosen for her characters is perfect for her purpose. Their first impression of the great house clinging to the hill's brow is tranquil and serene, like anyone's first impression of an unknown town. It is only when the people begin to come in on you — as they did on the sisters — that adumbrations of disaster stir.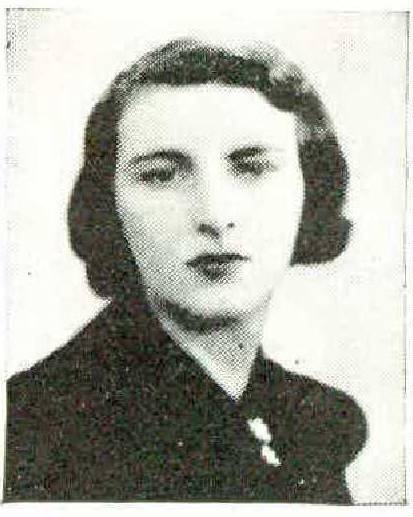 None of these disasters are fortuitous or impossible, since each of them springs directly from the seeds long dormant in personalities the reader has been led to understand more intimately, perhaps, than he understands his own deviations from the man he seems to be.
Black Narcissus is small and clear and fine, like a D&3252;rer etching. And, like a Dürer etching, it will not be put aside and forgotten; you will come back again to look at the figures walking in the bright high wind, eternally alien and mysterious against the alien and mysterious Mountain.
FRANCES WOODWARD