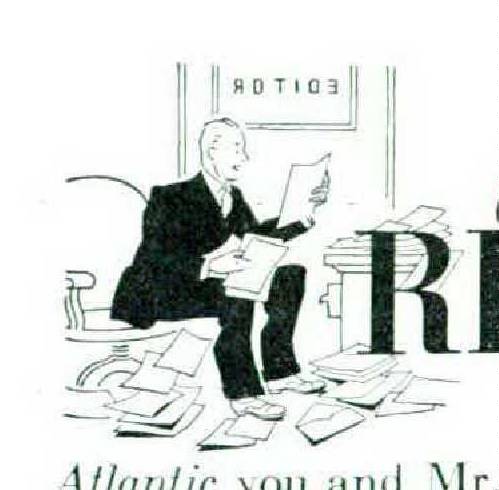 In the July issue of the Atlantic you and Mr. Eduard Lindeman have given your readers a most valuable and timely article. 'The Responsibilities of Birth Control. I have read it with deep interest and feel that you and Mr. Lindeman are to be heartily congratulated. As a director in six organizations engaged in health, welfare, and educational work, and as an officer of an agency dealing with the problems of delinquency. I have been profoundly aware for many years of the need for democratization of contraceptive information for humane, eugenic, and economic reasons. Mr. Lindeman's article should receive wide acclaim, though I am fully conscious that the great majority who recognize the truth and warning it contains will be far less apt to voice their approval than the minority who feel called upon to express disapproval. — Allison Pierce Moore, New York City
I regret that you saw fit to publish 'The Responsi| bilities of Birth Control.' It seems to me the fruition of the author's plan would result in the utter degra, dation of humanity. You, dear Editor, will fall back I into my good graces when you publish an article whose author will show that a democracy, or any other form of government, will be elevated by its people being taught self-control whether it be relative to birth or to spending! — R. Margaret Volker, Ossining, N. Y.
That yarn by Geoffrey Household must be good writing, or you would not have published it. But what a thriller! And I claim to be a judge of that, having sold some 300 pulp thrillers myself. You have given us, recently, other delightful surprises, — notably that short story about the Italian general and the several attempts of his men to assassinate him, — but 'Rogue Male.' I think, tops the list, if only because there is a promise of more installments. Judging from occasional specimens I find time to read, 'good writing' has to be (a) nebulous or (b) morbid or (c) both. Thus 'Rogue Male' gives this reader a discoverer's thrill. I shall be horribly disappointed if anyone proves that Mr. Household's story is not good writing. I hope that enough other readers sustain my opinion, and encourage the Atlantic to cont inue this moderate diet of I bribers. — E. Hoffmann Price, Redwood City, Cal.
I write verses myself sometimes, but could I pen so rare a gem as ' A Considerable Speck.' by Robert Frost, published in the July Atlantic. I should feel that I possessed real mental endowment. — Harriet Pratt Bodefield, Cocoa, Fla.
Katrine Winton MacGlashan's story, 'One-Lung,' in the July Atlantic, reminded my sister and me of the ride we had in that car, or in its first cousin. We lived in Cleveland and were acquainted with a Mr. Davis who was connected in some way with the Winton business. He came around one evening in the car and invited us to take a ride. We rode facing backward. It was called riding dos-a-dos (last silent). We were intensely interested in the story. — Etta Griffith, Balboa Inland, Cal,
I think you have (he finest magazine in this or any other country. Good luck to you. — Mrs. J. A. Cressey, Sioux Fails, S. D.
I gave a loud hurrah at Richard Aldington's review of Joyce's Finnegans Wake. When shall we hear more from this delightful Englishman through the pages of the Alari lie? In spite of all the interest in political questions to-day, many of your readers relish articles dealing with Literary subjects and people more than everything else in the world combined. I'm grateful to the editors of the Atlantic for not forgetting this fact.— Claire M. Spotswood, Pine Orchard, Conn.
Long ago, as a child, I learned to ignore with equanimity those other little girls who got mad and ran home when the play deviated in any detail from their own liking. Perhaps I should accord the same type of sufferance to the anonymous ones who write in the July Atlantic that they find the 'Having a Baby' articles so obnoxious as to cause them to refuse to renew their subscriptions. In my opinion, the Atlantic has published any number of tilings well worth the entire subscription price; and I doubt whether it has ever published anything bad enough to warrant its discontinuance. In fact, the discontinuance of any publication because of any one article or series of articles printed therein I have always regarded as extremely puerile. For whatever reason these anonymous ones are so 'well known.' according to their own statement, it can hardly be because of their broad-mindedness. And it is just such people as they who need most to expose themselves to the imperturbable dignity of such a magazine as the Atlantic. I hope for their own sakes that they will reconsider their decision. — Faye Cashatt Lewis, Webster City, Iowa
The June Atlantic brought particular joy in that delightful 'Lone Hunter' by Lester Rowntree. I hope to find more articles by her written with such charm and vividness that I want to pitch my tent at least within shouting distance of hers. — Edwina Davis. Juneau, Alaska
I should like you to know how much I have enjoyed certain pieces in the Atlantic. There are three that I liked particularly. One is 'The Ballad of the Duke's Mercy,' by Stephen Vincent Benét, because it is so beautifully expressed, and I like that particular period of history. Another is one in the May Atlantic, 'Music Comes to America,' by Catherine Drinker Bowen, because stories like that make you feel a bit more at home with a person whom you have only regarded as some distant ghost. I always read 'The State of the Language.' I think it is very interesting, and, since I am only fifteen and still in school, very helpful. I am looking forward to many more Atlantics. Margaret Lydia Dana, Orange, Va.