ROUND about now we all begin to take that little trip, and a World's Pair on the West Coast and a World's Fair on the Fast Coast make good objectives. While the Vermont and Massachusetts licenses head west across the plains, the California and Washington licenses will pass them, heading east. We got talking the other night about our own little trip. What, we wondered, were we going to miss? How could we find out the small sort of things about San Francisco that people who live there take for granted, and never think to tell you? The kind of things that we, because we live here, know or hear about New York? Guidebooks, someone said. Heaven knows there are a lot of them. Super-illustrated guides weighing three pounds and suitable for framing. Guides revised in handy pocket editions. All very well, but reminiscent of a conversation we once overheard in an art gallery. 'We haven't much time, Hatty,' one haggard woman said to the other, 'so you read aloud and I'll look.'
The thing is, you get running in circles, and home again before you remember that you forgot completely to try the Italian restaurant the Hales told you was so good. The Fair itself is a time and strength consumer. But you don't intend to sleep in the Heinz Building. You have to get from where you are to those fabulous filled meadows, and to look at Manhattan Island itself. For New York is a perpetual World's Fair, doing business long before the first steam shovel broke the tough eel grass of the Flushing meadows, and scheduled to go on long after the Fair grounds have been converted into the vast park and airport, which is the joint dream of the Messrs. Whalen and Moses, and the tides have slowly digested the final scraps of concrete and chromium. When we were young we used to declare passionately that New York would give you anything you asked of it. But now we think the city has a way of not letting its lavish right hand know what its secret left hand conceals. And its very enthusiasm mixes you up. Right now, to all outward signs, the city is just a suburb of the Fair. 'Hey!' it appears to shout. 'You know we got a show going on over there?' Don't let them fool you. They can change all the ads and all I he banners overnight, and be just as energetic about Marching on Mars or Saving Our Cypresses. And all the time there are places that give you a chance to think of the city as a city, and not as a perpetual one-way roller coaster, ending at the Fair.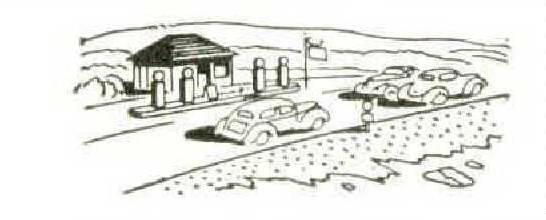 So, for a few months, we propose to set down briefly on these pages odds and ends of information we pick up. Wo don't guarantee that they will be valuable, and as far as accuracy is concerned, don't forget that one actor in a current show has had to change his lines six times in three weeks, to keep up with the vagaries of weather, politics, and dictators.
IF you've seen that mean-spirited and very funny little book by one Oley O'Leahy, called Trylongs and Perisites, you won't have invited yourself to visit anybody. And we, being timid, thrifty, and lazy, are of the opinion that you might as well say good-bye to your car in New York. Lots of talented people do use their cars, and even find places to park them. But we, once below 225th Street, feel the same embarrassed loathing for our Ford which the Ancient Mariner felt for his albatross. Easier to leave it in a garage than throw it away on 42nd Street.
THEATER tickets are something to arrange beforehand. Abe Lincoln in Illinois, in which Raymond Massey so faultlessly renders Robert E. Sherwood's lines that this picture of the troubled Springfield days is a 'must' for every theatergoer. . . . The Little Foxes is Lillian Heilman's biting tale of really unpleasant family doings at the turn of the century, and Tallulah Bankhead's proof that she is a serious actress. . . . At the same time Katharine Cornell, in No Time for Comedy, proves that she is as good a comedian as tragedian, in Sam Behrman's strictly 1939 version of the troubles which beset a playwright who is torn by love and Spain's woes. . . . Of course Hellzapoppin at the Winter Garden, and apparently set to pop to capacity audiences for months to come. . . . The Savoyards have developed neuroses since Bill Robinson began tapping in the Hot Mikado. But Bojangles' feet are not sacrilege; they are just another — and a delirious — language. . . . The Primrose Path is Victoria Lincoln's February Hill come to lusty rollicking life. . . . The Rockefeller Center Theater has The American Way. All about all of us since 1896. Lavish, and not oversophisticated, like all the sights in that amazing city-inside-thecity. . . . You might find out if Agrippino Manteo and his family are doing their puppet show at 106 Mulberry Street. This Sicilian Orlando Furioso runs at the will of the owner. If you can persuade Mr. Manteo to take you behind his stage, and in the loft where his characters are stored, you will be memorably lucky. . . .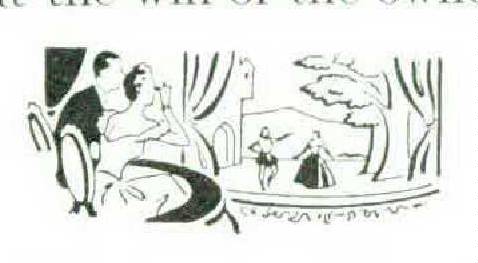 The Yankee Stadium, besides being able to seat all the inhabitants of Lapland, or wherever it is, will certainly see you once. If you happen to be there on dune 12, it's the one hundredth anniversary of Swat, and Cooperstown. New York, will be honoring its Abner Doubleday, who invented the whole thing. The doings in the Cooperstown Base Ball Museum will be on the radio, and our Mr. Farley is issuing a commemorative stamp — first on sale in the village that day. . . .
THE main thing you need at the Fair itself is a cool head, and an inflexible will not to be diverted from the things you have decided that you, personally, want to see. Any other course leads straight to madness. It really is as big as that, and as startling. Rand MeNally's shop at 7 East 50th is a help. Here are maps of every size and description which you can study firmly before the Trylon rises straight in front of you, Uncle Jim darts away to watch the engines giving a little playlet on the eighteen miles of track in the Railroad Building, Willy disappears once and for all among the ramps of that amazing pink mound which Norman Bel Geddes designed to house General Motors, and you yourself sink exhausted in the model dairy, when what you intended to look at was the glass. . . . Seriously, get the idea of the Focal Centers around which the Fair is laid out clearly in your mind. The official guides have been training for months, and there's no sense in being too proud to ask them. . . . By the way, that little chartreuse clapboard hut, sitting so modestly on the Lake, is a neat bit of protective coloring. It may look like a toolshed to us folks, but it is really the Terrace Club. Sort of place to get away from it all. Membership is $5000 in Fair bonds. Cousin to the Boat Club, on the East River at 57th Street, whose members will be whisked across in super-super motorboats, some of them equipped with telephone, in case anything comes up at the office during those twenty minutes. Guest cards can be had for both of these; lots of big companies have joined them to entertain out-of-town friends and customers. . . . However, there are well over 300 restaurants in the Fair. . . . And you'll want to dine there one night, at least, for the sight of the Perisphere, suspended on luminous moving columns of water, is one the profoundest cynic can't laugh off. . . .

EATING in town is endless variety. . . . The Persian Room, '21' (Let's get '21' straight. It's listed in the telephone book as Jack and Charlie's, and it's West 52nd, and it is crammed with celebrities), the Rainbow Room, and the rest, are ones you know about already. Of the expensive and fashionable new ones, Monte Carlo, 49 East 54th, is the moment's high spot. The Colony is in charge of the food, and the decorations and lighting are not only fresh and beautiful themselves, but rumored to make you look likewise. . . . Armando's, 54 East 55th. is small and good, not wildly expensive, has music, a fortune teller, and amusing guests. . . . Kelly's Stables, 141 West 51st, is the one with the colored orchestra in kilts, and has fine food. . . . Le Brun et Joséphine, 108 East 60th, have splendid French food. . . . Though the old Lafayette, East 9th Street, remains serenely unexcelled. . . . Tastes in night clubs vary. Only sure thing is that you will violently dislike the one your taxi driver recommends so highly. . . .

THE museums all have special summer exhibits. . . . The plants in the long bright box below the great glass windows in the Museum of Modern Art are chemically grown. Which is only fitting in the newest, largest, most complete, and most beautiful example of modern architecture in these parts. . . . The last place you'd expect to run into The Perils of Pauline — but the very place to see them. The Museum's film library is a running record of the movies' forty years of life. If you are pretty serious about film history they will let you in the library. From time to time old movies will be run down in the big auditorium. This theater, for all its effect of hanging ceilings and repose, is blasted out of Manhattan's rock, and rests a few feet above the subway. The acoustics, meticulously worked with plaster that conducts sound and plaster that kills sound, do not quite manage to still the tigerlike purr which is the express to 125th Street. . . . The Museum stands on the site of Rockefeller houses. The late J. D.'s bedroom, salvaged from here, is complete at Ihe Museum of the City of New York. Unique example of what could be done with the early Petroleum, or Them As Has 'Em Wears 'Em, period of interior decoration, if you really let yourself go. For some reason it turns our mind to the fossil reptiles the American Museum of Natural History has just set up.
THE art dealers are museum proprietors themselves. . . . From May 20 through June 17, An American Place is showing John Marin, Charles Demuth, Arthur G. Dove, and of course Georgia O'Keefe, who is the joint reason for the Place. . . . Ferargil will have, after June 3, pictures by eminent folk which were refused at the Fair. Entertaining way to check on the vagaries of hanging committees. . . . The Walker Galleries have got together 'Views of New York,' beginning in 1800 and including people like Sloan, Henri, Glaekens, and du Hois, which should amount to a panorama both of the city and of the shifts in painting techniques. May 29 through June 24. Fifty-seventh Street is virtually one long gallery, and within the area of a few square blocks here you can find anything from a pearwood pepper grinder to a cat from an Egyptian tomb or Diamond Jim Brady's watch. . . . The windows of the great department stores are stage sets. . . . Macy's Forward House, on the 9th floor, is practically the World of Day after To-morrow. . . . As an antidote to streamlining there is the Seabury Tredwell house at 29 East 4th Street, rescued — horsehair sofa, secret passage, and all — by the Historic Landmarks people. . . . The Tredwells did not go in for Victorian; they were it. . . . While you're down there go and see Louis Rube, 351 The Bowery. He can supply you with a canary or an elephant, a toucan or a honey bear, for the wholesales to zoos and circuses and petshops.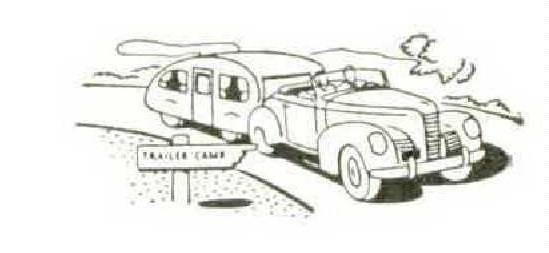 IF you want to head south away from the city for a few days, the Pierre S. DuPont gardens, at Kennel Square, Pennsylvania, are a horticulturist's paradise. These Longwood Gardens are always breath-taking, but from June 14 through the seventeenth there will be performances of Prunella in the open-air theater, and those nights the electric fountains play. . . . Once there, you are near New Castle, Delaware, an unrestored, livedin village, mostly eighteenth-century, of which its inhabitants are justly proud. The Palladian windows in the Read House are worth the trip. . . . At Saint George's, Delaware, you might arrange some Chesapeake Bay sailing....June is early enough to miss the crowds at Rehoboth Beach, and the Henlopen there is an adequate hotel. ... On June 24 is the Ocean Race, from New London to Annapolis.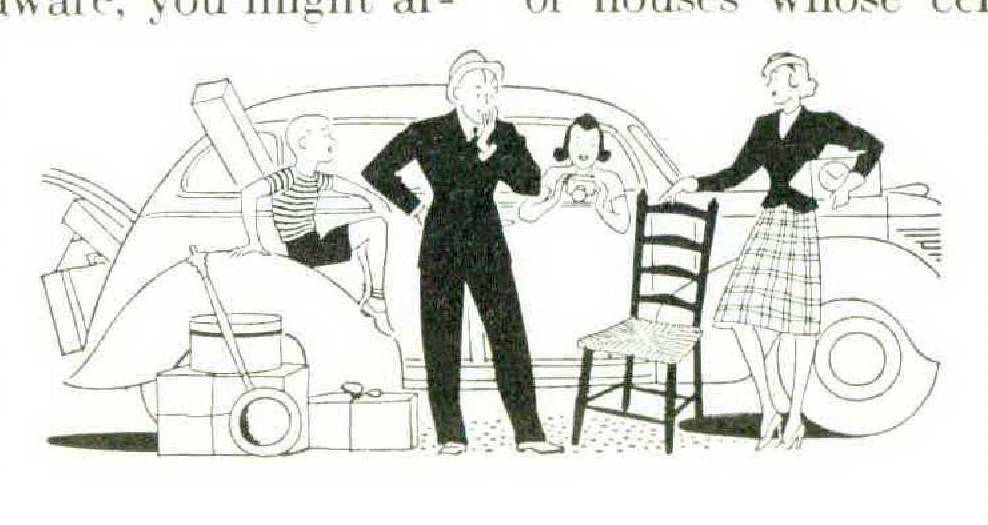 On June 26, in Haverford, Pennsylvania, the Intercollegiate tennis championships will be played at the Merion Cricket Club. The lavish, rolling Philadelphia countryside is never more beautiful than in June, when the general impression is that everyone's place is completely fenced with roses. . . . Dreer's Nurseries, just across the Jersey border in Riverton, are where lots of those roses come from. . . . May 24-30 sees the Devon Horse Show and County Fair in full blast.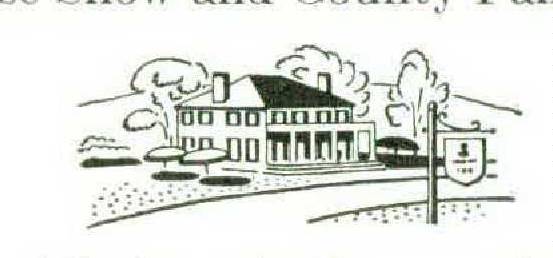 Very gay. All Strawbridges and Cassatts and equally well-bred horses. . . . But if you run to dogs, the Morris and Essex show, on the grounds of Mrs. M. Hartley Dodge's Giralda Farms in Madison, New Jersey, is your dish on May 27, Everybody who knows everything about dogs is there. This is your time to find out why a Briard would work out better in your apartment than a Lhasa terrier — or simply call the whole thing off and try goldfish. . . . The Bottle Hill Tavern in Madison is one of those places where Lafayette slept. Still well kept. . . .
This part of Pennsylvania and New Jersey has so many Washington's headquarters and other reminders of the country's cradling that any or all of the fine Trenton stone houses may or may not be a museum. . . . The Princeton Inn is a grand place to stay, and our own favorite piece of local water is the old Delaware and Raritan Canal. . . . Up the Delaware, on the Pennsylvania side again, is New Hope. Small and charming, gone a touch arty, but not enough to spoil having tea directly on the towpath. . . .
Long Island, for the most part, is one long 'No Trespassing' sign. Once you've bucked the Sunday traffic you understand why, and forgive all. . . . Montauk has dunes, and famous fishing, and the entire Atlantic Ocean. . . . Dinner at Gurney's Inn. . . . Gardiner's Island is the favorite gathering place of the American ospreys, but only because no bird lovers — nor any one else — are allowed to set foot on it. . . .
Next month the sidewalk cafés should be setting out their striped umbrellas, and the sailboats along the New England coast be exploring the new channels made by the September blow. ... In the meantime, what we wish we knew is what town in the Middle West has rows of houses whose cellars are a story high, and stout, because elephants used to winter there, and be boarded out. Someone told us once, and we've forgotten. . . .
Stop Light