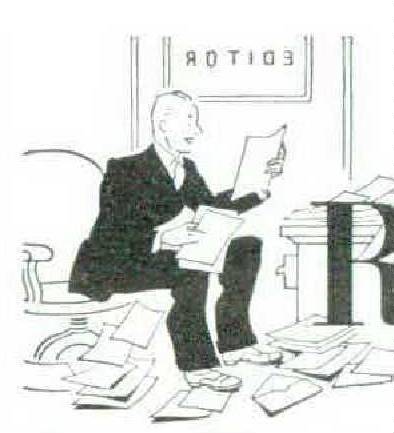 May I answer the letter of one of your Repartee correspondents who prefers to remain anonymous? The Jews are not 'guests' in America. Like the English, the Swedes, the French, the Germans, they came here from Europe to settle - sometimes (as in the case of my own family) before the Revolution. They helped to build the country; they helped to build its commerce, its art, its professions. They fought in the Revolution, in the Civil War, in the Great War, and in the wars between. They founded institutes of art, of research, and of charity. American music, painting, writing, medicine, law, and pure science owe as much to the Jews as to any other group. In addition, the Jews have never, with hatred and intolerance, befouled this country. — Robert Nathan, New York City.
I've just finished reading ' I Married a Jew ' in the January Atlantic, and I must write you about it. To me, Jewish, the article would naturally appeal. But even more, while the sane criticisms the author makes hurt, they are none the less absolutely true. It is good to have the rational appraisals of a 'Goy.' For they are more sincere, evidence more thought than mere racial taunts, and make the Jew realize he has faults, and big ones, too, that can and should be corrected. — Mrs. A. Freiberg, Amesbury, Mass.
May I express regret over the unfortunate, misrepresentation of Jewish personality given under the heading, ' I Married a Jew.' The lady has never met members of Jewish families who have lived for generations in the United States. She probably never heard of the Sephardim who shunned the crude qualities and manners of the lerman Jews arriving in the fifties. In well-bred, well-born Jewish families neither Ben nor Gertrude would have been acceptable. As a member of New England early settlers I became acquainted with one whose background so closely resembled mine that we knew no distinction or criticism. We have had an ideally happy marriage and family life. Our children have been fortunate. We have never influenced their religious beliefs. We respect their choice. They hear a culture, a true patriotism, the high ideals, of which America is proud. — Anonymous, Cincinnati, Ohio.
Allow me to express the opinion that in 'I Married a Jew' we have the most fair-minded and balanced statement of the case for and against the Jew that has yet been printed. It was, in my opinion and in that of all others I have seen who have read it, a masterpiece of keen analysis and measured judgments. - Ralph M. Jones, Waltham, Mass.
I want to congratulate you on the selection of Nora Waln's ' Reaching for the Stars' as your third, and by far best, serial of the year. In writing it the author has performed a public service, and she has done if in a restrained and dramatic manner that is highly commendable. I congratulate her on having written an epoch-marking book, which no doubt will become one of the best sellers. It is a beautiful picture of the Germany of our recollections and dreams, and a terrible arraignment of the forces that have enwrapped themselves about that Germany and, if not in some way arrested, will be its death. — Dwight E. Woodbridge, Duluth, Minn.
I have just read Mme. Waln's article on Germany in the December-January issues. What she has written is rot. If Germany were like she says, the people would rise and slay their Leader. But they do NOT. Such pusillanimous writers should be refused print. Some day they will in America, too! If she did not like it there, why not leave? Germany is no place for a woman married who works, keeps family men from income. Under Hitler the Deutsches Volk will spread their Kultur over the whole world, arm in arm with other realistic states. America now is corrupt like Germany before Hitler. Communists and other harlots will go soon! — Robert Herder, Brighton, Mass.
The trilogy on European politics in the Atlantic in January, under the general caption 'Realistic Europe,' is one of the best pieces of political writing published in any magazine in recent years. I compliment you on your enterprise in obtaining this illuminating series. — Charles F. Speare, Bound Brook, N. J.
Being born here but living for years in New York and Europe, coming back on account of depression, I am called an outlaw, vulgar, a know-nothing generally. I feel at long last a great vindication and a real Christmas gift in Mrs. Gerould's article, 'Call It Holy Ground.' Out of all ray disgust I have loved the Atlantic, my monthly meat, Have read it forty years, and learned much from every copy. — Gertrude Park, Calais, Maine.
The December issue was full of the most interesting articles from the first one through to the end. The do Haas article said what has needed to be said for a number of years. Thank you for this new intriguing Atlantic, which I always open with a sense of adventure. — Helen Price Harvey, Foxburg, Pa.
I 'll bet a cookie your publication of Blanche Watson's letter brings her not one but several proposals.
Of course I'm not signing this because I'm afraid my wife might see it. — Anonymous, New Orleans, La.
After more than twenty-five years of Atlantic reading, I wish to express my appreciation of the one magazine which is always interesting. Not all the articles suit my taste (it would be a dull number if they did), but they all interest me and I read the Atlantic from cover to cover, as I read any realty stimulating book. That you can publish such utterly different fiction as the, to me at least, unnecessarily unpleasant 'Spella Ho' and the exquisitely lovely 'Moses' is an editorial triumph. Thank you for Nora Waln's great book and for 'Where Now is Britain?' Thank you for everything about the Atlantic but the orange cover. I hope that may some day again be pale buff. — Alice F. Hayden, Plattsburgh, N. Y. P.S. Three cheers for Miss Converse, who can produce both Long Will and 'Triumvirate'!