The Atlantic Serial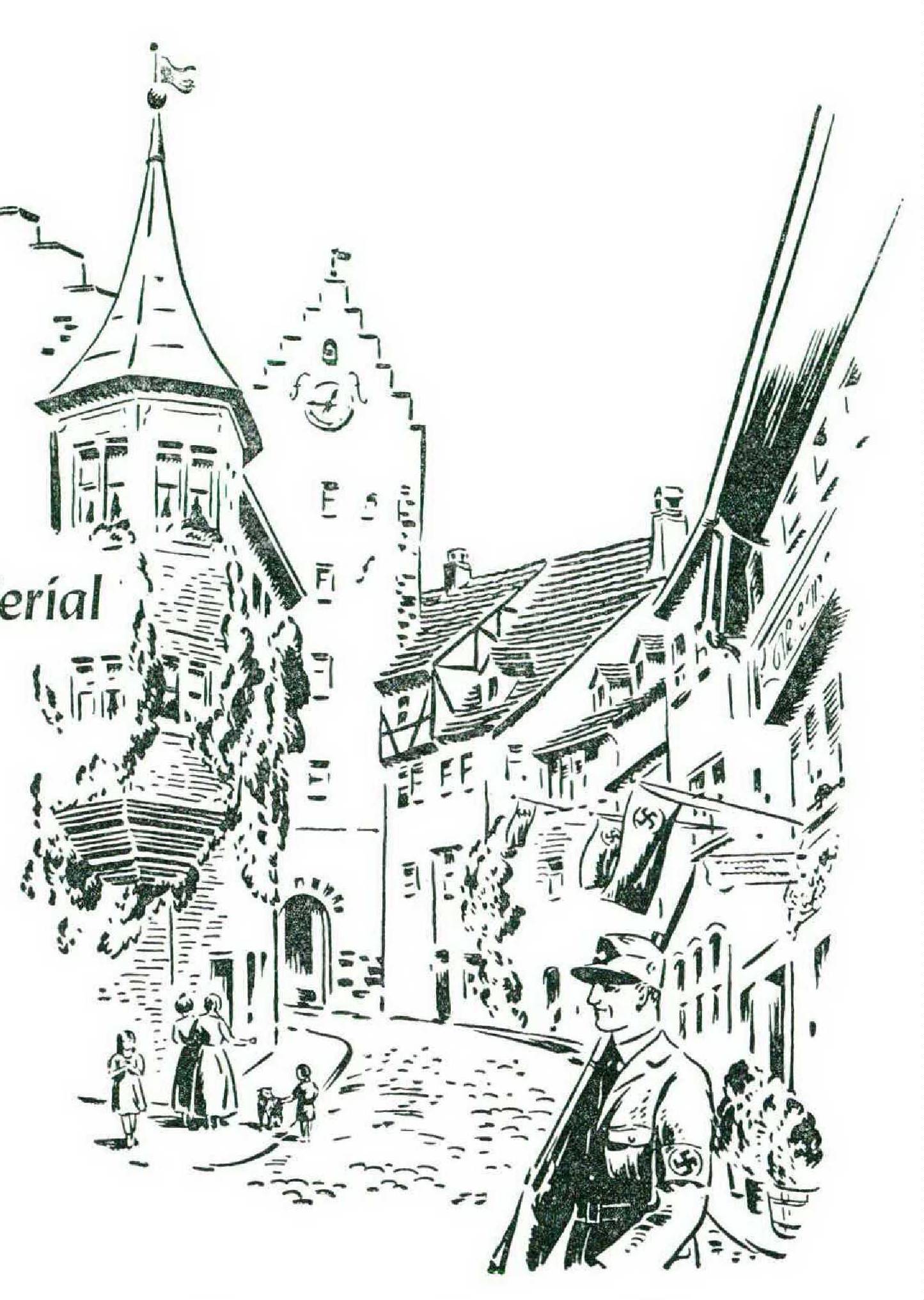 BY Nora Waln
CHAPTERS 27 TO 36
The beginning of
REACHING FOR THE STARS
FROM that day in June 1934 when Nora Waln, with her husband, motored across the Belgian frontier to her new home on the Rhine, she faced the difficult problem of trying to live with and understand the Germany of Hitler. In the four years that followed, she made many friends in the Rhine Valley and in Saxony, in the Black Forest, Vienna, Czechoslovakia, and at Dresden. Within the Nazi barriers she found the warm elements of German character — the music, the forest walks, the Gemütlichkeit of inns, the happy, healthy children, the family life. Through her husband's work as a musician she was admitted to the inner circle of artists and music lovers. It was all the more disconcerting to her to find the shocking contrast between the deep-hearted tenderness of the German people and the blind cruelty of their nationalistic pride.
Nora Waln was born and brought up in a Quaker household in Pennsylvania. She learned as a child the fearlessness, kindliness, and tolerance of the Quakers. She learned also a love for another people and their culture, the Chinese, for her family had for a century traded with the great House of Lin. After her study at Swarthmore, she went to China, where she was admitted as an adopted daughter within the Lin family circle — an intimate experience in the understanding of another people which she has described in her first book, The House of Exile. Early in her stay she fell in love with an Englishman in the Chinese Postal Service, and after their marriage she lived on in China until 1932. That year her husband retired from service to devote himself to his lifelong hobby, music, and with this purpose he and his wife took up their new life in the Rhine Valley.
While her husband studied music, Nora was drawn irresistibly into the web of German life. Everything that met her eyes in Germany made her aware of the new order, a strict régime of nationalistic pride and powerful direction: the disciplined customs officials, the formalities of pass cards, the Lalbor Corps, the Hitler youth, the radio speeches, even the road signs —
' Germans, while you enjoy life in the Fatherland, remember your brothers in the Saar'; 'Hitler — Work and Bread'; 'Thank the Führer for 415,673 hours of work.' But it seemed to her that the vigor and healthiness of such achievements were in terrible contrast to the impoverishment of the human spirit. This contrast was almost more than she could bear. She could not shut her eyes to the persecution, the desertion of free speech and of loyalty to kin, the obedience without mercy which clouded the lives of so many German households.
Here were a people who asked to publish her book on life in China, and received it enthusiastically, yet who forbade her to bring into Germany the books which represented to her the best of German and foreign culture. Here were a people torn between despair and defiant faith; afraid of force, but living under a system grown out of and supported by force; longing for peace, yet tolerating violence. So with patient determination she set herself to learn why such things should be. 'Is Germany dead?' she asked herself. 'Or does she lie as Snow White in a trance from eating a poisoned apple?' To answer that question this American Quaker has told in poignant human terms the true story of her life in Germany from 1934 to 1936.
These contrasts were to be deepened by the next part of her experience — the winter she spent in Vienna, where she was to find people discussing freely the problems of their imminent national destiny and their changing personal fate, asking, as the people in Germany hardly dared to any more, ' What is life? Why scourges, plagues, recurrent dark ages? And what makes mankind survive every peril, and rise after every fall to reach again for the splendor of the stars?' . . .
With each twelve months of the Atlantic
THREE GREAT BOOKS OF THE YEAR
XXVII
MY husband studied music in the Rhineland with a man living there who took a few pupils, not from need, but for the joy of teaching those who love the German harmonies. A day came when this teacher said that he must bid a sad farewell to this pleasure. He had received notice of a ruling: no professor could teach music in the Fatherland any more unless he secured a permit from a Bureau of Enlightenment at Berlin.
He explained that he was an old man too set in the concepts of an earlier generation to comply with a request that he present his credentials at a bureau in Berlin and trace his family tree back to 1800. He belonged to another era — a time when men believed that art knows no barriers of race, color, or creed. He could not apply for the certificate, although his reluctance covered no anxiety lest Jewish blood should be discovered in his veins. His inheritance was that accepted, even heralded as 'Aryan,'Nordic, purely German. But he could not go back on his belief that civilization rests on a foundation built of many different stones, each contributory to the upward soaring of art.
Neither could he flaunt his opinion in the face of youth. Another generation possesses the world. He would offer no resistance to this decree; he would not put it to the test by continuing to teach without a permit. He was tired and old. He said that truth is not easy to find. Youth must find its own way to truth — stumble blindly, if need be. He liked to teach, but he bade his pupils 'Auf Wiedersehen' with a melancholy resignation, saying, 'I do not live in this world. I live in memory with men who are gone.'
I was shaken by this incident, and suffered an inner panic from it. I do not know why it disturbed me so much. It may be that one who has lived with Quakers and Chinese unreasonably expects leadership from the aged everywhere, and too surely feels that it is the duty of the old to light the path for youth.
I was disconcerted beyond anything that my words have power to explain each time I encountered shifting sands beneath the feet of the German cultured. The more I came to know of their great music and great literature, the more seriously was I disturbed by such happenings, large and small. These are a people unto whom much light has been given, a people who have been favored again and again by the birth among them of men empowered to hold a candle up to truth.
I was led to a decision I had been trying to avoid. For some time I had been uneasy about having my daughter grow up in Europe. She ought to be in Pennsylvania, where she could have the things which I had been privileged to have. I do not like to be without her, but now I wrote, and had prompt assurance that she would be welcome. We all spent a few weeks in the United States. Too soon she was settled, and we sailed away, landing at Hamburg and motoring across Germany. Our next sojourn among the Germans was to be at Vienna.
XXVIII
Up from Munich over Reichsautobahnen we traveled to Austria. Designed to conform to the landscape, and built by the Dritte Reich to endure a thousand years, these handsome roads provide for those in haste an opportunity for speed with safety, and give to the leisured a glorious panorama of views through the magnificent Bavarian Alps. The day was the last of October in 1936.
We passed a river valley where three seasons had met. Summer was by the water, grass green and flowers in bloom. A buzzing Bombus flew boisterously into our car; invited out again, the bumblebee showed no concern about the season, but wandered from blossom to blossom in a honey-foraging. Autumn stood above summer on the steep sides of this deep vale, leafed trees and shrubs making a wide band of red and gold. Higher still the snows of winter glistened on conifers; and frigid mountain peaks, their white unmarred, seemed to touch the blue sky.
Leaving the river, our road ascended decisively, rounding rugged ways until we arrived at heights where snow was falling. We were glad then of the windshield warmer which we had got in Berlin, on German advice, to keep our vision clear. We came, at Berchtesgaden, to weather suddenly fair.
In his Holy Roman Empire, in the section on Frederick Barbarossa, Lord Bryce has written: 'To the southwest of the green plain that girdles in the rock of Salzburg, the gigantic mass of Untersberg frowns over the road which winds up a long defile to the glen and lake of Berchtesgaden. There, far up among its limestone crags, in a spot scarcely accessible to human feet, the peasants of the valley point out to the traveler the black mouth of a cavern, and tell him that within the red-bearded Emperor lies amid his knights in an enchanted sleep, waiting the hour when ravens shall cease to hover round the peak, and the pear trees blossom in the valley, to descend with his crusaders and bring back to Germany the golden age of peace and strength and unity.'
During the years that I had lived among the Germans I had heard frequent acclaim of Frederick Barbarossa, a red-bearded, blue-eyed knight-errant of their mediæval times. I had listened to celebration of his superb health and sound common sense, his courage in support of justice, his truth and honor, his joy in righteousness. Whether or not history could confirm all these attributes was unimportant to me. For me it was enough that Germans of my day found good the virtues they proclaimed as his.
Because they did, I carried a wreath of laurel to Berchtesgaden. I found mountain peasants who assured me that the English nobleman's report is correct, and led me to the cavern. I put my tribute there, from whence, so simple folk trust, a knight of these virtues shall come forth supported by his crusaders.
In this same glen of Berchtesgaden a man named Adolf Hitler has his house in our time. He was born at Braunau on the River Inn, across the Austrian frontier, but not far off as the crow flies. From the romantic glen of Barbarossa's legendary resting place he now bugles a call of race to Germans in every part of the world.
' Do you think that the Führer of your Dritte Reich might be your blond knight risen in another guise?' I queried.
The burly Bavarians who had brought me here exchanged quick glances. One of the two spoke. This was the only reply I could get from them: 'Time will give the answer.'
A short way on, we encountered the red and white pole of the German frontier. 'Heil Hitler! ' exclaimed the guard; and, when formalities for exit were completed, 'Heil Hitler! — Auf Wiedersehen!'
'Grüss Gott,' said the guard on the Austrian side, wearing a uniform much less natty than those we had left. The national colors here were red-white-red, and this was called the land of the Fatherland Front. Evidently it was easier to get past 'Greet God' than to go by 'Heil Hitler' guards. The formalities were quickly done, and my husband was back in the car.
We would find life in Austria, so Rhinelanders had told us, German 'durch Schlamperei gemildert.' I wondered about this now. Would life here be milder? And would it be through sloppiness that it was mild?
As we drove into the country, Austria appeared poverty-stricken. The first house that we passed needed the roof mended, and its paint was long since washed off, if ever it had any. The road was not as in Germany. It was rough and there were potholes. Those who lived on this side could look over to the fine new boulevard, the smart uniforms, and all the shining polish of the Dritte Reich.
But the people we passed carried themselves with a nonchalance, as if well content with their own side of the boundary. We saw them in broken shoes, gray capes worn and drab, looking not in the least crushed by circumstance, but wearing the patina of poverty with a fine air. The scenery here was softer than that of the Bavarian Alps — less grand. Eine liebliche Landschaft, a darling landscape, seen in a drizzle of rain which soon set in.
We asked a man we overtook if he would like a lift. He was going to Salzburg. So were we.
'You have come from the Devil's Reich?' he asked when settled.
Turning in my seat, I probably stared outlandishly. My husband, who never enters into political discussions in foreign countries, drove steadily on. The guest in our back seat threw up his head and laughed; then sobered and said, 'A man must laugh while he can. The calamity our brethren across the way suffer is about due to roll over us.'
I reminded him of the agreement made in the past July wherein, according to what I had read in newspapers, the Austrian Government had received full and satisfactory assurance of the German intention strictly to respect Austrian independence. He had n't the least faith in this agreement. He declared that it only provided more cover for sly underground propaganda issued from Berlin, designed to rouse a cry for union from this side of the boundary. This, he stated, had been intensified since the signing of the agreement.
'Do you think that this propaganda will succeed?'
He spoke slowly, sadly, each word clear: 'Self-pity comes so naturally to all of us that the most solid happiness can often be shaken by well-spoken words delivered with no intent for good. And in Austria our happiness is not the most solid. We have many grievances which make us vulnerable. When people are told in sugared words that they have been disfranchised of their world rights by the enemy who defeated them in an unfair war forced upon them, and are invited in the name of right to throw off native leaders who are said to be the pawn of those enemy states and take their forbidden but lawful place beside their kinfolk in a rightabout-face against that wrong — then, no matter how conservative the people thus addressed may be, the appeal will confuse and eventually stir them.'
He objected to National Socialism because the principle of Germans' submitting in blind obedience to the absolute will of one of their number was repugnant to him. 'I would denounce this idea even if I were permitted to be that Führer. It is absolutely wrong. The Renaissance was the dawn of the truth that we are individuals. The Nazi theory leads back into the Dark Ages.' Suddenly he smiled, a charming smile. 'Enough of politics. Here before us is Salzburg, a little town of the Italian Renaissance that ran away north to tell us Germans of the light about to come from sunnier lands.'
Salzburg would be lovely seen at any time, but I am glad I saw this town first in silver rain. Hermann Bahr described the feeling that the place gave to me better than my own words can do when he said, 'Salzburg is nature turned to stone and stone turned to spirit.'
Here one finds beauty, spiritual beauty, with a sense of gayety and humor. Perhaps these stones do hold more than their geological elements, and something more too than the touch of the hands that placed and carved them. Our passenger said that this town of the Renaissance stood as an island of peace while the bitter passions of the Thirty Years' War, starting in Bohemia, surged over German lands; and the culture that survived, kept safe in Salzburg, spread far and wide when that war was over.
He loved Salzburg and treasured the historic memories of its greatness as a centre of art and music. He told how, during the year 1916, people founded the Salzburg Festival community, its members pledged to keep immortal values alive.
Later, in a book called This Salzburg, I happened on an extract from the proclamation they issued then: 'Mists surround the world, and there seems to be no end to the cruelest of wars. Nobody knows what the next hour is going to bring. All the same, we dare to express the thought of a Salzburg festival dedicated to peace, art, and joy. We call upon those who believe in the might of art, upon those who believe the works and values of art to be the only stable things in the eternal changes of time, to join us and to help us establish a refuge in the name of Mozart, where art lovers of all countries may unite in festive delight once the dark clouds of this world catastrophe have passed.'
We put our passenger down at his request by an arch which bears an inscription recording the fact that in 1920 two thirds of Salzburg's population voted to be joined to Germany. The Treaty of St. Germain did not allow it, however. Before the man left he spoke of that. Standing undaunted in the rain, he called it 'one of the mistakes of our time.' In his opinion, if the Austrians and the Germans of Bohemia could have united with the democratic régime in Germany before it went under, perhaps their joint wisdom might have been strong enough to avoid the generation of National Socialism all will have to suffer.
He ended: 'But don't for a wink of the eye think that I am one who puts the blame for the present-day ills on the Versailles and St. Germain treaties. I know that the men who wrote those treaties did the best they could according to the light they possessed. Faith, hope, and idealism were in their treaty making. I'm too intelligent not to realize that fate gave victory to the safer side in 1918. We were all rushed into that war by an unclear set of circumstances. By the time we had fought each other with every means of science for four years, folk everywhere were quite crazy. Had our side won, the treaty making would have been done by General von Ludendorff and his kind. The peace by victory they wanted would have put a definite end to what was left of the Renaissance.'
I watched him and my husband exchange deep glances and shake hands. Then he asked where we were stopping in Salzburg, that he might direct us. When told, his face lit up. 'Give them my warmest greetings,' he said, and was off.
XXIX
We had a nice stay in this town, where Renaissance and her child and grandchild, Baroque and Rococo, are present at their loveliest. There was music in the home where we were guests. We met charming people. It was pleasant to stroll through streets thinking that Mozart was once here. We attended a service at the Cathedral. We looked at the Kollegienkirche, St. Peter's, and the church of the Holy Trinity. I accompanied my hostess when she did household marketing in the Universitätsplatz, and we went on to join our men at Tomaselli's, where they drank coffee and read newspapers.
We saw many houses with courtyards, loggias, and balconies; attractive wrought-iron tradesmen's signs swinging outside doors; several bathing places for horses, the finest the Pferdeschwemme where archbishops' steeds had their wash in the generations before motorcars. We passed No. 7 Getreidegasse, where Mozart was born, and from Kapuzinerberg we had a view of the town, plain, and snow-capped Alps just as he did when he wrote his Magic Flute from this height.
When we delivered the greeting from the man whom we had picked up along the road, the family of our host agreed among themselves at once; 'That would be our good friend X.' They said he should not go about speaking of the Dritte Reich in the way he did, but it was no use trying to stop him. An Austrian seldom took advice, and all over here had the characteristic, very different from other Germans, of personal independence. They resented the Church whenever there was an attempt to extend influence beyond matters purely spiritual, and in politics had strong wills about the right of each to speak his own mind.
'Especially in these Alpine districts round Salzburg we are an independent folk,' remarked a son of the house. 'We have the historic memory that we stood our ground even against Napoleon.'
He was for a union of all Germans. He was sure that Germans of the fallen Hapsburg Empire could join the Dritte Reich yet keep their own characteristics. These people were not ignorant of conditions on the other side of the frontier. They knew full well the harshness of discipline there, and recounted many incidents of brutality. Among these they told of a young friend who had married and gone to live there. She had written home that she did not like it, complaining of many things. Her letter was opened by the authorities and she was taken to a concentration camp. Despite every effort to get her out, she was kept imprisoned many months and gave birth to her child while there. She was never allowed a chair; her bed was a heap of straw.
The second daughter of our host stated that north Germany is by nature Sparta, but Austria is Athens. In her opinion, Austria's going into the Dritte Reich would exert a cultural, civilizing influence. Her uncle reminded her that she might be romantically thinking of Austria wrapped in the greatness which was the Hapsburg Empire, and forgetting that Austria could bring into this melting pot of Germans but seven small provinces and the city of Vienna, a mere six million people to add to a volume already sixty-eight million strong.
No one here avoided politics. On the contrary, throughout our stay in Austria we found politics a subject of almost continuous discussion. My hostess gave me three books in which Austrian authors have put forward a view that unity of language and race is not the best principle on which to base political union. They are by a liberal, Rudolf Sieghart; a Catholic, Ignaz Seipel; and a socialist, Karl Renner. She told me to read them because they would help me to a realization of the truth that the national communities of Europe should be merged in a pan-European government, but not to make the mistake of presuming that these views exerted any powerful influence on the present-day trend among Germans. Union with the Third Reich she accepted as inevitable, and very soon to occur.
When I asked if she thought the majority in Austria wanted to join the Dritte Reich she would give no judgment. Many of her friends were decidedly against it. Some thought Austria should remain independent and return to truly republican ways, reopening the closed Parliament. Others hoped for a Hapsburg return in which young Otto would be crowned, and a kingdom similar to that in England. Numbers of their children, like two of her own five, longed ardently for a union with Greater Germany and believed that National Socialism here would be different from that across the way.
She had heard it said that the National Socialist movement in Austria had its greatest strength among clerks and shopkeepers, but it happened that not one of the people with whom she dealt favored it. She believed that the peasantry wavered. They had always been loyal to the Hapsburgs, who had treated them well. They did not like the present régime because they did not like the way the priests were taking part in government affairs. Certainly they were being told by Nazi propagandists of the benefits given farmers in the Dritte Reich.
But she did not think any of these things really important. The Führer of the Dritte Reich would bring his native land into the German union. He now had the strength of sixty-eight million with which to win six million. It was only a matter of his finding a way through the international hindrances. Her mind was fixed on something no higher than my own would have been in a similar situation. She was concerned that when it did occur none of her family should be involved in tragedies such as she knew had happened in families in Germany. She wanted them loyal to each other no matter how things should turn.
She had thought much on the subject of nationalism and read many books. Her father and her grandfather had been interested in movements to lead the Germans of the Hapsburg Empire out of this fold of many nationalities into that of greater Germany. She said that talking about it helped to clarify her thought. I liked to listen. These are some of the things I learned: —
The present-day nationalism in Europe began centuries ago in a rising of the masses against the unfairness of the rulers who held them in base subjection. The time when rulers were leaders of their own folk had passed. Chieftains and their relations had become kings and aristocrats. They intermarried widely, traveled, spoke several languages. Maids possessed lands and the people on them as dowry. Power over human beings was autocratic and passed as a chattel of inheritance, frequently going to heirs who had no connection but a property right. Their subjects began to form units of strength, and naturally these groups were made up of persons speaking a common tongue and living near together. Ideas seeped across Europe from one group to another, even swept across in great tides of common feeling, but only in national units could the people gather power to throw off the force that would hold them under.
The Reformation, so cruelly put down in the Hapsburg Empire, was a strong forward flow of this ocean of demand which was everywhere the cry of awakening peoples asking for the right to self-expression. The French Revolution was one of its manifestations. It has taken many turns — even the fanatical denial to others of the liberties gained for self.
The tide for liberties was strong among the Germans. Energetic rulers tried to keep it down. Then came Napoleon's invasions of German lands and his setting up of French rule, including the creation of the Kingdom of Westphalia, with his brother Jerome on the throne. He held the Rhineland. He crushed Prussia to the earth. His troops were in Austria, in Baden, in Bavaria, in Saxony — they were everywhere. In the surge against French invasion and the fear of French return which continued after they had gone, the passion of the German people became a patriotic nationalism. In this wave of feeling began that sacrifice of individual liberties on the altar of united German strength which has continued generation by generation to the present day.
After Waterloo, England arranged that Prussia, a small state which had given invaluable help in the battle, should hold the Rhinelands secure against the French. This was an attempt to achieve peace on the continent, and thereby safety for England. Until then Prussia had been counted among Germans as insignificant — a rough, backward land of far less importance than Bavaria, Saxony, Hanover, or even little Weimar. True, Prussia had been coming up, but not in very cultured ways. The district was ruled by the Hohenzollerns, one of whom had changed his title from Elector of Brandenburg to King of Prussia. They had built up an army prepared for conquests and seized part of Silesia; but Austria — or rather the Hapsburg Empire, of which Austria was part — had dominated German affairs for centuries.
When German nationalism became the heartthrob of German patriots in every German land, Austria could not lead in a national movement. She was the property of the most international family in Europe, a family whose policy it was to discourage nationalism. German patriots looked to this Prussia on which England had showered favor. There they saw opportunity. The state was young, virile, and without the entanglement of any non-German population. Men from all over German lands offered their services to this state.
Many were accepted. Talented administrators, poets, philosophers, educators, and plain business men contributed to the building of that Prussia which the anti-liberal Prussian King asked Prince Otto von Bismarck to manage when the liberalism therein became too much for him. Bismarck made different use of the power he found in Prussia than many of its creators had planned. A part of his activity was the expulsion of the German provinces of the Hapsburg Empire from the German Confederation after Prussia had defeated Austria in 1866 at Königgrätz, in Bohemia, in a war he provoked.
When this occurred many German nationalists of the Hapsburg Empire wanted to leave that empire and be joined in the German Confederation. But it was no part of Bismarck's plan to have them in. They were too filled with liberal ideals and too Catholic for him to want them. Besides, they would bring with them the habit of speaking loudly on German affairs. The Frankfurt Convention of a few years earlier, of which Bismarck had refused to allow the Prussian King to take notice, had been led by Austrian German patriots whose ideas on the trend German history should take were quite contrary to his own. Consequently now, after Koniggratz, the Austrian and Bohemian Germans were cleverly advised that they could best serve the German cause by staying in the Hapsburg Empire and keeping that empire predominantly German in its expression on European affairs, a thing they could not do if they left. Not all Austrians were content with this, but it worked.
It worked. The Hapsburg Empire stood with Prussia when Prussia invaded France in 1870. Long after Bismarck was gone this magic continued to work. Prussia, now the docile state of Hohenzollern rule, contrived that it was the Hapsburg Empire that declared an ultimatum in 1914 and thereby started what had long been pending — a European war. Prussia had the rôle of good friend supporting Austria in a Nibelungen loyalty. Austria bore the brunt of the defeat.
The Germans of the North German Confederation and the Germans of the Hapsburg Empire got different treatment. The Treaty of Versailles did not hinder the union of all the states and duchies of that confederation into a Reich sixty-five million strong with wide lands undivided by customs barriers. But thus were the Germans of the Hapsburg Empire dispersed: two hundred and thirty thousand passed under Italian rule to satisfy Italy's desire for a frontier running to the crest of the Alps; those of Bohemia and Moravia were incorporated in a new state called Czechoslovakia; six million were left to form a Republic of Austria — six million of whom more than half belonged to industrial districts permanently bankrupt because the fierce nationalism of new states made a Danube Customs Union with them impossible, and both the Treaty of Versailles and that of St. Germain forbade this Austria an Anschluss with the great Reich, except by unanimous consent of the League of Nations.
XXX
On the afternoon when these things were said we sat comfortably indoors, rain beating against the windows, both of us knitting. My instructress came to the end of a row, studied the pattern she was following, which was one I had brought her from America, and counted stitches. Then she voiced a sentiment I was to hear often from Austrians: 'You must not think I blame the men who made those treaties for a single thing. After such warfare men are too heartsore and mind-weary for such tasks as they had to undertake.'
She recalled the terms of the treaties of Brest-Litovsk and Bucharest, imposed when her side was winning. She had a vivid imagination regarding what the Treaty of Versailles would have been had a victorious Kaiser Wilhelm of Prussia and his General von Ludendorff reached Paris as they expected to do.
She told me something which was news to me: it was that throughout the war there had been hanging after hanging in Austria, man after man put to death for treason, suspected of disloyalty to the cause. There had been no united patriotic will to win there. Some men did their duty. Others did not, and went to their death on the scaffold. The Czechs had not been the only Hapsburg deserters. The Hapsburg Empire was breaking up, she assured me, and would have fallen into national states each racially jealous of the other even had the Great War, which accelerated this happening, not occurred.
She went back in memory to her youth. She had been her father's favorite; he had always wanted her near him. Playing in his room when very young, she had often heard talk which made her think that the world was about to shake apart into 'racial sections.' As she grew older she was very conscious of the struggle going on between Germans and non-Germans. In Bohemia they had to contest for place and position with the clever Czechs, whom it was thought the Emperor encouraged too much. In Styria it was with the Slavs, and the danger from them was that they had too many children in comparison with Germans.
And there was the struggle with the Jews. In a belated effort to establish a 'bourgeoisie,' that their Empire might catch up with northern Germany, France, and England in administrative, commercial, and industrial ways, the Hapsburgs had offered a ladder to the Jews. Jews from all over the Empire rushed into Vienna. Glad of this chance, and being no part of any of the troublesome jealous national groups, Jews could be trusted to be absolutely loyal to the Emperor. With tremendous rapidity they joined the Catholic Church in thousands, and tried in every possible way to make themselves into good Viennese. Consequently the Germans of the Empire, who thought themselves able to do every task better than the Jews, had to compete with them for jobs high and low. Therefore, in Austria, anti-Semitism was against all who by blood were Jew. In this judgment, conversion to Christianity did not make them less Jew.
My hostess said that her father and her grandfather and their friends discussed various theories as to what should be done about the German position in the Empire and in the wider world. Their circle had been liberal, broad-minded, easygoing. They had not stirred themselves to do more than talk. The Hapsburg Empire had its defects, yet it had been able to hitch along for seven hundred years, and the German position in it was strong, probably predominant. In addition to nationalism there were other things of importance to occupy the minds of thinkers.
In Austria there was much pondering about the real meaning of life. Books were written on this, and they had to be read and considered. There were art, music, and seasons of Vienna Society. Also the fortunate had wakened to a sense of responsibility toward the less fortunate, and attention was given to charities and social reforms. There was plenty to do.
My hostess thought that, of all the political views she had heard discussed in her youth, those of only one man had direct bearing on the Austria of the present. This man was Georg Ritter von Schönerer. He had not.t seemed of any particular importance while he lived, although he had made a great deal of noise. When he died, some years after the Great War was lost, few had taken notice of his passing.
Now he was important because of an Austrian who perhaps had never met him. My friend noticed that in Mein Kampf Adolf Hitler mentions von Schonerer. All that she knew of the Führer of the Dritte Reich made her feel that he puts into practice the theories von Schønerer advocated.
Schönerer's father was one of the men who brought the steam railway to the Hapsburg Empire. In the national uprisings of 1848 he organized the transport of troops by train, in the efficient Prussian manner, and was of aid to his Emperor by getting soldiers quickly to the places of trouble. The royal arms were drawn against Hungarian, Italian, and other insurgents within a few hours of the time the news of rebellion reached Vienna. Railway Director Herr Schönerer was rewarded with a knighthood.
He was a man who did not approve of the way youth in Austria was being brought up; there were too much uncertainty and aimlessness. He admired the self-confident optimism found in Prussia. He decided that the best schools in the world were there, and, being a wealthy man, sent his son Georg to Prussia for both high school and university.
These were years when Prussia was making rapid strides forward in things military, political, and economic. Young Georg returned home in the seventies to suffer for the remainder of his life because his native Austria was not like Prussia. Austrians found him vain, opinionated, hard to live with. His father had acquired a large estate on the Danube. Georg had this and was rich besides. The time was that of parliamentary democracy. He chose to combine a career of country squire with that of polities, and entered Parliament elected by his home constituency. Later he lost this constituency, and then he secured one in Bohemia. He represented Egerland year after year in the Austrian Parliament.
He started in as a democrat agitating for universal suffrage, spoke fiery words in every debate on railway problems, was anti-Semitic with the downrightness of a Junker, and took an active part in movements against the Hapsburg aristocracy, the Church, and the non-German nationalities of the Empire. He secured some following among university students, and became for a while the leader of an alliance of nationalists and social reformers. He was one of the chief promoters of the Programme of Linz, a complicated document coupling demands for universal suffrage with a plan which would give the Germans a majority in the Austrian Parliament every time, and ending with an extensive programme for social legislation. Georg Ritter von Schönerer never became the actual political leader of German nationalism. He had magnetism and could attract, but those who were attracted soon dropped away, put off by his intolerance and his conviction that he knew the right in everything.
Did the Crown defend the claims of non-German nationalities? Down with the Hapsburgs! He spoke of William I of Prussia as 'our holy Emperor' and tried to start a cult of the Hohenzollerns, linking up this campaign with the most violent anti-Semitism. He lost friends. Even the most ardent nationalists in Austria felt that everything hateful was embodied in what the Hohenzollerns had made of Prussia.
He uncovered serious corruption in the building and management of some railroads in which most of the capitalists were Jews, and started a violent campaign that brought him into conflict with the Liberal Party and Jewishowned newspapers. From then on he never ceased to flay the press and pursue a relentless anti-Semitism. Because some Jews were wicked he would put away all who had Jewish blood. No fate could be too cruel for them. When a universal suffrage admitted Jews to Parliament he turned against parliamentary democracy.
In the nineties he launched a vigorous campaign with the slogan 'Los von Rom' — ' Away from Rome.' The Catholic Church protected Jews, even baptized them as Christians. It smiled on non-Germans everywhere. It was the Church of the hated Hapsburgs. Break from this strangle hold! He offered to join the Protestant Church when one hundred thousand Austrians had gone over to Protestantism. He roused no Reformation.
Finally, cold-shouldered out of Vienna, he retired to his country estate. Hearing that he was not well, the father of my hostess had once gone to see him, and found a lonely man, bitter in condemnation of the present as immoral and decadent, vindictive against parliamentary democracies, busy with musings about the ancient Germanic religion.
'Georg Ritter von Schönerer could collect no following in Austria. Adolf Hitler, an Austrian boy, went to Germany and found soil there for this seed. He will soon be lord of life and death in Austria. Thus do ideas, good and evil, live longer than men.'
Like his wife, our host always referred to the Anschluss with the Dritte Reich as inevitable. These are among the thoughts he voiced: 'We are not a large or rich land, and shall be of no economic advantage to the Nazis. We are not Nordic. This is the crossroads of the Teuton, the Slav, the Magyar, and the Latin. Despite our German nationalism, we Austrians have never been interested in inbreeding. We have married where our hearts led us. Far more than in Germany have we wed with the Jew. For my part, I think that union of Jew and German produces a fine combination of intelligence and feeling. I do not find the Teuton so perfect that he should be kept pure Teuton. He is improved by a dash of the Orient, and something of Latin, Slav, and Magyar.
'I am not taken in by this propaganda that the leaders of the Dritte Reich look on us as brothers. They look down on us as hybrids, and will treat us as inferiors as soon as they have won possession of this land. Their Fiihrer is Austrian-born. I have seen him several times in Munich. I listen to him on the radio every time he broadcasts, and I have read his book most carefully. I think he is more Slav than Teuton. In Mein Kampf I can find nothing but contempt for Austria. There is no hate so bitter as that against one's own relatives. I do not think we shall fare well in his hands. We are wanted in the Dritte Reich for no other reason than that he who stands master of these crossroads is a stage forward on the way to mastery of Europe.
'Austria will be a Nazi military outpost, and Vienna will become a commercial city, her extraordinary possibilities as mistress of the Danube fully developed. In Bavaria I heard that they have a plan ready drawn up to connect the Danube with the Rhine, and make our Nibelung stream a trade way to the wealth of the Balkans.'
Before the Nazis came to power in Germany our host had been a German nationalist all his life. He had gone over into Bavaria to stay with relatives, that he might spend three months in the Dritte Reich. He had come home ready to work either for an independent Austria with a constitution protecting the democracy it established or for a union with the Republic of Czechoslovakia. When I expressed astonishment at the latter idea, he assured me that he was not the only Austrian thinking that way. He had followed his three months' visit to Bavaria by three months in Prague, and had returned from there an ardent admirer of the way the Czechs had made a success of democracy, at which Germans had failed.
' In Austria we have tried out a number of ways politically and economically during the last eighteen years. There is now no escaping union with the Dritte Reich. But it is a pity, since union with a German democracy proved impossible to achieve because of the behavior of France and the support that nation had from Italy and England, that we cannot try out something with Czechoslovakia. Germans, Italians, and French in another part of the Alps have achieved a republic in which they are contented Swiss.'
' VatiR exclaimed his Nazi boy and girl. Two others of his five children sided with him. The anti-Nazis of the family made the Nazis a wager that by 1940 they would agree with their father's opinion.
'Long before 1940 both independent Austria and the Republic of Czechoslovakia will have bent the knee to the Dritte Reich,' declared their uncle.
'That is an absurd idea,' said the youngest son, talking to me alone later. I thought so too, then.
XXXI
When we left Salzburg we took with us a neighbor who wanted to go to Vienna. We did not go by the new and more direct road. We went to Linz and followed the swift-flowing Danube through Pöchlarn, Melk, Dürnstein, where Richard the Lion-Hearted was held prisoner long years, by Krems and Tulln. Then we left the river to see Klosterneuburg. Finally we looked on Vienna from the last spur of the Alps, a cliff called Leopoldsberg.
Our Austrian guest proved himself very German in his willingness to inform.
Austria is about the size of Scotland. It is highland, with a narrow share of the fertile plain which lies at the foot of the Alps. Lordship of the land is divided between nobles, the Catholic Church, and peasants. Some families have a lion's share in title to more than one castle and the surrounding acres. The monasteries of Melk, Admont, and Zettl rank among the largest landowners. Between the great estates are the many small holdings.
The country is rich in water power, beautiful scenery, and fine forests. There is some iron ore, lead, copper, magnesite, graphite, occasional deposits of gold, and lignite, but hardly any coal. More than two million of the population work at agriculture, either tilling their own soil or as laborers on estates. In the Austrian share of the fertile plain, sugar beets are grown. In the sheltered valley of the Danube, fruit thrives. In the Alps the farmers keep cattle, and manage to get bread for themselves, and winter fodder for their cows, from steep and stony soil.
'The agriculturist is probably better off here on the whole than any other group. Our League of Nations loan was largely used to reorganize farming. Herr Dollfuss came from Alpine peasant stock, and before he was Chancellor he served ably in an attempt to make it possible for farmers to live and to produce food for others of our starving population. The breaking up of the old Empire set national barriers across many peasant customs, including that of fattening Alpine cattle on the Hungarian plain below, and the habit of bringing from Yugoslavia new stock for breeding. Despite the fact that they are better off than our industrial group and the people of Vienna, who administered the old Empire, many of our farmers are so poor that salt is a luxury on their tables.'
Textile, paper, leather goods, and confectionery factories; mines and steel mills, power plants and electrical appliance manufactories; sugar making, and a thriving business in winter sports, are the industries. To one traveling in Austria the factories are not very noticeable. The mountains are sprinkled with inns, and many a man finds it possible to earn more from teaching foreigners to ski during a few weeks in winter than from his labor at other things during the remainder of the year.
This is a lovely landscape, dotted with picturesque towns and villages, creamwashed churches, painted houses with wide eaves, occasional factories, castles, and great monasteries. The people passed were mostly dark-eyed and not very fair in complexion, and, while some were tall, the average was short. They resembled Bavarians more than other Germans. Their clothes, no matter how poor and shabby, had a chic style. All walked with an air.
The material standard of living appeared decidedly below that of the Third Reich. I asked about wages. What laborers got in Germany for hard toil had appeared to me microscopic. When I heard what they got here, and what it would buy, the wages men had over there seemed large in comparison.
'Toil is not well enough repaid there either,' said my instructor. 'The great point of advantage is that our Hitler has been able to get a workable economic plan started in Germany. It is a plan in which the employer has no opportunity for great profit-taking. Wages will steadily improve there as markets are achieved and production increased. And it is far better to have won by honest toil a rough shelter and a slice of black bread without butter than to have no chance to work, as is the case with thousands here.'
He longed for the day when Herr Hitler would come home to Austria, He had no faith in any plan by which Austria could stand alone, nor any confidence in the good will of the democratic powers. On his fingers, date by date, he checked off incidents of their conduct to Austria since the defeat, 'all done in the name of loving friendship,' and asked me if, hearing this, I could fail to understand the fanaticism of Adolf Hitler and those who follow him. These dates and incidents were so many, and given so rapidly, that I found it impossible to recall them for record in my diary. I had but a confused memory of an impassioned outburst.
'We Austrians may not look it, but we are a passionate people. There will be blood and thunder here when we join the Third Reich: massacre of the Jews; serious rising against the Catholic Church, which is hated by many peasants and others — and not without cause; and old grudges against the Hapsburg aristocracy will be paid. We will need the German army to save us from ourselves.'
I was astonished at his vehemence. He assured me that he knew his homeland, and then abruptly turned the conversation to history. The Germans have called the land we know as Austria by two different names. First, Ostmark, or East March; then Österreich, or Eastern Realm. Near the close of the eighth century, Charlemagne battered down the Avars, who lay athwart the middle Danube, in a series of campaigns which caused them to vanish from the earth forever, and took into his own treasury the wealth they had sacked from Balkan cities. He created Ostmark as a military frontier for the protection of Bavaria.
When Charlemagne's life was over, the Magyars came up from the Hungarian plain and drove the Germans out of Ostmark. Magyar and Slav occupied this Alpine district until the tenth century. Then that same Saxon Otto who went to Rome for the crown that made him Holy Roman Emperor set resolutely to the task of regaining what was counted historically German land. In fierce battles he drove the Magyars back. His successors, Otto the Second and Henry the Third, continued this task, pushing the intruders through the wild mountain forests.
As the territory was reconquered it was given into the keeping of nobles, bishops, and abbots, who were pledged to defend it. The landlords brought in serfs, mostly Bavarians. Fields were cleared, seed planted, cattle pastured, churches, monasteries, castles, and villages built.
But the proud spirit of the Magyars did not break. Again and again they stubbornly counterattacked. The peace of German settlers was menaced, and civilization could not advance. Then in the eleventh century, when German authority had reached a halt at Pöchlarn, on the Danube, the management of Ostmark was given to Leopold of Babenberg. Generation by generation, with relentless vigor, the Babenberg Margraves forced the foe down the river and held what they had conquered. They had their castle at Pöchlarn, at Melk, then at Tulln. Finally they stood in command of the last spur of the Alps and overlooked the Hungarian plain. Christening the cliff Leopoldsberg, they built a mighty stronghold.
The rear guard of nobles, abbots, and serfs had advanced closely behind the conquerors. Sword and plough and prayer book had made this a German land. All the way back to Bavaria it was German. Thus was Charlemagne's Ostmark reëstablished.
Eight hundred feet below the Leopoldsberg the Danube, hurrying to the far-off Black Sea with water from the Alpine snows, swings round the mountain spur at a sharp angle, and the tiny river Wien, running out to join it, completes there a triangular cove. In this strategic place, walled on the north and west by steep wooded hills, bounded on the south by the Wien, and protected from the east by marshes and the mighty Danube, Celts had a settlement nineteen centuries ago which they called Vindomina.
The Romans drove the Celts away, to establish a military camp known as Vindobona. Yindobona grew to be a municipium, and was queen of a line of fortified Roman posts connecting the Danube with the Rhine. Mareus Aurelius died there in 180 A.D.
Time flowed on as steadily as the river. The Romans passed. The Avars had possession. Charlemagne came; then ihe Magyars. Finally the Babenbergs chose this site, guarded by the Lcopoldsberg, as their permanent capital. Drawing revenues from a domain that extended to include Styria and Carniola, and reached to the shores of the Adriatic, they began the building of the beautiful city we know as Vienna, and the Germans as Wien.
Frederick Barbarossa, when Holy Roman Emperor, raised Ostmark to the dignity of a Duchy. He bestowed upon the Duke privileges almost equal to the rights of an independent German prince. Then was the name changed to Österreich, or Eastern Realm. The capital of this outpost of German civilization soon had a reputation as a place of pleasant living. The poetry of chivalry developed here earlier than in other German provinces. Walther von der Vogelweide was its shining star. Here the Nibelungenlied took its final form. The culture in the little walled city of Wien gave satisfaction to Germans far beyond the borders of the Duchy.
The Babenberg line became extinct. The keeping of their domain passed to Ottocar, King of Bohemia, a wealthy, vigorous Czech of the Premyslide dynasty. Our informant said he did not think history exactly clear on how this happened, but one account is that spokesmen for the Duchy asked the King of Bohemia for protection when left without a ruler. Ottocar built in Vienna a cathedral to Saint Stephen.
The Duchy was under Ottocar's protection for twenty-six years. The office of Holy Roman Emperor was not hereditary, and it had come to be a position to which eligible princes were elected by vote of a college of seven electors, three of whom were ecclesiastics and four laymen. There was much jealousy about the appointment. No strong prince wanted a strong rival to get the Holy Roman Crown. So it happened that it was given to Rudolf of Hapsburg, a minor nobleman from the Swiss Aargau. Those who elected him did not judge him ambitious. But when elected he immediately coveted strategic Vienna for his capital, and wanted the former Babenberg lands to make up for the fact that he had practically no land of his own. He found opportunity to cause a war against Ottocar, who, as the rich and mighty King of Bohemia, had many enemies. In the encounter on the Marchfeld before the city of Vienna, Rudolf killed Ottocar.
Dante in his Divina Commedia writes of these two as seen in the Valley of Kings in Purgatory: 'He who sits in a higher place and looks as if he had left undone what he should have done, and who moves not his lips to the others' song, was Rudolf the Emperor who could have healed the wounds that are the death to Italy. . . . The other, who seems to be consoling him, ruled over the land where the waters rise which the Moldau carries to the Elbe, and the Elbe to the sea. He bore the name of Ottocar.'
From history it would seem that Rudolf of Hapsburg, when he had power as Holy Roman Emperor, was too busy establishing his own family to give attention to the needs of Italy. The other German princes permitted him to have the Babenberg properties, but forbade his taking possession of the Kingdom of Bohemia. Bohemia belonged to Ottocar's son. The sixty-year-old Rudolf moved his family to Vienna. Before he died he had contrived that every secular electoral German prince, and the son of Ottocar, whom he had slain, were his sons-in-law.
'He must have had a lot of daughters!' I exclaimed.
'He did. All the Hapsburgs were prolific.'
Rudolf laid the foundation of Hapsburg greatness. He started on their long career that famous family whose policy was consistently that of preference for acquirement of land by marriage rather than by battle; who demanded of their subjects revenues, adherence to the Catholic faith, and loyalty to themselves; who left their peoples free to follow their native customs, and stood for centuries as a bulwark against the advance of Magyar, Slav, and Turk into western Europe. From 1278 to 1918, Vienna was their capital.
While the men talked about the Hapsburgs, my fancy took flight to the towers and roofs on the cove below the Leopoldsberg. Long ago my imagination had made this the loveliest city in the world. It was the only city in Europe that I had ever desired to visit. Out of tales told me when I was very young I had built my Vienna. On a November afternoon I stood at the door to the city of my dreams.
XXXII
We lived in Vienna from November 1936 until June 1937. Shortly after our arrival we went to call on Madame S., who had been a star at the opera when Gustav Mahler was Director, and she asked if we had found a place in which to live. I had been looking, but I had not yet been offered one with a good music room.
There were several people in her studio. When we had told them what we planned to pay, they all discussed the possibilities. A young musician went to the telephone. He returned to say that he had made an appointment for me to look at an apartment on the Jacquingasse next morning at ten o'clock.
When I saw the apartment I knew at once that we should be well situated if we had it. It belonged to an attractive woman who had lived there seventeen years. Loving hands had made a home of these rooms. They held happiness as well as good furniture. She had come in as a bride. Her son and daughter had been born here. She told me that her family had long been Catholic, but because they had Jewish blood they would be destroyed if the Nazis came.
Her father-in-law had concluded that the Dritte Reich would acquire Austria. He had spoken, and his kin were obedient. They loved Vienna. They were Catholic. Yet they were leaving. Arrangements for their exodus had been made. What could not be taken away with them was to be quietly sacrificed. Her husband was already in Bucharest; she must follow him. She was sending the fair daughter, who sat beside her, to England for a little while. The boy had already been settled in a boarding school. She could not bear to break up their home. 'We are Viennese, and Vienna is the only place in the world to the Viennese.'
It was not right that we should have this woman's home. Circumstances that should not occur in a civilized society forced her to beg me to take it. She wanted to leave it just as it was, so that they could all come home when the scare was over. We took over her lease and her cook. She left her wedding silver and other treasures of sentiment, which I did not like to use, packed away in a room we did not need.
She thought the moving a folly, for she was certain that the Great Powers would not surrender Austria to the Dritte Reich. She believed that the democracies treasure civilization. The world now knew how barbarism held all Germany in thrall. If the Nazis got Austria, it would be but a step to control of Czechoslovakia. Then the whole of Central Europe would be within their easy grasp. That would give them dominance over Europe. The leadership of England and France would be in eclipse. A dark age for European civilization would have begun.
But it could not happen. England and France had clever statesmen. They would not let it happen. Italy would continue to aid in preventing this. Italy had acted promptly when the Nazis murdered Chancellor Dollfuss on July 25, 1934. Italy's dictator was not barbaric. He could be trusted. Thus she spoke her thought.
I had lived too long in China to have the faith she had in the Great Powers. But in Germany I had for the first time come in contact with the Catholic Church. I had been charmed by the beauty of the church services. I was puzzled as to why Catholics did not make a sanctuary within their church for their members whom the Nazis persecuted. Now I had met a Catholic who came of Jewish people, and she seemingly did not expect protection from her church.
I asked her if the Catholic Church in Austria permitted the destruction of its members who had Jewish blood. She said that the Pope was against the Nazis, He recognized them as anti-Christ despite their profession of support from God. But she had no hope of shelter from her church, if there was need for shelter. 'The Nazis might destroy the church if we were hidden away inside,' she said simply, and added, 'None of us would want to cause the church to be destroyed.'
On December 8, when we had lived in her apartment just a month, I happened to see an article in a newspaper stating that Monsignor Waitz, Prince-Bishop of Salzburg, had issued a declaration that nothing had changed since three years before when the Austrian Rishops denounced National Socialism; and that Monsignor Gföllner, Bishop of Linz, had ordered all priests in his diocese to read a declaration from their pulpits repudiating the idea that any change had come in the attitude of the Church toward National Socialism.
The account emphasized the fact that the episcopal manifesto of December 1933 was still the opinion of the Church. It reminded readers that the manifesto strongly condemned the methods which National Socialism was then using to obtain control of Austria, with particular reference to political murder, and uncompromisingly rejected National Socialism, especially condemning four of its main characteristics — racial hatred, anti-Semitism, aggressive nutionalism, and tendencies toward the establishment of a religion based on nationalism.
I cut this out and sent it to Bucharest. I thought it might give the refugee a reasonable hope of an early return to Vienna.
XXXIII
At Vienna we found a vast company of German men and women who had fled from other German lands. They had come from Munich, from Dresden, from Düsseldorf, from Hamburg, from Berlin. There was not a state of the old German Confederation which did not have its representative in Wien, the German city on the Danube.
German Jew and German 'Aryan' had brought their talents here. Toscanini, that brilliant advocate of humanity in the arts and in living, was here, as were a galaxy of lesser men and women from all over the world. They were an unpremeditated company celebrating a festival of German music to which no invitations had been sent.
Until the deluge swept them away, tossing more than one into a Nazi concentration camp, they maintained in a German land the Freiheit tradition in German music. Vienna was their capital, Salzburg their summering place.
The musicians whom I met at Vienna believed that if civilization is to live the arts must be free, and creation must be encouraged. They listened eagerly to new compositions, or new interpretations of the classics. The Komistenbund arranged chamber concerts at which the young had an opportunity to perform before an audience. Oswald Kabasta, first conductor of the Vienna Broadcasting Company, was tireless in his efforts to further musical talent. Although appearing two and three nights a week at the Director's desk at the Opera, Bruno Walter had leisure to rehearse at the piano with singers, and was ever on the search for fresh voices.
The Opera was the centre of musical interest — one might say the centre of Vienna life. Night after night the great building at the end of the Kärntnerstrasse was crowded from the stalls to the highest gallery. The state supported the Opera. Tickets were cheap enough for all but the poorest, and even they could get gift seats. I shall never forget a hungry man to whom I had given food in our kitchen. I asked him if he would have another cup of coffee. He answered, 'No, thank you very much, but I should like a Säulenplatz to hear Knappert sbusch conduct Elektra' In Vienna a Säulenplatz, a place behind a pillar from which one could hear but not see, was half price.
A host of performances that lifted opera to the mountain peaks crowd my memory. Fidelia, Don Carlos, Die Meistersinger ran Nürnbery, Margarethe, and Der Rosenkavalier are among them. Knappertsbusch, formerly of the Munich Opera, and Bruno Walter, were the regular conductors; but they gave place at the Director's desk to others of the galaxy of star musicians gathered at Vienna. Wilhelm Kienzl's eightieth birthday was celebrated by the performance of his Don Quixote. Bernhard Paumgartner's new opera Rossini in Naples was staged with Richard Tauber singing the principal part.
There were star voices in these performances, but what endeared them to me was that the play, the opera, was the thing, not a personal shining. From the smallest super to the lead, the players were a company at every performance. They played a fantasy of life set to music for the entertainment, of a music-loving, soundly critical, but generous audience. From among those who sang I had my favorites; Jussi Bjorling, a visitor to Vienna from the Stockholm Opera, and Alexander Kiptiis, an exile from Bayreuth.
There were many troubled here. Some had their money and their furniture held in Nazi Germany, forfeit to the Dritte Reich — usually for the reason that they had denounced the decree that no one with Jewish blood since 1800 can create or perform music, and that Mendelssohn may not be played, or the poems of Heine sung. Some had relatives and friends in Nazi prisons. Some who were 'Aryan' were tormented by temptation. They had received invitations to return to the Dritte Reich. All was forgiven. They would be welcomed and feted if they would but accept Naziism as truth. Such men had only to sign a paper saying that they would trust politics to their statesmen and confine themselves to making music—then homage and fortune in their homeland were theirs.
In Vienna there were many concerts in halls large and small. During her great musical past the city had prepared an abundance of places where people could sing and play. There was no question here, 'Are you Jew or Gentile? Are you black or white? What is your creed?' Vienna merely asked, 'Are you a musician?'
Musically, the Viennese public was severely critical. What might pass as music in other places was not counted music here. Those who passed the test were taken to the Viennese heart, as happened to Marian Anderson. She was an American, a colored American, singing the German classics. An unknown contralto, she began her first Liederabend in the smallest of concert rooms. Before she had finished the first half of her programme a crowd had gathered that crammed the doors, and still they came. She was taken to a larger hall to finish, and, before she had finished, that hall was crowded.
Once taken to the Viennese heart, a musician was secure. A soprano could break on her high note, and none would hiss. When this occurred at the Opera and a visitor remarked, loud enough for those round to hear, 'That would not pass in Milan,' Viennese seated near answered promptly, 'We know that she can sing. She has a cold to-night.' At the end of the opera they applauded and applauded, giving her their wholehearted homage.
The Grosser Musikvereinssaal, a fine hall with marvelous acoustics, in the house of the Gesellschaft der Musikfreunde, was the place of concerts — a place that so pleased Arturo Toscanini that, excepting the Opera, it was the only place where he conducted. The 'Friends of Music' have a long and close connection with German music. This society was established in 1812, when Beethoven was at the height of his creative power. He was made an honorary member, and held the society in such esteem that he wrote 'Missa Solennis' for the Musikfreunde.
Schubert belonged to the Friends of Music, and gave his only public concert in their hall. After his death it was a fellow member, Joseph Herbeck, who discovered the 'Unfinished Symphony.' The original manuscript of this work, and six other Schubert symphonies, were preserved in the society's library. In 1838, when Robert Schumann came to Vienna, he so greatly admired the manuscripts and publications collected by the Friends of Music that he wrote the librarian a letter urgently asking permission to revisit this wonderful collection.
Mendelssohn was to have given a gala performance of his Elijah in the society's hall on November 14, 1847, but was prevented by death. Johannes Brahms was conductor of the society for many years, and bequeathed to them his entire collection of music. His example was followed by his friend Johann Strauss. When we were in Vienna, the librarian of the Friends of Music treasured manuscripts and relics of almost all the great German composers from the baroque period up to our own time. They had a library of about 12,000 books on the history of music, and a collection of about a million pieces of published music. This music was not only used for the society's concerts, but also lent to other societies and individuals.
The Friends of Music had their own Singverein, an amateur choir of high artistic standard which was started in 1858; also a music school of which Hugo Wolf, Gustav Mahler, Joseph Joachim, Hans Richter, and Arthur Nikisch were pupils. Anton Bruckner was one of the teachers. The aim of the Gesellchaft der Musikfreunde from the day of its foundation was to make music on a grand scale. The friends of music, gathered in Vienna from every German land, made every concert while we were there an event.
The Philharmonic Orchestra gave us beautiful music. The'Musica Viva' and 'Ravag' are not forgotten. There was so much that is memorable that twenty volumes would be needed to tell about it adequately. The concerts that return most often to my mind are the following: 'Missa Solennis,' conducted by Toscanini; a performance of a symphonic poem, 'Penthesilea,' written by Hugo Wolf when he was twenty-three, given by the Gesellchaft der Musikfreunde under the baton of Kabasta; the Philharmonic, led by Klemperer, first violinist Herr Rosé playing Bruckner's Fifth Symphony; and that triumph of Walter and orchestra with Gustav Mahler's magnificent composition beginning with a funeral march and ending with a joyous rondo.
In Vienna I heard such music as I had never heard before, and can never hope to hear again. This was the music at the German sunset of that day of European civilization which was called at ils dawn 'the Renaissance'; was known at its high noon as 'the age of reason'; and moved to its twilight through 'the liberal experiment.' Night had fallen on Germany when we arrived there. We reached Austria while the sun was yet coloring the clouds with brilliant light.
XXXIV
In music, in architecture, and in the spirit of the people living there, Vienna fulfilled my dreams.
Turning into a narrow way in the hope that this was a short cut on a housekeeping errand, I read Himmelpforigasse 'Gate of Heaven,'on the street sign, and saw amid squalid tenements a most lovely palace. On asking, I learned that it had been built more than two hundred years ago for Prince Eugene of Savoy, distinguished for assistance given to Vienna against the Turk, and that it now housed the Ministry of Finance. I had a thrill of pleasure in this. It seemed right for a little state bravely struggling with economics to have placed its Ministry of Finance at the Gate of Heaven.
When my domestic affairs were running smoothly, and I had leisure, the first building I sought out was the cathedral that Ottocar the Czech raised at Vienna to Saint Stephen and the glory of God. Built without concern for superficial appearance, the Stefansdom is the church of the people of Vienna. It stands at ease in the very centre of the city, in no way withdrawn from the life of the streets, friendly, humane, cheerfully unpretentious.
Kings were crowned at the Augustinerkirche, and were usually buried in the Kapuzinerkirche; but there were few who between their crowning and their dying ignored Saint Stephen's. Many gave the cathedral rich gifts. Weddings and christenings, aristocratic and proletarian, were held here; festivals were colorfully celebrated, and here people gathered in times of sore distress.
The cathedral has a grand west front, with a magnificent Giant Door and two nice round Heathen Towers; a nave lifted heavenward on soaring arches, and a south tower reaching to the sky with a tall and slender spire; a stubby north tower held down to this good earth by crowning with a substantial cupola; a steeply sloping roof surfaced with bright tiles, highly glazed, laid in a clear herringbone pattern varied over the choir by the emblem of the double-headed eagle; and many smaller pieces in between these outstanding gifts to God. There is no unity of design.
In Mongolia, prayer mounds are built by each passer-by's putting on a stone as his thanksgiving for safety thus far along the road. The Stefansdom has been raised in the same way. It is a heap of gifts to God. Each generation has made its offering in the fashion of the time—• Romanesque, Gothic, baroque, and nineteenth century. Each piece is beautiful.
A piercing east wind was blowing in on Vienna when I first visited the Stefansdom. In the lee of the south and west walls, cabmen dozed, each man's horse carefully wrapped in his driver's only blanket; and peddlers had a corner where they sold children's toys. As I pushed open the Giant Door a glorious organ pealed out its message in the music of Schubert.
Eighteen huge stone pillars held up the vaulted ceiling, baroque chapels gleamed on either side, and far up the dark avenue a candled altar glowed. When the music was over I walked about with a friendly woman who had stood beside me. Of the cathedral's many treasures she showed me those she liked best — - the 'Servants' Madonna,' a lovely figure; a sandstone pulpit carved by Anton Pilgram of Brunn; and the pulpit from which, in 1451, Saint John Capistran preached a warning against the barbarism of the Turk.
On the Jacquingasse we were conveniently situated for the enjoyment of Vienna's architecture. Our front windows looked to the charming villa which the city gave to Richard Strauss some years ago in gratitude for his talent. We could pass the Karlskirche every time we went to the Palast where our friend Madame S. lived. Twenty minutes' walking took us to the Ring.
We had but to go up our short street, turn right on to the Gürtel by the handsome residence and well-kept garden of a Polish nobleman, past the modest building where Dr. Kurt von Schuschnigg, Chancellor of Austria, lived and worked, and a little way on we stood before the lacy iron gates of the Belvedere. The Belvedere is the loveliest palace that I have ever seen in any land. It is a real palace, not a fortressed castle or an inflated mansion. From dawn until dark the gates are ajar. Anyone who wishes may go in.
Through these gates one enters a small, self-contained world of fantasy. Imposing yet unpompous, the palace is mirrored in a shallow circular lake, its fairy lightness enhanced by the sheen of the water. Seen from every angle, the Belvedere has a dreamlike quality, as if its three central blocks, each with a different roof height, flanked by wings and then by pavilions, had been dusted with alchemy, Yet so perfectly are fantasy and practicality combined that it is apparent at a glance that this would be a comfortable place in which to live. The façade away from the entrance is perhaps the finer side. From here the walled garden slopes to the Rennweg in gentle terraces ornamented with marble steps, baroque statuary, lawns, shrubs, and fountains.
Gray curtains were kept drawn at the windows. The Belvedere was uninhabited except by wild ducks who lived on the lake, rearing there in spring a charming brood. Lucas von Hildebrandt created the palace and designed its garden for Prince Eugene, who had his winter palace at the "Gate of Heaven.' At his death it was bought by the Hapsburgs. The last of them to live here was Archduke Franz Ferdinand, whose assassination at Sarajevo started the war of 1914.
The Belvedere has its own secret world. From this exquisite place the shining hills seem so close that one could almost reach out and touch them. Yet they are beyond the cross of gold on the Karlskirche, the Gothic spire of Saint Stephen's, and the roofs of Vienna half hidden in the treetops. From the uppermost terrace one can glimpse on the left the park and palace of the Schwarzenbergs, and on the right the lovely Salesian Nunnery. Finished in 1720, the Belvedere is part of the joyousness which spread over Vienna when, after standing for nearly two centuries as a bulwark against the Turk, the city was relieved by the impassioned assistance of Sobieski, King of Poland, aided by brilliant leaders from Germany and Savoy.
In Vienna, for the first time in my life, it was things built by human hands that gave me steadiness. Always before, when harassed, I had clung to nature. Perhaps it was because there is such satisfaction with life on earth expressed in Vienna's buildings. Also, it is impossible to be in this place and miss realization of how much that is lovely has been put up in thanksgiving for survival through eras of terrible suffering.
Like others here, I was bound to Germany by close ties. We felt impelled to listen to the radio. And the Nazis in power over there issued a continuous spate of decrees, putting out one by one the few remaining candles of freedom.
One edict declared the Hitler Youth, formerly a Nazi party organization, to be henceforth a state institution. No boy in Germany, or in any of the lands over which the Dritte Reich might extend, would be able any longer to escape. No parent could protect a child. All would be ruthlessly drilled on the Nazi Primer.
Austrians reminded me, in case the fact had escaped my notice in reading European history, that the Spahis and the Janissaries of the Turks were Christian children taken as tribute. Through long years the Turk demanded, and by menace secured, tribute of children from Christian lands. Trained in a passionate loyalty to the Turk, reënforced by a blind and fanatical adherence to Islam, they were the most formidable force the Turk possessed. After passing through their Turkish education, these sons of Christians remembered nothing but what they had been taught in the Turkish drill. Spahis and Janissaries retaken by their own parents had no will but the fanatical desire to return to their Turkish masters.
Another Nazi edict proclaimed as German law during this winter was the following: 'A German citizen who, purposely or unscrupulously from motives of gross self-interest or other motives, removes or leaves property abroad, thereby causing gross injury to the German economic system, will be punished by death. His property will be confiscated. The criminal is also punishable if the crime is perpetrated abroad. The competent Court for the offense will be the People's Court. The law hereby promulgated comes into force immediately.'
A friend was listening at the radio beside me and exclaimed, 'By such measures do the Nazis acquire control of more and yet more money with which to substantiate their power! When all property is brought home and registered they can seize it at their leisure. The People's Court is a Nazi creation which has no connection with the people except for use to punish them.'
On such days it gave me comfort to walk by the Karlskirche. The serene green dome, the twin belfry towers, and the strong Trojan pillars, spoke to me reassuringly out of time. Built as a votive offering for Vienna's survival through the Black Plague, this church was designed by Fischer von Erlach and is a triumph of mind over matter. To pass when troubled was to hear a chorus of angel voices sing a glorious hymn: 'Have faith. Have faith whatever befall. It is but a plague. It will pass. It is but a plague.'
In Vienna many voices spoke from the past. What was now the Hohe Markt, or High Market, was once the Roman Prætorium. Saint Peter's, standing splendidly in a little Platz off the Graben, although brilliantly dressed in baroque with an oval-shaped dome, was there in plainer garb long ago. The sturdy, sombre, ugly, yet strangely lovable Minoritenkirche reminded me each time I happened by that Viennese are not so foolish or so gay as the casual observer might suppose, and made me feel that Austria has in her stout heart strength to endure, even through a Nazi conquest.
The poor here lived in squalor more picturesque than sanitary. Their homes were crowded round every available courtyard, filled alleys and lanes, and pressed in tightly between beautiful churches and tall palaces. They had no air in their low-ceilinged rooms. They lived in a fusty smell of Gulasch and stale smoke, slept in a feather bed covered by a thick feather quilt if possible, and kept their windows sealed up from October until May.
Yet, despite the miserable housing of her populace, Vienna was saved from the areas of utter misery found in some cities by a habit observed throughout her history. The rich and the poor lived side by side; and the city had innumerable green squares, tree-laned avenues, and wooded parks used by everyone. The Wienerwald was kept a place of groves, orchards, and vineyards close enough to Vienna for excursions there on Sundays and feast days; and where the plain stretched away to the east, on the other side of the city, there was the Prater, a preserve of many acres with the Danube flowing by.
Since the war, the Social Democrats of Vienna had shown other Viennese what could be done about squalor. Two blocks of workingmen's flats in which families lived cleanly stood as models, even though riddled by bullets in an hour of civic strife, which I heard regretted on every side.
Light and airy schoolrooms, and fine swimming baths for the general public's use, were proof that 1 he Austrians did not need to be taught twentieth-century building by their German cousins.
In the nineteenth century the Viennese made the Ringstrasse in one great gesture of creation. It is a triple line of roadways laned by wide-branched lindens, forming a horseshoe arc from the Danube Canal to the Danube Canal. The Ring occupies the place where the city's last wall stood. 'The need for encircling walls is now over and we can live!' So it proclaims. Along the two sides of this triumphal way are buildings in Grecian, Renaissance, and Gothic styles adapted to nineteenth-century use; fine hotels; coffeehouses with upholstered seats from which the occupants can look out through the plate-glass windows; some residences; and a general air of spaciousness given by frequent parks and gardens with trees, lilacs, roses, flowerbeds, statuary, and fountains.
The Opera House, in French-Renaissance style; the Burg theatre, a place where one could hear the purest High German in Europe used in the acting of great dramas; the white marble Parliament; the University; the enormous Town Hall, set well back in its own park; a church with spires of fretwork stone erected by Kaiser Franz Josef in gratitude for escape from assassination; the twin museums of art and history, facing each other across a stretch of lawn where Maria Theresa, a great queen hugely commemorated in stone, sits surrounded by small images of her admirals and generals; and a wing of the Hofburg, Imperial Castle of the Hapsburgs—all these are on the Ring.
The Hofburg was the winter and summer residence of the Hapsburgs until they built the Schönbrunn in a great park far out of town. It is a rambling building, enlarged again and again through seven hundred years. The nineteenth-century wing, an extension to reach the Ring, is surrounded by a Heldenplatz, or Heroes' Place, where a colorful ceremony of changing the guard takes place each morning. Bronze eagles with spread pinions are outlined against the sky from every cornice. Its many parts include a lovely library and a Spanish Riding School. The riding school is a baroque hall where specially bred caprioling horses of purest white, with small heads, arched necks, nimble feet, and flowing tails, performed daily feats of infinite daintiness and grace.
Scattered throughout Vienna are the palaces of archdukes and princes, for whom artists built homes of beauty in eras of peace; and at every turn an arresting arch, a sculptured door, or yet another beautiful church — perhaps such a one as the Michaelerkirche, with its charming eighteenth-century front, or Maria am Gestade, holding up a lantern of great loveliness.
In Vienna, stern German feeling seemed everywhere softened by southern influences, and enriched by the warmth of the Slav. The sky was ever near. From nearly every street one got glimpses of the friendly hills. The city has a few Gothic spires, but not many. There is sublime beauty in the Gothic aspiration to reach heaven, but those who crane upward too ardently are prone to crush flowers beneath their heedless feet. A place with too many Gothic spires and Gothic people can be bigoted, inhumane, hysterical. I found the Viennese and other Austrians tolerant and liberal in architecture and in daily living.
XXXV
Those who lived here had their dire problems. Vienna was the abandoned capital of a broken empire, the home of more than two million people suddenly cut off from former revenues, and not yet adjusted economically to the circumstances of the present. None denied that too frequently, since 1918, native strength had been wasted in foolish civic strife.
From November until spring I saw a cruel wind drive in from the east, and poverty stalk these beautiful streets. Beggars held out beseeching hands as in the streets of Peking. One could not walk twenty yards along the Ringstrasse without being asked for alms.
'The beggars are a Guild. Don't give to them. They really are quite well off,' some people said, but I had to give to all lest I miss one in need. I can't bear to be fed when another is hungry. I noticed that the Viennese who had money gave and gave.
Beggars rang our house doorbell. Shaky, white-faced old men, humpbacked children, desperate women stood there. 'Don't give so steadily. They make a track to your door,' I was advised. But I had to give food, clothing, and once a warmer blanket for a woman to wrap her baby in. We had to keep quarts of milk, and a pot of coffee ready on the stove, for those who were too starved to begin with solid food. Others gave in the same way.
One who had cautioned me against giving too much came one day to say: ' I 'm sorry I told you not to give so much. Last night I said no to a woman. This morning we found her dead of cold and starvation on our doorstep.'
The Catholic church across the street from us, just above Richard Strauss's house, gave charity every morning. It was impossible not to see the long, tragic queue that stood there waiting. On the way to town, down the Jacquingasse, at the last street before the Rennweg, there was a house at which the poor were given soup at noon. They brought their own basins, usually old cocoa tins, and when they had been served they sat on the curb, or oil the steps of neighboring houses, to cat. They warmed their hands round the tins that held their steaming food.
Just off the Gürtel, behind the South Station, there was a place called Obdachlosenasyl, where four thousand men and women were given shelter every night. Those who stayed there had tickets. They had to undergo a medical examination once a week to guard against infecting the place with anything contagious, or spreading lice. I heard that there were several of these places in Vienna. They gave supper and breakfast. The sleepers had to leave at seven o'clock. During the day they sat on city benches, or got shelter where they could.
There were many places that gave free hot dinners at midday. The best were those of the Elizabethtisch. These were given by society women in memory of the Empress Elizabeth, who had in the nineteenth century tried to get help given to the poor. The cooking here was excellent. And there was the ,Joseftisch, a society not so wealthy, which also gave hot dinners in various parts of the city. The English and American Quakers gave relief from a bureau that has been helping ever since the defeat.
Thrust down into the fraternity of distress were many of the old aristocracy, and thousands of intellectual proletarians— people with faces wrinkled before their time, knees slightly bent, thin hands that trembled.
Long ago a wise woman in Philadelphia pointed out to me that the number of women soliciting for a livelihood is a barometer, not of a city's morals, but of its economic situation. On the Kärntnerstrasse one could count more in half an hour than I have ever seen in any other city in a like time. They were nearly all young. They had made themselves as lovely as they could.
Vienna had an excellent system of social services, but the city's means were not equal to the need. Before the Great War a good start had been made to help the aged, the sick, and the unemployed. Since the war, the Social Democrats of the city had made intelligent progress toward a solution of poverty; but unfortunately much that they had started had been ruined in a stupid political quarrel. Chancellor Dollfuss, unwisely listening to the advice of Mussolini, on whom he depended for support of an independent Austria, had let the Social Democrats be destroyed; and their work on economic problems, well begun, had been left unfinished.
Numerous private charities supplemented the state services. I did not meet a single Viennese who was calloused to poverty. It was the habit of those who were not well off themselves to share what they had with the poorer.
It was surprising how many charities were run by Jewish women, frequently entirely on their own money. I know three who gave every cent they had to small institutions, and toiled there from morning until night, often doing the most menial tasks after their charges were put to sleep. Orphanages especially belonged to them; one could get a needy child in without any question as to its blood. Neither the Jews nor the Gentiles I encountered in Vienna favored their own. It seemed to me that people there were neither Jew nor Gentile. They were Viennese.
Only occasionally did snowfall soften the bitterness of the winter. But these were not a whining poor. It seemed that nothing but the hand of death could extinguish their hope and cheer. Hunger did not silence their quick-witted humor, nor did the lack of a coat end their appreciation of the ridiculous.
Vienna had many political visitors. Among those who came were Count Ciano of Italy, several representatives from Herr Hitler, and Admiral Horthy of Hungary. Light-heartedly, with gay remarks, the poor who could arrange a decent appearance deserted their bread lines to work for the state whenever cheerers were needed to give each visitor a good welcome. For this service they got five shillings a day.
Since knowing these people, Mozart, always my favorite composer, speaks to me as never before. They opened for me new vistas of understanding; things that formerly escaped me in his music I now hear. Poverty has haunted Vienna through the centuries. Mozart lived here when this city was the capital of the greatest empire in Europe. He was recognized as of sufficient importance for the Court to take notice of him. He lived in dire material distress.
Kapellmeister of the Stefansdom, he ate the bitter bread of poverty. He died in December weather, and was buried in a pauper's grave, his coffin lost among the coffins of the poor. Yet he could enrich the world as few men have done.
Because I met the gallant poor of Vienna I can almost hear Mozart say, 'Things have got nearly beyond bearing. I'll now retire into my own soul for a while and make some nice music for a comfort.' He could put off the call of death until he had penciled the last note of a glorious Requiem, and, that done, take a gentle leave of life.
XXXVI
We lived under a dictatorship. They did not use the handsome Parliament on the ring, a building in Greek style put up in the nineteenth century when parliamentary government was in fashion. This was explained in the following way.
'We have had to abandon parliamentary government because, instead of trying to make it work, we stupidly used every democratic device to sabotage it. It proved too high an intellectual concept for us, as it did for the Germans. We have fallen back to the most primitive form of government. That is government by mandate. We have loaded all our responsibilities on to the shoulders of one man. We call him Dictator. It would be more accurate to call him Burden-Bearer. We ought to be ashamed of ourselves. Many of us are. Given time, I think we shall get parliamentary government reëstablished. But just at present, with Naziism in Austria supported by the might of the Dritte Reich, it seems a good thing to have Parliament closed. A democracy is the form of government most open to seizure by those who have no use for liberty except as a license.'
On February 14 the Chancellor, Herr von Schuschnigg, speaking at a meeting of officials of the Patriotic Front, expressed a firm and confident intention to continue the policy of Austrian independence, with a gradual trend towards a monarchist restoration.
After describing the slow but steady progress in Austria's economic and financial position, the Chancellor turned to foreign affairs. He did not stress the Berlin-Rome Axis, which loomed so large in those days in the words of Italian and German statesmen, but put great emphasis on Italian friendship for Austria and on the unconditional support which Austria, as the standard bearer of an ancient German civilization, could confidently expect from Italy. He declared that no Communist danger existed in Austria, showing thereby that he did not intend to join the anti-Bolshevik front.
The Rome Protocol, and the ItaloAustro-Hungarian collaboration founded on it, the Chancellor indicated, remained the essential basis of the Austrians' foreign policy. While laying all possible emphasis on the unrestricted sovereignty of their state, he added, they felt themselves the most genuine kind of Germans, and the agreement of July 1936 with Germany thus filled them with satisfaction. Austrians had no differences with Czechoslovakia or Yugoslavia. They attached special importance to the cultivation of friendly relations with the Western Powers, England and France. The growing appreciation of, and interest for, Austrian problems which showed itself in England gave them especial pleasure.
On February 22 Baron von Neurath, the German Foreign Minister, arrived in Vienna. He was met at the station by Herr von Schuschnigg and Dr. Guido Schmidt, the Austrian Assistant Foreign Minister. Dr. Schmidt entertained him at lunch at the Grand Hotel, and that evening the Chancellor gave a banquet for him at the Belvedere Palace, which was opened and decorated with palms and flowers for the occasion. Members of the present government, and several hundred of the old nobility, were asked to attend, and did.
Baron von Neurath was the first German Foreign Minister to visit Austria since the Nazis came into power. It was felt by many people we knew that Herr von Schuschnigg's recent speech had set a polite but firm limit to whatever Baron von Neurath wished to achieve there politically. They thought that the visit might be limited to cultural collaboration between the two German states.
I found von Schuschnigg's régime extremely tolerant in contrast with what I had experienced with dictatorship in Germany. The Austrian Nazis turned out in force to welcome Baron von Neurath, cheering him jubilantly. The police, in deference to the day's distinguished visitor, had strict orders to bear with all their activity. The Nazis marched round the town with chorus cries of 'Heil Hitler,' and 'One nation, one Reich.' They sang Deutschland über Alles, and the Nazi Storm Troopers' song. They were mostly young men and girls. Other young men and girls collected and marched through the streets shouting 'Heil Schuschnigg' and singing Austrian national songs. The efficient Viennese police kept the two groups apart.
The Fatherland Front was the only political party officially recognized in Austria, but at no time did I encounter, or even hear of, any drastic efforts made by von Schuschnigg's government to crush Nazis, Socialists, Communists, or anyone so long as he or she did no serious harm to another. I expressed surprise at this. A friend answered me that there was nothing strange in such tolerance, as the Fatherland Front should eventually spread out its wings to include all Austrians. It meant loyalty to Austria. Under loyalty to Austria there should be room for healthy diversity of political opinion. She assured me that, although a member of the government at the time the Social Democrats were slaughtered, von Schuschnigg had been appalled by this happening. She said he was intelligent, and every intelligent Austrian knew this act had a serious effect on Austrian morale, aside from the pity of it. Managing to have it happen was the shrewdest thing that could have been done by Austria's enemies. She despised Mussolini.
People in Vienna talked openly on every subject under the sun. Before I reached Germany, Nazi decrees for 'the protection of state and people' had started the custom of elaborate preparation before discussion of anything political. In Vienna I never saw plasticine put in a keyhole, or a telephone detached. Servants came and went, and voices were not lowered against their hearing. No one ever rose when the last course had been served to put. sofa pillows along the crack of a door. I never heard a warning whispered behind a hand, 'Careful! Speak through a flower.'
A German who was on home leave from China came to visit us at Vienna. In a restaurant the first time someone started commenting on the government, criticizing Chancellor von Schuschnigg for trying to negotiate with the Nazis, he sat there shaking like a leaf.
His explanation was, 'My cousin has gone to a concentration camp for less than that.'
Our Viennese friends quickly assured him that there was no need for apprehension here. They said, 'We have a concentration camp, although we are ashamed to have it. It is a disgrace to have gone back on the old established system of arrest and trial. But as a temporary measure this seems necessary. Still, it is n't a measure taken to paralyze conversation. Nobody is put in except a person who throws bombs, sets fires, or behaves in some dangerously unsocial way in the furtherance of some political philosophy.'
They further explained that there were no floggings. No sadisms were practised. It was merely detention in a place safely separated from the rest of society. The detained was not worked as a government slave. He or she could have books to read and paper to write on. There was nothing to hinder the concentration camp inmate from producing another Pilgrim's Progress, or following the example of William Penn in composing Some fruits of Solitude while in prison.
Hermann was beaming on them before they had done. 'That is the sort of concentration camp Austrians would have.' Then he sobered. 'My cousin made his unwise remark in London and was reported from there.'
'You are safe in Vienna,' they told him. 'We retain our freedom here. We criticize our government and the Dritte Reich whenever we feel like it.'
He did not think this a safe policy. They retorted that safety is not a thing of first importance. I asked him how Germans were in China.
'Cautious. Mighty cautious,' he answered.
He explained that Naziism was rampant among the Germans out there. A man could n't hold a job if he was n't a Nazi. His wife had to be Nazi. The children had to be Nazi. 'You know how it is in small communities. Out East now, every time a person yawns some busybody reports it to Berlin, and it goes on the Gestapo docket.' He thought that the reporters got something for their zeal, or perhaps had their reward in feeling patriotic. He told us that Herr A. had lost his job. Ja, they dismissed him from the school. The little ones must not be taught by a pacifist.
'I got a warning about three months ago for going to R.'s. I went there to play my violin as I always have. Gott im Himmel, where are we being led? Because I 'm by chance born an "Aryan," and his grandmother was a Jewess, I'm not to go there any more. I'm not to play Beethoven with him. If I don't heed this warning, a better German than I am is to get my job.' In the sentimental German way he was nearly in tears. 'R. and I went out to China the first time on the same steamer. We were on home leave when the war started. We fought for the Fatherland in the same battalion. We survived. We went East again. We suffered that awful time when men who had been our friends would not shake a German hand. Germans could not ride or play tennis at the clubs with other nationals. R. and I had our music. We could play Beethoven together then. Now I must give up my friend or I lose my job.'
'Will you give up your friend?'
'I can't live if I lose my job.'
The faces of our Viennese friends registered scorn. Beneath their gayety is a hard core. Hermann went on speaking, expressing his amazement that there was any place in the world where Germans still dared to speak their minds on politics.
'We are Austrians here,' Fritz reminded him.
'You are Austrian, but you are also German. You ought to be watching your tongues. . .'
One by one they drifted off. They did not go rudely or abruptly. Each had an excuse. Each said farewell. But soon there were no Viennese at the table. We were left alone with our German.
The economic situation pressed on my thought. An Austrian banker whom we came to know well felt that, while union with a large tariff-free area was sadly needed, any material gain that might be achieved by Anschluss with the Third Reich would be bought at too high a spiritual price. 'Man does not live by bread alone,' was his firm opinion.
He showed me with graphs and tables just what Austria was doing for herself economically. His drawings displayed a diminishing line of poverty, and the plans for the future sounded promising. They included a steady stimulation of the tourist trade, furtherance abroad of Austrian styles in dress, the promotion of arts-and-crafts goods for foreign sale, and innumerable things detailed through a sheaf of pages. Naziism he defined as emotionalized materialism, and hoped Austria would be spared Nazi conquest.
He said that the Nazi leaders of Germany had advised Austria to man and arm four corps. Germany, possessed of plenty of guns, but short in meat and butter, would provide the necessary aircraft and artillery in return for livestock and dairy products. Von Schuschnigg had refused to accept this offer with the answer that a peacetime army of that many men would mean an expenditure beyond the state's resources.
'Germany does not pay for things with money. Giving her our meat and butter in exchange for guns would not help our economic situation; but since then Germany has offered to allow German tourists to come here again; to pay film dues, patent fees, and authors' royalties long overdue; and to give us coal, coke, and other things we need in exchange for what they want. So a trade agreement which should be advantageous to both sides has been signed. Broad hints from German quarters of political conditions accompanied the opening of negotiations, but our Austrian officials have conducted the business on a strictly business basis.'
During this year the German press and radio made much of the fact that Austria was a German state, close kin to the states of the Reich. Dr. Guido Schmidt, Austrian Assistant Foreign Minister, flew back and forth to Germany. He attended conferences at Berlin, and was invited to Berchtesgaden. He was lent General Göring's private aeroplane. After one of Dr. Schmidt's trips abroad it was broadcast that these meetings were 'leading the entire German nation to new heights.' Another time it was reported that the leaders of the Dritte Reich 'found much still to be done in the psychological and moral sphere of our friendship.' We were told that one of the reasons for this remark was that Herr von Schuschnigg absolutely refused to commit Austria to any anti-Semitic plan.
'The Nazis say that anti-Semitism is historic among Germans. So is walking on all fours,' I was told.
Many people I met distrusted Dr. Schmidt, and censored the Chancellor for having him in his government. Many more were suspicious of the hospitable German Ambassador, Herr von Papen, who gave such nice musical parties.
By April it was known that, since Baron von Neurath came to Vienna and found that all remonstrances fell on stony ground, pressure was being used in Rome to prompt Italian admonition. Soon the customary reaffirmation of Italy's vital interest in Austria's independence was absent from the Duce's official communiqué. Very soon Italy joined the Nazi campaign against Czechoslovakia, and, further, Austria was st rongly advised to stand politically aloof from the'Versailles State.' The Austrian Chancellor would not join this campaign. Instead he began, mildly, to cultivate Austrian relations with Prague.
Apprehensive Viennese continuously talked things over. Many said that they really had no cause for complaint. Nazi bomb throwing had stopped since von Schuschnigg came to office. Evidently he had the secret of arranging civic peace.
The people of Vienna spoke a language German yet not German. Viennese is German with the stiff endings broken off, the verbs put in where they fall easiest, harsh sounds softened, and the whole seasoned with a generous sprinkling of Romance words and phrases. It is used by everyone who belongs to Vienna, from dustman to archduke. All have melodious voices, and give expression a lilt and a swing, a drag and a drawl. Quick-witted, melancholy, gay, suddenly droll, the speech of the Viennese is a lingua franca as delicious as their coffee.
They talked of the possibilities of a Hapsburg return, and many longed for the color and ceremony this would bring. But Naziism was the subject most often on their tongues. Thought of it continuously bothered those I knew.
It was round a table in a park, when the lilacs were in bloom. Mina had said, 'If we must go down under an inrush of the Northern hordes I for one will always be glad that we had as our last Chancellor a man of honor and principle. I am glad von Schuschnigg does not barter away our civilization piecemeal. Gentlemen are out of mode in world politics, but I am glad we have a gentleman as Chancellor; and it seems fitting that he should have musical talent and education far beyond that of the usual amateur.'
Stephanie did not think it right to be lazing in a pleasant sunset. She felt that a determined crusade should be organized against Naziism. 'It is a disease of the mind, a plague that will spread over Europe unless stopped,' she said.
'Our Chancellor has inherited no easy job. He is doing better than any one of us might do in his place,' Mina insisted.
'Bravely said,' declared Fritz. 'Our own wounds have to be healed before we can cure the world of Naziism. His mild policy is the medicine we need.'
Then gradually, as happened with nearly every discussion to which I listened at Vienna, talk veered round to that ever-current question, 'What is life? Why scourges, plagues, recurrent dark ages? And what makes mankind survive every peril, and rise after every fall to reach again for the splendor of the stars?'
Each time the Viennese answer was, 'Man weiss nicht — no one knows.'
One could overhear this pondering as to why men are on earth in the breadline queues, in the cafés, during intervals at the opera, in one's own pantry, and in the salons of friends.
Always there was the same conclusion: 'Man weiss nicht.'
(To be concluded)
With each twelve months of the Atlantic
THREE GREAT BOOKS OF THE YEAR
RUMFORD PRES CONCORD N. H U.S.A.