Churchill: Historian and Statesman
THE long day's task is done. After ten years the Right Honorable Winston Churchill completes the stateliest history of many generations, Marlborough: His Life and Times, Vol. VI (Scribners, $2.75). You must go back to Clarendon to find its English parallel; most statesmen have neither time nor talent to write history. They had rather make it, but in Churchill's case no enemy will accuse him of skimping his political activities for literary aggrandizement. Skimping, indeed, is not in Churchill's vocabulary. I would wager that to complete this mighty work he has not even taken time from his sketching.
This final volume of a Life which will never again be written has a moralistic quality denied to its predecessors. It is the fall, not the rise, of greatness that excites the comment of a philosopher. To reduce this tragic story to an aphorism not wholly false, the final phase of Marlborough's public career is a duel between the supreme soldier, the most prescient statesman of his age, and (to use Harley's phrase) a dirty chambermaid. It was the chambermaid that won.
A courtly age is always an age of intrigue. Blenheim, Ramillies, and, in the final phase, Mai plaque t, had their analogues in the ferocious engagements of the bedchamber between the redoubtable Sarah and the sinuous Abigail, who, in the employ of the Tories, destroyed Marlborough's credit with the Queen, drove a great administration from office, and by a sardonic turn of history saved the tottering empire of Louis XIV.
Marlborough's was the last age of history in which aristocracy reigned supreme, the age of personal distinction, of manners, of elegance, and of the majesty and flexibility of English prose, For a time, while the great drama of Anne's reign was enacted, the whirling world seemed to stand still. When she and Marlborough died the modern scene began.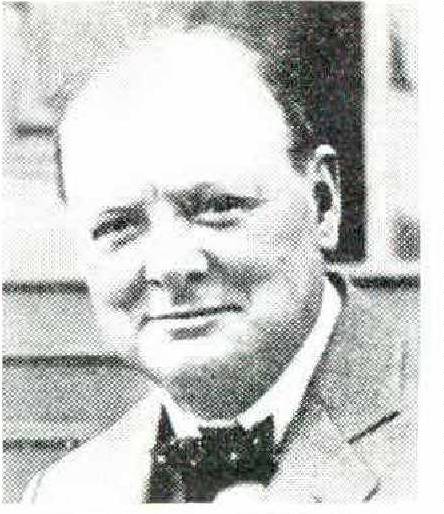 Churchill's tapestry is vast: the grandiose alliance of Europe against the dominating power of France, the soldiers and statesmen, conspirators, spies, venal journalists of genius let loose on noble quarry, the distracted Queen spun about with spidery webs, the termagants struggling around her, and, at the centre of the vast conglomerate, Marlborough, supreme soldier, wisest statesman of his age, forgetting nothing, foreseeing everything, moderate, tactful, wise, acquisitive for himself, never unmindful of his country, symbol of her greatness and true founder of her imperial career, while in the background the huge pile of Blenheim Palace slowly ascends, emblem of Marlborough's greatness and physical proof of his immortality.
It is interesting to turn from the magnificence of this historic work to a volume of Mr. Churchill's speeches, While England Stept (Putnam, $4.00), piously compiled by his son, who attempts to do for his father what the elder Churchill once did for his. We rate Churchill the politician below Churchill the historian, but, with every allowance for the advantage the editor enjoyed of making selection from copious material, when it comes to proving a gift of prophecy there is no denying the amazing prescience which foresaw in '34 and '36 the fearful crisis of '38. Nor can the thoughtful critic dispute Mr. Churchill's habitual clairvoyance in divining the future from an analysis of the past. To his own method the statesman-historian gives eloquent expression. 'It is not given to princes, statesmen and captains to pierce the mysteries of the future and even the most penetrating gaze reaches only conclusions which however seemingly vindicated at a given moment are inexorably effaced by time. One rule of conduct alone survives as a guide to men in their wanderings: fidelity to covenants, the honor of soldiers and the hatred of causing human woe.'
ELLERY SEDGWICK