VOLUME 161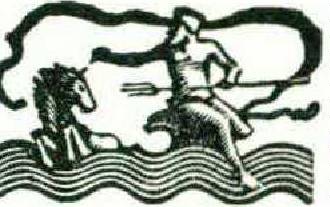 NUMBER 4
APRIL 1938
BY GAY MACLAREN
I HAD started back to our tent when I saw the poster tacked up to a tree: —
COMING!
To the Lake Madison Chautauqua
OPAL MAY
THE WORLD'S GREATEST CHILD ELOCUTIONIST
in
HUMOROUS AND PATHETIC SELECTIONS
also
STRONG SACRED NUMBERS
Mother had sent me to the well to get a pail of water to make coffee. But when I saw the announcement I was so excited that I forgot all about my errand and followed the posters, from tree to tree, through the Chautauqua grounds until they led to the auditorium. And there, nailed to each post all around the big circular building, were more placards. At the top was a picture of Opal May in a ruffled dress and slippers with bows on them. She was about my age.
Our week at Chautauqua ended on Friday night. We were all packed up and ready to start home, but when I heard Opal May recite 'The Bobolink,' I begged Mother to stay over so I could hear the 'Strong Sacred Numbers' on Sunday.
When Opal May walked out on the platform, the chorus of 'Oh's' and 'Ah's' which swept over the auditorium sounded like the rustling leaves on our big cottonwood tree when the wind came up suddenly.
Her dress was pale blue taffeta silk with ruffles clear to the waist and a pink sash that stuck out in a big bow at the back. Her long brown curls were tied with a ribbon to match the sash, and she had on a lovely breastpin, and perfume, too — I could smell it down on the front seat. But the most beautiful thing about her whole costume was her slippers. They were pink satin. They were very tiny and tied with pink ribbons, so I knew they would n't come off. I thought of Cinderella and the Fairy Prince with the glass slipper.
The first piece that she recited was called 'The Charcoal Man.' It had an echo in it. The story tells about how Mark Haley comes driving down the street calling, 'CHARRRRRRRRRRR - COALLLLLLLLLL - CHARRRRRR - COALLLLLLLLL . . . ' and the echo answers back very softly, 'Charrrrrr — coalllllllll — Charrrrrr — coalllllll. . . . '
Copyright 1938, by The Atlantic Monthly Company, Boston, Mass. All rights reserved.
Opal May could hold on to the last syllable and give three or four echoes without taking another breath.
After 'Charcoal' the audience applauded so long that she came back and threw kisses at them. But they only clapped louder and louder until finally she put up her hand for them to stop. When it grew quiet, she recited 'The Bobolink.'
A bobolink sat on a blackberry brier,
Cheeeeeee, prrrrrr, cheeeeeeeeeeeeee,
He sang, with his heart on fire,
Kiss her — cheeee, prrrrrr, cheeeeee.
The minute Opal May began those bird tones a little shiver ran all over me. Right then and there I gave up all thought of Little Eva or of traveling around with a trained bear. I knew at last what I wanted out of life. I wanted to be an elocutionist like Opal May and go on the Chautauqua. I was seven years old.
When we got back home, Mother sent to Chicago for the One Hundred Choice Selections and I started in to learn 'The Bobolink.' I practised the bird tones behind a pile of two-by-fours in our lumber yard every night after school. One day Mr. Dempy, who owned the carpenter shop on the other side of the fence, asked me if I did n't know a piece with some other kind of bird in it.
That was the beginning of my career in Chautauqua — of the years I stood on the squeaky pine platforms, fighting mosquitoes and dust, trying to lift my voice above crying babies and howling dogs to get my message to the earnest, perspiring crowds. It is the story of the days when scholars and labor leaders, lady elocutionists and jugglers, trod the boards together to bring culture to the masses.
II
'A Chautauqua,' a metropolitan daily once said, 'is a vacant lot entirely surrounded by canvas and entirely given over to mosquitoes and oratory.'
The city papers always said things like that about the Chautauqua. It was so easy and self-satisfying to be superior. To the cities, the Chautauqua movement represented corn-belt culture: an emasculated blend of insipid entertainment and uplift oratory. They said it was ridiculous.
And yet for more than fifty years the Chautauqua flourished in hundreds of small towns and villages of this country from the Atlantic to the Pacific; flourished because there was more than a need for it — there was a hunger.
In a day when communities were isolated, education but thinly spread, and entertainment home-grown, when a horse and buggy were a luxury, not a term of derision, the Chautauqua was to rural America the quintessence of culture. Its trappings may sometimes have been tawdry and artificial, its programmes more influenced by the exigencies of train schedules than by the needs of the audience; but it represented an intellectual feast to the hinterlanders without which they would certainly have suffered cultural malnutrition, if not starvation.
It is difficult to-day to remember how barren was the intellectual life of the man who then dwelt outside the cities. Naturally he was hungry for culture for himself and his wife and his children. And it came to him in the Chautauqua and its winter counterpart, the Lyceum. Here was culture at last: not the native culture that he might have developed had he been more isolated, but an alluring culture from the city, sugarcoated with piety, educational value, a smug morality — in short, with all the virtues which he identified with his church and his school, plus a certain titillating increment of glamour.
For its part, the Chautauqua movement tactfully played down its glamorous aspects. It was virtue that was on parade — a militant, preening virtue, preMencken and unabashed. Inevitably, such a self-consciously right-thinking movement gathered to itself, in addition to lady trombonists, Swiss yodelers, and bell ringers, a vast army of reformers, denouncers, viewers-with-alarm, and crusaders, all grimly bent on doing good. Inevitably, too, they developed a Chautauqua Spirit and a Salute; Chautauqua became a super-religion, and Chautauqua Week became a modified version of the old camp meeting, from which, indeed, it stemmed.
The Talent — those who had the true Chautauqua Spirit — looked on their performances as The Work, although there were a few irreverent ones who merely thought of it all as work.
In its heyday the Chautauqua gathered as many as 40,000,000 Americans to its halls and tents in a single season. Hardly a small town but had its culture week or season during the summer. It was not unusual for a village of 200 persons to fill a tent holding 1100, thanks to the culture hunger, the advance agent, and the Ford. Permanent Chautauquas flourished in more than 600 small communities throughout the country, while the 'tent shows' or traveling Chautauquas played in 6000 to 8000 communities. No wonder Theodore Roosevelt called the Chautauqua ' the most American thing in America.'
It was Bishop John H. Vincent who started the movement. In the summer of 1874 he took a small group to the shores of New York's beautiful Lake Chautauqua, there to study the Bible. The blending of nature and religion was auspicious. The faithful returned year after year, extended their studies to secular matters, and finally built permanent summer homes and a huge auditorium where the outstanding speakers of the day were heard. The organization was finally chartered as an educational institution and has subsisted ever since on the fees and gifts of students, visitors, and friends. This was the Mother Chautauqua. Its influence on American life in the half century following its founding is hardly calculable. When Bishop Vincent died in 1920 at the age of eightyeight, the Philadelphia Ledger described him as a 'man who probably did more for the promotion of education in America than any other man whom the country has ever known.'
Eventually the Chautauqua movement spread to every corner of the United States. Chautauquas patterned after the New York institution, but operated as commercial enterprises, sprang up in groves of trees and by lakesides in every state in the Union and became the annual vacation resort for thousands of Americans during the summer months.
Life at these assemblies revolved around the large auditorium where afternoon and evening programmes were given daily throughout the session. The auditoriums were designed to accommodate anywhere from one thousand to ten thousand persons. In the early days a Chautauqua might last only a week or two, but as the movement grew the programme at the larger assemblies sometimes ran through the entire summer.
As many of the Chautauquas had merged with the old camp meetings, they were established on the old campmeeting sites and their programmes at first were largely religious. Gradually, however, speakers on secular subjects were given a place, and eventually musical companies and dramatic readers whose offerings could pass the test of 'pure wholesome entertainment' were allowed.
As in the camp-meeting days, people at first came to Chautauqua with their families and camped out during the entire session, or for as long as they could afford. But as the movement prospered and grew in popular favor, the tents were replaced by permanent cottages and families often occupied them for three or four months.
These permanent summer-resort Chautauquas were called 'Independents.' One of the largest of the Independents was the Winona Assembly at Winona Lake, Indiana. Another was at Bay View, Michigan, and still another at Mountain Lake Park, Maryland. 'Old Salem,' in Illinois, and the Lakeside Assembly, in Ohio, drew enormous crowds of summer residents, and there were many more which were in themselves good-sized towns.
In 1904 the circuit or tent Chautauqua was inaugurated, and gradually the Independents gave way before a gigantic traveling enterprise in which, ultimately, all trace of the original ideal as conceived by Bishop Vincent was lost.
The scoffing metropolitan press called the tent circuits 'intellectual circuses.' They were, of course, neither intellectual nor circuses. But they were as great an event, in towns of 10,000 inhabitants or less, as a circus, Christmas, and a college education all rolled into one.
III
My dramatic career began with lessons in elocution. My painful buffeting between the conflicting schools of impersonators and 'readers,' my study in New York, my first 'guest appearance' at the Brooklyn Institute of Arts and Sciences, my secret visits to the theatre, my even more secret and inspiring talks with Lillian Russell and Mark Twain, were to me merely steppingstones to the Chautauqua platform — a platform vibrating still for me with the vision that arose when I first saw Opal May's pink satin slippers and first heard 'humorous and pathetic selections.' Not even the invitation of Charles Frohman to go on the stage could tempt me. I was going on Chautauqua, as an elocutionist.
My first date was at one of the largest Chautauquas in the Middle West — one that still retained a strong camp-meeting flavor. It had a permanent summer population running into the thousands and a large transient patronage as well. The programme lasted from late June until the first of September. I arrived on the sleeper from New York early Sunday morning. Though my first recital was n't until next day, Chautauqua touring was new to me and I wanted to have plenty of time.
The platform manager, a pompous little man, met me at the station, ordered my trunk transferred, and accompanied me to the hotel. On the way, he pointed out the different buildings and recounted with pride the steady growth of the Assembly and the increasing attendance. There was no mistaking his delicate attempt to impress me with the enormous honor that had been bestowed by a booking on the programme.
A company of Swiss yodelers were to give the prelude for my first recital. Unhappily they were detained and came rushing in, tired, and cross because they had to go on without any lunch. The platform manager urged them to hurry so that the programme could get started on time, and they told him irritably that they could n't very well hurry until their trunks got up from the station so that they could dress.
Finally a baggage wagon came clattering up and the trunks were unloaded. It was already time to begin, and the platform manager had gone out to pacify the restless audience. 'Now, folks,' he was saying, 'don't get impatient — all the talent are here and will be with you shortly. Owing to a late train, the yodelers have been a little delayed, but as soon as they have changed their costumes they will be on the platform and I am sure will make up for the lateness of the hour by giving you one of their very best programmes. In the meantime let's have Brother Doughty lead us in a song.'
In the dressing rooms behind the platform there was a great skirmishing as the Swiss yodelers got into their Alpine costumes. I remember thinking they spoke excellent English and wondering how they had learned it, since they were supposed to have come recently from the Swiss mountains. I had much to learn about Chautauqua talent.
When I came off the platform after my recital a crowd of people gathered around me. They all seemed so solemn. Even the boys and girls had long faces.
'My dear,' said one woman, gripping my hands until they hurt, 'God has been very good to you — I am glad to see that you are using your talent for His glory.'
A tall mournful man in long black coat and white tie walked back to the hotel with me. He said he wanted to talk to me. 'You should be very proud that God has chosen you for this great work,' he said solemnly. By this time I was completely bewildered. These people all seemed to think I was some sort of missionary. No one had said a word about my acting, my pantomime, or my character delineations — all they talked about was my 'great mission' and the good I was doing.
My next date was at Green Springs, Ohio, in the afternoon. Train connections were bad and I arrived with barely time to dress and get on the platform at two o'clock. Immediately after the recital I had to rush to the station with only a few moments to catch the train for Chicago. At midnight I caught the Rock Island going west and changed trains early in the morning for an all-day ride to my next Chautauqua town.
Before the season was over, I learned that the life of a 'she-talker' was always like that. We spoke our pieces with one eye on the audience and one on our watch. We spent our time on the platform in an agony of fear lest we miss the 4.45 or the 10.15 to take us to our next Chautauqua town; and we spent the hours on the trains in a state of fearful apprehension lest we miss our next platform date.
We learned to take our sleep when we could get it: in day coaches, on station benches, even on the baggage truck if it happened to be parked in a quiet spot on the shady side of the platform. As for food, a cast-iron stomach was a prerequisite for Chautauqua talent. We passed countless hours riding through beautiful fields of corn and melons and crossing the plains where the world's finest beef was grazing. But from one end of the season to the other, in railroad stations and small-town hotels, our fare seldom varied: greasy pork chops, soggy pale-blue mashed potatoes, canned corn, stewed tomatoes, and tapioca pudding.
To our audiences we were glamorous beings from afar, living an enchanted life, always expected, always applauded, always hurrying away for new triumphs. Of course they envied us. They never divined how much we longed for a night's rest between clean sheets, a meal of tender meat and fresh garden vegetables, and a quiet evening with no handclaps or crying babies.
As the train rumbled on monotonously and the blazing sun began to disappear, giving promise of some respite from the torturous heat, I took out my talent schedule. I knew that I had to leave after my programme that night and was beginning to wonder when I was going to sleep.
The talent schedule was a long blue sheet listing all my Chautauqua towns and railroad connections. There were two dates in South Dakota, three in Nebraska, four in Ohio, one in Massachusetts, three in Illinois, one in Texas, one in Florida, one in Colorado, and so on. Instead of my playing the four in Ohio consecutively, the schedule called for me to enter and leave the state four different times. Instead of my playing the one Colorado date after the Nebraska town, it was listed at the end of the season after all the Nebraska dates had been played. I had to jump clear from Kentucky to fill it.
Much has been written about the hardships of theatrical barnstorming in the early days of road shows, but trouping with a 'Tom' or Medicine Show was easy compared to the life of a Chautauqua or Lyceum performer. The Independents were held at different times during the summer. Each had its own programme committee made up of local citizens. As the booking season opened in January, agents armed with elaborate pictorial circulars were sent out from the different bureaus to secure contracts. Each of the agents had his chance with the committee, and the programme was made up from talent from several different bureaus. It was seldom that one bureau got the entire contract. When the contracts were finally turned in to the office, the managers sat down before large maps of the United States and tried to figure out how they could get us from here to there on time.
One Chautauqua company I met told me that in filling nine dates they had been in ten different states. At the last one, the committeeman said to them, 'Say, you folks must be gittin' bad if you can't stay in a state more than one day.'
Gloomily I tucked the talent schedule back in my handbag as the train pulled into my Chautauqua town. I had just one hour and fifteen minutes to find my hotel, eat, dress, and be on the platform.
But the platform manager was at the train with news. There was no hotel. It had burned down the previous week. I was to be 'entertained' — which meant I was to be a paying guest in someone's home.
Carrying my bags, he escorted me down a shady street and knocked at the door of a small frame house. A tiredlooking woman came to the door, and the manager explained to her that I was the Chautauqua talent she was to entertain.
'We're just plain folks,' she told me as she led the way into a little room off the dining room, 'but I hope you'll make yourself to home.'
The house was full of the delicious odors of good cooking and my spirits began to rise. But I had not reckoned on my hostess. A few minutes later, when I appeared in the dining room, she said: —
'There's a restaurant down on Main Street. The travelin' men say it ain't very good, but it's all we got.'
I hurried out to the Palace Café. The traveling men had, I found, grossly overstated its virtues. I hoped the food would belie the appearance of the place — another vain hope, of course. When it came, slightly sour and dripping with grease, I left it to the swarming flies, bought a chocolate bar, and left. There was just time to hurry back and dress for my performance.
As I passed through the dining room on the way to my room, my hungry eyes swept my hostess's now loaded table. There was a platter of boiled beef, another platter of corn on the cob, steaming hot, a mound of creamy mashed potatoes, a large dish of fresh garden peas, a dish of long white crisp radishes, a plate heaped with homemade bread, and various little dishes of homemade pickles, jams, and jellies.
The tired-looking woman got up and followed me to my room.
'I hope you got your supper all right,' she said. 'If I'd a knowed you had n't et, I might a entertained you fer meals too. But I ain't fixed fer company.'
This was my first experience at being 'entertained ' and I thought it inhumanly cruel. Through many years of similar experiences I was to learn that being 'fixed for company' meant having a meal of canned salmon and gingersnaps. A garden full of fresh vegetables was not considered quite worthy of Chautauqua talent.
IV
The next night found me dispensing pure, wholesome entertainment at Farmington, Iowa, with the Crawford Adams Company as my prelude.
The prelude was a sacred institution in Chautauqua. The main attraction would no more go on without a prelude than a lecturer would go on without his shirt. Fifteen minutes of whatever kind of musical company happened to be on the grounds constituted this part of the programme. That is, it was supposed to be fifteen minutes. But you could never tell. If there were several people in the company, they all wanted to get a show, so sometimes the prelude took up a good share of the time.
Nothing made a lecturer quite so angry as to have the prelude encroach upon his time. He would stand off stage with his watch in his hand and fuss and fume while the company went on and on.
We never knew what our prelude was going to be. When Madame SchumannHeink sang, she was quite likely to be preceded by the Boston Banjo Boys. An eminent Southern colonel might draw the Colored Colonial Cavaliers, and ex-President Taft's lecture on 'The League of Nations Congress' was likely to follow a whistling rendition of 'Listen to the Mocking Bird.'
There was a Russian violinist who blamed it all on America. He had been signed up in his native land for a 'great tour of the United States.' He had never been in this country before and he thought the Chautauqua represented the cultural and artistic life of America. (As far as that is concerned, millions of Americans thought so too.) But when a band of xylophonists plopped out 'The Rosary' as a prelude to his concert, the bewildered artist wrote home to Russia: 'This America is a strange country. They hold their concerts in tents and I have to play with banjos and xylophones.'
The Crawford Adams Company were fine artists, and so I was fortunate in my prelude.
As usual, following our programme, we made a mad dash, this time across country by Ford to catch the train which would get us to our next date on time. Conniving with Fate, the heavens opened up in an eight-hour downpour which was almost fatal on the soggy clay roads we had to traverse. Our car chugged along gallantly until we came to an unusually difficult hill, when it gave a last asthmatic wheeze and sank hub-deep in the mud. There was nothing for it now but to walk. Piling out, we sloshed through the gluey clay which sucked long and hard at our every footstep. We were exhausted when we reached the top of the hill, but the driver, without his cargo, had been able to extricate the car and caught up with us. For the remainder of the night we rode while the rain beat through the car curtains in tiny rivulets. Just a few minutes before five in the morning soaked and exhausted, we arrived at the station and boarded our train.
The Crawford Adams Company changed trains during the morning and I did not meet them again. I was asleep and they did n't waken me when they left. But about ten o'clock I felt a hand on my shoulder and opened my eyes to see the conductor bending over me.
'It's all right, lady,' he said. 'You can go back to sleep. I just wanted to see if you was dead.'
Across the sun-baked plains of Kansas my route took me; then east to Northampton, Massachusetts, and back again to Kansas. The Midwest that summer was in the grip of a periodic drought, and travelers were certainly the greatest sufferers. Through doublepaned train windows the dust would filter faster than you could wipe it off — filter into your hair and eyes and lungs until you were almost suffocated. And meanwhile the sun poured molten heat on the plains as from a crucible.
I had been on the road now for eight weeks, with little sleep, less to eat, and usually unspeakable accommodations. By the time the train pulled into the station I was ready to bid farewell to the whole Uplift business. I had taken off my shoes during the night and my ankles were so swollen the laces would n't come together. Perspiration and soot streaked my haggard face. The morning trains had disgorged crowds of excursionists on their way to some kind of celebration and they swarmed all over the station. The dressing room was full of perspiring women with their little Willies and Minnies needing attention. I wet a handkerchief at the drinking fountain, bathed my face, and started for the office of the local bureau to tell the manager what I thought of the Great Chautauqua Movement.
He was sitting behind a large flattopped mahogany desk. The room was spacious and quiet. Through the open, shaded window came a clean sweet breeze and from a bouquet of fresh garden flowers on his desk came a delicate fragrance. In the lapel of his fresh Palm Beach suit were two sweet peas. He himself was a fresh, pink-cheeked little man, smooth as a sherbet and infinitely annoying.
He did n't say anything until I got all through telling him. Then he leaned back in his chair, touched the tips of his fingers together, and said unctuously: —
'But, my dear Miss MacLaren, think of the good you are doing.'
V
A Chautauqua programme was made up of about two-thirds music and dramatics and one-third lectures. It was served by the greatest aggregation of public performers the world has ever known. There were teachers, preachers, scientists, explorers, travelers, statesmen, and politicians; singers, pianists, violinists, banjoists, xylophonists, harpists, accordionists, and bell ringers; orchestras, bands, glee clubs, concert companies, quartettes, sextettes, and quintettes; elocutionists, readers, monologuists, jugglers, magicians, yodelers, and whistlers.
These attractions were classified in four general groups: the readers, the musical companies, the lecturers, and the educational features.
The word 'reader' was an outgrowth of the term 'elocutionist.' It was first used to designate one who gave whole plays or books in monologue form, and later came to mean any single performer who either read or recited poems, stories, or plays.
In the early days of Chautauqua 'Culture,' the audiences were made up, almost exclusively, of church people who were violently opposed to the theatre and everything connected with it. I can well remember being told that I could never be married if I went on the stage because 'men never married actresses.'
The only way the Chautauqua patrons could hear the plays of Shakespeare or other dramatic literature was in a 'reading.' But even then a play was n't a play; it was a book or a story. I can recall any number of instances, during my first years of Chautauqua and Lyceum work, when I was cautioned against using the term in connection with my recitals. In spite of my stubborn insistence that I was giving a play, I would hear myself introduced as giving a reading of the book, The Sign of the Cross. No Chautauqua programme was complete without at least one or two readings. When, in later years, companies of actors were accepted on Chautauqua, the play readers became less and less popular.
One of the earliest of the Chautauqua readers was Katharine Ridgeway. She confined her programmes almost wholly to the recitation of short numbers, giving what was called a miscellaneous programme. Miss Ridgeway was the idol of every Chautauqua town in America for many years. Chautauqua managers regarded her fame and artistic achievement as far greater than those of any stage star. The head of one of the leading bureaus once said to me, ' Katharine Ridgeway has been heard by many more people and done far more good than Ethel Barrymore or Maude Adams.'
Later on came Margaret Stahl, Maude Willis, Janette Kling, Adrian Newens, Phidelah Rice, and Edwin Whitney, all winning a measure of fame in the Chautauqua world as readers of plays. Among the poets who read from their own works were Fred Emerson Brooks, Edmund Vance Cooke, Anne Campbell, Lew Sarett, and Carl Sandburg.
There were many who gave entertainments made up of short readings, songs, stories, and other novelties, any one of which would have served as a 'turn' on the vaudeville stage. John B. Ratto, Elias Day, Ralph Bingham, Sidney Landon, and Noah Beilharz belonged to this group. Jess Pugh could have 'laid 'em in the aisles' along Broadway with his impersonation of Elmer Warts, 'the Indiana hawg caller.'
Wallace Bruce Amsbary in his inimitable French Canadian dialect readings, Alton Packard, Evelyn Bargelt, and John Bockewitz in crayon drawings, William Sterling Battis with his Dickens characters, Jessie Rae Taylor in her lightning-change male impersonations, and Charles Ross Taggart, 'The Man from Vermont,' with his fiddle — these were all popular 'one-man-show' entertainers.
Little Alice Schrode, child elocutionist and whistler, was the Shirley Temple of the Chautauqua, the envy of every little girl in the front row. This same front row was the bane of every Chautauqua lecturer's existence, but sometimes it could be bribed into behaving with the promise of the coming of the famous men of magic, Reno, Brush, Tarbell, or Laurant.
There were many real artists on Chautauqua who could have made names for themselves had they chosen Broadway instead of Bussey's Corners for their field of endeavor. A few did break away from the big brown tents and auditoriums and become famous on stage and screen. There was that excellent character actress, the late Blanche Frederici, who gave us some of the finest screen portrayals — as a young girl she headed her own Chautauqua company; and Chic Sale, with his troupe of character studies; and the late beloved Richard B. Harrison, ' de Lawd ' of Green Pastures fame, who started his career by giving Shakespearean readings on Chautauqua. The now famous dummy, Charlie McCarthy, made some of his first wisecracks from the pine-board Chautauqua platform, starting Edgar Bergen on the road to fame and fortune.
The noted screen star Conrad Nagle was a member of one of the Chautauqua companies on the Redpath-Vawter circuit, and a 1916 programme of the Chicago Redpath circuit displays the name of one of motion pictures' most famous scribes, Louella O. Parsons.
Prejudice against the stage had been gradually dying out. The Perils of Pauline at the local movie palace was a greater lure for young people than the 'worth-while things' which Chautauqua tents and auditoriums had to offer. Readings of plays by refined young ladies in flowing robes, and even scenes from the drama acted by two or more members of the Elite Concert Company in costume, failed to satisfy the boys and girls when Pauline was in peril at the nickelodeon.
Something had to be done to combat this growing influence. About this time Ben Greet brought his famous Shakespearean Players to this country. The managers put their heads together and decided to take the plunge. The Ben Greet Players were announced for the circuits. Some of the older season-ticket holders mumbled into their beards, 'What is Chautauquay comin' to!' but the bureau immediately began a campaign to sell their idea to the diehards. Stress was laid on the educational and cultural value of the project, Shakespeare was second only to the Bible. This was in 1914.
With the ice once broken, Chautauqua decided to go further. The next year Charles Rann Kennedy's Servant in the House was announced, and from then on play companies became the best money getters on the circuits. A dramatic company of seven or eight could outdraw a band or opera company of twenty-five or more. The circuit Chautauquas took the place of the old showboats and 'ten, twent', thirt" repertoire companies. Of course they eschewed Uncle Tom's Cabin and Ten Nights in a Barroom, but they played almost every popular play known to Broadway. One of the smaller circuits in the Northwest even went so far beyond Chautauqua Ideals as to put on Parlor, Bedroom and Bath.
This demand for drama brought to the Chautauqua William Keighley, now ace director for Warner Brothers Pictures. Green Pastures and G-Men are two of his most notable screen offerings. Among the plays he produced for Chautauqua were Smilin' Through, Nothing but the Truth, So This Is London, Cappy Ricks, Drinkwater's Abraham Lincoln, and Romeo and Juliet. The most popular play on the circuits (first produced by Keighley), and one that endured until the last tent was struck, was It Pays to Advertise.
When I chose a play from the Broadway stage to take out to my audiences I had many things to consider. I had to take care that there was not a single line, word, or situation that could possibly be thought 'off-color,' or anything that might offend a religious or political view. There must be neither 'social' drinking nor cigarette smoking. If these things were mentioned, they must be condemned either by word or by implication.
I became an adept at doctoring plays. With a few extra lines I could turn Bought and Paid For into a prohibition sermon, although it was written before the Eighteenth Amendment. By cutting out or adding a line I could transform almost any play into a plea for righteousness. And I was n't the only one guilty of mutilating an author's brain child for the sake of my job. A musical company giving scenes from Carmen, out in Kansas, had the girls working in a dairy instead of a cigarette factory, and Carmen making her entrance carrying a milk pail.
VI
Music was provided Chautauqua patrons in every conceivable form, from banjo trios to forty-piece bands, from ladies' quartettes to Madame Schumann-Heink and Alice Nielsen. Groups of dusky Hawaiians, Filipinos, and Serbians with native dress and instruments were always popular, and every summer the tents and auditoriums echoed with the ' OOo — lea — eee — hooo' of the Swiss yodelers.
There were innumerable companies sent out under fantastic names. A troupe known as the College Girls' Octette one season was quite likely to take to the road the next as the Eight Egyptian Entertainers.
Some of these novelty companies, however, went on year after year under the same company name and became firmly established in the hearts of their audiences. Such were the John Ross Reed Company, the Smith-Spring-Holmes Orchestral Quintette, the Ernest Gamble Concert Party, and the Petrie Quintette. Irene Stolofsky, the violinist, carried on year after year as head of a company under her own name, as did Tess Sheehan, the little Irish entertainer.
It is said that the male quartette originated on Chautauqua. One of the first and most popular was the Dunbar Male Quartette and Bell Ringers. There were the Schuberts, the Whitney Brothers, and the Weatherwax Brothers. If fan mail had been in vogue in those days, letters to the Whitney and Weatherwax Boys, as they were affectionately called, would have swamped the post office. Instead of fan letters, jellies and cakes were sent around to them at the back of the tent by the adoring housewives.
A concert programme was made up of a variety of 'stunts' — scenes from operas and operettas in costume, musical readings, and vocal and instrumental selections. Since culture was the aim of every Chautauqua programme, classical music was considered essential for balance whether it was appreciated or not. Festival singers, glee clubs, bands and choirs of different sorts, all included a few classical numbers.
Bands, of course, were always popular features and brought extra admissions at the gate. Such directors as Thaviu, Kryl, Creatore, Bachman, and Al Sweet were much in demand.
There were several companies that dispensed opera in tabloid versions. As the prejudice against the stage died down, entire productions of light operas were given from the small portable stages. While the scenery and lighting were not all one could expect in a regular theatre, the singing was surprisingly good. The choruses were filled with fresh young voices. One of the most successful producers was Howard Tooley. He sent out the Tooley Opera Company in The Chimes of Normandy, The Mikado, and other light operas. When the movie menace hit Broadway, some of the stars took their talents to the Chautauqua managers and found a place on the circuits. The veteran comedian, De Wolf Hopper, headed his own opera company under Tooley's direction.
On the Horner circuits out of Kansas City, Ellsworth Gilbert produced many concert companies, and was particularly noted for his Cathedral Choirs.
Sandor Radanovits, for many years director of music with the Redpath Bureau, did more than anyone else to keep up the standards. He produced the Gilbert and Sullivan operas and organized several good companies such as the Harp Ensemble, the Stephen Foster Singers, and the Betty Booth Company. His most notable achievement was a production of Madame Butterfly with the Japanese prima donna Tamaki Miura as the star.
One of the most popular forms of entertainment on Chautauqua, and one that retained its excellent standards throughout the years, was the Jubilee Singers. The first of these companies of colored singers had an interesting history, which is, I think, worth telling.
On October 6, 1871, George L. White started out from Fisk University for Negroes in Nashville, Tennessee, with eleven students to raise money that the struggling school might live. They did not prosper, and it looked as if the whole tour would fail. At the close of one crushingly unsuccessful concert, their leader told the audience that if they cared to stay a little while longer his company would sing some of their own folk songs. On their regular programme they had sung only songs of the white race. The singers were astounded at the enthusiasm that greeted the added numbers and at once decided to abandon the white songs for those of their own people.
When they got to Oberlin, Ohio, there was a great church council in session. The Fisk Company begged to be heard, but were told that there was no time for 'darky singing.' The singers quietly assembled in the gallery and when there was a lull in the programme they began to sing softly 'Steal Away to Jesus.'
That was the turning point in their career. Henry Ward Beecher hurried them to New York and had them sing in his church. Beecher said he was going to do what he wanted everyone in the audience to do. He turned his pockets inside out and started a collection that amounted to $1300.
The Fisk Jubilee Singers, as they were afterwards called, went abroad, visiting England and Germany. They were received by kings and queens, and dined with Gladstone. It was said that Queen Victoria wept when she heard them sing. Returning to this country, however, they were driven from a hotel at midnight. But they had brought back $150,000 from their European tour, with which they built Jubilee Hall on the site of an old slavepen at Fisk University.
(To be concluded)