VOLUME 152
NUMBER 3
SEPTEMBER 1933
BY A. EDWARD NEWTON
WHEN Uncle Sam pitched upon the fifteenth day of March for the filing of one's income tax return and the performing of a capital operation upon one's bank account, he gave no consideration to the fact that his date might conflict with that upon which the Grand National is run. And, even if he had given it a thought, he would, no doubt, have kept right on in his arbitrary course; that is the way governments have. And that is why I am against 'em. There is no denying, however, that they have the last word, and in spite of the best efforts of a secretary, a chartered accountant, an income tax expert, and a lawyer, to the end that the word might be soft, — the kind of word that turneth away wrath, — I say that, in spite of all these, the word when it was spoken caused not only wrath but pain.
I can look back upon the time when one never came in contact with the United States authorities except upon returning from Europe, when one slipped a five-dollar bill to a customs inspector with the same regularity that one did to one's steward, and when one went to the Federal office only to decide upon the color and portraiture of a postage stamp. In those days the national surplus was a cause of worry. And the economists told us that what we needed was a big national debt — an economist will tell you anything. Now what a change! The asking of personal questions is no longer the prerogative of one's physician. Anyone, everyone, feels privileged. Why did you buy B. & O. at 136, and New York Central at 200? Why did you not buy your Steel Common at the bottom rather than at the top? Did you take advantage of the 'split-up' in G. E. at the time 'you disposed ' of your rights in Radio? Above all, why did you allow the emissaries of those sterling financiers Al Wiggin and Charlie Mitchell to wangle you into the purchase of bank stocks at a price which makes it impossible for you to look into a mirror without loss of self-respect? And is the five bushels of grass seed you bought in your wife's name to be charged to capital outlay or expense, and if so, why? These and a hundred similar problems arise to vex you. Finally, why did you take au pied de la lettre the saying of a famous banker, 'Never sell America short'?
Copyright 1933, by The Atlantic Monthly Company, Boston, Mass. All rights reserved.
We were to sail for Liverpool in the Adriatic, but it did not seem wise to do so. At last one evening after dinner, lighting a cigar, I observed to myself that if this is a specimen of ' the last of life, for which the first is made,' I wanted more of the first. 'Never sell America short'! The bankers of New York have provided the best short sale in all history. No doubt we shall work out of our problems, but when, and where shall I be? John Brown's is not the only body which will be mouldering in the grave. Then the words of that sum of all philosophers, Christopher Sly, occurred to me: 'Let the world slip. We shall ne'er be younger.' And so, a few hours later, we took passage on the Bremen, the fastest boat afloat, and, leaving her at Southampton, — with our teeth intact, but badly shaken, — made our way quickly to Liverpool.
I
Need I say that the Grand National is the sportiest horse race that has ever been run in the world, that it is a steeplechase which has been a fixture for almost a hundred years, and that it is distinctly not a race to watch from the grand stand unless one has placed big money on the result — which is more foolish at the National than at other races. 'How often,' wrote my sporting friend, Willie Van Antwerp, to me when he heard that I was going to the National — 'How often,' said he, 'have I put good money on a noble horse only to see it chase every other animal around the entire course!' As someone has said, 'At the National the only thing certain is the unexpected.' To see the race properly one should walk over the course before the race, study the obstacles which must be overcome, and make up one's mind what particular incident in the race one wants to see at close range.
One can, of course, leave London early in the morning on the day of the race in the magnificently appointed special Pullman trains which run directly to the race course and bring you back the same day. In this way you are sure of a luncheon, a reasonably good dinner, and an excellent cup of tea, but it makes a long and fatiguing day, and we had made up our minds to spend several days in Liverpool.
It is admitted that one of the best hotels in England is the Adelphi. It does not capitalize antiquity and discomfort as so many hotels in Britain do; it was built just before the Great War, which had one effect, among many, of diverting the American traffic from Liverpool to the Channel Ports. I felt quite sure, however, that, having made no reservation at the Adelphi, I should be unable to secure accommodation, and in this I was not mistaken. But we had no difficulty at the Exchange Station Hotel, and this was a bit of good luck, as special trains run from the Exchange Station every few minutes to and from the race course at Aintree on race days and almost as frequently at all times; the distance is only seven miles. And so to Aintree we went as per schedule on the day before the race, walked over the course, examined the jumps, and decided upon what we thought would be a good point from which to view the amazing spectacle. Aintree is, except for the race course, not much, although it is almost equally famous for its marmalade.
The race is run over a course two and a quarter miles long, which is traversed twice, making a run of four and a half miles. On the second time round, two famous obstacles, the 'Open Ditch' and the 'Water Jump, are omitted, so that the race finishes on the straightaway directly in front of the grand stand. Having traveled more than three thousand miles to see this race, weather or no, we prepared for whatever weather might come: a pestiferous fog, a heavy rain and a strong wind, even a snowstorm, for the race has frequently been run under any of these conditions. A grand stand affords a certain amount of protection, but we were to see the race standing on a soap box looking over a fence in an open field. How we dressed for the occasion! Wraps and rugs and galoshes. And, besides plenty of whiskey, my medicine kit contained liniments, lozenges, and lotions, pills and other pneumonia preventives. In brief, we were prepared to cope promptly with such intimations of mortality as might result from deadly exposure; and to dismiss this subject well in advance of the race, let me now say that when race day came the weather was on its best behavior and we wished our impedimenta to the very devil. People took us for Eskimos.
Plan of the LIVE POOL Grand National STEEPLE CHASE COURSE Distance about 4 1/2 Miles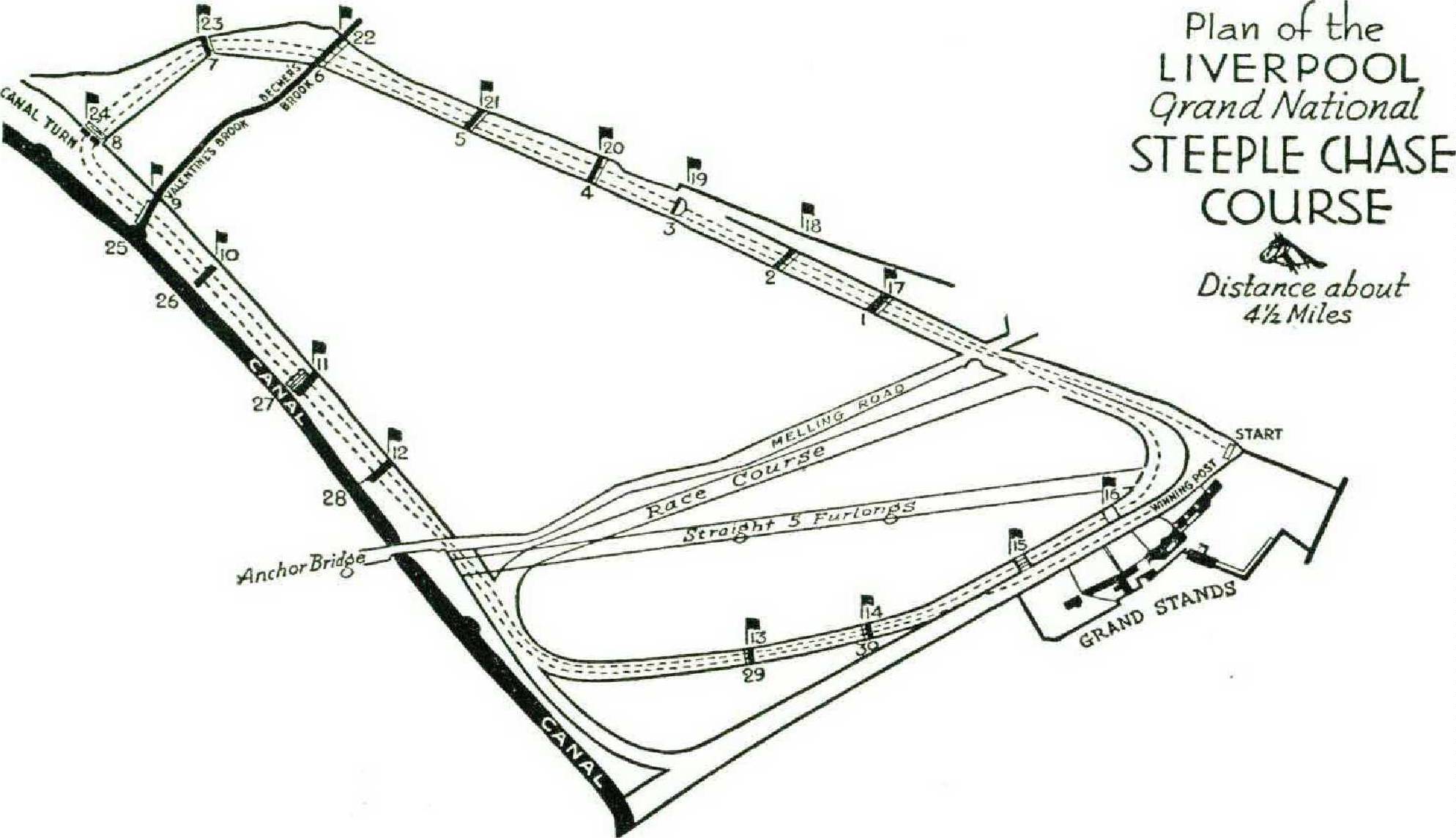 A shout of ribald laughter went up from my friends in London when I told them that I had come over to ride in the Grand National, for, as all the world knows, the riders must be meagre little men, skilled not only in riding powerful brutes of horses, but also in tumbling off them; not portly old gentlemen who should be doing their Now-I-lay-me's, thus preparing themselves for a better world. Better? I wonder! And in my wonderment I am not alone. I observe with interest that people, orthodox people, who affect to believe in the impossible, seem in no more haste than I to leave this vale of tears. I am quite content with this wicked world as I know it, and shall see my number go up with the utmost reluctance.
Having chosen to see the race from the course, we were in some doubt as to whether it would be from 'Becher's Brook' or the 'Canal Turn'; finally deciding on the latter, we returned to Liverpool and, after a substantial lunch, went upon a voyage of discovery. It is difficult to become enthusiastic over Liverpool. It is a cold, hard, dirty city, possessed of some magnificent buildings built of granite, black and grimy with smoke and age. The only feature of interest to the tourist is the new cathedral now building, work upon which has been going on for years; it will, when completed, be one of the largest in the kingdom and would seem to be entirely unnecessary. Is not the day for building cathedrals done? I think so. Abject poverty is the rule in Liverpool, as it is in Glasgow, and for the same reason — the decay of shipping and shipbuilding; and one might wish that the good people of Liverpool had been moved by greater consideration for the poor and less by ostentatious vanity. And now the Roman Catholics are passing the hat, into which coin must be dropped, that they too may build a monster cathedral and thus not be outdone by their Anglican brethren.
Upon the occasion of a visit to Liverpool several years ago, on a Gilbert and Sullivan pilgrimage, we had neglected to see the new cathedral, and this time determined that we would attend a service, if one was going on. But there was only one woman kneeling in prayer in the vast ' fabrick,' — as Dr. Johnson would call it, — and one or two sightseers like ourselves. Presently, and seemingly afar off, we heard the strains of a powerful organ and then a magnificent choral service. In imagination we could see a band of ecclesiastics in colorful array and a white-robed choir of men, and boys with superb soprano voices. But where did the sounds come from? The crypt, probably. We descended — nothing, no one. Presently the music suddenly stopped, and out of the silence came a clear, well-trained voice: 'Hello, everybody. This is the British Broadcasting . . .' I was horrified; perhaps I should not have been, but I was. A cathedral suggests, to me, mediaeval religion, and not the latest development in radio. Just then a poor, dirty, undernourished ecclesiastic of low degree passed by, and I asked him where the service was being held which had been ' broadcasted ' so magnificently. He did not know — 'from Lambeth,' he thought. This I knew to be nonsense, and I passed on more than ever convinced that a new cathedral is an anachronism for which there is no excuse.
II
A little English boy was once asked by his teacher to tell what he knew about the races which settled in Britain. It was thought that the lad would say something about the Normans and the Danes, but to the teacher's surprise she was told that the two great races were the Derby and the Grand National — and so they are. The Derby is a country fair the great feature of which is a horse race for three-year-olds. Ascot is a very swell garden party patronized by Royalty which anyone with a few shillings can attend through the wrong end of a field glass. The Grand National is a steeplechase, a horse race in excelsis, interspersed with jumps many of which would seem to be impossible. Originally a steeplechase was a race having a church steeple in view as a goal, to reach which all intervening obstacles had to be cleared, but it is now run over a predetermined course on which the obstacles or jumps are artificial and planned to test to the full the endurance of the horse and the skill of its rider. Four and a half miles is a stiff run for any horse, even for such magnificent brutes as are entered in the National, but the length of the course is the least of it. It is the thirty 'jumps,' at which horses and riders frequently part company, which make it difficult and dangerous. It was the considered opinion of that excellent horseman, Mr. Soapey Sponge, that 'when a man and his horse differ seriously, and the man feels that the horse has the best of it, it is wise for the man to appear to accommodate his views to those of the horse, rather than risk defeat. It is best to let the horse go his way and pretend it is yours. There is no secret so close as that between a rider and his horse.'
The fences — say hurdles, rather — at Aintree are of varying heights, widths, and composition, including ditches full of water, one of which, the famous Open Ditch, is a thorn hedge five feet two inches high, three feet nine inches wide, guarded by a rail eighteen inches high, beyond which is a ditch six feet wide and two feet six inches deep, full of water. There is also the Water Jump, of a total width of fifteen feet, twelve feet six inches being water two and a half feet deep, with a preparatory hedge thirty inches high. There remain many more difficulties to be successfully overcome, among them Becher's Brook, which is no longer the brook it once was, and the Canal Turn, where, after an especially high hedge, there is immediately a sharp turn in the course. This was the point from which we chose to see the race — and for excitement it is to be recommended.
In 'flat' races, as they are called, such as the Derby and Ascot, speed only is considered, but the development of the Grand National, as it came to be called, was due to hunting men whose rule it is to 'ride straight' and to negotiate whatever difficulty comes in their way. To simulate the difficulties of the hunting field, the obstacles have been dug or erected. At one time a stone wall was included in the jumps, but this was thought to be too dangerous and was removed.
Becher's Brook became famous from the fact that when the first race was run a certain Captain Becher, going strong, approached the brook when suddenly his horse stopped dead, throwing its rider head over heels into the water. Luckily he had the presence of mind — which is the next best thing to absence of body — to remain in the brook under the protection of the bank until the rest of the riders had jumped over him. From that day to this his name is associated with a jump at which many a gallant horse and rider have come to grief. But Becher's Brook is no longer a brook; it is merely a relatively narrow drain on the far side of a high hedge. However, I observed with interest that several stretchers were concealed near by and an ambulance was not far off, in case of accident. Both were requisitioned in the course of the race, though the accidents w ere not serious. There have, of course, been many accidents during the century of racing at Aintree, but I think in all that time only one was fatal to the rider. On the other hand, the horses have suffered severely, and for this reason the race is sometimes criticized. Both men and horses are taught by experience how to fall, and the effort a horse will make not to step on a man when he is down is almost unbelievable.
Wellington, the great Duke, once remarked that he had 'spent a great part of his life wondering what was going on on the other side of the hill.' This must be very much the state of mind of the rider approaching a jump in the National. Have the horse and rider who preceded him fallen, and, if so, are they down to stay, and where? He can only guess and hope for the best. To make the jumps more difficult, the landing side is usually lower, in one case as much as nineteen inches lower, than the take-off side. But the true huntsman is never tired of quoting the lines of that prince of sporting poets, Adam Gordon:
No game was ever yet worth a rap
For a rational man to play,
Into which no accident, no mishap,
Could possibly find its way.
The course as originally laid out consisted of 'turf and plough' — that is to say, of grass interspersed with rough or furrowed fields. In 1885 an all-turf course was decided upon and the character of the jumps changed. There could be — doubtless there has been — made a whole anthology of almost unbelievable happenings at Aintree since the first race was run. On one occasion a horse named Lottery made a jump of thirty-five feet! Horses have been known to jump a hedge, turn a complete somersault, get up, and, riderless, win the race, if so it might be called but that, to win, horse and rider must stick together. Once twenty-four horses in all came to grief at the Canal Turn, and in 1929 sixty-six horses started — it was called a 'bumping match.' The falls of horses were thirteen in number, as were the jockeys unseated, their horses not down; ten horses finished, and the remaining 'died,' refused, were pulled up or interfered with. The value of this race to the winner was just under thirteen thousand pounds. A horse has been known to throw his rider at the first fence but keep right on in the lead for over four miles! And I may say that nothing is feared more than a riderless, that is to say a guideless, horse, for he may suddenly stop or as suddenly cut across an oncoming horse to the certain grief of all concerned. In brief, the course may be strewn for its entire length with men and with horses in the most fantastic attitudes, or they may be bunched together in an almost inextricable mass.
It is a great race to watch, is the National. The jumps which constitute records are always being talked about. For a long time the greatest distance jump was thirty-nine feet, made in 1847, but this is now said to have several times been exceeded, while only a few days ago at the Concours Hippique in Paris a high jump of seven feet ten inches was made — the record is said to be eight feet and a fraction.
As with the Derby, there are a number of minor races run on the day of the Grand National, but the race, over the whole course, is set for a quarter past three in the afternoon. In the race we saw on that fine day in March 1933, thirty-four horses started and eighteen finished; the others fell by the wayside. The start we did not see, but a loud murmur from the crowd told us 'They're off!' And presently in the distance over Becher's Brook came the horses, first one, instantly two more, and soon what was left of the entire field; in another moment they were at the Canal Turn, over which they came streaming like running water. In another moment they had disappeared and for some minutes we stood around quite nonchalantly as though indifferent to the fact that a great race was being run. Presently the shouts of the crowd advised us that the horses were in sight again. 'Here they come!' There is some cheering, — not too much, — and once more the horses pass out of our sight; and for us the race, the race we had come so great a distance to see, is history. It seems rather curious that a world-rocking sporting event can be decided in a couple of minutes, but so it is with horse racing. There are so many preliminaries; months, perhaps years, are occupied with them. Horses have to be chosen and trained; likewise men, and then fitted together. 'They're off! ' — ' Here they come! ' — a cheer — a groan . . . and it is all over. But it is put down in the books and in men's minds, and will be talked of for years to come.
Our race will long be spoken of somewhat in this fashion: 'I remember back in 1933 when two horses with similar names, Kellsboro' Jack and Pelorus Jack, were neck and neck at the last fence. Pelorus Jack seemed to be going a trifle easier than the other Jack, though neither was too comfortable, when Stott, who was on Pelorus, got a bit too eager, landed his horse right on the last fence, and turned him over. I was standing just there and saw the tears streaming down Stott's face. Poor fellow, it was his race up to that minute. Williams was on the other Jack. He was owned by a lady — an American, I think she was.'
And then there will be a dispute and more reminiscences. 'I remember my father telling me of how a parson rode in the National in his day and came damn near winning the race, too. His name was Drake, but he rode as Mr. Ekard, which is Drake spelled backward. Someone went to his bishop and told him that one of his clergymen was bringing a scandal upon the Church by riding in a steeplechase. "Did he win?" inquired the bishop. "No," was the answer. " I'm glad I did not know he was riding," said the bishop; "I certainly would have put some money on him." It was worth a man's while to be a bishop in those days. '
And another will then tell of the wild enthusiasm when the Prince of Wales, afterward Edward VII, in 1900 won the National with his horse Ambush, and how much he paid for the horse, what his winnings were, and what became of him. 'I remember,' replies a listener, ' he dropped dead after a gallop at Curragh.'
It is not until the race is over and the Captains and the Kings have departed that one knows all that actually happened, and I fancy that the best place to see a horse race, after having seen a good many, is in a moving-picture theatre; at any rate, I saw the pictures of my National and heard its story told with a great deal of pleasure. But to enjoy the pictures thoroughly and understand them properly one must have seen the race itself. And there is also the radio. One can wait very patiently to read what King, President, or politician has to say about this, that, and t'other issue, but it is a different and a pleasant thing, seated comfortably in one's chair at home, to hear a voice at one's elbow saying: 'Seven horses are now entering the home stretch; in another ten seconds the race will be decided. . . . Alpine Hut is improving his position and Remus is going well. . . .The riderless horse is leading, but Kellsboro' Jack wins . . . with Really True second . . . and Slater third. The race is over, in the fastest time ever recorded, nine minutes, twenty-seven and two-fifths seconds; almost five seconds cut off the record time.' Think of a whole nation, of many nations, listening in for twenty minutes to three or four men's description of what is taking place at that moment under their very eyes. No one person, however well or highly placed, can see all of a race; most persons can see little or nothing: a murmur, a dash, a flash, and it is all over.
The National, as shown in the picture theatres, was interesting as parades and crowds in movement are apt to be. One gets an excellent idea of the speed and excitement of the race, and the camera accurately records happenings which escape the human eye. The sections in slow motion are especially curious in that they seem to show the riders gracefully gliding or clumsily leaving their mounts for no reason whatever, while the horses seem to choose the most inopportune moments and places in which to lie down. This, of course, is far from being the case: in reality horses and riders fall with a crash while going at their utmost speed, and their falls are due to some accident or interference not shown in the picture.
The winner of our National was Mrs. Ambrose Clark, an American lady about whom and her husband the papers had much to say the next day. And it was all to the lady's credit, for if there is one thing that the B. P. (British Public) admires more than a good sportsman it is a good sportswoman. So, along with the gossip as to why Golden Miller had done this and Remus had done that, came the story of how Mrs. Clark came to be the owner of the winner, Kellsboro' Jack — which goes this way. It seems that one day Mr. Clark's trainer came to him and said, 'You are the unluckiest man that I have ever trained for. If you will give Kellsboro' Jack to your wife he has more than a good chance to win the race.' Mr. Clark, who had bought the horse in Ireland a year or two before, turned the matter over in his mind for a moment, and then offered to sell the horse to Mrs. Clark for one pound. The lady produced the money, and when he won the race she pocketed the very substantial sum of seven thousand and some odd hundred pounds, which in the drab days of the spring of 1933 was a shining spot of money. Mrs. Clark was not the first woman, by several, to win the great race, but I make no doubt she is the first winner with a horse that cost only a pound. She is said to have told a friend that she was tempted to put some money on her horse, but she made it a rule never to bet. Some friends of hers, however, — young Mr. and Mrs. Procter, of Ivory Soap fame, — flew over from Paris to see the race, and at odds of 33 to I returned to Paris the richer by sixteen thousand pounds. It's a pretty tale and I hope it's true.
Then we were told that Mr. Clark is a well-known horseman who lives on Long Island but spends much of his time in England, at Melton Mowbray, with the Cream of Leicestershire, and that he looks like Mussolini. And Mrs. Clark for a moment was the mostphotographed woman in England. She rides a sidesaddle and sits her horse like the perfect sportswoman she is said to be. To me she was the reincarnation of Lady Gay Spanker. How many of my readers will remember the great hunting scene in that fine old sporting comedy, London Assurance?
'And what horse did you ride?' sarcastically inquired my friends when we got back to London. My answer was entirely satisfactory to myself. 'You cannot have failed to observe,' I said sweetly, ' that a riderless horse was the first to pass the finish post. That was Apostasy, my horse. As we were on the home stretch I, well in the lead, noticed a pretty girl in the grand stand who had come all the way from Philadelphia to see me win. As the race was practically over, all but the cheering, I dismounted to receive her congratulations, telling my horse to go on, not to wait for me — that I would join him in the paddock.'
That held 'em for a moment. As a matter of fact, there was a horse whose rider had been thrown somewhere along the course, which continued the race to the end and passed the winning post first, but, not having a rider, was, of course, counted out; for, as the first law of railroading is that two locomotives moving in opposite directions cannot travel the same track at the same time, so, in racing, horse and rider must stick together — how is their business. Vide Soapey Sponge. So the riderless horse got the cheers but not the purse, which must have been a heartbreaking experience for its owner, trainer, and one-time mount. All of which will get into the history books and be read and commented upon when this mortal shall have put on immortality — and after.