The Contributors' Column--April Atlantic
At this time of much intemperate writing, one finds in the work of Henry Noel Brailsford a refreshing combination of broad-mindedness and clean-cut, stimulating thought. Mr. Brailsford is a lecturer and journalist. He is recognized as one of the authorities on the vexed Balkan question, and was a member of the Carnegie International Commission which studied that seemingly insoluble problem. Of William McFee the reading public has heard much since the publication of his novel ' Casuals of the Sea,' and it is a safe prediction that we shall hear a great deal more of him when the end of the war sets the young engineer's pen free. The Atlantic's invitation to write happily caught him at Port Saïd, and his paper was mailed to us from Salonika. Among those who challenge the credentials of modern secondary education, the arguments of Abraham Flexner are the most insistent. The General Education Board is now planning a modern school in which the theories set forth in Mr. Flexner's articles will be given practical application. The experiment, called ' radical and dangerous ' by the New York Times and spoken of in similar terms by many conservative authorities, is finding support in many influential quarters, and the number of applications for admittance to the school is far in excess of the opportunities which can be offered.
Regular readers of the Atlantic are already on friendly terms with Laura Tilden Kent, the schoolma'am of Squaw Peak, and her harum-scarum pupils, the Dennens. One afternoon Miss Kent lined up three Dennen girls and their cousin, Joe, before her camera. 'You're shore dirty, Ruby,' said Rosy, drawing her smallest sister to her with a strong hand, 'but then, what's the diffrunce? Dirt don't show in a picture! '
People can draw their own conclusions from the photograph as to whether Rosy's confidence was justified or not.
Florence Converse, well known as a writer of stories and verse, is a member of the Atlantic staff. The exotic promise of Christina Krysto's name is more than fulfilled by the enthralling sketch of her life which she sends us from her ranch in California.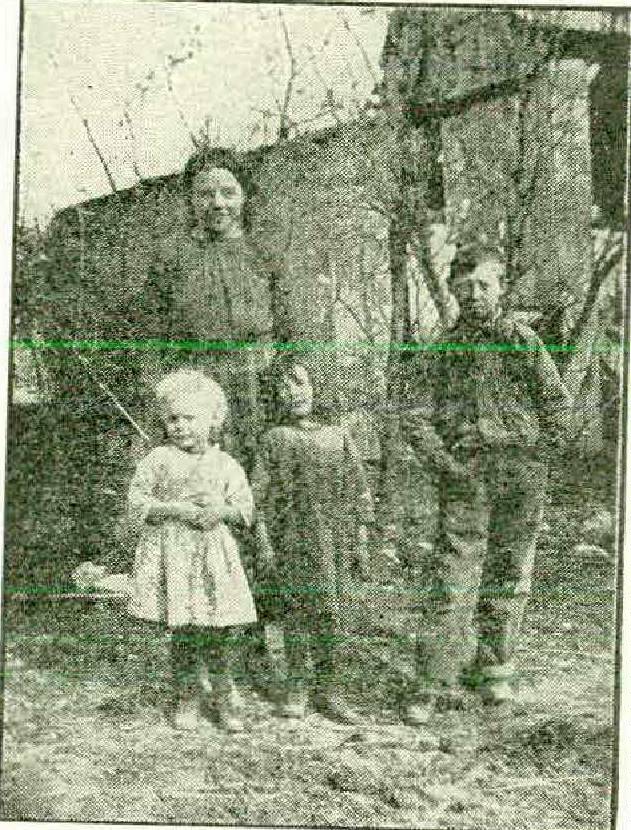 'My early childhood,' writes Miss Krysto, 'was somewhat unusual. Our tiny estate was literally hewn out of the impenetrable Caucasian forest; my parents had selected the spot because nowhere else had they found such mountains and such a sea . It was a wild place, for all that Batum was within walking distance. The first distinct sound of my memory is the call of a lynx from the lane of white acacias which circled the house, and bandits entered definitely into the scheme of things. Thus, when our departure had been decided upon, it was as a matter of course that Mother sent my older sister to Tiflis, lest our preparations for the journey draw the attention of some invisible miscreants to the fact that, across the Turkish border, men paid more for a young wife than for other smuggled luxuries. And, one night, after Father had drawn some money from the bank, we had unexpected visitors, three of them, who made known the seriousness of their intentions by laying their rifles across the beds in which we slept, — retaining, however, their knives and pistols. Following a blind impulse, Mother got the package of banknotes, dropped them, and kicked them under one of these beds, thus saving them, — and we slept tranquilly on, the coveted money beneath us and the loaded guns above. And throughout the silent search the hum of the workmen's conversation was clearly audible from the basement rooms.
'We had few playfellows: Father's hired men, all Turks, who taught us their tongue, fed us on their corn bread, — brick-hard and delicious, —and would have gladly died for any one of us; our enormous shaggy dogs, — we never did understand why strangers were so afraid of them; the Kurds, who planted corn on the narrow strip between the railroad and the sea; and, lastly, the sea itself. To this day a first glimpse of the ocean makes us catch our breath.
'I don't quite know why we left it all. They tell us that the United States promised more to a crowd of impulsive youngsters than Russia had to offer, but I think that Father's adventurous spirit was largely responsible. For, by the time we had reached New York, he had set Ins heart upon the tropics, and we should have settled in Honolulu had not Mother gone to Pali. There, when she had seen the ocean on all sides of her, the island grew suddenly unstable beneath her feet and she caught at a stone wall for support and cried out, "A little place like this for all my children?" So we came to California (though Father was keen to try Tahiti), discarded half of our long name, bought a ranch, and have been here ever since, growing up half Russian, half American. Through all these years we have kept well in touch with Russia through newspapers, magazines, and books, through Father, whose work has taken him back, through chance wandering compatriots to whom Russians in America are oases in a desert. I was graduated, several years ago, from the University of California, came back because my presence at home seemed necessary, and have found little time for anything save the duties which ranch life imposes.
'You ask about my practice in writing. I remember that when I was three years old and just learning to form my alphabet blocks into words, I used to watch Father at his desk — he has, for many, many years, been a regular contributor to several of Russia's leading publications — and feel very sure that I, too, could write stories if only they gave me blocks enough. The thought has recurred to me. since, but, always, something else called for immediate attention. Save for a series of articles on American life in a Russian newspaper — a series which the war cut short, and a few sketches in the Los Angeles Times,—"Babanchik" is my first story since the days when I wrote for the University magazines.'
Horatio William Parker, for many years professor of the theory of music at Yale University, has done more than his share to help live down the reproach that we are an unmusical nation. As everybody knows, his opera Noma won the prize offered by the Metropolitan Company for the best American opera. Arthur Bullard, an American writer who has had exceptional opportunities for investigation on both sides of the Atlantic, is perhaps best known as the author of ' The Diplomacy of the Great War.'
Readers who breathlessly followed James Morris Morgan's career of derring-do aboard the commerce-destroyer Georgia will gladly lend their ears to Colonel Morgan's own account of the last days of this gallant vessel: —
'On the 10th of May, 1861,' he writes, 'the little Georgia was warped into Birkenhead dock. All hands were summoned to the quarterdeck for the last time. Our Captain read his orders to put the ship out of commission. At the word of command, the Confederate flag proudly flying at the peak, the Union Jack on the bowsprit, and the Commander's pennant at the masthead all came fluttering down together, and the cruise of the Georgia had passed into history. She was a poor, miserable, little tin pan of a craft, but I loved her. I, too, was poor, and nothing much to brag of; and despite the fact that my life as the youngest of her officers, and the only one of my grade, had been very lonely, still she had been the only home I had known for thirteen months and had borne me safely through many dangers over thirty-three thousand miles of water safely. We bade good-bye to our shipmates — many of us were never to meet again — and now (1916) I believe myself to be the only survivor of the officers of the lucky little cruiser.
'The Georgia was dismantled and sold to an Englishman by the name of Jones who, in good faith, fitted her out as a merchantman and entered into a contract with the Portuguese government to carry the mails between Lisbon and the Cape de Verde islands. When she arrived off the mouth of the Tagus intending to take on board the Lisbon mails, she was captured by the U.S.S. Niagara, her old pursuer, and sent to the United States as a prize. Her owner never again saw his ship or his money.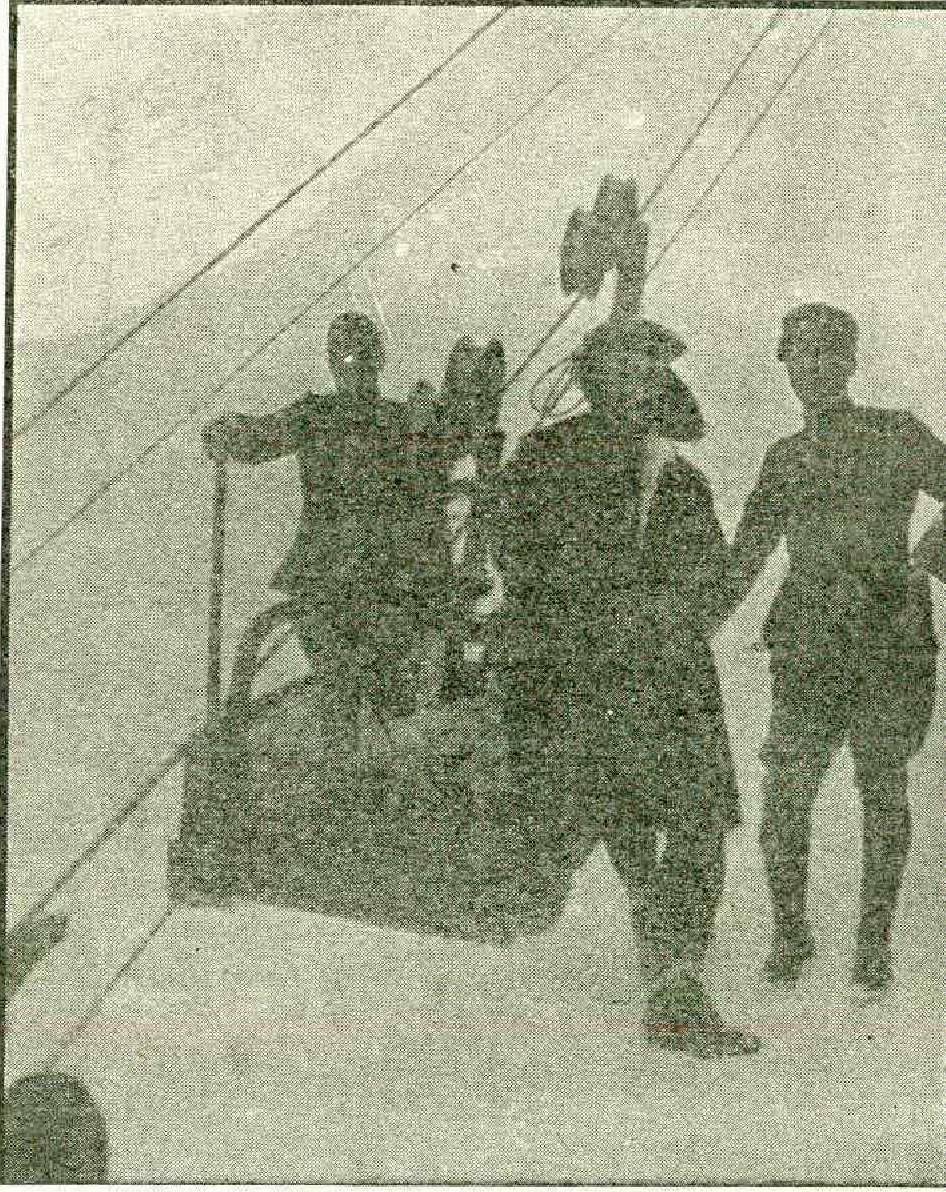 'Once again I saw the Georgia; that was in 1866. On this occasion she was lying at a wharf in Charleston harbor being loaded with cotton. I don't believe she had been painted since I left her in Liverpool, and she looked like any other dirty old tramp steamer. I asked her Male if the wooden cogs ever gave him any trouble and he replied, " Only when she gets us in a tight place in bad weather, or we are trying to avoid a collision." In 1867 the Georgia was wrecked on the rocky coast of the Gulf of St. Lawrence, where her iron bones slowly rusted away.'
The delicate sympathies and individuality of style of Katharine Baker are already well known to the world of magazine readers. Miss Baker lives at Wildwood, New Jersey. The work of Cale Young Rice, a Kentucky poet, will be found in any anthology of representative modern American verse. Many and gratifying are the comments on William Beebe's remarkable papers on the teeming jungle fauna of South America. One novelist high in his profession finds in them the spirit of Thoreau quickened to life once more. Mr. Beebe is now in this country reducing to order the information gained from his work at the Tropical Research Station, Kalacoon, British Guiana. Anne C. E. Allinson, a Greek scholar and the wife of a Greek scholar, has made it her life work to interpret the message of the great classics. She is a member of the faculty of Brown University.
No translator stands between Lieutenant F. S. and his American audience. Interned in Switzerland, according to the international agreement respecting disabled soldiers, he has used his leisure to tell his own story in his own way. In civil life Lieutenant S. was a man of letters whose calling took him to a well-known American University as lecturer for one term. It was through a colleague of his at this University that the Atlantic heard something of his adventures and of his pleasant accomplishment of writing so agreeably a language other than his own. The story comes at our direct solicitation. As readers of the Atlantic already know, Herbert Sidebotham is a military critic of recognized standing, and editor of the Manchester Guardian's ' History of the War.' The companion piece to his present contribution—'The Defeat of the German General Staff' — appeared in the issue for November, 1916. Lewis R. Freeman, a frequent contributor to this magazine, is now on the Italian front, employing his genius for getting into unusual places. Charlotte Kellogg, wife of Professor L. Vernon Kellogg of Stanford University, who has been one of the most devoted and efficient workers in the Commission for Relief in Belgium, is the sole American woman duly accredited to work in the Commission. Her sources of information are unique.
Mr. Boas's paper on American Judaism has been a topic of active controversy. We print here an interesting comment from an orthodox Rabbi.
EDITOR OF THE ATLANTIC MONTHLY
DEAR SIR: —
I take this opportunity of briefly pointing out the Jewish view of Mr. Ralph Philip Boas's article, 'The Problem of American Judaism,' for the guidance of your readers.
First — Mr. Boas fails to make the necessary distinction between a Hebrew and a Jew. A Hebrew is a member of the Semitic race of the human family; a Jew is one who serves God in a particular way. Any non-Jew may become a Jew, by subscribing to the tenets of Judaism, but this would by no means make him a Hebrew. On the other hand a Jew may become a non-Jew by being disloyal to the tenets of Judaism,—but this would leave him, none the less, a Hebrew.
Second — The Jew's mission is to teach the world God's unity, and to serve as exponent of righteousness and justice. This he does by the most scrupulous observance of the Torah and Rabbinic Law, — which makes him a Jew, a member of a 'chosen people,' a teacher people, a priestly people, a living witness of the living God.
Third— Contrary to Mr. Boas's statement, the Jews have most decidedly ' troubled themselves to justify the tenacious fight of their race against the storms of' many more than 'nineteen centuries of persecution,' and have clearly and continually defined their mission.
To observe the foregoing, necessitates self-sacrifice and moral courage, qualities not possessed by weaklings. Our sainted martyrs did not live the easiest way; did not seek the path of convenience; — they loved, they served their God with all their heart, with all their soul and with all their might.
Real Judaism, genuine Judaism, is not confronted with the problem created by Mr. Boas.
Very truly yours,
RABBI HERBERT S. GOLDSTEIN. NEW YORK CITY.
There is no crime short of mayhem of which the Atlantic does not occasionally stand accused by some imaginative censor. We speculate helplessly upon the reason for such a charge as this, recently received:
'It is with deep regret that I notice you are using the Atlantic for Roman Catholic propaganda — and therefore cannot subscribe again.
' An Old Subscriber.'
Of all vagaries this is the most vagarious!
Few of our readers seem to have overlooked Mr. Kawakami's discussion of the advantages and disadvantages of a British Alliance, and what was said between the lines seemed to many readers particularly interesting. We are glad to print a commentary which we have received from the University of Chicago.
'Among the glories of German "Kultur," as exhibited by Prof. Francke in the February Atlantic,' writes a critic with some tartness, ' there are two—nearly 20% who do not belong there. Neither Gottfried Keller, although he wrote in German, nor Arnold Boecklin were German, but Swiss, and were they still alive, would without doubt decline the questionable honor conferred upon them by the professor,'
To which Prof. Francke responds naturally enough. 'As to Keller and Boecklin, I was of course aware of their Swiss nationality. But I do not see how it can be doubted that they were two of the most prominent figures in the history of German literature and art of the 19th century. Would any one think of excluding Rousseau from the 18th century French literature? '
As well, it seems to us, rob the United States of Alexander Hamilton or restore Napoleon to the history of Corsica.
This from some true friend,
Columbus Avenue was almost quiet when in the foggy twilight I stopped at a newspaper stand beneath an 'L' station. A glance at the magazines revealed one Atlantic.
'I'll take this,' I said, opening my purse; but only one dime and two nickels had survived my afternoon down town.
'I'm sorry,' I explained, replacing my tancolored favorite, ' but 1 have n't enough money with me.'
'No matter,' was the quick reply; 'take it along with you an' leave the money when it's convenient.'
'But you don't know me,' I hesitated.
'I know enough.' The little old man was emphatic. 'Folks that read the Atlantic always pay their bills!'