The Contributors' Column--January Atlantic
Colonel James Morris Morgan paints his own portrait and tells his own story with a completeness that needs no amplification here. By way of introduction, however, the following extract from the records of Confederate officers in the office of the Adjutant-General of the U. S. Army is decidedly helpful: —
James Morris Morgan was born in New Orleans, La., in 1845. He was appointed a cadet at the U. S. Naval Academy, at Annapolis, in 1860, and resigned in 1861. He entered the Confederate service and was aide-de-camp to Commodore George N. Hollins, who was commanderin-chief of the Confederate naval forces on the Mississippi River. He was engaged in the attack on the Federal fleet at the head of the passes of the Mississippi in October, 1861.
He served through the campaign of Island No. 10 and New Madrid, Mo., and down the river to Xew Orleans. On the fall of New Orleans he escaped capture and proceeded to Richmond. He was a witness of the battles of Fair Oaks and the 'Seven Days' around Richmond. He was stationed at Drewry's Bluff and engaged in the fight with the ironclads Galena, Monitor, and Naugatuck, when they attacked that place; afterwards he was stationed in Charleston harbor and was aide to Commodore Mathew F. Maury, with whom he ran the blockade, going to Europe, where, in April, 1863, he joined the Confederate cruiser Georgia (Commander William L. Maury), with which vessel he served some thirteen months until the Georgia was sold at Liverpool in May, 1864.
He returned to the Confederacy, running the blockade into Wilmington, N. C., in the steamer Lillian in daylight, the Lillian having been chased and under continual fire for eighteen hours before entering port. He participated in the unsuccessful assault on Fort Harrison, and was afterwards stationed at one of the naval batteries in front of 'Dutch Gap' on the James River, where he remained until the fall of Richmond, having been under constant artillery and mortar fire for seven months.
When Richmond fell, he was ordered to accompany Mrs. Jefferson Davis out of the city. He proceeded to Abbeville, S. C., where he parted with the President and Mrs. Davis, being ordered to report to General Fry, in command at Augusta, Ga., and was afterwards surrendered at Washington, Ga. In 1865 he married a daughter of the Hon. George A. Trenholm, Secretary of the Treasury in Jefferson Davis' cabinet, and was left a widower before he was twenty-one.
He went to Egypt in 1869, and entered the service of Ismail Pasha, Khedive, as an artillery officer, and was shortly afterwards transferred to the staff corps. He bore recommendations from Jefferson Davis, General Robert E. Lee, and others under whom he had served. He was regarded as the finest horseman in the Khedive's army. He has been a great traveler and speaks several languages. In 1873 he married Gabriella Burroughs, a granddaughter of Chancellor William Ford de Saussure of Columbia, S.C. He was appointed Consul-General to Australasia by President Cleveland April 18, 1885, at which time he married Miss Frances Fincke of New York City. He is the youngest of the five sons of the late Judge Thomas Gibbes Morgan.
The last stage of the ' reefer's ' Odyssey is Washington, D. C.
Professor Jacks, Principal of Manchester College and Editor of the Hibbert Journal since its foundation, needs no introduction to the Atlantic audience.
Where did Miss Mackenzie learn the secret of her exquisite prose ? If our minds turn to the Bible, it is perhaps as good a conjecture as any. Readers of the Atlantic who have eagerly followed her from month to month should know that she has just sailed for Africa in response to an urgent call from the Cameroon Mission. She has the French language at her command, and the Cameroon, in its change of government, must now be served by French-speaking missionaries. This fact gives us a hint of the tremendous changes that are at work in that far country; and, although the Censor moves in a mysterious way, it is to be hoped that the Atlantic will be allowed to share liberally in Miss Mackenzie's correspondence during the coming year.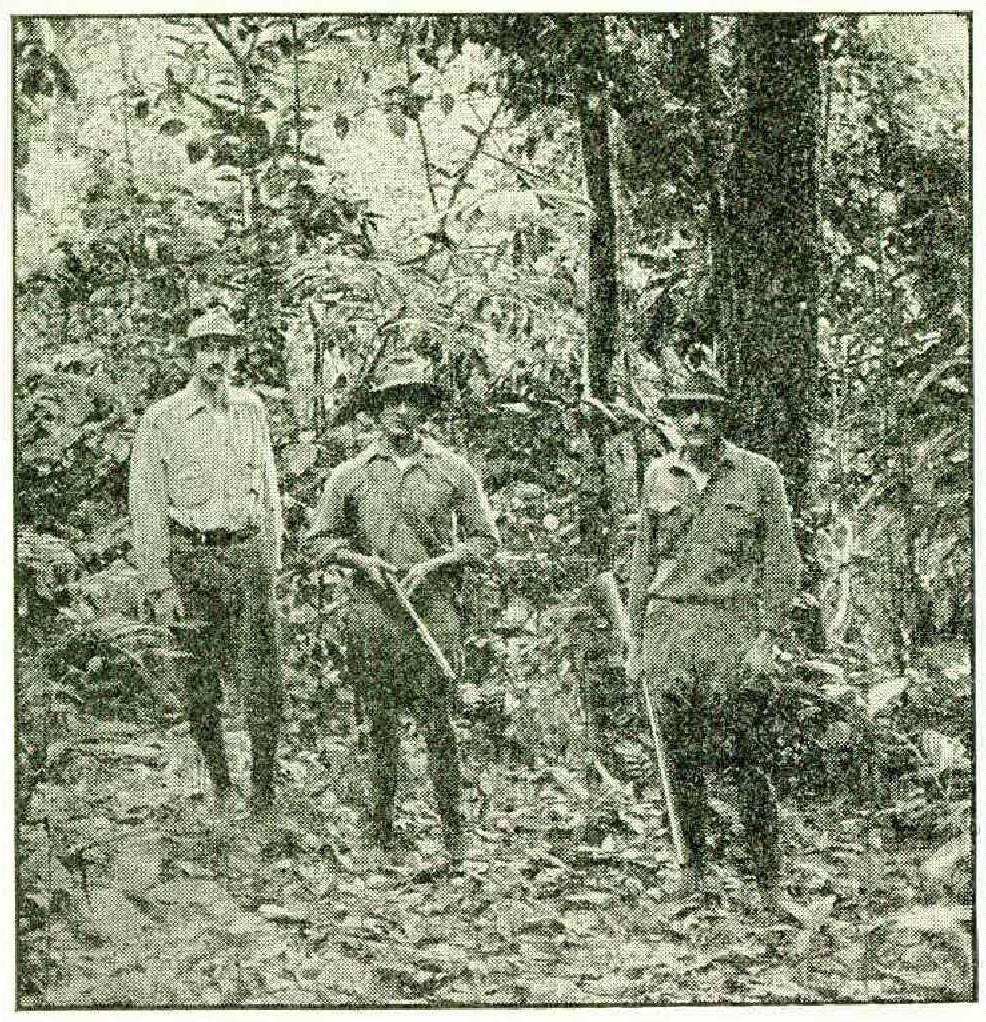 William Beebe, emissary to British Guiana of the New York Zoölogical Society, has now returned from the Tropical Research Station at Kalacoon, on the Mazaruni River, where, in the company of two other devoted spirits, he has been studying the swarming wild creatures of the tropics in their jungle haunts, without interference on the part of man, or the wholesale killing and slaying which is practiced for museum Work. This new venture, he writes, has fulfilled its purpose beyond the most hopeful dreams; and Atlantic readers are to be given the measure of this success in a notable series of papers, to which ' The Pomeroon Trail ' is the introduction.
One admires the physical endurance of Lieutenant C. A. Bonesteel almost as much as his ability to do justice to the story of Mauna Loa's latest exuberances. Graduating from West Point in the class of 1908, he served in the United States and the Philippines before being detailed for duty, a junior officer of infantry, with the National Guard of Hawaii.
Eugene Lyman Fisk, whose first article, ' Alcohol and Life Insurance,' appeared in the November Atlantic, is director of the Life Extension Institute, New York. the reading public has long been accustomed to think of Laurence Binyon as one of the most distinguished of England's poets, but to connoisseurs of Eastern art he is equally well known as curator of the department of Oriental Prints and Drawings in the British Museum. Florence Converse, whose work is well known to Atlantic readers, is a member of the magazine's staff. She lives in Wellesley, Massachusetts, where Margaret Sherwood also has her home.
In his article in this month's AtlanticMr. Surette has left untouched the question of the form of the several movements of a symphony, and has referred only incidentally to specific compositions in this form. He has also postponed the subject of chamber music (which is the Symphony in miniature). In the next, and last, paper of this notable series he will show how symphonies adjust themselves to the general laws of proportion and balance; he will deal with typical symphonies of great composers, and also with the string quartet and kindred forms. At the same time, he will sum up the whole subject of Music and Life; for Mr. Surette looks upon the pure music with which he is now dealing as the real music, and believes that it contains more stimulation for the listener than can be obtained from any other type of musical expression.
Dr. Charles M. Sheldon's book, In His Steps, and the amazing discussion it provoked, is still vividly recalled. Dr. Sheldon, as every one knows, is pastor of the Central Congregational Church in Topeka, Kansas, where for one week he performed the remarkable journalistic enterprise of editing a local newspaper as a distinctively Christian daily. Radoslav Tsanoff, whose collaboration with his wife results so happily for Atlantic readers, left Bulgaria and Constantinople for Oberlin College, Ohio, where he received his doctor's degree. In 1913 he was sent to London by the Bulgarian Foreign Office on an informal mission. Robert M. Gay observes life from the chair of English at Goucher College, Baltimore.
Lieutenant R. N., of the French Army, tells, as the Atlantic believes it has never been told before, the story of a highly educated man who refuses to be brutalized by the recurrent horrors of war. The great classics are his friends, and they keep him company through terrible vigils in the trenches as Virgil walked with Dante through the Inferno. ' R. N. was a pupil of the École Normale in Paris,' writes a friend, ' and a very promising young fellow. He has won several honors, including a prize from the French Government which enabled him to pursue special studies in Munich and Nancy. He was a pupil of Professors Lanson and Lichtenberger.'
In pronouncing his severe indictment on 'The sleepless Fat Boy,' Alfred G. Gardiner draws on the experience of a lifetime devoted to journalism. He is at present editor of the London Daily News.Lieutenant Auguste d'Harcourt of the French Aviation Corps gives a vivid idea of how it feels to be condemned to idle security when one's country is fighting for very life. His fate was happier than that of the unfortunate aviator Gilbert, who thrice escaped from internment in Switzerland and was thrice returned by his Government because of parole difficulties. Lieutenant d'Harcourt collected some interesting statistics before taking French leave of his captors: —
There were interned in Holland in May, 1916 [he writes], 30,000 Belgians, of the garrison from Antwerp, who went over into Holland before the surrender of the city in October, 1914. Of the British, there were a brigade of the Royal Naval Division, sent to the relief of Antwerp; about a dozen aviators; and the crew of a submarine. There were also 4 French officers, and a small German contingent, consisting of about 7 officers and 150 men: reconnoitring parties, patrols, aviators, a submarine crew, and some deserters.
I have heard it said [he adds] that 3000 Belgian soldiers had escaped by the end of 1915.
Cyril Campbell, as our readers already know, was for many years a correspondent of the London Times. During the last year he has seen personal service under General Botha, and later joined General Smuts in his East African Campaign. His papers in theAtlantic are the sole important documents available to American readers who have tried to follow this campaign.
Comments of readers on ' Some Meditations of the Heart ' show that the deep glow of interest kindled by ' Twenty Minutes of Reality ' has not died down. Here are some extracts from the letter of a lady who, in the serenity of old age, reviews the profound spiritual experiences that stand out as the real milestones of her long life:—
I am of that set of persons who believe you are speaking the truth in 'Twenty Minutes of Reality' — that you 'saw into reality,' and felt the ecstasy of its atmosphere — I believe, because I too have had several of those 'rare and fleeting occasions' of which you write so well.
The first of these came when I was a child of eleven years. Mother had often talked with me about Jesus, so that I think I really loved him, but I did doubt a bit whether he loved me. I longed to know he did. One Sunday noon, after I had been speaking to him in my childish way, suddenly a great light seemed to burst upon me: not an external light — an inward light. I cannot put it in words as you can. It was a new and glorious world, a world of ineffable love and light which seemed to emanate from a Presence which I knew to be there but which I could not see. I thought it was Jesus. My little heart throbbed with ecstasy at what seemed to me his smile. My body seemed light and I felt as if walking on air. I had to tell some one my joy, and sought my oldest sister and said timidly, 'I have found Jesus! I am so happy. It is all light now!'
This sort of inner glory lasted an hour or two, or till the middle of the afternoon service, when it vanished as suddenly as it came and left me bewildered and desolate. I had to whisper to my sister then, for I could not wait for the end of the service. I said in my distress, 'I've lost Him! It is all dark again. What shall I do?' I am eighty-one years old, but that vision and its ecstasy are so vivid in memory as had it opened on me to-day.
Several 'Twenty Minutes of Reality' have come to me later in life. Once at a great crisis, a mental strain, accompanied with a humiliating sense of inability to act strongly, I had a sudden vision of a central self which almost overwhelmed me. It was a reservoir of new, unguessed powers, measureless capacities, and unfathomed emotions — a reservoir from which I had never drawn because this present life offered neither time nor scope for what was there, and I involuntarily exclaimed, 'Now, I know I am immortal! I am more than I dreamed I was! '
At another time of prolonged mental strain and perplexity, I went one day to walk in the fields. All at once the strain ceased as would the pressure on a severed cord. I was flooded with an ineffable soul-light which seemed to radiate from a great Personality with whom I was in immediate touch. I felt it to be the touch of God. The ecstasy was beyond description — but you know it. I was passing through a patch of 'beggar's grass,' which you may know, with its wiry stems, ending in feathery heads. Every head shone and glistened like pearls. I could hardly walk for the overwhelming sense of the Divine Presence, and its joy. I almost saw God.
A singular thing accompanied this experience. A little white dog, which was my companion, and which had walked discreetly by my side all the way, began to dance and frisk about me at this moment, barking and looking up at me as if I were holding up some tempting morsel for him to spring for. He evidently saw or felt something that excited him. Did he see the light on the beggar's grass, I wonder, or did he feel the vibrations of my ecstasy? Perhaps all created things are part of one great whole. Perhaps little brown sparrows, little white dogs, internes, nurses, convalescing gentlemen, and old ladies are cosmic cousins, capable of a responsive family sympathy.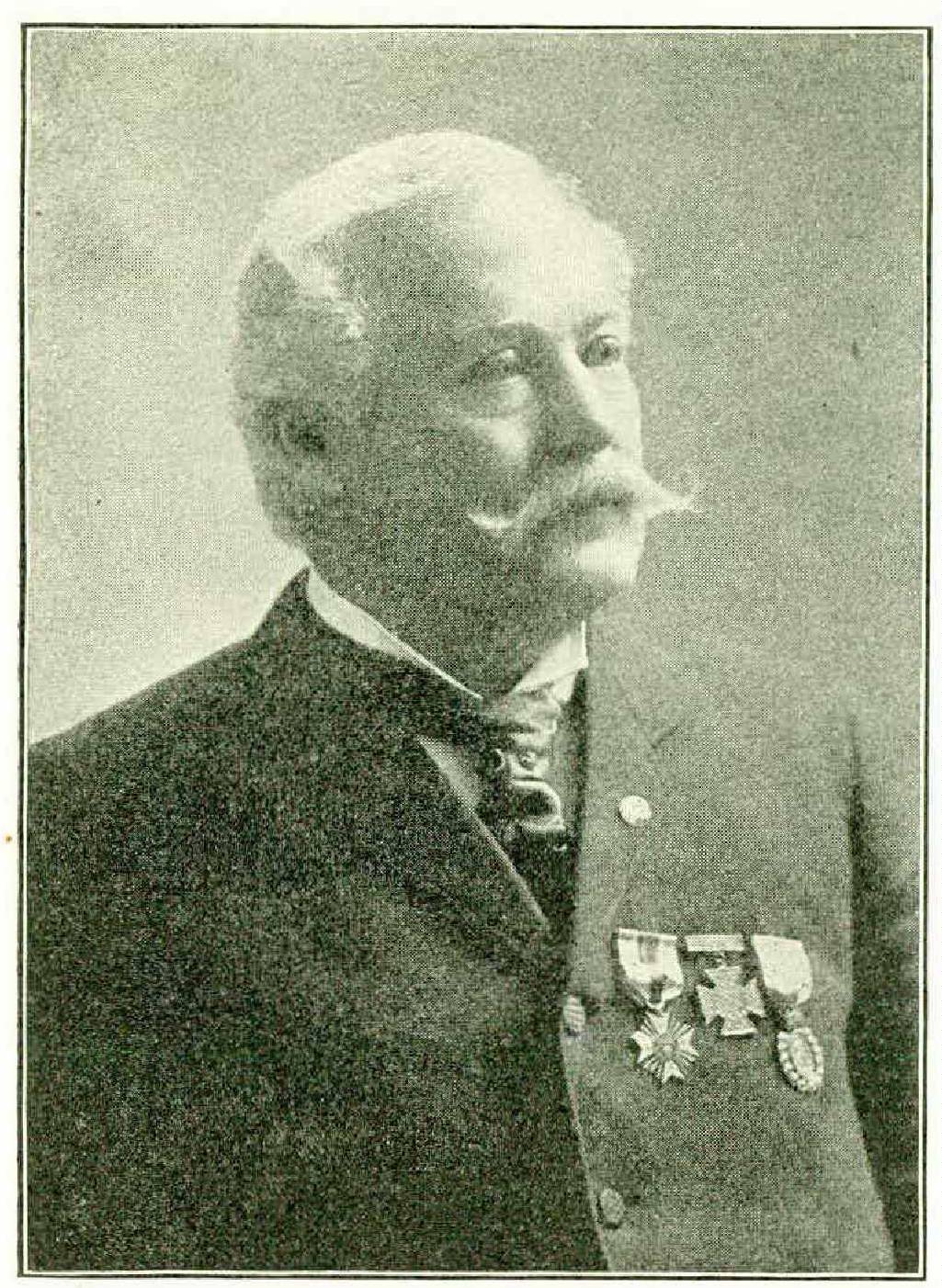 I have never spoken to any one of these wonderful and beautiful experiences, because I felt no one would understand. They were very vivid, but now that I have put them into words, they seem very colorless. Language is so blurring to any attempted picture of the deep things of the spirit.
I feel that I ought to apologize because, having found one to understand, I have spoken. Yet, why should not spies who have seen the Promised Land compare their bunches of grapes on their return?
Louis-Octave Philippe has been through deep waters since writing his memorable article, 'With the Iron Division at Verdun,' which was printed in the October Atlantic. A friend in Paris writes that he went unscathed through the thick of the great Somme offensive, but, as he was getting his cannon into position in a front trench, preparatory to the third attack, a German sniper sent a bullet through his left shoulder. When last heard from, he was convalescing at the Hôpital Boucicaut, in Paris. He has been promoted to sergeant, and has received a citation before the whole army, which will entitle him to wear the palme on the croix de guerre which he had already won. Readers of the Canadian Captain's story of ' The Trench-Raiders' will be glad to share the contents of a letter from Ontario, informing the Editor that ' Captain M. has been honored with another decoration for work at the Somme — a Military Cross this time.'
An English contributor writes to the Atlantic a letter which has a million parallels in English homes to-day: —
My eldest son has just been home for a week's leave. In a recent attack he was one of two officers, out of eighteen in the battalion, who came through. He was three times buried by shell-fire, and his clothes were shot to rags. For forty-eight hours he held the captured position under direct bombardment, commanding the remnants of his own and another battalion which had lost its officers. I am proud to say that they decorated him with the Military Cross. This is the third great attack which he has survived, and I am as thankful as a little child. As to him, he is an absolute fatalist.
Subscribe for the Atlantic on the Attached Coupon
A.M. 1-17
3 Park St., Boston.
Gentlemen : Enclosed find $4.00 for my subscription to the Atlantic Monthly for one year beginning:
Name Street
City State