The Sunset of the Confederacy: Iv
IV
I
GENERAL POAGUE'S battalion of artillery, which played such havoc with Hancock's advance that second May morning in the Wilderness, had gone on ahead and taken up a good position beside Gordon and Mahone. Humphreys came up against their intrenched line at Cumberland Church about two o'clock, and after a survey reported to Meade that he had the whole Confederate army in his front, and apparently full of fight. Whereupon Meade sent orders to Wright at Farmville to cross and attack at once. Wright had to wait until Peter Michie, my dear friend of West Point days, had laid a pontoon bridge, and then with bands playing and streets lit with bonfires, for night had fallen, he moved up to Humphreys.
Meanwhile, Crook had forded the river and his advance brigade, Gregg's, catching sight of retreating trains, attacked; but Rosser and Munford turned on him so savagely that Gregg was captured and his troops were driven back on to the rest in confusion. The other brigades of the division had to take the defensive, and later received orders from Grant to recross and join Sheridan.
Humphreys, that man of steely courage, hearing Crook's guns and thinking they were Wright's advance, assaulted, selecting his most determined division-commander, Miles, to deliver the blow. Lee, however, apprised of Humphreys' threatening attitude, hurried Longstreet to the spot, who on arriving sent G. T. Anderson's brigade of Field's division to Mahone, who directed them through a woodland to Miles's right and repulsed him with heavy loss. By this time it was almost dark.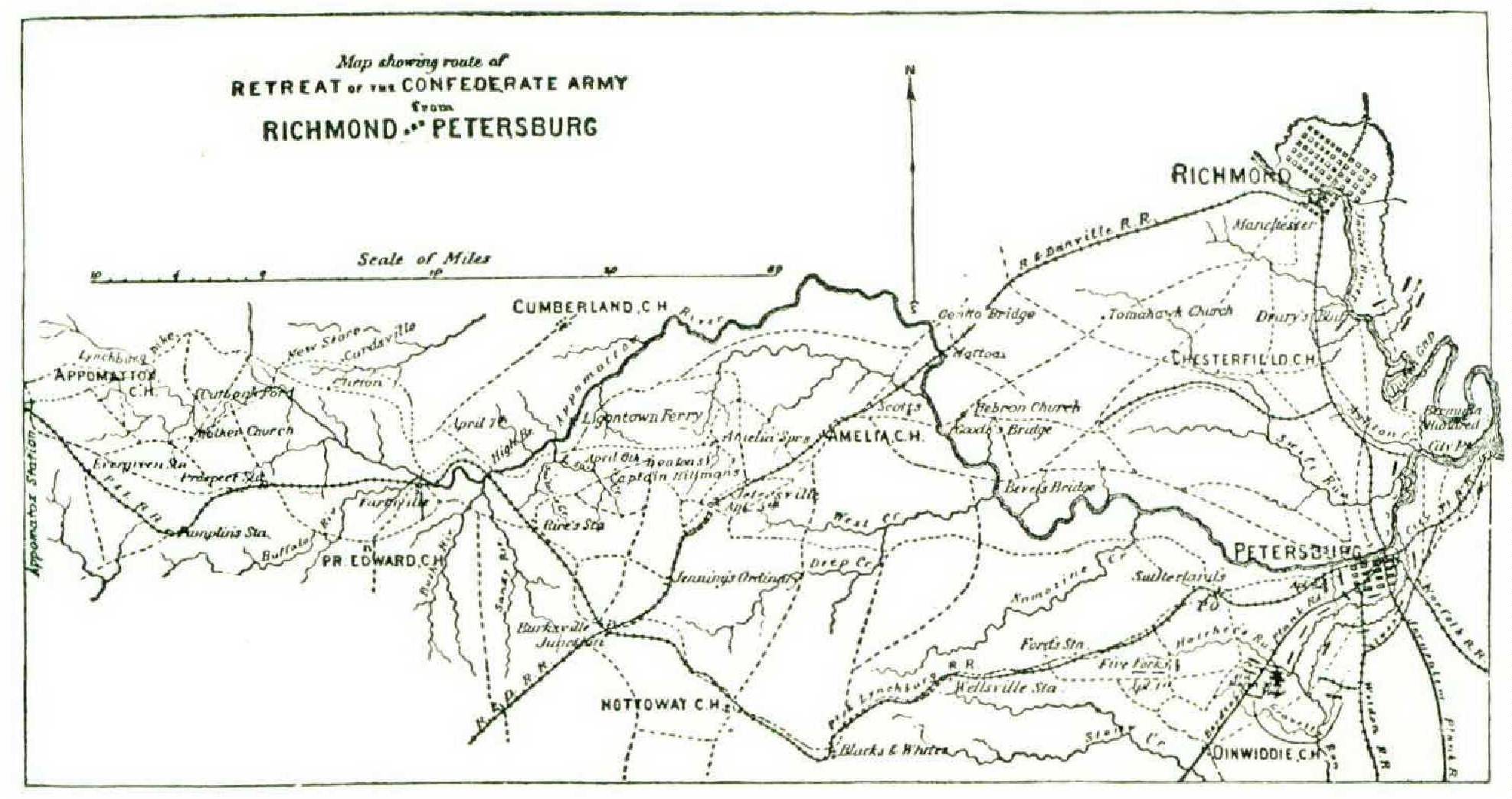 Sheridan, after lunching at Prince Edward Court House under the spreading oaks, sent Mackenzie's division of cavalry to Prospect Station, eleven miles west of Farmville on the Lynchburg Railroad, and then followed after him with the other two divisions, Merritt's and Custer's. On arriving at Prospect Station the sun was down; he notified Grant that one of his scouts had reported that eight supply trains were at Appomattox Station for Lee's army, and that he would move his cavalry column thither. Grant in response told him to go ahead and that the Fifth Corps, at that hour, 7 P.M., going into bivouac at Prince Edward, and the Twenty-fourth, then in Farmville, would push after him.
In the course of the afternoon, Wright, while waiting for Michie's bridge to be built, told Ord and Gibbon what Ewell had said to him the night before at Sailor's Creek, of Lee's duty, in view of what had happened that day, to stop the shedding of anymore blood. Wright repeated the same story to Grant, confirming what Doctor Smith had told him; then Grant talked over with these officers the propriety of sending a note to Lee suggesting the surrender of his army.
There is no record of what Wright, Gibbon, or Ord said at this interview; but knowing that Ord had tried through his old army and fellow West Point friend, Longstreet, to bring about an interview between Grant and Lee the previous winter with a view to ending the war, I have no doubt that he urged it warmly. But perhaps what decided the matter in Grant's mind was that he knew from Sheridan's position that he would soon be across Lee's way at Appomattox as at Jetersville, and that Lee would then have to surrender. Hence he wrote to him as follows, —
HEADQUARTERS,
ARMIES OF THE UNITED STATES,
April 7, 1865 — 5 P.M.
GENERAL R. E. LEE,
Commanding C. S. Army:
GENERAL: The result of the last week must convince you of the hopelessness of further resistance on the part of the Army of Northern Virginia in this struggle. I feel that it is so, and regard it as my duty to shift from myself the responsibility of any further effusion of blood by asking of you the surrender of that portion of the C. S. Army known as the Army of Northern Virginia.
Very respectfully,
Your obedient servant,
U. S. GRANT,
Lieutenant-General, Commanding
Armies of the United States.
Surely this momentous note could not have been pitched in a better key to still the sea of passion or turn the mind toward the paths of peace; and I am free to confess that whenever I ponder on this campaign there always emerges from its background of providential results, results so vast and beneficent, a vision of the country's good angel standing by Grant's side guiding his pen, what time he took it up to address Lee.
While this peace-breathing letter is on its way, let me bring forward a complemental circumstance, prophetic and freighted with human interest, for it reveals with the suddenness of a flashlight the state of mind of a group of high Confederate officers, showing not only what knightly men they were, but also, as no narrative of events could, how the trials of the last few days had made breaches in the walls of their hitherto invincible confidence.
'The march,' says the diary of the Richmond Howitzers relating to that very day after Sailor's Creek, 'now assumed every appearance of a rout. Soldiers from every command were straggling all over the country, and our once grand army was rapidly melting away.' Under these rueful and ill-boding conditions, the morning after their arrival at Farmville, Gordon and a number of leading officers, Pickett among them, as I have every reason to believe, met early in the morning and held a conference. After discussing the situation, they came to the conclusion that the days of the Confederacy were numbered, and that some one should go to Lee and tell him so; and if odium there were for asking terms of Grant, that it should be allowed to fall on them alone for first making the suggestion. They delegated Gordon to lay the matter before Pendleton, — Lee's chief of artillery and a West Point boyhood friend whose relations with his commander were as intimate as Lee's nature permitted any one's to be, — and further instructed Gordon to ask Pendleton, provided he felt as they did, to be the bearer of their message to Lee. Pendleton's account of his interview with Gordon is as follows: —
'Fighting was going on, but not very severely, so that conversation was practicable [it was in the afternoon and they were on the hills above Farmville]. General Gordon had with me an interview, told me of discouraging intelligence from the South, and of a conference which had been held between other responsible officers and himself, and announced their joint wish that, if my views agreed with theirs, I should convey to General Longstreet, as second in command, and then, if he agreed, to General Lee, our united judgment that the cause had become so hopeless we thought it wrong to be having men killed on either side, and not right, moreover, that our beloved commander should be left to bear the entire trial of initiating the idea of terms with the enemy. My judgment not conflicting with those expressed, it seemed to me my duty to convey them to General Lee. At first General Longstreet dissented, but on second thought preferred that he should be represented with the rest.'
The significance of the foregoing incident, not to be matched in purport by anything which occurred on that fateful march, leads me to ask the reader to let me interrupt Pendleton's account with a comment or two.
Can any better proof be offered of the desperateness and hopelessness of Lee's situation? For were not Gordon and every one of his fellows at that conference perfectly familiar with the Articles of War? Even to hint at surrender in the presence of an enemy was the most despicable sin a soldier could commit. The crime was called mutiny, and carried a death penalty which, if executed, is forever tainted by disgrace. No graduate of West Point and no one who ever wore a sword in time of war will fail to be impressed by the seriousness of what they did. Yet in the face of this dread danger, unshaken, they took that grandly moral but perilous step.
In one sense Gordon and Pickett could afford to take it, for the scars they bore and the records of the days of battle when they led, shamed out of sight all suspicion that the fires of their courage and loyalty had ceased to burn. The thought that these virtues failed them now would be an outrage to their memories. And moreover, as the calm light of the present falls on the scene of their conference, Reason and Humanity stand there ready to establish the truth, that their courage was of the very highest type, a type loftier than Gordon's at Spottsylvania when he spurred his horse across Traveller's front, seized his bridle-rein and checked him, shouting to General Lee above the roar of the musketry at the Bloody Angle, 'You must go to the rear!' or Pickett's when he set out with a cheery face to storm the lines at Gettysburg.
And now let me tell you a strange fact, and one that I wish my eye had not fallen upon. When Gordon wrote his Reminiscences he disclaimed being present at the conference; and even brave old Longstreet, whose last years were made so pitifully miserable by venomous attacks from brother soldiers with whom he had worn the gray, in his military Life says that he turned on Pendleton and inquired, 'if he did not know that the Articles of War provided that officers and soldiers who asked their commanding officers to surrender should be shot?'
Let it be observed that, when Gordon and Longstreet wrote their accounts of that conference, poor Pendleton was in his grave and the pæan to Lee and the steadfastness of the Army of Northern Virginia was ringing loud. Oh, how weak we are and how often we cringe before public opinion, abandoning and dismantling the strong works built by those royal engineers, the inward senses of Right and Duty! — And the cock crew. — Yet do you know, Reader, acquainted as I am with my weakness, I am afraid that I should have done just as they did, — I should have disclaimed that conference, too.
Whom, then, shall we believe? All I have to say is, that Pendleton was a gentleman and so were Gordon and Longstreet, and now they are across the river in a land beyond domineering opinion, where all earthly glories seem dim, and controversy never breathes. Green, forever green, I hope, will rest their laurels. They served the Confederacy well, they won a place by their manliness and valor in the hearts of North and South. They won a place, too, in the heart of Peace by that conference; and when she passes their graves or that of any one who said, 'Let the odium fall on me,' she whispers to her angelic companions, 'Here lies the clay of a valiant man; he was a friend of mine on the hills of Farmville.'
II
What, meanwhile, was the nature of the discouraging intelligence from the South and how had it come to Gordon's ears, in view of the fact that all telegraph lines were cut? There are but two sources whence it could have come. I shall give my surmises as to them in the inverse order of their probability.
So far as there is any record, John S. Wise, the distinguished author of The End of an Era, then a boy of twenty years, was the only one who had reached the army from the South; and this is how it happened.
Mr. Davis was at Danville. Three days had elapsed, and not a word from Lee. Anxiety grew, and keener and keener was the longing to know how it had gone with the Army of Northern Virginia. Midnight of the third day was approaching, and the spare, sleepless President, with his pathetically channeled face, could stand the suspense no longer. He telegraphed to General Walker, commanding the troops nearest to the army to send some one out to see and get the news. For this signal duty young Wise was chosen.
After stirring adventures Wise got to Farmville late Thursday evening, a few hours after the blow at Sailor's Creek, and from there set out to find Lee. While threading the shattered and retreating forces, he tells us that he fell in with two general officers whom he knew. Both were very much cast down, declaring that all hope was gone. Is it not probable that, learning from whence he came, they asked him for the latest news from the South, from Sherman and Johnston? And is it not likely that he told them all he knew? For who ever met one of that Wise blood yet, young or old, and did not find him a frank transparent gentleman and courageously truthful, besides being mightily interesting and companionable?
Well, whatsoever may or may not have passed between him and his gloomy friends, he rode on; and he says, 'It was after midnight when I found General Lee. He was in an open field north of Rice's Station. A campfire of fence-rails was burning low and Colonel Marshall [Lee's adjutant-general] sat in an ambulance with a lantern and lap-desk, and Lee with one hand on a wheel, his foot on a log, was dictating orders.'
After explaining his mission to Lee and being told by him that it was unsafe to intrust any written communication to Mr. Davis on account of the danger of capture, and that he himself should be governed by each day's developments, Wise caught a little sleep, then went back to Farmville, saw his father, and perhaps some old friends, and then was off for Danville.
The other possibility, and perhaps the actual explanation, is that the news came direct from Breckinridge, Confederate Secretary of War, who joined the army on the march, having left, the burning capital with Ewell. Now he and Gordon knew each other well (they served together in the Valley, sharing Early's disastrous campaign in the previous autumn), and while riding from the field at Sailor's Creek let us suppose that he fell in with Gordon. Is it not likely that they discussed the state of the army and that Breckinridge, familiar with the secret history of affairs, told him all the dismal news from Johnston, — that Schofield had united with Sherman and that there was not one chance in a hundred of being able to halt their united forces?
In such a strait, what could Lee accomplish even if he circled Grant's left and gained the Roanoke? Might not Breckinridge casually have dropped the remark that Lee first or last might just as well see Grant? Of course I do not know that this conversation actually took place, but we can rest assured that Pendleton heard the name of Gordon's informant. And I wonder if, when he was writing his final report to Colonel Taylor, Lee's adjutantgeneral, the day after the surrender, Pendleton did not have Breckinridge in mind when he said, 'The conviction had become established in the minds of a large majority of the best of our officers and men that the army could not be extricated from its perilous condition,' and so forth.
Well, whether Breckinridge said a word or not that night to his old campaign friends, he left the army early in the morning for the Roanoke, and on the following day sent a dispatch from Red House to Mr. Davis saying, 'I left General Lee at Farmville yesterday morning, where he was passing the main body across the river for temporary relief . . . The straggling has been great, and the situation is not favorable.'
Finally, are not the chances even that Breckinridge opened his heart to Gordon or some one else? And in that case, on account of his cabinet position, what he said, taken in connection with the condition of the army, must have had weight, and great weight, in determining the solution of the conference. I cannot believe for a moment that these officers were influenced by camp rumors. The discouraging intelligence from the South must have been authoritative.
Now, to go back and take up the thread once more: Grant's note was given to Seth Williams, the AdjutantGeneral of the Army of the Potomac; and a more lovable and rarer man never walked the plain of Old West Point as a boy, or as a man wore the army uniform. Moreover, when Lee was superintendent of the Academy Williams had been his adjutant.
Williams reached Humphreys about half-past eight:, and on passing through the skirmish line (it was then quite dark and no moon) he was soon challenged by a member of the City Life Guards of Columbus, Georgia, in Sorrel's brigade, then under command of Colonel Tayloe. The gallant Sorrel was absent recovering from a desperate wound.
The Confederate officer to whom the challenging picket reported the presence of the flag of truce was Lieutenant G. T. Peacock of the Guards, who at once notified his superior officer, Major Moffett. The major came to the picket, and advancing in the darkness some thirty paces called out, 'What is wanted?'—'Important dispatches from General Grant to General Lee,'answered Williams. 'Stand where you are till I communicate,'came back in response.
A messenger was then sent to the brigade headquarters, and the Adjutant-General, A. H. Perry, was directed to go and receive the note. This officer says that he buckled on his revolver, passed some fifty yards beyond their pickets, halted and called for the flag. It was then about nine o'clock, and scattered about in the starless woods were many of our dead and wounded. Williams answered the call; Perry came forward and 'met,'he says, 'a very handsomely-dressed Federal officer. We stopped in front of each other, about seven or eight feet apart.' Williams spoke first, announcing his name as of General Grant's staff; Perry then in turn made known who he was; whereupon Williams put his hand in his breast-pocket, as Perry supposed feeling for a document; instead of which he produced a silver-mounted flask and hoped that Perry would not think it unsoldierly courtesy if he were to offer him some fine brandy. Perry austerely declined the civility; Williams begged his pardon, and without comment replaced the flask.
If ever there was one occasion in this world when brandy had a heaven-born mission, that was the time, and I think Perry made a mighty big mistake, and he thought so, too, before he died.
Under the circumstances, however (they were gloomy enough), he felt that to take a drink with an enemy would be undignified. But I don't believe that would have hampered you, Reader, at all, for I have a notion that, besides being companionable, you are also a chivalrous sort of fellow. Off would have gone your hat, and out would have gone your hand — and lifting the flask, you would have said, 'Here's to you, with my best respects!' and taken a good long pull. And had Perry done as you would have done, I have no doubt Williams would have exclaimed with beaming face, for he always looked as if he carried a harp in his breast, 'Thank you, colonel, thank you, and drink right heartily, my soldier friend!'
Perry having rather haughtily declined the proffered courtesy, Williams produced the dispatch, expressing the hope that it would be delivered promptly to General Lee. Then they bowed profoundly and parted. Within a few paces Williams met a member of Miles's staff in search of a friend among the wounded. Being told that this officer had several letters and family pictures found in Mahone's personal baggage, captured that afternoon, which he wished to return, Williams called back to Perry and asked him if he would meet the officer. Perry answered 'Yes,' and retracing his steps, took Mahone's effects, and offered to do, and did, something for our wounded. Williams, meanwhile, made the best of his way to Humphreys' headquarters.
The dispatch was forwarded promptly to Lee, who was not far off, and alone with Longstreet, who had not yet seen Pendleton. After reading it Lee, without referring to its contents, handed it to Longstreet, who read it, and as he returned the note made the sole remark, 'Not yet.' Without consulting Longstreet further, Lee responded to Grant as follows: —
April 7, 1865.
GENERAL, —
I have received your note of this date. Though not entertaining the opinion you express on the hopelessness of further resistance on the part of the Army of Northern Virginia, I reciprocate your desire to avoid the useless effusion of blood, and therefore, before considering your proposition, ask the terms you will offer on condition of its surrender.
R. E. LEE, General.
Lieutenant-General U. S. GRANT.
To show how a coming crisis is felt, that night, possibly at the very hour that Lee received Grant's letter, the regimental officers of the 11th North Carolina, McRae's brigade, held a conference, and a certain Captain Outlaw was charged to see that the battlefrayed colors, come weal, come woe, should not be parted with. Accordingly he took them from the staff, replaced their water-proof cover, and carried them in his breast. When, thirty-six hours later, Lee rode through the lines to meet Grant, the officers of the regiment retired to a thicket, raked together a pile of leaves, and committed the flag that had been carried on so many fields of glory to the flames.
Within an hour Lee's reply was received at Humphreys' headquarters, and Williams started with it to Grant; but having to take the circuitous route by way of High Bridge, he did not reach Grant at Farmville till midnight.
Meanwhile, without waiting for Grant's answer to his question as to terms, Lee consolidated his army into two corps, Longstreet's and Gordon's, and by ten o'clock his men were moving toward Appomattox. In the light of this fact, is there anything plainer than that, when he asked Grant as to the character of the terms he would give, he had no intention whatsoever of accepting them, let them be what they might? His answer was a parry pure and simple. But his enforced delay at Farmville to enable his trains to get out of the way, made it utterly impossible for him to realize his hopes.
And yet I can hear a student of war, whose whole life is devoted to reassembling the bones of dead campaigns, ask sternly, 'Why did Lee not concentrate every soldier and attack Humphreys?' Neither Wright nor any of the troops at Farmville, as we now know, could have come to his help in time to have served him. Well, proud Gentlemen of the Sword, let me tell you that, if you ever go through a war like that which this narrative is dealing with, and after four years of it should make a retreat like that from Petersburg, I will, to use the language of Isaac Walton, go you twenty to one that you will not press the question. For you well know that there is so much to be taken into account in actual warfare, of which experience alone can give any idea, that to ask why this or that was done will never enter your mind.
But little, little does it matter now, Student of War, what Lee might have done that day on the hills above Farmville. Doom was throwing the last shovelfuls out of the grave of the Confederacy, and Slavery's inveterate enemies, Humanity and Freedom, were standing there looking down into it and demanding that it be dug sufficiently deep.
But lift your eyes: there, too, on poising wings, are the joyful spirits of better days to come, days of peace, days without lament and full of national splendor. So, let the Army of Northern Virginia have been called upon to do this or that, nothing could stay God's march of events on this our churchspired world.
Therefore let us not speculate on what Lee might have done, but go on with the narrative; for it is toward midnight and his army is moving again, moving silently away from its fainting camp-fires. The cavalry, who are to bring up the rear, are mounting their gaunt horses, and the division officers of the day are withdrawing the pickets. Walker, with the surplus artillery and some of the trains, and Bushrod Johnson's division, composed of Wise's, Wallace's, and Moody's brigades, are far ahead, in the lead; then comes Gordon's corps, followed by Longstreet's, Fitz Lee's cavalry bringing up the rear. They are on two roads, the stage and the plank, which meet at New Store about halfway to Appomattox. Both are bad, very bad in some places, and at a certain point Lee's headquarters wagons are being lightened by the destruction of letters and papers — a significant portent. And now, leaving them to trudge on, let us turn to the Army of the Potomac.
While Lee's troops, weary, sleepy, and heavy-hearted, were picking up their guns and leaving their little camp-fires to take the road for Appomattox, Wright's Sixth Corps was marching through the village of Farmville to the bridge across the river. On their way they spied Grant watching them from the piazza of the hotel, and my life-long and brilliant friend, Horace Porter, of his staff, says, 'Bonfires were lighted on the sides of the streets, the men seized straw and pine-knots and improvised torches, cheers arose from throats already hoarse with shouts of victory, bands played, banners waved. The night march had become a grand review, with Grant as the reviewing officer.'
Army of Northern Virginia, what a contrast ! But march on! you, too, are passing in review, — passing in review before History who, with tablet and pen in hand, stands between the lofty columns of her porch, and Valor with moistening eyes is by her side. That other figure standing deep in the shadow is Fate.
(To be continued.)