President-Elect Lincoln: The Journey to Washington
In 1904, newspaper correspondent Henry Villard described his experiences accompanying Lincoln on part of his journey by train from Illinois to Washington for his inauguration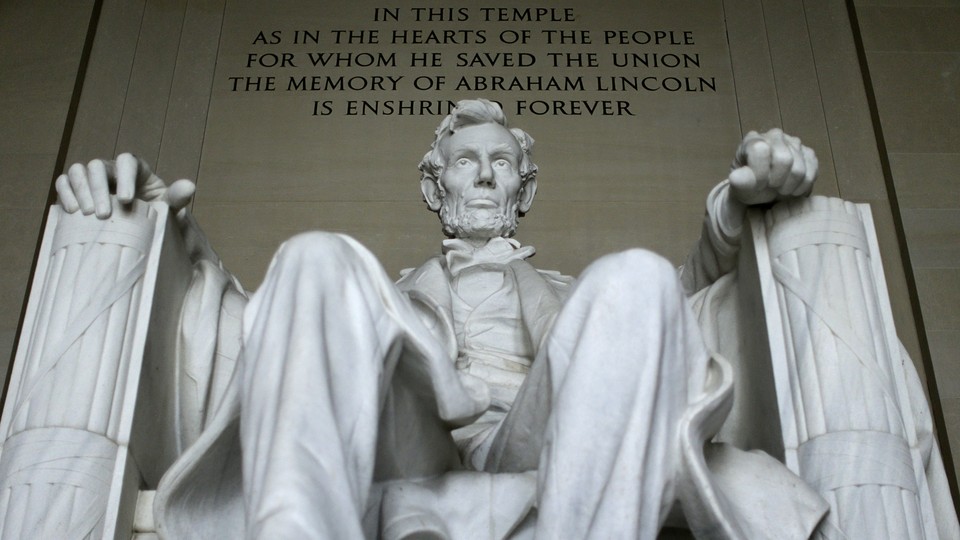 During the month of January, 1861, there appeared in Springfield one W. S. Wood, a former hotel manager and organizer of pleasure excursions, I believe, from the interior of New York state, who, on the recommendation of Thurlow Weed, was to take charge of all the arrangements for the journey of the President-elect to Washington. He was a man of comely appearance, greatly impressed with the importance of his mission, and inclined to assume airs of consequence and condescension. As he showed a disposition to ignore me, I made a direct appeal to Mr. Lincoln, who instructed him that I was to be one of the presidential party. In fact, I was the only member of the press forming part of it as far as Cincinnati, although Messrs. Nicolay and Hay, for some unexplained reason, fail to mention me in naming the members of the party.
The start on the memorable journey was made shortly after eight o'clock on the morning of Monday, February 11. It was a clear, crisp winter day. Only about one hundred people, mostly personal friends, were assembled at the station to shake hands for the last time with their distinguished townsman. It was not strange that he yielded to the sad feelings which must have moved him at the thought of what lay behind and what was before him, and gave them utterance in a pathetic formal farewell to the gathering crowd, as follows:—
"My Friends,—No one not in my position can appreciate the sadness I feel at this parting. To this people I owe all that I am. Here I have lived more than a quarter of a century; here my children were born, and here one of them lies buried. I know not how soon I shall see you again. A duty devolves upon me which is, perhaps, greater than that which has devolved upon any other man since the days of Washington. He never would have succeeded except for the aid of Divine Providence, upon which he at all times relied. I feel that I cannot succeed without the same Divine aid which sustained him, and in the same Almighty Being I place my reliance for support; and I hope you, my friends, will all pray that I may receive that Divine assistance, without which I cannot succeed, but with which success is certain. Again I bid you all an affectionate farewell."
I reproduce this here, as but for me it would not have been preserved in the exact form in which it was delivered. It was entirely extemporized, and, knowing this, I prevailed on Mr. Lincoln, immediately after starting, to write it out for me on a "pad." I sent it over the wires from the first telegraph station. I kept the pencil manuscript for some time, but, unfortunately, lost it in my wanderings in the course of the civil war.
Our traveling companions at the start were (besides Mr. and Mrs. Lincoln and their three sons) W.S. Wood; J.G. Nicolay and John Hay; two old personal friends of Mr. Lincoln, Judge David Davis of Bloomington, afterwards Associate Justice of the United States Supreme Court, and N.B. Judd of Chicago, who had the promise of the Secretaryship of the Interior; Dr. W. S. Wallace, a brother-in-law; Lockwood Todd, a relative of Mrs. Lincoln, who was employed on several important political missions during the next few months; and Ward Hill Lamon, a lawyer of Bloomington, who afterwards became United States Marshal for the District of Columbia, and as such a sort of major-domo at the White House, and finally the author of a biography of Abraham Lincoln. For describing him in this as an infidel Lamon was much and unjustly attacked. He brought a banjo along, and amused us with negro songs. There was also a military escort, consisting of Colonel Edwin Vose Sumner, the white-haired commander of a cavalry regiment of the regular army, and of Major David Hunter, Captain John Pope, and Captain Hazard of the same service. Colonel Sumner, Major Hunter, and Captain Pope became well-known commanding generals during the war. Another "military" character, a sort of pet of Mr. Lincoln, was Colonel E. E. Ellsworth, who, though a mere youth, of small but broad figure, curly black head, and handsome features, had achieved considerable local notoriety as a captain of a crack "Zouave" militia company in Chicago. He was one of the first victims of the civil war, being shot by a rebel while raising the United States flag at Alexandria Virginia.
The party had a special train, composed at first only of an ordinary passenger car,—there were no parlor or drawing-room or sleeping cars in those days,—a baggage-car, and engine. The first day's journey took us from the capital of Illinois to that of Indiana. Until we reached the boundary of the latter state, the demonstrations along the route were insignificant, except at Decatur, where a great crowd, headed by Richard J. Oglesby, then a hotel-keeper, but subsequently a general in the war, Governor, and United States Senator, greeted the future Chief Magistrate, who delivered another farewell speech. At the boundary, the train was boarded by a large delegation of leading Indianians, including Schuyler Colfax, Henry S. Lane, Caleb B. Smith, and Thomas H. Nelson. At Lafayette, a great crowd awaited our coming, and the President-elect had to appear and speak to them. At Indianapolis, where the first day's journey ended, he was formally welcomed by Governor Oliver P. Morton, and replied to him at length. His speech was remarkable for the first public intimation that he should consider it his duty as President to retake the properties of the United States, including the forts unlawfully seized by the rebellious states, and otherwise reestablish the authority of the Federal Government.
The next stage of the journey was from Indianapolis to Cincinnati; the third, from Cincinnati to Columbus; the fourth, from Columbus to Pittsburgh; the fifth, from Pittsburgh to Cleveland; the sixth, from Cleveland to Buffalo, where a rest was taken over Sunday. The eighth day the journey was continued as far as Albany, and on the following day we reached New York. Everywhere there were formal welcomes by the state or municipal authorities and by great crowds of people, with brass bands, and public and private receptions. In different localities pleasant variations were offered in the way of serenades, torchlight processions, and gala theatrical performances. Altogether, the President had every reason to feel flattered and encouraged by the demonstrations in his honor. But the journey was a very great strain upon his physical and mental strength, and he was well-nigh worn out when he reached Buffalo. He must have spoken at least fifty times during the week. In the kindness of his heart—not from any love of adulation, for he really felt very awkward about it—he never refused to respond to a call for his appearance wherever the train stopped. While he thus satisfied the public curiosity, he disappointed, by his appearance, most of those who saw him for the first time. I could see that impression clearly written on the faces of his rustic audiences. Nor was this surprising, for they certainly saw the most unprepossessing features, the gawkiest figure, and the most awkward manners. Lincoln always had an embarrassed air, too, like a country clodhopper appearing in fashionable society, and was nearly always stiff and unhappy in his off-hand remarks. The least creditable performance en route was his attempt to say something on the question of tariff legislation in his Pittsburgh speech. What he said was really nothing but crude, ignorant twaddle, without point or meaning. It proved him to be the veriest novice in economic matters, and strengthened my doubts as to his capacity for the high office he was to fill. So poor was his talk that most of the Republican papers, while they printed it, abstained from comment.
After ten days of the wearisome sameness of the "performances" at the several halting-places, I was very sick of the "traveling show," and I therefore asked to be relieved from my duties on reaching new York. My request was granted, and I remained behind. It turned out that I lost only the reception in Independence Hall in Philadelphia, as the journey was cut short by the incognito night run of the President from Harrisburg to Washington. This sudden move on his part created at the time considerable disappointment, even among his warmest political followers, being regarded as an evidence of unwarranted fear. But subsequent events and developments proved his course to have been a wise one.
Click here to see the complete article, which also covers the Lincoln-Douglas debates and other aspects of Lincoln's presidential campaign