My father and I were spending the day with an old Garibaldino soldier in his wee bachelor house above Reggio. I had thought him, in Rome, an ordinary boaster, given to rodomontade, and I dreaded the return visit to Reggio upon which he insisted. From time to time he had sent us baskets of fruit packed with stiff nosegays and kitchen herbs. Alternately came bundles of flowers done up casually in brown paper, which of course reached us as mangled masses of hay and crushed petals. Each request that he would not incommode himself met with the retaliation of another bundle or basket, containing vegetables and fruits peculiar to Calabria, wrapped with Scripture texts.
On arriving at Reggio, my AngloSaxon heart sank in the hullabaloo of a welcome which made us the observed of all observers. The first offering was a calla lily bound firmly with rosemary and thyme, — a nosegay fit to fell a man ; the next was a bouquet of pink and yellow roses, which I could not span with my two arms ; and floral offerings continued to arrive until my room at the hotel looked like that of a successful prima donna. At all hours the dark, vociferous little man came rushing to our frescoed, balconied chambers, where a town council might have sat at ease, to present another bunch of violets or a particular freak of horticulture. He said this was nothing; on the morrow he would " clothe me with flowers."
I went to bed with a balcony piled high and an exhausted vocabulary. He was to come for us early with a carriage to go up to his place at Santo Spirito. How should I " win through " a day of making compliments ! But dreaded things never are the worst.
Whether it was that against his own Arcadian background Signore Pasquale's flowery language and bombast found their natural setting, or that he relaxed to simple-mindedness where his vaunted Reggio di Calabria could speak for itself, I do not know, but certain it is that a gentler, more generous host was never seen, and I have spent few more pleasant days. At the end of the drive, my father was settled for a rest in the bare little stone house on the hillside, and Ser Pasquale and I, having cast aside hats and gloves, set out for a ramble through his domain. Is there anywhere such a tangle of fragrance and color as a south Italian podere, where nut, almond, olive, and vine grow cheek by jowl with camellia, mock orange, pansy, violet, salvia, and a hundred more ! The hedges are of lemon, cactus, and aloe, and on the terraced hillside laughs a garden of the Hesperides. All the gamut of that idyllic farm was played for me. I must taste the young, milky almonds, and climb to gather, with my own hand, juicy yellow medlars and mammoth oranges. Ser Pasquale ravaged bush and tree remorselessly, ordering with Napoleonic peremptoriness the peasant and his womankind to fetch this or that rare fruit or flower.
When we came back to the house, laden with trophies, I was introduced to Giacinta, whom Ser Pasquale had bidden to bear me company and give me the support of my sex. In her red cotton dress and loosely knotted yellow neckerchief, Giacinta, with her pink cheeks and delicate pointed nose, might have stepped straight out of an old Italian comedy, and she performed her devoir of bowing and kissing my hand with a feminine finish and elaborateness which made my own greeting seem crude and shorn. From the kitchen came a tinkle of saucepans, and Giacinta informed me that her husband, who had been cook to the cardinal, was busy over our dinner. He had been dismissed for reading the New Testament and naming his twins after Castor and Pollux, persons not known in the calendar of saints. With the Italian frankness which reveals all, prying for nothing in return, Giacinta owned that, in consequence of this dismissal, she was supporting her Dioscuri and their father ; and when I asked how, she answered proudly, " Signorina, I am the first pettinatrice of Reggio."
Literally translated la pettinatrice is the female person who combs, and throughout southern Italy hers is a common profession. Even in Rome a card is often seen in barber-shop windows inscribed thus: —
LA PETTINATRICE.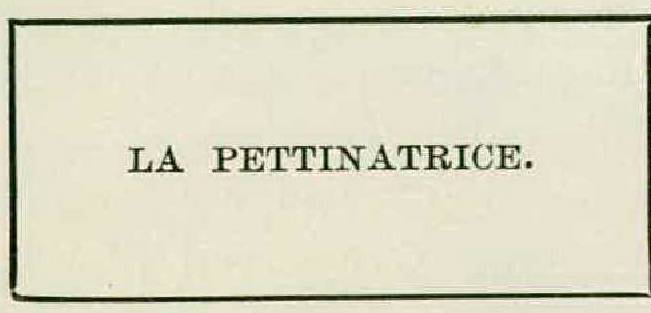 Observant travelers are struck with the universally well-dressed hair in Naples ; and if one investigates why the portress, in slatternly gown, who lives on a few sous a day, has a head like a fashion plate, he discovers that she is as regular a subscriber to the pettinatrice as the countess on the piano nobile. In fact, the hairdresser makes a progress through the house, varying her fee according to the rank of her client; but the shining black tresses of all — for Italian women have fine hair — must be done up in the latest mode.
Giacinta, with that mingling of caressing deference and easy naturalness which is purely Italian, inquired, " Does the signorina wish me to dress her hair?" And when I accepted the offer, she set me a chair on the balcony, and fetched a wizened comb from Signore Pasquale. In the south our Anglo-Saxon reserves seem stilted ; there it was the most natural thing to have Giacinta's light fingers play over my head while Ser Pasquale went back and forth " on hospitable thoughts intent," and my father pored over a stray volume of Gioberti. A breeze blew up from the blue Straits of Messina across a valley radiant with the luxuriance of the Calabrian spring. In it were whiffs of mandarin orange, lemon, bergamot, each more subtly entrancing than the last. Shifting sunlight played on the early leaves of fig trees, snowy drifts of pear blossom, and wide plantations of orange, celebrating that intoxicating bridal of golden fruit lingering to kiss waxen blossoms. Beneath the balcony passed the peasants in holiday dress, for it was the feast of St. Agnes, and they looked up to smile friendly greetings.
I have a rebellious, sensitive head, which refuses to be touched by any hand save my own, but under Giacinta's magic tips every nerve was soothed, every hair fell lightly into place. A cool, delicious mesmerism filtered through her fingers.
" Does the signorina desire her hair high or low ? "
" As you think, Giacinta."
" Then it must be as high as it is possible, to be in the latest mode, and show the lines of the head, with a few little curls to lend grace and charm."
" Have I too much hair, Giacinta ? "
" Well, signorina, yes," she confesses ruefully, but adds with the self-confidence of the capable, " It is pliable, it can be made to conceal itself."
" How do you know the styles ? "
" Signorina, I study the fashion plates of those ladies whom I comb. When one is mistress of the art, it is easy to adapt and adopt the fashion. It is only those poor miserable ones who have never regularly studied who find themselves entangled." In Giacinta's tone is a commiseration for those " poor miserable ones."
" And with whom did you study ? " I ask meekly.
" With la Maddalena Rovena. Ah, she was a pettinatrice indeed. I was apprenticed to her for years, and then, having inclination, I could continue alone. Where there is passion for the art, one perfects one's self always." Giacinta spoke as Giulio Romano might have done of Raphael. " Now every poor thing to whom the caprice jumps thinks she can be a pettinatrice." A scorn of rivals scintillates in her voice.
"Is it a well-paid profession?" I ask, thinking of the Dioscuri and the imposing man creating our dinner.
" Eh, signorina, it was. I used to receive as much as two francs per month from a daily client, but now there are so many who ply the comb they would have us come for seventy-five centimes (fifteen cents) a month. Dear lady, it does not pay one's shoes to go up their stairs."
As she talked she went steadily on, looping and puffing daintily.
" If I had known I should have the honor to comb the signorina, I would have brought my implements," she regretted. But real talent is never a slave to material tools, and with Signore Pasquale's mutilated fragment, a candle, and a small iron she waved and curled and plaited until she could say with quiet triumph, "Behold the signorina combed ! Knowing your ladyship is to travel, I have made the coiffure firm. The signorina need not comb herself for three days."
During the hairdressing we have talked of many things, and I discover that Giacinta as well as her husband has heretical convictions which have lost her more than one client. But with the arrival of a new guest Giacinta effaces herself. Evidently she and Signore Pasquale have a great admiration for the jolly, prosperous neighbor who has been invited to share our feast. He too is an old Garibaldian, but clearly he has fared well with the world ; for his fashionable clothes and the resplendent gold chain across his aldermanic figure contrast with the shabby black of Ser Pasquale's insignificant person. The latter tells me, with pride in his friend, that Signore Prospero has made a fortune in Cairo of Egypt, and that though he and his beautiful signora have come to enjoy it in a new villa on the slope, they still possess and direct three large salons in Cairo. The word suggests to my mind those old French symposiums of beauty and wit where Madame de Récamier charmed and Madame de Staël dazzled by her eloquence, when I wake to find that Signore Prospero's salons are for the outside of men's heads, and that like Giacinta he is an artist in hair. Having " studied " in Paris, he commands her respect and touches her manner to even deeper deference.
The cardinal's cook gives us an excellent dinner. The colossal swordfish does credit to Reggio, and the olives and mingled salad have a deliciousness only found in an Italian country house. The meal is served by Giacinta with noiseless alertness, as if she had never aspired to be other than a waitress; but when we have wended our way through many courses to the fruits of the Garibaldian's farm, she enters with a goblet held aloft between forefinger and thumb. Her other fingers are curved and extended with a finical eighteenth-century grace, and on her cheeks burn two bright pink spots. She casts her eyes to heaven, waves the glass in my direction, bows, and improvises in a high key a health which flatters and yet is apt. With even more circumstance she rapidly composes a brindisi to my father, in which Biblical, mythological, and floral figures swiftly follow each other ; and then come verses to the delighted host and the gentleman from Cairo, and in the facile, high-flown phrases glints now and then a flash of wit or an appropriate personal allusion, marking them, composed on the spur of the moment. Manner, attitude, and expression of rapt inspiration say clearly, " I know myself no less an artist in verse than an artist in hair."
Mary Argyle Taylor.