Christmas Eve and Christmas Day at an English Country House
"Imagination is far from being feebler than it was in the days of our fathers; the very sciences which have compelled it to give up so many of its old forms of expression have provided for it new forms not less worthy."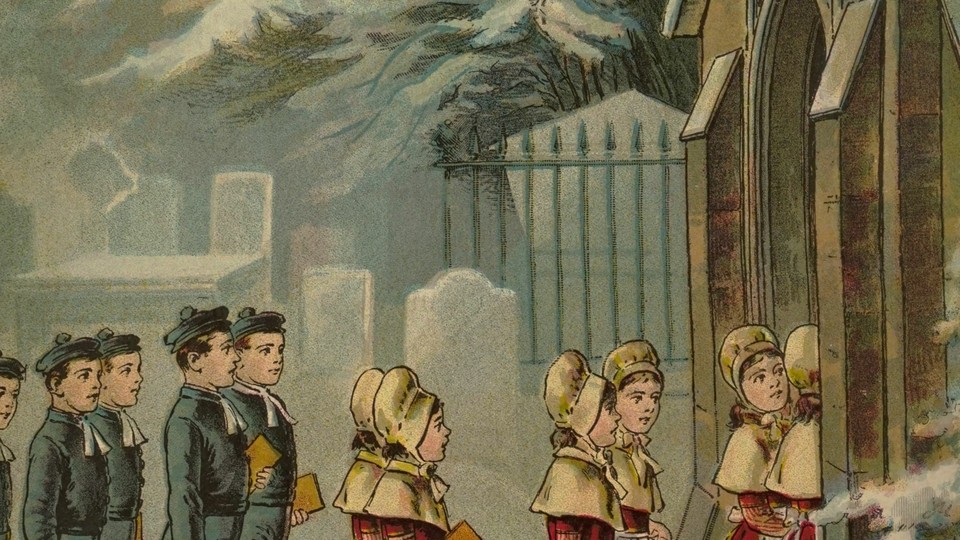 My friend Mr. Foster, after a second visit to the old country house in Somersetshire, put his journals into my hands, giving me leave to print as much as I pleased of them, and in any shape I thought best. His reason for not doing the work with his own hands may appear hereafter. I have done it for him as well as I was able, and as it seemed to me that my friend, in his former account, sometimes got his facts and fictions a little mixed, especially as to names, I will here say that the children of the squire will be called by the family name of Knighton, as he himself will be if occasion requires it, though he will generally keep the name of squire, as is usual in Somersetshire.
The ground and the trees, the hedges and the roofs, were white with snow when Mr. Foster drove through the gateway in the old wall and stopped at the tower door. The squire and his daughters came out to meet and to welcome him, and the elder lady threw back the folds of the heavy red and black curtains which hung before the inner archway, and gayly said,
On heaven and on thy lady call,
And enter the enchanted hall.
Mr Foster answered, "Most willingly, if Giant St. Loe's great sword does not come clattering down upon me as Douglas's did on the Knight of Snowdon. But no," he added, looking up, "I see it is safely wreathed with laurel." In the hall, already known to our readers as well as to Mr. Foster himself, a bright fire was burning on the hearth. The walls were festooned with bunches of evergreens, kept in place by the frames of the pictures, the sparkling red and green of the holly contrasting with the red and gold of the uniforms of the old Indian heroes, Clive, Watson, and Kirkpatrick; and the pale mistletoe berries recalled the days when the stately dames who now look down so demurely, with prayer-book in hand, from their portraits on the walls, might have pouted saucy maiden lips to meet the kisses of their bachelors. In the middle of the hall, planted in a gayly-painted tub, was a small spruce fir-tree, about seven or eight feet high. This the ladies had been decorating when Mr. Foster arrived, and they now went back to their work. On tables within reach were boxes of red, green, and blue tapers, some half empty, some not yet opened; small tin mirrors with facets to reflect the light; crackers in colored gelatine; little bags of gold, silver, or colored paper filled, or ready to be filled, with sugar-plums; and rows of dolls, horses, cats, dogs, knives, whistles, writing-desks, and work-boxes.
Mrs. Knighton. You are doubly welcome, Mr. Foster; first for your own sake, and next because we want your help for our Christmas doings. My husband has hardly got back from the unusual autumn and winter sitting of Parliament when he has to attend to all manner of business at home, — Petty Sessions, Board of Guardians, Highway Board, School Board, and, next week, County Council and Quarter Sessions, besides all manner of parish and estate business; so you may suppose I cannot get any help from him in trimming Christmas trees, though he will be here with the children to see the show.
Foster. What, then, is your own programme?
Mrs. Knighton. This evening, for our children, snapdragon and flapdragon, and afterwards, for all the children of the parish, our own included, the Christmas tree and a magic lantern. Tomorrow, Christmas Day, my father-in-law likes, and thinks that other people like, that every home should have its own festivities. And on the day after Christmas we have an old-fashioned sort of ball for the tenants, farmers, and cottagers, our servants, and ourselves and friends, in or out of the house, who can enjoy such homely revels.
Foster. You remind me of Bracebridge Hall.
Squire. "With a difference," I hope. I should be sorry to be thought like Washington Irving's squire, even if you are willing to take the place of Mr. Simon.
Foster. I should be content with the part of the traveling visitor. But may not your friends speak of you as "a fine old English gentleman, all of the olden time"?
Squire. No. Leave out "fine" and "olden," and I will try to do what I can to deserve the rest. Washington Irving was a genial humorist, and there is probably something of real regret for a vanished past in his description of the absurd efforts of the squire of Bracebridge Hall and of his relative, Mr. Simon, to renew and bring back that past by the efforts of a lifetime, though, like all humorists who give rein to their imagination, he runs into caricature. And though caricatures are very admirable fooling, they must not be taken for portraits.
Miss Knighton. I have heard my aunt say that she once spent an evening at Woburn, looking over a volume of Punch with Lord John Russell, and that the minister was greatly delighted when they came to a caricature of himself.
Foster. And a young lady told me of another of our statesmen who amused himself with showing her a scrap-book of caricatures of himself.
Squire. Very likely. Yet Lord John Russell would not have admitted that the queen thought him too small for the place, or that he had run away when Cardinal Wiseman looked out of the window, or that he was truly represented by Punch on these and such like occasions.
Foster. I certainly did not mean to imply anything of caricature or ridicule in my reference to Bracebridge Hall. I was thinking of Irving's serious reflections and expressions of regret for the good old times. You always used to prize old traditions, whether of your own family or of the old house in which you live. And Mrs. Knighton's programme, as I call it, seems to me only a Christmas holiday version of those traditions.
Squire. There is, I believe, some real beneficial use in all such traditions as long as they live, and if it is so, it is our business and duty to keep them alive; but they are for the most part perishable in their very nature. They die because they have done all that it was in them to do, and also that they may make room for new and better forms of the old life. We must bury the dead thing out of the way, not pretend that it is still alive and galvanize it into a sham appearance of life. We make many blunders, no doubt; we allow to perish, or even ourselves destroy, many things which had life still in them, and we go on trying to keep many things alive long after they are dead and have become a nuisance to every one, including ourselves.
Foster. "A live dog is better than a dead lion."
Squire. Except for the look of the thing, and then only at a safe distance, he is better even than the live lion. Depend upon it, the good new times are far better than the good old ones. It was the actual "Marshal Forwards," not the ghost of Frederick, who led the Prussians to victory. I often think of the description of an exploring expedition which Lieutenant (afterwards Sir George) Grey took down from an Australian native, consisting of whole pages of "Onward, through a forest onward: onward, onward, through a forest onward." And Shakespeare makes Ulysses preach this same doctrine of Onward, through with a different object: —
Time hath, my lord, a wallet at his back,
Wherein he puts alms for oblivion,
A great-sized monster of ingratitudes:
Those scraps are good deeds past; which are devour'd
As fast as they are made, forgot as soon
As done: perseverance, dear my lord,
Keeps honour bright: to have done is to hang
Quite out of fashion, like a rusty mail
In monumental mockery. Take the instant way;
For honour travels in a strait so narrow,
Where but one goes abreast: keep then the path;
For emulation hath a thousand sons
That one by one pursue: if you give way,
Or hedge aside from the direct forthright,
Like to an enter'd ride, they all rush by
And leave you hindmost;
Or, like a gallant horse fall'n in first rank,
Lie there for pavement to the abject rear,
O'er-run and trampled on: then what they do in present,
Though less than yours in past, must o'ertop yours:
For time is like a fashionable host
That slightly shakes his parting guest by the hand,
And with his arms outstretch'd, as he would fly,
Grasps in the corner: welcome ever smiles,
And farewell goes out sighing. O, let not virtue seek
Remuneration for the thing it was;
For beauty, wit,
High birth, vigour of bone, desert in service,
Love, friendship, charity, are subjects all
To envious and calumniating time.
One touch of nature makes the whole world kin,
That all, with one consent, praise new-born gawds,
Though they are made and moulded of things past,
And give to dust, that is a little gilt,
More land than gilt o'er-dusted.
The speech is of universal application, though Shakespeare, as his way is, puts it into the mouth of a speaker, a soldier in this case, who has his own particular occasion in view.
Foster. And then, though it seems to go against my own argument, I will cap your quotation with one from my favorite Sir Thomas Browne: —
"Knowledge is made by oblivion, and to purchase a clear and warrantable body of truth we must forget and part with much we know."
Squire. Still, all progress must be continuous. Tradition is the accumulated folly of past generations, and we must be careful not to pull up wheat along with the tares. The wisdom of an individual, or of an individual generation, is a poor thing.
Mrs. Knighton. Mr. Foster, you really must come and help us with the tree. If you go on talking philosophy with the squire, I shall quote Hamlet's somewhat musty proverb, as he calls it. Here are all these candles to be fastened to the branches and then to be balanced with oranges, and the ends of their wicks wetted with turpentine.
So the preparation went on: the ladies and Foster at work at the tree, and the squire arranging the magic lantern. When everything was ready for the evening, the squire proposed that they should take a walk. The sun shone brightly, though without melting the snow on the ground, while on the trees, where it had melted and frozen again, every twig and spray glistened with clear gem-like drops.
"Children and old people," said the squire, "seem to me to like snow better than the grown-up young ones. Perhaps it is that the sense of wonder is invoked in the child's mind by the unwonted apparition when he wakes in the morning. So I saw the face of my eldest boy lighted up with sudden wonder when, on an early spring morning, he saw the whole lawn sparkling with daisies where he had seen only grass the day before. In after life, from the sight of the sea, of a range of mountains, or from the view which bursts on us when we have got to the top of a mountain, we have something of the like sense of wonder. And then, in old age, if the snow no longer brings with it the sense of wonder, it brings the recollection of what that that wonder was when we did feel it."
They were now in the village street; and Mrs. Knighton said, —
"We must be going home, or the ringers will be there before us. I see them just coming out of the vicarage."
Foster. Who are the ringers?
Squire. The church bell-ringers. At Christmas time they come out of the belfry which they are supposed to share with the owls, and go round to the neighbors' houses, with small bells, one in each hand, on which they ring the Bob Major, Bob Minor, and other changes that they have first practiced in the old church tower itself.
Miss Knighton. Does not Wordsworth somewhere charge Cowper with inaccuracy of language in the phrase "the church-going bell"? It always seems to me the exact expression for that delightful sound of the bells as we walk up to church on a Sunday morning.
Squire. When he said that, he forgot his own English. "Church-going" exactly corresponds with "passing," as the epithet of the church bells. The bell itself neither goes nor passes; but in the one case it tells that the people are going to church, and invites you to go, too; in the other it tells that in some house in the parish a soul is passing away. But the passing bell, like the curfew, has lost its original meaning, and both are, I suppose, nearly obsolete. By the beye, our new parson and his sister have just arrived. It was only last Monday that he went through the ancient rites of locking himself into the church and then tolling the church bell, after which he and his sister took possession of the vicarage.
Foster. What is his name?
Squire. The Rev. Frank Woodburn.
Foster. Then I was with him at Balliol, but I have not heard of him since. Where does he now come from?
Squire. His health has broken down from overwork in an East London parish, and he has taken this little country living as all that he is fit for at present.
Foster. He will have an opportunity for verifying the truth of a saying which always seems to me a shrewd one, that the country is the grammar and London the dictionary for the study of human life, but we usually begin with the grammar. I hope you will like him better than his predecessor: what is become of him?
Squire. He has been made an archdeacon at the other end of the diocese. He was a "man to been an Abbot able," if he had lived in the days of Chaucer; a worthy man, but very high and dry. I am certainly glad of a preacher who talks of Maurice and Lux Mundi, instead of Pearson on the Creed and the Whole Duty of Man. Anyhow, I will not judge the new vicar and his sister so severely as old Madam Jones of the neighboring manor house did their predecessors more than a hundred years ago.
Foster. What was that?
Squire. When my grandfather and grandmother came down from town, they called on Madam Jones, and asked whether she liked the new parson and his wife. She answered that she had not yet seen them, but she heard that they sat in the parlor, burning two candles and ringing the bell. She herself was a grand maiden lady, — you may read her virtues on the great mural monument of marble in the church, — with three manors and manor houses, a pack of hounds, and "everything handsome about her;" though she used to sit neither in her parlor nor her drawing-room, but in the bedroom of her maid, Dinah Spreat, whether for economy or for society, I cannot say. And I suppose they burnt only one candle, and that no doubt of tallow if not a dip. But of Mr. and Miss Woodburn you shall judge for yourself.
Foster. He must be an acquisition to you, squire.
Mrs. Knighton. And to us, too. And his sister is charming. But you shall see them this evening; they dine with us after the Christmas tree.
Foster. We may hope, then, that you and he will not lead the proverbial cat and dog life.
Squire. Even Henry and Becket could not escape that Law of the Universe, as Carlyle would have called it, though, as I once said when proposing the health of the clergy at a county dinner, both cat and dog are necessary to every well-ordered household.
On getting back to the house, they found the ringers entertaining the children and the servants in the porch which opened into the hall. They were succeeded by a party of boys, with blacked faces, and fantastically dressed, who sang and danced. "These," said the squire,"are the last remains of the Mummers. When I was a boy, and the Great War had not been long over, the Mummers proclaimed repeatedly, 'I am the gallant Frenchman,' and 'I am the gallant Englishman,' and Father Christmas looked on as they fought, and he mistook a tallow candle for his pipe."
The children were becoming clamorous for the snapdragon, and led the way into the dining-room, where the remaining daylight had been already excluded by the closed shutters and curtains. On a table small enough to be within the reach of all was the largest dish which the kitchen afforded, strewed with raisins: the squire poured over them as much brandy as the dish would hold, held a little in a spoon to a candle till it caught fire, and cautiously spread the blue flame over the whole dish. And then one after another began to "snatch a fearful joy," and whisked a flaming raisin into his or her mouth, or more often upon the floor, till the needful supplies of the bottle came to an end; and the performance was concluded by the throwing a handful of salt into the still flickering flames, and so giving a ghastly look to all the faces in the room.
Then Mr. Foster said: "Snapdragon is an old friend; but now for flapdragon. I hope, Mrs. Knighton, that you will not call on me to drink off candle ends to please the children, as Poins did to amuse Price Hal."
Mrs. Knighton. You shall see; but my husband says we had better put off the flapdragon till to-morrow, and be content with the Christmas tree for this evening. I hear the voices of the village children already.
The winter sun was just setting, "shorn of his beams," and they could see as well as hear the children of the village, who were crossing the little bridge over the waterfall at the end of the avenue. They were marshaled by the vicar and his sister and the village schoolmistress, and on their arrival took their places in the hall. Here the Christmas tree had been drawn back into the bay window, and was hidden by the sheet now hung up for the magic lantern. The squire was the showman, who expounded the successive men and beasts, ships and comets, and their eccentric performances, with appropriate comic gravity. The children listened in admiring silence, which now and then broke into a half suppressed murmur of delight, especially when the rat ran into the mouth of the old gentleman asleep in his bed, and continued to repeat the feat over and over again. Then the last disk of light upon the sheet disappeared, and was succeeded by the twinkling of minute lights behind. There was breathless, expectation; the sheet was drawn back, and the tree in all its glory was brought into the middle of the hall. The murmur of half suppressed delight came again from the rows of children, some of whom saw the fairy scene for the first time, while to others the renewal of the pleasure was perhaps even greater than its first awaking; and one little one whispered in an awe-subdued voice, "I think it is like heaven."I think it is like heaven." On the very top shoot stood an angel, with a Union Jack in one hand and a lighted red taper in the other; on every branch were like tapers of red, blue, yellow, white, and green, skillfully fixed and counterpoised so that they should not set fire to the tree, nor to the smaller toys and trinkets hung upon the branches. All round the foot of the tree, and on a table near, were the larger toys for the children and the more useful presents for the elders. Behind was the gardener, with a bucket of water and a garden syringe, — happily not to be needed. These fruits of the magic tree had already been labeled with the name of a boy or girl, — children of the farmers or the cottagers, or the squire's grandchildren. Each name was called out in succession, and the hall soon resounded with joyful voices intermingled with the sound of the crackers which were drawn with exclamations of surprised triumph: paper caps, and aprons, and bonnets, and mottoes in the most execrable verse that ever wit of man has devised. There was a due quota of penny whistles, trumpets, and accordions. The oranges and bonbons from the tree were followed by slices of cake from the table, till the hands and arms of every child were laden and overladen. Then they gathered round the dismantled tree with its tapering lights, and sang Hark the herald angels. This was followed by God save the Queen, and then the procession re-formed, and the happy little ones went home in the moonlight. The vicar and his sister remained behind. Then Miss Woodburn said, "It has been a delightful evening. It was so pleasant to see the lighting up, every now and then, of these children's faces, of which the habitual expression is so grave, almost sad. At least, so it seems to me, after the merry liveliness of our London poor children (I mean that portion of them, happily a large portion, who are not actually suffering from cold and hunger)."
Squire. An old friend of mine, Matthew Davenport Hill, a philanthropist in every thought and feeling, and not in name only, once said to me: "Never lose an opportunity of making a child happy: it is often beyond your power to make a grown man or woman happy; but a child you can always make happy."
Here Mr. Woodburn and Mr. Foster, who had been renewing their old college acquaintance with the pleasure which such occasions always bring, joined the squire and Miss Woodburn, and Mr. Foster said: —
"Am I right in supposing that we owe the introduction of the Christmas tree into England to the queen, who had heard of it from Prince Albert?"
Squire. I believe so. There were no Christmas trees when I was a boy. The children's holiday was Twelfth Night, the 6th of January, when we had a great sugared cake, like a wedding cake, only that it had gaudily colored chalk kings and queens and other like ornaments on it, and there were paper pictures of kings, queens, and courtiers which we drew by lot. This was followed by some sort of game, in which we acted our respective characters and eat cake in proportion to our rank. All that has vanished. In the present generation, I know no one who has ever heard of a Twelfth cake. But I cannot remember when the transition took place, nor when I first saw a Christmas tree.
Mr. Woodburn. I wish Prince Albert had been able to transplant along with the tree the pretty parable—I will not call it fable—that the tree with all its presents had been brought into the house by the Child Jesus.
Squire. It could not be. When Luther, on coming home from a journey, told his children that he had met the little Jesus on the way, and that he had sent them messages of love, there was much more of fact than of fiction, to himself as well as to his children. In the lifelong war which he was waging, not against flesh and blood, but against principalities and powers, it was his conviction that all his strength lay in a Divine Presence, so real that it almost seemed visible, and could not have been more real had it been actually visible; and if the Man Jesus was thus the sustaining power of his own manhood, he must have been sure that the Child Jesus was in like manner present with the little ones so dear to himself. To use your very appropriate phrase, Luther told his children a parable, not a fable.
Mr. Woodburn. I might have quoted Mr. Gore where, in Lux Mundi, he speaks of the books of Deuteronomy, Jonah, and Daniel as dramatic representations.
Squire. We know how very nearly the impressions of dramatic representations come, for the moment, to those of actual fact. But all this demands a certain suitable correspondence and relation between the reason and the imagination, and this relation differs in different ages of our history. Reason is one, but the rules of reason, to which each age sends its children bound, are many. Imagination is far from being feebler than it was in the days of our fathers; the very sciences which have compelled it to give up so many of its old forms of expression have provided for it new forms not less worthy. So we may well be content, though we may still speak of the days that are done with a tender regret.
Mrs. Knighton. I was reading the other day an account of a Christmas-tree festivity somewhere in Germany, in which it was mentioned that the children were told the traditional story that the tree had been brought in by the little Jesus that evening; but that only the very little ones believed it. I am sure that if I had told our own children any such story I should have been asked, "Is it really true?" or have been told triumphantly, "I saw the gardener bring it in this morning."
Mr. Woodburn. Then must we be content, with Carlyle, to say that all the old forms of belief are dead, and that we have only to wait till Goethe and his followers have made us a new set of forms?
Great God, I'd rather be
A pagan, suckled on a creed outworn,
So might I, standing on this pleasant lea,
Have glimpses that would make me less forlorn;
Have sight of Proteus rising from the sea,
And hear old Triton blow his wreathèd horn!
Squire. So would I, but I hope there is no need for that yet. Richter tells us that when his mind recurred to the doubt of the existence of God, he read again his Vision of a Godless World; and so it is to me enough to read the miserable substitutes which Goethe and Carlyle offer us for the old faith, to reassure me that the dead are not dead but alive.
Dinner soon followed. As the squire offered his arm to Miss Helen Woodburn he said, "We should, by rights, dine in the hall; but except when we have a large party, we turn the old parlor into our dining-room."
Miss Woodburn. It sounds more romantic to dine in a hall; but probably a dining-room is more comfortable. The accounts of the ancient feasts are not very attractive; though my brother tells me that Homer has made them the subjects of true poetry.
Squire. Don't believe him. But he hears me; so I must defend myself as well as I can.
Mr. Woodburn. Do you not think that Homer has thrown the charm of true poetry over his descriptions of the killing, and cooking, and carving, and eating, and drinking of his heroes' feasts?
Squire. I certainly shall not contradict, for I agree with the universal judgment of more than two thousand years, that the stamp of true poetry is upon them; but when we come to analyze them we find that they would lose almost—or, indeed, I think quite all—of that charm if they were deprived of the double halo of distant time and place which now surrounds them. Every traveler knows how the vulgarest incidents of the day lose all their vulgarity and offensiveness when they come upon him in a foreign garb and language. It is odd and entertaining to be abused by a cabman in Paris or Berlin; and you may eat with pleasure in Naples or Rome a dinner of frogs and snails which would disgust you in London.
Mr. Woodburn. Do you allow nothing for the intrinsic beauty of thought and language in the classic poetry?
Squire. Yes, a great deal. Yet here again the halo of an ancient and a foreign language counts for much. Even among educated writers who have taken pains to cultivate their style, it is not uncommon to find a resort to words and phrases in another language than their own, because they fancy them to express some shade of meaning not conveyed by the vernacular word. Pitt, Fox, and Sheridan pointed an argument or a sophism with a line from Horace or a Greek play, while old Indians among themselves quoted Saadi or Hafiz. Our novelists give us dialogues in Scotch, or intersperse their mother talk with French phrases; and Persians and Turks emphasize their thoughts and words by Arabic texts from the Koran. I was just going to convict myself of the like charge.
Foster. Omne ignotum pro magnifico, as I guess. Yet whatever may be said for the halo of the unknown, or the imperfectly known, the intrinsic beauty of Greek and Roman poetry surely becomes more, not less, apparent, the more thoroughly we know it.
Mr. Woodburn. Then we get back to the old question of the comparative merits of the classical and the romantic in art, and if so, much as I value the Latin and Greek which I brought away with me from school and college, I shall give them up if that is the condition on which I may keep the English Bible and Shakespeare.
Miss Knighton. Do you call the Bible romantic?
Mr. Woodburn. In opposition to classical: I do not know any other term which would express my meaning so concisely, though I fear I may fall under the squire's censure, as one who quotes German instead of English phrases.
Squire. No. Coleridge has made the distinction thoroughly English, and the distinction is real. Classical art, be it in poetry, sculpture, or architecture, has a perfect beauty of its own, different in kind from the romantic, and with which the romantic does not attempt to compete. I do not think it is mere playing with words, to say that the one is perfect because it is finite, and that the other is imperfect because it has something of the infinite in it. Take the instance with which we appropriately began, as we were coming into dinner. Homer makes a description of a feast a work of art: but I venture to set beside it Sir Thomas Malory's, "He was the meekest man and the gentlest that ever ate in hall among ladies." It was an essential mark of the true knight that he should be "of his ort as meek as is a maid," gentle not merely by birth but still more by culture, and this culture was tested, as it was in great part carried on, by eating in hall among ladies. Where do you find me anything in Homer like that?
Foster. Let us hope that you will have some knights from among the boys whom we just now saw eating in hall the fruits supplied them by the ladies from their beautiful Christmas tree.
Mr. Woodburn. You will admit that the romantic in art has inherited or acquired much from the classical, both in thought and in expression. This is really true indirectly of Shakespeare, and directly of Milton and Tennyson.
Squire. Yes. And I do not wonder at the fascination which that classical beauty exerts over some minds, even in the presence of a still higher beauty. Shakespeare, Milton, Tennyson, see deeper into the life of men and things than Homer, Æschylus, Virgil, and Horace did, and their language is the perfect expression of their thought. Yet the classical works are greatly masterpieces, and have a beauty and a charm of their own which nothing can surpass, or even rival, — a difference in kind and not of degree.
Here Mr. and Miss Woodburn got up to take leave.
Foster. Miss Woodburn does not yet know the mysteries of this house, so I will take on myself to warn her that in going out she will have to pass the door of the turret stairs down which credible witnesses have seen the giant St. Loe and Lord Clive coming, and perhaps even the Lady Basilia de Sutton, who once lived in the tower.
Squire. You should not tell family secrets, though I dare say Miss Woodburn will answer you as Cowper answered a friend on a like occasion, only that a bustard, not a ghost, was in question.
Miss Woodburn. I don't know what that was; but i can quote Shakespeare like a very learned clerk: —
Some say that ever 'gainst that season comes,
Wherein our Saviour's birth is celebrated,
The bird of dawning singeth all night long:
And then, they say, no spirit dares stir abroad;
The nights are wholesome; then no planets strike,
No fairy takes, nor witch hath power to charm,
So hallow'd and so gracious is the time.
Squire. So I have heard, and do in part believe it.
Foster. Well, I will, if I may be permitted, at least escort Miss Woodburn to the gate at the end of the Black Walk, which Mr. Symonds has told us was so called from the shrieks of another family ghost, though Dr. Dryasdust says it was because it was made with cinders from the neighboring colliery.
* * *
Next morning Mr. Foster was just waking to the thought that he might now carry on the quotation of the night before, and beginning to repeat to himself
But, look, the morn, in russet mantle clad,
Walks o'er the dew of yon high eastern hill,
when he heard a pattering of little feet on the terrace under his window, and the voices of children singing: —
As I zot on a zunny bank,
Zunny bank, zunny bank,
As I zot on a zunny bank
On Christmas day in the marnen,

I zaw two ships cwome zailen by,
Zailen by, zailen by,
I zaw two ships cwome zailen by
On Christmas day in the marnen.

And who d' you think was in those ships,
In those ships, in those ships,
And who d' you think was in those ships
But Joseph and his Mary.

An' he did whistle and she did zing
An' all the bells of earth did ring
Because our Saviour Christ is king
On Christmas day in the mornen.
Then the little feet were heard again, and presently under another window he could hear, though less distinctly: —
The first good joy that Mary had,
It was the joy of one;
and so on through the seven joys of the Virgin Mother.
Mr. Foster came down, exchanging wishes for a Merry Christmas and a Happy New Year with the assembling family, young and old; and later, while they were still at breakfast, three little girls and two boys, the eldest not looking more than eight years old, appeared outside the window and began to sing. To the astonishment of Mr. Foster, and perhaps to others of the party inside, though all were too good-natured to laugh, the carol certainly began: —
While shepherds washed their frocks by night
All seated on the ground,
and then went on in stricter accordance with the hymn-book. Mrs. and Miss Knighton began to spread thick slices of bread and butter, and to pour out, and put sugar into, large cups of tea. These, the younger ones of the breakfast party gave through the opened window to the children outside when they had finished the carol, and they went away delighted when they were told farther that each would get an orange at the back door.
Foster. Pray, Mrs. Knighton, do tell me the meaning of that extraordinary beginning of the hymn to which you listened with such gravity.
Mrs. Knighton. Our sheep do not browse on the commons, but are kept in fields, so that our village children can attach no meaning to watching flocks by night. But washing frocks has a real and distinct meaning for them; and I dare say many of them, poor things, have been scolded for making their frocks so dirty by day that, having no change, their mothers have been obliged to sit up at night to wash them. Children are more anxious than grown-up people not to use words without a meaning. I remember one of my children calling her father "feather," because, she said, feather had a meaning, and father had not. And I have heard on good authority another story of the same kind of a little girl, who, being told to choose her own hymn, asked for the one about the little bear. No such hymn being known, she was told to repeat the beginning of it, that it might be identified, upon which she said: —
Can a mother's tender care
Cease towards the child she bare?
Squire. I suspect, or more than suspect, that a good deal of the profound discoveries in what the Germans call the higher criticism is not a bit more wise or true than that of these poor children. After all, the great fact remains for us and for all mankind, however little we may understand it, and however ill we may express it. So let us take the wise advice of Henry VIII. to his Commons, and be neither too stiff in our mumpsimus, nor too curious in our sumpsimus. Hark! "the holy bells are knolling us to church."
Foster. My old friend told me he should give us a short sermon. I did not remind him of the story of Canning—I think it was Canning—and his friend's sermon.
Miss Knighton. What was that?
Foster. The statesman went to spend a Sunday with his old college friend, now clergyman of the parish. On coming home from church, the clergyman said, "How did you like my sermon?" Canning, wishing to be at once truthful and courteous, answered, "It was short." "Yes," replied the other, "I like to avoid being tedious." Then the habit of the ready debater triumphed over friendship and courtesy, and the wit replied, "But you were tedious."
Squire. "It was cruel, but perhaps it was irresistible," as Sydney Smith said of the still wittier sarcasm of a learned judge. But I do not think you need fear having to choose between your wit and your friendship. Our vicar will offer you no such dilemma.
Foster. Were those the same singers that I heard under my window before I was up?
Mrs. Knighton. I am not sure. But we have them at intervals all day, and I rather suspect that some at least of these little choirs go round and round, like stage armies; and if some get more cake and oranges in this way, they give us more of their carols.
* * *
The sermon was short, and not tedious. The church was crowded with men and women come to keep Christmas and to hear the new parson for the first time. They had found themselves sharing, as they had not been accustomed to share, in the earlier part of the service, which was led by the young minister in tones of earnest English, and not of pompous and dreary monotony, or irreverent gabble. And now every face was turned to that of the preacher, whose gentle and delicate features showed signs of still lingering illness, notwithstanding his piercing eye, his lips compressed with an almost fierce earnestness, and a grand, deep, bass voice, as he read out his text: "For unto us a child is born; unto us a son is given."
When they came out of church again they walked for some time in silence, through the churchyard, and down the little village street of cottages and gardens, the vicarage and the schoolhouse and the great trees with their frost covered branches sparkling in the sunshine.
Then the squire said: "We have not heard the prayers so prayed since my old friend Maurice was here with us. The sermon, too, was not unworthy of Maurice, as the preacher threw himself with histrionic truth, first into the natural thoughts and feelings of the Jews when Hezekiah was born to them, and then into the deeper Catholic faith in the coming of a greater than Hezekiah, in whose coming all nations of the earth should be blessed. And then, how the self-consciousness of the messengers of these glad tidings seemed to pass away before the greatness of the message, and of its Sender." Here they were joined by the vicar and his sister, who were then invited to dinner by Mrs. Knighton. "For," she said, "though we all like to dine at home on Christmas Day, you have not yet had time to make your new home; so you had better share our old one."
In the afternoon the squire's children and grandchildren, Mr. Foster assisting, made a snow man on the terrace, and pelted it, and each other, with snowballs till they were tired. Afterward they turned to tobogganing on tea trays down the steep bank at the end of the terrace, after what they supposed to be the fashion described to them by their cousins at Davos. When daylight was done, they spent the evening till dinnertime in games in the hall, which the elder people diversified with talk grave and gay. I find no Homeric record in Mr. Foster's journals of roast beef and turkey, mince pies and plum pudding. But he tells that when the dessert only remained on the table, he said to the squire, "Are we not now to see you drink off candle ends for flapdragon?"
Squire. No, no. We leave that form of the function to you and Poins and the Grand Duke Constantine. Here are the materials; so fill your glasses, — with wine or water, as you like.
A small dish of almonds in their brown skins was handed round, and each of the squire's children and grandchildren made a little boat out of a split almond, lighted the mast-head, set the whole afloat in his or her glass, and tossed it down alight.
Squire. This was my father's fashion of flapdragon when I was a boy. I confess I never succeeded in the feat myself; but my youngest son and my eldest grandson are experts, as you have seen.
Foster. But what had the Grand Duke Constantine to do with the matter?
Squire. He was the jolly Russian prince who was set aside in favor of his younger brother Nicholas on the death of Alexander I. The story goes that at a great dinner given by him to the officers of the army, he performed the good old custom of eating candle ends, a number of tallow candles being put on the table for the purpose. The effeminate successors of the men who fought under Peter the Great made wry faces; but when the Grand Duke bit off a large piece of his candle, and ate it up, they were obliged to follow his example, and it was not till afterwards that they learned that the candle of his Imperial Highness had been a French bonbon of white sugar, while theirs were genuine Russian tallow. Whether it was this freak which excluded him from the succession I do not know. If it was so, it may have bee that, in the judgment of the people, he had wrongfully declined a flavored form of the national food. For my father used to tell another story, how, before the days of gas, a Russian ship having come into Leith harbor, the street lamps went out soon after they were lit; and on a watch being kept to discover the cause, the sailors of the ship were seen stealthily climbing the lampposts like monkeys, and drinking the train oil which should have fed the lamps.
When flapdragon was over, a little voice from Mrs. Knighton's end of the table called out, "Now read us the Head Monkey, grandpapa."
Squire. I knew that would come, and have him in my pocket.
Miss Woodburn. What is the Head Monkey?
Squire. (Taking a paper from his pocket.) It is a letter to my grandmother, showing how she entertained her grandchildren. It will explain itself; only you must see the funny spelling. (He reads.)
My Lady,

Agreabel to order James Botten and Company will attend Tomorrow evening at 5. But begs to inform that the Bear Being Laim am afeard can't perform. But the doggs and munkees is in good condishon and will I hopes be approved with the musik.

My terms is as follows per nite

Bear ……………………………………………………… 10. 6
8 doggs for cotillin at per dog 2 …………… 16
Musik ………………………………………..………… 5
Drum and ornes …………………………………… 7
head munky ………………………………………… 7
3 others ………………………………………………… 9
keeper …………………………………………………… 2. 6

Punch is a seprit consarn and cums high but can order at same time though not in that Line since Micklemuss. He belongs to Mr. Valentine Burstem at the Marmaid 14 Princess Court Holborn.

I am,
my Lady
Your most dutiful humbel servant
James Botten

Tuesday. 19 Piccadilly.

P. S. Pleese Let the head munky Jacko cum down the airy on account not making no durt in the haul.

"The gentleman says consarning tubb for the crocodile but I never Lets her out nor the ostrigis as I explained to him for your satisfaction.
Then at Mrs. Knighton's signal they all got up, and went back into the hall, the squire offering Miss Woodburn his arm, while she said, "I should have liked to see that cotillion with Jacko leading the brawls, in this very hall."
Blindman's Buff and Post, and other romps began, again varied with games of cards and conjuring tricks, which the elders sometimes joined in, and sometimes left to the children while they talked among themselves. The squire took his share in it all with manifest enjoyment. At last he said, "Now let us have the other half of this morning's sermon."
The vicar and his sister, who were at this moment talking to Mr. Foster, looked puzzled, and the vicar asked, "What can he mean?" Mr. Foster answered, laughing, "It is only his way. Like John Gilpin, he loves a timely joke, and to put his thoughts into a merry guise. Look; Mrs. Knighton and Mr. John Knighton, who has almost as good a bass voice as your own, are going to the piano, and the rest of the household are coming into the hall. The squire, like Coleridge, loves music, though he has no ear; and he always says that Handel is the greatest of the commentators on Isaiah. You gave us Isaiah this morning, and now we shall have Handel's version of 'The people that walk in darkness,' and of so much of 'For unto us a Child is born' as a piano can give."
So it was. Then followed the church collect for the day, and the Lord's Prayer, and Christmas Day closed in at the old manor house.