At No. 49, Rue St. Melaine
—I may as well confess to a passion for inscriptions, of which I have made quite a little collection. Personally I should like to inscribe everything I possess with appropriate mottoes, and I am ever suggesting them to my friends. I never pass an inscription without stopping to read it, always hoping to come upon something curious or interesting, and it would be a pity if I were not occasionally rewarded by an amusing discovery.
The picturesque town of Morlaix, in the department of Finistère, certainly possesses some of the prettiest old houses to be found in Brittany, — houses which many American architects know well, and from which they often obtain charming suggestions, of which I do not think they have been slow to avail themselves. In one of these houses, not far from the church of St. Melaine, at the corner of the Rue St. Melaine and the Ruelle des Prêtres, lived, and still lives, the owner of one of the few stables of which Morlaix can boast, — if any one would dare to boast of such jolting and primitive vehicles, such clumsy horses, and such obstinate drivers as that town affords. However, chateaux, churches, and calvaries must be seen, and the good offices of this most good-natured owner of horseflesh were almost daily put in requisition. His house, a high half-timbered structure on a stone foundation, was built as if to last forever. A steep wooden staircase led to his apartments, but it was not until some weeks had passed that I had occasion to have any intercourse with his family, since he was almost always at the door of his dwelling. One day, however, he was not to be seen, and having left a message within, on coming down the stairs I found myself opposite an inscription over the doorway ; and further investigation showed me two more, — one on the side of the passage-way, and another on a beam which formed the ceiling of the staircase. The last of these inscriptions, burnt into the wood, had on either side of the verses two figures, — one of St. Peter " à la barrière," and the other a priest or bishop. Perhaps the house formerly belonged to the priest who served the neighboring church of St. Melaine, and these verses may have pointed to some ancient lawsuit which had annoyed the builder or owner, and caused an appeal to a more righteous Judge than any to be found in Brittany in the seventeenth century. Whether this theory is correct I know not, since at the time I made no inquiries about the house and its history; nor did I see, until attempting to translate the verses, some months later, the apparent sequence of legal allusion which I fancy I now detect.
These verses, which are given just as they stood, ran as follows : —
DU PARADIS ;
ET JE ME DIS
QUE POUR MON AME
PEU JE RECLAME :
QUITTE AU PROCÈS
A MON DÉCÈS.
DITES AÀ PIERRE À LA BARRIÈRE
QU'OBTENIR SUPFIRAIT ÀA MA FELICITÉ
D'UN PETIT COIN DU CIEL LA CO-PROPRIÉTE.
Or, if I may attempt a translation : —
When the thoughts of Paradise
In my quiet hours arise,
Then I cry —
Little ask I for my soul
When I 'm freed from earth's control,
When I die.
Say to Peter at the gate,
That I pray it 's not too late
To obtain
Some small corner of the sky,
Where, its happy owner, I
May remain.
The legal view is, however, brought out more fully and not unwarrantably in this paraphrase : —
I ask the Judge in Paradise
But little for my Soul;
I leave my dwelling for His Court
Freed from Earth's Court's control.
Tell Peter that one Verdict would
Give my desires their fill, —
A little corner in His Heaven
With tenancy at will.
The second inscription, also burnt into the wood, was just beside the doorway as one went out. A more serious vein seemed to have seized the versifier, and he invokes a local saint to aid him in dispelling the dark shadows that oppress him ; and thus the unknown builder cries out in his trouble : —
GRAND SAINT YVES, L'ENFER, LE CUISANT PURGATOIRE
PRÉOCCUPKNT L'ESPRIT, LE METTANT EN ÉMOI ;
O MAITRE VENÉRÉ PLAIDÉZ, PLAIDEZ POUR MOI !
VEUILLEZ M'AIDER CONTRE EUX ÀA GAGNER AU PRETOIRE.
Perhaps this can be paraphrased to read :
Hear me, O good Saint Yves, for Hell
And Purgatorial Pain
Make me afraid, and Terror broods
Upon my weary brain.
Pray, pray for me, O Master ! plead
That I may make my way,
Through all my Foes, and gain my Cause
At the dread Judgment Day.
Now the saint invoked, St. Yves, or, as he is sometimes called, Yves de Ker-Martin, was a learned French monk and jurist, who lived in Brittany in the latter part of the thirteenth century. Our unknown friend, always legal-minded, evidently thought it would be useful to retain one who understood the technicalities of his profession.
Another couplet shows us the conclusion of the whole matter, in which desire for that which is lawful is mingled with a sense of responsibility, — the hope in the first verses and the fear in the second leading to the sober-minded circumspection of the third : —
USUFRUIT DE TERRE ICI-BAS ME CONTENTE
SI JE PUIS SUREMENT V1VRE EN LA DOUCE ATTENTE.
I have enough, if but Earth's use I 'm given,
If I can live in certain hope of Heaven.
Or, to expand it a little : —
If I enjoy Thy gifts while here below
It is enough for me ;
I use them not as mine, but rather so
As lent by Thee.
But count me happy, if, while this attaining,
I still can hope for everlasting gaining.
Further up the staircase I found a design of a very different sort. On the end of a beam was branded a great fleurde-lis with a legend surrounding it, thus :
VOUS êtes Libre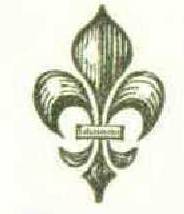 d' aimer
LES TULIPES.
I could not think what this motto meant, until the woman of the house told me that it stood as a patriotic emblem: "You are at liberty to like tulips," but we, through changing fashions, love the lily of France. Whether this really was a political device, or a protest against the tulipomania which once ravaged Europe, I leave the reader to find out. To the same personage I present another and last couplet: —
L'UN, PAR LA PRESCRIPTION, NE PEUT ÊTRE. SUPRIS ;
I.'AUTRE EST FORT ONEREUX, JE N'EN SUIS POINT ÉPRIS.
It seems to follow the address to St. Yves ; but as I fail to discover its allusion, I am willing that he should do it into English rhyme and reason — if he can.