Unpublished Letters of Franklin to Strahan
A correspondence between the Founding Father and a fellow bookseller reveals much about eighteenth century printing—and Benjamin Franklin's character.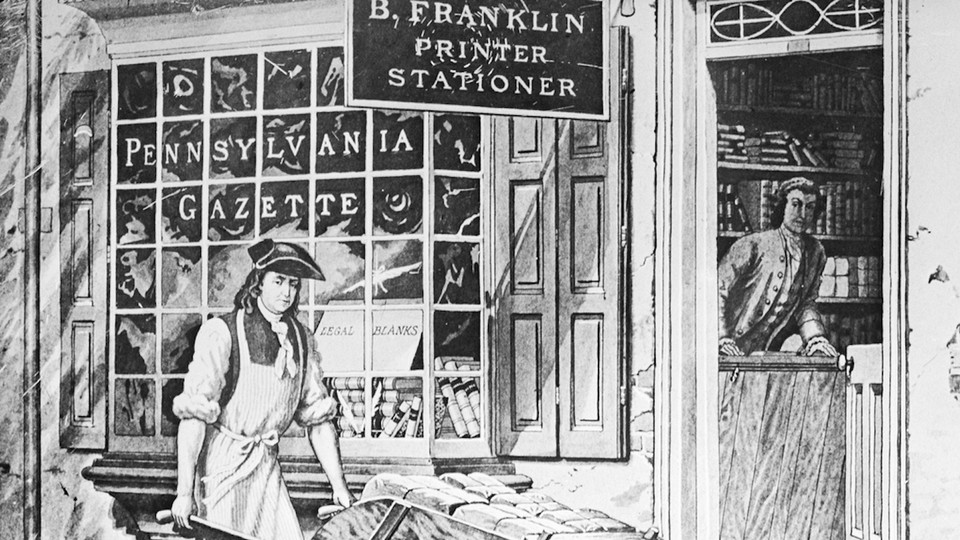 There is no department of literature more fascinating to the general reader than biography. When a well-known character himself relates the story of his life, the interest is greatly increased. But when through his correspondence we obtain unpremeditated glimpses of his heart or the development of his career, we reach a mine that yields profit not only of interest, but sometimes of incalculable historic value. The exigencies of the rapid life of this century are rendering these sources of historic record more and more rare. Johnson said, "We travel no more; we only arrive at places." Thus we of the nineteenth century may say in turn. "We correspond no more; we only telegraph."
It is therefore a matter of growing importance to preserve the correspondence of the men of past ages, and to welcome heartily every newly discovered addition to a class of historic and intellectual wealth that erelong will reach the limit of accretion. Among great representative Americans, no one has left behind him so voluminous a correspondence as Benjamin Franklin. This is doubtless due in part to his methodical habits and thorough mastery of his powers, and in part, most likely, to the fact that during his long and busy career he followed with success a number of entirely distinct pursuits, each of which brought him into relations with a separate class of the world's workers. But voluminous as are the epistolary remains of Franklin, they are yet of such value and importance that his countrymen are eve ready to welcome additions to these inestimable biographical archives, whereby to increase our knowledge of one of the most extraordinary men America has produced. Naturally, the supply is drawing near its final limit; there was indeed reason to conclude that this limit had already been reached when a group of letters, in Franklin's own hand, recently came to light in England. These letters were long kept in the family of Mr. Strahan, and for some unexplained reason were finally placed in the hands of a London bookseller, for sale. They were shown immediately after that to an American gentleman, who purchased them and brought them to this country last summer. What adds to the value and interest of this "find" is the fact that these letters represent a very large portion of the correspondence of Franklin with his friend William Strahan. As both were printers and booksellers, these relics of Franklin give us very interesting glimpses at the condition of letters and the practice of the art of printing in the American Plantations at that period.
This friendship of over forty years, sprung from a mere casual business transaction, ripened into a sincere respect and a warm affection on both sides, and seems to have called into action the best qualities of Franklin's character. One cannot rise from a perusal of these documents without entertaining a higher regard for Benjamin Franklin as a man of feeling. He is generally considered to have been one in whom excess of intellectual activity and Yankee shrewdness overbalanced the exercise of his emotional nature. That he was capable of warm and enduring friendship, however, becomes at once apparent in these genial letters, written by the American printer to his brother print across the seas.
We all know what Franklin was. If we hear less of Strahan, it must yet be conceded that, although no such remarkable genius as Franklin, he was a man of mark and integrity, whose success as a bookseller and publisher won him a place in Parliament. Thus, Franklin could discuss both books and politics with him, and while still a humble printer and postmaster in a distant colony could anticipate the proud position he was destined to occupy among the foremost statesmen of the age. Strahan's disposition and social standing are further indicated by his intimacy with Dr. Johnson, whom he often befriended, acting as his banker, and drawing his pension for him. In 1771, he strongly urged the nomination of Johnson to the House of Commons.
The letters in question number seventy-three, including a very rare letter of Mrs. Franklin's and a few duplicates, which were sent by different ships to insure safety from the perils of the sea, of which the most hazardous were the French cruisers swarming on the high seas during that century. We present here a selection of those which bring out most fully Franklin's relations to the intellectual development of the colonies and the friendship of the correspondents, beginning with the first of the series, and closing with the last one. The correspondence began in a casual manner, by the following letter from Franklin to Strahan, which explains itself; Franklin being at the time resident in Philadelphia, in the triple capacity of printer, postmaster, and publisher of The Pennsylvania Gazette.
---
Sir,—Mr. Read has communicated to me part of a Letter from you, recommending a young Man whom you would be glad to see in better Business than that of a Journeyman Printer. I have already three Printing Houses in three different colonies, and purpose to set up a fourth if I can meet with a proper Person to manage it, having all Materials ready for that purpose. If the young Man will venture over hither, that I may see and be acquainted with him, we can treat about the Affair, and I make no doubt but he will think my Proposals reasonable; If we should not agree, I promise him however a Twelve months Good Work, and to defray his Passage back if he enclines to return to England. I am, Sir,
Your Humb. Servt. unknown
B Franklin
In the letter following this, Franklin gives us a fine insight to his literary tastes, and suggests as well those of the colonies. The allusion to Ward doubtless refers to Edward Ward, a longwinded imitator of Hudibrastic verse, who kept a genteel public house in London, and found a wide sale for his cheap verses in the Plantations, a fact to which Pope alludes in the Dunciad, in the lines,—
"Nor sail with Ward, to ape and monkey climes,
Where vile mundungus trucks for viler rhymes."
Sir,—I received your Favour p Mr. Chew dates Sept. 10, and a Copy via Boston. I received also Mr. Middleton's Pieces. I am pleased to hear that my old Acquaintance Mr. Wygate is promoted, and hope the Discovery will be compleated. I would not have you be too nice in the Choice of Pamphlets you send me. Let me have everything, good or bad, that makes a Noise and has a Run: for I have Friends here of Different Tastes to oblige with the Sight of them. If Mr. Wharburton publishes a new Edition of Pope's works, please to send me as soon as 't is out, 6 Setts. That Poet has many Admirers here, and the Reflection he somewhere casts on the Plantations as if they had a Relish for such Writers as Ward only, is injurious. Your authors know but little of the Fame they have on this Side the Ocean. We are a kind of Posterity in respect to them. We read their Works with perfect Impartiality, being at too great a Distance to be byassed [sic] by the Fashions, Parties and Prejudices that prevail among you. We know nothing of their personal Failings; the Blemishes in their character never reach us, and therefore the bright and aimiable part strikes us with its full Force. They have never offended us or any of our Friends, and we have no Competitions with them, and therefore we praise and admire them without Restraint. Whatever Thomson writes, send me a Dozen Copies of. I had read no Poetry for several years, and almost lost the Relish of it, till I met with his Seasons. That charming Poet has brought more Tears of Pleasure into my Eyes than all I ever read before. I wish it were in my Power to return him any Part of the Joy he has given me—I purpose to send you by a Ship that is to sail shortly from this Port a Bill, and an Invoice of Books that I shall want for Sale in my Shop, which I doubt not you will procure as cheap as possible; otherwise I shall not be able to sell them, as here is one who is furnished by Oswald that sells excessively low; I cannot conceive upon what terms they deal.—The Pamphlets and Newspapers I shall be glad to receive by way of N York and Boston, when there is no Ship directly hither; If you direct them for B. F. Boston and Philada they will come directly to hand from those Places.—Mr. Hall is perfectly well and gains ground daily in the Esteem of all that know him.—I hope Caslon will not delay casting the English Fount I wrote to you for, so long as he has some that have been sent me. I have no doubt but Mr. Hall will succeed well in what he undertakes. He is obliging, discreet, industrious but honest; and when these Qualities meet, things seldom go amiss. Nothing in my Power shall be wanting to serve him.—I cannot return your Compliments in kind; this Quaker plain Country producing none. All I can do is, to demonstrate, by a hearty Readiness in serving you when I have an Opportunity, or any Friend you recommend, that I do truly esteem and love you, being Sir,
Your obliged humb Servt
B Franklin
Philad. Feb. 12, 1744, 5.
P.S. Please continue the Political Cabinet.
In the next letter, bearing date of July 4, 1744, Franklin reminds us, by the allusion to Dobb's Piece, of an affair which created much discussion in England at the time. In 1741, Captain Christopher Middleton, who is also mentioned in this letter, was sent in command of an expedition to discover a passage through Hudson's Bay. Naturally, he failed to find what did not exist. He sailed some distance up the Wagner River, and finding it to be a river, reported that the Hudson's Bay was an inland sea, and nothing more. Arthur Dobbs, who had accompanied the expedition, came out with a virulent pamphlet, probably the one which Franklin mentions, and asserted that Middleton had been bribed by the Hudson's Bay Company to make the report he did. The controversy became so hot that a second expedition was sent out, under Captain William Moore, which confirmed the statements of Middleton. But the results of the second expedition had evidently not reached the colonies at the time of Franklin's letter.
The two letters following this one are of great value as indicating the character of the books then most in demand in the Plantations, and as showing the business relations of the two printers ripening into friendship.
Philada July 4, 1744.
Sir,—I received your Favour p Mr. Hall, who arrived here about two weeks since, and from the short Acquaintance I have had with him, I am persuaded he will answer perfectly the Character you had given of him. I make no doubt but his Voyage, tho' it has been expensive, will prove advantageous to him. I have already made him some Proposals, which he has under Consideration, and as we are like to agree on them, we shall not, I believe, differ on the Article of his Passage Money.
I am much obliged to you for your Care and Pains in procuring me the Founding-Tools; tho' I think, with you, that the Workmen have not been at all bashful in making their Bills. I shall pay a Proportion of the Insurance, &c. to Mr. Read, and send you a Bill of Exchange by the very next Opportunity.
I thank you for Mr. Dobbs's Piece. I wish that publick-spirited Gentlemen may live to enjoy the Satisfaction of hearing that English ships sail easily through his expected Passage. But tho' from the Idea this Piece gives me of Capt. Middleton, I dont much like him, yet I would do him the Justice to read what he has to say for himself, and therefore request you to send me what is published on his Side of the Question. I have long wanted a Friend in London whose Judgement I could depend on, to send me from time to time such new Pamphlets as are worth Reading on any Subject (Religious Controversy excepted) for there is no depending on Titles and Advertisements. This Favour I take the Freedom to beg of you, and shall lodge Money in your Hands for that purpose.
We have seldom any News on our Side the Globe that can be entertaining to you on yours. All our Affairs are petit. They have a miniature Resemblance only of the Grand Things of Europe. Our Governments, Parliaments, Wars, Treaties, Expeditions, Factions, &c. tho' Matters of great and serious Consequence to us, can seem but Trifles to you—Four Days since our Naval Force received a terrible Blow. Fifty Sail of the Line destroyed would scarce be a greater loss to Britain than that to us. And yet 't was only a new 20 Gun Ship sunk, and about 100 Men drowned, just as she was going out to Sea on a privateering Voyage against the King's Enemies. She was overset by a Flaw of Wind, being built too sharp, and too high masted.—A Treaty is now holding at Newtown in Lancaster County, a Place 60 Miles west of this City, between the Governments of Virginia, Maryland, and Pennsylvania, on one Side, and the united Five Nations of Indians on the other. I will send you an Account of it when printed, as the Method of doing Business with those Barbarians may perhaps afford you an Amusement.
We have already in our Library Bolton's & Shaw's Abridgements of Boyle's Works. I shall, however, mention to the Directors the Edition of his Works at large; possibly they may think fit to send for it.
Please to remember me affectionately to my old … Friend Wigate, to whom I shall write p next opportunity. I am, Sir
Your most obliged humb Servt
B. Franklin
Sir,—I wrote to you lately via New York, and sent a Copy via Maryland, one or other of which I hope may come to hand. I have only time now to desire you to send me the following Books, viz.
1 Doz Cole's Eng. Dictionaries
3 Doz. Mathers Young Man's Compan'n
2 Doz Fishers Ditto
2 Quarter Waggoners for America
6 Echard's Gazetteer
4 Doz Grammars with Const. Book
1 Doz Clark's Corderius
1 Doz London Vocabulary
1 Doz Bailey's English Excercises
6 Clark's Introduction
6 Esop's Fables, Latin
1 Doz Accidences
6 Brightland's English Grammar
I am, Sir,
Your most humb Servt
B. Franklin.
Sir,—The above is a Copy of mine p Capt. Martyn. I have only to desire you to add the following Books. 6 French Testaments, 12 Boyer's Grammars, 12 Cord. Colloqu. French, 3 Cambray's Fables, 3 Telamarque, 2 Travels of Cyrus, French, 2 Boyer's Dictionaries 8º--1 new German & Eng. Dictionary & Grammar by Professor A. A. Lessing.
Yours &c.
B. Franklin.
Sir,—I have had no line from you since that dated June 1745, which with your equal Silence to our Friends Hall and Read, made me apprehend that Death had deprived me of the Pleasure I promised myself in our growing Friendship: But Lieut. Grung writing in Feb'y last that you and your Family were well, convinces me that some unlucky Accident has happened to your Letters.
I sent you in mine of Dec. 11 & Dec. 20 a List of some Books, &c. which I wanted, with a Bill for £15,7,1 Sterl. And as Mr. Collinson had his Letter which I then enclosed to you, there can be no need of copying what I sent you. I shall expect those Books in the next Vessel that arrives from London. & send you now enclosed another Bill for 15£ sterl.
I have not time to add but that I am with sincere respect.
Your obliged humb Servt.
B. Franklin.
Copy p Martyn
Who sailed Ap. 26
In our next three selection we gain a number of interesting glimpses at the life of the colonists and their relations to the mother country. The order for post horns suggests the methods employed by Postmaster Franklin for distributing letters and books.
Sir,—Your Favours of Feb. 11 and May 1 are come to hand. Mesnard arrived safe this Morning, and I suppose I shall have the Trunks out in a day or two. Our other Ships Lisle and Houston not yet come, but daily expected. I am much obliged to you for your ready Compliance with my Requests. I sent you in the Spring a Bill on Messrs Hoare and Arnold for 15£ which I hope came to Hand, and will be as readily paid as that on George Rigge for £15,7,1. I now send you the following Bills, viz.
Sterling
John Denny's for            3, 5, 7
George Copper's for       2, 8, 0
J. Bordly's for                 4, 3, 3
Ra Page's for                  4, 15, 0
Sarah Gresham's for       4, 10, 0
Jno Bond's for               13, 07, 9
         ----------
                                    £32 : 19 : 7
I wish the Sum had been all in one Bill, as the Trouble to you would be less; but Bills have been scarce lately, and we were glad to get any. I think however to send you no more such small ones.
I shall as you desire deliver one of Ainsworth's Dictionaries to Mr. Read. You will please to take the Charge of it from my Acc't in your Book, and add it to his.
Please to send me p next Vessel 6 Dozen of Dycke's Spelling Books, and as many of Owen's, with a Dozen of Post Horns of different Sizes.—I shall speedily send you another Bill.
My Wife joins with me in Thanks to you and good Mrs. Strahan and young Master, for your great Kindness to our Daughter. She shall make her Acknowledgements herself as soon as she is able.
I congratulate you on the Defeat of Jacocbitism by your glorious Duke, and the Restoration of Peace and good Order within the Kingdom. We have just now an Account that a French Fleet of about 30 Sail were lately seen off Cape Sables; They are supposed to be from Brest. I hope they are followed by a superior Force from England, otherwise a great deal of Mischief may be done in North America.
I am sorry it so happen'd that Mr. Collinson had bespoke the Books. The next Catalogue sent to him will be accompanied with a Request that he should purchase them of you only.
Our Friends Messrs Hall and Read continue well. I am, Sir,
Your obliged humb Sert
B. Franklin.
In two copies of the above letter, sent by other ships, Franklin adds a postscript as follows: "Your Government sent no Fleet to protect us against the French under D'Anville. But they have been defeated by the Hand of God."
Sir,—Your Favours of March 18 & April 1 are come to Hand with all the Books. &c. mentioned in the invoice, in good Order, and am much obliged to you for your ready Compliance with all my Requests.
I believe I could have got Subscriptions for 20 Sets of the Universal History, and perhaps more, but unluckily a Ship from Ireland has, since the Receipt of your Letter, brought in 20 Setts compleat, and they are offer'd at a lower Rate than the English Edition can be afforded at, even if I paid but 4 s p vol. I do what I can to lessen the Credit of that piratical Edition, and talk much of the Improvements made in this; but that being to be had entire immediately, and this not until after many Months, weighs a good deal with Some; and others object, that 't is to be apprehended the London Booksellers will either curtail the folio Edition greatly to save Money, or put the Subscribers at last to the Expense of a greater Number of Volumes than 20; seeing the Volumes are much less than those of the Irish Edition, the 3 first of the one containing but little more than the first of the other.—If they think fit to venture a Parcel here Hall will do his best to dispose of them, and I will assist him what I can. They may send a Parcel also to Mr. Parker Printer of New York, a very honest punctual Man.
I am glad all the Bills I sent you have been paid or accepted. You may expect more in a short time, and after the next Parcel of Books are paid for you will chiefly have to deal with Mr. Hall, into whose Hands I have agreed to put the Shop, &c.
With all our best Respects to you & yours heartily wishing you Health and Happiness, I conclude
Your obliged humb Sert
B. Franklin.
p Mesnard
Sir,—I received your Favour of June 11 p Capt. Tiflin, with the Books, &c. all in good Order. Mr. Parks, who drew the Bill on Guidart & Sons, is surpris'd at their protesting it, they having, as he says, large Effects of his in their Hands. He will speedily renew that Bill. Enclosed I send you a Bill on Xr Kilby, Esq for £19, 7, 1½ sterling, which I hope will be readily paid. And you may soon expect other Bills from me for larger sums.—What Books will be wanted for the Shop hereafter, Mr. Hall will write for. I shall send for no more, unless for myself or a Friend. I much desire you to send p first Opportunity the Maps formerly wrote for. Viz. Popple's large one of North America pasted on Rollers; Ditto bound in a Book; and 8 or 10 other Maps of equal Size if to be had; they are for the long Gallery & the Assembly Room in the Statehouse. If none so large are to be got, let prospects of Cities, Buildings, &c. be pasted around them, to make them as large. I want also Folard's Polybius, in French; it is 6 Vols. 4to printed at Paris, & costs about 3 guineas. My best Respects to good Mrs. Strahan; I know not but in another Year, I may have the Pleasure of seeing you both in London.—Please to deliver the enclosed to Mr. Ashworth; I know not where to direct to him.—I am, Dear Sir,
Your most obliged humb Servt
B. Franklin.
The following letter, bearing date of October 19, is very interesting for the idea it gives of Franklin's extensive business transactions and the growing intimacy of his own family with that of Mr. Strahan. This letter is written in a fine clear hand, and presents a good example of Franklin's chirography.
Dear Sir,—I receiv'd your Favour of April 25, with the maps. &c. I am glad the Polybius did not come, and hope you will not have sent it when this reaches your Hands; it was intended for my Son, who was then in the Army, and seemed bent on a military Life; but as Peace cuts off his Prospect of Advancemt in that Way, he will apply himself to other Business. Enclos'd I send you his Certificate from the Governor of New York, by which he is entitled to £98, 16, 4 sterling, being his Pay; with a Letter of Attorney impowering you to receive it; I know not what the Deductions will be at the Pay Office; but desire you will give my acc't Credit for the net Proceeds. I am in daily Expectation of a Bill from Virginia of 50£ which I shall remit you towards the Balance, & Mr. Hall will acct with you for those Things you have sent me, that are put in his Invoice. Our Accts agree, except that I have charged you £1, 9, 7 for the Ainsworth to James Read, the 6/7 being the Proportion of Charges on that Book, and the Bill on Geo. Rigge my acct calls £15, 7, 11, yours 15, 7, 1; which is but a small Variation; & I know not but yours may be right. I have lately sent a Printing-house to Antigua, by a very sober, honest & diligent young Man, who has already (as I am informed by divers Hands) gained the Friendship of the principal People, and is like to get into good Business. This will open another Market for your Books if you think fit to use it; for I am persuaded, that if you shall send him a Parcel with any quantity of Stationary he may write to you for, he will make you good and punctual Returns. His Name is Thomas Smith; he is the only Printer on that island; had work'd with me here, and at my printing House in N York, 3 or 4 years, and always behaved extreamly well.
Mr. Thos Osborne, Bookseller of London, is endeavoring to open a Correspondence in the Plantations for the sale of his Books. He has accordingly sent several Parcels, 1 to Mr. Parker of N York, 1 to Mr. Read here, & one to Mr. Parks in Virginia. I have seen the Invoices to Parker & Read, and observe the Books to be very high charg'd, so that I believe they will not sell. I recommended Parker to you for Books, but he tells me he has wrote you several letters, & in two of them sent a Guinea to purchase some small things, but never receiv'd an Answer. Perhaps the Guinea made the Letters miscarry. He is a very honest, punctual Man, & will be in the Way of selling a great many Books; I think you might find your Acct in writing to him. Mr. Read having left off Bookselling Osborne has wrote to me, & desired me to take those Books into my Hands, proposing a Correspondence, &c., but I have declined it in a Letter p this ship.
My Spouse will write to Mrs. Strahan to whom my best Respects. By this time, twelve-month, if nothing extraordinary happens to prevent it, I hope to have the Pleasure of seeing you both in London; being with great Esteem and Affection, Dr Sir,
Your obliged Friend & Sert
B. Franklin.
P. S. You will find Mr. Geo. Smith, one of the Witnesses to the Power of Attorney at the Pennsylvania Coffee House. He goes over in this Ship—
We now come to a Letter which is eminently characteristic. Amid his multifarious duties, the indefatigable Franklin finds the time to write a letter almost entirely of friendship, interchanging his views of life with his friend in London whom he had never seen. It is evident that Strahan had been expressing opinions with regard to life in Scotland entirely opposite to those of Dr. Johnson.
Philada June 2, 1750.
Dear Sir,—The person from whom you had the Power of Attorney to receive a Legacy, was born in Holland, and at first called Aletta Crell; but not being christen'd when the Family came to live among the English in America, she was baptized by the Name of Mary. This change of Name probably might be unknown to the Testator, as it happened in Carolina, and so the Legacy might be left by her first Name Aletta. She has write it on a Piece of Paper, which I enclose, and desires you would take the Trouble of acquainting the Gentleman with these Particulars, which she thinks may induce him to pay the Money.
I am glad to understand by the Papers that the Parliament has provided for paying off the Debts due on the Canada Expedition. I suppose my son's Pay is now in your Hands. I am willing to allow 6 p ct. (the Rate of Interest here) for the Delay; or more, if the Disappointment has been a greater Loss to you—I hope the 50£ bill I lately sent you is come to Hand, & paid—
The Description you give of the Company and Manner of living in Scotland, would almost tempt me to remove thither. Your Sentiments of the general Foible of Mankind in the Pursuit of Wealth to no End, are expressed in a Manner that gave me great Pleasure in reading; They are extremely just; at least they are perfectly agreeable to mine. But London Citizens, they say, are ambitious of what they call dying worth a great Sum. The very Notion seems to me absurd; and just the same as if a Man should run in Debt for 1000 Superfluities, to the End that when he should be stript of all, and imprisoned by his Creditors, it might be said he broke worth a great Sum. I imagine that what we have above what we can use, is not properly ours, tho' we possess it, and that the rich Man who must die was no more worth what he leaves than the Debtor who must pay.
I am glad to hear so good a character of my Son in Law. Please to acquaint him that his Spouse grows finely, and will probably have an agreeable Person: that with the best natural Disposition in the World, she discovers daily the Seeds and Tokens of Industry, Oeconomy, & in short of every female Virtue, which her Parents will endeavour to cultivate for him; and if the Success answers their fond Wishes and Expectations, she will in the true Sense of the Word be worth a great deal of Money, and consequently a great Fortune.
I suppose my Wife writes to Mrs. Strahan. Our Friend Mr. Hall is well, and manages perfectly to my Satisfaction. I cannot tell how to accept your Repeated Thanks for Services you think I have done to him, when I continually feel myself obliged to him, and to you for sending him. I sincerely wish all Happiness to you and yours, and am Dear Sir
Your most obliged humb Serv't
B Franklin
In the next letter we have an allusion to the thrifty habits of Franklin's daughter, who subsequently married Mr. Bache. We shall hear more of her business transactions in another letter from her father.
Dr Sir,—My Daughter receiv'd her Books all in good Order, and thanks you for your kind Care in sending them. Enclos'd is a second Bill for 20£ sterlg, the first went p Mesnard.
There is a little Book on the Game of Chess, by Philip Stamona, printed for J. Brindley, 1745. If to be had, please to send it to me; with the remaining Vols. of Viner as fast as they are published.
We are all well, and join in affectionate Regards to you, Mrs. Strahan and your Chil
Your most obliged humb Serv't
B Franklin
The allusion to the New England Coffee House in the next letter, as well as one to the Pennsylvania Coffee House in a previous communication, indicates the clannishness of the colonists when in London
Dear Sir,—I wrote to you in the Winter via New York, for a few Books, and sent a 2d Bill or 30£ Barbads Currency. The first is enclos'd. I hope it came to Hand Time enough for you to meet with the Gent'n and get the Money. He is Capt. of a Ship, and was to be found in the New England Coffee House, but probably may be gone before you receive this— They were mostly School Books, and I have mislaid the original List, so cannot send a Copy.
The Books for the Trenton Library arrived safe, and I believe gave Satisfaction.
I want yet vol. 17 of the Universal History in blue Covers, to compleat my Set.
My Wife & Children join in sincerest Wishes of Happiness to you & yours, with, Dear Sir,
Your obliged humb Sert
B Franklin.
Mrs. Franklin's letter, introduced here, is interesting not only on account of the rarity of her letters, but as showing the character of a woman's education in the colonies. She not only spells incorrectly, but is also careless as regards the uniform use of capitals with substantives then prevalent. It is known that Martha Washington was also but an indifferent speller. The f in the word "daughter" suggests that there were some in that day who pronounced the first syllable as in the word draught.
Madam,—I am ordered by my master to write for sum books for Salley Franklin  I am in hopes shee will be abel to write herselfe by the Spring
8 Sets of the Preceptor best Edit
8 Doz of Craxalls Fables
3 Doz of Bp Kenns manual for winchester School
1 Doz of Familiar Forms Latin and Eng Edit Ainsworth's Dictionaries 4 Best
2 Dozn of select Tales and Fabels with prudential Maxims.
2 Doz Costalios Test.
Cole's Dictionarys Lattin and Eng. 6 & haffe doz
3 Doz of Clarkes Cordery, 1 Boyles Pliny 2 vols 8vo.
6 Sets of Nature Displayed in 7 volumes 12°.
one good quorto Bibel with Custes (sic) bound net (sic) Calfe
1 Pueritia 1 Art of making common Salt. p Brownrigg
My Dafter gives her Duty to Mr. Strayhan and his Lady and her Compleyments to master Billey and all his Brothers and Sisters   My Son is Gon to Boston on a visit to his friends I Suppose  Mr. Franklin will write himselfe. Mr. and Mrs. Hall are very well thay have lost their other Childe shee lays in this winter   My Compleyments to Mr. Strayhan and all your Dear littel family  I am Dear Madam
Your Humbel Sarvant
Deborah Franklin
December 24 1751
Enclos'd is a Bill on Mr. Richard Manley for 30£ Barbadoes Currency. On the Change you will easily learn its Sterling value. If Mr. Manley refuses to pay it, give his letter to Mr. David Barclay,¹ who has a Power from Mrs. Middleton, & will compel him.
The next two letters give an entertaining suggestion of Franklin's canny shrewdness in so far as relates to Mr. Harris: from a letter written at a later date, we are led to infer that Strahan was "taken in" by this promising candidate for holy orders, notwithstanding Franklin's caution.
Dear Sir,—I wrote to you lately p Mesnard, and sent a bill for 50£ sterling, with a List of Books to be purchased for our Library: a Copy of which I shall send p another ship that sails in a few Days.
This is chiefly to recommend to you Mr. Matthias Harris, a Gentleman of Maryland, and a Friend of mine. As he will be entirely a Stranger in London, your Acquaintance and Advice on any Occasion may be of Use to him, and any Civilities you show him shall be esteemed and acknowledged as Favours to Dr Sir,
Your obliged humb Servt
B Franklin
Dear Sir,—I wrote to you the 20th of June p Mr. Sterling (who I hope is by this Time safe arrived in England) and sent you a Bill of 50£ sterlg with a List of Books to be procured for our Library. Enclos'd is a Copy, and the 2d Bill.
I wrote at the same time for a Pair of Globes of 6, or 8 Guineas Price; a concave Mirror of 12 Inches Diame, and a large Popple's Map; sent you 9 Guineas, and promis'd a Bill p next ship, which I now accordingly send. It is 20£ sterlg drawn by Mary Stevens on Alexr Grant, Esqre. When paid, please to credit my Acct with it.
I have only the 1st vol. of Bower's History of ye Popes. I hear a 2d is publish'd; please to send it bound, dark sprinkled, filleted & letter'd.
I wrote you a few Days since, recommending to your Notice an old Acquaintance, who is bound Home from Maryland, to obtain holy Orders. His Name Matthias Harris. Any Civilities you show him, as he will be an entire Stranger in London, I shall gratefully acknowledge—only I ought to acquaint you, that he has always had a strong Panchant to the buying of Books, and that some late Misfortunes have rendered it more inconvenient to him to gratify that Taste than it has been heretofore.
My Wife, Son and Daughter, desire to be respectfully remember'd to you, Mrs. Strahan & Master Billy. I am, Dear Sir,
Your most obliged humb Servt
B Franklin.
No apology is required for reproducing the letter of October 21, 1753, for its technical details, if somewhat dry, are of importance to those who would obtain precise information regarding the art of printing in the colonies in a century when such men as Bradford, Thomas, and Franklin made it an agent of freedom and power in America.
Dear Sir,—I have your Favour of June 27, and am quite surprised at the Conduct of Mr. Harris. He is returned to Maryland, as I hear, a Parson!
I have now received Boer's 2d vol. and shall send to the Trenton Library to enquire after Crito and Delaresse—
The sume was 25£ to which I limited the Books, &c to be sent my Nephew Benjn. Mecom. But if you have sent to the Amount of 30£ 't is not amiss.
I am now about to establish a small Printing Office in Favour of another Nephew, at Newhaven in the Colony of Connecticut in New England; a considerable Town in which there is a University, and a Prospect that a Bookseller's Shop with a Printing House may do pretty well. I would therefore request you to bespeak for me of Mr. Caslon, viz
300 lb Long primer, with Figures and Signs sufficient for an Almanack.
300 lb Pica
300 lb English
100 lb Great Primer
60 lb Double Pica
50 lb Two line English
40 lb Two line Great Primer
30 lb Two line Capitals, & Flowers of different Founts
20 lb Quotations.
As Mr. Caslon has different Longprimers, Picas, &c., I beg the Favour of your Judgement to chuse & order the best.
To which add,
A compleat good new Press
2 pair Blankets
2 pair Ballstocks
Some Riglets, Gutter Sticks, Side Sticks, Quoins, &c.
3 pair Chases of different Sizes, the biggest Demi.
2 folio Galleys, each with 4 Slices—
4 Quarto Galleys—
A few Facs, Head and Tail Pieces, 3 or 4 of each—
2 Doz brass Rule.
2 good Composing Sticks—
2 Cags of Ink, one weak, the other strong—
With such another small Cargo of Books and Stationary as I desired you to send to Antigua, for a Beginning.
Mesnard sails in a Week or two, by whom I shall send you Bills for 100£ sterlg. But desire you would immediately on receipt of this bespeak the Letter, &c. that we may not be disappointed of having them p first ship to Newhaven or New York in the Spring. If sent to Newhaven, direct them to the care of Mr. Thomas Darling, Mercht there. If no Vessel for Newhaven, then to New York, to the Care of Mr. Parker, Printer.
Insure the whole.
The Furniture may be packed in the large Case that contains the Press.
If you can persuade your Pressmaker to go out of his old Road a little, I would have the Ribs made not with the Face rounding outwards, as usual, but a little hollow, or rounding inwards from end to end; and the Cramps made of hard east Brass, fix'd not across the Ribs, but long ways so as to slide in the hollow Face of the Ribs. The Reason is, that Brass and Iron work better together than Iron & Iron; such a Press never gravels; the hollow Face of the Ribs keeps the Oil better, and the Cramps bearing on a larger Surface do not wear as in the common Method. Of this I have had many Years Experience.
I need not desire you to agree with the Workmen on the most reasonable Terms you can; and as this Affair will give you Trouble, pray charge Commiss's. I shall not think myself a Whit the less oblig'd.
My Compliments to Mrs. Strahan, Mast Billy, &c., in which my Wife & Children join with
Dr Sir,
Your most obliged humb Sert.
B. Franklin.
Of our two next selections the first is interesting, for its curious list of books as well as for its clear, beautiful chirography, and the second for the feeling allusion to Franklin's domestic cares and duties.
Dear Sir,—The above is Copy of mine p Reeve   Two Ships are since arrived in New York, but I hear nothing yet of the things expected, tho' possibly they may be come. I enclose Mr. Steven's second Bill for 20£ Sterling.
Please to send the following Books, viz.
2 Familiar Letters p Charles Halifax—12mo—Baldwin.
2 Nelson on the Government of Children—8Vo—Dodsley.
3 Treatise on Cyder making—Cave
Supplement to Chamber's Dictionary 2 Vols. Folio.
Letter from a Russian Officer, with some Observations by Arthur Dobbs Esqre—Linde
The Nut Cracker, by F. Foot Esqre—Cooper
The Book of Conversation and Behaviour—Griffiths.
Seeds Sermons.
Mother Midnight's Works compleat 3 Vol.—Carnan
Matho—2 Vol. 8vo.—
I am Dear Sir very affectionately
Your most humble Servant,
P.S. I am not certain whether I before wrote you for the following, viz
2 Green's Maps of America
Philosophical Principles of Nat. & Revd Religion p Ramsay
Astronomical Rotula, a Print, p Ferguson.
2 Fry & Jesserford's Maps of Virginia. Maryland, etc.
DR Sir.—The above is a Copy of my last. Not receiving the Printing House as expected last Spring, has been a considerable Disappointment; but I am more concern'd to hear that you and yours have had so much Sickness. I hope before this time you are all perfectly recover'd. I inclose a Bill for 20£ Sterling, drawn by Mrs. Mary Steevens on Alex Grant Esqe; which wne paid you will pass to my Crt.
With sincere Respect and Affection,
I am, Dr. Sir
Your most humb Sert
B. Franklin
Dear Sir,—Mr. Hall has wrote to you for a Fount of English and a Fount with a Long primer Face on a smaller Body of the Gazette, on my Acct. Inclosed is a Bill for £109, 8, 4 Sterling, drawn on the Revd Mr. Saml, Chandler, which I doubt not will be readily paid. I know not well how my Account stands with you, & should be glad to see it: But suppose this Bill will leave a Balance in your Hands, after paying for those Founts; so have taken the Freedom to draw a small Bill on you, payable to Nathl Voogdt and Co Merchts London for £2, 17, 6 sterlg which they are to remit to Germany on a particular Occasion.
My Compliments to Mrs. Strahan, and to your promising Son, perhaps one day mine. God send our Children, however, good & suitable Matches; for I begin to feel a Parent's Cares in that Respect, and fondly wish to see them well settled before I leave them.
Adieu, my dear Friend, and believe me to be
Your most affectionately,
B. Franklin
P. S. The enclosed Pamphlet is lately printed in Boston. You will find a Number of interesting Facts in it. At the end a little Piece of mine.
The next letter, aside from its references to B. Mecom, the son of Franklin's sister, whom he had established in the West Indies as a bookseller, is of special interest for its account of the introduction of the Gentleman's Magazine among the cultivate families of the colonies. This now venerable magazine, which was changed last year from an antiquarian periodical to a disseminator of light literature, was founded by Edward Cave in 1731, and was subsequently edited by David Henry and John Nichols. It is a point worth nothing why this magazine should have been already taken by the gentlemen of Virginia, as Franklin shows, before it had found subscribers in the Northern States. In these letters we find allusions to public libraries already existing at Trenton and Philadelphia, while even at the present day public libraries are excessively scarce at the South; and yet the Gentleman's Magazine, a periodical appealing especially to the educated, was read there before it appeared in Boston or Philadelphia. The brief, quaint letter immediately following this bears date only of Saturday, June 14; but the handwriting, as well as the evidence that Franklin was in England at the time, points to its having been written in 1762. After many hopes and disappointments, Franklin at last revisited England during that year, and the two friends, after nearly twenty years of correspondence, saw each other face to face. The increased intimacy and friendship which resulted was shown by Franklin in addressing Strahan as "Dear Straney," on arriving home again.
The last letter written by Franklin to Strahan during this visit to England, while he was waiting at Portsmouth for a fair wind, is given next, and shows what a strong grip old England had gained on the affections of one who, not many years later, was among the foremost to wrest the colonies from their allegiance.
Dear Sir,—I have yours of Oct. 3, Bolitha being just arrived, the Things not yet come on Shore.
By the Acct sent, I find I was then £59, 4, ½ in your Debt. I hope you have since received the Bills I sent you p Jay and Budden for £109, 8, 4 sterlg, which will leave a Balance in my Favour.
I do not at all approve of B. Mecom's being so much in your Debt, and shall write to him about it. The People of those Islands expect a great deal of Credit, and when the Books are out of his Hands, if he should die, half would not be collected; this I have learnt by Experience in the Case of poor Smith whom I first settled there. I am glad therefore that you declin'd sending him the other Things he wrote for. Pray write to him for the Pay & make him keep Touch; that will oblige him to dun quick & get in his Debts; otherwise he may hurt himself, and you in the End. Remember I give you this Caution, and that you venture on your own Risque.—
I shall be glad to be of any Service to you in the Affair you mention relating to the Gent's Magazine; and our Daughter, (who already trades a little to London) is willing to undertake the distributing them p Post from this Place, hoping it may produce some Profit to herself. I will immediately cause Advertisements to be printed in the Papers here, at New York, New Haven and Boston, recommending that Magazine, and proposing to supply all who will subscribe for them 13s this Currency a Year; the Subscribers paying down the Money for one Year beforehand; for otherwise there will be a considerable Loss by bad Debts. As soon as I find what this Subscription will produce, I shall know what Number to send for. Most of those for New England must be sent to Boston. Those for New York, Connecticut, Pensilvania [sic] & Maryland, must be sent in to New York or Philadelphia as Opportunities offer to one Place or the other. As to Virginia, I believe it will scarce be worth while to propose it there, the Gentlemen being generally furnisht with them by their Correspondents in London. Those who incline to continue, must pay for the second Year three Months before the first expires, and so on from time to time. The Post Masters in those places to take in the subscription money, & distribute the Magazines, &c. These are my first Thoughts. I shall write farther. That Magazine has always been in my opinion by far the best. I think² … never wants Matter both entertaining & instructive, or I might now & then furnish you with some little Pieces from this Part of the World.
My Wife & Daughter join in sincerest good Wishes of Prosperity to you and all yours, Dr. Sir,
Your most obedient humble Servant
B. Franklin
My respects to Mr. Newberry, of whom you give so aimiable a Character.
Mr. Franklin's Compliments to Mr. Strahan, and out of pure Kindness to him offers an Opportunity of exercising his Benevolence as a Man and his Charity as a Christian—One Spencer, formerly a Merchant of Figure and Credit in North America, being by various Misfortunes reduced to Poverty, is here in great Distress, and would be made happy by any Employment that would only enable him to Eat, which he looks as if he had not done for some Time.—He is well acquainted with Accompts, and writes a very fair Hand, as Mr. S. may see by the enclosed Letter. His Expectations that brought him over, which are touched on in that Letter, are at an End. He is a very honest Man, but too much dispirited to put himself forward.—Cannot some Smouting, (sic) in the writing way, be got for him? or some little Clerkship? which he would execute very faithfully.—He is at Mr. Cooper's, at the Hat & Feather, Snow Hill. Mr. F. has done what he could to serve him (to little purpose indeed) and now leaves him as a Legacy to good Mr. Strahan.
Saturday, June14.
Portsmouth, Monday, Augt. 23, 1762.
Dear Sir,—I have been two Nights on Board expecting to sail, but the Wind continuing contrary, am just come on Shore again, and have met with your kind Letter of the 20th. I thank you even for the Reproofs it contains, tho' I have not altogether deserved them. I cannot, I assure you, quit even this disagreeable Place without regret, as it carries me still farther from those I love, and from the Opportunities of hearing of their Welfare. The Attraction of Reason is at present for the other Side of the Water, but that of Inclination will be for this Side. You know which usually prevails. I shall probably make but this one Vibration and settle here forever. Nothing will prevent it, if I can, as I hope I can, prevail with Mrs. F. to accompany me; especially if we have a Peace. I will not tell you, that to be near and with you and yours, is any Part of my Inducement: it would look like a Compliment extorted from me by your Pretences to Insignificancy. Nor will I own that your Persuasions and Arguments have wrought this change in my former Resolutions: tho' it is true that they have frequently intruded themselves into my Consideration whether I would or not. I trust, however, that we shall once more see each other and be happy again together, which God, &c.
My love to Mrs. Strahan, and your aimiable & valuable Children. Heaven bless you all, whatever becomes of
Your most obliged & affectionate Friend
B. Franklin
The friendship between the two correspondents continued uninterruptedly until the culmination of colonial affairs which brought about the opening of hostilities. Above all things a patriot, in a crisis of such a tremendous character, Franklin, under the overpowering excitement of the occasion, dashed off his famous letter to Strahan, showing how unreservedly he cast all his hopes and energies into the fortunes of the revolted colonies. ³
It is a remarkable proof of the deep and genuine sentiment which drew these friends together that, notwithstanding that such a letter passed between them, it produced no permanent rupture or lessening of their regard, for their relations were renewed even before the close of hostilities, when Franklin revisited Europe in a diplomatic capacity; and some of the most interesting, nay touching, expressions used by Franklin were addressed to Strahan in the closing years of life, while Franklin was residing in France, engaged in duties that prevented the venerable statesman from accepting the urgent and repeated invitations of Strahan to visit him once more. Four of these letters are included in this collection, possibly all that Franklin was then able to write to his friend. The handwriting of these final letters shows plainly the gathering shadows of night dimming the mind which had stolen the electric fires from heaven, and harnessed them for the service of man.
Sir,—I received yours of Dec. 31. By this Time you are probably satisfied that the Subject of it was a Mistake, & therefore requires no Answer. I congratulate you on the Marriage of your Daughter, which I lately heard of. My ancient Regard for her is undiminished, and my best wishes attend her. Please to present to Mrs. Strahan the Respects of
Your long affectionate humble Servant
B Franklin
The next letter is exceedingly valuable as showing that the two friends, now on the borders of the grave, had not yet lost their taste for books or their interest in the trade which gave origin to their friendship. The facts stated regarding the condition of the art of printing on the Continent at the time immediately preceding the French Revolution, and the opinion of such an expert as Franklin, are of historic importance.
Dear Sir,—Not remembering precisely the Address of Mrs Strange, I beg Leave to request you would forward the enclosed to her, which I received under my Cover from America.
I formerly sent you from Philadelphia Part of an Edition of Tully on Old Age, to be sold in London; and you put the Book, if I remember right, into the Hands of Mr. Becket for that Purpose. Probably he may have some of them still in his Warehouse, as I never had any Account of their being sold. I shall be much oblig'd by your procuring and sending me one of them.
A strong Emulation exists at present between Paris and Madrid, with regard to beautiful Painting. Here a M. Didot l'ainé has a Passion for the Art, and besides having procured the best types, he has much improved the Press. The utmost Care is taken of his Presswork; his Ink is black, and his Paper fine and white. He has executed several charming Editions. But the Salust and the Don Quixote of Madrid are thought to excel them. Didot however improves every Day, and, by his Zeal & indefatigable Application bids fair to carry the Art to a high Pitch of Perfection. I will send you a Sample of his Work, when I have an Opportunity.
I am glad to hear that you have married your Daughter happily, and that your Prosperity continues. I hope it may never meet with any Interruption, having still, tho' at present divided by public Circumstances, a Remembrance of our ancient private Friendship.
Please to present my affectionate Respects to Mrs. Strahan, and my Love to your Children.
With great Esteem and Regard, I am, Dear Sir,
Your most obedient and most humble Servant
B. Franklin
The next letter bears no date, but evidently refers to the daughter of Mr. Strahan, to whose marriage Franklin alludes in the letter of January 24, 1780. It probably precedes the final letter, the last one of this collection and possibly the last written by Franklin to Strahan, fitly coming at the close of one of the most remarkable examples of friendship of modern times. We think that it needed these letters to give the world a complete understanding of the complex character of Benjamin Franklin.
Oh! my dear Friend!—I never was more surpris'd than on reading your Note. I grieve for you, for Mrs. Strahan, for Mr. Johnston, for the little ones, and your whole Family.—The Loss is indeed a great one! She was everything that one could wish, in every Relation.—I do not offer you the common Topics of Consolation. I know by Experience how little they avail; that the natural Affections must have their Course; and that the best Remedy of Grief is Time.—Mrs. Stevenson joins her Tears with mine.—God comfort you all.
Yours most affectionately
B Franklin
Wednesday morng
My dear old Friend,—Whom I shall probably never have the Pleasure of seeing again; You some Time since recommended Miss Beckwith to me; I in consequence recommended her to my Children in Philadelphia; the enclos'd will give you some Information of her present Situation. I hope you and yours continue well, as does
Your affectionate Friend & humble Servant
B Franklin
Wm. Strahan Esqr
---
Merchant in London.
Word torn out here.
As that famous letter gains additional force by comparison with the friendly correspondence we have been considering, we give a copy of it here:—
July 5, 1775.
Mr. Strahan,—You are a member of Parliament, and one of that majority which has doomed my country to destruction. You have begun to burn our towns, and murder our people. Look on your hands, they are stained with the blood of your relations! You and I were long friends; you are now my enemy and I am yours.