The History of Children's Books
"There have been children's stories and folk-tales ever since man first learned to speak. Children's books, however, are a late growth of literature."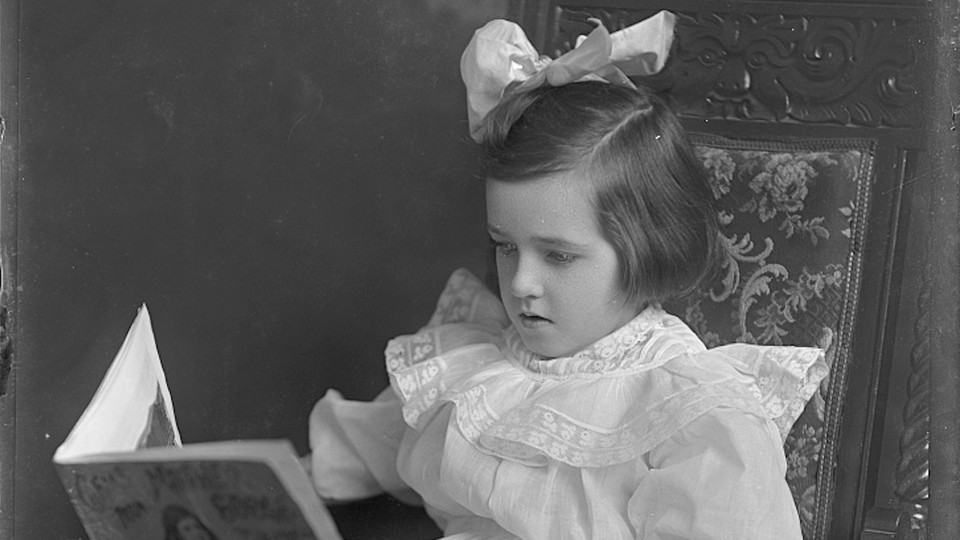 It is hard to imagine a world without books for children. There have been children's stories and folk-tales ever since man first learned to speak. "Many of them," in Thackeray's words, "have been narrated, almost in their present shape, for thousands of years since, to little copper-colored Sanscrit children. The very same tale has been heard by the Northmen Vikings, as they lay on their shields on deck; and by the Arabs, couched under the stars in the Syrian plains, when the flocks were gathered in, and the mares were picketed by the tents." Children's books, however, are a late growth of literature. Miss Yonge says, "Up to the Georgian era there were no books at all for children or the poor, excepting the class-books containing old ballads, such as Chevy Chase, and short tales, such as The King and the Cobbler, Whittington and his Cat." We shall nevertheless see that there were English books for children (and it is with no others that we have to deal) long before this time.
Puer ad Mensam is ascribed to John Lydgate, about 1430, and is in the Lambeth Manuscripts. The Babees Book, in the Harleian Manuscripts, was written about 14th, for children of royal or noble blood then serving as pages in palace or castle. The English version is translated from the original Latin, but both author and translator are unknown.
"O Babees yonge," the writer says, "My Book only is made for youre lernynge." The "Babees" are exhorted to salute their lord; to hold up their heads and kneel on one knee; to look straight at whoever speaks to them; to answer sensibly, shortly, and easily; to stand till told to sit; to keep head, hands, and feet quiet; not to scratch themselves, lean against posts, etc. They are told to turn their backs on no one, to be silent while their lord drinks, and, when allowed to sit down, to tell no low stories or scorn any one, but to be meek and cheerful, and thankful for praise. They are warned not to interfere in affairs of the household, to be ready for service, and, the author adds, —
Gif ye shoulde at God ask yow a bone,
Als to the woride better in noo degre
Milite ye desire thanne nurtred (well-bred) for to be.
They must wait on their lord at table, and give him water to wash his hands; cut, not break, their own bread; eat soup with a spoon, but not leave the spoon in the dish, or lean on the table, hang over the dish, or fill the mouth too full, or pick teeth or nails. They are to wipe their mouths, and keep their cups clean for others to drink from; never eat with their knives, or cut meat hastily and as a farm-laborer would mangle it. They are to use a clean plate and knife for cheese, and wash knife and hands at the end of the meal.
A Lesson of Wysedome exhorts a child
Clem thou not ouer hows ne walle
For no frute, bryddes, ne balle;
And, chyld, cast no stonys ouer men hows,
Ne cast no stonys at no glas wyndowys; Ne make no crying, yapis, ne playes,
In holy chyrche on holy dayes.
The child is told to get home by daylight; keep clear of fire and water; take care of book, cap, and gloves, under penalty of whipping; make no faces behind backs; rise early, go to school and learn fast, if he wishes to become a bishop.
The Young Children's Book, from the Ashmolean Manuscripts in the Bodleian Library, says, —
Aryse betyme oute of thi bedde,
And blysse thi brest & thi forhede,
Than wasche thi hoindes & thi face,
Keme thi hede, & Aske god grace
The to helpe in All thi werkes.
The hints on table manners are much the same as in the Babees Book, but the Children's Book has additions on the conduct of life: —
Vse no suerynge nother lyenge,
Yn thi sellynge & thi byenge.

Gete thi gowd with treweth & wynne,
And kepe the out of dette and synne.
After dinner, says The Lytylle Childrenes Lytil Boke, in the Harleian collection,
Aryse up soft & stylle,
And iangylle neither with Jak ne Jylle,
But take thi leve of the hede lowly,
And thank hym with thyne hert hyghly,

Than men wylle say therafter
That a gentylleman was heere.
A very rare book, which Dibdin bought for thirty pounds for Earl Spencer, at the Roxburghe sale, is Dives Pragmaticus, "A booke in English metre, of the great marchaunt man called Dives Pragmaticus, very preaty for children to rede; whereby they may the better, and more readyer, rede and wryte wares and Implementes, in this world contayned. … When thou sellest aught unto thy neighbour, or byest anything of him, deceave not, nor oppresse him, etc. Imprinted at London in Aldersgate strete, by Alexander Lacy, dwellyng beside the Wall. The xx.v of Aprell, 1563."
There is a preface to "all occupations now under the sunne:" —
Al Brewers, Bakers, Butchers and Cookes,
Al Printers, Stacioners and sellers of bookes,
Al Poulters, and Pedders, that ryde day and nyght,
Al Farmours, and Owners, that in Money delyght,
Al Coller makers, Ropers, and Turners of dyshes,
Al makers of Nets, and catchers of Fyshes.
At the end of this preface is, "And thus endeth the declaration of the great Marchaunt of the world, called Dives Pragmaticus. Here foloweth the book, and his calyng of people to sale of his marchaundyse; with a rehearsall of part of his wares by name." He says, —
I have inke, paper, and pennes to lode with a barge,
Primers and abces, and bookes of small charge,
What lack you, scollers? come hether to me.
I have fine gownes, clokes, iackets and coates,
Fyne iurkins, dublets, and hosen without motes;
Fyne daggers, and knyves, and purses for grote 5,
What lacke you, my friend? Come hether to me.
The verses end with a moral: —
Honest myrth in measure, is a plensaunt thyng,
To wryte and to rede well, be gyftes of learnyng;
Remember this well, all you that be young,
Exercise vertue, and rule well your toung.
At almost the same time was published "A New Enterlude for Chyldren to playe, named Jacke Jugeler, both wytte, and very playsent. Newly Imprented, 1562-3." The players are
Mayster Boungrace, a galant,
Dame Coye, a gentelwoman,
Jacke Jugler, the vyce,
Jenkin Careaway, a lackey,
Ales Trype and go, a mayd.
It is founded on the Menaechmi of Plautus, the source of a part of the Comedy of Errors; and the Vice, as Richard Grant White says, "wore generally, if not always, the costume of the domestic fool or jester of the period, which is now worn by the clown of the circus," performing "the mingled functions of scamp, braggart, and practical joker." In this children's play, the lackey is sent on an errand, but loiters by the way, and Jacke Jugler, dressing himself like him, plays the part of his double.
Books of good manners still held their place. In 1560, Thomas Paynall translated from the French, and published with a catechism for children two or three years old to learn, "The Civilitie of Childhode, with the discipline and institution of Children ;" and a dozen years later came a curious little book, from the same tongue, by a very young translator. It is "Youth's Behaviour, or, Decency in Conversation amongst Men, composed in French by Grave Persons, for the use and benefit of their Youth, now newly turned into English, by Francis Hawkins, nephew to Sir Thomas Hawkins. The tenth impression. London, 1672." The translation was first made in 1643, when Master Francis Hawkins, whose portrait is the frontispiece, was eight years old. The child was not distinguished in after-life; indeed, he is known only as the author of a discourse, with a report of the confession of one Fitz-Harris, in 1681. The translation was probably made as an exercise in rendering French into English, and no doubt was revised by an older friend. However, some of the maxims are as useful in the nineteenth century as they were in the seventeenth. "It is ill-beseeming to put one in mind of any unclean or ill-favoured thing." "Rub not thy teeth nor crash them, nor make anything crack in such manner that thou disquiet anybody. In yawning, howl not." "Hearing thy Master, or likewise the Preacher, wriggle not thyself, as seeming unable to contain thyself within thy skin." "If any one had begun to rehearse a History, say not I know it well; and if he relate it not right and fully, shake not thine head, twinkle not thine eyes, and snigger not thereat; much less maist thou say, 'It is not so; you deceive yourself.'"
The following is a little doubtful in meaning; and suggests mediaeval rather than modern manners: "If there be any meat on the fire, thou oughtest not to set thy feet thereon, to heat it."
The second part of Youth's Behaviour is added "by the same hand that translated the last volume of Caussin's Holy Court," probably an uncle of Francis Hawkins. It is a manual of behavior for girls, in which the books recommended for their reading are thus summed up: "To entertain young Gentlewomen in their hours of Recreation, we shall further commend unto them, Gods Revenge against Murther; and, the Arcadia of Sir Philip Sydney; Artemidorus his Interpretation of Dreams. And for the business of their Devotion, there is an excellent book entitled Taylor's Holy Living and Dying; The Duty of Man, in which the Duty to God and man are both comprehended." (There may be much worse reading nowadays for a young girl than the Arcadia and the Holy Living and Dying.)
Children had all this time been learning their letters, not exactly from books, but from "hornbooks" and "battledores," the invention of some thrifty and saving person in the days when books were dear. A hornbook of 1570, and another on whose back is a portrait of Charles I. in armor, have only a single leaf, with the alphabet, large and small, the Lord's prayer, and monosyllables. At the top of the older one is a large cross, — the "Christ-cross," from which the alphabet is often called the crisscross row, — and below are the Roman numerals. There is a piece of transparent horn in front, to keep the paper from wet fingers, and the whole is set in a wooden frame with a handle. This handle has sometimes a hole for a string, to sling the book to the scholar's girdle. It is thought that leaden plates were sometimes used for the same purpose, as moulds for them still exist. The battledore, or first book for children, a later substitute for the hornbook, was printed on a card, and contained the alphabet and simple combinations of letters.
John Locke, in his Thoughts on Education (1691), suggests that when a child begins to read, some easy, pleasant book, like Æsop's Fables or Reynard the Fox, with pictures if possible, should be put into his hands. He adds, "What other books there are in English of the kind above-mentioned, fit to engage the liking of children, and tempt them to read, I do not know, but am apt to think, that children, being generally delivered over to the method of schools, where the fear of the rod is to inforce, and not any pleasure of the employment to invite them to learn, this sort of useful books, amongst the number of silly ones that are of all sorts, yet have had the fate to be neglected; and nothing that I know has been considered of this kind out of the ordinary road of the hornbook, primer, Psalter, Testament, and Bible."
They were for a long time the only school reading-books used in New England as in Old England; and it has been said that the reason why so few old Bibles remain in this country is that they were thumbed, torn, and at last destroyed as school-books. Another theory, however, is that they cost so much that the early settlers could not afford to buy them. The subject of the New England primer has been ably treated by Dr. J. Hammond Trumbull, who says that in 1691 Benjamin Harris, printer and bookseller in Boston, advertised, "A second impression of the New England Primer, enlarged, to which is added more Directions for Spelling; The Prayer of King Edward the 6th and Verses made by Mr. Rogers the Martyr, left as a Legacy to his Children." No copy is known to be extant. The verses made by Mr. John Rogers had been printed in Boston, in 1685, by Samuel Green, in a primer called The Protestant Teacher for Children, of which there is a mutilated copy in the library of the American Antiquarian Society, Worcester, Massachusetts. This primer was printed both in Boston and Philadelphia before 1688. Benjamin Eliot, Boston, 1708, advertised "The First Book for Children; or, The Compleat School-Mistress, etc." In 1715, Timothy Green had "lately published at New London A Primer for the Colony of Connecticut; or, an introduction to the true Reading of English. To which is added, Milk for Babes" (Rev. John Cotton's Catechism for Children). The oldest complete New England primer in existence was printed in Boston, in 1737, by Thomas Fleet, the son-in-law of the Mrs. Goose whom common report calls the singer of the nursery songs collected and published by him under her name. The evidence in favor of her and of the French Mère l'Oie, a survival of Bertha Broadfoot, may be easily found and weighed; students of New England antiquities being in favor of one side, those of folk-lore of the other. Isaac Watts, in 1720, in the ninth year of his famous visit to Sir Thomas Abney, which was to be for a week, and lasted thirty-six years, published the Divine and Moral Songs for Children, which he had written for the daughters of his friend. He wrote, too, an Art of Reading and Writing English, and published in 1726 "The Knowledge of the Heavens and Earth made easy; or, the first principles of Geography and Astronomy Explained." His Catechisms for Children and Youth, and Short View of the Whole Scripture History in Questions and Answers, appeared in 1730. He said, "I well know that some of my friends imagine my time is employed in too mean a service while I write for babes; but I content myself with this thought, that nothing is too mean for a servant of Christ to engage in if he can thereby most effectually promote the kingdom of his blessed Maker. … It is not for me to say how many hours and days and weeks have been spent in revising and examining every word and expression, that, if possible, nothing might be inserted which might give just occasion of offence to pious persons and families; that nothing might be left out which was necessary for children to know in that tender age; and that no word, phrase, or sentiment, if possible, might be admitted which could not be brought in child's understanding."
Dr. Watts composed for copy-books moral rhymes beginning with every letter of the alphabet, and verses enumerating the signs of the Zodiac and the order of the planets. One of the latter placed the earth in the centre of the solar system, according to the vulgar belief of the time, and another agreed with more modern ideas. Sombre as is the theology of half the hymns, the others and the moral songs are so sweet and lovely in spirit that they are as good for the children of to-day as they were for the little girls at Theobalds.
Bishop Ken's hymns, even earlier than Watts's, should be held in grateful remembrance. In the later editions of his "Manual of Prayers for the Use of the Scholars of Winchester College" are the hymns for morning, evening, and midnight, two of which, "Awake, my soul, and with the sun," and "Glory to Thee, my God, this night," are still loved by children.
The fairy-tales and wonder-stories sold in England by chapmen, and now treasured in libraries, were, many of them, of French origin, either from the old metrical romances, or tales collected by Perrault and the Comtesse d'Aulnoy. Cinderella, Valentine and Orson, The White Cat, The Yellow Dwarf, Beauty and the Beast, are all of direct French descent, and were once as dear to storylovers of all ages as they have always been to children. Some of the chapbooks are distinctively English, as, for example, The History of Thomas Hickathrift, in whose adventures Thackeray thought that he could discover the robust style of Henry Fielding. This story is less known than many of the other old tales, and is worth recounting. There is a Norfolk legend of a giant called Hickafric, from whom Thomas' adventures are probably derived. He lived in the reign of William the Conqueror, had more strength than six horses or twenty men, became a brewer's servant, fought with and killed a giant, taking possession of his cave and riches, and living happy ever after, with an occasional fight to keep his spirits up. It is in the description of the battle with the giant that Thackeray finds traces of the hand which wrote of the immortal contest between Molly Seagrim and Goody Brown, and the previous Homeric village battle.
In Queen Elizabeth's reign, one Ralph Newberie, whose name is still seen in black-letter copies of Hakluyt, Holinshed, and Stow, was a London publisher. More than a hundred years later, a boy named John Newbery, claiming descent from him, was growing up on a farm in the little village of Waltham St. Lawrence, Berkshire. Like many another country boy, he preferred town life to the farm, and, being fond of books, went into the office of a printer in Reading. The printer died within ten years, and Newbery, who was one of his executors, married his widow, and continued the business; printing a newspaper, compounding and selling medicines, and keeping something like one of our "country stores." In 1744, he had become successful enough to open two shops in London, one near Temple Bar, the other at the Royal Exchange. The next year, he gave up both, and established himself in St. Paul's Churchyard, combining the sale of patent medicines with that of books. Both branches of business prospered, and Newbery began to try his hand at a third, — the writing and publication of little books for children. Of three hundred books, published by him and his successors between 1744 and 1802, of which copies or advertisements are still in existence, nearly two hundred are for children. The first of these, issued before the removal to St. Paul's Churchyard, is "A Little Pretty Pocket-Book, intended for the Instruction and Amusement of Little Master Tommy and Pretty Miss Polly, with an agreeable letter to read from Jack the Giant Killer, as also a Ball and Pincushion, the use of which will infallibly make Tommy a Good Boy, and Polly a Good Girl. … Price of the Book alone, 6d., with a Ball or Pincushion, Sd." A Circle of the Sciences followed, in ten small volumes, beginning with The Royal Battledore, a folded stiff sheet, with letters, pictures, and
He that ne'er learns his A B C,
For ever will a blockhead be;
But he that learns these letters fair,
Shall have a Coach to take the Air.
After this the young learner was allured into the study of spelling, grammar, arithmetic, rhetoric, poetry, logic, and geography, with chronology, which was all that history meant to children of the eighteenth century. The series was so popular that it was published in part in various corrected and revised editions up to 1793. The little books, less than four inches by three in size, were dedicated to children of the royal family, or noble personages, and no doubt were as useful in their day as Mangnall's Questions were later. They were even called snuff-box or waistcoat-pocket volumes, to be kept for ready reference in the large pockets of the time, that students might extract a date, or disputants clinch an argument at need.
In 1751, the first number of "The Liliputian Magazine, or, The Young Gentleman and Lady's Golden Library," appeared. It was probably issued monthly, at threepence, had copperplate cuts, and aimed "to amend the World, to render the Society of Man more amiable, and to re-establish the Simplicity, Virtue and Wisdom of the Golden Age." The history of George II.'s time, it may be noticed, shows no marked effect produced by this work.
The list of Newbery's books has none for children, save for school use, published during the next ten years. Nevertheless, he was all the time writing and printing little volumes, all trace of which has perished. Before 1760, Oliver Goldsmith and the brothers Griffith and Giles Jones were in his employ as writers and compilers, and it is to them that many of the children's books are due. A writer in Notes and Queries says, "There are probably scores of his [Goldsmith's] contributions to this branch of literature which will never be traced, — like the ballads we are told he used to scribble off at a crown apiece, wandering about the streets to hear them sung, and listen to the remarks and criticisms of the casual audience." From 1760 to 1767, John Newbery and his family lived in Canonbury House, Islington, a building dating from the fourteenth century, where poets and statesmen have lodged. Newbery's son Francis says that Goldsmith was at one time a dweller in the upper story, and often read to him passages from his poems, such as the Traveller and the ballad from the Vicar of Wakefield. Goldsmith's money affairs were always hopelessly entangled with his publisher's, and the scene where "the philanthropic bookseller in St. Paul's Churchyard," with his red pimpled face, lends a few guineas to Dr. Primrose, ill and penniless at a little alehouse many miles from home, is no doubt not far from the truth.
In 1765, the following advertisement appeared "Mr. Newbery intends to publish the following important volumes, bound and gilt, and hereby invites all his little friends who are good to call for them at the Bible and Sun, in St. Paul's Churchyard; but those who are naughty to have none. 1. The Renowned History of Giles Gingerbread; a little boy who lived upon learning. 2. The Easter Gift; or the way to be good; a book much wanted. 3. The Whitsuntide Gift; or the way to be happy; a book very necessary for all families. 4. The Valentine Gift; or how to behave with honour, integrity, and humanity; very useful with a Trading Nation. We are also desired to give notice that there is in the Press, and speedily will be published either by subscription or otherwise, as the Public shall please to determine, The History of Little Goody Two Shoes, otherwise called Margery Two Shoes." It is doubtful whether Newbery, Griffith Jones, or Goldsmith wrote Goody Two Shoes; but it is hard to read Mr. Welsh's preface to the facsimile edition of 1882 and believe that the kindly humor of the tale, the characters, so different in their individuality from the wooden little men and women of many of Newbery's books, the raven, little dog Jumper, and the ghost in the church did not spring from the same source as Moses and the Flamboroughs.
John Newbery died in 1767, leaving his medicine business to his son Francis, and directing him to carry on the sale and publication of books with his stepbrother, Thomas Carnan, and his namesake cousin, Francis Newbery. The three were not on good terms, and the latter Francis opened a shop by himself, while the others remained at the old stand. The new shop was managed by the nephew until his death in 1780, and then by his widow, who, when she retired, gave up the business to John Harris, but drew a yearly income from it until her death in 1821. Carnan and Newbery published books under their firm name until 1782, and Carnan alone until 1788.
Francis Newbery, the son, married in 1770 Mary Raikes, of Gloucester, sister of Robert Raikes, the founder of Sunday-schools; and Robert Southey, born four years later, speaks of her as the friend of his aunt, with whom he lived. Mary Raikes married, he says, "Francis Newberry, of St. Paul's Churchyard, son of that Francis [sic] Newberry who published Goody Two Shoes, Giles Gingerbread, and other such delectable histories in sixpenny books for children, splendidly bound in the flowered and gilt Dutch paper of former days. As soon as I could read, which was very early, Mr. Newberry presented me with a whole set of these books, more than twenty in number. I dare say they were in Miss Tyler's possession at her death, and in perfect preservation, for she taught me (and I thank her for it) never to spoil or injure anything. This was a rich present, and may have been more instrumental than I am aware of in giving me that love of books, and that decided determination to literature, as the one thing desirable, which manifested itself from my childhood, and which no circumstances in after life ever slackened or abated."
One cannot fancy Johnson, whose style matched his person, writing for children, or enjoying Newbery's books. Indeed, Mrs. Piozzi says of him that he "first learned to read of his mother and her old maid, Catherine, in whose lap he well remembered sitting, while she explained to him the story of St. George and the Dragon. The recollection of such reading as had delighted him in his infancy made him always persist in fancying that it was the only reading which could please an infant, and he used to condemn me for putting Newbery's books into their hands, as too trifling to engage their attention. 'Babies do not want,' said he, 'to hear about babies; they like to be told of giants and castles, and of somewhat which can stretch and stimulate their little minds.' When, in answer, I would urge the numerous editions and quick sale of Tommy Prudent or Goody Two Shoes, 'Remember always,' said he, 'that the parents buy the books, and that the children never read them.' Mrs. Barbauld, however, had his best praise, and deserved it." Tommy Careless, Tommy Lovebook, Tommy Playlove, and Tommy Titmouse appear in Welsh's catalogue of Newbery's books, but Tommy Prudent, whose name is no doubt an index to his nature, has either vanished forever off the scene, or is a creation of Mrs. Piozzi's own brain.
Children in the colonies had, up to about this time, no books but such as Franklin speaks of in his Autobiography, — chap-books, Robinson Crusoe, and a few stray importations from England; but after the Revolution there was, in New England at least, no lack of small, cheap reprints for them. Isaiah Thomas, a self-made man of the best type, printer's apprentice at seven, before he could read, afterwards successful bookseller, publisher, and author, noted for fine presence and courtly manners, and founder of the American Antiquarian Society of Worcester, was publishing, just a hundred years ago, school-books and story-books for children. He had at one time sixteen presses, seven of them in Worcester; five bookstores in Massachusetts, one in Concord, New Hampshire, one in Baltimore, and one in Albany. His little books are hard to find now, but once in a while one, in its original gilt or flowered binding, strays into the hands of a collector, and is worth, literally, almost its weight in gold. At the end of several of these little books is a catalogue of "Books for the Instruction and Amusement of Children, which will make them safe and happy, printed and sold by I. Thomas, in Worcester, Massachusetts, near the Court-House." A comparison with Newbery's catalogue shows that nearly every one of these books was reprinted from his publications, with, in some cases, changes of words or phrases to suit republican taste, as in "Nurse Truelove's New Year's Gift; or the Book of Books for Children. Adorned with Cuts; and designed for a Present to every little Boy who would become a great Man, and ride upon a fine Horse; and to every little Girl, who would become a great Woman, and ride in a Governour's gilt Coach." In Newbery's editions of the same book, the "gilt Coach" is the Lord Mayor's.
One of the most amusing of the little books is "The Juvenile Biographer, containing the lives of little Masters and Misses; including a variety of good and bad Characters. By a little Biographer. The first Worcester edition. Worcester (Massachusetts). Printed by Isaiah Thomas, and sold at his Book Store. Sold also by E. Battelle, Boston, 1787." The frontispiece is a bust of the supposed author, a child evidently in the last stages of hydrocephalus. The first biography, of Miss Betsey Aligood, states that "this pretty little Miss, though now but in the seventh year of her age, has more Thought and Prudence than many at seventeen. She works at her Needle to admiration, reads like a little Queen, and writes a very pretty hand." Of Master Billy Badenough it is told that "at the age of nine years he could read, write, and cast accounts with any one, had made some progress in Latin and French, and understood some little matters in Geography. He was very good-natured, and readily parted with any Thing to his Playfellows." But the biographer goes on to say that with these virtues and accomplishments he had grave faults, for he robbed orchards, went bird's-nesting and killed the little birds, kicked up his companions' heels on the ice, and fought with other boys, until his father was obliged to send him to sea.
Miss Nancy Careful lost both father and mother in her seventh year, and spent much time in watering their tomb with her tears. A woodcut shows her engaged in this pious, even if useless act. Master Tommy Careful, her brother, heroically kept back his tears when with his sister, but used often to steal away and have a good cry by himself. At fourteen, he went to learn business in Boston, and was so apt a pupil that at last he became heir to the merchant in whose counting-house he had been placed. Finally, the biographer says, he "was chosen at the late general Election, Representative in the General Court, for one of the first Towns in New England, without the least Expence to himself." From which a modern reader may infer one of two things: either that bribery and corruption were not unknown to the voters of the early days of this republic, or that Thomas reprinted the book (named in Newbery's list of the next year but one), changing "Member of Parliament" and other terms unknown to Yankee children into words with which they were familiar.
Miss Amelia Lovebook, a model child of eight, and the subject of one of the biographies, writes to a friend, "Dear Miss, I received your kind Invitation since I have been in Town, to what you are pleased to call a Game of Romps. I do not presume to take upon me to say, in what Manner little Misses should spend their Time; but you must pardon me if I say, that I think Time, which is so valuable, may be spent in a much better manner than Romping. If you invited me to drink a serious cup of Tea with you, I should most certainly have accepted the kind offer, which might have, perhaps, produced a Conversation to the Advantage of us both." Did the writer really mean to hold up as an ideal child a little wizened, affected miss, drinking tea, which then, as now, was—or should have been—forbidden to well-brought-up children? Is Miss Amelia the parent of the sickly school of childish biography that flourished thirty or forty years later?
Another book, not in Welsh's catalogue of Newbery's publications, unless as Mr. Telltruth's Natural History of Four-Footed Beasts, is "The Natural History of Beasts, which are to be met within the Four Quarters of the Globe. By Charley Columbus. Embellished with Pictures. The First Worcester Edition. Printed at Worcester, Massachusetts, by Isaiah Thomas, 1794." It is dedicated to "All Good Little Masters and Misses in the United States of America," and begins with the "rhinoceros, sometimes called the unicorn, from his having one horn only, growing out of his nose, or snout." The beast's body takes up so much room in the woodcut that only a very small piece of his horn is shown. When the rhinoceros has killed a man, the book says, "he comes and licks him, and his tongue is so rough and hard, that it brings off the flesh from the bones." The woodcuts are very droll. The "tyger" is in a rampant attitude; the cat and guinea-pig, from lack of objects with which to compare them, look larger than the bear and hyena; the "barbyroussa's" likeness is evidently evolved from the inner consciousness of the artist, fot it has three or four tusks on each side of its head, and a tail like a true-lover's-knot. Then the camelo pardalis is spoken of as a very uncommon animal, and a fabulous Chinese beast, the sucutiro or scutairo, not to be found in later works on natural history, is depicted and described.
"Jacky Dandy's Delight; or the History of Birds and Beasts," in the first Worcester edition of 1788, includes also Androcles and the Lion, The Death and Burial of Cock Robin, and a Visit at Homely-Hall, where the good old custom of eating pudding before meat was observed; for, as the author says, "Master Prudence having said grace, we all fell to, with a design to destroy a fine plumb-pudding that was placed at the bottom of the table."
The Father's Gift has lessons in spelling, preceded by this moral song: —
Let me not join with those in Play,
Who Fibs and Stories tell,
I with my Book will spend the Day,
And not with such Boys dwell.
For one rude Boy will spoil a Score,
As I have oft been told;
And one bad Sheep, in Time, is sure
To injure all the Fold.
"Mother Goose's Melody, or Sonnets for the Cradle, in two parts. Part I. The most celebrated songs and lullabies of the old British nurses calculated to amuse the children and excite them to sleep. Part II. Those of that sweet Songster and Nurse of Art and Rumours, Master William Shakespeare," first printed by Carnan, Newbery's stepson, in 1780, includes in the first part the history of Johnny and Betty Winckle, the love-tale of the little man and the little maid, with burlesque aphorisms from Coke upon Littleton and other learned authors, and the Maggoty Pye which shocked Peter Parley.
In "The Brother's Gift," Miss Kitty Bland, who has been spoiled at a boarding-school, is reformed by her brother, who, as a reward for her excellent needlework, makes her a present of a fine new pair of stays, a picture of which takes up nearly a whole page of the story.
"Vice in its proper Shape, or, the wonderful and melancholy Transformation of several Naughty Masters and Misses into those contemptible Animals which they most resemble in disposition" is a warning to bad children. In the History of Tommy Careless, which still exists in Newbery's edition among a number of Thomas's reprints, the hero in one week falls out of a window into the water, loses both his kite and its string, falls out of an apple-tree, burns his forefinger while melting lead, kills his bird by forgetting to turn its water-dish towards the cage, and pulls hairs out of Dobbin's tail till the horse kicks him and kills his father's favorite pointer. The book leaves the unhappy boy caught by one finger in a mouse-trap.
The tales and verses, although always advertised to be of highly moral tone, are often free in speech to a degree that entirely unfits them for children's reading nowadays. The copies that remain are either in the original Dutch paper, in rainbow colors, blue, green, red, and yellow, with small gilt figures, all in the space of less than four inches by three, or bound together, half a dozen in one fat volume. These were the little books which every country schoolmistress felt obliged to give "to all her pupils on the closing day of her school. Otherwise she would be thought stingy, and half the good she had done during the summer would be canceled by the omission of the expected donations. If she had the least generosity, or hoped to be remembered with any respect and affection, she must devote a week's wages, and perhaps more, to the purchase of these little toy-books."
Thomas was as ingenious as Newbery in advertising one book by means of another. Master Friendly, in The Father's Gift, "got all the little books by rote that are sold by Thomas, Son & Thomas in Worcester, when he was but a very little boy," and in Nurse Truelove's Christmas Gift there is a like mention of them. The same cuts were used by Thomas, and presumably by Newbery, to illustrate the most diverse scenes, and stand for persons of the most different character, from a praiseworthy spirit of economy not yet extinct in publishers of children's literature.
There were other publishers and sellers of children's books in this country besides Thomas, in the last years of the eighteenth century and the first of the nineteenth. The second Connecticut edition of The Child's Instructor, by a Teacher of Little Children in Philadelphia, was printed by Lazarus Beach in Newfield (Middletown ?), in 1799. It has Mrs. Barbauld's Hymns in Prose and extracts from Little Charles; also a long story about an infant prodigy named Billy, who at five years of age was always good and obedient, and said, "If you would be wise you must always attend to your vowels and consonants." When General Washington came to town, Billy's mamma asked him to say a speech for the ladies, and he began: "'Americans! place constantly before your eyes, the deplorable scenes of your servitude, and the enchanting picture of your deliverance. Begin with the infant in his cradle; let the first word he lisps be Washington.' The ladies were all delighted to hear Billy speak so well. One said he should be a parson, another said he should be a lawyer, and another said he should be President of the United States. But Billy said he could not be either, unless his mamma gave him leave." A little later book, "The Juvenile Miscellany, including some Natural History for the use of children," published by Jacob Johnson, of Philadelphia, in 1808, has copperplates, of some spirit and much carefulness of execution, representing birds and animals.
Dobson, a Philadelphia publisher, had issued a copy of Evenings at Home, two years after the last volume was published in England. It was nearly thirty years since Mrs. Barbauld had written Early Lessons, for the use of her nephew and adopted son, Charles Rochemont Aikin. She and her husband had a school at this time, and she took pains to make her pupils familiar with Shakespeare by teaching them to act parts of the plays. She writes once to her brother, "Did I tell you the boys are going to act the First Part of Henry IV., and I am busy making paper vandykes, and trimming up their hats with feathers?" And again, "We are wondrous busy in preparing our play, The Tempest, and four or five of our little ones are to come in as fairies; and I am piecing scraps from the Midsummer Night's Dream, etc., to make a little scene instead of the mask of Ceres and Juno." Her Hymns in Prose, published in 1777, were written for her youngest pupils, one of whom was afterwards Lord Denman, Chief Justice of England, and another Sir William Gell, famous for his illustrated work on Pompeii. "Lord Denman," says his biographer, "always attributed to the judicious care of his first instructress much of the retentiveness of his memory, of his fondness for literature, and of the clearness and force of his elocution."
It was in 1796 that Maria Edgeworth published the first volume of the Parents' Assistant. She had before this translated some of Madame de Genlis' stories, but a translation by another hand prevented her from publishing them. From this time until 1830, she was constantly engaged in writing, and her books for children are no small part of her work. She lived in a house full of children, wrote her shorter tales on a slate, and if her little brothers and sisters liked them, printed them. In 1798, she and her father issued Practical Education, the first part of which he had written with the second of his four wives, the Honora Sneyd who was betrothed to Major André. It was printed, but not published, and after more than twenty years Richard Lovell Edgeworth gave it to his daughter to finish. He believed that children's stories should be the history of real life, not of improbabilities, and that they should even contain no poetical allusions. His daughter, who understood children better than he, and had lived all her life among them, "not only," as her latest biographer says, "wrote in the language of children, but, what is even rarer, from the child's point of view."
Berquin's Ami des Enfans and the stories of Madame de Genlis had a certain influence over English books for children. Rousseau's theories, too, were expounded in Thomas Day's Sandford and Merton and Little Jack. As Horace Scudder says, "There seems something half grotesque in speaking of children and the French Revolution in one breath, but I think that the incongruity is only superficial. … The perception that the child had divine relationships was one form of the new consciousness of the worth and dignity of man." Whatever writers of to-day may say of the utilitarian tendencies of the Edgeworth system, it is certain that the little people of the books are well bred, reasonable, and early taught patience, self-control, and the necessity of bearing the consequences of their own follies and mistakes, — three lessons not useless in after-life. They are real children, too, as one sees by comparing them, not with Little Lord Fauntleroy, or Little Women, or any other favorites of to-day, but with the little Noah's Ark figures, named to represent their characters, in Newbery's books or Thomas's reprints.
In 1791, Johnson, the London bookseller, employed William Blake to design and engrave six plates to a series of tales for children, in the then prevailing Berquin school, by Johnson's favorite and protegé, Mary Wollstonecraft; tales new and in demand in the autumn of that year, now unknown to the bookstalls. They are called "Original stories from real life, with conversations calculated to regulate the affections and form the mind to truth and goodness." The book never went to a second edition. Blake had already written, designed, printed, and engraved his Songs of Innocence, and was to publish before many years his Songs of Experience, both of which contain some of the loveliest child poems in the language.
Mary Wollstonecraft's stories attack cruelty to animals, peevishness, lying, greediness, indolence, procrastination, and other faults of children. Every chapter has an illustrative story. Crazy Robin, which Mrs. Pennell quotes in her life of Mary Wollstonecraft, is powerfully conceived and told. At about this time, while Mary was doing literary hack-work for Johnson, she translated, and Blake illustrated, Salzmann's Elements of Morality, which went through several editions, and was republished in Baltimore in 1811. Miss Yonge has revived it in her Storehouse of Stories for the present generation.
Mary Wollstonecraft died in 1797, not long after her marriage to William Godwin. He married again within a few years, and his wife, a woman with a fondness for business, but without much experience in managing a publishing-house, formed the plan of opening what he calls "a magazine of books for the use and amusement of children." He wrote in 1802, "I think Mrs. Barbauld's little books, four in number, admirably adapted, upon the whole, to the capacity and amusement of young children. … As far as Mrs. Barbauld's books I have no difficulty. But here my judgment and the ruling passion of my contemporaries divide. They aim at cultivating one faculty; I should aim at cultivating another. … Without imagination, there can be no genuine ardor in any pursuit or for any acquisition, and without imagination there can be no genuine morality, no profound feeling of other men's sorrow, no ardent and persevering anxiety for their interests. This is the faculty which makes the man, and not the miserable minuteness of detail about which the present age is so uneasy." Godwin's own ideas on all subjects were so revolutionary that he knew children's books written under his own name would never sell, and he issued a series of little volumes purporting to be by one Baldwin, printed for Thomas Hodgkins at the Juvenile Library. Baldwin's Fables Ancient and Modern, The Pantheon, or Ancient History of the Gods of Greece and Rome, and Histories of England, Greece, and Rome, are still interesting, though useless from a modern historical standpoint. After a while Mrs. Godwin managed the business (which went on for twenty years, but was a series of failures), under the name of M. J. Godwin & Co., translating and publishing several books from the French.
The children of to-day owe Godwin a debt of gratitude for suggesting, and the firm for publishing, Charles and Mary Lamb's Tales from Shakespeare and Adventures of Ulysses. The authors also wrote, in 1809, Mrs. Leicester's School, "for M. J. Godwin at the Juvenile Library, No. 41 Skinner Street." Its popularity encouraged the brother and sister to compose two very small volumes of poetry for children. Charles Lamb wrote to Coleridge in the same year, "Our little poems are but humble; but they have no name. You must read them, remembering they were task-work; and perhaps you will admire the number of subjects, all of children, picked out by an old bachelor and an old maid. Many parents would not have found so many." The whole edition was soon sold out and out of print. About one third of the poems were printed during the next year in two books of selections. In 1812, all the poems but three were reprinted in Boston. The existence of the reprint was, however, unknown in England, until in 1877 a paper was published describing a copy of the original two volumes which had been bought by a South Australian gentleman at a sale in Plymouth, England, eleven years before. This paper, quoted in United States newspapers, brought to light two copies of the Boston edition.
Jane Taylor's first appearance in print was in the Minor's Pocket-Book, in 1804, and in the next few years she and her sister Ann published Original Poems for Infant Minds and Hymns for Infant Minds, familiar to children nowadays through Kate Greenaway's illustrations.
The Butterfly's Ball, a poem by William Roscoe, author of the Lives of Lorenzo de Medici and Leo X., appeared in 1807, as the first of a series known as Harris's Cabinet, but reprinted from the Gentleman's Magazine. It has always been a favorite poem in collections and school reading-books, and is not yet forgotten. It was followed by imitations: among them, Mrs. Dorset's Peacock at Home and Lion's Masquerade, with Mulready's illustrations. One, at least, of these books has been reprinted in facsimile by Mr. Welsh, within a few years.
In 1799, "J. Walker, E. Newbery, and all other Booksellers and Stationers in Great Britain, Ireland, and America" had for sale "The Young Gentleman's and Lady's Magazine, or Universal Repository of Knowledge, Instruction, and Amusement. Intended to open the tender Mind to an acquaintance with Life, Morals and Science, and the Works of Nature and Art; and to serve as a useful auxiliary to Public and Private Tuition. Edited by Dr. Mayor, Vol. I." It is a small duodecimo. The prospectus on the fly-leaf informs the public that instruction, not amusement, is the object of the magazine. Several persons who have been teachers, the preface explains in Johnsonian English, "observed that the young of both sexes had no appropriate periodical publication, which might serve as an incentive to study, as an auxiliary to oral instruction, or as a companion of the vacant hour." Dr. Mayor had been for many years a tutor and compiler of schoolbooks. He had also edited and rewritten the collection of voyages and travels that bears his name, and has no doubt excited the first longings for sea-life in many a future officer of the royal navy. He was therefore found to be a suitable person to edit the magazine, and it started off with an emblematic frontispiece, representing "Apollo and Minerva conducting youth of both sexes to the Temple." The first number had also "a beautifully coloured Plate from Nature of the Moss Rose, with a plain Duplicate, intended as an Exercise for the juvenile Pencil." The magazine begins with a prologue in verse, followed by arithmetical recreations, a lecture on botany, two fables in verse, an article on the political situation in Egypt, the beginning of a catechism of health, a description of the hydrostatical lamp, some maxims and precepts of ancient philosophers, a few anecdotes of Mahometan justice, a letter on the union of male and female studies, a game of twenty questions, an Oriental tale, a review of school and juvenile books, a dialogue, a hymn by Dr. Blacklock, an Ode to Childhood, Memoirs of Dick the little Poney and another story, an extract from a book of travels in China, and one or two charades. The first number has eighty-four pages, and several of the articles are continued. From the character of the magazine, it could hardly have been long-lived. It is a far cry through this, and the Young Misses' Magazine that existed for a few years in Brooklyn, early in the century, to the really excellent ones for growing-up boys and girls of to-day. There is hardly a subject which any reader of intelligence cannot find treated in these periodicals in a way that tells him clearly, precisely, and attractively, something of which he is ignorant. Popular science, manufactures, descriptions of strange countries and animals, suggestions for home and school life, thrilling stories from history, — what more can a child want, with two or three good, sometimes very good, stories in each number?
The tendency in the United States had been all this time, as we have seen, to reprint English books, either exactly, or with very slight modifications to suit republican taste. From Franklin's little volumes of Bunyan, which he sold to buy some small chapmen's books, a historical collection, his Plutarch, Defoe, and Spectator, there was little change to the end of the century, when Buckingham, the Boston printer, had, besides the last-mentioned work, Robinson Crusoe, Goody Two Shoes, Tom Thumb, Michael Wigglesworth's Day of Doom, a file of almanacs, Gulliver's Travels, The History of the Pirates, The Vicar of Wakefield, Tristram Shandy, Tom Jones, and Junius. But school-books were scarce and dear during the Revolution, and Noah Webster, foreseeing that works like Dilworth's New Guide to the English Tongue, probably intended for charity schools, would not long be useful in a new country, published his Grammatical Institute, containing a little general information for country boys and girls who had few books, and later his typical New England spelling-book.
Dr. Holmes tells how much more New England boys and girls used to hear, in books, of English birds, and flowers, and games, and social customs, than of their own, and how he used to find himself in a strange world, "where James was called Jem, not Jim, as we heard it; ... where naughty schoolboys got through a gap in the hedge, to steal Farmer Giles's red-streaks, instead of shinning over the fence to hook old Daddy Jones's Baldwins; where Hodge used to go to the alehouse for his mug of beer, while we used to see old Joe steering for the grocery to get his glass of ruin; ... where there were larks and nightingales instead of yellow-birds and bobolinks; where the robin was a little domestic bird that fed at table, instead of a great fidgety, jerky, whooping thrush." The time was now coming when as distinctively American characteristics would be found in stories and books of amusement as in Webster's school-books. We owe the change to one man, Samuel Griswold Goodrich, born in Ridgefield, Connecticut, in 1793. His father was a clergyman, who had, for the time, a large collection of theological books, but few others. The son says, "When I was about ten years old, my father brought me from Hartford Gaffer Ginger, Goody Two Shoes, and some of the rhymes and jingles now collected under the name of Mother Goose, with perhaps a few other toy books of that day. These were a revelation. Of course I read them, but, I must add, with no real relish."
A little later, one of the boy's companions lent him a book with some of the popular fairy and giant tales, which inspired him with such horror that his mother was obliged to tell him that they were not true, but invented to amuse children. With fine scorn and the true matter-of-fact Parley spirit, the child replied, "Well, they don't amuse me." He grew up with the belief that the children's books of the day were full of nothing but lies and horrors, exciting those who read them to crime and bloodshed. At twelve, however, he was delighted with Robinson Crusoe, and a translation of one of Madame de Genlis's tales, explaining certain marvels by simple physical causes. He read, too, The Shepherd of Salisbury Plain, and twenty years later, while telling Hannah More how he had enjoyed it, formed the idea of the Parley Tales. In 1827, he published the first of them, — Tales of Peter Parley about America. In the next thirty years he wrote or edited more than a hundred volumes, most of them for children or schools, told in a pleasant and familiar style. A middle-aged reader can hardly see his little History of the United States, with chapters on Central and South America, without recognizing as the source of many ideas useful in later life the hideous little woodcuts of the Pilgrims landing in a snowstorm, the Dustin family attacked by the Indians, the burning of Schenectady, or Captain Waterton on the cayman's back. It is just possible that true tales of Indian barbarities may impress a sensitive child with as great a sense of horror as legends of giants, but Peter Parley seems never to have thought so. In his mind, if a thing was true, it was right ; if false, it was wrong. He speaks with scorn, in his autobiography, of attempts to revive the old fairy-tales, and treats Halliwell's edition of the nursery rhymes of England as if it were beneath notice. His mind was essentially prosaic, but he did a great work in simplifying history, geography, and books of travel for children.
Jacob Abbott published his Young Christian in 1832, and from that time until his death, in 1879, was constantly writing for young people. Who is not grateful, notwithstanding late irreverent burlesques, for the simple pictures of happy child-life in the Rob, Lucy, Jonas, and Franconia books? Old-fashioned as they seem now, they are so full of common sense, and have so clear an idea of children's relations to each other and their elders, that some of them should be on every child's bookshelves. The young people of fourteen or fifteen, like Beechnut and Mary Bell, who act as guides and teachers to children a few years younger, are remarkably mature, and have a wonderful development of reason, judgment, and knowledge of child-nature; but their advice is always good, and worthy of remembrance. Then, too, these are distinctively New England story-books. The children go sleighing and coasting, walk on snowshoes, pop corn, roast apples, and do a thousand things such as country boys and girls delight in. They learn, too, to use their eyes in traveling, and many a grown-up man or woman of to-day, who cannot tell why London or Paris looks so familiar, is indebted to Rollo in Europe for knowledge absorbed so long ago that its source has been forgotten.
Between 1840 and 1850, a German influence was felt in children's books. Grimm's tales had been translated before, but Gammer Grethel and little stories of real life came on the scene. Illustrations and type began to be better. Soon after 1850, really beautiful colored pictures were to be seen in books for children, published on both sides of the Atlantic. Hans Andersen was by this time well known to English-reading children. The reign of fairy-tales had begun again with the study of folk-lore. With fairy-tales and hero-legends rewritten and simplified for children, with history told in story-form, there is only one danger, — that young readers will be satisfied with abridgments, and know nothing in later years of great originals.