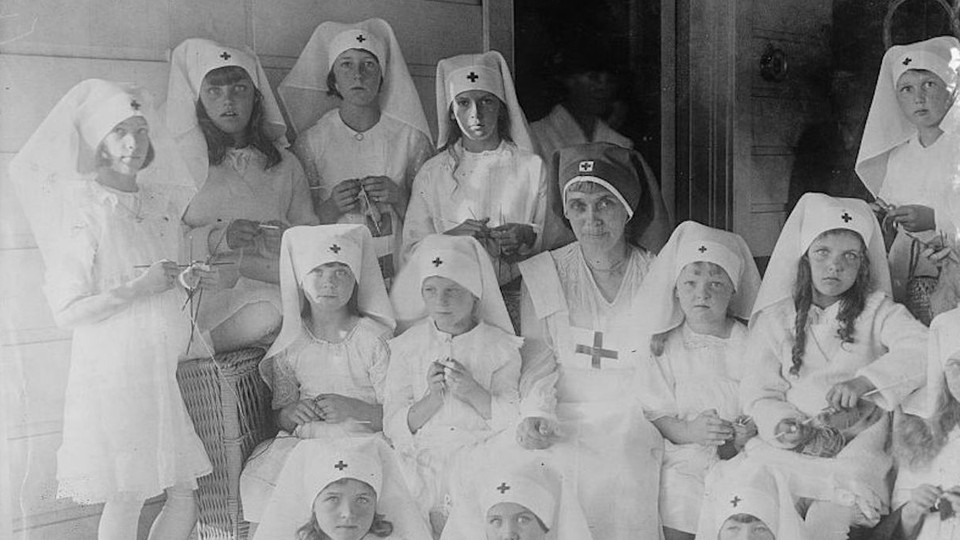 It is nearly sixteen centuries since the banner of the cross appeared in a dream to Constantine the Great, infolding the inscription, "In hoc signo vinces;" and ever after the Red Cross decorated the banner under whose folds he was destined to become the first Christian monarch of the world.
It was the Red Cross, with its inspiring motto, that put an end to the persecutions of Christianity. Under its protection the Council of Nice was held. Under its banner Clovis, King of the French, perpetuated Constantine's faith and good works. Through the "dark ages" it inspired pilgrim soldiers of all nations to endure the hardships of the so-called Crusades and the ten "holy wars," alluring millions, who perished at the foot of Zion and Calvary and beneath the walls of Acre. That cross had gleamed upon their breastplates and banners, and soothed the last moments of those who panted and died on the scorching sands of Tunis.
Unselfish, though fruitless, was the heroism of these, yet through all reverses the sign has never been obliterated, but has broadened and deepened its significance, until it has become the talisman to inspire deeds of humanity, to relieve misery and oppression, from the Himalayas of Asia to the Hebrides of Europe, and thence to the Golden Gate of America. From being the sign of the Order of the Cross and the badge of Geneva Masonry, it has become the star of the hospital, the armlet of the nurse, and the beacon of hope to the wounded soldier or prisoner of war.
In the late armies of the Sudan it shone upon no victor's brow; its bearers were cot-bearers and ambulance-drivers, kindly surgeons and gentle, lowly women, saving husbands arid fathers for their families, men for their country, and easing the anguish of those appointed to die. In our United States it has cooled the fevered, yellowed brow of pestilence, fed the hungry and clothed the naked, rescued the drowning and built homes for the victims of flood-swept shores and fire-smitten lands.
Yet there are many to ask with honest inquiry, "What does the Red Cross mean?" To such, a history of the Red Cross movement of the present age will not be devoid of interest, — a movement at once so remarkable and beneficent in its results as to entitle it to a place in the world's history.
This confederation of the Red Cross was conceived in the thought of a Swiss gentleman, Monsieur Henri Dunant, who was traveling in Italy at the time of the great battle of Solferino, in 1859. Benevolent emotions inclined him to visit the battlefield, where he remained some days as volunteer aid for the wounded. Impressed by the sufferings of great numbers left to perish for want of immediate help and suitable care, he considered deeply the feasibility of some plan to insure efficient and systematized aid, and some method for ameliorating the woes and miseries of the wounded in war. Returning to Switzerland, he published a remarkable book, entitled Un Souvenir de Solferino, which attracted much attention both at home and abroad. As a result, he was called before the learned Genevese Society of Public Utility. Its president, Monsieur Gustave Moynier, and Dr. Louis Appia warmly seconded his suggestion that measures should be speedily taken to ameliorate the condition of wounded soldiers, by establishing relief societies in times of peace, and a system of neutrality between warring nations, by which hospitals, supplies, nurses, surgeons, and wounded should be protected in time of war by wearing one uniform badge. The proposition was heartily received, and on February 9, 1863, a committee appointed to institute plans by which such an end could be attained.
Realizing the magnitude of the undertaking, the committee moved timidly, but finally announced for the 26th October a reunion, to which were invited, from all countries, men sympathizing with the work. This international conference lasted four days, and the resolutions then adopted formed the base of the famous Geneva Treaty, upon which the association of the Red Cross was founded. The international committee first made sure of the coöperation of the Swiss Federal Council and the Emperor of France, and then sought the indorsement of the several states of Europe to a treaty which would recognize the neutrality of hospitals, wounded soldiers, arid all persons and effects connected with the sanitary of either army. Being met with active sympathy and support, the treaty was first signed by twelve governments, in the city hall of Geneva, Switzerland, August 22, 1864, and called the Convention of Geneva. The protective sign and badge agreed upon was a red cross upon white ground, out of compliment to Switzerland's flag, which was to be worn upon the arm by all persons connected with or acting under the association, and to be stamped upon the personnel of all sanitary appliances. Twenty-two governments were shortly after enrolled on this treaty. This is a remarkable instance of a treaty of nations brought about by the exertions of one individual in private life.
After being tested in the war of 1866, some imperfections were discovered which called for a revision, and in 1868 a second diplomatic convention was gathered at Geneva, when the great treaty was amended, added to, and its action extended to maritime wars. In 1870-71 the principle of the Red Cross was thoroughly tested, and the beneficent results were found to be immense, in which not only contestants, but neutral powers, were quick to perceive the wisdom of concerted action, and contributed freely of money and credit to its support, while crowned heads and princes came forward with personal aid to assume direction of the work.
During these years, and for ten years after, the United States of America stood strangely aloof and indifferent to the treaty, and turned coldly aside from the several invitations to enter the compact. The tale of her tardy interest and signature forms a curious chapter later on.
It should be remembered that the Convention of Geneva has no existence as a society, but is simply a treaty, under which relief societies of the Red Cross may be formed in any country, in order safely and effectually to carry on their work. Although the original convention was international, the various societies formed from it are national and independent; making laws adapted to the needs of their own nation. In order to secure governmental recognition, relief societies must have a central head, to which they send supplies, and which communicate for them with the military authorities; thus centralization is enforced. Also, in order to permanence, societies must occupy themselves with preparatory work in time of peace, such as gathering and storing gifts of money and supplies, arranging bureaus of information, easiest methods of transporting the wounded and sick, ordering ambulances, training nurses, and doing all that the most educated and thoughtful philanthropy can suggest.
As belligerent nations cannot always carry aid to their wounded countrymen when captured by the enemy, the treaty secures impartiality, so that the Red Cross provides alike for friend and foe. Its solidarity is also insured by providing that societies of neutral countries may afford aid to the sick and wounded without the charge of interference from their respective governments. Thus the societies execute the relief, and the treaty affords the necessary immunities. These principles have been thoroughly tested, and their wisdom has been approved.
The employment of societies in time of security is an important factor. To obtain and conserve appropriate resources is the desideratum. The Russian societies have been foremost in this good work; placing boxes in stations, steamboats, convents, churches, and in the streets, collecting moneys through the entire empire, and neglecting nothing that would insure success. In Berlin, in 1868, the committee possessed over twenty-five thousand dollars' worth of supplies, and in Geneva, in five depots, were accumulated one thousand two hundred and twenty-eight dozen shirts, with hosiery to correspond, besides sanitary appliances for over six thousand wounded; also the best of supplies, surgical instruments, and everything needed for field and hospital attendance.
Various national exhibits, where competitive skill has been taxed to the utmost, have taken grand prizes. Hague held an exposition in 1867 exclusively for Red Cross work, while permanent museums of like material are found in St. Petersburg, Moscow, Stockholm, Carlsruhe, Paris, etc., the latter being international. Valuable books are published for the benefit of members of the societies and training-schools established for the thorough equipment of nurses, from which are graduated great numbers, ready at a moment's notice to go into service. Such nurses easily find employment at high prices in times of peace. Before giving a history of the induction of the Red Cross into the United States, it may be added that our conception of the principles embodied has led to its application in times of any widespread calamity, such as yellow fever, cholera, floods, fires, railway and mining disasters of great extent. The value of trained organizations in such times, and the superiority of concerted effort over that which is hastily and irresponsibly gathered, are evident to any thoughtful mind. Thus societies of the Red Cross in the various States would hold themselves in readiness with money, nurses, and supplies, to go to the relief of those overwhelmed by flood, fire, or pestilence.
To Miss Clara Barton is due the credit and honor of leading this efficient organization into this last field of humanitarian work. Our country is less liable to the distractions of war than others, but, as Miss Barton has said, "none are more liable than our own to great overmastering calamities. Seldom a year passes that the nation, from sea to sea, is not brought to utter consternation by the shock of some unforeseen disaster, and stands shivering like a ship in the gale, powerless, horrified, despairing. Plagues, cholera, fires, flood, famine, all bear upon us with terrible force. Like war, these events are entirely out of the common course of woes and necessities. Like death, they are sure to come in some form and at some time, and, like it, no mortal knows how, or when, or where. What have we in readiness to meet these emergencies save the good heart of our people and their impulsive gifts?1 Certainly no organized system for collection, reception, or distribution, … no agents, nurses, or material, and, worst of all, no funds; nowhere any resources in reserve for such an hour of peril and national woe; every movement crude, confused, unsystematized, and as unprepared as if we had never known a calamity before. … Meanwhile, the suffering victims wait! True, men bestow most generously, … throw their gold to strangers … who have often no guarantee for honesty. Women, in the terror and excitement of the moment, and eagerness to aid, beg in the streets and rush into fairs, working day and night, to the neglect of other duties and at the peril of all health in the future, — often an enormous outlay for very meagre returns. Thus our gifts fall far short of their best, being hastily bestowed, irresponsibly received, and wastefully applied. … While our communities abound in noble charities, each has its specific object to which its resources must be applied. … But I have never classed these Red Cross societies with charities; rather have considered them as a wise, national provision, which seeks to garner up something against an hour of sudden need."
A forcible illustration of the great service rendered by Red Cross societies was shown in the results from its labors during the Franco-Prussian war. The Austrian committee had 2,170,000 francs in its possession, and a vast supply of sanitary material, besides a bureau for maintaining correspondence in eleven different languages. Italy united her provincial societies under the central head of Milan. Squads of well-trained nurses, armed with supplies, followed the military ambulances with field hospitals, reinforcing the sanitary provision of the army. They also provided entirely for the Tyrolese volunteers, aided the navy, and after the war remained among the wounded. The moneys expended by this committee were not less than 199,064 francs. Neutral powers afforded beautiful examples of charitable aid, pouring in gold and provisions.
But Germany distinguished herself. Immense storehouses and depots in Berlin, containing Red Cross supplies, were thronged with people classifying, parceling, packing, and dispatching goods for the seat of war. Among these were two thousand salaried persons, many volunteers, besides three hundred benevolent ladies. Twenty-six cars were laden daily with two thousand hundredweight of supplies, special trains conveying them to the field or points where needed. Never had private charities, however munificent, been able to accomplish such wonders.
At the first war-signal, committees arrived as if by magic, at different points, forming a chain of perfectly disciplined nurses and assistants, numbering over two thousand. Agents of the Red Cross went with all government transports by land and water, protected by their flags or badges, to wait on the invoices and hasten their progress. The sums given to assuage the miseries of the France-Prussian war were fabulous, making good the assertion that the philanthropy of peoples equals their patriotism.
France had failed as fully to prepare for the hour of need, but the committee labored with such decisive energy, and so worked upon the good heart of her people, that relief measures were immediately taken. Gold and supplies flowed into Paris, from whence seventeen field hospitals were provisioned and joined the army, remaining until the battle of Sedan. Ambulances were stationed at the depots to care for the wounded, and a bureau of information was provided for soldiers' families. "When the siege of Paris was at hand the committee threw a commission into Brussels, charged with the direction and help of flying hospitals. Nine committees were established in the provinces, with power to act for the central committee, and to invite the people to help. Meanwhile, the Red Cross in Paris did its utmost to mitigate the distress there, and to prepare for the result of the siege. History has recorded the sufferings, the horrors of misery, that accompanied and followed that siege, but history can never relate what wretchedness was averted, what agonies were alleviated, what multitudes of lives were saved, by the presence and effort of the relief societies! What the state of France must have been without the merciful help of the Red Cross imagination does not picture. After the armistice was signed, there were removed from Paris, under the auspices of the relief societies, ten thousand wounded men, who otherwise must have lingered in agony, or died from want of care; and there were brought back by them to French soil nine thousand more who had been cared for in German hospitals."
It is a remarkable fact that the United States was the thirty-second power to place the seal of approval upon this treaty of nations. That we have even at this late hour a place on that roll of honor is due to the patriotism, philanthropy, and persuasive eloquence, united to persistent endeavor, of a single daughter of the republic, whose labors of loving sacrifice in two hemispheres make a record dear to every exalted mind, and precious in the sight of God. Her life is a tale of superhuman efforts on a score of battlefields, of tender ministrations and weary vigils, of years spent in efforts to identify the lost, and of sad struggles to recover health.
After her memorable work in the field hospitals of the late rebellion, Miss Barton was sent to Europe by her physicians. She arrived in September, 1869, at Geneva, Switzerland, and in October was visited by the president and members of the International Committee for the Relief of the Wounded in War. She has told the story in her own inimitable way, as follows: —
"They wished to learn, if possible, why the United States had declined to sign the treaty. Our position was incomprehensible to them. … To what did America object, and how could these objections be overcome?" (The treaty had twice been presented: once through our minister at Berne, and again through Dr. Bellows, the great head of our Sanitary Commission. Both had failed, and no satisfactory reason had been given.) "They had thought the people of America, with their grand sanitary record, would be the first to appreciate and accept it. I listened in silent wonder to all this recital, and when I did reply it was to say that I had never in America heard of the Convention of Geneva, nor of the treaty, and was sure that as a country America did not know she had declined; that she would be the last to withhold recognition of a humane movement; that it had doubtless been referred to and declined by some one official, and had never been submitted to the people, and as its literature was in languages foreign to our English-speaking population, it had no way of reaching us. You will naturally infer that I examined it. … The absurdity of our position in relation to it was simply marvelous. As I counted up its roll of twenty-two nations, not a civilized people in the world missing but ourselves, and saw Greece, Spain, and Turkey there, I began to fear that in the eyes of the rest of mankind we could not be far from barbarians. This reflection did not furnish stimulating food for national pride."
In less than a year from the time Miss Barton entered Switzerland in search of health, France declared war against Prussia, and a band of Red Cross workers stood at her door, led by Dr. Louis Appia, en route for the seat of war, begging her to join them, and take such part as she had taken in our own war. As yet no shot had been fired, no man had fallen, and only three days had elapsed since war had been declared. Yet this organized, powerful commission was on its way, with its skilled agents, ready to receive, direct, and dispense the accumulations which the generous sympathies of twenty-two nations would place at its disposal, if needed. These men had treaty power to go to any field, and work unmolested, in full coöperation with the military; their supplies were held sacred, and their efforts seconded in every direction by either belligerent army. Not a man could lie uncared for or unfed.
"I thought," said this great-souled woman, "of the Peninsula in McClellan's campaign; of Pittsburgh Landing, Cedar Mountain and Second Bull Run, Antietam, Old Fredericksburg with its acres of snow-covered and gun-covered glace, and its fourth-day flag of truce; of its dead and starving wounded, frozen to the ground, and our commissions and their supplies in Washington, with no effective organization or power to go beyond; of the Petersburg mine, with its four thousand dead and wounded, and no flag of truce, — the wounded broiling in a July sun, dying and rotting where they fell. I remembered our prisons, crowded with starving men, whom all the powers and pities of the world could not reach with even a bit of bread. … I thought of the shadows on the hearths and hearts all over my country, — sore, broken hearts, ruined, desolate homes ! Was this a people likely to decline humanity in war? Was this a country to reject a treaty for the help of wounded soldiers? … Ah! they needed only to know.
"As I journeyed on, and saw the work of these Red Cross societies in the field, accomplishing in four months under their system what we failed to accomplish in four years without it, — no mistakes, no needless suffering, no starving, no lack of care, no waste, no confusion, but order, plenty, cleanliness, and comfort wherever that little flag was unfurled, a whole continent marshaled under the banner of the Red Cross, — as I saw all this, and joined and worked in it, you will not wonder that I said to myself, 'If I live to return to my country, I will try to make my people understand the Red Cross and that treaty.'
"But I did more than resolve: I promised other nations I would do it, and other reasons pressed me to remember my promise. The Franco-Prussian war and the war of the Commune were both enormous in the extent of their operations and in the suffering of individuals. This great modern international impulse of charity went out everywhere to meet and alleviate their miseries. The small, poor countries gave of their poverty, and the rich nations poured out abundantly of their vast resources. The contributions of those under the Red Cross went quietly, promptly, through international channels, were thoughtfully and carefully distributed, while returns, accurate to a franc, were made and duly published to the credit of the contributing nations, and the object aimed at was accomplished. America, filled with German and French people, humane and universal in their instincts of citizenship and brotherhood, freighted ships with supplies and money, prodigal and vast. They arrived in Europe, but were not under the treaty regulations. No sign of the Red Cross authorized any one to receive and distribute them. The poor baffled agents, honest, well meaning, and indefatigable, did all that individuals without system or organization could do. But, for the most part, the magnificent charity of America was misapplied, and went as unsystematized charities always tend, to ruin and utter waste. The object aimed at was not accomplished, and at the end of the report of the Red Cross organization occurs something like this: 'It is said that the United States of America also contributed something for the sick and wounded, but what, or how much, or to whom, or when, or where, it is impossible to tell'!
"In the autumn of 1873 I returned to America, more broken in health than when I left in 1869. Then followed years of suffering, in which I forgot how to walk, but I remembered my resolve and my promise. After almost five years I was able to go to Washington with a letter from Monsieur Moynier, president of the International Committee of Geneva, to the President of the United States, asking once more that our government accede to the articles of the convention. Having been made the official bearer of this letter, I presented it to President Hayes, who received it kindly, referring it to the Secretary of State, Mr. Evarts, who in his turn referred it to his assistant secretary, as the person who would know all about it, and would examine and report for decision. I then saw how it was made to depend not alone on one department, but one man, who had been the Assistant Secretary of State in 1864 and also in 1868, when the treaty had on two occasions been presented to our government. It was a settled thing. There was nothing to hope for from that administration. The matter had been officially referred, and would be decided accordingly. It would be declined, because it had been declined. If I pressed it to a decision, this would only weigh it down with a third refusal. I waited. My next thought was to refer it to Congress. That step would be irregular, and discourteous to the administration. I did not like to take it, still I attempted it, but could not get it considered, as it promised neither political influence, patronage, nor votes.
"The next year I returned to Washington to try Congress again. I published a little pamphlet of two leaves, addressed to the members and Senators, to be laid upon their desks, in hopes they would take the trouble to read so little as that. … My strength failed before I could get the bill presented, and I went home again. There then remained but a portion of that administration, and I determined to outlive it, hoping another would be more responsive. Meanwhile, I wrote, talked, and did whatever I could to spread the idea among the people, and when President Garfield came in I went again to Washington. The subject was very cordially received by the President, and by him carefully referred to Secretary Blame, who considered it himself, conferred fully with me, and finally laid it before the President and cabinet."
Miss Barton's courageous persistence is the more remarkable from the fact that the treaty had been presented without avail to our government by our minister plenipotentiary to Switzerland, and later by Dr. Bellows, who interested himself in the work many years, endeavoring to secure its recognition and adoption by Congress. Failing completely in this, he abandoned the effort, and earnestly advised Miss Barton to give up the task as a hopeless undertaking; for he had thoroughly tried the intelligence, the humanity, and the national pride of the American Congress on the Red Cross treaty, and had found it useless.
Yet in 1881 Miss Barton says, with that indomitable spirit characteristic of all her undertakings, I will not yield the fact of the treaty. For patriotism, for national honor, "I will stand by that at all cost. My first and greatest endeavor has been to wipe from the scroll of my country's fame the stain of imputed lack of common humanity, to take her out of the roll of barbarians. In 1869 there were twenty-two nations in the compact. There are now thirty-one, for since that date have been added Roumania, Persia, San Salvador, Montenegro, Servia, Bolivia, Chili, the Argentine Republic, and Peru. If the United States of America is diligent and fortunate, she may perhaps come to stand No. 32 in the roll of civilization and humanity! If not, she will remain where she at present stands, among the barbarians and heathen."
It was not permitted President Garfield to sign the great treaty of nations, although he warmly advocated it. During the enforced delays consequent upon the passage of the bill, the National Association of the Red Cross of America was founded, and Miss Clara Barton nominated its president by the President of the United States; and when Mr. Arthur passed into office, he nobly ratified the wish and act of the martyred President by affixing his seal to the humane treaty, so long urged upon our country, thus uniting the nations under one banner into a compact of brotherhood, — the Senate ratifying the same without a dissenting voice.
"It is for this," says the standard-bearer of the American Red Cross, that wonderful woman whose philanthropic works during the past twenty-five years have extended over two continents and into almost every field of human misery, — "it is for this I have labored, and, toiling and waiting through years, have heard little beyond the placid inquiry from the people around me, 'What does the Red Cross mean?' while to me, so pressing has the necessity for haste appeared, so imminent and certain has seemed the great emergency now confronting the entire world, that there was scarcely time to answer these honest inquiries!"
At the time of the Ohio floods the president of the American Red Cross removed her headquarters from Washington, where she has established the nucleus of a warehouse, in which are stored thousands of articles for sanitary and relief purposes, to Cincinnati, that she might personally superintend the distribution of supplies pouring in from the various Red Cross societies. After a few days spent here, relieving pressing necessities, she removed to Evansville, Indiana, in order to aid the sufferers between that point and Cairo, Illinois. Captain J. V. Throop kindly placed his steamer at the disposal of the Red Cross society, which was at once loaded with an immense quantity of boxes, bales, barrels, and bundles of clothing, together with a large amount of bedding and fuel, and started on its mission of mercy down the river, in charge of Miss Barton. The party reached Cairo March 15th, and after carefully distributing relief along the way as far down as Wickliffe, Kentucky, turned back to Evansville, where they remained until the relief transactions were practically finished, and then, removing to St. Louis, fitted out another steamer, to render similar assistance in the inundated regions of the Lower Mississippi.
Thus is the Red Cross destined to become the great almoner of the people's bounty on occasions of swift calamity, the tried and trusted agent of national and international benefactions. Its full recognition in the United States has been slow, but is sure to come; for it has been shown that orderly giving in times of extended distress is a cord of three strands, reaching further, doing more effective good, and morally attaining a far higher purpose than hasty and irresponsible methods.
At the third international convention held in Geneva, the peculiar American features of Red Cross work attracted marked attention, and were attended by the happy result of securing a unanimous vote to the following resolution: —
"That Red Cross societies engage in times of peace in humanitarian work analogous to the duties devolving upon them in periods of war, such as taking care of the sick and rendering relief in extraordinary calamities, where, as in war, prompt and organized relief is demanded."
In compliment, richly deserved, to Miss Barton's advanced views, the prominent members of the conference freely consulted with her as to work and methods. Of the part she sustained in the deliberations of this grave assembly, Miss Antoinette Margot, a Swiss-French lady present, thus speaks: —
"The government of the United States has done itself no greater credit than in selecting Clara Barton to represent it among the nations abroad. During the last week I have looked on, as she sat day by day in one of the grandest assemblages of men that could be gathered, — men representing the highest rank among the civilized nations of the earth; men of thought, of heart, of wisdom and power, called together from over the world to deliberate on great questions of national import, military power, the neutrality of nations, humanity in war, wisdom in peace. In the midst of this assemblage of stately, gray-haired men, glittering with military decorations of national honors, won and conferred, sat this one woman, — calm, thoughtful, self-possessed, recognized and acknowledged as possessing every right and privilege belonging to any member of that conference; not merely permitted to be there, but there by the sovereign right of nations; not merely allowed to sit there by the courtesy accorded to a lady, but by the right due a nation's representative; her vote not merely accepted as a matter of form, but expected and watched for; grave questions referred to her as the representative of a great nation, and all deference paid to her judgment; her demeanor so unobtrusive, her actions so wise, that it could not otherwise than reflect merited credit upon her and her country. But the crowning recognition of her philanthropic labors at home and abroad was given when one of the Italian delegates, springing upon the platform, proposed to the assemblage to vote by acclamation that 'Mademoiselle Barton bien mérite de l'humanité.' Even Miss Barton was moved from her usual composure by the thunders of applause. I do not know whether you in America are familiar with the peculiar significance of that phrase. It is an expression of the highest approbation, honor, and esteem that the French language can convey. It is probable that Miss Barton is the first woman in the world who has ever received such a tribute, and that from the official representatives of all the governments of Europe and from seven foreign countries, which gives this vote a very great importance."
At this conference Miss Barton was presented with a court jewel by the Grand Duchess of Baden, an amethyst an inch and a half square, cut in the shape of a pansy. She also wears the Iron Cross of Germany, presented by the Emperor and Empress, a Red Cross medal from the Queen of Italy, and a Red Cross from the Queen of Servia, beside other merited decorations.
Yet in justice to this gifted woman it should be said that she has no ambition for honors or praise, but always chooses, where she can, the quiet ways of life and work. But too great honor can never be paid to this priestess in the realm of suffering, who has given her whole life to the cause of humanity. When the American people fully recognize the Red Cross as one of the wisest and best systems of philanthropic work, her mission will have been accomplished. The Red Cross is a grand educator, and the hour is ripe for fruitage. It embodies the best principles of social science, and that true spirit of charity which counts it a sacred privilege to serve one's fellow-men in times of trouble. To supply material wants is only a small part of its ministry. It seeks to carry to men's hearts the message of universal brotherhood, and unite the links. When this is accomplished, arsenals and iron-clad navies will give place to the spirit of equity. Wars and rumors of wars will become a relic of barbarism, and "Peace on earth, good-will to men," the ensign of the world, as it is of the Red Cross to-day.
Written before America came into the treaty. ↩