Two Years With Old Hickory
"I give you these little sketches of the old chief's character that you may see the real causes of his prosperous life. It is only an alliance of private virtues with qualifications for public usefulness that has given General Jackson such prominence in the hearts and confidence of his countrymen."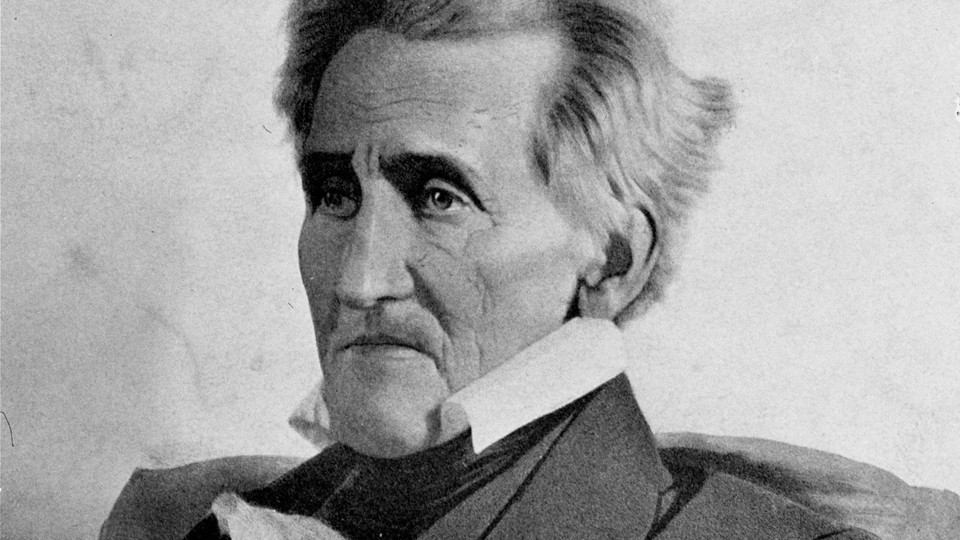 One of the many important results of General Jackson's quarrel with Mr. Calhoun was the establishment of The Globe in Washington, and the selection of Francis Preston Blair, of Frankfort, Ky., as its editor. The need of an organ had been felt for some time by Lewis, Barry, and Kendall, who, keenly alive to Jackson's interests, had scented the defection of The United States Telegraph, edited by General Duff Green; and with a persistency due to their knowledge of the ability of the man they urged for the position, Barry and Kendall finally gained the sanction of the President to the invitation that brought Mr. Blair to Washington to conduct a Jackson organ.
In his Life of Andrew Jackson, Parton has well said, "If the country had been searched for the express purpose of selecting the man best fitted for the editorship of the proposed organ, no one could have been found whose history, antipathies, and cast of character so adapted him for the post as Francis P. Blair, of Kentucky."
Graduated at Transylvania University, Lexington, at a period when that institution could favorably compare with the older colleges in the Eastern States, he had grown up in a society exceptional for the grace and accomplishments of its women and the brilliant ability of many of its men. When Mr. Blair was a young man his health was extremely delicate, a fact forcibly impressed upon him and his relatives, when, having volunteered with his uncle, Major George Madison, for service in the war of 1812, he was prostrated by an hæmorrhage from the lungs while in camp at Vincennes, and had to be sent home.
He had studied law at the close of his college career, and was admitted to the bar; but the condition of his health prevented the practice of his profession, and he settled upon a farm on Benson Creek, which flows into the Kentucky River near Frankfort. Very early in life he married Eliza Violet Gist, and it was to her sister, Mrs. Benjamin Gratz, of Lexington, Ky., that the letters from which I have made the selections here given were written. Mrs. Blair and Mrs. Gratz were daughters of Colonel Nathaniel Gist, one of the early settlers of Kentucky, and he was a son of Christopher Gist, who, accompanied only by a boy, had passed through Kentucky, in the interest of the Ohio Company, in 1751, eighteen years before Daniel Boone set foot upon her soil. Two years later this intrepid pioneer went with Washington, as guide and trusted friend, in his journey to the French fort, near Lake Erie, and the safe return of the young officer was very largely due to the sagacity and experience of Christopher Gist.
Mr. Blair had delighted in his out-of-door life on Benson Creek; but while his health had been greatly benefited, he was by nature totally unfit to achieve pecuniary success as a farmer, and his pocket had suffered severely in the experiment. He became clerk of the New Court (of which William T. Barry was chief justice), the decisions of which he had warmly defended, and afterward was appointed president of the Bank of the Commonwealth. Both the New Court and the bank were creatures of the Relief party, in the interest of which he had contributed some able articles to The Argus of Western America, a paper published in Frankfort by Amos Kendall; and when Kendall was appointed fourth auditor of the treasury by General Jackson, Blair had assumed the editorship of The Argus.
The origin of the bitter differences of the Relief and Anti-Relief, or the New Court and the Old Court, parties in Kentucky, during the latter part of the first quarter of this century, would require more space for lucid explanation than can be given here. The Old Court party was largely composed of the more conservative class of the community, who rightly estimated the endeavor made by the legislature, a majority of the members of which belonged to the Relief party, to legalize through the New Court the issues, based upon very insufficient security, of certain banks that had been chartered by the Relief legislature.
The Old Court party held that the effort to force this currency upon creditors by process of law was unconstitutional, inasmuch as it impaired the obligation of contracts, and so it was finally decided. Mr. Blair was in full accord with General Jackson in his hostility to the United States Bank and to nullification; and when he came to know the President intimately, which was very shortly after Blair's arrival in Washington, his admiration for Jackson was unbounded, and he gives in the anecdotes he relates of Old Hickory some very cogent reasons for the warm attachment he felt for him.
So devoted did he become that it would have been impossible for General Jackson to strain the executive prerogative to such an extent as to alienate Mr. Blair. And the principle inaugurated by Jackson, of rewarding political partisans with public office, which has since been an almost insurmountable obstacle in the path of civil service reform, met with Mr. Blair's hearty support because it was Jackson's act.
The correspondence, to which reference has been made, began very shortly after Mr. Blair arrived in Washington, and while Mrs. Gratz was visiting in Philadelphia; and the archness and raillery of some of the letters will be better appreciated if one keeps in mind the fact that his correspondent was, as she herself expresses it in one of her letters, "a violent Clay woman."
Washington City, December 12, 1830.
After you left we took our position at Parson Brown's, and were agreeably disappointed in our hostess, with whom I had so much difficulty to make fair weather. She has become quite a friend, full of kindness and civility. But no sooner did we clear the cloud from her brow than we found one to settle on our own.
We had a fine room assigned, which looked extremely well, but upon trial it smoked so intolerably that we were obliged to look out for other quarters; so I crossed the street to Mr. Skinner's, where we are now settled, I think, for some time.
We have a very nice parlor and two comfortable bedrooms, well furnished (fuel found us), for $800 per annum. The people are very decent, good souls, Yankees albeit. They are obliging, and seem willing to provide whatever I desire, and I am satisfied. I have been to a party at Macomb's and Mr. Register Smith's, a relative of mine, who entertains in the highest style imaginable.
Think you I did not go to another twelve o'clock supper at seven? But then I had the word of the host to come at seven o'clock, and so I went—to the hour; but the genteel, who know what's what, and that seven means eleven, did not make their appearance for some hours after your humble servant.
I find that the great folks come in according to degree: Senators and Representatives made their entrée about nine, Barry, Eaton, etc., about ten, Baron Stackelburgh about half after ten, Secretary Van Buren and the British minister upon the stroke of eleven. What think you of your Buckskin gentleman at seven? Well, I behaved very well among the canvas-back ducks, the turkeys without bones, the oysters and the quails. I made them all quail before me. I drank Rhenish and Flemish, sherry and champagne, and discussed madeira whose mark on the mouth made it upwards of twenty years of age. I tried chocolate custards and jellies of all sorts, and a variety of things that I could not find out after trying them. I beat Van Buren at hucre, as Mr. Vaughan called it, and then outjoked his majesty's plenipo with admirable impudence. So much for wine. The good-humored minister seemed to take a liking to me, and desired me to put him down as a subscriber to The Globe. I told him I would send it to him as an apt emblem to be presented to the representative of a nation standing in Europe, and grasping the Canadas in one hand and the Indies in the other. I came home with a sad headache, and rose this morning with those fashionable feelings which make a man fashionable and miserable. I must give up The Globe or the beau monde.
I think my prospects promising. I am sending my proposals everywhere. My first edition I have sold out, to members of Congress for the most part, and I have a pretty good subscription in the House. I shall get the patronage of the public offices to a considerable extent, and I am forming a scheme upon the old documents which Gales and Seaton wanted to execute at two prices. I will do it for one, and get two thirds of the profits.
On the 5th of February Mr. Blair writes from the boarding-house to which he had removed, and which, like many boarding-houses of to-day, had apparently some objectionable features: "My folks get on here pretty well, considering that we have got into a horrid boarding-house. The people are good enough, but shockingly dirty, and live so miserably that we are half starved. I have practiced all the skill I learned from you on the road. I bless the Irish potato, with his russet coat. The cracker that defies pollution, being made of such impenetrable stuff, is my bread. Rice, which shows like snow the various spots that have been soiled and enables me to avoid them, is my main living. I am obliged to stand this dieting until Congress is over, when I shall remove to Brown's tavern, I believe. I have passed through all the fashionable scenes this winter 'as a looker-on in Vienna.' I have come to the settled belief that there was never at any time or in any country such miserable parade labored through under the pretense of seeking pleasure. It is all heartless ostentation; or, as Solomon would say, 'vanity and vexation.'
"The hospitable host commonly invites the whole city, and those who can't get in go away, and as fast as the company get sick of being wedged in phalanx, and are enabled to extricate themselves and retreat, the house is thinned, until a servant is enabled to pass through the rabble with a waiter of trumpery over his head. This is refreshment something like that of Tantalus. It is the tyranny of Caligula, who set his laws so high that nobody could read them. So fashion puts its good things out of reach.
"At these parties they sometimes try to dance, but it puts me in mind of a Kentucky fight, when the crowd draws the circle so close that the combatants have no room to use their limbs. They have, however, four and twenty fiddlers all in a row, trying by the dint of loud music to put amateurs in motion. They jump up and down in a hole, and nobody sees more of them than their heads. Oh, how unlike the free space we have in Kentucky and the life of Crockett's music! Let me dance with my big-footed Bensonians under a Fourth of July arbor.
"I have been most fortunate in the selection of tutors for Betty [his daughter]. Mr. Leon, the Frenchman, teaches her to read, write, and speak. He is a man of letters and sense, and every way worthy.
"I have formed, I think, a pretty just opinion of the head men in our administration. It is a great mistake to suppose that Old Hickory is in leading-strings, as the coalition say.
"I can tell you that he is as much superior here as he was with our generals during the war. He is a man of admirable judgment. I have seen proof of it in the direction which he has given to affairs this winter, in which I know he differed from his advisers; and there are other measures which he adopted against the opinion of those who are supposed to have a control, that have already proved the superiority of his judgment.
"He is fighting a great political battle, and you will find that he will vanquish those who contend with him now as he has always done his private or the public enemies. I like him much better than any other person with whom I have become connected by my translation here. He is very much like old General Scott.1 Benevolent and kind to a fault to those whom he loves; frank, affectionate, and full of hospitable feeling. In this last he goes beyond our old Kentucky general.
"Old Mrs. Royal called in the other day with one of her books to present him.2 When she opened the budget he saw a partridge in the feathers, which she had bought for her dinner. He invited her in, and the poor old crazy woman made a hearty meal with him.
"I came in just as the old lady escaped with her partridge; and when he told me the story I observed carelessly that I was as hungry as Mrs. Royal, having been busy in one of the public offices at dinner time. Upon this he had a very good dinner prepared for me, against all my protestations, saying that he made it a rule all his life that nobody should ever go out of his house hungry, and I was obliged to comply with his rule.
"When he talks about his enemies he puts one also much in mind of old Scott when he spoke of Humphrey Marshall, but I have remarked that he does [not?] level his indignation at Clay, but at those who take sneaking advantages.
"You may rely on it he is as true a patriot as ever breathed, and as much of a democrat as your humble servant. Mr. Gratz would call him a Jacobin."
Washington, February 23, 1831.
It is a perfect relief to me when I can withdraw from the din of politics and the following up by a thread a maze of intrigue through dark labyrinths, and it is a grateful recreation to give my idle hours and thoughts to you. But I find that even you have turned politician, and curiosity, which seemed to have changed sexes in this country, has at last, I find, resumed the apparel of the gentler one, which, indeed, is quite natural and becoming. What a beautiful and agreeable variety we should have in our political drama if we could but have a part of the dramatis personæ composed of ladies! I never could bear those old plays, not even to read them, in which no important personage of the softer sex appeared to humanize the scene. I never could bear to dance, however fine the music, where the couples were all of the coarser kind. You cannot tell how much, then, I am delighted to find that you begin to take an interest in politics, and I will not fail to keep you informed of the condition of affairs, of the state of The Globe.
Calhoun has been plotting from the hour the President reached Washington, and I believe before, to have the immediate management of affairs by means of fastening on the President a cabinet of his own creatures. Ingham, Branch, and Berrien were, with the liberal feelings which influence the President always towards those whom he considers his friends, appointed to gratify the wishes of Calhoun. Calhoun was not satisfied, but wanted to get McDuffie or Hamilton made secretary of war, and for this reason began to undermine Eaton.
This gentleman was a great favorite with Mrs. Jackson, as well as the general. The old lady adopted him and called him her son, and this added to the strong attachment felt for him by the President. He is an excellent man, of good sound sense, and his tried friendship induced the President to bring him near him in the war office.
It was known to the Calhoun side of the cabinet that he was to go into office with them. Calhoun's friends immediately avowed their determination not to associate with Eaton's family.
So you see they had all accepted invitations to the same table with him, knew he was to be one of the party, but refused to sit down and partake with him and his household.
This was Mr. Calhoun's first movement to embarrass the cabinet, to drive Eaton from it and introduce a majority of his friends into the departments.
At this time the President entertained the greatest kindness for Calhoun, and the predominance of this feeling prevented him from removing from their places those who acted with him in so insulting a manner on this occasion.
The circumstances greatly weakened the confidence of the President in the Vice-President; and when he heard that he had been the first to move for his arrest and trial by a military court, he considered it as such a proof of insincerity and falsehood and perfidy that he resolved, if he should find it true, to break with him forever.
The party are now all convinced that the Calhoun men, and Green among them, will do their utmost to defeat the election of the President. They pretend that Van Buren is the object of attack. They do, I believe, fear his succession through the influence of the President, and it is for this reason they attack the latter as the lion in the path.
The fact is, I came here with my predilections in favor of Calhoun, but my opinion of him is altogether changed upon evidence which is incontrovertible.
Clay says of him in a letter which they shall not know anything of here, "The knave knows not how a man can be honest."
I now look upon him in the same light. You will see in The Globe of this day what a game this gentleman played between the two parties in 1824. Read the quotation from Webster's speech attentively, and remark how pointedly he addresses himself to Calhoun: ("Is it not so, sir?")
There is distinct proof of his "caresses" and promises to the Adams party in this city, but I am not at liberty to use it. Calhoun now returns to his Northern friends with new caresses, but they will only be acknowledged for a time, and then he will fall like Lucifer.
Of my affairs, I have to say that it requires about two thousand Globes to supply the demand. Of the number of subscribers a good many are temporary; members of Congress and of state legislatures subscribing for the session only. Many of my distant subscribers have not paid. Of permanent ones I have not more than a thousand, but the list is increasing rapidly.
I find that I shall be obliged to set up a press of my own. The opposition, I learn, contemplate moving a resolution of inquiry to know how much my printer gets for the work done by him for the office, and how much I get for not doing it. I have determined, for this reason, to give up all the profits heretofore earned by my publisher to him, and will set up a press for myself. I shall then get all the public patronage, which will amount to twenty thousand dollars at the least. How much of this will be profit I don't know; enough of it to pay for my establishment and to support me, I suppose.
I have had very little satisfaction or enjoyment in the visitings, or rather the visitations, of this city. I spent an hour yesterday and to-day in the Senate, listening to Tazewell and Livingston debating a question akin to the Panama mission, — the President's mission to Turkey. It arose upon the right to salary. The Virginian is a good debater. Livingston, although the abler man, is a most miserable speaker. The power of his mind must be prodigious to make his conceptions capable of surviving their utterance.
I give all my kinder feelings a flight to you, that I may throw my bitterness into a schedule of Calhoun's tergiversations for Saturday's Globe.
I wrote you a long letter, the other day, of cabinet matters, which you see, from the way poor Crawford is treated, are not to be revealed.
The parties here, I believe, mainly strike at the premier. They have little hope of intercepting Old Hickory's re-accession unless they can press the lean monster, that frightened Dr. Hornbrook, into the service of the coalition. He will not join the party which has already called in the nullifiers to help it. These nullifiers are for taking the trade of annihilating into their own hands, and therefore Death will not enter into a league which is to take his business out of his hands. What a strange combination this between the nationals and nullifiers!
My prospects are brightening here. If Old Hickory lives I shall undoubtedly be a great man some day. He likes me vastly, and as I am a sinner and hope to be saved he values my opinion in some things, and those nearest to him, more than he does the magician's. But this is egotism; you must not say a word about it.
You see we have had a turning out à la mode Anglaise et Française. I was for it in all its extent, and did not hesitate to give my opinion to that effect.
Van Buren is a man of excellent judgment and prudence, and saw the propriety of it. A house divided never can stand, at least the inmates never can be comfortable, and those who expect advantage from their united efforts must be disappointed.
Eaton is a most excellent man, most unaffectedly benevolent, and one of the pleasantest fellows I ever met with. He is full of facetiæ. His jests and humorous stories are always decorous. The President parts from him with great reluctance, for he maintains the greatest affection towards him, but he told me that he could always sacrifice every private feeling to what he considered a public duty.
When you go home, advise Mr. Clay to put himself in order to run at the great races succeeding those of 1832. Sir Henry cannot beat Eclipse. The old hero is in fine health and admirable spirits. He was very near going to Philadelphia about ten days ago, to get a bullet cut out of his arm. It gave him considerable pain, and has worked its way so near the skin as to be easily felt. He would have gone but for the political motives which he knew would be imputed.
Let me tell you a fact to make you sensible of the deep-rooted, affectionate attachment of which the rough bosom of a war-worn veteran is susceptible. Earl has a few days ago received from the Hermitage Mrs. Jackson's portrait. He did not intend that the President should see it, but he stepped in by accident when Earl was copying from it. He stood and gazed at it for a few moments with some fortitude, until as the association rose in his mind he began to weep, and his sobs became so deep that Earl carried the picture away to relieve him.
He has a Bible in which a great many favorite passages were marked by his wife. One of these he reads every morning religiously.
This is devotion, but whether it be of the right kind I leave you to judge.
Madame Pintard, of whom he speaks in the following letter, was a bright-eyed, dark-haired, pretty little Frenchwoman, who was the milliner par excellence of her day in Philadelphia. So great were her skill and taste in her line that a Philadelphia lady says of her, even at this late day, "She was the most elegant and accomplished of milliners, and her bonnets and caps were lovely beyond compare. She became the rage, while at the same time she dared to be saucy to her customers and lord it over them."
She was evidently as much an autocrat in the domain of fashion, at that day, as Old Hickory was in that of politics.
I am rejoiced to find that you are all the rage at Philadelphia. What saucy people are we Kentuckers, as your husband calls us! You have taken possession of the beau monde, and dictate in the realms of taste and fashion. I have set up to direct the politics of The Globe. You volunteer to give éclat to Madame Pintard's administration, and I for Old Hickory's. The good people where you are think everything you say is right, and where I am I can do nothing wrong. If Van Buren says, "You are rash in this business, Mr. Blair," the old hero says, "You are right, Mr. Blair. I'll stand by you."
What excellent things are vanity and presumption! I am as ignorant a fellow as ever pulled a trigger, and deuce a bit do you know about Paris. It must be instinct that carries you right in the affairs of fancy, and me in those of politics.
Eliza says you may do as you will with the remnant left from the purchase of her gown. May be you could contrive something out of the means that would set off her head to advantage. You can probably hit upon the mode that revolutionary Paris may adopt for June and July. I should guess that it would be something of the tricolor, but you know best. Possibly the lily may prevail, which God forbid; probably heads may be out of fashion.
I have another tale of romance to tell you about the old hero, which sets the iron man of war in his true light. He is of the old school of chevaliers, of the school of Henry IV. of France.
Van Buren came over the other evening, when Barry, Eaton, and myself were sitting with the President, and began to rally him about a lady that had fallen in love with him. He went on to tell his story, and it seems that a most beautiful young woman had just called on the secretary, and desired to know of him who was to write Old Hickory's life, and said she desired to tell him an incident which she hoped would be recorded. She said she was the daughter of a Virginia gentleman, whose name was Love; that her only brother had become insane and killed her father, and had then hung himself; that she had been confined two years in a hospital (I think at Baltimore), had been treated harshly, and that upon the restoration of her reason she had been released; that she had property in Virginia, but was deprived of its use. She said she had appealed to the President for support in her distresses; that the old man shed tears, gave her twenty dollars from his purse, and told her that one so unfortunate should never want while he had a shilling. And then said Mr. Van Buren, "I think I have made out a Love affair."
The President said the story was indeed too true. He had sent for Mr. Ashton, the marshal, who, the poor girl said, knew her history, and found that she had told him the truth. She was the last of a respectable family, which had perished in the tragical manner she described, and her wandering intellect had prompted her flight to Washington to see the President. He told us that he commanded his feelings and countenance pretty well until, having assured her of his protection, she began to weep, begged that she might kiss him and call him father; and then said he, "I could not restrain my tears, and that man must have been made of marble who could." His eyes were full of tears as he talked of it.
I send you the letter of King Joseph Bonaparte, in his own handwriting, which the President gave to me for that purpose. The handwriting is something like the earlier specimens of Bonaparte's when first consul, which I examined in the state department. I was telling Mr. Leon, who made the translation I send you, that the consul wrote his name very crookedly on the papers, sometimes pointing up and sometimes down. Mr. Leon was one of his clerks, and copied much of his writing. He told me that Napoleon put his signature to papers precisely as they were handed to him. Not unfrequently he put it on the back, and when about to write a dispatch he never adjusted the paper, but wrote from corner to corner, or any way. He says his hand was almost illegible, from the circumstance of never writing more of a word than would enable the reader to make a guess at it from the connection of the sense.
Mr. Leon tells me that there was a lady in Paris who could decipher his meaning better than all his bureaus. King Joseph's letter has a little bad French in it. Are you scholar enough to find it out?
You will be glad to know that your visit brought about the relief of the count from the regulations of the directeur des postes. Barry, by the direction of the President, made his post-master comply in all respects with Joseph's wishes about his letters.
You are a very great favorite of Old Hickory. In giving him my thanks, in your behalf, at dinner the other day, when he mentioned Joseph's respectful letter of you, there were several strangers present, and I observed to him that you would not have asked a letter of introduction from him but that you were a veteran's orphan, who had served his country from Braddock's war, through the Revolution, and that you had grown up as the daughter of another soldier, who had fought in the same fields, and who now rested under the same turf; and from this connection you thought you had a right to look upon him almost in the light of a relation.
The old man's eyes glistened, and his whole countenance evinced satisfaction. He said you needed no such recommendation to him, but that none could be more endearing. With great energy he remarked that Scott and Gist were patriots, and had bravely defended the infant liberties of their country. As we were about to rise from table, he showed that the conversation had made an impression on him.
"Gentlemen," said he, "it is a standing rule with me, on quitting the table, to remember our absent friends. Will you join me in a glass to-day to the memory of two who are no more?" He then gave "Colonel Gist and General Scott," and said all who loved their country should respect their memories. This is the only instance, Lewis says, in which he has substituted his toast to his absent friends by another.
King Joseph's letter, with the translation made by Mr. Leon, was carefully preserved with Mr. Blair's letters, and from the exact transcript of it here given it may be seen that there is not only "a little bad French in it," but some very badly spelled French. He adhered to the assumed title adopted on leaving France, and this letter is signed "Joseph Cte de Survilliers."
Pointe Breeze 7 Juin 1831.
Monsieur le President, — J'ai recu la letter que vous aves bien voulu m'ecrire le 23 mai, je me suis empressé d'acceullir Madame Gratz, aussi bien que me l'ont permis les circonstances douloureuses ou je me trouve par les mauvaises nouvelles que je recois de ma famille. Madame Gratz m'aparue en tous points digne de l'internet que vous lui portes.
Seresce [serait ce?] trop presumer des sentiments que vous voules bien me montrer, Monsieur, que de demander votre intervention aupres du directeur Général des Postes pour qu'il donne la commission an directeur de la poste de Trenton de remetre mes lettres au commissionaire que j'y envoie tous les dimanches a 7 heures du matin, moment ou son bureau est ouvert pour la distribution des lettres de trenton, ce directeur refuse de remettre mes lettres le dimanche, parceque je ne demeure pas a Trenton, ce qui retarde jusqu'au lundi apres midi la reception de mes lettres, c'est a dire de prés de trente six heures.
Monsieur le General Bernard qui se trouve ici, de passage a son retour de france, voudra bien se charger d'expliquer a Votre Excellence la nature de ma prière, ainsi qu'a monsieur le commissaire Général des postes, s'il en reçoit l'authorisation de V. E.
Je vous prie d'agréer, Monsieur, la haute consideration avec la quelle j'ai l'honneur d'etre de votre excellence.
A short time previous to the date of the following letter, written to her husband, Mrs. Gratz had returned to Kentucky from a rather unusually prolonged visit to Philadelphia. For many reasons that city was always most attractive to her, and for years Mr. and Mrs. Gratz made a visit there of a month or two, at least, and this when to compass such a journey meant a good deal of time and no little inconvenience.
I received Maria's letter a day or two since, and was much gratified to find that she was safely and snugly domiciliated.
Home, Sweet Home is a good song, after all. "The Hermitage is my choice," as the veteran hero says, and after I have managed The Globe for six years I shall return to my cottage under the hill, with a firm resolve never to meddle with politics again. What cursed scoundrels the aristocrats employ to do their dirty work! Green was brought here by that knave Calhoun, who is himself, at heart, one of the Hartford Convention stamp. His nullification is but a scheme to scatter our republlc into fragments, that he may rule a part. I always detested McDuffie, and it is perfectly clear that he is as much a latitudinarian as he was when he wrote his pamphlet deriding with the intensest scorn the Virginia and Kentucky Resolutions. He is as much national as ever he was, but he is now for a Southern nation, a Carthaginian state upon the coast of Africa, where the Punic faith may come again in vogue under the Proteus, Calhoun. Green is an excellent organ for such a government.
I have to say to Maria that my remark about Mr. Clay was a mere jeu d'esprit.
The Whig and Louisville Journal had charged The Argus with falsehood in saying that Mr. Clay's father was a dancing-master, and they called him a preacher. They were all right, and for the sake of the biographer I gave the true history to reconcile the contradiction. I made no remark about the business except mentioning that the father had turned a somerset into the pulpit, which was to his honor, while the son had flung one the wrong way, and leaped into the arms of his own and his country's enemies.
I am astonished at the implacability of the Clay side to Old Hickory. The latter regards him with much more kindness than he does Calhoun, and yet Mr. Clay's friends support Calhoun in his nullification, etc., against the President. It is against all their natural principles, and is much further removed from them than the President's democracy and reform and proscription.
For some years before he left Kentucky Mr. Blair was greatly harassed by debt, for the payment of which his means were entirely insufficient; and among his burdens was the support of his father, a man of fine ability as a lawyer, having at one time filled the office of Attorney-General of Kentucky, but, with many accomplishments, so inactive and indolent that he had no scruples at becoming a charge upon his son; and while Henry Clay was amused at the witticism, the means of retort were too ready for him to overlook it, and he sent Mr. Blair this message. "I see," said Mr. Clay, "Preston is telling his readers that my father was a dancing-master. Do tell him, when you write, that I say I admit the fact, — he was so; and say also I have never been compelled to 'pay the piper.'"
Mr. Blair's correspondent naively adds, "Mr. Clay had a meaning in that, I presume, but you know best."
We have all returned from the sea with the renovation of the ever-changing, ever-lasting element. It has had a peculiarly good effect upon my health. As I told you in The Globe, the President is quite restored and reinstated from the debility in by the over-exertion of his tour. You may tell his good Clay friends that the Bay has proved a Medea's kettle to him. He is a new man, but still the old patriot. I wished an hundred times that you had been with us, both for the sake of your health and that you might have enjoyed the agreeable old veteran in his hours of cheerful retirement, and listened to his unaffected recitals of the adventures of which his life has been so full. Of all the men I ever knew, not one has ever appeared to me so perfectly free from all disguise. His entire fearlessness renders all secrecy contemptible in his eyes. His simple, unreserved intercourse and confiding, affectionate feelings have made me as familiar with his heart and history as I am with my own.
He puts me more in mind of uncle Madison than any other man I ever knew. You remember what a kind, tender-hearted man Major Madison was, how brave and terrible in battle. On one occasion he leaped from the bank of a creek upon an Indian of superior strength: they fought with butcher-knives, and when the major had killed his adversary, in the flush of triumph he scalped him; but after carrying the bloody trophy a little distance he became disgusted and heart-sick, until he experienced all the effects of an emetic.
General Jackson never allows his war-like enthusiasm to go so far as to mangle a fallen foe, and I but allude to the case of uncle Madison to show you how persons of the tenderest sensibilities and of the utmost benevolence may be bloody in the spirit of chivalry and the cause of patriotism.
I never witnessed in any individual more of tender affection and sympathy than in General Jackson. He had his family around him at the Rip Raps, and his courtesy and kindness and love for these strangers to his blood was felt by me as a rebuke to my colder nature and less ardent sympathies with our children. He has a little granddaughter (a beautiful child, about ten months old), named after his wife, which he takes to his bosom whenever brought within his reach. I never saw this little bantling brought in his presence that his eyes did not brighten and his affections rise.
He and I were sitting one day alone on the sofa, and I alluded in some way to his attachment for the little Rachel. He said she was the solace of his waning life, and that the father (his adopted son) had been nursed on the bosom of Mrs. Jackson. She felt for him all the tenderness of a mother; that she parted with him, even to go to Nashville to school, with reluctance, and looked for the returning Saturday with more anxiety than the boy himself.
He paused a few moments, ruminating, and with his eyes suffused in tears said, —
"Mr. Blair, she was one of the best of women, and it is gratifying to me that it is in my power to provide amply for the objects which, if she lived, would have been so dear to her. Rachel will be my greatest comfort if I should survive to return to the Hermitage."
I believe there never was a man whose private character has been so much misunderstood as that of General Jackson. He is the kindest and most indulgent master I ever saw, the most polite and considerate in his attentions to the two adopted families of Andrew Jackson and Andrew Donaldson with which he is surrounded, and so far from evidencing the captiousness of old age towards the spoilt children of Mrs. Donaldson (of which there are several), he has the most patient, bland, and soothing mode of caressing them into good humor and good behavior.
To himself he is self-denying; will give no one trouble in taking care of his wants, but follows up the independent habits of his early life even in age, doing almost everything for himself that he can properly do. He is always, however, well provided because of his industrious and vigilant attention personally to minutiæ, but is, nevertheless, ready to disfurnish himself for the sake of others.
In this spirit of kindness, at the Rip Raps, the tavern-keeper having sent over his account for my family separately, as directed (considerably over an hundred dollars), the President insisted and made me submit to the whole being paid by him.
The same liberal and indulgent feeling pervades all his relations here. In a multitude of cases I have known him sacrifice his own predilections, and indeed his determinations, in regard to appointments, to the preferences of his secretaries, and it is only when important principles are concerned that he is inexorable. Whenever anything involves what he conceives the permanent interest of the country, his patriotism becomes an all-absorbing feeling, and neither kitchen nor parlor cabinets can move him.
I give you these little sketches of the old chief's character that you may see the real causes of his prosperous life. It is only an alliance of private virtues with qualifications for public usefulness that has given General Jackson such prominence in the hearts and confidence of his countrymen.
Yesterday morning was rainy, and I took my way to the old hero's office, where I expected to find him alone, and went to amuse him with the whimsical letters and news that I get from all quarters of the globe.
Among the rest I took your letter, and read to him those passages that applied to himself. He laughed heartily at the somerset gentlemen you describe, their sudden conversions, and the various modes in which they got conviction. He said he was not astonished that old General Breckenridge should consider him as only fit for a nurse and the Hermitage, that the old fellow's way of life had accommodated him to these ideas, and that he did not know how it was possible for a man of sixty-four to turn himself to any account for the country. He said the old man had passed that period some eight or ten years, and that if he judged from his own experience he might well say that the incumbent was not fit for the presidency for a second term.
He told me to tell you, however, that he would convince you that Breckenridge's rule would not hold good with a man whose life had been one of action; that he was heartier and abler to do service than while on the Seminole campaign; and says he, "Tell Mrs. Gratz that, having worn out one set of teeth in the service of my country, I have got a new set from Mr. Planton, which will, I am sure, last me six years longer, and support me in the same service."
When I came to your comment where you say, "I turn with disgust from such hypocrites, and am sorry to find so many in the world," the old man smiled; says he, "Mr. Blair, you may tell Mrs. Gratz she does not know the half of them."
The Clay press in this quarter is getting more and more violent every day. The Boston Courier abuses all Kentucky for not voting for the Clay ticket, and Gales publishes letters from Kentucky stigmatizing the Jackson districts for ignorance, and the Lord knows what all. I mean to stand up for Kentucky, and especially the Hunters of Kentucky, against Mr. Clays writers. I mean to stand by the mountaineers, and show that Mr. Clay is behind them and the age in the polity that is calculated to elevate the character of a State.
The spirit of liberty has always dwelt in the mountains, and you will find more of the primitive virtue of the Revolution among the heights of Morgan and Lawrence than in the fat lands of Clark and Bourbon.
I have been inclined to cease hostilities with Mr. Clay's party. We began here to think that Mr. Clay was growing in grace, he showed so well when compared with Calhoun and Berrien, Ingham and the rest; but it seems that Mr. Clay's folks mean to join this banditti, who are certainly farther removed from all his professed principles than the present administration.
The last letter of this correspondence, written during the first term of General Jackson's administration, is devoted to an explanation of the care Mr. Blair exercises in the preservation of his health, and to a description of that paragon of her profession, Fanny Kemble.
His enthusiasm bubbles over as he dwells upon her perfection, and I quote only that part of the letter relating to her. This letter is dated February 2, 1833.
"Talking of orators and action puts me in mind of Miss Kemble. She is the female Demosthenes of modern days. I never conceived of anything equal to her expression of the passions. The genius of Mrs. Siddons is fully inherited by her. I saw her act Beatrice, Lady Teazle, and Julia in The Hunchback, and in all the eccentric varieties of these characters every look, gesture, attitude, and expression was truer to nature than the finest conception of the most gifted inspired poet. In the part of Julia (a character written for her by Sheridan Knowles, — the nephew, I believe, of the great Sheridan), there never were such natural and admirable contrasts and extremes of the passions of the human heart exhibited: the happy innocent of a rural retreat run wild with the extravagant fashions of city life, the resentment of the highest and most indignant pride subdued by the all-conquering grief of deep love.
"I never saw the passions of your sex portrayed so divinely as in the acting of this fine woman. Her very utterance in grief is absolutely contagious. Her intonations are so natural and yet so beautiful that while one's eyes swell with tears, and the throat is choked with the heart, the greatest pleasure is derived and the tenderest affection is felt. Her very weeping adds loveliness to her features. There is the greatest beauty in her countenance when she cries and sobs most naturally. And this is the more remarkable because I never saw any one look handsome when crying, before. Her features are not regular, not upon the Grecian model of beauty, but she is one of the finest-looking women on the stage I ever saw. The look of genius forever beaming from her face lights up her countenance, and she wears the aspect, when she speaks, of the muse of eloquence and poetry. Her eyes are wonderfully expressive, her teeth remarkably beautiful, and all the lineaments of her face are alive with intelligence and feeling. Her figure is exceedingly good, form perfect, her air elastic and light, and her motions full of grace.
"I am told that she is determined to stay two years in this country, and I am sure you will have an opportunity within that time to witness the power with which nature has endowed this new Queen of Tragedy and the Peri of Comedy."
General Charles Scott, to whom Mr. Blair refers, was born in Cumberland County, Va., and began his military career while very young, as a corporal in Braddock's campaign.

He raised the first company of volunteers south of James River that went into service in the war of the revolution, and he served throughout the war with distinguished honor. In 1785 he settled in Woodford County, Ky., and in 1808 was elected governor of that State. He was a man of strong natural powers, strikingly handsome, and of undoubted valor, but rough in manners, illiterate, very eccentric, swore fearfully, and was much given to boasting. He married the widow of Colonel Nathaniel Gist. Many anecdotes were told of him in Kentucky in the early part of this century, and among them this one is very characteristic. He was entertaining some gentlemen with an account of the blue-grass region as it was when he settled in Kentucky; the fertility of the soil shown in the luxuriance of its vegetation, and the abundance of game. "Yes, gentlemen," said he, "the trees were much thicker when I came here than they are now. All this part of Kentucky was covered with woods, and the trees were only three or four feet apart. The woods were full of game; there were herds of deer as fat as oxen, and great stags with horns five feet from tip to tip."

"But, governor," said one of the listeners, "if the trees grew within three or four feet of each other, and the deer's horns were five feet wide, how did they get through the woods?"

Seeing that he was cornered, the old general flew into a passion, and yelled out, "How do I know? That wasn't any of my business; that was thar lookout." ↩
In his Autobiography, Amos Kendall says of Mrs. Royal: "There was living in Washington at that time a singular woman, named Anne Royal, the widow of a Captain Royal, of the United States army. She was homely in person, careless in dress, poor in purse, and vulgar in manners. But she had a tolerable education, much shrewdness, and respectable talents. She procured her subsistence by publishing books, in which she praised extravagantly those who bought her books or gave her money, and abused without measure those who refused or had in any way incurred her displeasure. Some through love of flattery, and more through fear of abuse, contributed to her support. She owned and edited two small papers, Paul Pry and The Huntress." ↩